Gauguin, Cézanne, Matisse: Visions of Arcadia
Philadelphia Museum of Art
The title and paintings in this exhibition represent an earthly paradise "Arcadia", which has long been a popular theme in art, poetry and theater. Arcadia is a region in the middle of the Greek Peloponnese and also an earthly paradise and mythical state of mind. In the early 1900s in France, the idea of an earthly paradise was illustrated in mural-sized paintings. This exhibition explored the theme in three paintings of the time: Paul Gauguin's Where Do We Come From? What Are We? Where Are We Going? (1898), Paul Cézanne's The Large Bathers (1906), and Henri Matisse's Bathers by a River (1909-17). The exhibition also contained masterpieces by Albert Gleizes, Ernst Ludwig Kirchner, Pablo Picasso, and Paul Signac that represent paradise in the Arcadian theme.
So who is Paul Gauguin? Born Eugene Henri Paul Gauguin in Paris, France on 6/7/1848, he is known for his post-impressionism and primitivism paintings, sculptures and ceramics. Primitivism was an art movement in the 19th century that showed exaggerated body proportions, geometric designs and animal totems. He was recognized for his experimental use of colors and his work influenced great artists such as Pablo Picasso and Henri Matisse. His use of color helped establish the Synthetist style of modern art. During his career he painted with notable artists such as Cezanne and Van Gogh. He traveled extensively including visits to Panama, Martinique and Tahiti and some of his most famous works were influenced by these areas. This includes "Te aa no areois (The Seed of the Areoi), 1892 which shows a large naked Tahitian woman in the backdrop of Tahiti's beautiful landscape. It can be viewed at the Museum of Modern Art in NYC. His most famous work, the masterpiece shown at this exhibit, "Where do we come from…" was painted in Punaauia in 1897. Unfortunately Gauguin's genius was not fully appreciated until after his death in 1903.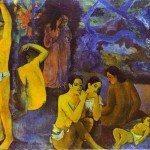 So who is Paul Cezanne? Born 1/19/1839 in Aix-en-Provence, France he is well known for his post-impressionist art. He was a French painter who is credited with bridging the gap between the late 19th century Impressionism and the early 20th century Cubism. Both Matisse and Picasso once said "Cezanne is the father of us all". His works are divided into different periods. The "Dark Period" was from 1861-1870 in Paris and showed dark colors and heavy use of black. It is said he was very angry and showed signs of depression during this time. From 1866-1867 during this time he developed a series of paintings using a palette knife which is known as the start of modern expressionism. Named works include several sexual and violent subjects including "The Rape" and "The Murder". His Impressionist period was from 1870-1878 and took place in Provence and Paris. At this point he changed from themes to landscapes. He worked with Camille Pissarro and they painted many landscapes together. Due to Pissarro's influence he stopped using dark colors in exchange for brighter ones. He later worked with Renoir and Monet. During his mature period in Provence from 1878-1890 many of his paintings showed the landscape in which he lived. His final period occurred in Provence from 1890-1905. He visited Bibemus Quarries and climbed Montagne Sainte-Victoire. The landscape of the quarries was described as a labyrinth and the shapes of his paintings of them are said to have inspired "cubism". Many of his paintings can be viewed at the National Gallery of Art in London and The Metropolitan Museum of art in NYC.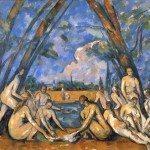 So who is Henri Matisse? Henri-Emile-Benoit Matisse was born 12/31/1869 in Le Cateau-Cambresis, Nord in France. He was a painter and a sculpture known for Fauvism, Modernism and Impressionism. His works can be found at the Museum of Modern Art in NYC and at the Barnes Foundation in Pennsylvania. Initially labeled a "Fauve" or wild beast, he became known for his 50 years of producing modern art paintings with mastery use of color. Fauvism is known for using wild colors and techniques that disregarded the subject's natural colors. This includes "Woman with a Hat" that can be viewed at the San Francisco Museum of Modern Art. As the fauvism movement died down, Matisse became a part of the artistic gathering in Montparnasse from 1906-1917. He even traveled to Algeria in 1906 to study African Art and Primitivism and later traveled to Morocco, Munich, Spain and the Tangiers. The result was paintings using black and bolder colors. Matisse and Picasso, 12 years his junior were introduced in Paris by Gertrude Stein who was an important collector of Matisse's work. Although they became lifelong friends, they were also rivals and their works often compared. However, Matisse's works were based more on nature while Picasso's were based on his imagination. On a side note- for a treat rent and watch "Midnight in Paris". A Woody Allen film featuring Owen Wilson and Kathy Bates who plays Gertrude Stein. It brings all these artists together in an imaginative way.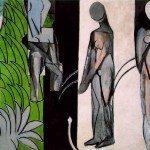 So who is your favorite artist? Tell us your thoughts!
NLD
NSW