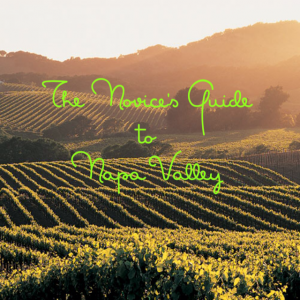 For wine lovers in America a trip to Napa Valley is the ultimate experience in tasting and experiencing wine making and culture. What many wine lovers, wine enthusiasts and even some connoisseurs may not realize is just how overwhelming planning a trip to this area can be. I often hear people say "I am going to Napa" or "I am going to Napa and Sonoma" without understanding that Napa Valley (Napa County) and Sonoma County or two separate large areas that each encompass smaller towns  filled with multiple wineries and vineyards. Downtown Napa itself is just one small town on the southern end of Napa Valley. One can spend an entire weekend just touring wineries in downtown Napa.  Below is a map to give you some idea of what I am referring to. As you can see this map only covers Napa Valley! If you plan to cover Sonoma County as well, give yourself plenty of time.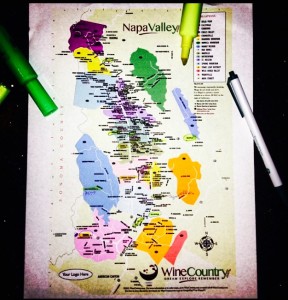 By no means do I claim to be an expert on the area. I have been there twice including last year. For that trip I was responsible for planning a 4 day itinerary for a group of 10. I did extensive research on the area and consulted with many friends who have made frequent visits there. Since last year, several friends and colleagues have asked my advice while planning their trips and I thought it was about time I did this blog post! Lucky for all my readers I kept my "Napa" folder in my email inbox with a list of my favorite wineries and restaurants and even the map above!
Before sharing my list here are a few things to consider when heading out to Napa Valley.
1) Location. It is approximately 1- 1 1 ½ hours from San Francisco to Napa Valley. This makes it very convenient in terms of flying into San Francisco International Airport and driving out to Napa. You can also visit the area while on a business, personal or family trip in San Francisco. My first trip to Napa was a bus day trip from the wharf in San Francisco! Depending on what time of year you go hotel prices may be costly in Napa so if you have discounts, deals or relatives in San Fran this is also something to consider. Although the climate can be misty and cool in San Fran, Napa is inland and will always be warmer and mostly sunny.
2) When to go and where to stay. Napa Valley has festivals year round. These include music, art, and film festivals. You may even find work related conferences there as well. Last year I planned our trip around the annual Brian Culbertson's Napa Valley Jazz Getaway in June. If you are planning your trip around an event, be sure to book your accommodations early. There are a variety of hotels, luxurious resorts and quaint bed and breakfast styles to suite all tastes. When there is an event in town, traffic on the two major thoroughfares may be heavy so check the locations of your events compared to your hotels for easy access. If you are not going for an event, consider their seasons. They do have a rainy season in early spring which usually ends mid-April. It is the valley so summers are hot with high in the 90's! Fall has cooler temps with beautiful fall colors and winter is milder than other states with temps hardly going below freezing and occasionally  in the 60's and the 70's. For my next trip to Napa I hope to return for harvest season! They start picking grapes for sparkling wines and Sauvignon Blanc in late August. The bulk of the picking is mid-September and carries into October for crushing of the grapes. The drawback is Napa is very crowded during this time.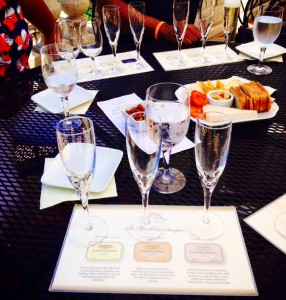 3) Planning which wineries to visit. Some people like red. Some people like white. Some people love both. Some love sweet wines, some love sparkling and others (like me) love them all! For those that have a true preference pick the top wineries that cater to your tastes. You will then notice there are several different price points for tastings from free (very hard to find but more likely in downtown Napa and Sonoma County) to very expensive. You can also find coupons available on sites such as napatouristguide.com.  Many wineries have set times for tastings, are closed certain days of the week and some require reservations for tastings especially for large groups so call ahead to verify. Once you have picked which wineries you would like to visit, I suggest plotting them out on a map like the one listed above. Try to cover one town or area at a time, in an afternoon or a day. Going from one end of the map to another during tourist season and high traffic times will be exhausting! I also suggest that while you are in Napa be adventurous in your wine tasting! These are the experts! What you may not like in a restaurant or from your local grocery store back home you may love when prepared and aged correctly in wine country! In addition, I enjoyed tasting and purchasing wines from  Napa that were unique to the area and could not be purchased elsewhere. Whenever I open one of those bottles I feel special 🙂
4) Things to do: Besides wine tasting there are so many other fun, and exhilarating activities in Napa Valley! You can take a wine train through the area that stops at various wineries through the valley. (great option if you prefer not to drink and drive 🙂 You can take a bike tour or even a hot air balloon ride! I was able to mark this off my bucket list and it was truly amazing. I highly recommend Napa Valley Balloons. A first class experience from start to finish! Napa is also home to many award winning chefs and restaurants! Thomas Keller in particular has many including the three star Michelin Guide rated The French Laundry , Bouchon Bakery, ad hoc and Addendum. I have never had a bad meal at any Bouchon in any city! These are all located in Yountville in a quaint, walkable area. I also recommend Oxbow Public Market in Napa. They have over 20 specialty restaurants including the famous Gott's Roadside along with bakeries, an ice cream shop, a cheese and wine merchant, AND they have a weekly farmers market. We enjoyed a lovely lunch on the outdoor patio of Kitchen Door.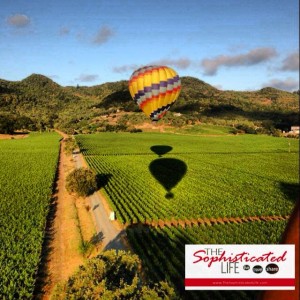 Wineries: My Favorites:
Peju Province Winery: Lovely artwork, known for "The Yodelmeister" who sings, raps and/or yodels during his wine tastings! AND has been known to also play his guitar. Unfortunately I missed this but a few of my friends experienced it and loved it!
Cakebread: Honestly this could be placed at the bottom of the list. I went there since it is a well known brand, I love their sauvignon blanc and many people told me 'I had to go". But the tasting and tour was nothing special and they had many higher priced tiered tastings so for our group price we were not able to taste the wines I would have liked. Surprisingly I went there for their whites but bought a delicious pinot noir!
Del Dotto: We had a wonderful experience at the Napa location even without the Cave&Barrell tour! Friends of ours have done that tour (which is an additional cost) and do recommend it. I purchased several bottles of red. yummy!  They have an additional newer location in St.Helena.
Domaine Carneros: Absolutely gorgeous mansion/estate with private table seating on their outdoor patio. The pic above is from their wine tasting! Just Fabulous!
Prager: I am so glad a friend texted me while I was in Napa and recommended Prager! It is a unique little winery and shop dedicated to port wines. They had so many types including white ports that I had never tasted! All delicious and I came home with a few 🙂
NEXT TRIP!!
Hall Wines-I attended a wine tasting in Atlanta which introduced the 2011 Kathryn Hall Cabernet Sauvignon-which was delicious- and had the opportunity to meet Kathryn Hall
Signorello- a few friends visited this winery during our trip and enjoyed the wine tasting and lunch on the property.
V.Suttai- known for their many outdoor picnic benches and gourmet food as well as wine tasting, a couple in our group enjoyed an afternoon here.
Rubicon/Inglenook-purchased by Francis Ford Coppola in 1975 with profits of his film "The Godfather"
Opus one-founded by Robert Mondavi and French Baron Rothschild, they are known for making premier Bordeaux
Other wineries that kept showing up on "Top Wineries to visit in Napa" lists:
Jessup
Miner
Domaine Chandon
Ggrich
Other restaurant recommendations based on my research:
Carpe Diem Wine
Pearl
Bounty Hunter Wine Bar
Cole's Chopchouse
Redd
Rutherford Grill
Mustard's Grill
Solbar-in Calistoga
Sweetie Pie's-bakery
Redd Wood-pizza
Auberge bistro and bar
Whew! Did you get all that?! I know it may seem overwhelming but it is totally worth it! It is one of the most beautiful, fun and relaxing places I have ever been and I cannot wait to go back! I hope this article and the lists above helps you with planning your trip. Please come back and tell me if it does!
N.S.W