This blog post was sponsored by Canopy by Hilton Atlanta Midtown, but all views expressed are my own.
Are you looking for staycation ideas in Atlanta? My recent Atlanta staycation at Canopy Atlanta Midtown hotel was just what I needed. As many of you know I am used to traveling at least every other month. Whether it be domestic or international travel, a road trip or an ultra-long haul flight to a new & exciting destination, a trip with my husband, a work conference or a girl's getaway, travel has always been a huge part of my life.
Therefore, being on travel lock down this past year due to the pandemic has been very difficult. So when given the chance to experience an Atlanta staycation at the Canopy Atlanta Midtown during Black History Month, I jumped at the opportunity. Sometimes just a change of scenery does wonders for your mental health.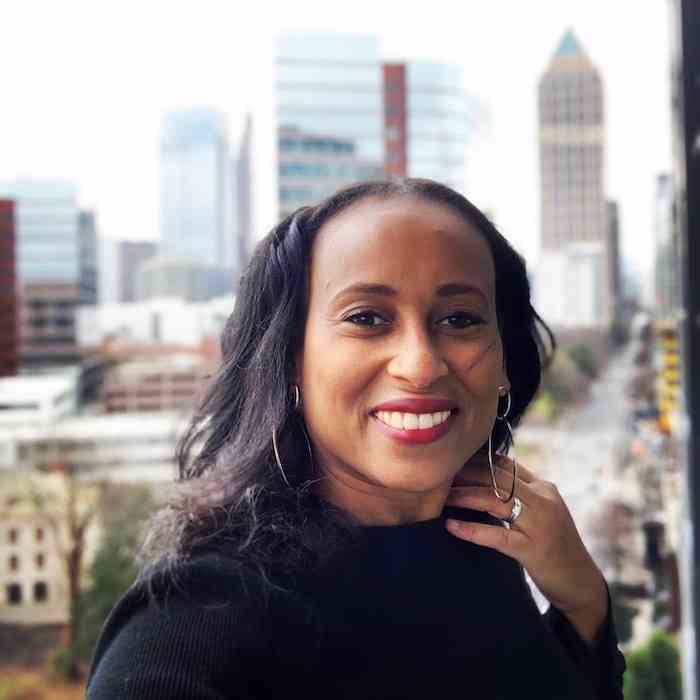 What Makes Canopy Hotels Perfect for Staycations
The Canopy hotels are part of the Hilton lifestyle brand. They are four to five-star hotels that range from boutique urban hotels to large beachfront properties. Each hotel is focused on that local destination so that you can have a unique experience. The Canopy hotels also offer affordable accommodations in prime urban locations. So no matter where you live these hotels will inspire great staycation ideas.
The Canopy brand operates based on 3 pillars that:
"Sophisticated Comfort": imagine a hotel and room that's well designed, artistic, sophisticated yet comfortably and feels like your own home. They are designed for families, business, solo travelers and even those with pets.
"Simply Enabling Service": Contactless digital check-in is available however someone is also available if you need them.
"Thoughtfully Local": I think this is my favorite pillar and makes me want to visit other Canopy locations around the world. Each Canopy hotel is designed with local flavor. You have expert guides to the city at your disposal. In addition, they support local communities and believe in protecting the environment.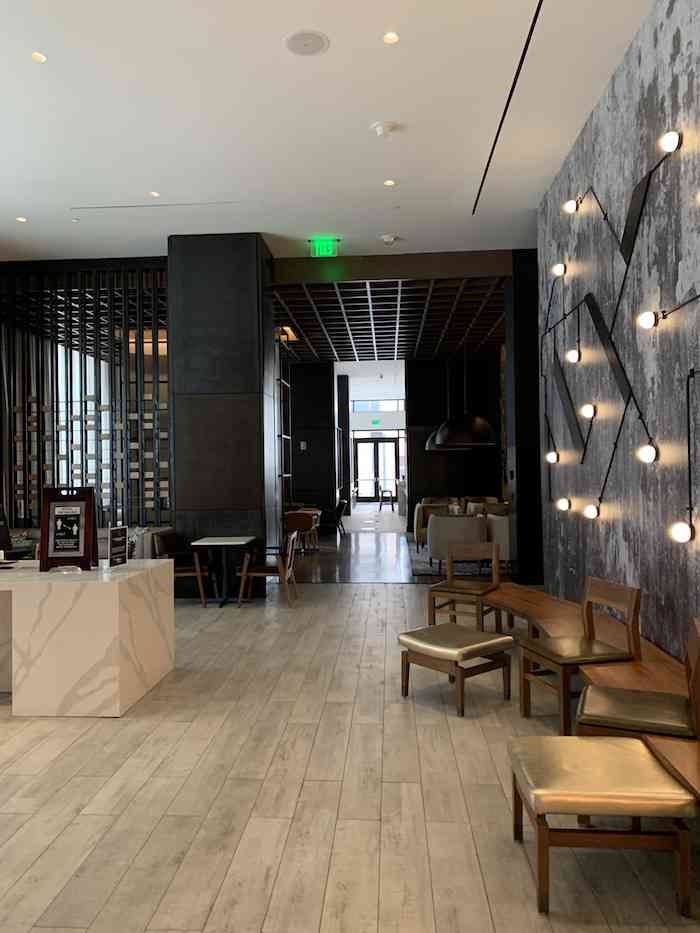 Unique Features of the Canopy Atlanta Midtown Hotel
Prime Location: Midtown Atlanta
Location, location, location! Midtown Atlanta is my favorite part of the city. Midtown is known as the heart of Atlanta's art district due to the large number of museums in the area. It is a clean, vibrant walkable neighborhood filled with great shops and restaurants. Midtown is also home to the largest green space in the city-Piedmont Park. It is the perfect place to stay in order to visit landmarks in downtown Atlanta without dealing with the crowds and traffic.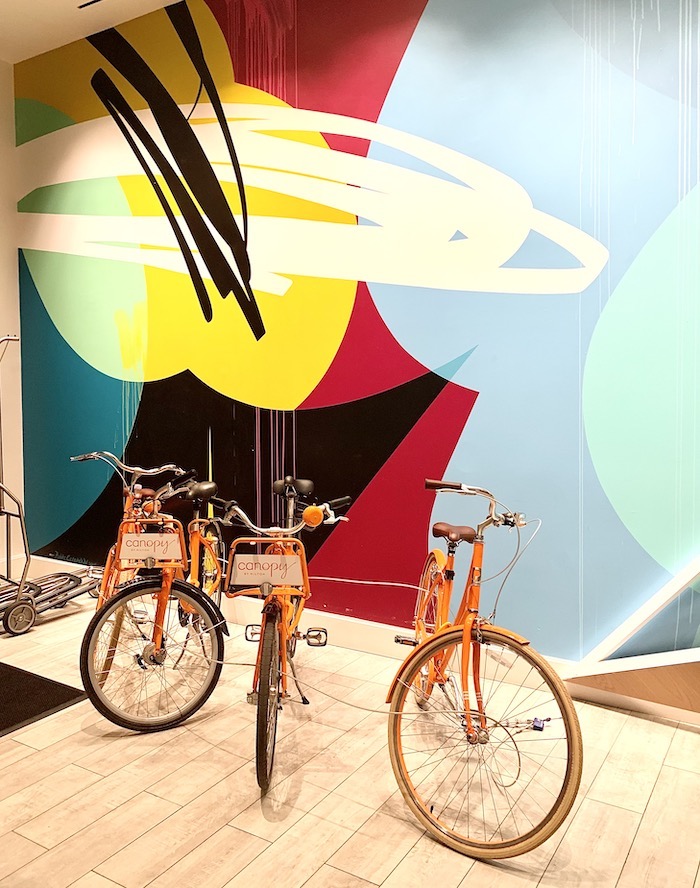 Local Flavor and Expertise
Canopy hotel properties feature "Conscious travel" which includes Canopy bikes to help you explore the city and filtered water stations. Canopy team members are expert guides for that city which can be very helpful if you are a new visitor. When thinking of staycation ideas in Atlanta, having an expert guide can also be helpful for local restaurant, shopping and event recommendations.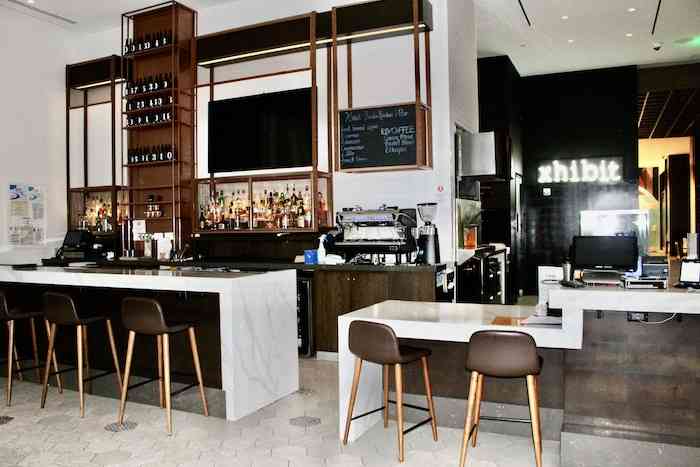 Canopy hotels have neighborhood inspired food & drink branded restaurants. This includes lounge areas and artisanal paid breakfast, craft cocktails, evening tastings of local spirits and rooftop bars in some locations. Due to low occupancy at our hotel, the restaurant onsite "Xhibit Studio Kitchen & Bar" was closed with a limited menu of bar snacks and a few pizzas. But, we enjoyed cocktails at the bar-an Old Fashioned and a Peach Martini. I cannot wait to return to try the full menu of local soul and southern foods.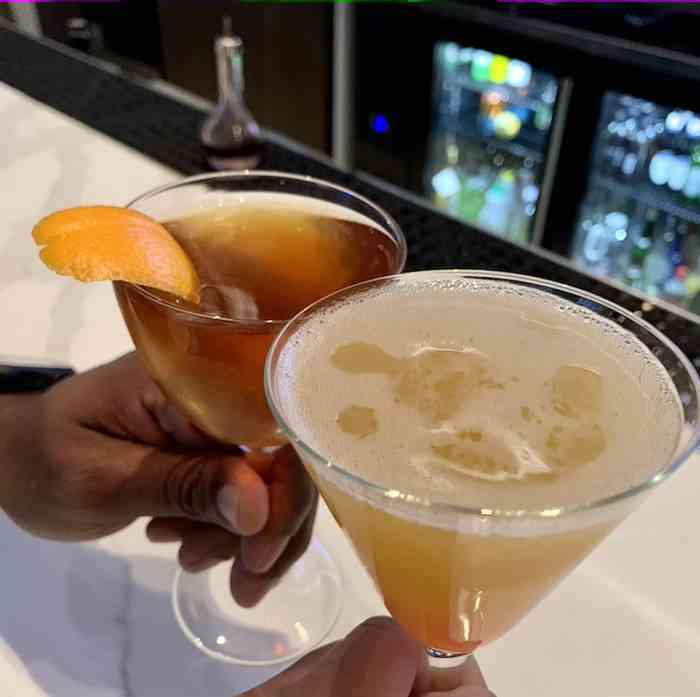 Comfortable Amenities
Canopy Atlanta Midtown also has a 24 hour gym available to guests (with a Peloton bike!), is pet-friendly, and has board rooms and event spaces for small business gatherings or micro-weddings. "WorkSpaces by Hilton" is also a great program. You have heard of WFM "Work from Home" well how about "Work from Hotel"?! Businesses or individuals can reserve a private, standard guest room with wifi during regular working hours and have access to hotel amenities!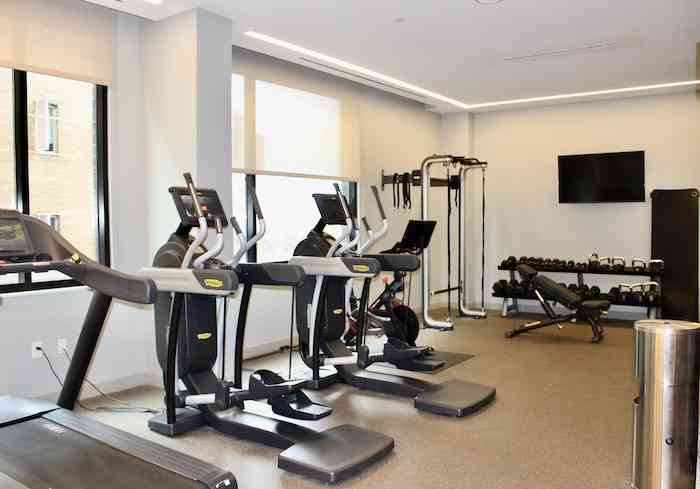 Canopy Atlanta Hotel Room Features
The rooms at Canopy Midtown Atlanta were my favorite part of the hotel. Our oversized king room was situated on the 11th floor. It had a balcony with beautiful views of the Atlanta skyline. I loved the airy, artistic and sophisticated style of the room. The "Just-Right" rooms had a place for everything. There is a section with a chase sofa to read and relax, a desk area to work and a unique canopy bed to get cozy in. There is a large flat screen TV, a Nespresso machine (yum), large closet space and bathroom with a walk-shower.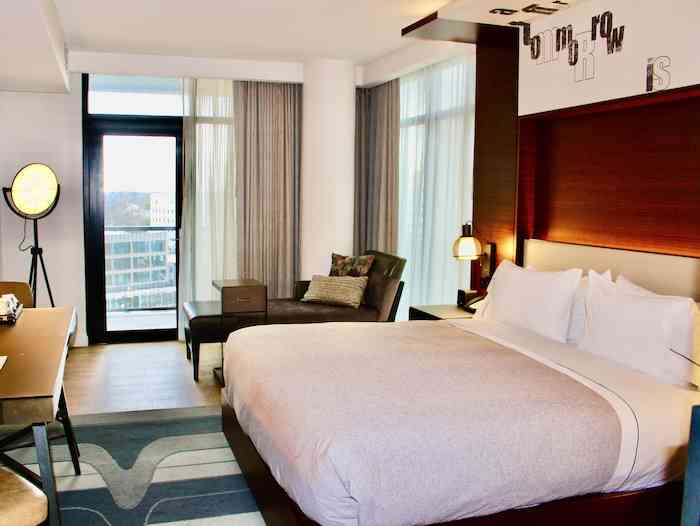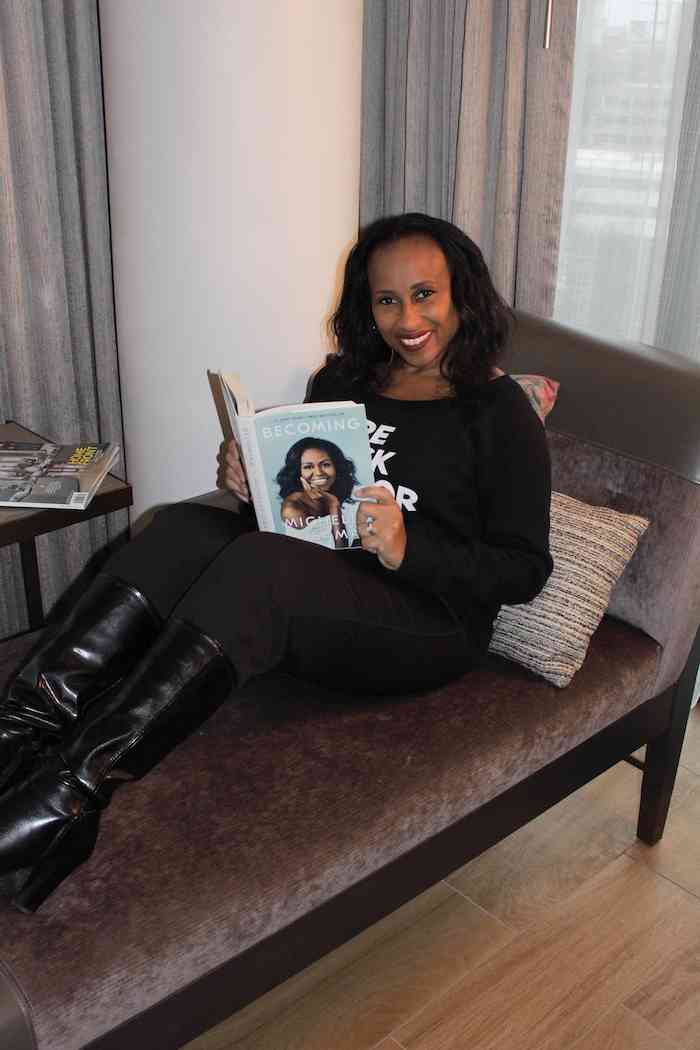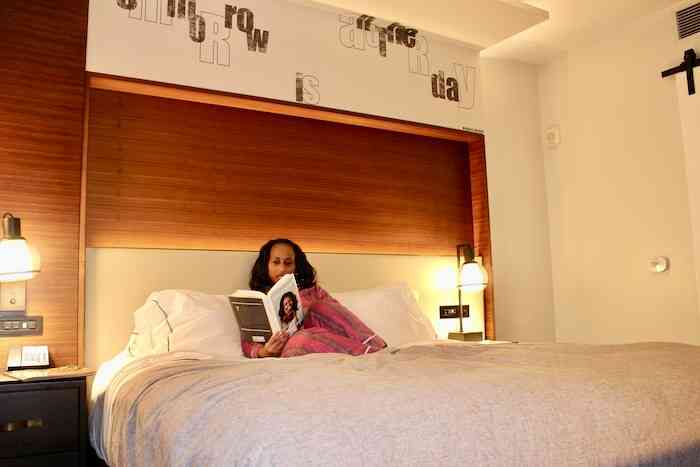 Hotel Cleanliness & Housekeeping
I know a lot of people are very concerned about planning staycations and traveling anywhere right now because of the risk of getting COVID-19. Before deciding to stay at this Hilton property or any property, it is important to be aware of their cleaning, health and safety guidelines. As a physician I take this very seriously.
Canopy Atlanta Midtown and all Canopy hotels follows the practices of "CleanStay" by Hilton. CleanStay is a new standard of cleanliness and disinfection procedures being used in Hilton properties around the world. This new industry-defining standard of cleaning was developed with the makers of Lysol and Dettol due to the COVID-19 pandemic. This includes team member training and elevating existing high standards of housekeeping and hygiene at Hilton properties.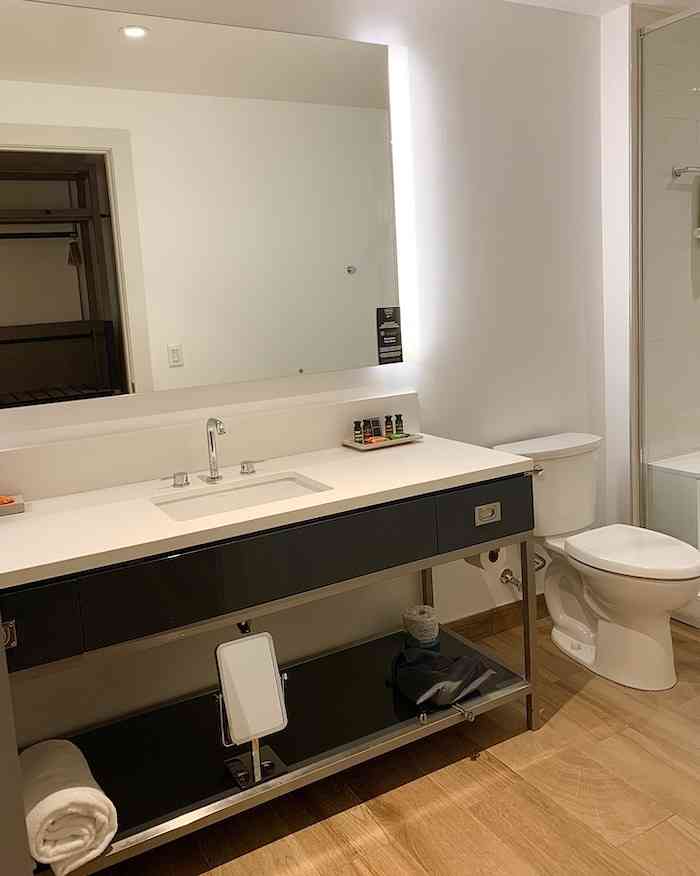 Hilton CleanStay gives guests peace of mind and assurance while planning staycation ideas and during their stay. Features include the room seal to indicate the room has not been accessed since being cleaned, "knock and go" drop off room service and flexible housekeeping options.
From the minute that I walked into the Canopy Atlanta Midtown I was impressed with the large Lysol wipes dispenser in the lobby. There were also hand sanitizer stations all throughout the hotel. The hotel was at low occupancy so we did not have to worry about crowds. But, there were signs on the floor reminding you to practice social distancing with footprints showing 6 feet measurements. The tables in the restaurant had social distancing signs as well. Signs were also present stating that masks were required by guests in the hotel.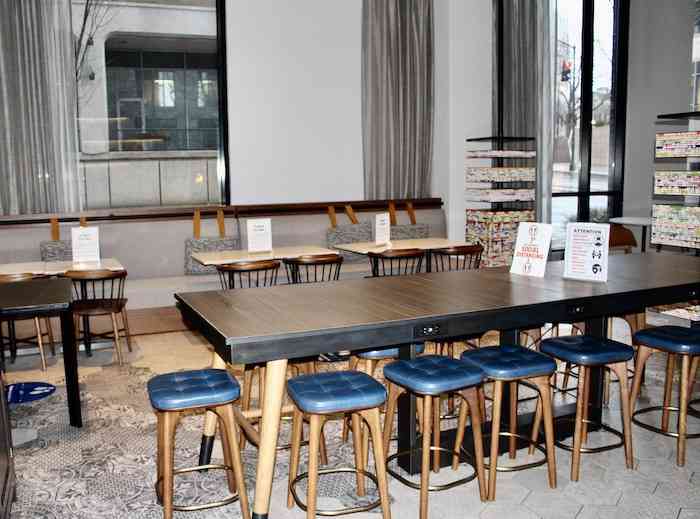 At check in there was a glass divider present. We were informed that housekeeping did not enter occupied rooms (my preference anyway) and that towels and supplies were available during our stay. Once we arrived at our room there was a seal on the door letting us know it had been cleaned. Once inside, the room was spotless. The remote had a paper wrap around it, there was another sign on the bathroom mirror about housekeeping services and ample toilet paper and towels for our stay.
Staycation Ideas: Visiting Atlanta's Black History Sites
One of the great things about the location of Canopy Atlanta Midtown is the proximity to Atlanta's Black History Sites. The hotel provided a self-guided tour of famous Black History Sites and landmarks on Atlanta's Auburn Avenue. Most of these locations are about 3 miles away from the hotel so they can be reached by bike, car or on a tour.
Popular sites along Auburn Avenue include the Apex Museum, The King Center, Martin Luther King Jr. National Historical Park (check for closings), Ebenezer Baptist Church, The John Lewis Mural and Municipal Market. There is no shortage of things to do & see in Atlanta during Black History Month and year round. A few other Black history sites near the hotel are the Civil Rights Museum, Morehouse College and the first Black public high school-Booker T. Washington High School.
You are bound to get hungry from all this sightseeing! Well, you are in the right place. Atlanta is one of the best foodie cities in America and a wonderful place to support Black-owned restaurants. According to the guide in the hotel, head to Negril Village in Midtown for Caribbean eats, The Consulate for International flavors and Triple Jays Pizza Bar for specialty pizzas. Head downtown to the historic restaurant Paschal's for Southern and Soul food. And, read the list I curated of over 35 Black-owned restaurants here in Atlanta.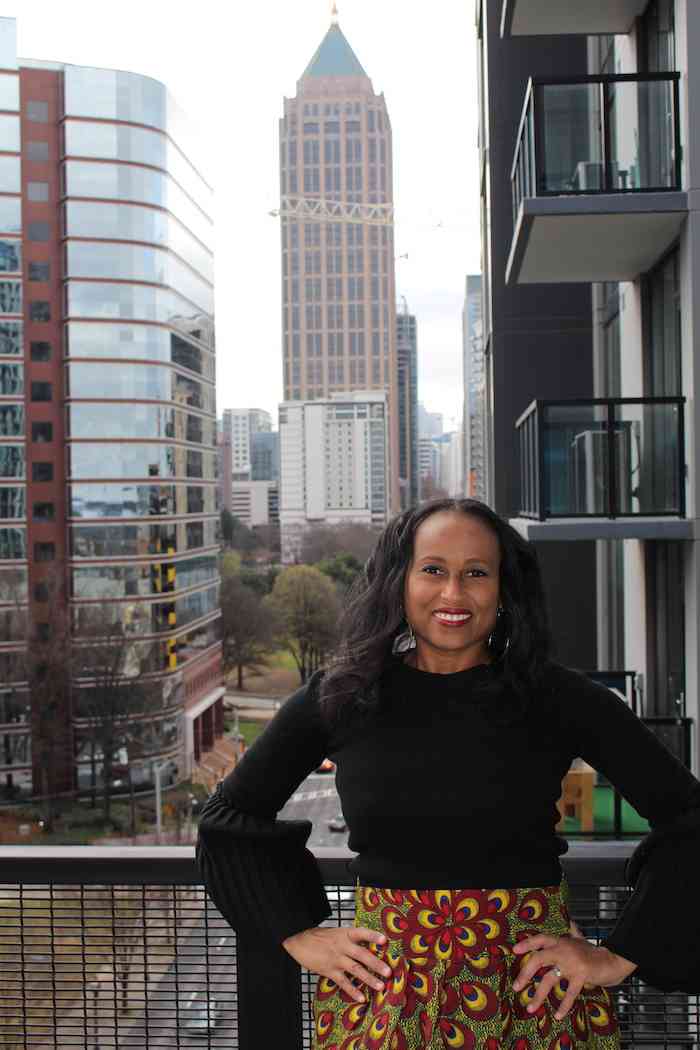 In Conclusion:
I hope this post has inspired an Atlanta staycation at the Canopy Atlanta Midtown. Please visit their website for more information. The good news is their sister brand "Motto" is building a new property in Atlanta's Old 4th Ward neighborhood so you will have two hotels to choose from. This is the same neighborhood in which Dr. Martin Luther King Jr. grew up in Atlanta and his childhood home is still there. Old 4th Ward is also a thriving area in the city with a lot of great restaurants, bars and historic places to visit.
Before you go.. check out this list of "Things to do in Atlanta Georgia during Black History Month".