I am not known to be an adventurous person. However, while traveling and on vacation I push myself to take risks and do things I would never think to do in my "normal" life. I am not sure where this adventurous travel spirit comes from but I like it! It has allowed me to experience wonderful travel adventures that will last a lifetime. Inspired by the recent Jetsetter Roundups post on adventure travel stories from female travel bloggers, I decided to include all my travel adventures into one post. I have a mental bucket list which has led me to fulfill many of these!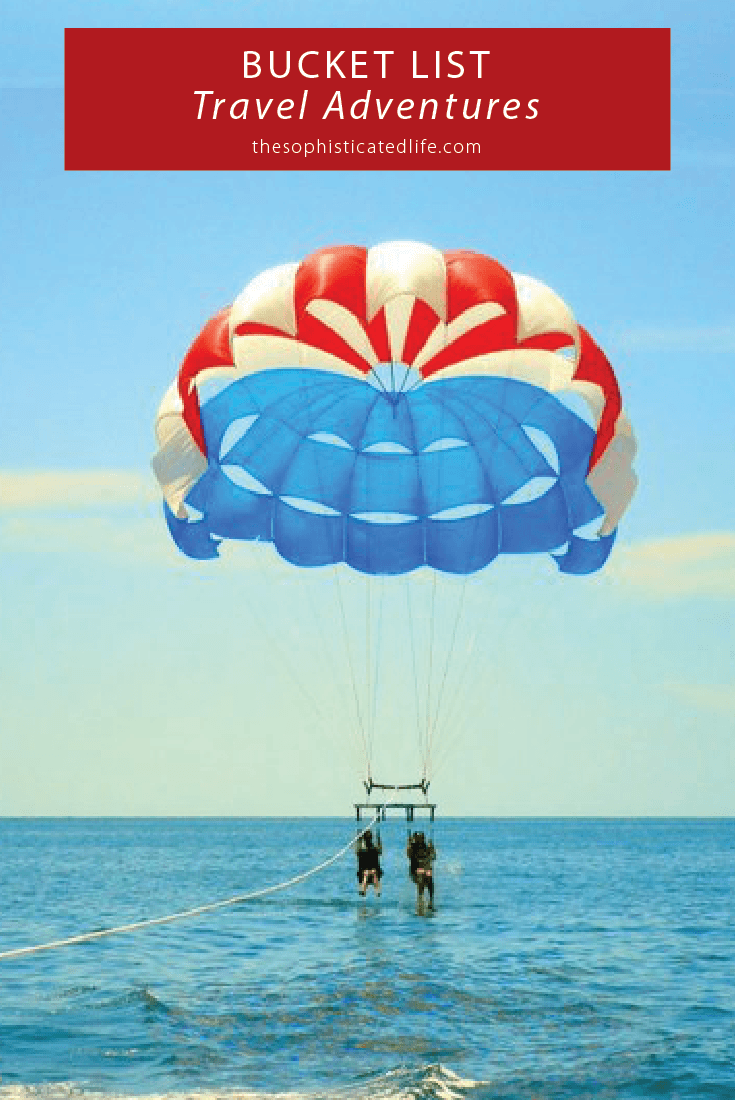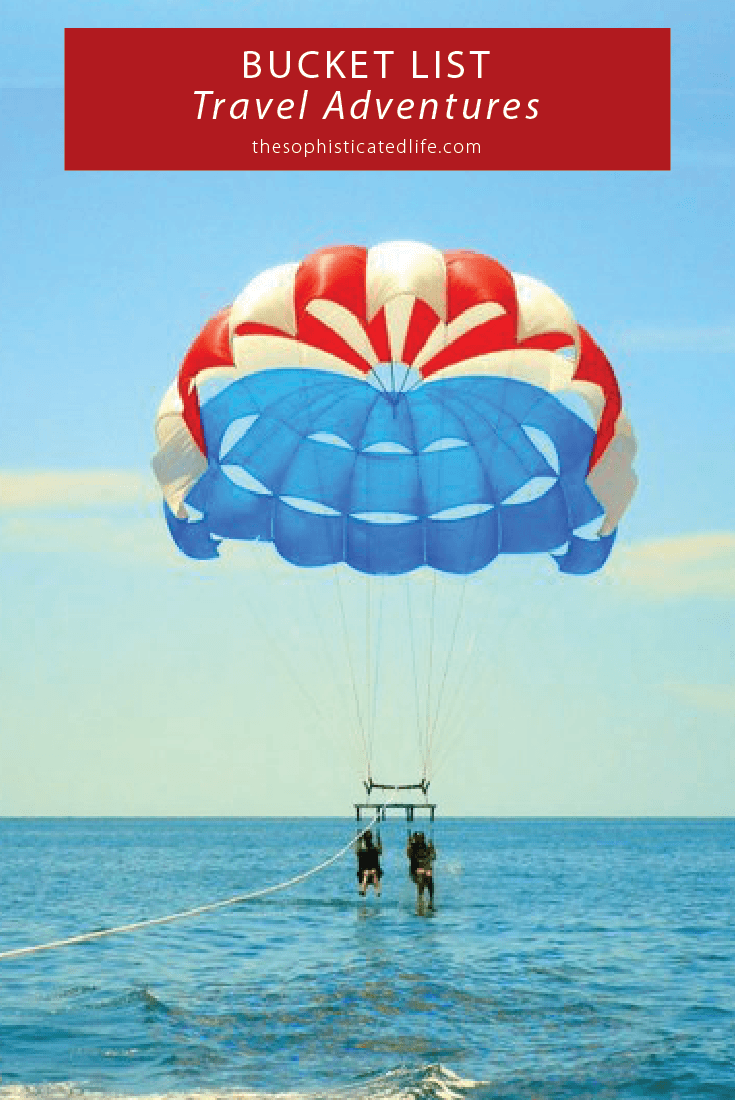 1) Parasailing over Marco Island, Florida:
Two things that I had watched people do in envy while on a beach vacations were jet skiing and parasailing. While visiting my cousin at the Marriott resort on Marco Island I had the opportunity to do either or both at a discount. I chose parasailing. I was very grateful that one of my cousins agreed to do this travel adventure with me since they had double harnesses. While on the boat ride out to sea my heart was racing! Several other people went before us which caused greater anxiety! However, they all raved about how wonderful the experience was. Going up was smooth but I soon realized how far away from the boat, resort and beach we were!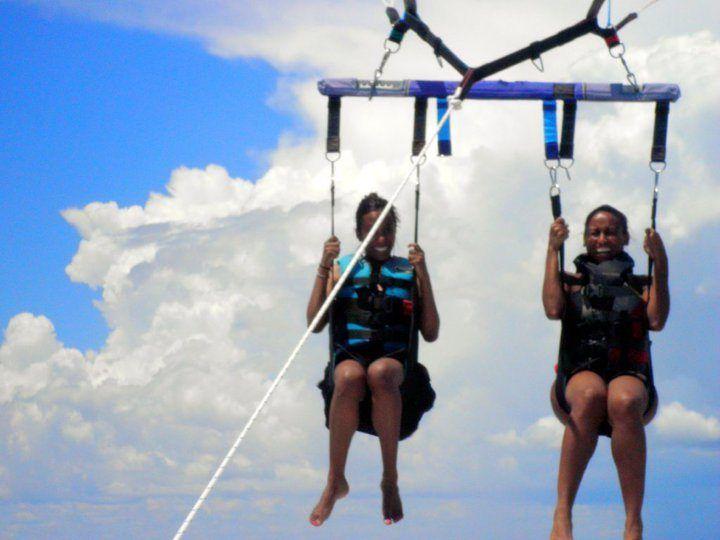 I felt the harness was not going to hold me up and although I had on a life jacket I imagined crashing to the sea and going under (yes my mind gets the best of me at time). While I was cowering in the air, my cousin loved it! She brought my attention to the large sea turtles in the ocean and how quiet it was so far up into the sky. Our guide then proceeded to dip us up and down through the air! No thank you! I am glad my cousin was with me since I am sure being solo I would have been screaming the entire time up there- "Get me down"(which no one would have been able to hear).  Also, she forced me to pay attention to the amazing views of Marco Island and the ocean which I love. Would I repeat this travel adventure? No! Although as they say- "never say never".  I could be convinced by the right person at the right time.
2) Hot Air Balloon Ride over Napa Valley, California:
On my second trip to Napa Valley, I decided to finally fulfill my bucket list item of riding in a hot air balloon. I have always looked at them in the sky as things of beauty. Although I have a fear of flying, as mentioned in a previous post, I love heights and the views they provide. I was in Napa Valley with a group of friends and only 3 others were willing to go for the ride including my fiancé. I will admit, once we arrived at the field where the balloons were being inflated, I was nervous to complete this travel adventure but also filled with excitement! We were helped into the basket below the balloon and before we knew it, we were in the air! It was a crisp, sunny day in June and not too windy which was perfect. It was such a smooth ride up vs. being on an airplane. We gazed down at the lovely valley below while our guide explained some of the geography and landmarks. There were several other balloons in flight with us and it was great to watch as we all sailed through the sky. Fyi: If you have never done a hot air balloon ride it is pricey but worth it. Also, the open flame that creates the heat to propel the balloon is very very hot! Hats or head scarfs are recommended. Would I repeat this travel adventure? Absolutely!-preferably in Cappadocia, Turkey!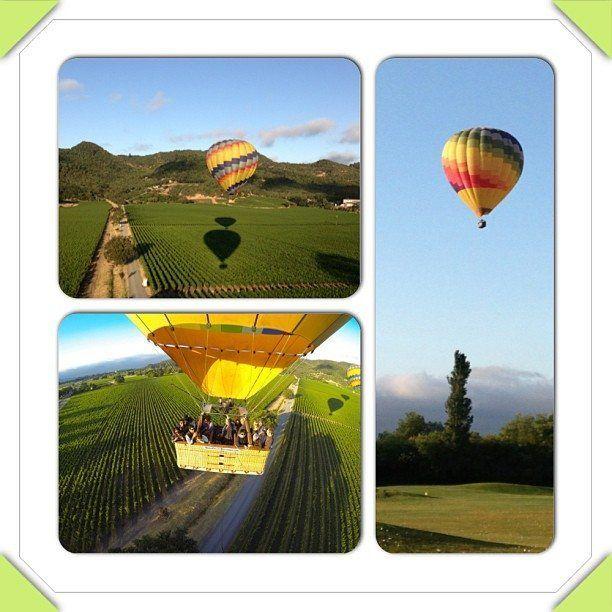 3) Horseback riding on the beach in Punta Cana, Dominican Republic:
Since I can remember I have always dreamed of riding a horse! I love watching equestrians and polo matches. However, I will admit after Chistopher Reeves ( ie Superman) had his terrible horse riding accident that made him a paraplegic, I was reluctant to complete this travel adventure. That changed after seeing amazing videos and pictures of people horseback riding on beaches around the world. I finally had my chance when vacationing at the Hard Rock Resort in Punta Cana, Dominican Republic. We had resort credits to use at the resort and one of the activities was horseback riding on the beach at sunset. How could I turn this down? Since I had never been on a horse I was apprehensive and to make matters worse my horse was competitive and snipping at other horses! By the second half of the ride I was able to relax and take in the beautiful sunset, ocean views and breezes. You can read my full account and watch my video while I was riding here. Would I repeat this travel adventure? Yes! Especially on my homeland of Jamaica!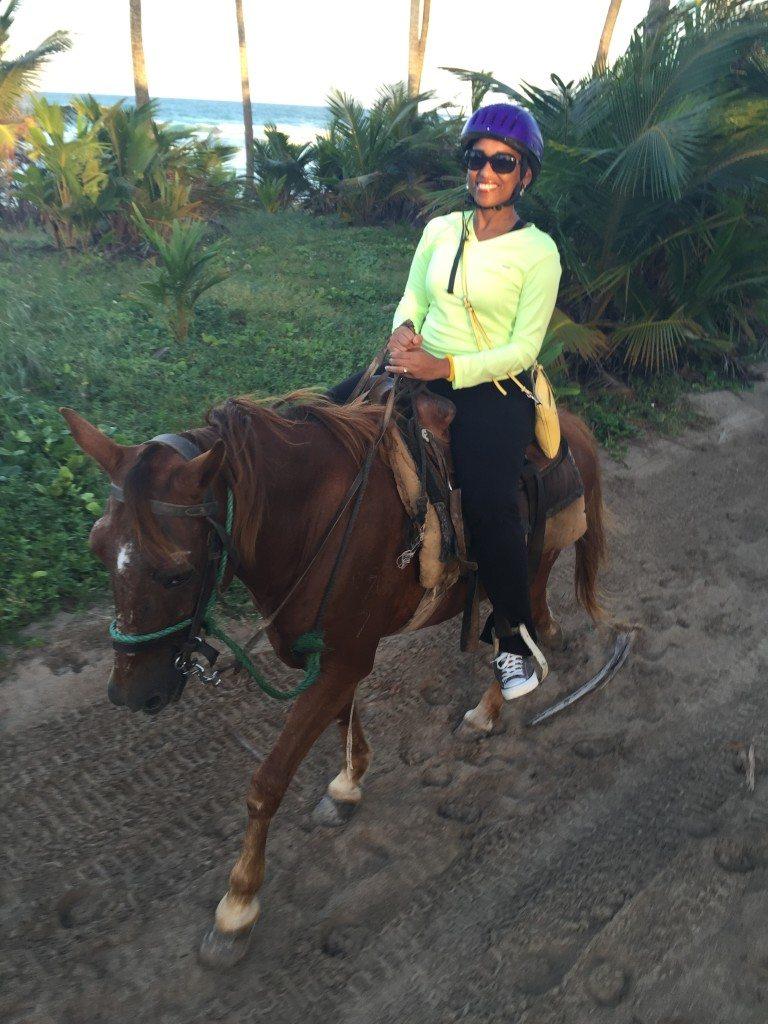 How cool is it to have zip lining offered on a cruise ship?  And for free! For the first few days on Oasis of the Seas I watched as people of all ages and sizes zipped across the boardwalk area of the cruise ship. My Aunt and I figured if they could do it so could we. We took advantage of a day when most cruisers were in port to give it a try. My Aunt went first and did an amazing job! I passed my camera onto to her to take pictures of my turn. I remember being on the edge of the platform with the guide telling me "you have to let go now. You have to let go to move across". I was frozen. I saw my Aunt on the sideline cheering me on but I couldn't let my legs fall off the platform! With words of encouragement from the guide and knowing my Aunt had done it ( I couldn't let her have a leg up on me!) I finally let me feet fall off and went zipping across the ship. I enjoyed views of the people and carousel below. The funniest part? It was not funny then but afterwards was that my Aunt could not figure out how to use my camera so she did not get any shots of me zip lining! She told me I had to do it again. Huh? But for documentation sake I did it again! The best part of this travel adventure was heading to Johnny Rockets on the ship afterwards to celebrate our accomplishments with hamburgers, shakes and apple pies! Would I repeat this travel adventure? YES! I look forward to zip lining on a full course through forests or jungles or at a beach!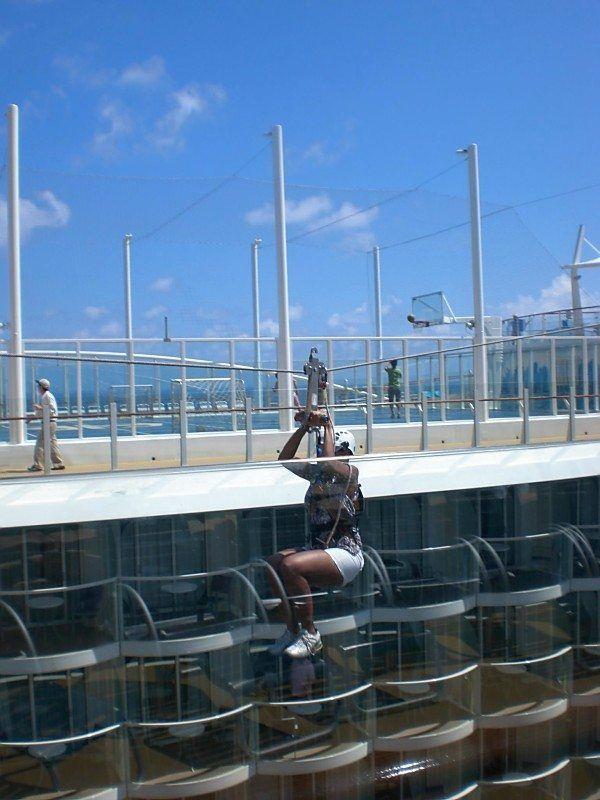 5) Riding a donkey up a Caldera in Santorini, Greece:
This travel adventure was definitely not on my bucket list and was definitely spur of the moment! During a tour of the Greek Isle of Santorni I had the choice of taking a gondola back up to the top of the caldera or riding a donkey. My friend, who was on the tour with me, looked at me like I had two heads when I suggested that we ride the donkeys. She chose the gondola but I chose the donkey! The views riding up were amazing! I had to hold my nose a bit at all the donkey poo and I did feel bad about the possible mismanagement of the donkeys but it was another memorable experience. I wrote about it in my post "The Many Wonders of Santorini, Greece"! Would I do this travel adventure again-No-but only because I feel bad for the donkeys!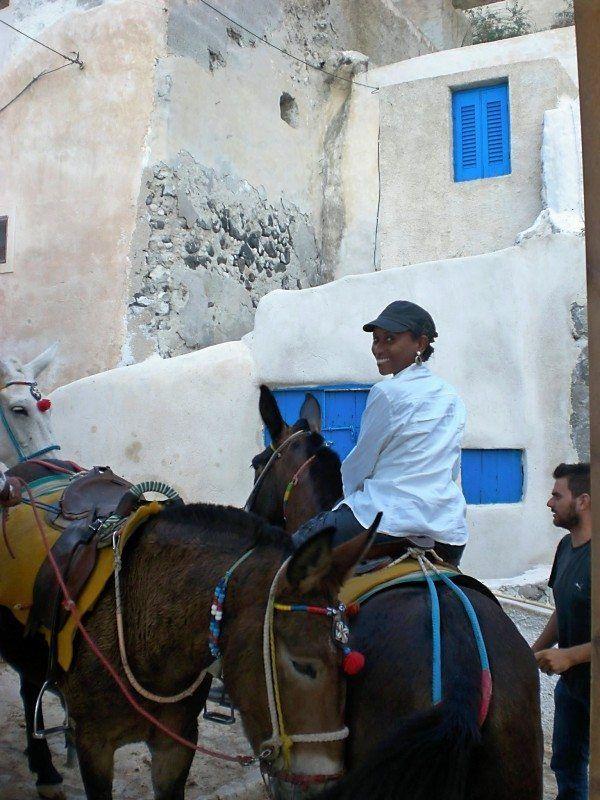 6) Rock Climbing on the Norwegian Epic cruise ship:
Another cool cruise ship travel adventure! I know there are numerous rock climbing facilities in most major cities and also in gymnasiums but I had never done it until last fall. Just as with many of the previous travel adventures described, I was anxious with sweaty palms before I started. Once I was suited up and gave my fiancé the camera to video my experience I took my first few steps onto the rocks. But then I was stuck! I had no idea which rocks to step on to get to the top! The guide instructed me I had to get to the top and ring the bell before my task was complete. Thank goodness he helped me see which rocks to climb on in order to proceed. I will admit. Half way thru I wanted to quit. I almost asked to be lowered back down. But, I am not a quitter and knowing my fiancé was down there cheering me on and videotaping my experience kept me going. Read my full experience and watch the video here. Would I repeat this travel adventure? Yes! It was a great challenge and a great workout.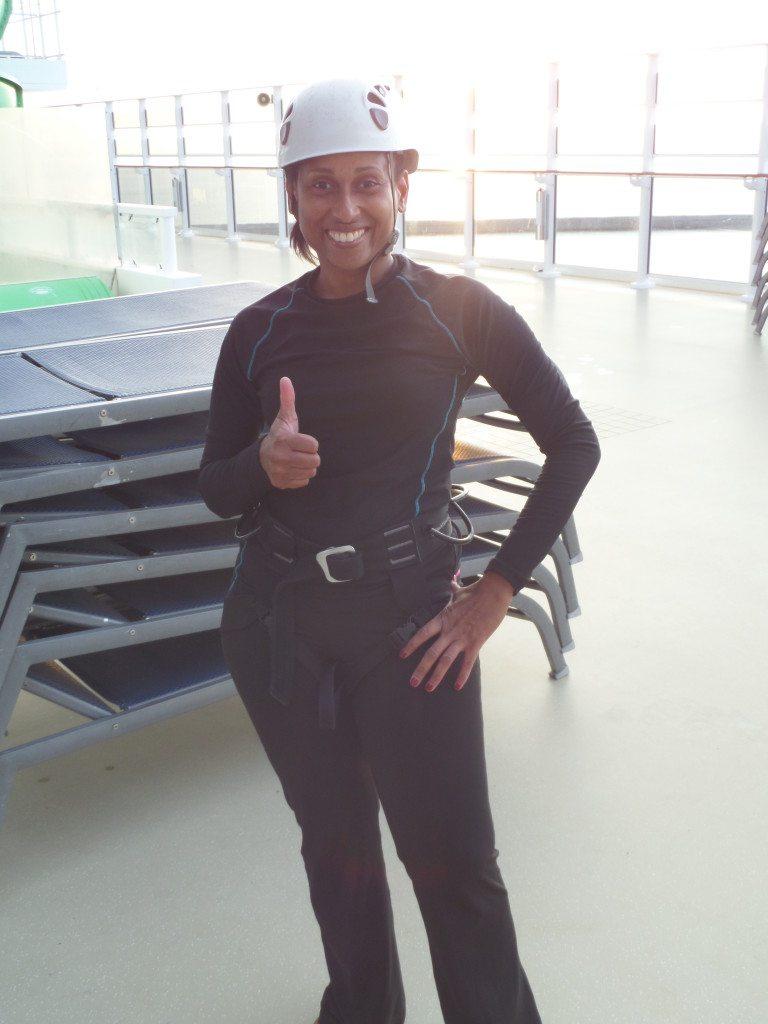 7) Whale Watching in Monterey, California:
I don't remember when this desire came to be but while on my "Eat, Pray, Love" trip in Northern California I read about whale watching in Monterey. I figured-why not? We went out on a boat in very rocky water which led to several people including myself getting sea sick. In addition, although it was sunny with moderate temperatures on land-it was freezing out at sea. We sailed around for over an hour only spotting the tail of one whale from a distance. Very disappointing. Although I love the ocean and yachts and sailing and cruises, I was never so happy to return to land. Would I repeat this travel adventure? Yes because I must do it in Hawaii during whale migration season!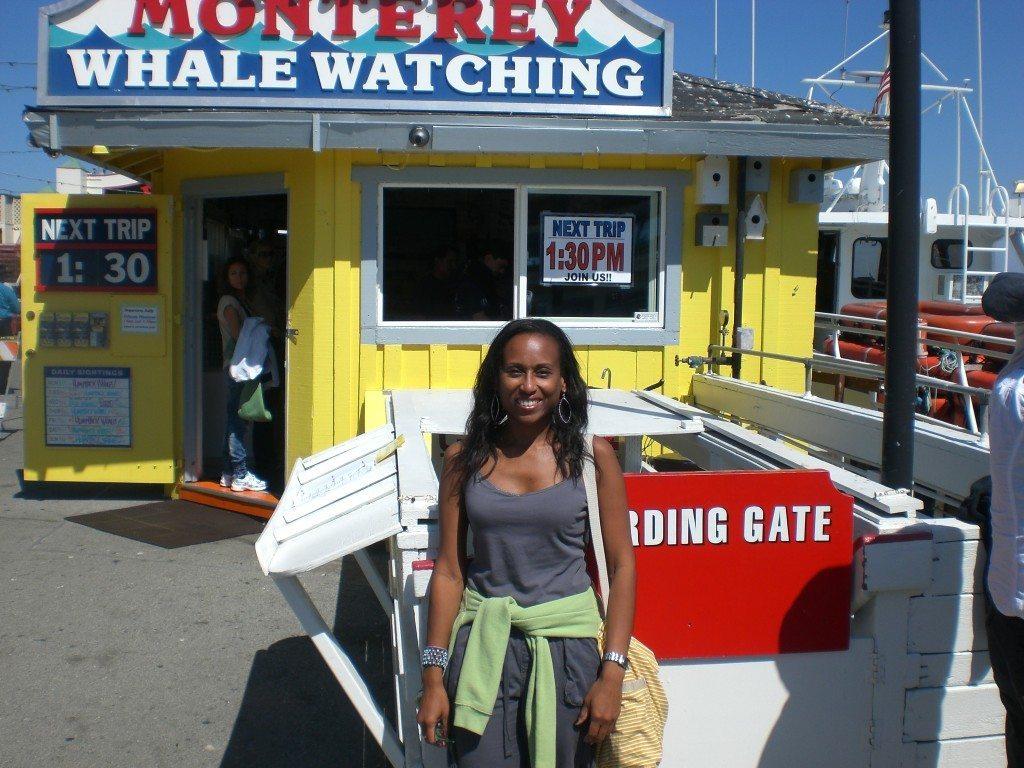 So tell me, have you done any of these travel adventures or plan to? I hope reading this post has inspired you to be more adventurous on your next trip! If so share your thoughts with us below!
N.S.W.