Have you ever made it to a place that you have been dreaming about? A place that has been on your bucket list for years? Somewhere that others have traveled to and raved out only increasing your desire to get there? Well in September that happened to me when I finally arrived in the South of France AKA the French Riviera AKA Cote d' Azur to locals.  I have seen movies that have taken place in the French Riviera, including James Bond films, and have imagined all the fabulous people and places there. I also imagined the glitz and the glamour, the cars and the yachts. As I got older and became a movie buff  I watched coverage of the Cannes Film Festival hoping one day I could rub elbows with the famous and talented actors and actresses. Or, at least just be in Cannes at the same time sailing around on my yacht and running into them in the local coffee shops 🙂 Ok, so you see that I have an active imagination! Now back to my story about Cote d'Azur…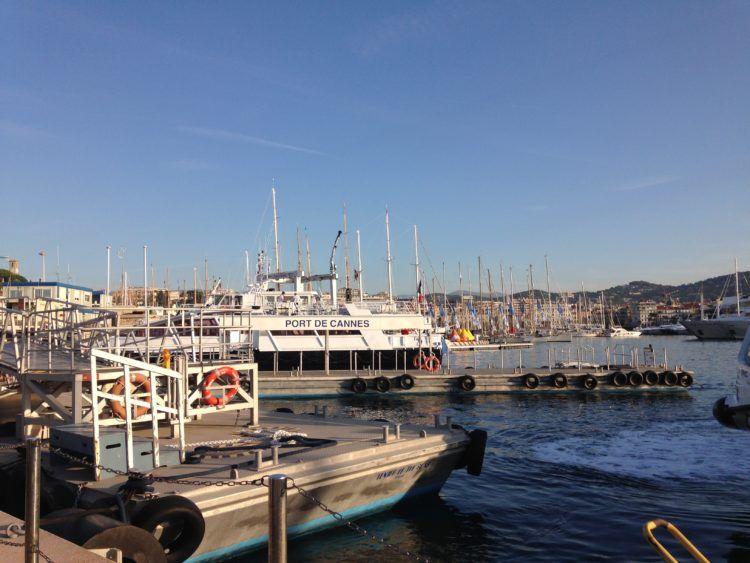 Cannes: While on my Mediterranean cruise on Norwegian Epic one of the stops was Cannes, France (and yes its pronounced C-A-N just like a can of soda). It was much more of a bustling city than I imagined but still with beautiful views, sand, beaches and yes-yachts. The streets were filled with high end designer stores and outdoor cafes. During our drive through the city our tour guide pointed out the famous theater which holds the annual Cannes Film Festival.  I was surprised and a bit disappointed that the building and infamous steps lined with red carpet during the film festival were both smaller than they appear on TV.  But, it was pretty awesome to finally see it. Our tour only included a drive through this city so I hope to return soon!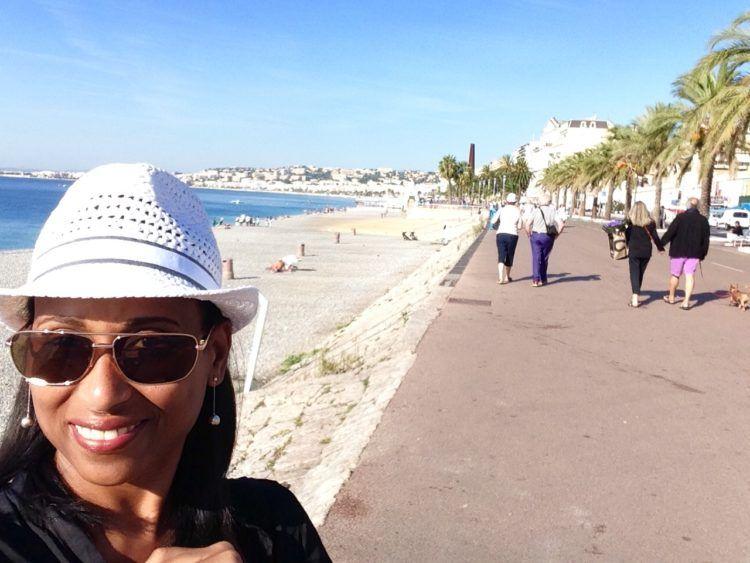 Nice:  We drove along the coastline passing thru many small French towns until we arrived in Nice. AHHH!! Nice is the largest city in the French Riviera and has its own airport. As we drove along one of the many thoroughfares along the ocean called "Promenade des Anglais" (Promenade of the English) our guide pointed out many historic hotels and buildings including the Hotel Negresco built in 1912. The weather was absolutely perfect with low humidity, bright sunshine and a temperature of 75 degrees. I was anxious to get off the tour bus and explore!
The Ponchettes beach area was lined with palm trees on one side and large areas of fancy beach chairs with umbrellas on the other. Men, women and children were walking and bike riding along a long path beside the beach. At one point I felt as if I was in South Beach Miami! We walked down to the large farmers market located in the "Cours Saleya" square. At the farmers market vendors were selling everything from fruit to flowers to bread to lavender. I love lavender so bought some fragrant soaps to bring back home.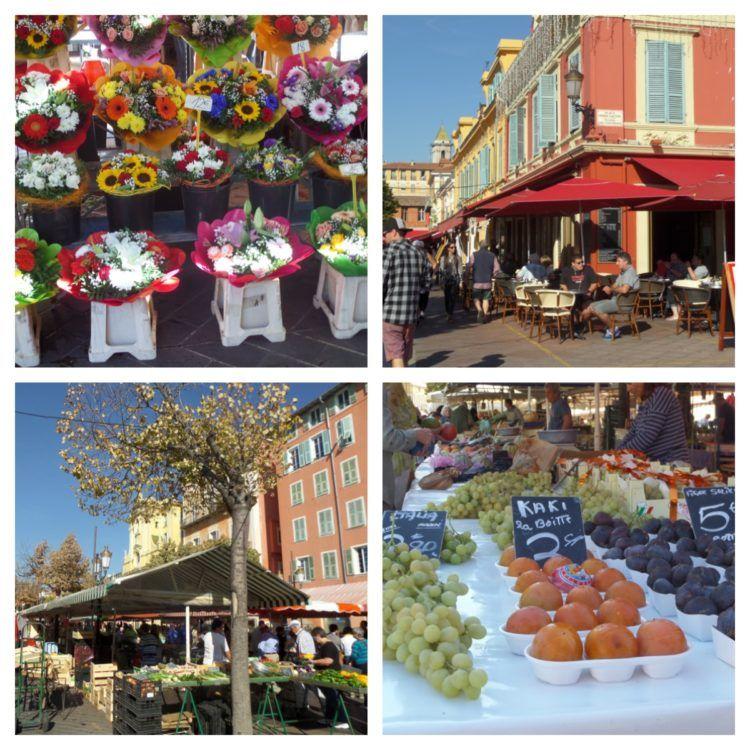 The main square "Place Massena" had beautiful colored buildings with the cleanest sidewalks I think I have ever seen. There is a large fountain with statues called "Fontaine du Soleil".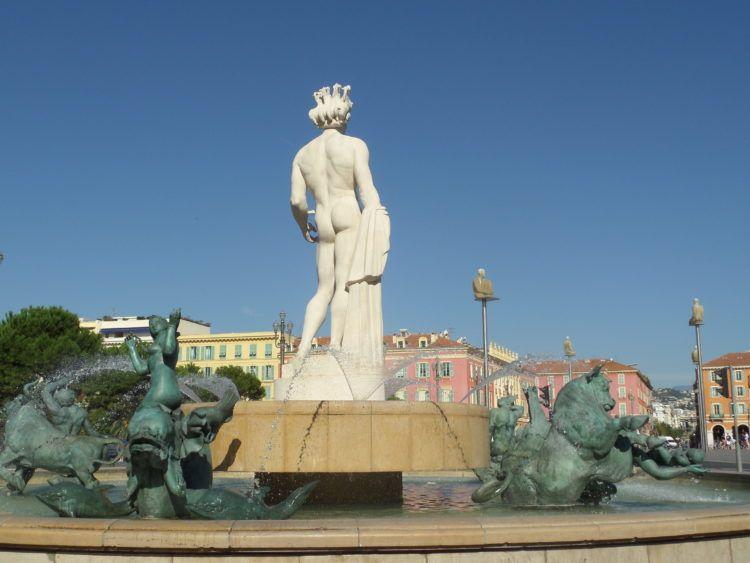 Soon a sleek commuter train passed by and I noticed long poles with figures on top! This artistic work was created by the Spanish artist Jaume Plensa. It is called "Conversation a Nice" and represents communication between the seven continents. I read that they actually light up at night. How magnifique! Below is absolutely one of my favorite pics from the trip. It was the perfect day!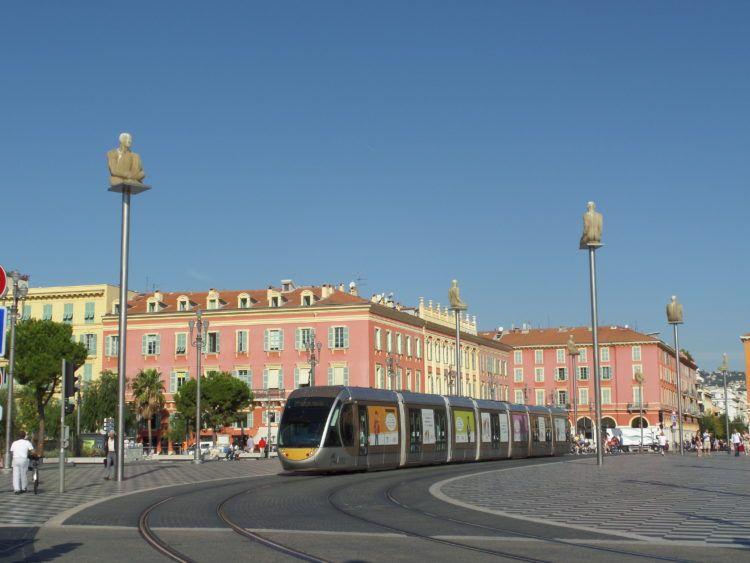 Stay tuned for the next part of my "Visiting the French Riviera" with Monaco & Monte Carlo!
Have you been to the South of France/French Riviera/Cote d'Azur?! If so share your thoughts with us!
N.S.W