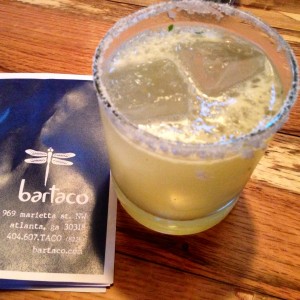 Finding great new restaurants is something I love to do and when they are conveniently located in my neighborhood it brings a big smile to my face. West Midtown is no stranger to hip, trendy spots with unique menus and appetizing dishes and they just keep coming! Thankful 🙂
One of the newest additions is a Mexican themed small plate restaurant "bartaco" thanks to the restaurant group Barteca. If you have been to Barcelona Wine Bar & Restaurant in Inman Park you are familiar with their success in the area. Bartaco brings the same stylish environment centered around a bar but in a casual beach themed environment. bartaco Atlanta is actually part of a larger franchise with several other locations in NY and CT.  It is located on Marietta Street on the same block as Bocado and few feet down from the 5 Seasons Brewery Complex. If you are familiar with this area you know parking is an issue so my first impression was one of delight with valet parking available.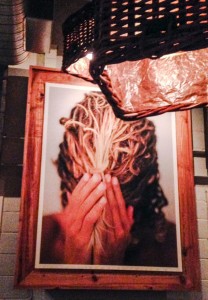 Bartaco is a completely indoor outdoor space with a beautiful fireplace and as mentioned above a beach theme throughout.
The general manager quickly came to our table once we were seated to introduce himself and their "concept". There are several copies of the menu with pencils at each booth and tables. You simply write down how many of each item you want and place the menu in a stand at the table. The menu consists of tacos, rice bowls, "not tacos" that include tamales, ceviche, quesadilla, guacamole and more. Although Mexican themed, there are Asian and Mediterranean items mixed in as well. Once placed in the stand, the waitress picks up the menu and the food is delivered to your table literally within minutes! There is also a blue lacquered card that can also place in the stand that alerts the servers that you need assistance.  No need to look out for and wave down your waiter or waitress!
The menu prices are very reasonable! Some of the small plates we sampled included:
Assorted gorditas: my favorite! (fried corn caked filled with cheese or meat)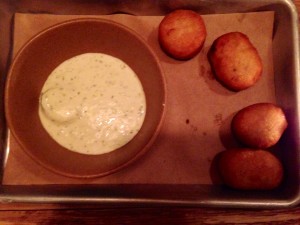 Fried plantains: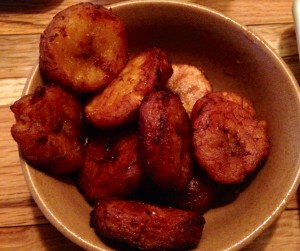 Pork tamale: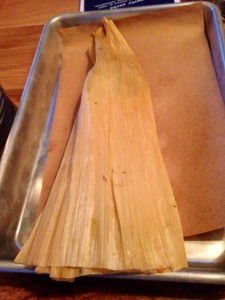 Curry shrimp and fried oyster tacos: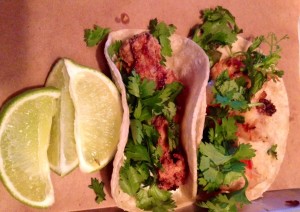 Drink: peach margarita-delicious!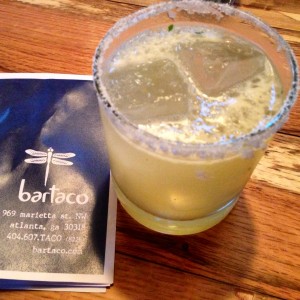 I was so full that I wasn't able to try as many items as I would like or any of the desserts but lucky for me it is right around the corner so I will be back! Take a look at the dessert menu- they have chocolate churros and how many restaurants offer ice cream cones?! And how could I forget to mention that just like Barcelona the music was pumping with incredible beats! While there I heard Bob Marley, 90's hip hop of Tribe Called Quest and even house music. So to sum it up, delicious food, great drinks all in a fun, chic casual atmosphere. What more could you want?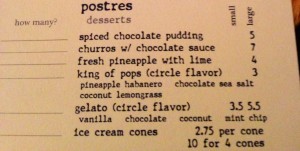 If you go to bartaco share your experience with us!
N.S.W.