My cousin and guest blogger Janene Orgill returns with her review of Gunshow. Named one of the best restaurants not only in Atlanta but in the country! Thank you Janene since I have not made it there yet!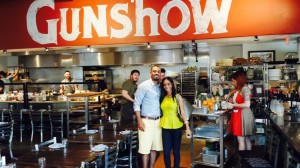 I am always on the hunt for some delicious grub.  I am also a huge fan and fervent watcher of Top Chef on Bravo.  So, when I heard rave reviews about a restaurant named Gunshow, owned by one of the Top Chef contestants Kevin Gillespie, I couldn't even contain my excitement.  Seriously, I hopped on Google and Yelp reading every review and drooled over every picture. I am not kidding.
Kevin Gillespie is a chef, author and former Top Chef season 6 contestant (my favorite season held in Las Vegas).  He describes himself as a fat man who loves pork.  I mean, what could be wrong with that, right? Here's a fun fact: In an interview, Wolfgang Puck stated that Kevin was his favorite out of all the Top Chef contestants.  It just doesn't get any better than that.
Gunshow is open Tuesday-Saturday, from 6pm-9pm.  Luckily, my partner in crime and I gallivanted to the restaurant at 5:45pm on a Friday and they sat us immediately.  And when I say they "sat us," they gave us the best seat….right at the kitchen counter. We were nose to nose with the chefs and the food.  The servers were excellent!  Right away, they gave us a lesson in the concept of the restaurant- "redneck dim sum."  Their words, not mine.  As described on their website, Gunshow  "inspired by Brazilian churrascaria-style dining and Chinese dim sum, Gillespie combined the two for a decidedly fun and delicious result".  Although we sat at the kitchen counter, for those seated at tables, dishes are displayed to diners on rolling carts and they choose what to order from an a la carte menu.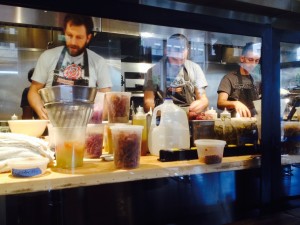 Our first little plate of perfection was a seared scallop with squid ink risotto, charred garlic scapes and chorizo.  It was delicious!  The scallop was cooked perfectly and the chorizo added the perfect amount of spice.  Next up was the Kung Pao Brussels sprouts.  As a person who hates Brussels sprouts, these were amazing.  Just go try them, please. Our third dish was chicken liver pate with peaches and cheddar biscuits.  Notice how I called this a dish and not a plate of perfection.  It was beautiful to look at however I'm not sure I've acquired the taste for pate. Our fourth selection was fried quail.  The skin was crisp and seasoned perfectly. Yum! The chef who prepared this was only 19!!!  So talented!
Next, was catfish ceviche with onions and potato chips.  I loved this! I couldn't get enough of it.  It was delicate yet acidic…great balance of flavors and aesthetically pleasing.
Our last bite of heaven was Kevin's banana pudding.  Normally, banana pudding is cold. Not this one.  This was warm and topped off with a sugary meringue.  I didn't even need the meringue.  The bananas alone were so scrumptious.  We really could not stop eating it.
I thoroughly enjoyed dining at Gunshow.  The food was innovative and fun.  The service was outstanding and the atmosphere was casual and inviting.  You can really taste and see the passion that Kevin and the other chefs have in the preparation of their food.  Not a single detail goes on the plate without some thought and care.  Don't believe me?  Make a reservation to sit at the counter and watch how they craft and make each dish come to life.  Now, you may be scratching your head as to why Kevin Gillespie would choose the name "Gunshow" for a redneck, dim sum- type restaurant.   As stated on the website, the restaurant's name is a tribute to his family. Growing up, Gillespie's father worked seven days a week to provide a better life for his family. On the rare Sunday afternoon he had off, his father would take him to a gun show.
Gunshow is located in the thriving Glenwood Park neighborhood of Atlanta. Their menu changes weekly and reservations far in advance are suggested or get their early as we did! Have you been? If so share your thoughts with us!
N.S.W.