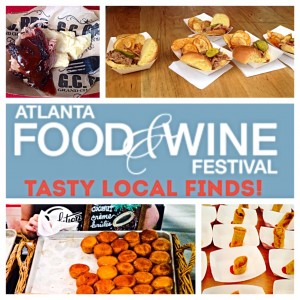 On May 30th I attended the 4th annual Atlanta Food & Wine Festival. The festival, in collaboration with Food&Wine magazine, is part of the celebrated festivals thrown in cities such as Aspen, NYC and Miami. This event showcases not only the talented chefs and delicious cuisine of Atlanta but brings together experts in the field from the entire Southern region! Events vary in price and are held over 4 days in midtown Atlanta. They include sophisticated, intimate, multicourse dinners, beer and wine tastings, chef demonstrations, tasting tents and 1, 2, 3 day passes to attend multiple events. Due to my work schedule I was only able to attend the tasting tent on Friday but it was hours of nonstop drinking, feasting and discovering new local restaurants! I decided to compile a list of tasty local finds since I know many of my readers are like me-Atlanta foodies!
1)  Jim 'Nick's Bar-B-Q: This was a yummy start to the festival. Pulled pork sliders with potato chips. They have several locations in the Atlanta area!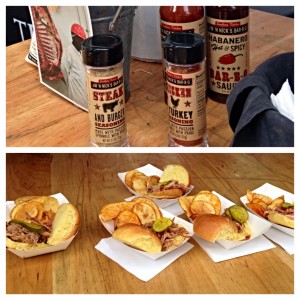 2) Trace: A new farm to table restaurant opening in the W Midtown hotel this month. Described as "Farm, Foraged, Crafted and Shaved". Their chicken pot pie was delicious!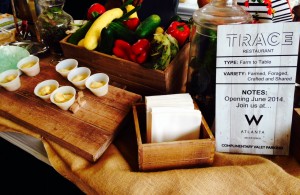 3) Ray's: This a group of restaurants in the area-Ray's restaurants. We sampled from the seafood restaurant. Their scallops served with lobster risotto were exquisite. The scallops melted in my mouth!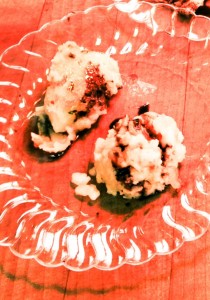 4)  Grand Champion BBQ: Located in Roswell and Milton. This was my favorite meal of the day! Pulled pork served with macaroni and cheese topped with their classic BBQ sauce. The pork was tender with crispy edges and the mac and cheese was so creamy! The perfect comfort food!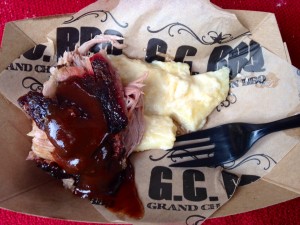 5) Revolution Doughnuts: Located in Decatur. A coworker had raved about this all natural doughnut shop with vegan and gluten free options to me so once I saw the sign I had to try one. OMG! Just looking at them had me speechless! The peach ones were filled with actual peaches! I chose the "maple bourbon buttermilk bar". Perfection.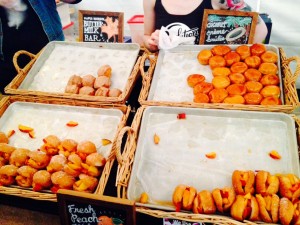 6) Table & Main: A southern tavern located in Roswell. Described as "Simple, Seasonal, Southern". They served a pork belly sampler. It was a bit on the tougher side but based on the 4 ½ /5 star reviews on yelp, the seasonal menu and location in historic Roswell this place is definitely worth a visit!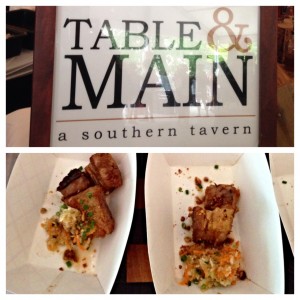 7) Chai Pani: Indian Street Food in Decatur. I can't believe I have not actually been here yet! I love Indian food, love downtown Decatur and have heard rave reviews about it. I was finally able to at least sample something! I had the "pani puri" which was a wheat flour crisp filled with spiced potatoes, cilantro, green chilies, tamarind chutney, and mint water. You pop the little ball in your mouth all at once for a burst of flavor!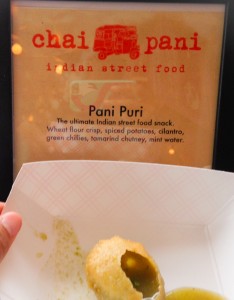 8) Davio's: A North Italian Steakhouse located in Phipps Plaza in Buckhead. This is actually a chain that originated in Boston and is also located in Philadelphia and NYC. Their Philly cheese steak spring rolls served with spicy ketchup and mayonnaise were delicious. On Sunday they have a special dinner for locals of $30 for a 3 course meal!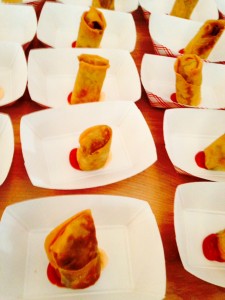 Have you been to any of these restaurants? If so share your thoughts with us! And make plans to attend the Atlanta Food & Wine Festival next year!
N.S.W.