While visiting Cuba in March I learned a lot of interesting things about the country. When I travel I like to delve into the culture and the history as well as speak to locals. During the week I spent in Cuba, I took notes on what I observed and information gathered from conversations with tour guides and locals. To me, the greatest gift of travel is knowledge which breeds tolerance. So, I have decided to share with you these interesting, unique and random things I learned while visiting Cuba. In no particular order…
You may remember the post I wrote on race & culture in South Africa. Well, I was pleasantly surprised to see the intermixing of races in Cuba.
Cubans wear tight clothes. The men and the women no matter what size or shape. I wish I had that confidence!
Daiquiris were invented by an American in Cuba and they are the best I have ever had! (The Pina coladas were damn good too)
Women get maternity leave for over a year. 18 weeks leave with full pay and 40 weeks at 60% pay. The family has the option for the father to take this 40 weeks at 60% pay instead.
Although I am familiar with Tres Leches as a popular dessert at Cuban restaurant menus in Miami Florida, I could not find it the entire week I was in Cuba! The most popular dessert item was flan.
A popular mode of transportation all around the island is a "Spider". It has a horse with 4 legs and a cart with 4 legs. 8 legs like a spider.
Billboards in Cuba do not have advertisements like in the U.S. but instead celebrate their leaders and the revolution which took place from 1953-1959.
I found it funny when a local tour guide mentioned "Cuba time." As in slow. For instance, new construction and renovations happen at a very slow pace.
Cuba has many foreign investors but the government always maintains a majority interest.
You will notice long lines at banks and exchange places because Cubans are paid in pesos but they have to change pesos to CUC to purchase and pay for a lot of goods and services. This makes no sense to me.
Just about everyone drives a "taxi". But, without navigations systems or cell phones with Google maps, even if you have the exact address the driver may not be able to find the destination. It's actually quite cute how they stop several times along the way asking fellow Cubans for directions. Everyone was helpful and friendly to the drivers.
I was surprised at how many Cubans, even in the country side, spoke a little English.
There are beggars in Havana and I found some to be quite aggressive. They touched and grabbed me as I walked by asking for money.
Hitchhiking is a way of life. You will notice hitchhikers in the middle of nowhere-even women with babies.
Due to the irrigation system in Cuba, it is recommended that you do not flush the toilet paper. I struggled with this!
Yes those vintage cars are cool to look at and take a drive in but the exhaust and smog in the air, especially in Havana, is pretty awful.
Chewing gum is a hot commodity! Bring a few packs for your guides and hosts.
Due to the embargo there is no "Coca-Cola". They make their own and it tastes delicious and almost identical to Coke. (still better than Pepsi 🙂
In order to travel outside of Cuba, you must apply to the government for a travel visa. If you are young, educated and speak English, you are considered an immigration risk. Therefore, you will likely be denied. Two of my local tour guides have never left Cuba due to this.
I asked if there were any government assistance programs in Cuba and I was told no-everyone works. I could not verify this online.
There are spies in neighborhoods that protect the interests of the communist leaders and government.
Cows are very valuable. Harming or killing a cow comes with hefty punishments like prison!
It is illegal for locals to own or carry guns. Only the military and police are allowed to carry weapons.
All men enter the military at age 18 for 1-2 years or go to the university. You have to pass certain exams including English in order to go to the university.
There is universal free healthcare. I will say that again. There is universal FREE healthcare.
Fidel Castro holds the Guinness Book of Records for the longest speech at the United Nations. His longest speech in Cuba was 7 hours and 10 minutes.
Many Cubans have more than 1 job. You can make more money as a taxi driver than as a doctor.
Cuba gets their oil from Venezuela in exchange for support to Venezuela with healthcare and education.
There are many privately owned businesses in Cuba including casa particulares (homes or rooms for rent) and paladars (restaurants) but they pay a fee to the government.
Most of the African slaves in Cuba were from Nigeria. The Yoruba religion has been well preserved there. If you notice someone in all white from head to toe, they are probably making a transition into this religion.
The Royal Palm is the national tree in Cuba. They are statuesque and beautiful.
By some reports Cuba Libre-rum and coke with a squeeze of lime-is the national drink of Cuba-not a Mojito!
Che Guevara paraphernalia is everywhere. He fought alongside Fidel and Raul Castro during the revolution. However, he was not Cuban. He was a Marxist from Argentina.
There are lots of pizzeria places in Cuba. I am not sure why.
There is a Chinatown in Havana but I didn't see any Chinese people there-just Cubans.
With tobacco as a leading industry and Cuban cigars so popular I should not have been surprised to see so many people smoking. Lung cancer is the 4th leading cause of death in the country. But, they have developed a lung cancer vaccine that will be tested in the U.S.
There is the John Lennon public park with his statue in Vedado Havana. The Beatles were banned in Cuba in the 1960s and 1970s so people would gather in this park to sing their songs in secrecy.
If you are a fan of Pablo Picasso or Antoni Gaudi's Park Guell in Barcelona, visit Jose Fuster's "Fusterlandia". He has transformed part of this neighborhood into a work of art.
There is a 5th Avenue in the Miramar area of Havana. Just like NYC, it is a very upscale area. Many embassies and mansions of former residents that fled during the revolution are located here.
You made it through all 39! As you can tell I learned quite a bit of interesting, unique and random information while visiting Cuba. Have you been there? If so share your thoughts with us below!
If you are planning a trip there be sure to read the other posts on this blog that cover Cuba!
Enjoy the cool pictures below!
Collage #1) From the top going left to right corresponding to the list above: #1, #2, #32, #33, #16, #36, #36, #22, #36 & #16.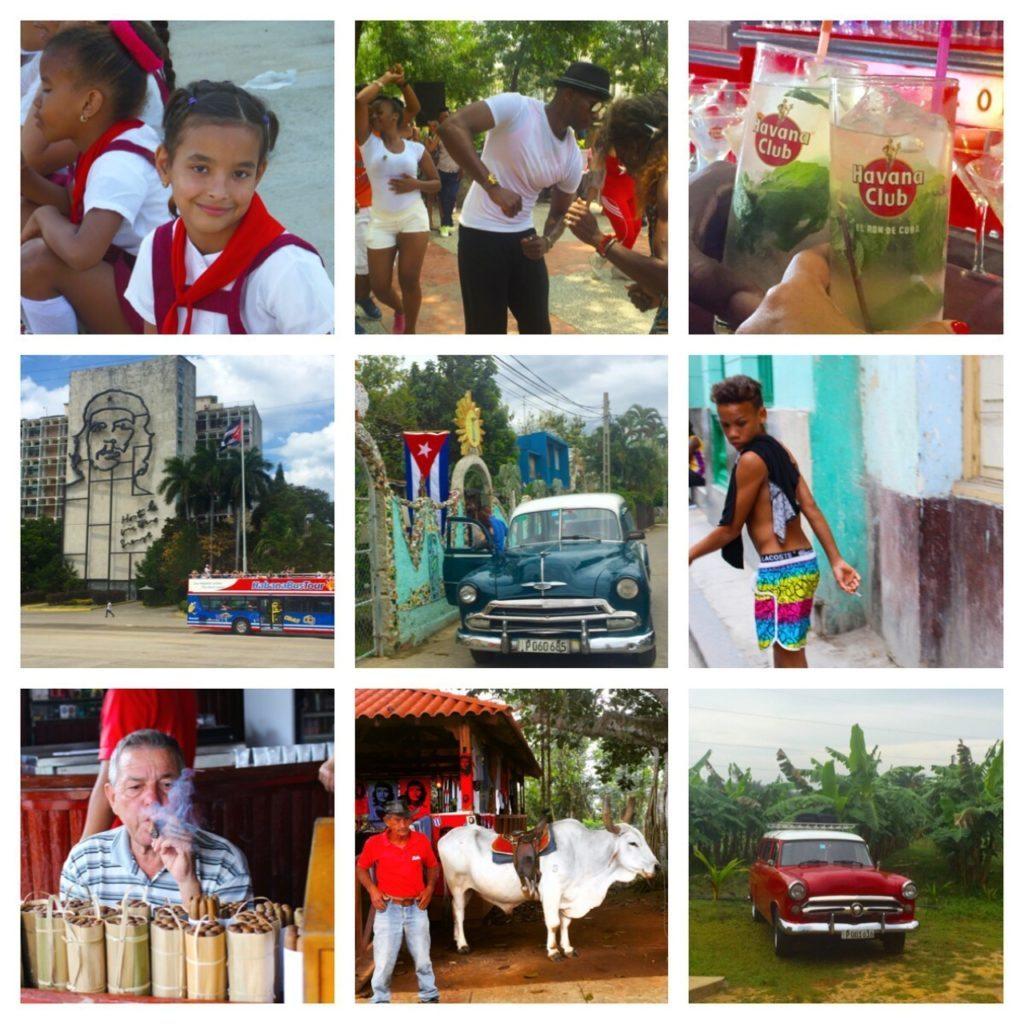 Collage #2) From the top going left to right corresponding to the list above: #38, #33, #2 & #8, #6, #3, #27, #37, #8 & #9, #10 & #30.