I think it is a fair assumption that if you enjoy wine, you have had at least 1 glass of Rosé wine this summer. This refreshing and fruity wine is very popular during the summer for good reason. It quenches your thirst on a hot summer day and you look pretty drinking it 🙂 But, many people do not know the basics about Rosé wines. So, I decided to write this Rosé wine 101 guide.
There are entire festivals created to celebrate Rosé wine. Last year I attended La Fete du Rosé Music Festival in Atlanta. There are also celebrities like John Legend that have their own Rosé wine label-LVE French Sparkling Rose & LVE Cotes De Provence Rose. I enjoyed the sparkling Rosé during my LIVE Rosé wine happy hour chat.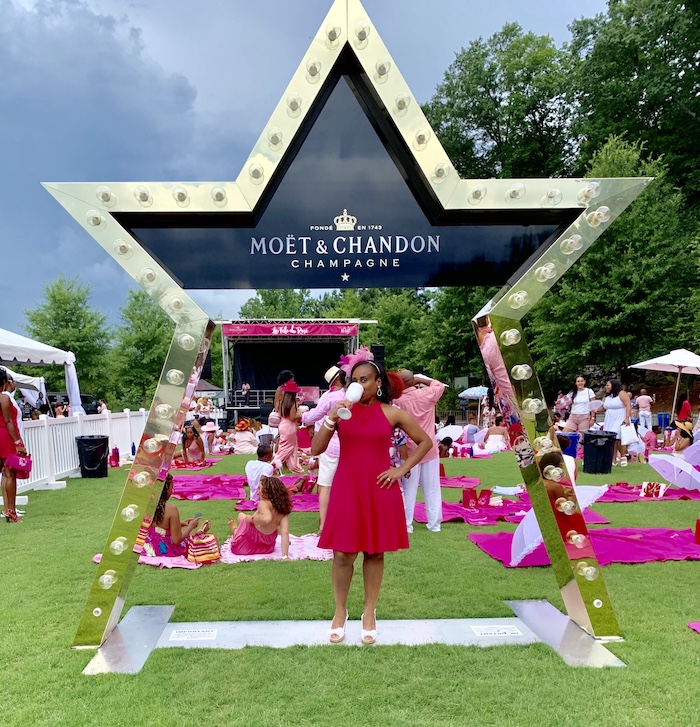 What is Rosé wine? Why is it pink?
Contrary to what some people may think, Rosé wines are NOT commonly a mixture of white and red wines. Most Rosé wine starts off being made the way red wines are made.
The 3 most common ways Rosé wines are made:
(per my favorite wine resource-Wine Folly)
The Maceration Method: As stated above, red grapes are harvested, sorted, destemmed and the juice and skins rest/macerate in a container for a period of time. This time ranges from 2-20 hours. When the desired color is reached, all of the juice is removed and made into a Rosé wine. This is the most common method currently used. It is used in famous Rosé regions like Provence France.
The Saignée or "Bled" Method: For this method, the process begins the same. However, the intention is to make red wine. During the first few hours of the process, some, not all of the juice is removed and placed into a new container. The juice is made into a Rosé wine. The remaining red wine is concentrated and more intense. This method is common in Napa and Sonoma counties in California. American Syrah Rosé and Cabernet Sauvignon Rosé are made in this style.
The Blending Method: The blending method is when a small amount of red wine is added to white wine to make Rosé wine. This method is mostly used in Champagne France. In general, it is frowned upon in the wine community. Up to 5% of Pinot Noir wine may be added to Chardonnay champagne to make a Rosé Champagne. An example of this is Ruinart's Rosé Champagne.

How does Rosé wine taste?
Several different red grape varietals are used to make Rosé wine. Although there are common flavor profiles to Rosé wines, the taste will depend on the red grape varietal used to make the wine. In general, the Rosé version will be lighter and fruitier.
If you are experimenting with Rosé wines for the first time, I recommend picking one based on a red grape varietal that you like. Are you a Pinot Noir fan? Pick a Pinot Noir Rosé. Do you prefer sweeter wines? Try a White Zinfandel Rosé. Did you know this was a Rosé wine?
It is also important to note that Rosé wines come in all styles of wine. They can be still, sparkling, sweet and dry. So, if you have a preference with any of the above, take this into consideration as well.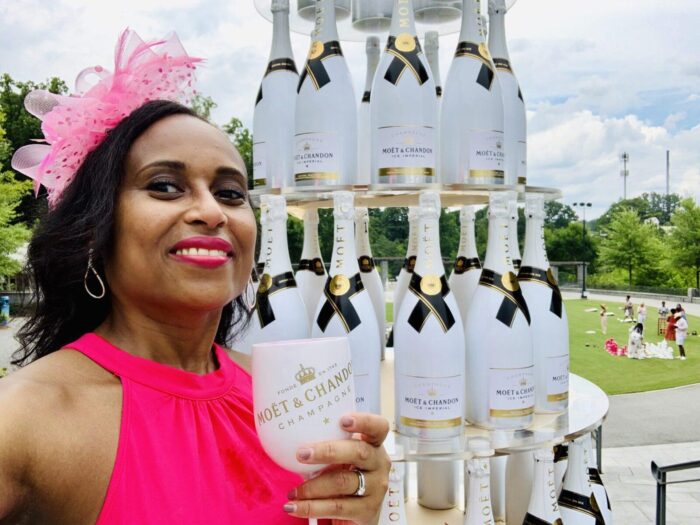 Types of Rosé wine:
Here are a few examples of different styles of Rosé wine, from light to dark pink types.
Provence Rosé
The most famous wine region for Rosé wines is Provence France. It was on my list of places to visit this year but-COVID19. Provence France produces Rosé wines more than any other styles of wine. You will find budget wines to expensive wines all of good quality from this area.
The predominant grape varietal in Provence Rosé is Grenache which is blended with Syrah, Cinsault and Mourvedre. Rosé wines from this area are light pink with aromas of rose petals, strawberry and watermelon. They are fresh, dry and crisp.
Pinot Noir Rosé
I love Pinot Noir so I enjoy Pinot Noir Rosé wines. They are a bit pinker than Provence Rosé wines but lack the floral notes. Tasting notes of bright acidity, earthy, crisp and dry. You will find similar fruit flavors of strawberries and watermelon as well as raspberries.
White Zinfandel AKA Zinfandel Rosé
The first thing that probably comes to your mind is sweet and the second thing that probably comes to your mind is inexpensive. White Zinfandel is made from the Zinfandel grape varietal which thanks to the Brown Estate in Napa Valley is now one of my favorite red wines. White Zinfandel is a sweet, bright pink Rosé with tropical flavors of banana and pineapple. Try it with something tart or with Thai food.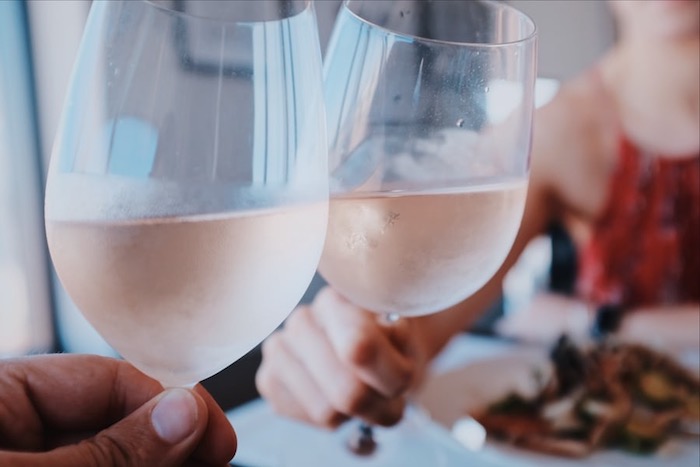 Cabernet Sauvignon Rosé
While writing this Rosé 101 wine guide, I came across so many styles of Rosé wines. Although this is one of my favorite red wines, I can't say that I have ever had a Cabernet Sauvignon Rosé. It is a darker color with flavors of green bell pepper, black currant as well as tobacco and pepper. It is crisp and acidic.
Syrah Rosé
AKA Rosé of Syrah is made from a grape varietal with high tannins so it produces a very bold, dry wine. It is usually a ruby color with plum notes. I came across so many tasting notes for this wine-cherry, strawberry, white pepper, smoke, spice and green olive. Interesting combinations right?
Grenache Rosé
Grenache Rosé wines are usually a ruby color, fruity with notes of ripe strawberry, orange with high acidity and hints of allspice.
Tavel Rosé
This Rosé wine is from Cotes du Rhone in the Rhone Valley in France. Tavel is the name of the region and they only make Rosé wine. It is probably the darkest Rosé wine and it is very dry, savory and spicy. It also has more body than other Rosé wines and some have argued that is more of a red wine than a Rosé wine. The predominant grape varietal used is Grenache along with Cinsault. Nine other grape varietals may also be used.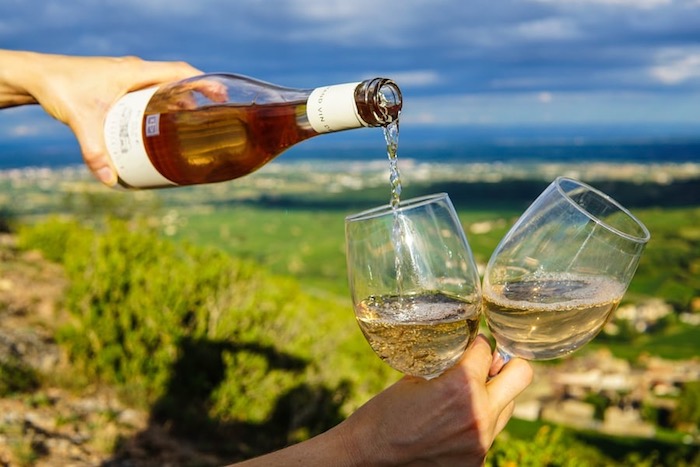 Rosé food & cheese pairings
I couldn't do a Rosé wine 101 guide without discussing food & wine pairings. Rosé wines pair well with just about anything. In general, you should always consider the intensity, structure and acidity level of the grape varietal/wine you are using for the pairing.
But, Rosé wines tend to pair well with duck, salmon, Nicoise salad, charcuterie, feta with spinach, lamb and soft cheeses. Try a Pinot Noir Rosé wine with fresh goat cheese.
Lighter styles of Rosé wines pair better with delicate foods like charcuterie and fresh fruit and pastries. Fuller-bodied Rose wines with more structure pair better with meats and spicier foods. Pair Rosé of Syrah with pepperoni pizza or a bowl of chili. Enjoy a Tavel Rosé with brisket.
How to serve Rosé wines
Rosé wines are considered to be seasonal. The popular time to drink them is from late spring to early fall. They are best served chilled at 50 to 60 degrees and served on a hot day. It is best to refrigerate your bottle of Rosé wine for several hours before drinking it or as a last resort place it in the freezer for 30 minutes.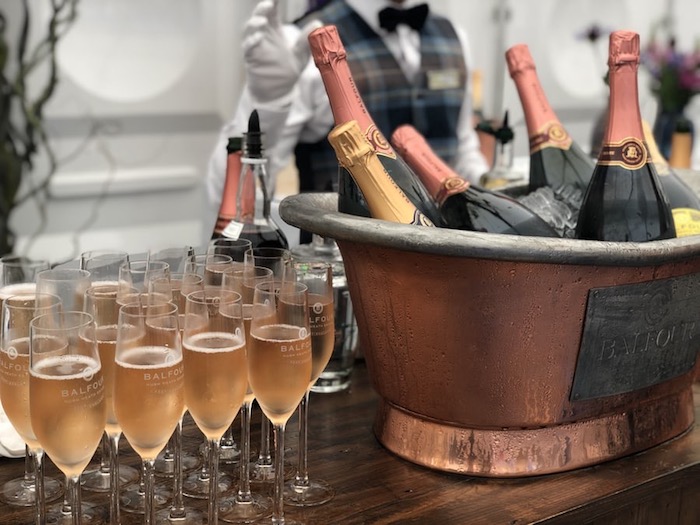 More About Rosé Wines
We now know that Rosé wines can be light to dark pink depending on the length of maceration, the flavor profiles will depend on the red grape varietal used, it can be still, sparkling, sweet or dry, inexpensive or expensive and be from all over the world although the most famous region for Rosé wines is Provence France.
I hope you have enjoyed my Rosé wine 101 guide! Below you will find some more resources perfect for wine enthusiasts! And, be sure to check out the discussion of Rosé wines on my YouTube channel. Don't forget to subscribe!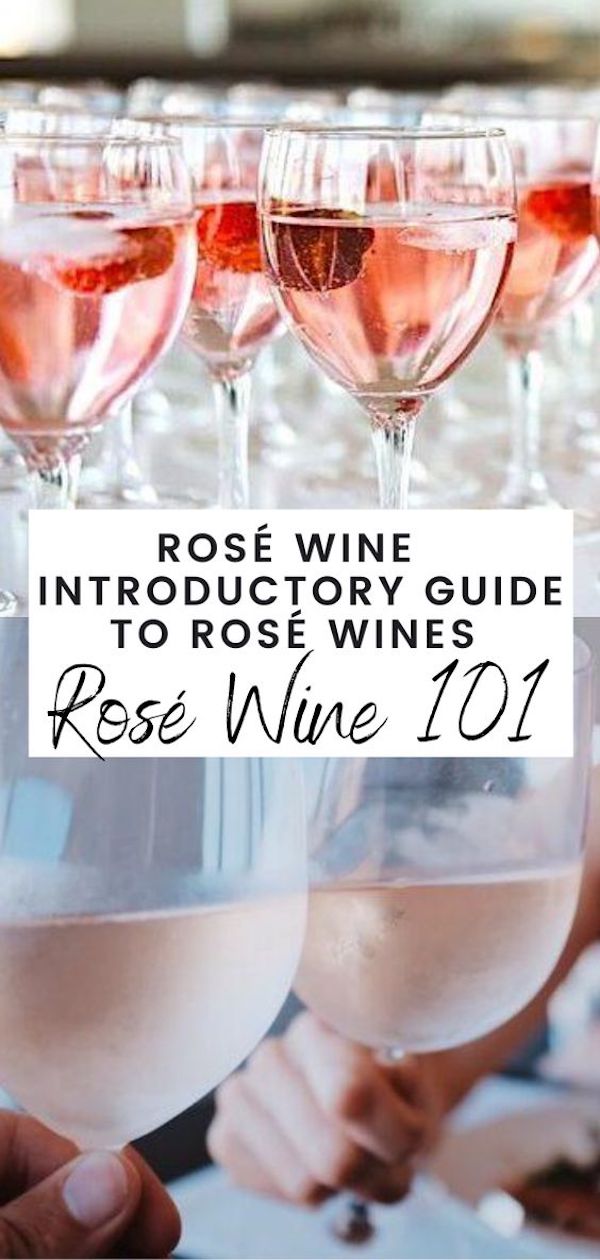 Stock photos provided by Unsplash