This post contains affiliate links. However, all opinions expressed here are original. If you click through on a link, you won't pay a penny more, but I'll receive a slight commission which helps me keep this information available to you. Thanks! Although I was treated to complimentary activities at Willamette Valley Vineyards, all opinions expressed in this post are my own.
Willamette Valley Wineries/Oregon Wine Country:
Last weekend I visited Oregon for the first time! I spent time with family in Portland and had the pleasure of making an afternoon day trip to Willamette Valley Wineries. I was very excited to finally visit Oregon Wine Country! I am on a mission to visit as many wine regions around the world as possible. You may recall my previous blog post on Willamette Valley. BTW-I have been saying it wrong. I was told it is pronounced Will-a-mette that rhymes with "damn it." I am passing this along so you can look smart when you visit the area 🙂
Back to Willamette Valley. To recap, it is a valley in the Pacific Northwest surrounded by mountains with the Willamette River flowing through it. Portland is one of the cities located in the valley. Willamette Valley is often referred to as Oregon Wine Country. It has over 19,000 acres of vineyards and over 500 wineries. Oregon Wine Country is known for Pinot Noir wines and they are delicious. Willamette Valley is divided up into several AVAs (American Viticultural Area). If you have heard of Dundee Hills, Yamhill-Carlton, McMinnville, these are all located among the Willamette Valley Wineries. If you're trying to get there, I recommend saving a little by booking with CheapOair, unless you're driving, of course.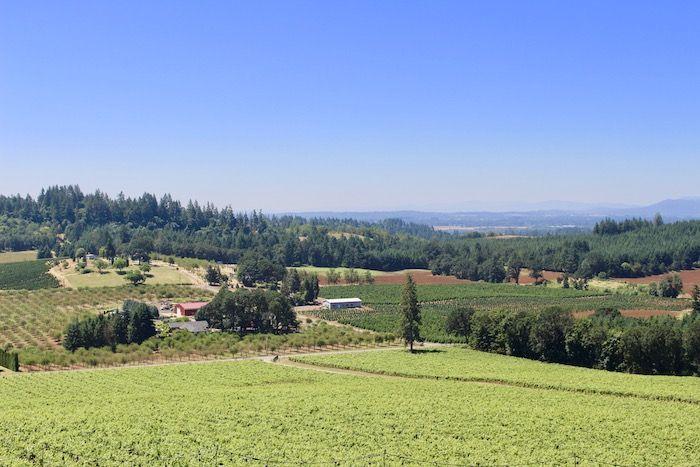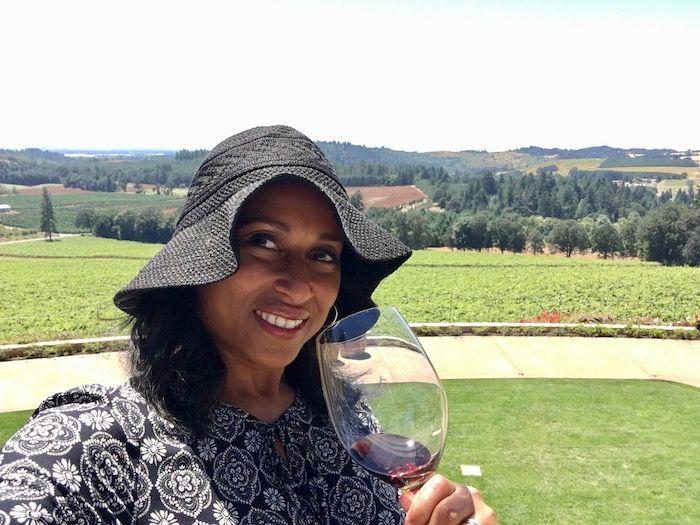 Willamette Vineyards:
First and foremost, it is beautiful! Willamette Valley Vineyards is located in Turner, Oregon. It was founded by Jim Bernau in 1983 who planted Pinot Noir, Chardonnay and Pinot Gris grapes. Willamette Valley Vineyards has property throughout the valley totaling almost 500 acres. During our visit, we were treated to a wine tasting, a tour and a gourmet lunch. I was pleasantly surprised to find out that there are many family friendly wineries in Oregon Wine Country including Willamette Valley Vineyards. That meant my entire family could spend the day enjoying this picturesque estate.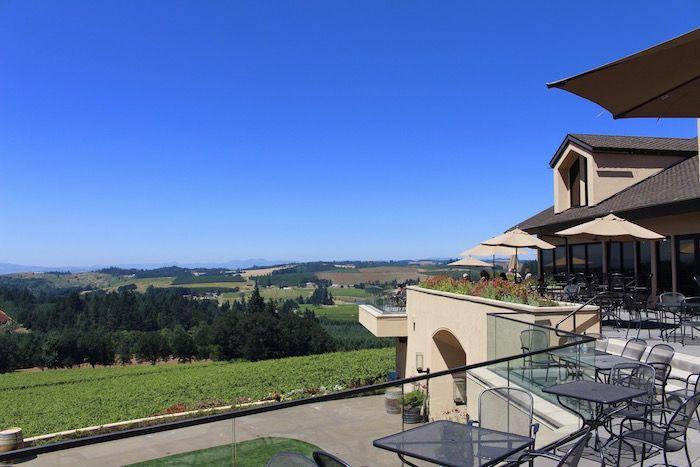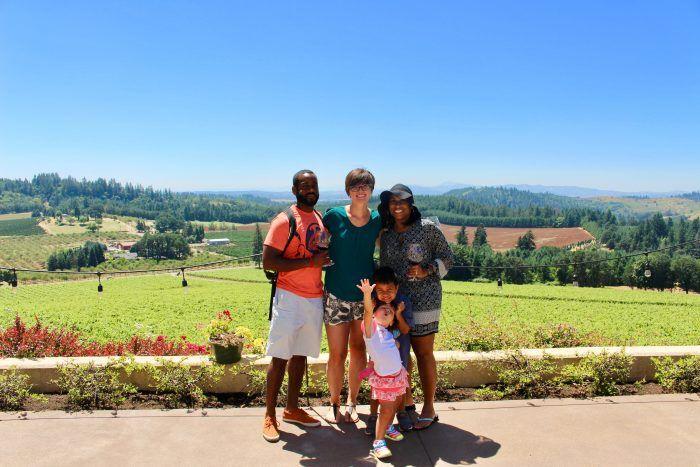 The Tasting:
We were seated on the outdoor patio at a table set up with cheese, fruit,
and our wine list. Besides the 6 wines showed in the picture below, our host Mikayla treated us to 3 additional wines! As mentioned above, Oregon Wine Country is known for their Pinot Noirs. We had several varieties from around the valley. My favorite was the 2014 Bernau Block Pinot Noir. Since this is the land of Pinot Noir, I was not surprised to see a Rose of Pinot Noir on the list. By the way, have you ever had rose champagne? I wrote about it once. We sampled the 2016 and it paired well with the cheeses and pickled fruit. It was my first time tasting "gruner veltliner" which is a white wine grape primarily grown in Austria and the Czech Republic. The 2015 Willamette Valley Vineyards Gruner Veltliner was crisp and delicious. It is a perfect summer wine. In 2016 Willamette Valley Vineyards produced the largest amount of Riesling in the area. It was a great ending to our wine tasting.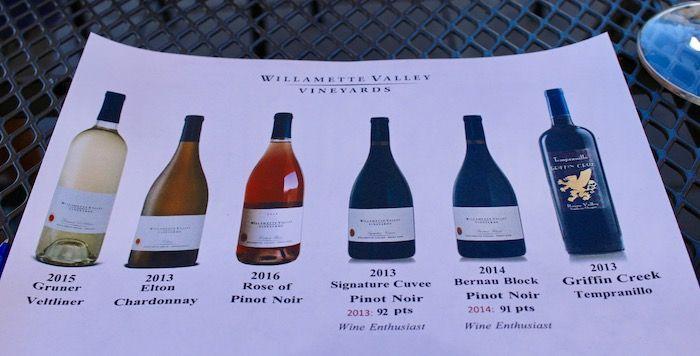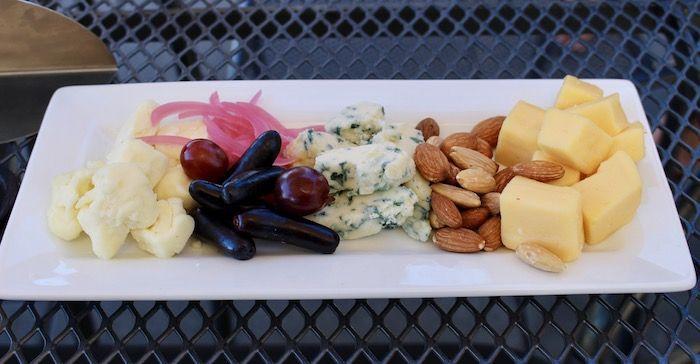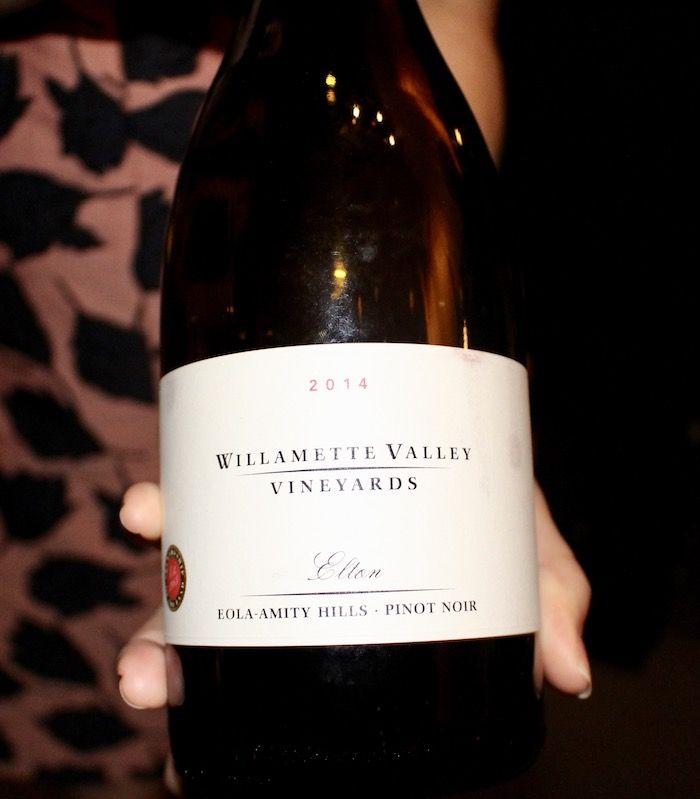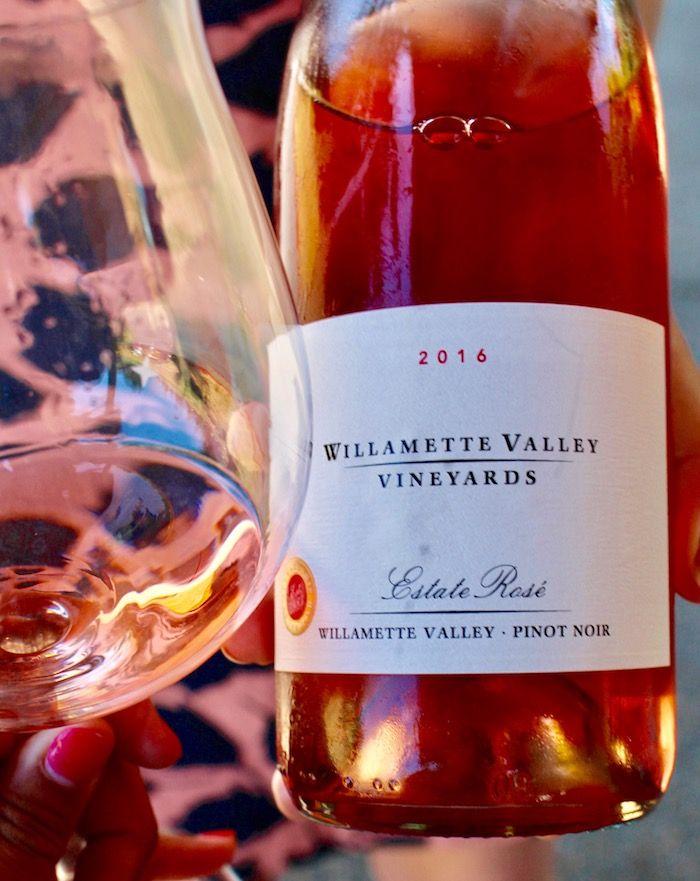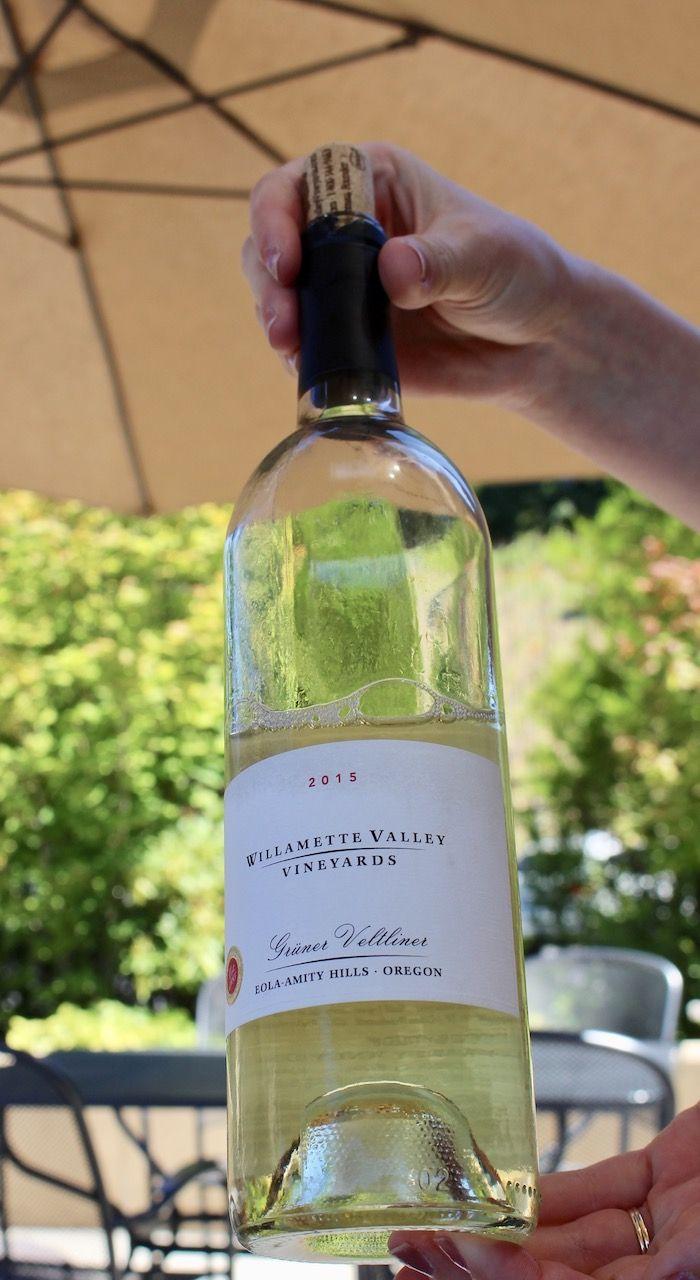 The Tour:
Our host Mikayla took us on a tour of the winery and the beautiful grounds. She explained the history of Willamette valley wineries and Willamette Vineyards. There was obvious pride about the wines being produced in Oregon Wine Country. We toured the cellar area as well as the tasting room. We sampled 9 Willamette Valley Vineyard wines while learning about the wine making process. Mikayla was very knowledgeable and very patient as my little cousins were frolicking around us.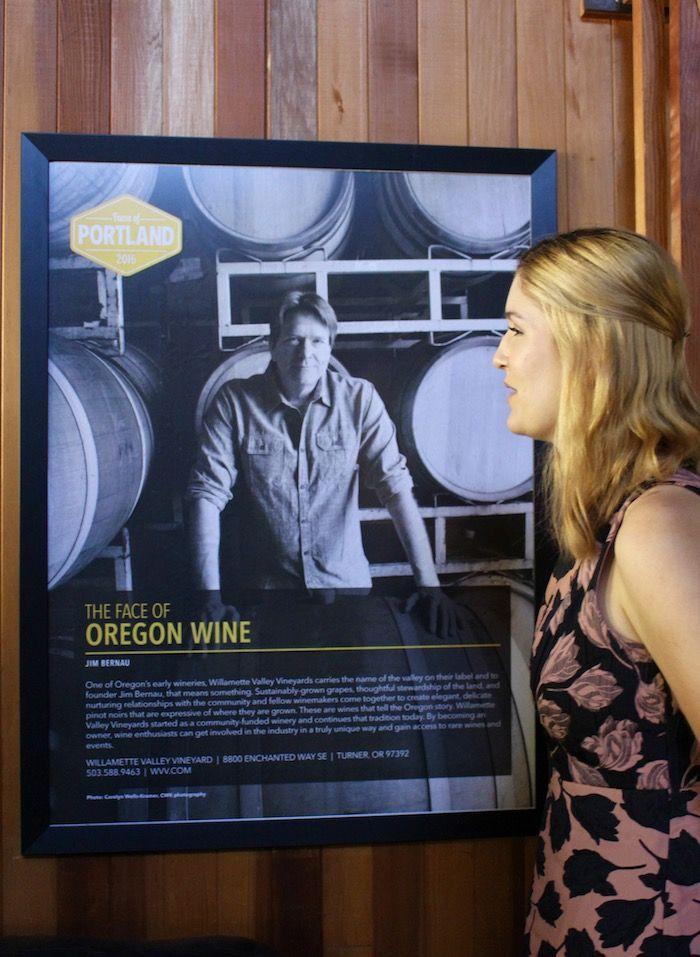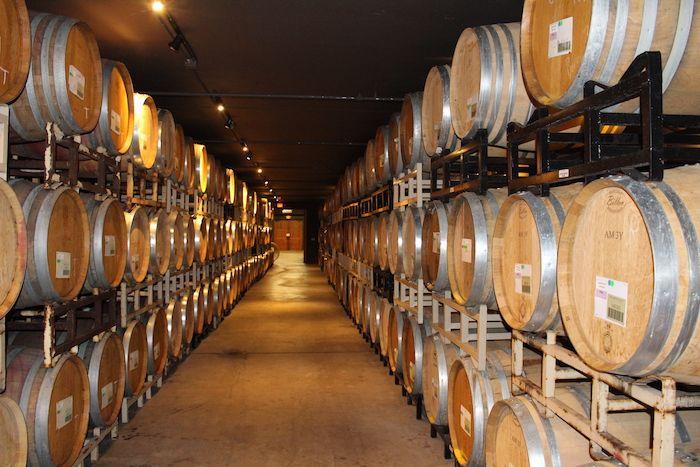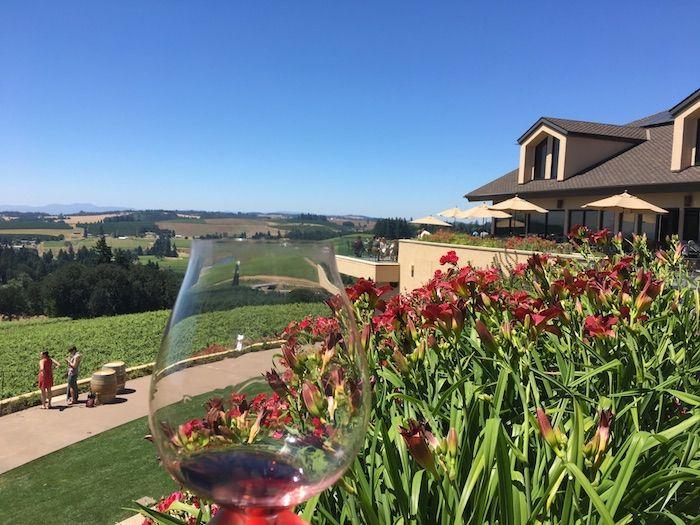 The Lunch:
At the end of our tasting we were served a gourmet lunch on the patio. Willamette Valley Vineyards is one of the few wineries in the area that has a full kitchen. Therefore, you can plan to spend the day at the winery drinking delicious wines and eating delicious food! Our meals below included lamb with polenta, steelhead fish with white beans, and a vegetarian ravioli.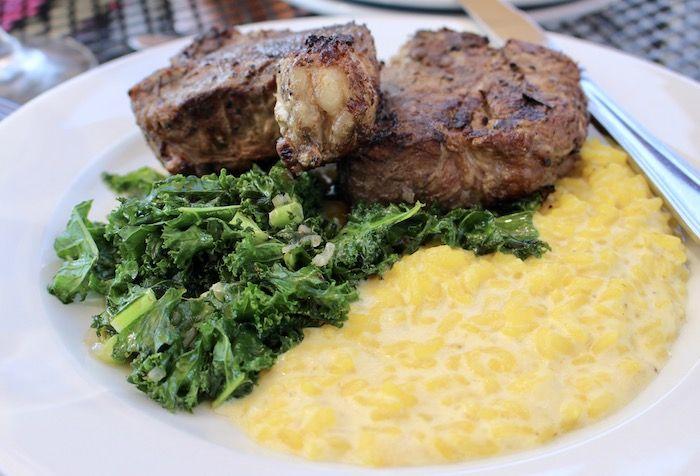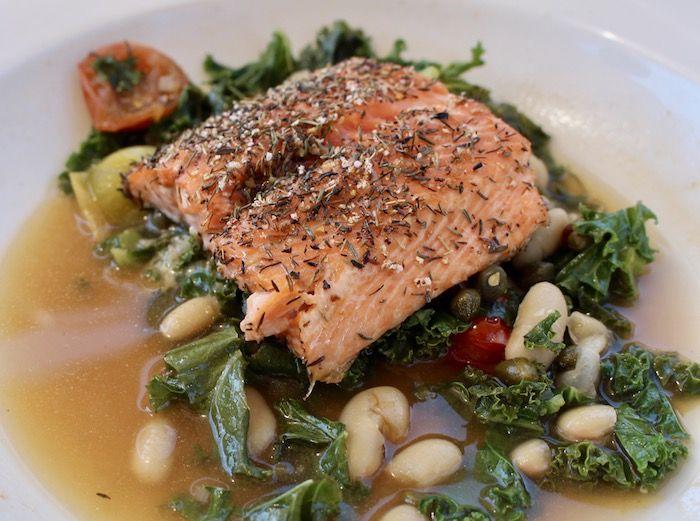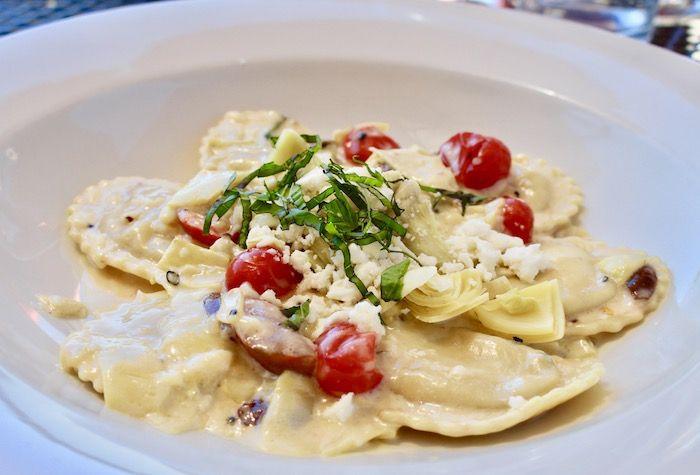 It was an amazing afternoon and I would like to thank Willamette Valley Vineyards for hosting us. It is located 1 hour from Portland so schedule a visit there on your next trip! For more information be sure to visit their website.
Have you been to Willamette Valley Vineyards or Oregon Wine Country? If so share your thoughts with us below. Catch up on all the great WINE posts on this blog! Check out my interview with Andre Hueston Mack of Mouton Noir Wines in particular.
Pin this post for future reference.