Let the Trumpet Sound
(Or My Life as a Seat Filler)
      By Guest Blogger Shiwana Latrice Rucker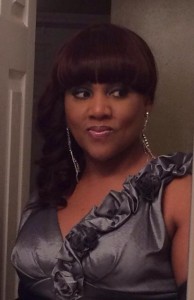 Thanks to a very gracious friend, I was invited to be a Seat Filler at The Trumpet Awards on Saturday, January 25th at the Cobb Energy Center in Atlanta. Seat Fillers are real. It's not just a movie, as a friend thought. The job of a seat filler is not complex. Seat Fillers fill the seats of presenters, honorees, or empty seats so that the auditorium looks and remains full at all times. There's a lot of hurry up and wait, and a lot of moving (comfortable shoes are necessary). If you're lucky, you get to rub elbows (literally) with some of Hollywood's greats. OR if you're especially lucky (like I was), you get to sit in a seat, and stay there for the entire show.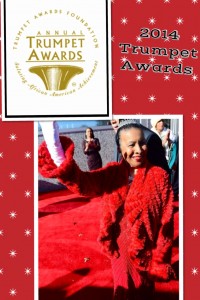 If you're not familiar with The Trumpet Awards, they were created by civil rights leader and broadcasting executive Xernona Clayton to honor the achievements of Black Americans. She currently servesasFounder, President and CEO of the Trumpet Awards Foundation, Inc.  Originally airing in 1993 by Turner Broadcasting and now by the Trumpet Awards Foundation, Inc their website boasts "special recognition is given to the few, who symbolize the many, who have overcome the ills of racism and poverty and achieved special greatness". For 21 years this has remained a prestigious event in Atlanta, GA. This year's honorees included, Devon Franklin, Alfre Woodard and the renowned, peace and hair grease Bronner Brothers.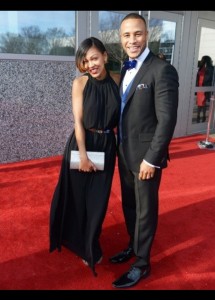 Ok, enough with the formalities. Everyone looked like stars dressed to the nines!  Needless to say, I was gorgeous! (I'm just saying'!) While waiting for the show to start, we were trained on the Do's and Don'ts, and made clear about Zone 8. If caught doing any of the Don'ts, you'll be kindly escorted to Zone 8 – also known as the parking lot, where you will kindly leave the premises, and asked not to return for five years. They are serious about their Don'ts! We were escorted to our initial seats, and while we waited for the show to start (and in between takes), Atlanta Comedian, and former radio personality, Griff entertained the crowd. That dude is FUNNY! He cracked jokes on Roland Martin's orange feather ascot saying, "Roland Martin's got a Muppet in his pocket!" – and Donnie McClurkin and Smokie Norful claiming they "look like lowercase i and capitol  I". Smokie has to be about 5'5" to Donnie's 6'1".  The highlight of the preliminaries was the playa pimp judge from Detroit who walked in sporting an orange fur coat. I mean bright, almost neon, orange. For real, judge? There are no other words to describe him. Griff had a field day.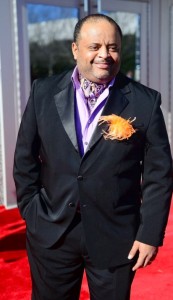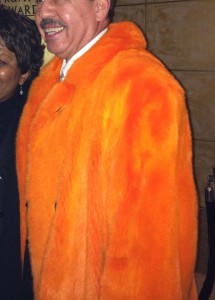 The 2014 Trumpet Awards, which was hosted by Laz Alonso and Melissa De Sousa, opened with some of the greats of Hip Hop…. Melle Mel, Kurtis Blow, Kid 'N Play and Chubb Rock. The entire place was on their feet. I, in my cute, oh-so-cute dazzling heels not made for dancing, was jamming. This is my type of music! Amber Riley, of Glee fame, and the current winner of Dancing with the Stars, KILLED Whitney Houston's "I Look To You"! That girl's got pipes!! I'm sure Whitney was smiling because she did the song justice. To my surprise, the little girl they were prepping to perform was not a little girl, but Ms. Stephanie Mills. She still looks good, y'all!! BEAUTIFUL even, as she belted her hit "Home" from The Wiz! It was also great to see SWV reunited, and the ever so chocolate, always so fine, Joe!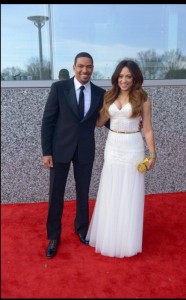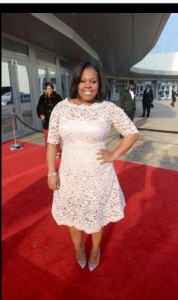 I won't give away too much. But I will say, the show is a must see! It will air sometime in April on TV1. Some of the Honorees' acceptance speeches will have you shouting, other's crying, and others laughing. It was a night I will always remember!

Shiwana Latrice Rucker.
I would like to Thank Shiwana Latrice Rucker for sharing her experience at the Trumpet Awards with us! Shiwana has here own Blog called "Shiwana Knows" so be sure to visit her site!
N.S.W.