It's early in the year but I have already had the chance to feel very sophisticated by attending an art exhibit.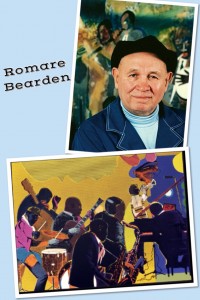 In 1977 Romare Bearden created approximately 50 works of art based on Homer's classic piece of Western Literature, "The Odyssey". This collection, currently showing at the Carlos Museum at Emory University, includes watercolors and collages that represents the artists own reinterpretation of the subject matter. Some of the watercolors are exact replicas of his fabric collages. Brilliant! Romare Bearden recasts the celebrated heroes and villains of The Odyssey as black people. In the artist own words "All of us are on a kind of odyssey. And I think this is what makes the story so lasting, so classic, and applicable to everyone". As Americans who were displaced from Africa along with Blacks who left the South for a better life in the North i.e. "The Great Migration", it is a story we can all relate to. From the Beardenfoundation.org description of A Black Odyssey "Romare Bearden explores universal themes of journeying home, reuniting with loved ones, overcoming obstacles and the quest for knowledge".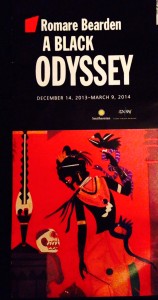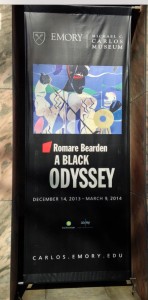 For those that may not remember the story of Odysseus, he was actually the mastermind behind the Trojan horse. He spent ten years fighting the Trojan War followed by ten years trying to get back home to Ithaca. During this journey home with his men, he encounters many challenges along the way including threatening gods, monsters and seductive women. Odysseus rarely waivers in his determination to get home to his wife, son and father who have remained loyal to him and anxiously waiting for his return for twenty years! The images in this collection vividly describe this journey as black characters including shapely black women with small waists and wide hips. I loved it!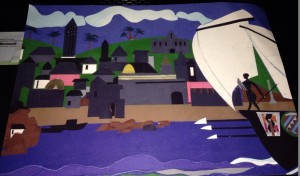 Leading up to my visit I had heard of Romare Bearden the artist but I wanted to know more. Who was this man of such great vision, passion and creativity? Mr. Bearden (1911-1988) was born in North Carolina but lived most of his life in New York City. While attending New York University he was a cartoonist, art editor, published journal covers and wrote several essays on social and artistic issues. His artistic influences included Cezanne, Picasso, Matisse as well as African art particularly sculpture, textiles and masks. He lived in NYC during the Harlem Renaissance and his work was greatly influenced by that era. He was also an artistic leader during the civil rights movement of the 1960's.
It is probably no surprise that based on growing up in NYC during this time period Mr. Bearden was a big fan of music particularly jazz. What may be a surprise is him co-writing the hit song Sea Breeze, which was recorded by Billy Eckstine and Dizzy Gillespie. It is still considered a jazz classic. You can purchase "Romare Bearden Revealed" (2003) by the Branford Marsalis Quartet on ITunes for $9.99.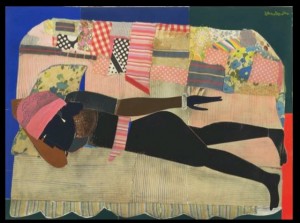 What I found interesting to learn was that this world renowned artist spent 30 years of his life as a social worker in New York City! He worked on his art on nights and weekends. During this time he had his first solo exhibition in Harlem in 1940. In terms of his personal life, in 1954, at age 42, he married Nanette Bearden, a 27-year old dancer who herself became an artist and critic. The couple eventually created the Bearden Foundation to assist young artists. His works have been exhibited all over the world including Europe and the Metropolitan Museum of Art, The Philadelphia Museum of Art and the Museum of Fine Arts, Boston. He is best known for his richly textured collages, two of which appeared on the cover of Time and Fortune Magazines. In his works are visible his past in North Carolina, Harlem and St.Maarten where he resided in later life with his wife. He helped to fund several Art museums including the Studio Museum in Harlem, "Cinque" to support young minority artists and the Black Academy of Arts and Letters. He has numerous publications including "A History of African American Artists: From 1972 to the Present", "Six Black Masters of American Art" and "Li'l Dan, the Drummer Boy: A Civil War Story".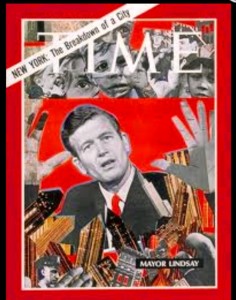 During his lifetime, Mr. Bearden was also the recipient of many awards and honors including  honorary doctorates given by Pratt Institute, Atlanta University and Carnegie Mellon University. The most prestigious of which was likely the National Medal of Arts presented to him by Ronald Reagan in 1987.
"Romare Bearden: A Black Odyssey" is currently on a US tour. It will be in Atlanta at the Carlos Museum at Emory University thru March, Currier Museum of Art, Manchester, NH 3/14 thru 8/14 and then the Miriam and Ira D. Wallach Art Gallery, Columbia University, NYC, NY 11/14 thru 2/2015.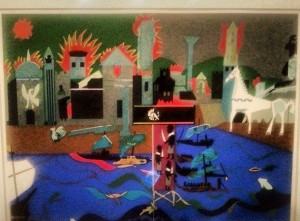 Enjoy!
N.S.W.