I am excited to bring to you a list of all the best New Orleans food & where to eat it! New Orleans is one of my favorite cities in the U.S. I honestly go there just to eat! New Orleans foods have been influenced by many ethnicities over the years. There are Spanish, French and African influences just to name a few. Whether it is Cajun food or Creole food or both, it is delicious. There are so many traditional New Orleans foods to choose from but these are my favorites:
Best New Orleans Food & Where to Eat in New Orleans
1) Po-Boy:
A po-boy is a submarine sandwich made with French bread and filled with meats or seafood. Typical fillings include fried shrimp, fried oysters, fried catfish, chicken or roast beef. It is finished off with pickles, lettuce, hot sauce and/or mayonnaise. This is a typical New Orleans food. The name and sandwich originated nearly 100 years ago during the Great Depression. Two brothers, who owned a restaurant, provided free sandwiches to street car workers who were on strike. They referred to the workers as "poor boys". The first po-boy consisted of roast beef, gravy and potatoes. I have personally never had a bad po-boy in New Orleans! But, here is a list of the best po-boys in New Orleans.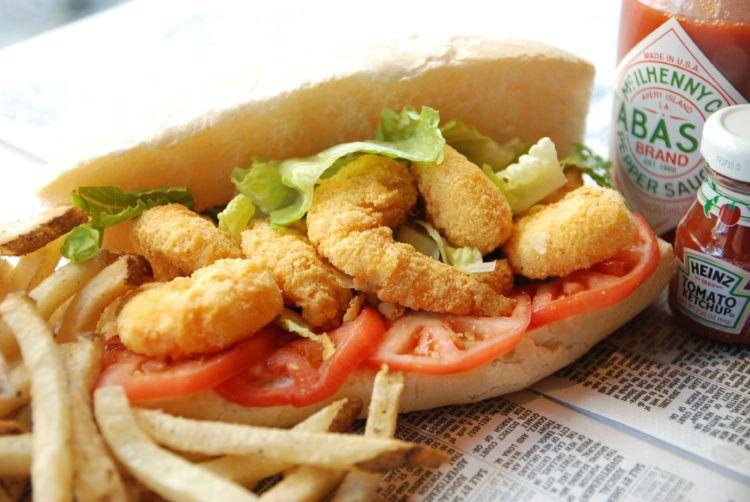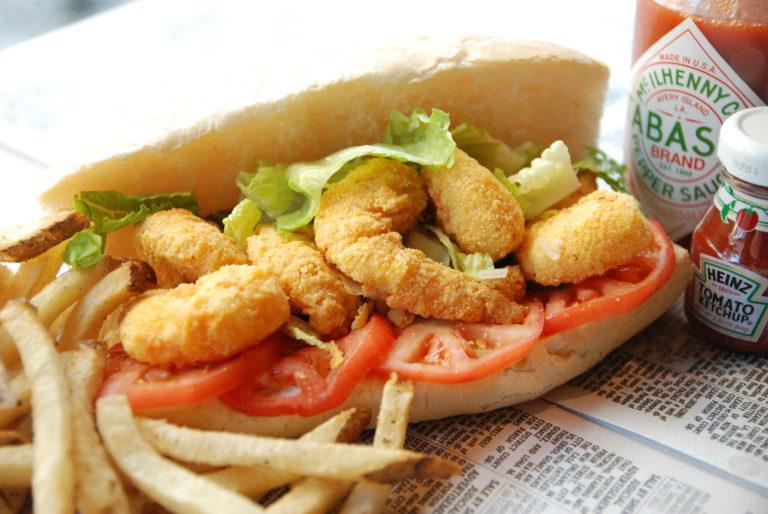 2) Gumbo:
Gumbo is a classic New Orleans food; a stew that originated in Louisiana. The stew consists of meat or shellfish with onions, celery, bell peppers, tomatoes, file powder and/or okra in a stock called "roux." Roux is a French base of flour and fat. Cajun gumbo tends to have a dark roux, is spicier and prepared with shellfish or meat. Creole gumbo is usually made with shellfish, tomatoes and is a bit thicker. I particularly enjoy Cajun gumbo with chicken and sausage. Although Mother's restaurant may have a line and is not aesthetically appealing :), I still love their gumbo! GoNOLA  lists the best places to find gumbo in New Orleans.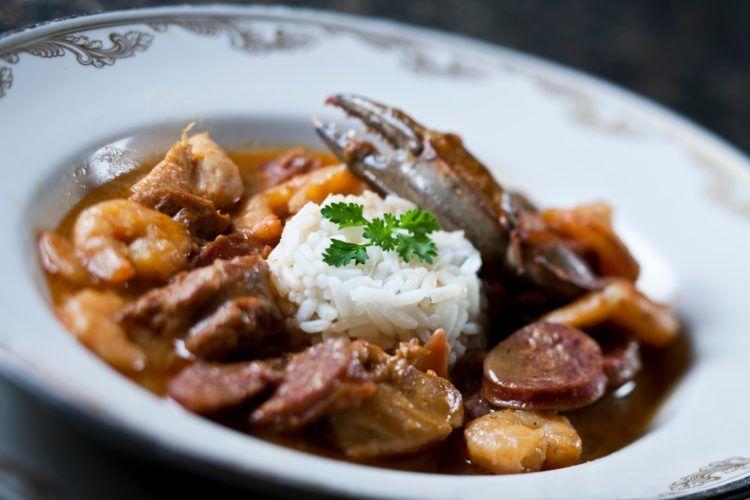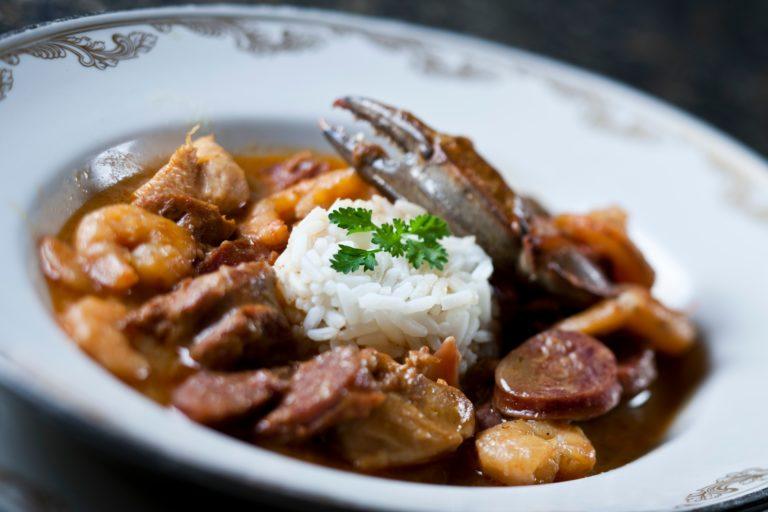 3) Jambalaya:
Also originating in Louisiana, jambalaya is a creole dish with Spanish and French Influences. Meat and vegetables are mixed with rice, seasonings and broth to make up this yummy dish. You will usually find Andouille sausage in jambalaya along with chicken or pork or shrimp. Four Square lists the 15 best places for jambalaya in New Orleans which includes Mother's restaurant!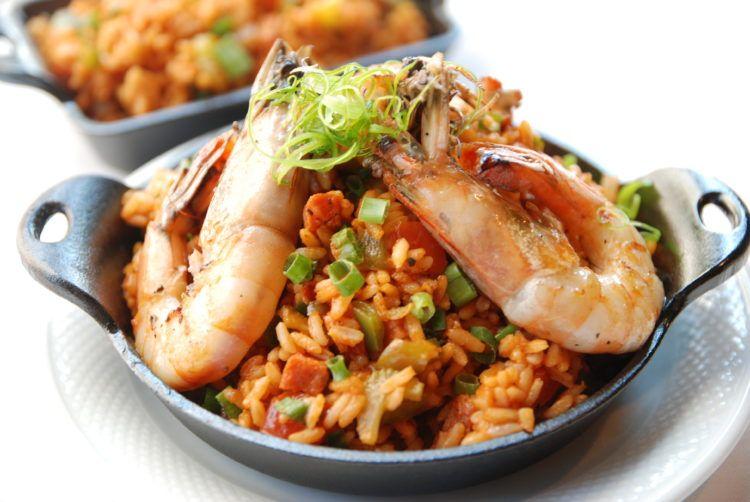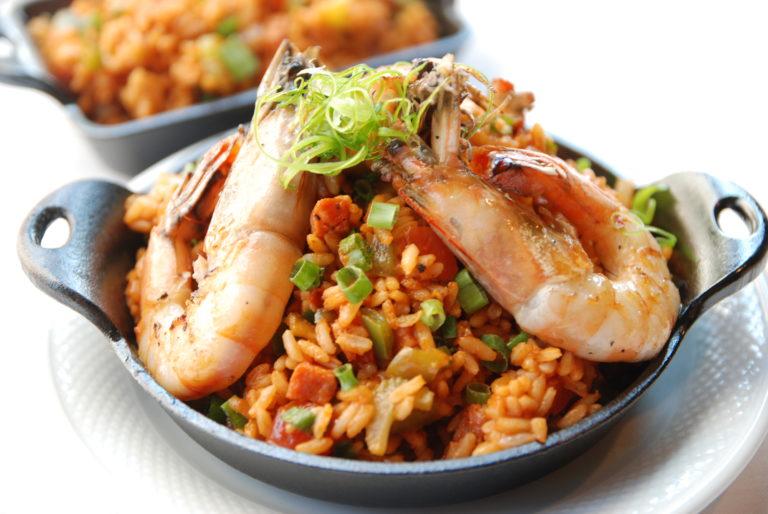 4) Etouffee:
One of the must try New Orleans food options is etouffee! Etouffee is a dish made from a blonde or brown roux which is simmered with seasonings and shellfish. It is then served over rice. The most popular shellfish used is crawfish. Crawfish look like small lobsters and are AKA freshwater lobsters, mudbugs and crayfish. Here is a list of the 3 best places to eat etouffee in New Orleans.
5) Seafood:
Seafood in New Orleans could be a full New Orleans food post on its own. Based on its location on the gulf, there is a large variety of fresh seafood and shellfish. Think fried oysters, crawfish, BBQ shrimp, fried shrimp, crab, red drum fish (aka as red fish) and black drum fish (cousin to red drum fish). On my recent visit, I had a delicious fried oyster salad at John Besh's Luke and juicy BBQ shrimp at Emeril's NOLA. However, GW Fins seafood restaurant in the French Quarter was my favorite. From the atmosphere to the service to the food, it was spot on. We enjoyed lobster ravioli and halibut served with a lobster risotto. Other popular seafood restaurants are Drago's and Red Fish Grill. Here is Gayot's picks for the top seafood restaurants in New Orleans for 2016.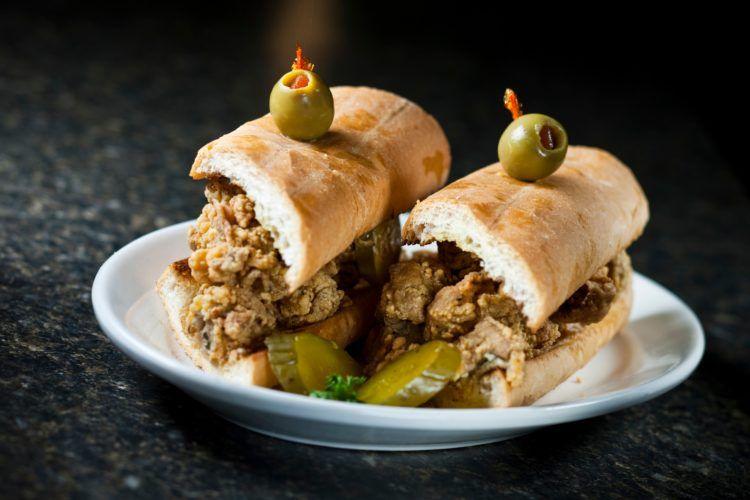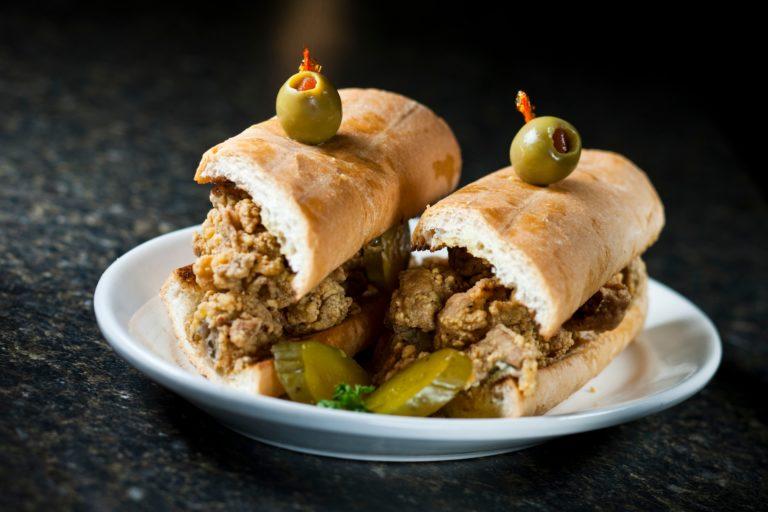 6) Beignets:
Fried sugary dough. That is how I usually describe them! A beignet is a French pastry. It is maybe the most popular New Orleans food. They are deep fried and served warm with powdered sugar on top. Café Du Monde in the French Quarter is well known for its long lines and its beignets! I like to have them with café au lait. Café au lait is derived from French and stands for coffee with milk. If you prefer to skip the lines and crowds, here is a list of other places in New Orleans to have beignets. Cafe Beignet is a popular alternative also located in the French Quarter.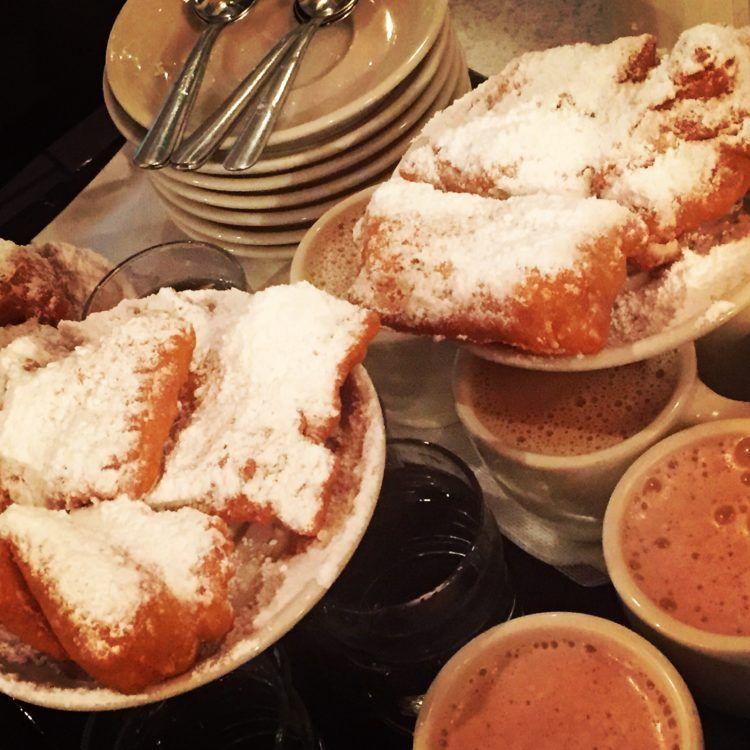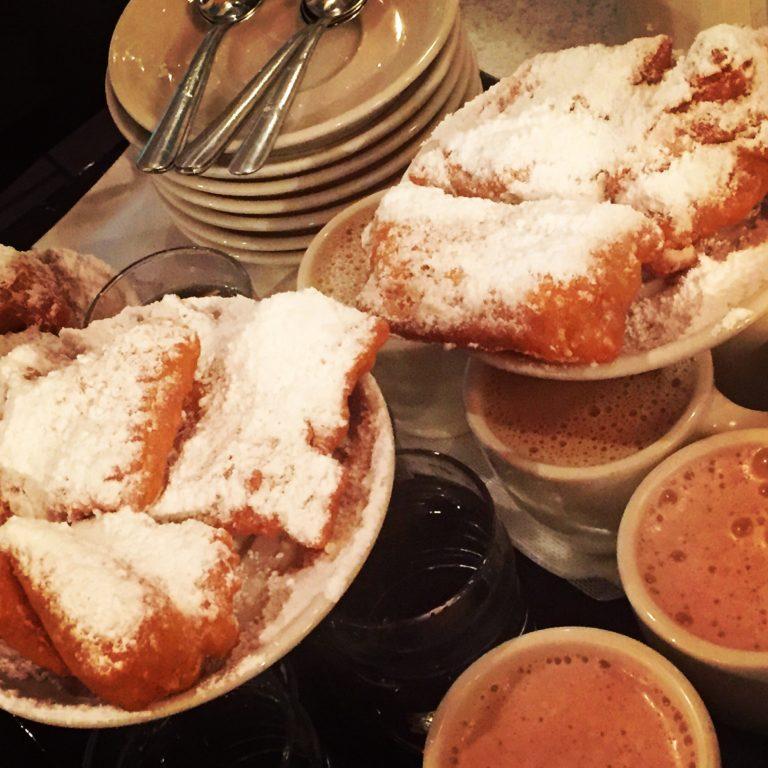 7) Red Beans & Rice:
I have always loved this New Orleans food since it reminds me of "stew peas and rice" from Jamaica. Red beans and rice is a creole dish made from red beans, spices, vegetables, rice and meat. All these ingredients are left to simmer and cook slowly. Meats found in red beans and rice are Andouille sausage or tasso ham. It was traditionally made on Monday with leftover ham or pork bones from Sunday dinner. I had not 1 but 2 bowls of red beans and rice at Mother's restaurant on my last visit. Black-owned Dookey Chase's soul food restaurant in the Treme neighborhood is also known for their red beans and rice. Willie Mae's Scoth House is known for fried chicken and red beans and rice. Here is a great list from Thrillist on where to get the best red beans and rice in New Orleans.
8) Muffuletta:
With the muffuletta sandwich we have the Italian influence on New Orleans food. It was created by Sicilian immigrants in New Orleans. Imagine sesame bread filled with layers of salami, Italian sausage, mozzarella, ham and provolone topped with an olive salad. This is definitely for meat lovers! It is traditionally served cold but many restaurants serve them warm which I prefer. Head to The Central Grocery in the French Quarter which is home to the original muffuletta sandwich. If you would like to try a warm and toasty muffuletta, go to Café Amelie or Cochon Butcher. Thrillist also has a list of the 5 best places to eat muffulettas in New Orleans.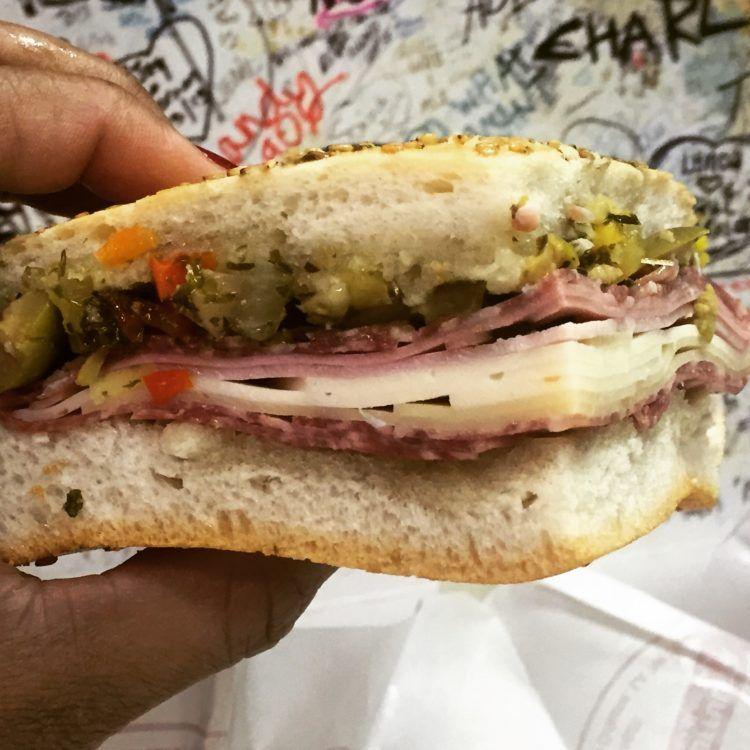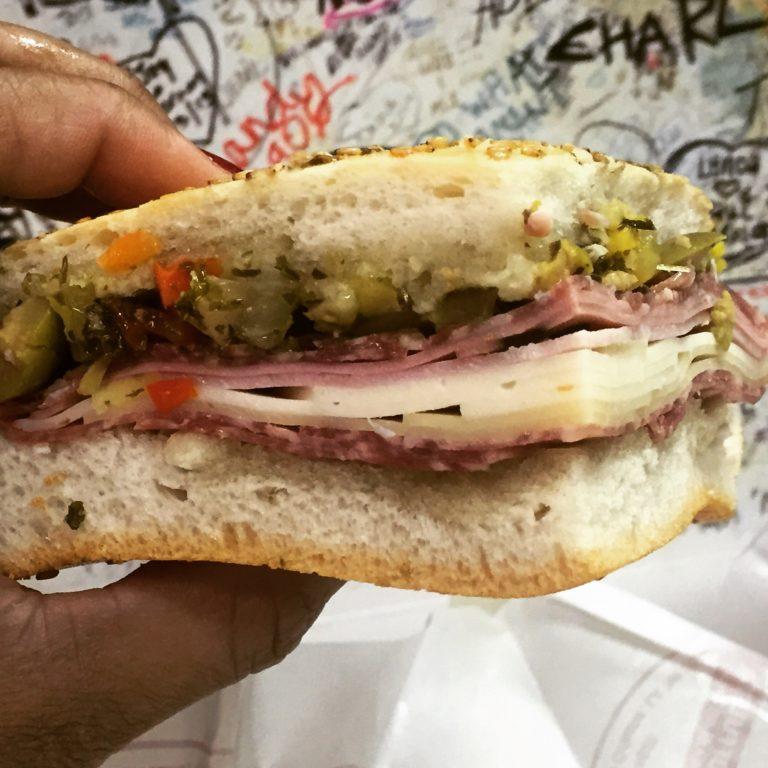 9) Pralines:
Pralines are French candies made with sugar, sugar, sugar, cream and nuts :-). Originally, almonds were used. Since almonds were in short supply in Louisiana, pecans were substituted for almonds. In New Orleans food, you will find many types of pralines. On my last trip I had chocolate, rum and coconut pralines. I always stop at Laura's candies in the French Quarter for this delicious treat. Southern Candy Makers and The Praline Connection are also popular places for Pralines. Foursquare lists the 15 best places for pralines in the French Quarter.
10) Bananas Foster:
I do not like or eat bananas but I love bananas foster. That is how good this dessert is. Bananas Foster was created at Brennan's restaurant in the French Quarter. It consists of bananas and vanilla ice cream in a rum sauce. The sauce is undoubtedly the best part. It is made from dark rum, cinnamon, brown sugar, butter and banana liqueur. At Brennan's, it is made for you tableside as a flambé. If you can't get to Brennan's, here is a list of New Orleans' finest bananas foster.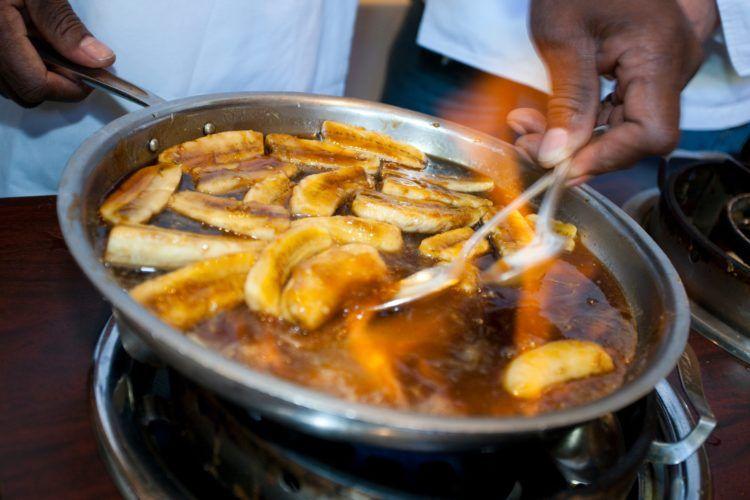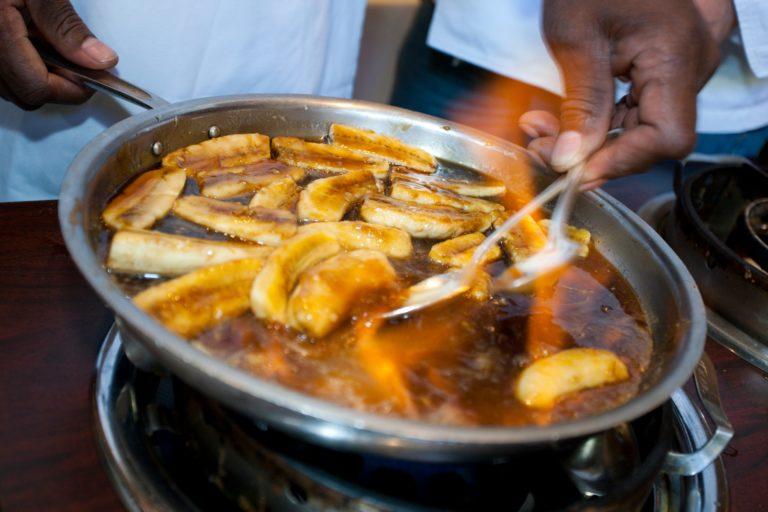 11) Bread Pudding:
I have been eating bread pudding since I was a child in Jamaica. It is made so many different ways by so many different ethnic groups. In New Orleans food, stale French bread was used to create this yummy dessert. The bread pudding is topped with bourbon or whiskey sauce. The French bread used gives the New Orleans food version a nice crust. I have had the bread pudding at Mother's restaurant several times and have never been disappointed! Saveur gives you a choice of 7 sensational bread pudding places in New Orleans. The iconic New Orleans's restaurant Commander's Palace tops the list.  And, how about trying the bananas foster bread pudding at Cafe Reconcile?! That sounds so decadent!
12) Boudin:
I will admit. I have never had this and probably never will! But, it is a well- known meat dish in Cajun areas of Louisiana. Sausage made from pork, rice, onions and green peppers is stuffed into pork casings. You may also notice menus with boudin balls. In this version, the sausage is not stuffed into pork casings. Instead, the sausage is rolled into a ball, battered and deep fried. Cochon Butcher and Cochon restaurant tops most lists for this delicacy. I have had other pork dishes at Cochon restaurant and they were creative and delicious! New Orleans Eater lists 10 great spots for Cajun meats.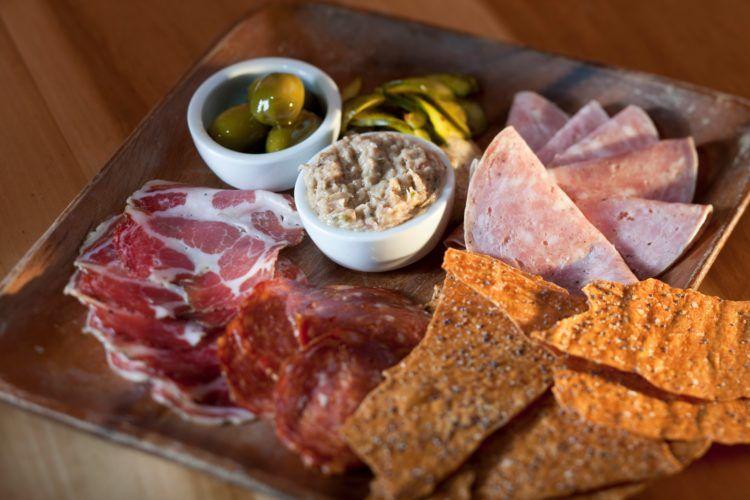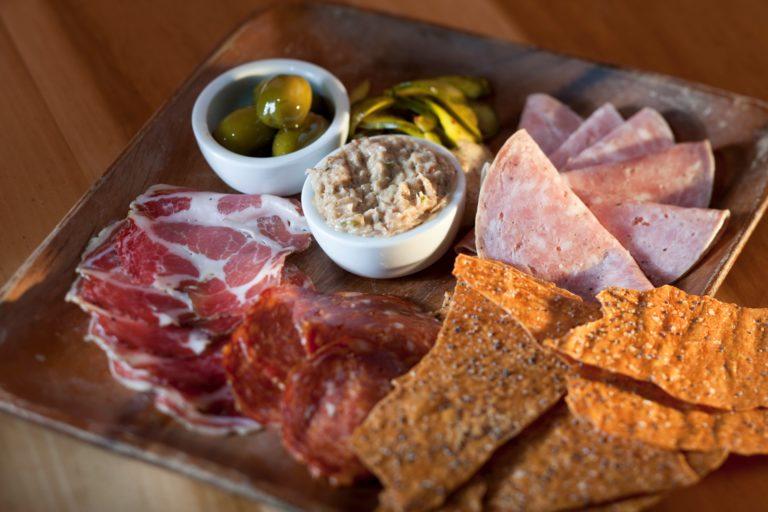 Bonus: King Cake:
If you will be in New Orleans over Mardi Gras you will notice a very colorful cake. King cake can be made from French bread or sweet brioche bread. It is usually in the form of a ring topped with icing and sugar. The colored sugars of purple, green and gold represent the traditional Mardi Gras colors.  The king cake has a small plastic doll inside that represented baby Jesus. For many, it now represents luck and prosperity to whoever finds it in the cake. If you are visiting during Mardi Gras, this is definitely one of the must try New Orleans food options!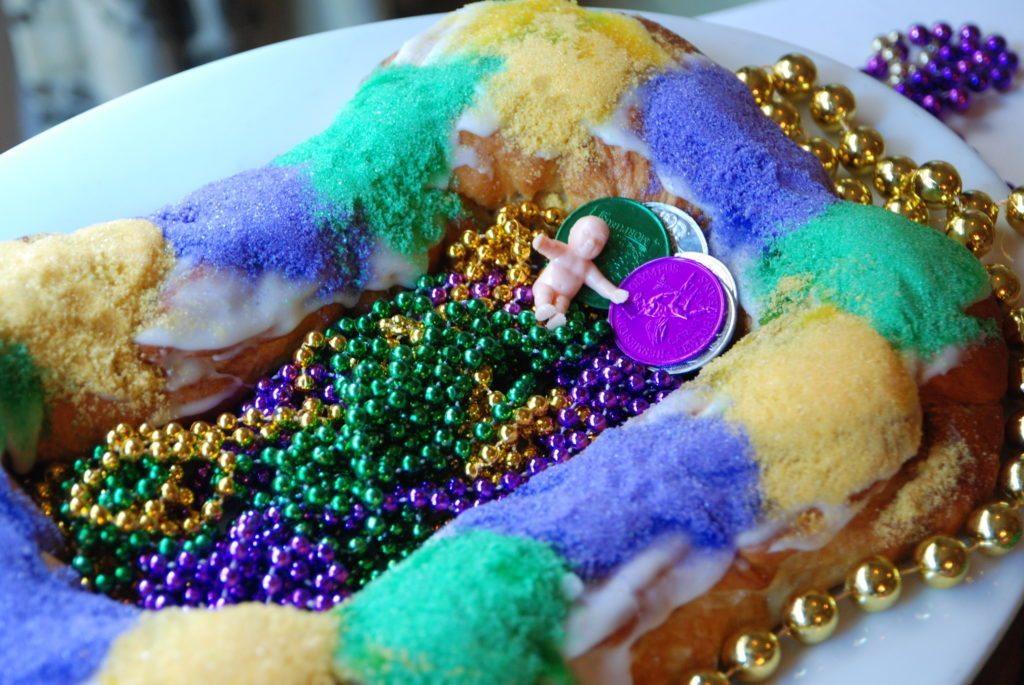 Well there you go. My picks for 12 must try New Orleans food experiences and where to eat in New Orleans! Is yours on the list? Hopefully having information on where to eat these traditional and delicious dishes will be helpful. Make plans to visit New Orleans soon! Also, for more info on where to eat in New Orleans, be sure to read the post "Top 5 Restaurant Picks in New Orleans."
For more information on visiting New Orleans please visit this website.
Pin this post for future reference!