Christmas celebrations around the world has always been fascinating to me. These celebrations often vary by geography, ethnicity and cultures. If you follow my Facebook page you will notice I often post about different customs and traditions of all major holidays. Since Christmas is one of the biggest and special days of the year, I asked my blogger friends living all over the world to share with us their Christmas celebrations! Enjoy!
Asia: Hong Kong & Vietnam:
My dear friend Lydia, who wrote about her hiking journey to Machu Piccu, moved to Hong Kong from the U.S. last year. She has had the good fortune to spend last year's Christmas season in Hong Kong and Christmas Day in Vietnam. Here is what she had to say about Hong Kong:
Hong Kong looks like many other places around the world in the weeks leading up to Christmas. Commercialism is king on any other day, and never more so than at Christmas. Skyscrapers, shops and stores are festooned with lights and wrapping paper. There are "wintry" weather looks in this place which will likely not go below 60 degrees Fahrenheit in December. For many in Hong Kong, Christmas is quite secular and mostly about having a day off, the bling, the decorations and gifts. For me, it's a much more personal celebration of Christ's birth. Something that I look forward to around Christmastime anywhere is the advent worship leading up to Christmas. I especially enjoy the beautiful music, and Hong Kong is no exception! This Christmas we are looking forward to enjoying as much as we can of Christmas concerts. This includes singing with the Cecilian Singers, a community choir with a 53-year history. Given that Hong Kong was a British Colony before 1997, it's no wonder that there is a strong British influence here and we have gotten to know a number of British expats in Hong Kong. I am told that at christmas celebrations I can look forward to some familiar things (turkey, potatoes, stuffing) as well as some more customary British Christmas traditions. There are many such as pigs in blankets, brussel sprouts, parsnip, custard, mince pies (which have no meat in them), various puddings ("pudding" is the British word for basically any dessert), Yorkshire pudding (which ironically is not sweet, is eaten with gravy and meat, and basically not a pudding!), and crackers (which are not for eating, but are little wrapped presents that make a small explosion when you pull them apart and contain a hat to wear and other toys)! As for me, I have ordered a sweet potato pie to bring a little American influence to Christmas dinner.
And how about Vietnam?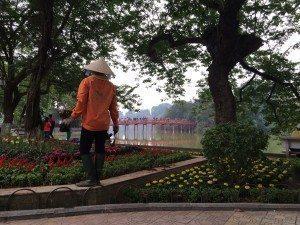 I had been to Vietnam over a decade before, have always wanted to go back and was thrilled to introduce it to my husband.  Vietnam is a communist country, so it's not surprising that Christmas doesn't make much of a splash. However, an estimated 6-8% (depending on your source) are Catholic. I'll never forget being in the hotel room the evening of Christmas Eve when I heard bells chiming, and recognized the tune "I heard the bells on Christmas Day". Otherwise, as a tourist, there were few other signs of Christmas celebrations. On Christmas Day we even saw workers already decorating for the Vietnamese New Year (same time as the Chinese New Year). We did enjoy our time th- the beauty, authenticity and simplicity of Vietnam. And, we did manage to find a beautiful restaurant, in the basement of the Hanoi Opera House, which was doing a special Christmas prix fixe tasting menu. Dinner included chestnut soup, turkey and cauliflower mash, truffled potatoes with caviar, and scallop with mango couscous. Quite a delicious way to celebrate Christmas, if you every find yourself in Hanoi on Christmas Day.
   2. Eastern Europe: Croatia:
Mate of "Chasing the Donkey" travel blog,  describes Christmas Celebrations in Croatia.
Christmas in Croatia is a great time of year. All the tourists are long gone and the country celebrates Advent in all the major cities of Croatia. The biggest celebration is Advent in Zagreb, Croatia's capital. During this 6 week celebration the city is transformed into a winter wonderland and everyone embraces the Christmas spirit. Stages are erected in all major squares and parks in the city with the biggest in Ban Jelacic Square. You can enjoy daily musical and theatrical performances, including a live nativity scene. Christmas market stalls line the streets selling Christmas souvenirs and street food. Despite the cold weather, all the locals get out and about to soak up the Christmas atmosphere. It really is something special. Advent then culminates on Christmas eve where many Croatians attend midnight mass church services to celebrate the birth of Christ. Zagreb is a wonderful city which loves Christmas. This year it was nominated as one of the Best European Christmas destinations.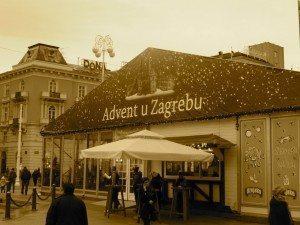 3. Western Europe: Finland:
How would you like to visit Santa Claus in Finland? Marcela of "Fotostrasse" travel blog describes her experience doing so in the article "We Visited Santa's Cottage in Espoo."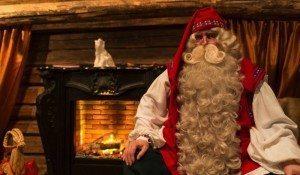 I hope you have enjoyed Part 1 of Unique Christmas Celebrations Around the World! In
Part 2
, being published later this week, Christmas celebrations in Australia, the French Caribbean and NYC are discussed!