This post contains affiliate links. However, all opinions expressed here are original. If you click through on a link, you won't pay a penny more, but I'll receive a slight commission which helps me keep this information available to you. Thanks!
---
This is the perfect addition to the wine section of the blog! I am honored to have been given the opportunity to discuss House of Mandela Wines with Nelson Mandela's granddaughter- Tukwini Mandela.
is the co-founder of House of Mandela Wines along with her mother, Nelson Mandela's daughter, Maki Mandela.
Meet Tukwini Mandela of House of Mandela Wines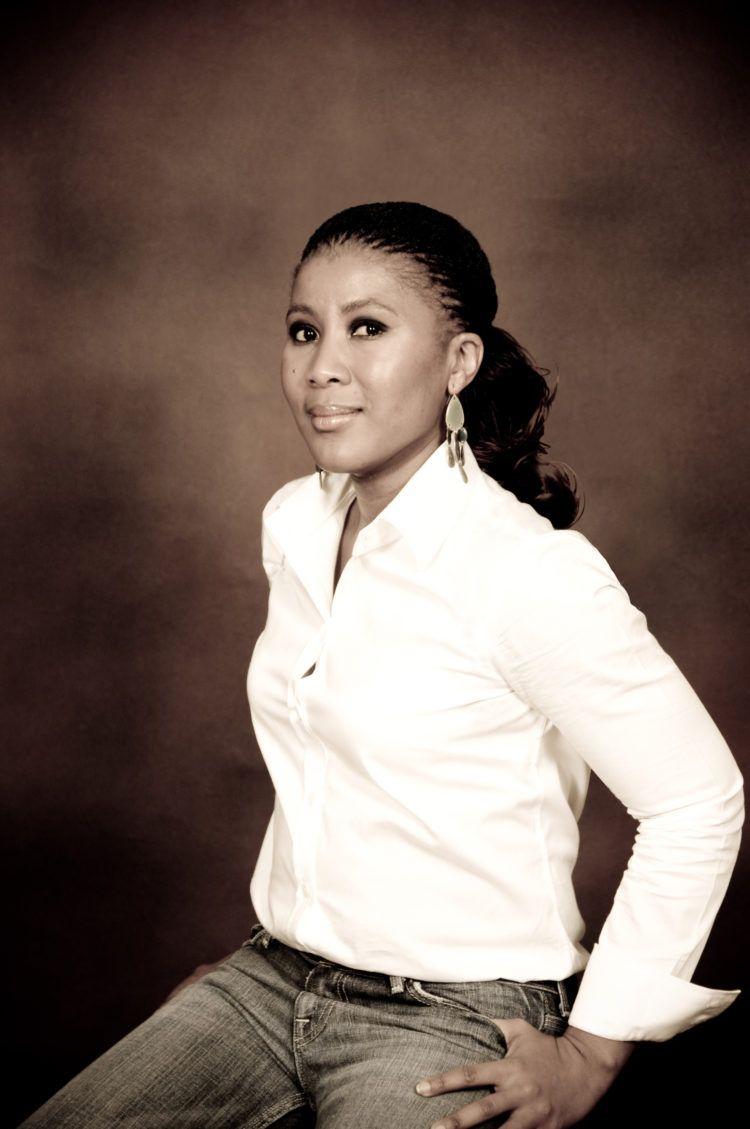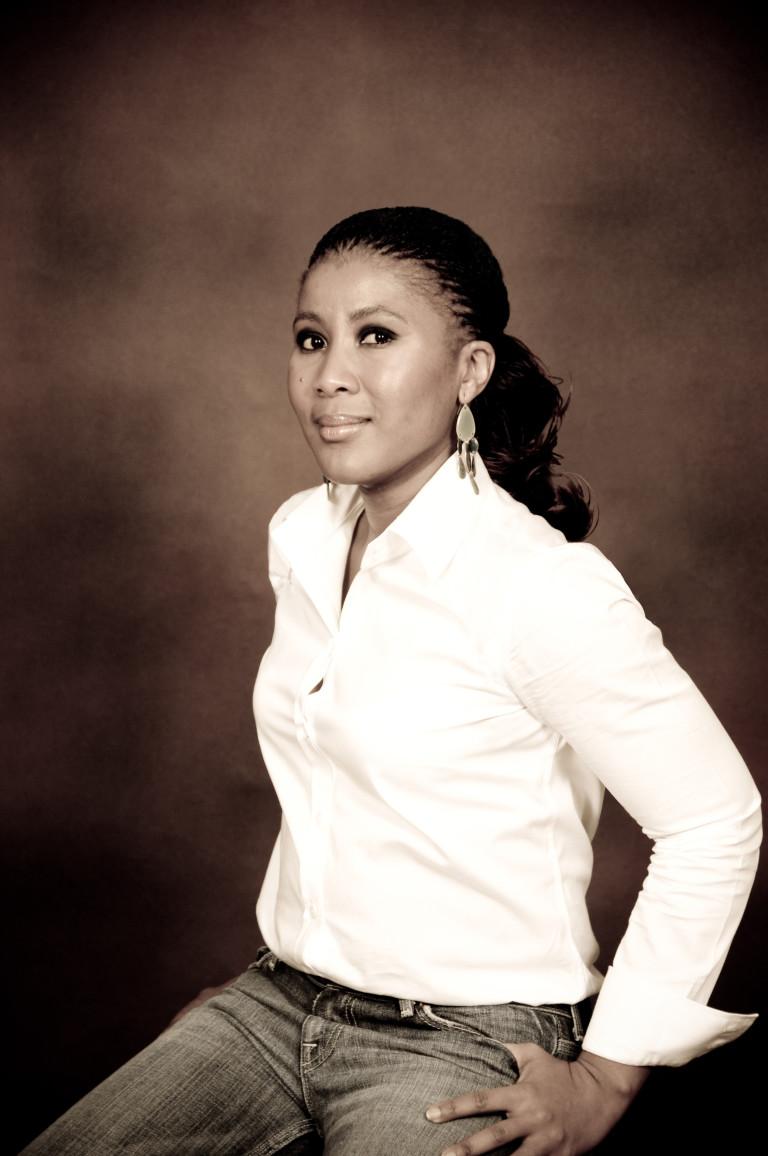 1) Tell the readers of TSL a bit about your background and the inspiration for starting a wine label.
The wines are not just about the juice in the bottle. They are the story of the House of Mandela and the story of the rainbow nation of South Africa. Lineage and maintaining our legacy plays an important part of our story. Using the House of Mandela is our way to claim who we are, where we come from and where we belong. It is a way of paying homage not only to our father and grandfather, but honoring our ancestors. For my grandfather, Nelson Mandela, lineage played a very important role in his life. He was shaped by the political, cultural traditions and values of his ancestors. The alignment of our family values with the understated quality of the wines is the perfect way for us to share our story with the world. Each and every bottle holds a distinct piece of Africa, her history and her people. It is for this purpose that we have chosen wine as a bridge between the past, present and future. As the progeny of the House of Mandela (HOM), we believe that we do not just carry our ancestral physical genes, but also the spiritual genes and the light of all those who have come before us.
2) What obstacles did you face or have overcome as a Black Women joining an industry with very few people of color?
For all intents and purposes, the South African wine industry is still very racist and sexist. The industry is still not prepared to accept black producers. Add the fact that we are female and that just complicates matters even more. When we started out, many people thought that House of Mandela was just a little project, a gimmick that would not last. That attitude is pervasive across the wine industry towards most black-owned wine brands. This is also a very capital-intensive industry and the financial requirements to keep a wine business going are very challenging. Most black-owned wineries struggle with this and it is often the main reason that they do not survive.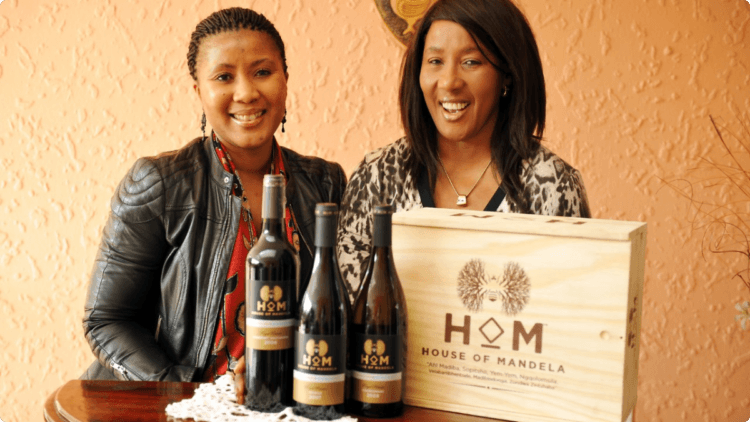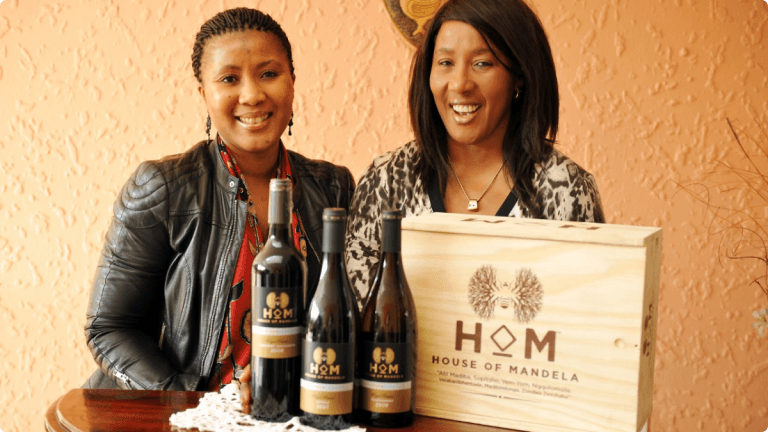 3) Describe the areas in South Africa where House of Mandela Wines are produced. How involved are you, Tukwini Mandela, in the process?
We are involved in the process from beginning to end. We work with our suppliers to source the best wines possible and we have a very rigorous tasting process. We would never market wines that we don't like. All of the varietals are approved and chosen by us. Each tier, each label is an extension of the story of the House of Mandela.
Grapes for the Thembu Collection were produced in Citrusdal, a cooperative in the Western Cape's citrus growing country. We also produce wine in DuToitskloof which is another cooperative in the western Breede River Valley near the town of Rawsonville. The fair trade grapes used were sourced predominantly from the Swartland vineyards in Malmesbury, with additional fruit from the vineyards in the Piekenierskloof region on the border of Cederberg.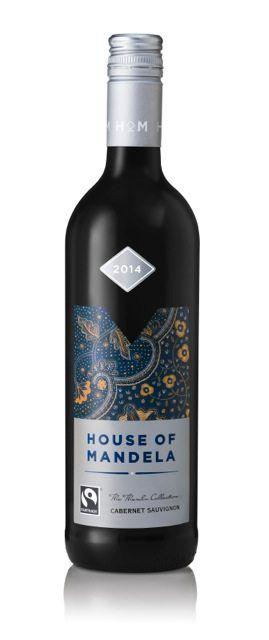 There are three wineries located in the Western Cape region that produce our Royal Reserve Collection. These wines are our pride and joy, and the pinnacle range of wines. Stringent quality control resulted in only three wines being accepted into The Royal Reserve. The chosen wines embody the virtues of royalty while maintaining the humility of the Thembu people. In order for the wines to be selected for this label they had to exhibit qualities that reflected the status bestowed upon them. They had to be inviting in their flavors, subtle in their tones and evoke pride with their uniqueness.
Ps. If you're trying to get to South Africa, here's $50 off your next flight. While you're at it, check out Lonely Planet for more information on the region. 😉
The Royal Reserve Cabernet Sauvignon is produced in the Helderberg Region.
Rising majestically a few kilometers from the eastern shores of False Bay above Somerset West, is the magnificent Helderberg Mountain, characterized by its eight peaks and long gentle slopes that lead down to the coastal plains and hills below. The area, close to Somerset West and only 15 minutes' drive from Cape Town International Airport, is bordered by the Helderberg Mountains, which make for an impressive backdrop for the more than 20 wineries along the route. Cooled by summer sea breezes, the vineyards on these slopes, plains and hills enjoy a near-perfect climate for some of the finest wines of South Africa. The wine region is often referred to as South Africa's premium red wine area. Shiraz, Merlot and Cabernet Sauvignon are popular wine blends in the Somerset West area due to the warm ocean influence, moderate rainfall and sheltered grounds in the shadow of the Hottentots Holland mountain range. The Helderberg region in recent times has also acquired a reputation for producing stunning white wines, particularly Sauvignon Blanc and Chardonnay.
Our Royal Reserve Chardonnay is produced in the Darling region.
The Darling region is known for having its own wine route and several tourist attractions only an hour's drive away from Cape Town. The Darling district incorporates the Groenekloof ward, which benefits from being one of the closest to the cooling Atlantic and is known for the exceptional quality of its white wines.
Lastly, the Royal Reserve Shiraz is made in the Stellenbosch region.
This region is home to more than 140 wine farms. Stellenbosch, also known as the Eikestad (City of Oaks in Afrikaans) is the second oldest town in South Africa. Stellenbosch and its wine lands boast the largest concentration and variety of wine farms and wine tasting venues in the country. Together they form the wine making, research and viticulture hub of South Africa. Oak lined streets and a holiday atmosphere make this quiet "old world" town the perfect base for wine and culture lovers alike. The region boasts a wine making tradition which stretches back to the end of the 17th-century. Learn more about wine-tasting in Stellenbosch.

4) House of Mandela Wines includes two of the well-known grape varietals in South Africa-Pinotage & Chenin Blanc. Tell us about these grapes and the tasting notes of these wines.
Both are quintessentially South African grape varietals and are in some cases misunderstood. The quality of the wines has improved in leaps and bounds in the past few years and South Africa has been producing some of the finest Chenin and Pinotage wines.
Chenin Blanc in South Africa has extensive depth in terms of terroir diversity, vineyards and wine making styles. Chenin Blanc's exceptional versatility and the excellent selection of fruit available allows the region to produce a great diversity of wine styles and flavors. Wine making techniques depend on the style of wine desired. The most intensely flavored Chenin Blanc wines are produced from older vines that have been carefully managed for balanced yields.
The majority of Chenin Blanc planted in South Africa can be found in the Worcester, Paarl, and Stellenbosch regions, with Swartland's Malmesbury also having sizable plantings. Chenin Blanc wines can be anything from super dry to sweet dessert style wines, depending on the methods used by the winemaker. The dry ones are heavily influenced by the terroir and tend to exhibit a zesty acidity along with a certain floral, honeyed character sometimes with a hint of vanilla. Melon, honeydew, apple, pear and cantaloupe fruit flavors are typical with some having mineral tastes of flint or smoke.
Oaked Chenin Blancs pair well with cream based chicken and rich fish dishes. Fresh fruity Chenin Blancs go well with salads or vegetable dishes, while the sweet dessert style Chenin Blancs pair well with aged cheeses. Our Chenin Blanc is citrusy and light, with a hint of spice. There are apples abound on the palate, softened by a creamy oak texture. It is well integrated and balanced with a full mouth feel.
Pinotage is the only grape and wine which is unique to South Africa. It has long been associated with the country, not always to the benefit of the wine. Since the creation of the grape in the 1920s, South Africa has had a very difficult relationship with this grape partly due to the way in which the grape was treated by the first growers, and partly due to mistakes in wine mixing which lead to unpalatable wines. Nevertheless, there have always been a few fans of the product, and now Pinotage is becoming one of the most popular wines produced in South Africa. Fortunately, in the last 15 years, several producers have banded together and focused on reducing the crop yields and using careful wine making techniques to manage this unique grape.
It's common to find purple fruits and black fruits in Pinotage. But occasionally you'll taste amazing red fruit flavors of raspberry, red licorice and even red bell pepper (on optimal vintages). On great bottles of Pinotage you'll be delighted by the flavors other than fruit. A wide array of other flavors include: rooibos, dried leaves, bacon, sweet and sour sauce, hoisin and sweet pipe tobacco.
The Vusani Pinotage has a dark red color with complex flavors of lavender and plums on the nose. Expect dark fruit followed by cinnamon and clove spice on the palate with well balanced acidity, and smooth integrated tannins.
5) Under "Why Wine" on your website, you mention that South Africans are not big wine drinkers. This is surprising as one of the largest wine producers in the world. Why do you think this is the case and what are you doing to change it?
Wine was something that was unattainable and intimidating before and now with the growth of the black middle-class it has become something more aspirational and a lifestyle choice. South Africans and black South Africans in particular are much more open to new experiences and experimenting with wine. The Soweto Wine Show has grown in leaps and bounds in the past few years and is evidence of this.
6) Where can House of Mandela wines be purchased?
Our wines are available in the following countries: Canada, Japan, China, Brazil, South Africa and Africa, Holland, Germany, Sweden, US, Philippines, Taiwan and Turks and Caicos.
Thank you, Tukwini Mandela, for this interesting and informative post on House of Mandela Wines!
For more information on House of Mandela Wines please visit their website. Have you had House of Mandela Wines or been to the wine regions in South Africa? If so, share your thoughts with us below.
Plan a trip to South Africa with these top tips from my own experience!