We are continuing with our coverage of South America this week! Hopefully you have already read "Discover Buenos Aires" and now I present to you another mini travel guide: "Discover Bogota Colombia" by Two Scots Abroad!
Introduction From Two Scots Abroad:
Bogota really is not the prettiest of cities in the world. Don't expect bright buildings and a fort like Cartagena or beaches and boats like Santa Marta. Or sunshine! There isn't much of that in Bogota, which is contrary to most people's perceptions of Colombia. It rains most days. However what you can expect in Bogota is music, art and a well-connected city with a variety of neighborhoods and dining opportunities!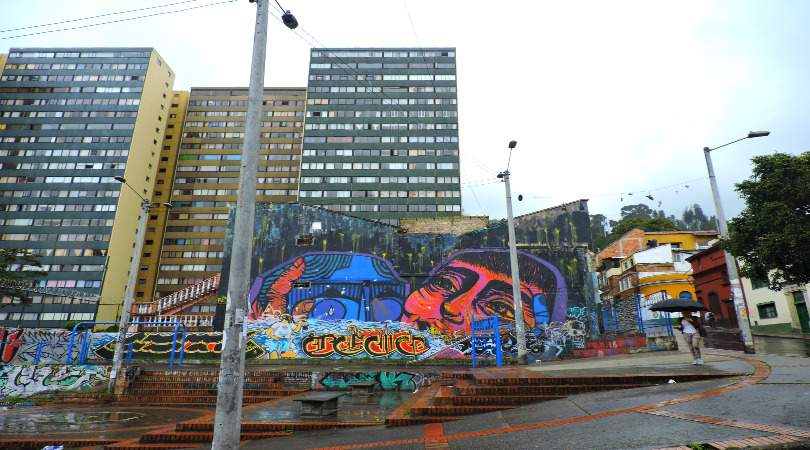 Where to Stay:
There are two areas in Bogota which are popular with travellers – La Candelaria and Chapinero. La Candelaria is close to the main shopping district of Bogota and has a sprinkling of bars and restaurants. There are plenty of hostels to choose from in La Candelaria.
Chapinero, once the up and coming area, really is now up. The red-bricked houses (and the weather!) of Chapinero could easily be mistaken for Manchester in England. What Chapinero lacks in quantity of hostels (unlike La Candelaria), it makes up for in quality.
Things to Do:
There is one experience that you cannot miss whilst in Bogota – Bogota's Grafitti and Street Art tour. This bi daily tour takes you through the mean streets of La Candelaria and introduces you to the extremely talented artwork of Colombian street artists. It's some of the best work I've seen from all over the world. Never mind tagging, the majority of this work tells a story, some of it political, others about gender, and others with no obvious meaning. The American/Colombian guides, who are artists themselves, are very knowledgeable. It is also a great way to get your bearings of the La Canderlaria area and pick up some local tips on where to eat and party!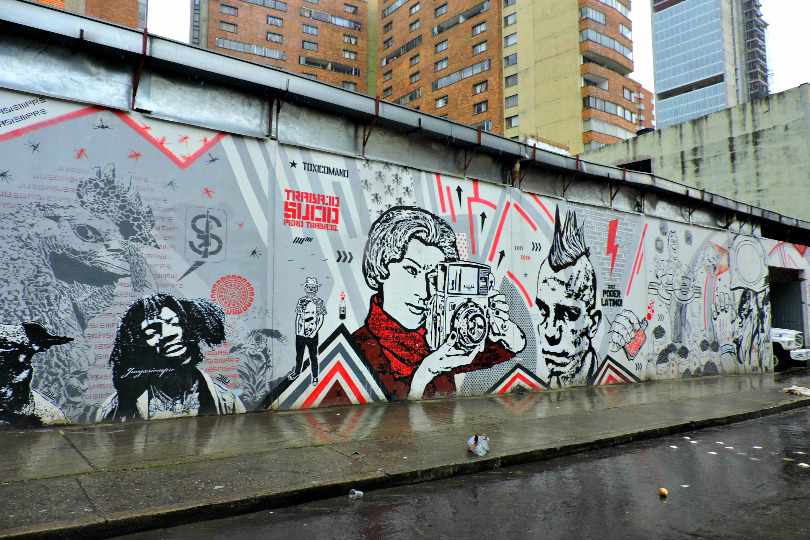 To hide from the rain a bit of retail therapy may be on the cards. Head to 7th Street in La Candelaria if that is your scene. There are lots of food vendors and street artists littered across 7th which makes it an entertaining place even for those who don't shop. This is a good street to navigate to if you ever get lost. Zona Rosa near Chapinero offers market stores as well as high street names.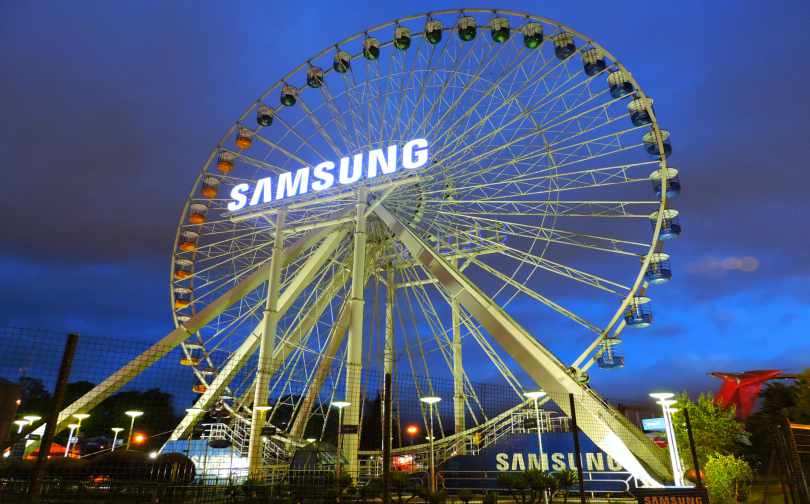 When the rain does stop there is plenty of green space in Bogota. Simon Bolivar  is the biggest park at 279 acres. There is also a theme park close to the park called Salitre Magico. Bogota has lots of smaller parks scattered around the city, such as Parque 93 in Zona Rosa.
Where to Eat:
Both La Candelaria and Chapinero offer extensive dining opportunities. We dined at a Mexican fusion restaurant called Dos Gatos y Simon (twice!) whilst staying in La Canderlaria. There are plenty of local restaurants around Parque de Los Periodistas for you try the local breakfast, Caldo de Costilla (soup with meat and potatoes!)
Near Chapinero (about ten blocks away) you will find the jumping area of Zona Rosa. Expect to dine and drink the night away with the youngsters of Bogota in this hip area. We listened to live music and ate burgers at La Hamburgueseria. How could you resist one of these ice creams too?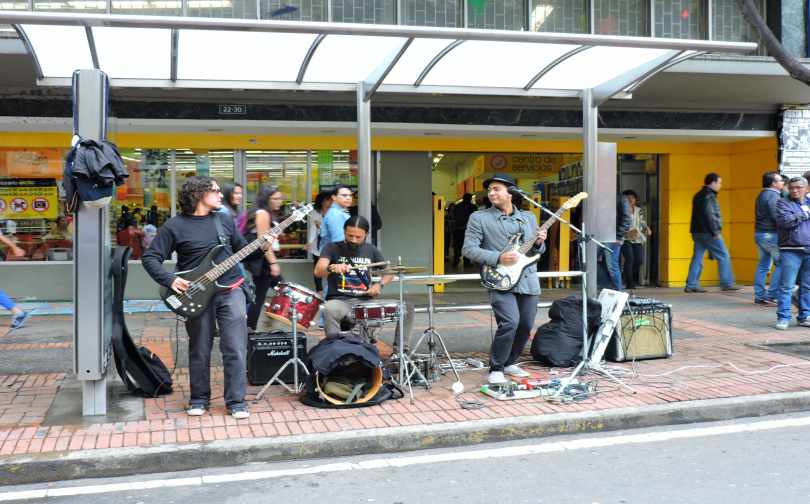 In Conclusion:
Although Bogota appears to look a bit grim, the explosion of colour comes from the street art and the warmth of the Rolos, the people of Bogota.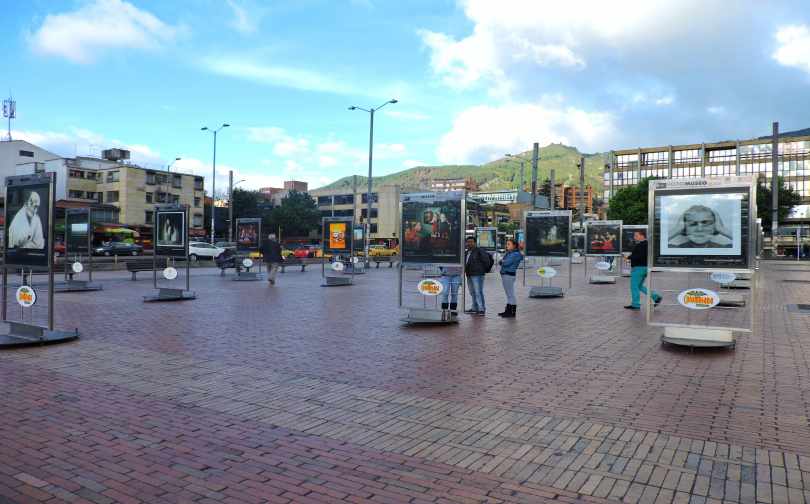 Thank you to Two Scots Abroad for allowing us to Discover Bogota Colombia through their eyes! Have you been to Bogota? If so share your experience with us below!
Two Scots Abroad (Gemma and Craig) have downed tools as teacher and tradesman and are traveling The Americas on an 18 month career break. They are currently living it up on the Sunshine Coast of Canada after four months in North, South America and Cuba. Catch up on their stories of trekking to Machu Picchu; diving in Cuba and discovering that Colombia is safe, friendly and not full of drug lords as the Western media would have you believe at Two Scots Abroad. Never miss a tweet through Twitter or a snap on Instagram.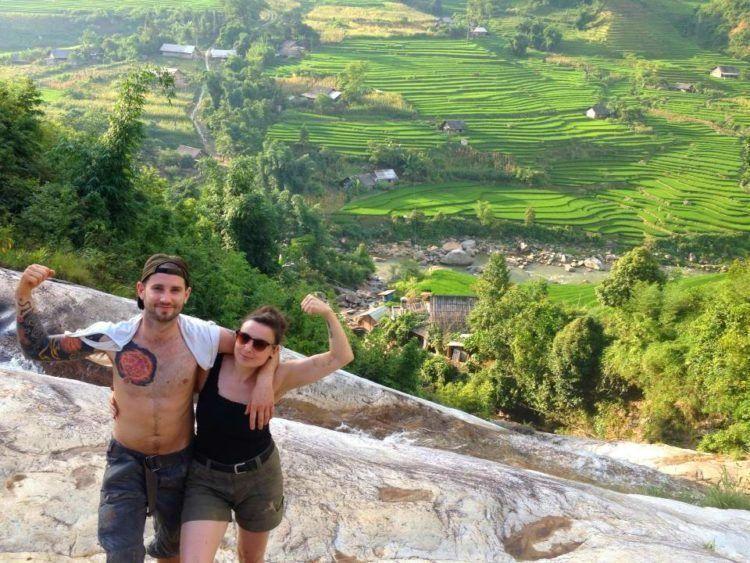 www.facebook.com/twoscotsabroad
www.twitter.com/twoscotsabroad
www.instagram.com/twoscotsabroad
www.twoscotsabroad.com