I recently returned from my first trip to Portugal. It was a whirlwind trip and I am still trying to process it all. But during my week of travel, I came up with 11 awesome reasons you should visit Portugal now. I spent 7 days exploring this stunning country from Lisbon to Porto. I took day trips from Lisbon and Porto so I was able to see different parts of the country. This Portugal travel guide is perfect for first time visitors. It has tons of information on things to do & see in Portugal as well as where to stay and what to eat in Portugal.
1. Portugal is not Spain. Yes I know you may be thinking "DUH". But, for a long time Portugal was not on my travel bucket list. Of course I had heard of it and seen pictures of Portugal but it didn't stay on my radar. I think one of the reasons is because I related it to Spain. I have been to Spain twice and assumed the history, food and culture would be similar. I was wrong.
Portugal and Spain are both on the Iberian Peninsula. Portugal is located on the most western part of the peninsula and Europe. The Azores and Madeira Islands off the Atlantic Coast are also part of Portugal.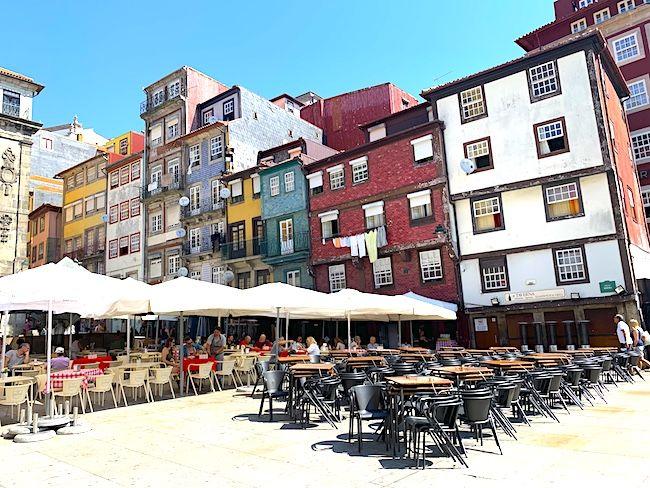 There are similarities with the architecture, Portuguese and Spanish languages and the physical characteristics of both. However, Portugal has its own unique history, culture, foods and wine. The Portuguese have a huge sense of pride in their country and actually take jabs at Spaniards. I encourage you to visit Portugal for yourself whether you have been to Spain or not.
2. For History Buffs: One of the many reasons to visit Portugal is to learn about its history. It is one of the oldest countries in Europe. Lisbon is actually older than Rome and Paris. The area had been settled and invaded by many groups including Romans and Muslims of Northern Africa.
The country of Portugal was founded in 868. When visiting Portugal you will hear reference to the "Age of Discovery". During the 15thand 16thcenturies Portugal became a global empire. Portugal explorers colonized countries such as Brazil. The Portuguese Colonial Empire also consisted of Angola, Mozambique, Cape Verde in Africa and Goa and Macua in Asia.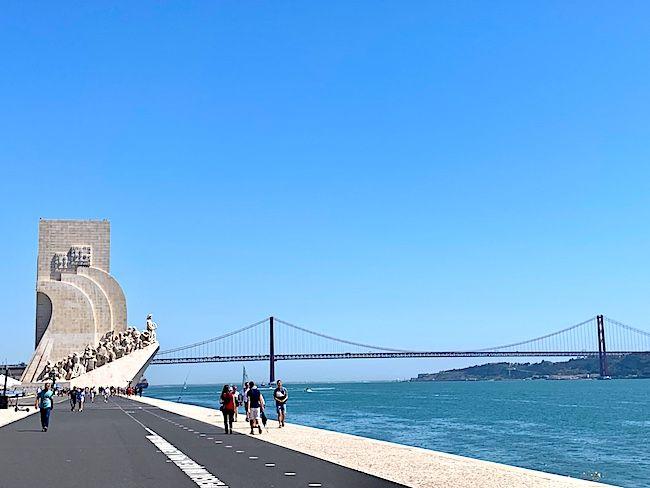 Due to colonization and slavery with a monopoly on the spice trade, tobacco and sugar plantations, Portugal became a world superpower. The country then suffered a devastating earthquake and tsunami in Lisbon in 1755. Portugal was later occupied by the French under the rule of Napoleon.
Brazil gained independence in 1822 which decreased Portugal's power and wealth. In 1910 there was a revolution and the monarchy was overthrown. However, the country was later run by a dictatorship. I was really surprised to learn that Portugal did not become a democracy until 1974.
3. The Weather: The weather in Portugal makes it a great place to visit year round. The summers are very hot, the spring and fall are warm and the winters are cool but not cold. During my research I found that the average temperatures July thru September are 79 for the high and 67 for the low. That was not the case with my September visit.
Both Lisbon and Porto were in the 80s. But, with the humidity it felt like 100. There was unrelenting sunshine. Normally I would love this but based on the heat it would have been nice to have just 1 cloud in the sky (lol). It is a bit cooler in the mornings and at night. If you are near the ocean you will get a warm ocean breeze.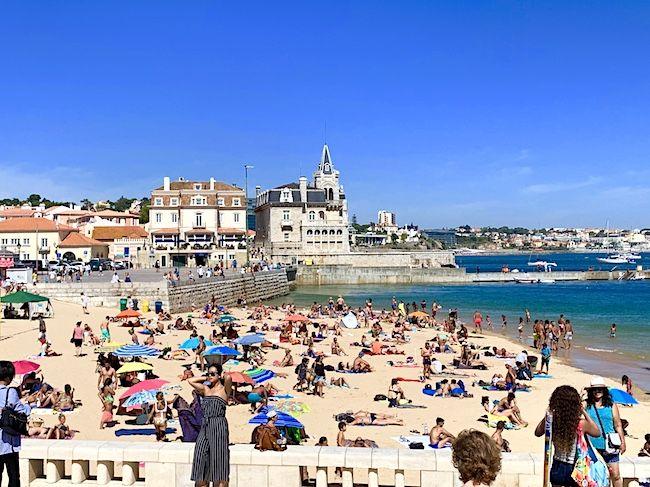 Keep in mind that both cities are very hilly and with cobblestone roads. It was a bit tough to walk around sightseeing in the heat. If you are heading south to the beaches in the Algarve, the summer months are perfect. However, I have been told it is also very crowded in the summer. In my opinion, April to June and late September through October would be best time to visit Portugal.
4. For Architecture Buffs: As mentioned above, Lisbon is one of the oldest cities in Europe. Portugal has also been inhabited and invaded by different ethnic groups. Based on this, you will see several different architecture styles throughout Portugal. Viewing the different architecture styles are reasons to visit Portugal. Romanesque, Portuguese Renaissance, Gothic, Moorish and contemporary looks all exist here. There are amazing castles, churches, cathedrals, mosques and museums that exhibit these architecture styles.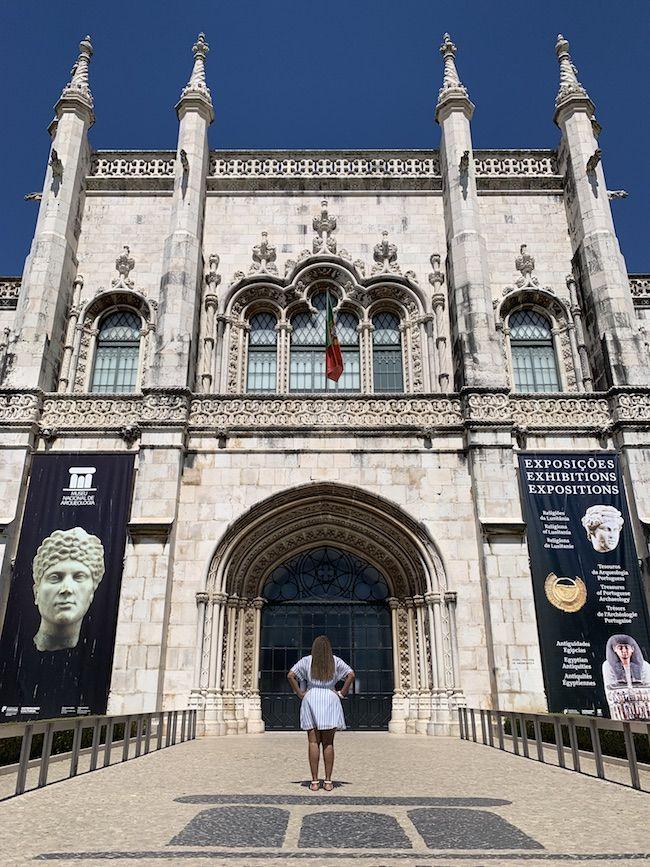 It felt as if there was a church on every corner in Portugal, especially in Porto. Although I am not a practicing Catholic, I enjoy visiting churches and cathedrals. The years of work, effort and detail that went into making them is awe-inspiring. Be sure to visit Pena Palace in Sintra to view one of the most unique architectural buildings in Portugal. Here is a link that explains all of the Portuguese architectural styles and where to find them.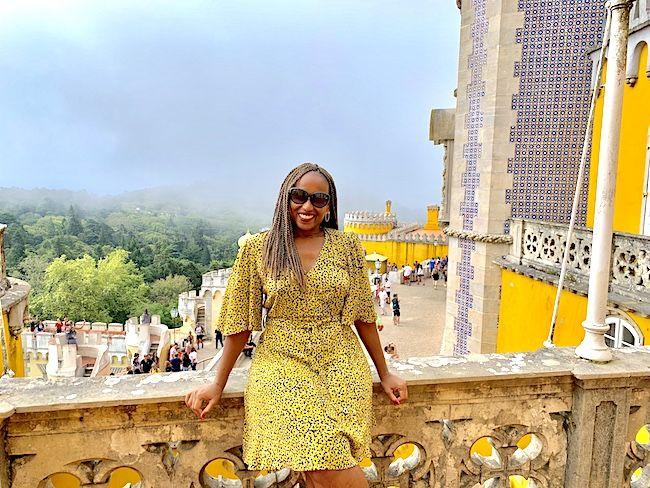 In addition, be sure to look out for the magnificent blue tiles that line the buildings especially churches. These blue tiles are called "Azulejo tiles". It is a practice that started in Northern Africa by the Moors and later brought to Portugal. The tiles often tell a story or depict war battles. An amazing display of them can be found in the Sao Bento train station in Porto.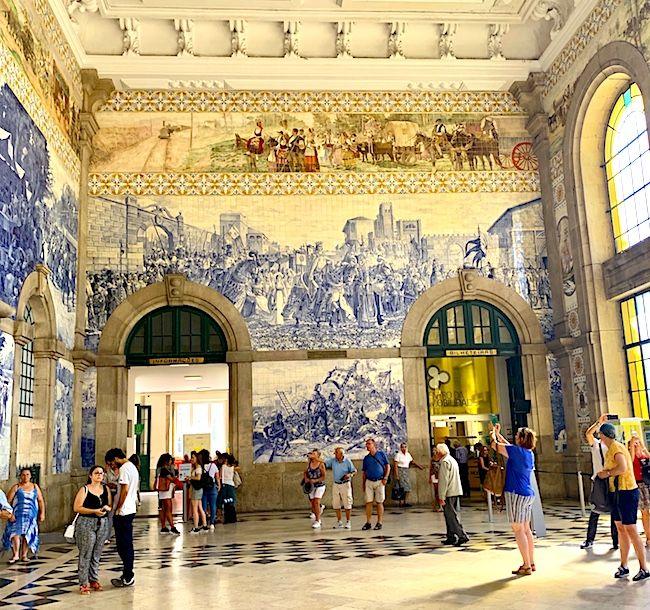 5. 11 Awesome Reasons to Visit Portugal: Wine:
One of the best reasons to visit Portugal is the wine. Port wine in particular has an interesting history here. It was first produced in the Douro Valley in Northern Portugal. Barrels of wine were taken by special "Rabelo" boats down the river to the city of Porto. They were then aged in barrels in Port houses along the Douro River. Most of these Port houses were actually built by the British.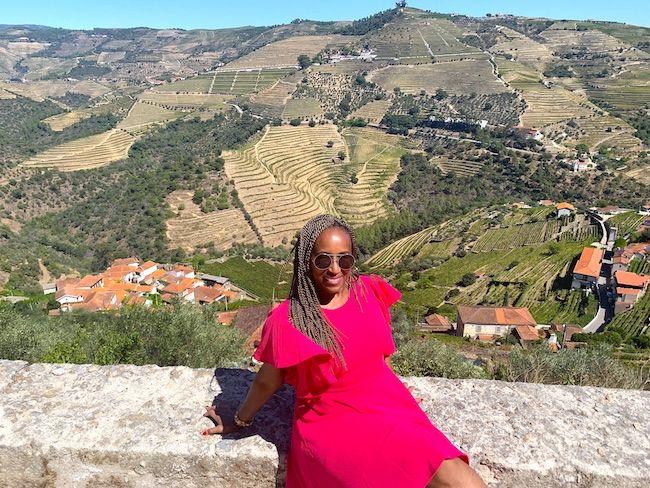 Be sure to try all types of port wine. There are white and red ports broken down into tawny and ruby ports and further by vintage, reserve and LBV (late bottle harvest). The amount of aging that occurs makes for the biggest difference in ruby and tawny red port wines. Ruby port wines are aged less than tawny port wines. They retain their deep "ruby" colors. Tawny port wine bottles often have the amount of years they have been aged in barrels before being bottled ie 10, 20, 30, 40 years.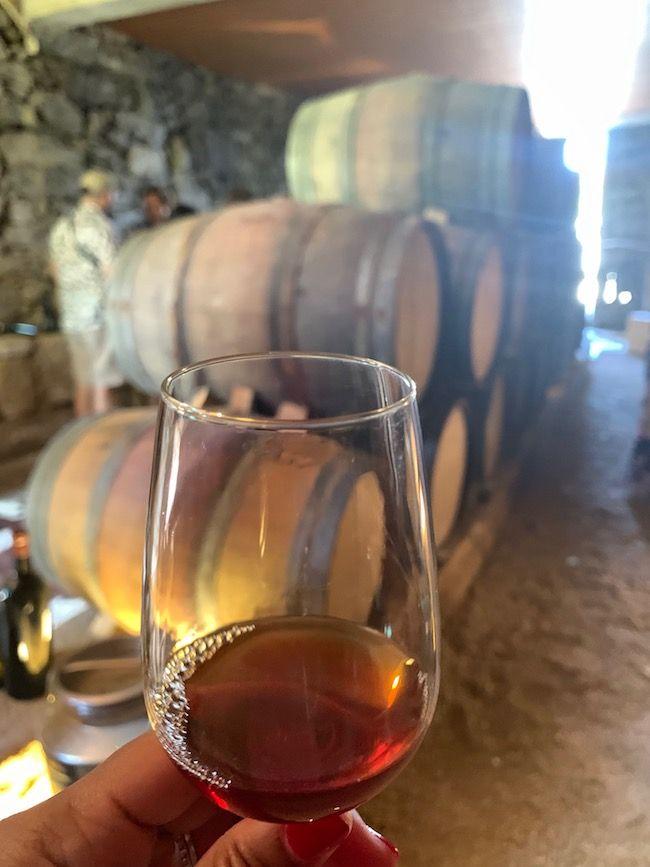 You can do a day trip to Douro Valley from Porto. You can also take the train, a boat or drive up there and stay in one of the many hotels in Douro Valley. There is even a property that has turned wine barrels into rooms. The luxury wine barrel hotel rooms was added to my list of reasons to visit Portugal. Next time!
On our small group tour we visited a winery in which we sampled red and white Douro Valley wines. We also took a cruise in a traditional Rabelo boat along the Douro River. Lunch was served at a 16thcentury palace followed by a port wine tasting. I highly recommend this tour.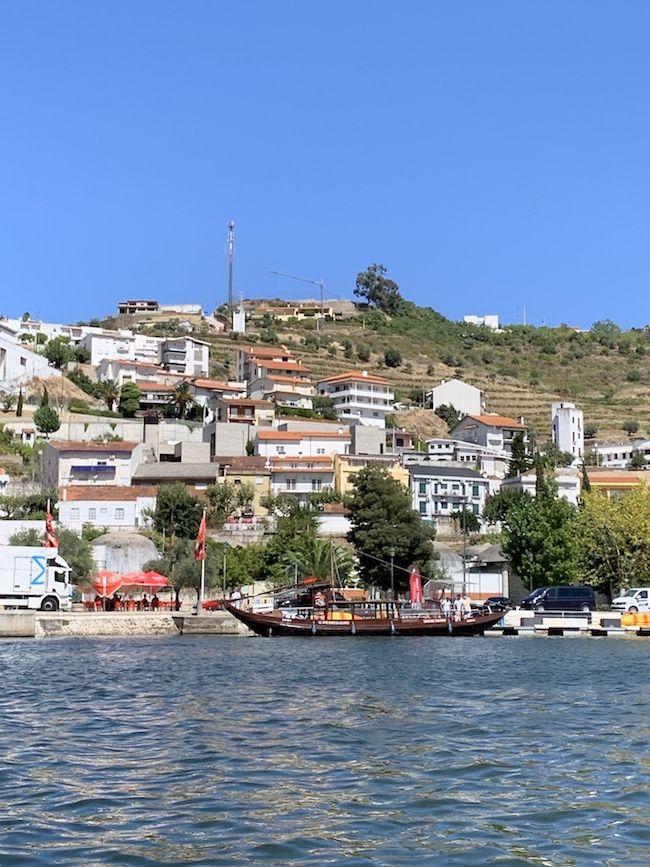 While in Porto, I visited Taylor's Port located in Vila Nova de Gaia. They have a self-guided-tour that walks you through the history of port production in the Douro Valley and Porto. It ended with a tasting of their port wines.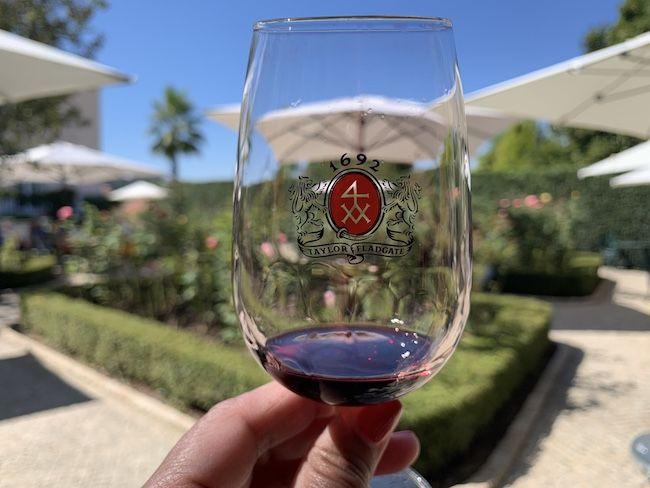 Besides Port, Portugal makes other great varietals. There are 26 major wine regions in Portugal from North to South and east to west. These include Alentejo, Douro, Porto, Madeira and Vinho Verde. I enjoyed wines from the Alentejo region as well as "green wine" from Vinho Verde. "Green Wine" is AKA as young wine. This wine is released 3-6 months after the grapes are harvested. They can be red, white or rose and many have a sparkling quality. I found them to be very refreshing and they are unique to Portugal.
6. Portugal Travel Guide: For Foodies:
Portugal is known for having great seafood. Good, fresh food is one of the top reasons to visit Portugal year round. One of my favorite dishes was from a restaurant in Lisbon called 'Sacramento". Get the octopus rice with prawns. You will notice octopus, prawns as well as sea bass on a lot of menus. We also had amazing paella in downtown Sintra.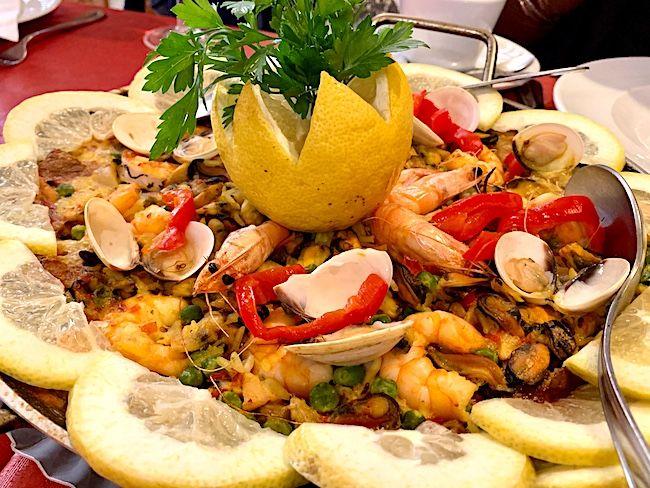 "Bacalhau" is the Portuguese word for codfish. Codfish has a long history in Portugal, it is thought that fisherman brought it here from Newfoundland and Nova Scotia as well as Iceland and Norway. When codfish is dried and salted, it lasts a long time. Codfish/Bacalhau is made in several different ways and is often eaten over the Holidays. I ate my share of Portuguese codfish fritters. We even had one with cheese.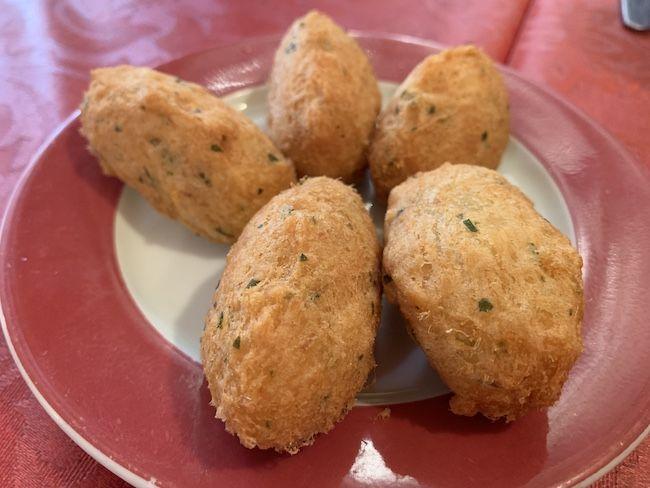 What I found interesting is that many Caribbean countries eat a lot of codfish as well. In Jamaica our national dish is "Ackee & Saltfish". Jamaica was colonized by the British so may be they brought salted codfish there.
My favorite Bacalhau dish was from a restaurant in Lisbon called "Can the Can". It is located at Praca do Comercio. Try the "Cod Bras Style". The codfish is roasted in olive oil and garlic and served with wire potatoes, egg, olive powder and anchovied onion. It was amazing! If I wasn't leaving the next day I would have returned here for more. This Bacalhau dish is one of many reasons to visit Portugal.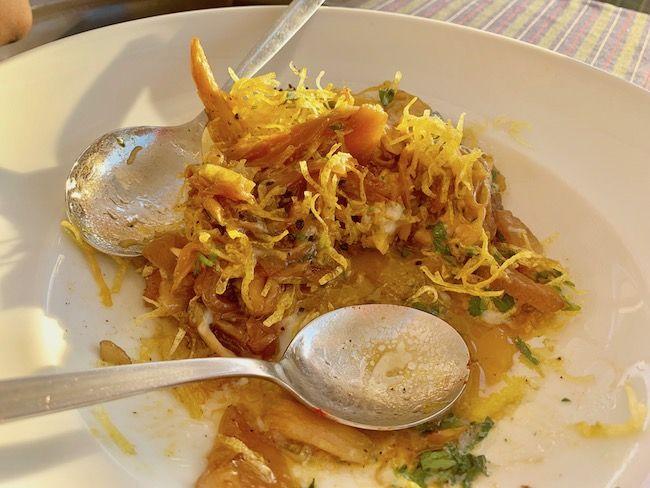 Another must while visiting Portugal is trying their Portuguese pastries. Pasteis de Nata AKA as Pastel de Nata is a Portuguese tart made with egg custard. They are often dusted with cinnamon. You will find them everywhere but the most famous ones are at "Pasteis de Belem". These pastries have an interesting history.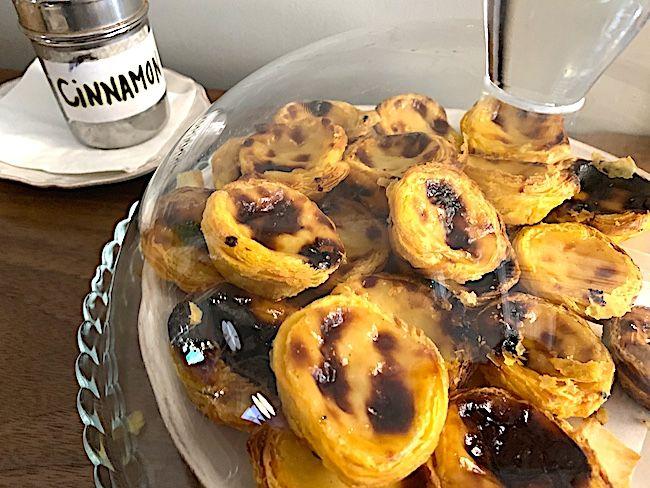 In the 18thcentury convents and monasteries used egg whites to starch clothes. They used the left over egg yolks to make pastries and cakes. After the Liberal Revolution of 1820, the monasteries and convents were soon closed.
In order to make money, monks at Mosteiro des Jeronimes in Belem sold pastries to a sugar refinery next door. The recipe was eventually sold to this sugar refinery. In 1837 the owners of this refinery opened "Pasteis de Belem". The descendants of the refinery still own the bakery. Isn't this interesting? I love exploring food history. Check out this post on Belgium foods if you do too.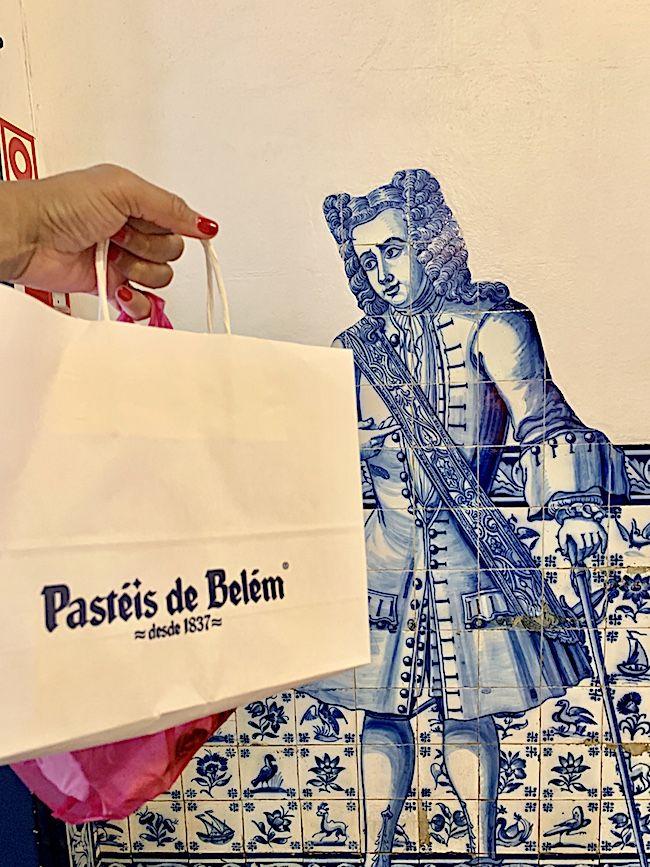 Walking food tours are also a great way to get know a city, country and its food culture. We did a vintage walking food tour with Taste Porto. It was over 3 hours but we stopped at very interesting and tasty restaurants. I learnt that the craft beer scene is up and coming in Portugal. The tour ended with a port wine tasting #yum.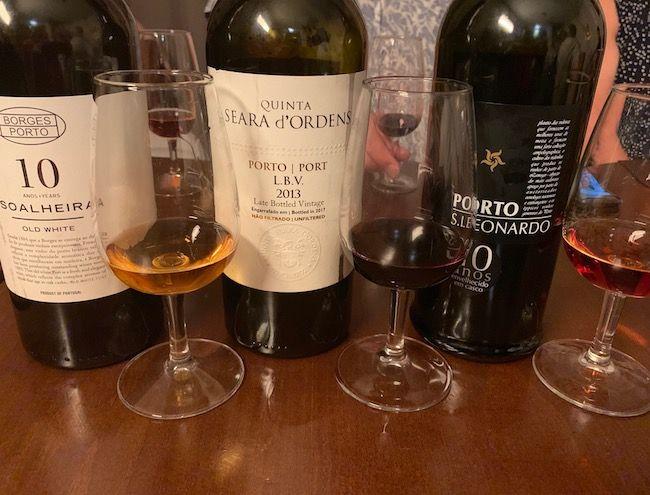 7. For Beach Lovers: Another awesome reason to visit Portugal is for the coastal beaches. Since the weather is warm most of the year, Portugal is a great place to take a beach vacation. Most of the popular beaches in Portugal are in the Southern area in the Algarve. The Algarve is filled with resorts, villas and restaurants. However, I read that it is very crowded during the summer. The city of Faro in the Algarve has an airport and a university. It is a 2 ½ hour drive from Lisbon to Faro. In addition, you can visit beaches in the Azores and Madeira. Since the focus of my visit was exploring the city and wine areas of Lisbon and Porto, I only visited 1 beach in the area.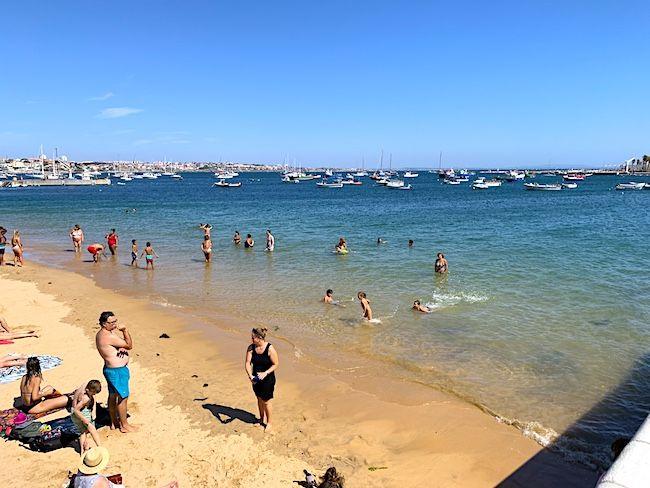 During our day trip to Sintra we made a stop in Cascais. It is a quaint beach town with shops and outdoor cafes. Estoril was also mentioned as a beach resort area. Cascais and Estoril are about 40 minutes driving distance from Portugal. Here is a list of some of the best beaches in Portugal.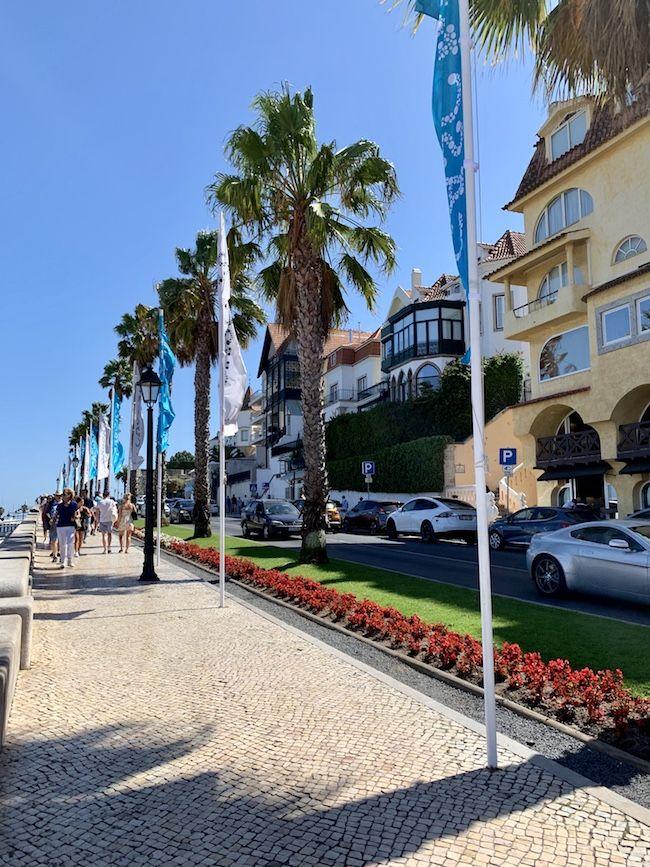 8. If you love small quaint towns: I decided to add this category to this Portugal Travel Guide because Lisbon and Porto were very crowded. I enjoyed the little time we spent in smaller quaint Portuguese towns. Cascais was lovely and is a great reason to visit Portugal now. The narrowed cobblestones streets were filled with shops and outdoor cafes.
My favorite stop was in the town of Amarante during our day trip to Douro Valley from Porto. Amarante is located in Northern Portugal. Specifically it is in the Minho region which is known for the "Vinho Verde/green wine" referenced above. Take a stroll along the Tamega River admiring the arched bridge. Make a stop in the church and monastery called Sao Goncalo. It is named after a Saint born in the 12thcentury.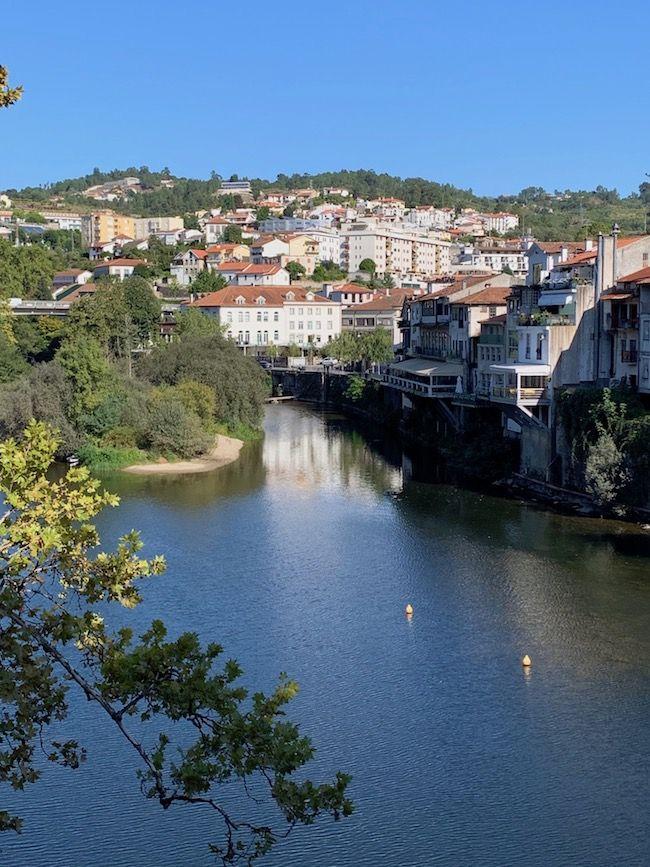 If you see locals selling phallus shaped cakes, do not be alarmed lol. It is tradition in this lovely town. You can read more about that here.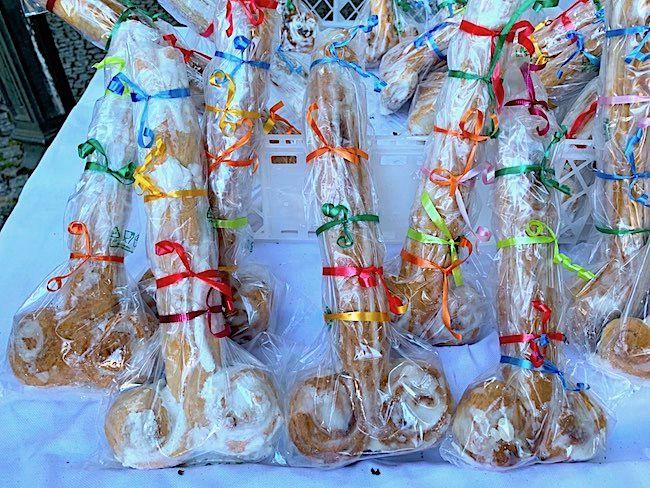 We had lunch in downtown Sintra and I found that to be a quaint area as well. Other small towns in Portugal that you should visit are Obidos, Coimbra, Evora and Monsaraz. They are all on my list for next time.
9. Portugal is affordable: One of the things I kept reading and hearing about in reference to Portugal was its affordability compared to other European cities. This is definitely a reason to visit Portugal. And yes it is cheaper than Spain. Portugal is often listed as a great place to retire based on costs and the weather. I found this to be accurate.
The food, the wine, the taxis and UBER were all less expensive than what I have spent in cities such as Paris, London, Rome and Amsterdam. The larger cities and coastal cities ion Portugal are more expensive.
According to my recent research, a couple can live comfortably in smaller Portugal cities for about $1400-$1700 a month. Lisbon is a bit more costly but still reasonable at about $2200 per couple per month. Singles should budget for about 2/3 the cost of couples. This is one of many reasons to visit Portugal to research living or retiring here.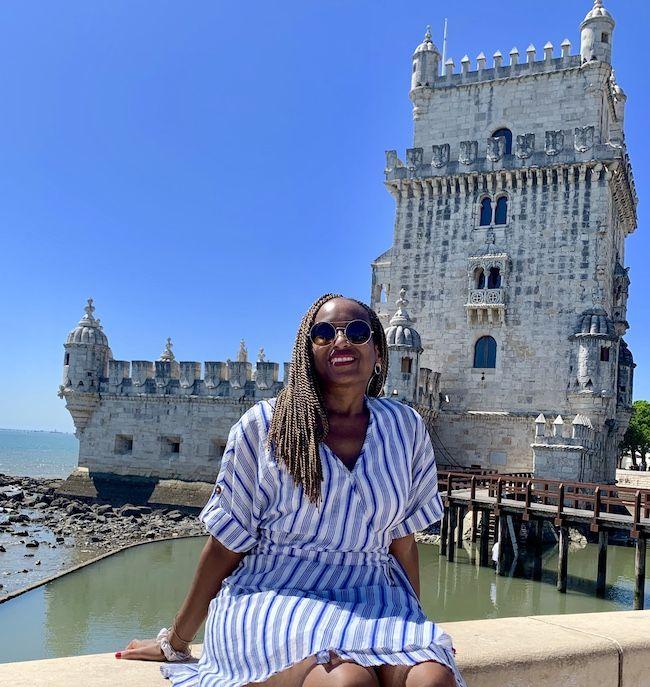 The only thing I found to still be pricey were the luxury hotels. I stayed in 4 and 5 star hotels in the main downtown areas of Lisbon and Porto. The hotel in Lisbon was over $300 a night but it was fabulous-Hotel da Baixa. In Porto we stayed at The Intercontinental for close to $400 per night.
The low costs and affordability in Portugal is the main reason I put "now" in the title. With more people catching on to this, Portugal has seen a rise in people (expats) moving to Portugal. Add the weather and I am not sure how long Portugal will remain affordable. And with global warming I am not sure if it will get hotter there (I hope not!)
10. Awesome Reasons to Visit Portugal: Safety:
Portugal has low crime rates. It is ranked in the top 10-15 safest countries in the World. The larger cities of Lisbon and Porto are prone to more crime. While roaming around the streets of Portugal, day or night, I felt safe. I was told to watch out for pickpockets, especially on the trolleys and trams. But, luckily we did not have any issues.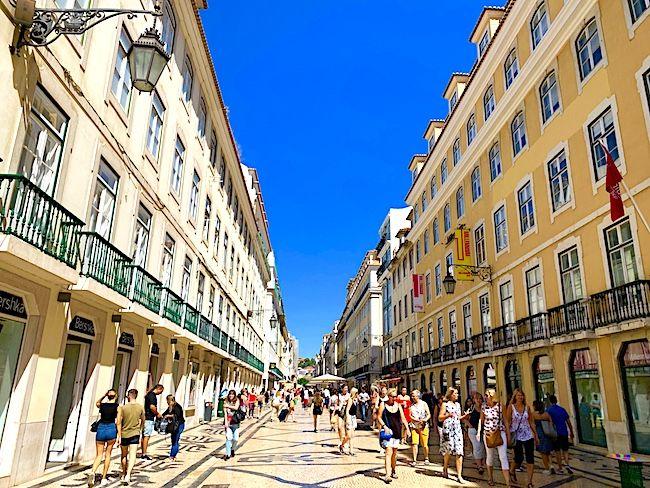 I had a long conversation with an Uber driver in Lisbon who told me that civilians are not allowed to carry guns. Citizens are only allowed to own guns for sports like hunting and shooting or as collectors. Self-defense is not a valid reason for owning a gun. He told me that even the right wing politicians do not want to change these laws since they know it will lead to more gun violence in Portugal. Why doesn't the U.S. learn from these countries? This is one of many reasons to visit Portugal, Cuba, Australia since they all have strict gun laws and much lower gun violence.
11. For English Speakers: A language barrier is one of many reasons people are afraid to travel to new countries. I personally try and learn a few words and phrases of any country I am visiting. I admittedly did not have time to do so for Portugal.
I was ready to make full use of my Google Translate App. However, I realized that most people in Lisbon and Porto spoke English or some English 🙂 In these 2 major cities, approximately 32% of Portuguese speak English. A few people asked if I spoke Spanish. I am not fluent in Spanish but I know a few phrases which they understood.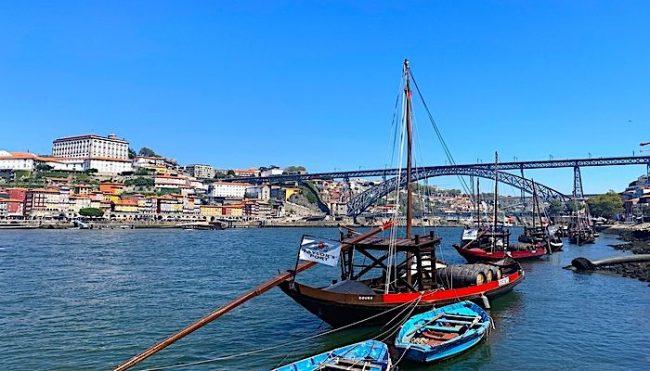 I had one major incident in a restaurant where I changed my order. Although we were in the touristy area of Belem, the waiter did not understand. He brought out 2 full meals for me and argued with me about it. The staff threatened to call the police. I stood my ground, did not accept the extra entrée and did not pay for it. That being said, do not let a language barrier stop you from traveling to Portugal.
I hope you have found this Portugal travel guide helpful. I also hope these 11 awesome reasons to visit Portugal has inspired you to book a trip there. As you can tell Portugal is full of history, culture, good food and great wine. Have you been to Portugal? If so, do you agree?