We have a wonderful guest post from my dear friends today! The Gatto-Thibodeaux family went on an Epic Adventure to Alaska on Disney Cruise line! I asked Brent Thibodeaux to share their experience with us!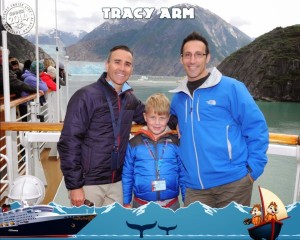 1. From the adult perspective-tell me the top 3-5 things you loved about the Disney cruise line.
A) Confident that our son was in good hands when in the Kids Club!  For the first time ever we felt good about leaving him in the hands of the Kids Club staff- a lot!  We even went off the ship hiking without him.
B) We enjoyed the Adults Only spa!
C)  Very clean ship and attentive staff.
2. From your son Joseph's perspective the top 3-5 things he loved.
A) Our 7 year old son was absolutely entertained the entire trip.  He loved being able to meet all of the Disney characters and taking pictures with them.
B)  Kids Club!
C)  Loved the pool and slide-even in the cold Alaska weather!
D)  At the end of our trip our son asked if we could take a Disney Cruise every year!  Enough said!
3. What are the major differences cruising Disney vs. other ships (I have heard there are no casinos for example)
A)  Very kid oriented and of course the Disney theme throughout. If you or your kids are not Disney fans, this may not be the cruise line for you.
B)  No casinos which I found wonderful!
C)  Entertainment was kid oriented with wonderful Disney themed performances.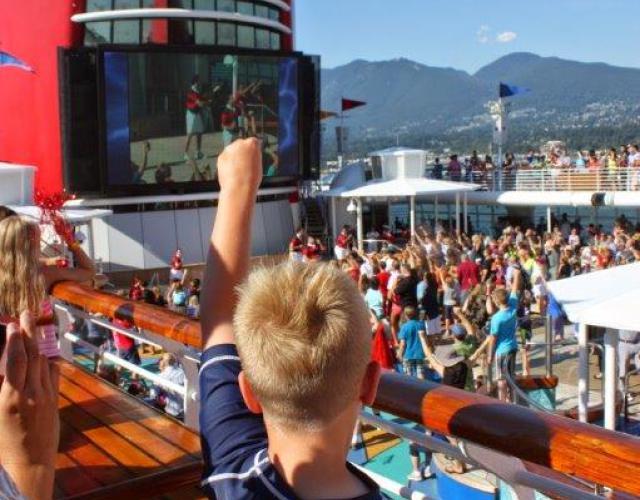 4. What were the most remarkable or memorable things you saw in Alaska.
A) The scenery was absolutely stunning! This includes our sail away voyage out of Vancouver, up through British Columbia and all of Alaska- Amazing!
B)  Sailing through Tracey Arm and ending up at the Sawyer Glacier.
C)  Helicopter ride up to a Glacier! We were able to get out and hike and drink glacial water. A once in a lifetime opportunity.
D) Seeing whales right off our balcony!
5. What are your tips for those planning a Disney cruise? How do costs compare to other cruise lines? Do you recommend using a travel agent or booking thru Disney? How far did you plan in advance?
A) Definitely more expensive than the previous cruises we have taken- both on Celebrity.
B) For Alaska I recommend planning 6-9 months in advance.
C) We went through a travel agent which in the end it probably would have been better to book directly through Disney.
I would like to Thank the Gatto-Thibodeaux Family for sharing their experience and beautiful pictures with us!
Have you been on a Disney Cruise or to Alaska? If so share your thoughts with us! For more information about Disney cruises visit their website.