I am pleased to announce that I am now a member of the Association of Food Bloggers! If you have been following my Website & Blog this will not be a surprise since you know I am a major Foodie! I love discovering new restaurants whether fine dining or casual comfort food. I enjoy learning about chefs and will often seek out a restaurant with a chef I have read about or "as seen on TV" 🙂 The Food section of my website contains restaurant reviews, my experiences at Food Festivals across the country as well as area Restaurant Guides. I am honored to now be a part of a group of fellow bloggers who share the same passions!
A little background about my new group. The Association of Food Bloggers was started in 2009 by Malika Bowling who is a published writer, author, blogger and marketing consultant in Atlanta, GA. She created the group in order to clearly define standards of what a reputable food blogger is. It also allows Food Industry professionals a path to share valuable information with Food Bloggers and further through social media. The group meets on average once a month although the next meeting will be in January due to the upcoming Holidays. I plan to share our food finds all across Atlanta with you!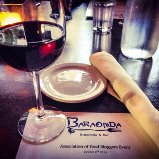 My first event occurred at Baraonda Ristorante & Bar in Midtown Atlanta. Located at 710 Peachtree Street NE #200 Baraonda is an Italian eatery with a large bar area, several dining areas and a large patio. Dressy casual attire is appropriate. They have a large wine collection and host charity wine and food tastings on the last Thursday of every month. Their menu consists of antipasti, housemade pastas, meat options such as veal, lamb, steak and chicken and besides the large variety of pizza options you can create your own! This was a media dinner so our meal was comped but all opinions are my own.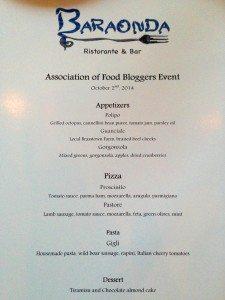 We started our meal with appetizers of a salad with mixed greens, gorgonzola, apples and dried cranberries followed by braised beef cheeks and grilled octopus with cannellini bean puree. All were delicious! I appreciated the fact that the beef cheeks were juicy and flavorful and the grilled octopus was not chewy but instead perfectly cooked to a tender consistency.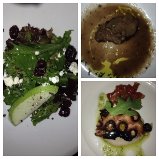 Our appetizers were followed by two houesemade pizzas-prosciutto and lamb sausage. The lamb sausage was the clear winner in my opinion although for those who love prosciutto there was plenty of it! The housemade pasta "Gigli", was filled with spicy and lean wild boar sausage and cherry tomatoes. I felt most of the flavor was in the sausage so this is a great choice for meat lovers.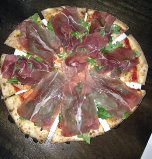 To top off a delicious meal we had a choice of two decadent desserts! Tiramisu and Chocolate Almond Cake served with ice cream!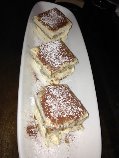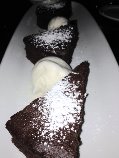 Overall this was a great experience. Baraonda provided a fun atmosphere, the servers were very knowledgeable and the location is perfect. Free 2 hour parking is provided at 715 Peachtree Street on the corner of 3rd and Peachtree street.
Have you been to Baraonda restaurant? If so share your thoughts with us!
N.S.W.