If you love food, history and culture then this food tour in Atlanta is for you! Thanks to the Atlanta Food Bloggers' Society I was able to participate in the "Downtown Southern Food Walk." Even though I have lived in Atlanta for almost 3 years this tour introduced me to places in the city I have never been. And, even though I am a major foodie covering Atlanta restaurants on the Food-Atlanta section on my blog, this food tour in Atlanta also introduced me to new restaurants and new foods! Here is what to expect on your Downtown Southern Food Walk in Atlanta.
           The Host of the Downtown Southern Food Walk:  
This tour was created from idea to implementation by Akila who is a food writer at TheRoadForks.com and FoodTravel.About.Com. She is also your tour guide! From the start it was obvious that Akila was passionate about food and her hometown of Atlanta. She combined these two passions into this food tour in Atlanta. She limits the size of each group to make things more intimate and arranges everything with the restaurants in advice. I felt like a VIP every time I entered a different establishment with her! Akila talked while she walked telling us the history of Southern food. Akila described in detail how Southern food combines aspects of Native American, West African, British and French Cuisines. She incorporated history on Dr. Martin Luther King Jr. speaking on how he loved Southern food and restaurants frequently visited during the civil rights movement.  In addition, Akila obviously did her research on all her food vendors telling us their path to success and food inspirations.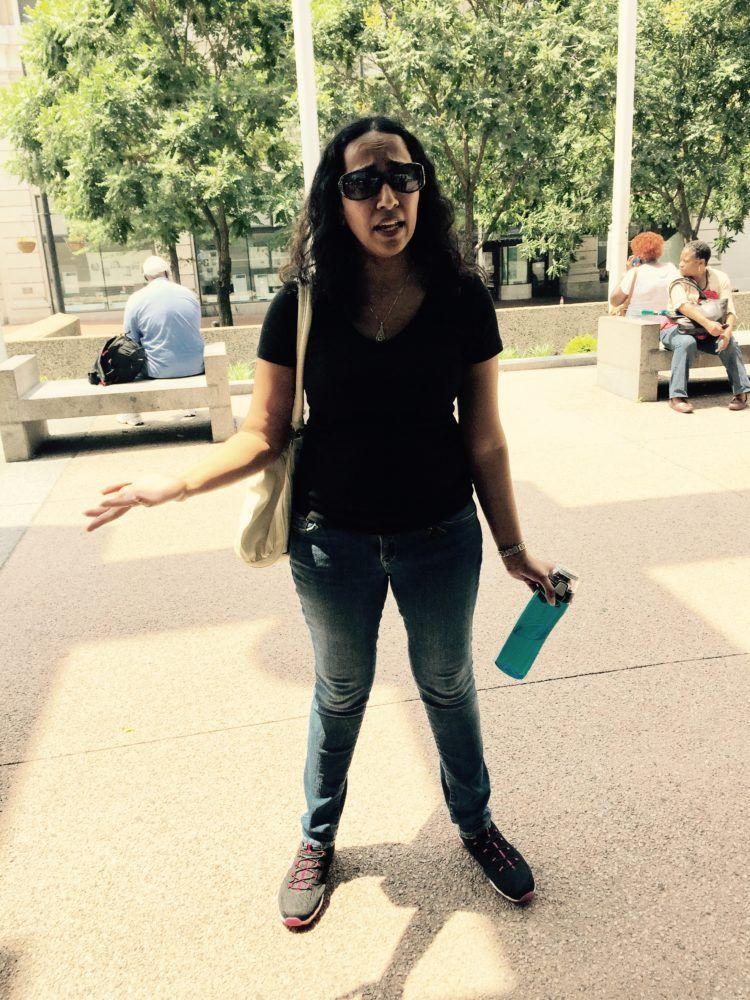 The Restaurants & The Food:
Our food tour in Atlanta consisted of 7 restaurants throughout downtown Atlanta. While at the restaurants Akila reviewed the different cuisines of the South as it related to our meals. These include cajun & creole cuisine, soul food and southern food, Gullah and lowcountry cuisine, barbeque and food from the Appalachia region.
Paschal's Restaurant:
We started at Paschal's which was the unofficial headquarters of the Civil Rights Movement. We had the pleasure of eating fried chicken, cornmeal dressing and sweet potatoes!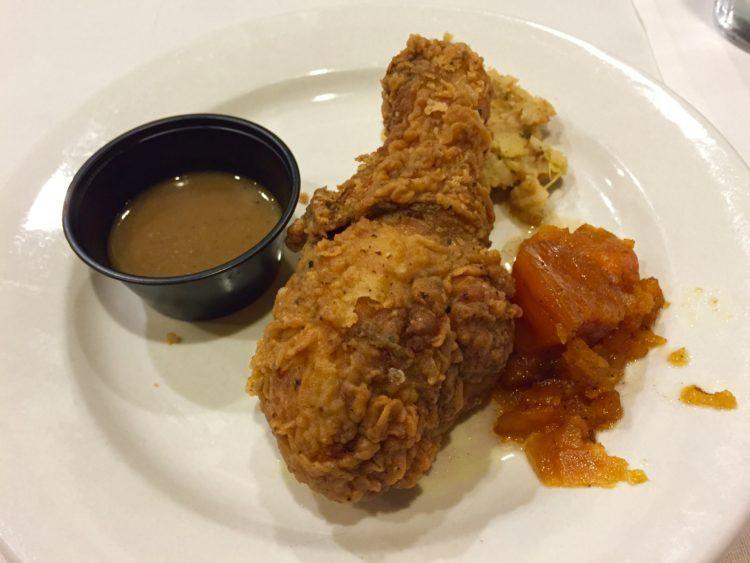 The Smoke Ring:
Fairly new to the area since 2013 this restaurant serves up contemporary barbeque. Before our meal we were treated to some of the best fruity moonshine I have ever had! This was followed by small delicious samplings of mac and cheese, collard greens, pork belly and pork barbeque.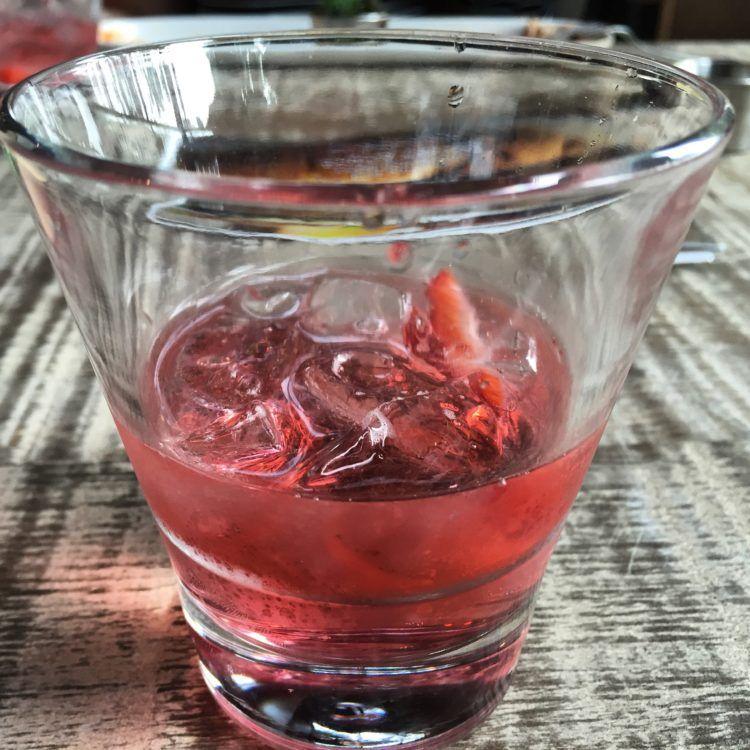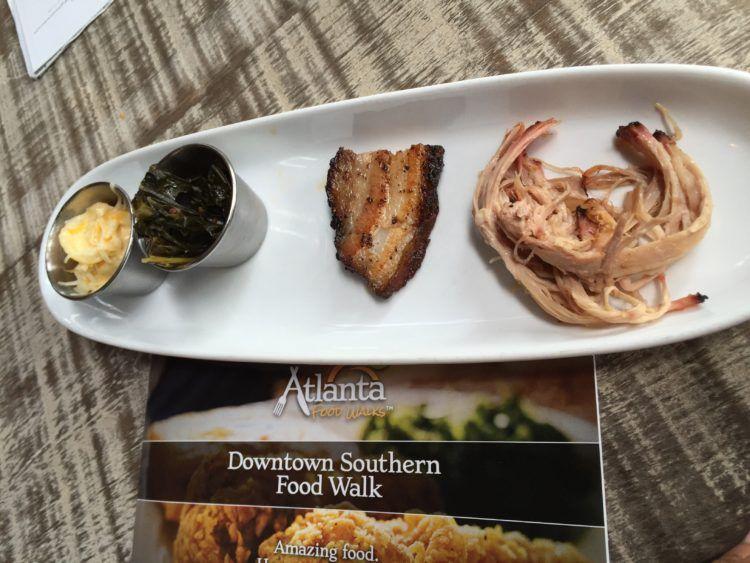 Arden's Garden:
Arden's Garden is a juices and raw foods store. You may be familiar with their products sold in Whole Foods Store. We had refreshing apple ginger and vegetable juices as well as cheesy kale chips that were made without cheese! It was great to see such a healthy and wholesome store in the heart of downtown Atlanta.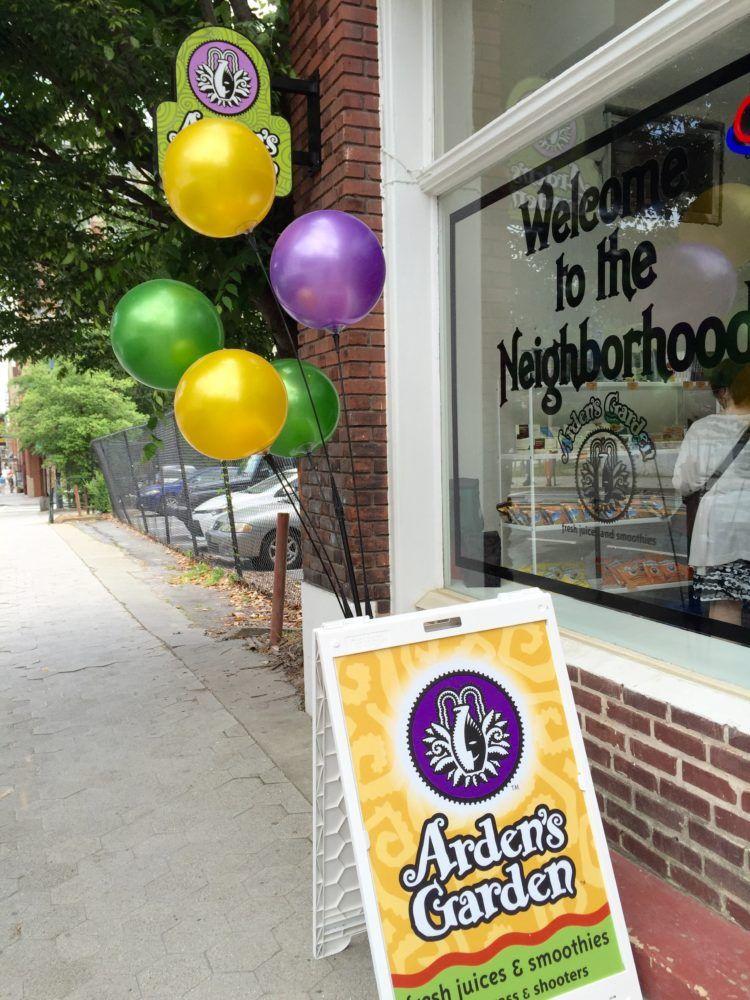 Just Add Honey:
This is a black owned specialty tea boutique. It is so cute! We sampled their sweetened and unsweetened teas as well as their flavored teas. They also sell bakery items in the store.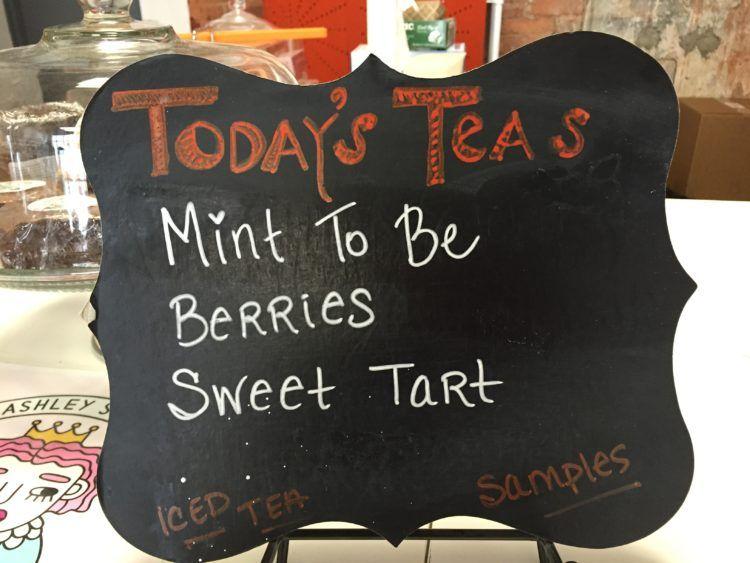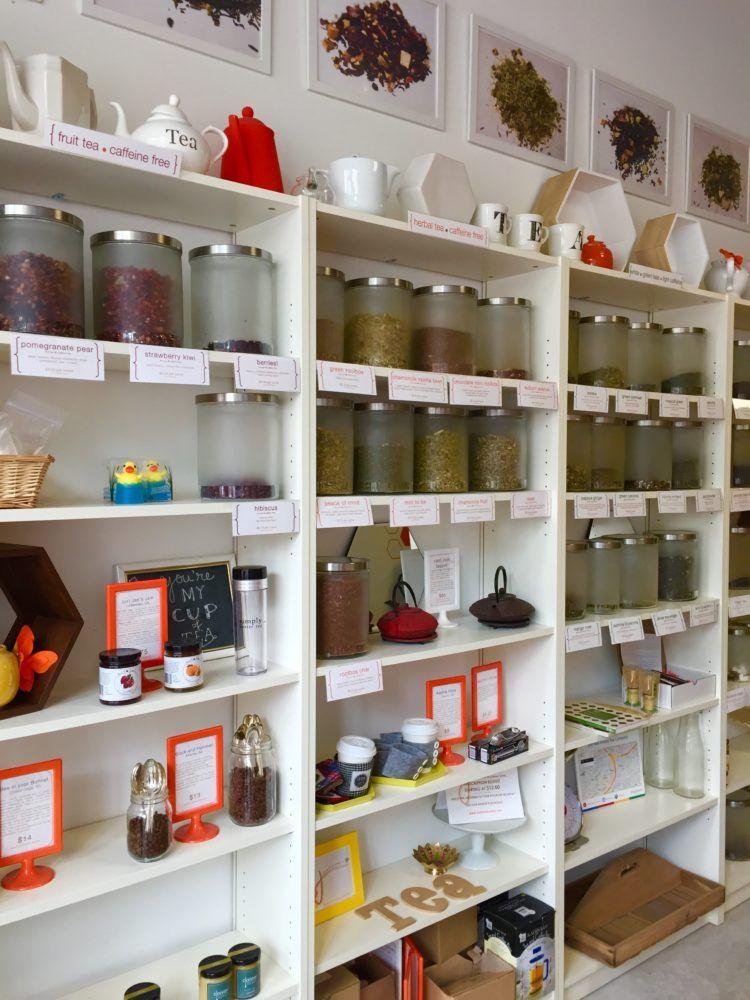 Sweet Auburn Seafood:
I had the pleasure of returning to Sweet Auburn Seafood restaurant during this tour. My first visit was for their Aroma Mondays event. Chef Sammy Davis did it again with delectable shrimp and cheese grits which included tender chicken sausage. It was to die for!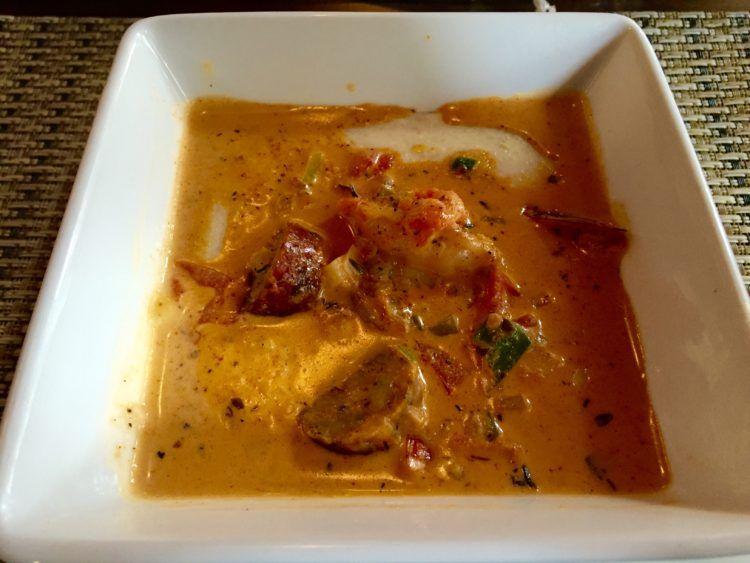 Metro Deli in Sweet Auburn Curb Market:
I am almost embarrassed to admit that I have lived in Atlanta for over 2 years yet this was my first time at the historic Sweet Auburn Curb Market! Our first stop was at Metro Deli which serves classic soul food. We were treated to a different style of corn bread (which looked and tasted like pancakes) and red beans. This was followed by banana pudding for dessert!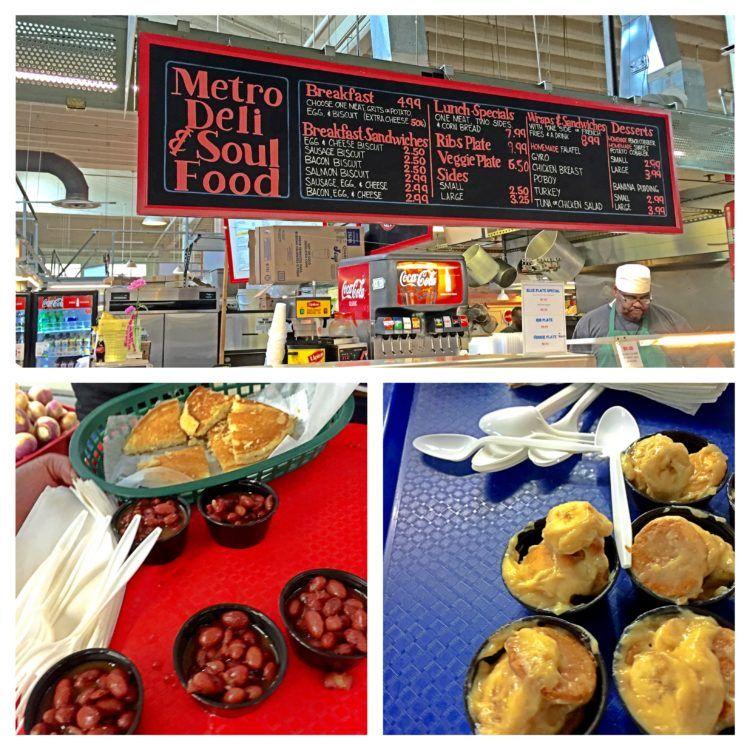 Miss D's Pralines in Sweet Auburn Curb Market:
Miss D came to Atlanta from New Orleans after the devastation of Hurricane Katrina. I am glad she has found a new home in Atlanta since her pralines and popcorn were delicious!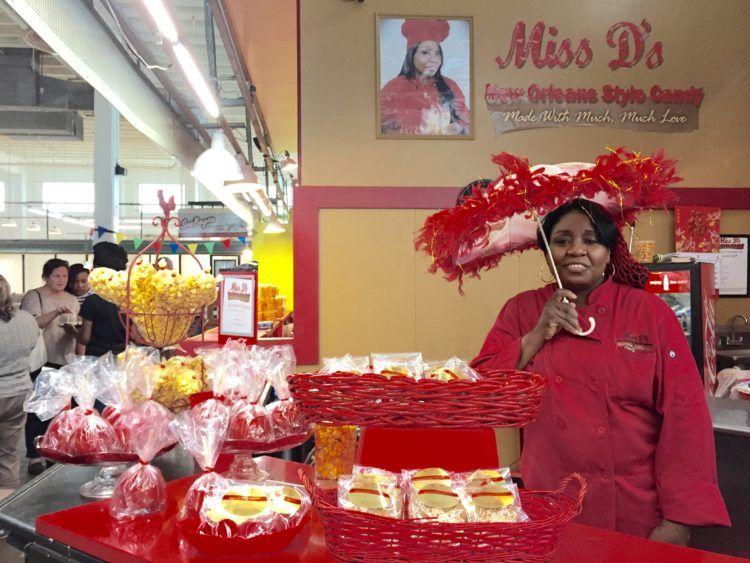 The City of Atlanta:
This walking food tour in Atlanta took us through several areas including Castleberry Hill, Five Points (not to be confused with Little Five Points), Fairlie-Poplar and Sweet Auburn. I enjoyed learning about new places and taking in all the vibrant scenes of this historic city in the South.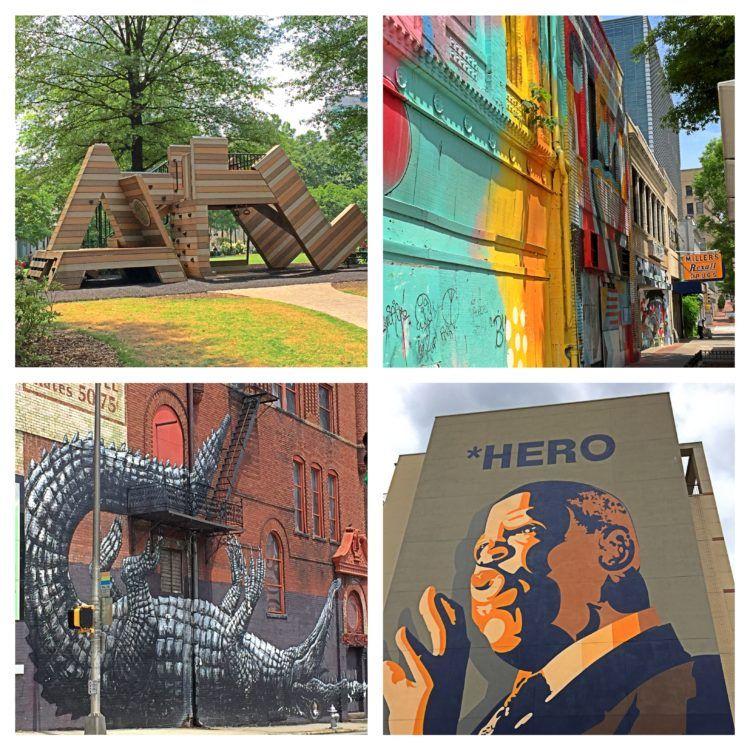 Tips:
Wear comfortable clothes and shoes! Plan ahead for the fact this food tour in Atlanta starts at Paschal's on Northside Drive but ends at Sweet Auburn Curb Market. I parked at the start of the tour so I took Uber back with another attendee. Others took the street car back to the starting area.  Although water is provided at all locations, part of this walking tour took approximately 45 minutes through downtown Atlanta so bring a bottle of water. Make sure to also bring your camera to capture downtown Atlanta! Come with a friend or solo and get ready to meet food lovers from all over the world.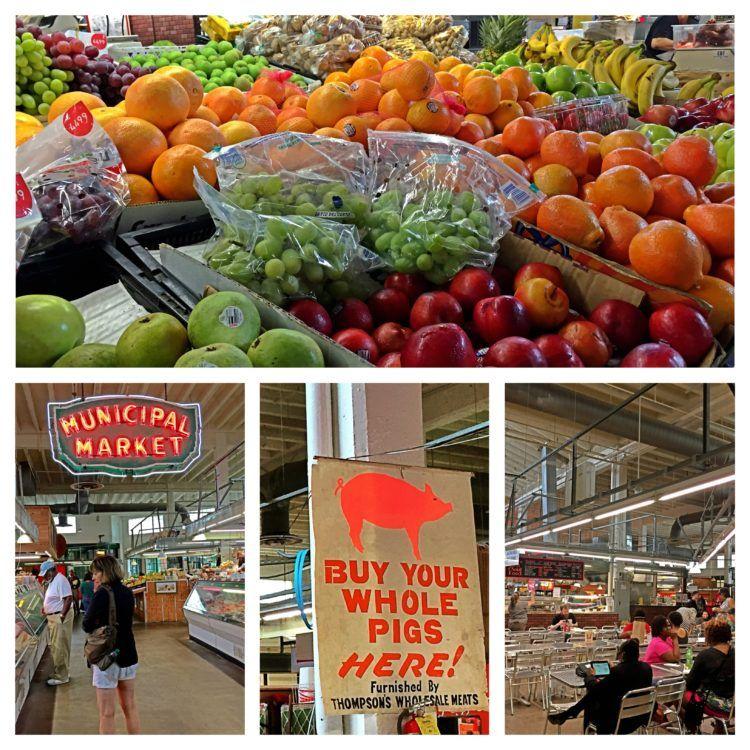 The Downtown Southern Food Walk Tour runs Thursday thru Saturdays, starts at 11 am and lasts approximately 3.5 hours. The cost is $65 per person which includes 7 food stops. The distance traveled is 2 miles so it is a great way to walk off all that good southern food! For more information on this food tour in Atlanta please visit their website.
Have you ever done a walking food tour in your hometown or while traveling? About 2 years ago I did my first one in San Juan Puerto Rico and thoroughly enjoyed it as well. I plan to make this a routine! Please share your thoughts with us below!
Although I received complimentary attendance to the Atlanta Food Walks tour all opinions expressed in this post are my own.
N.S.W.