Introduction on planning a trip to South Africa:
If you are planning a trip to South Africa you are probably a bit overwhelmed. South Africa is a large country with several cities of interest for visitors. In this step-by-step South Africa travel guide we will discuss which cities to visit, when to go, how to get there, where to stay, what to pack & more! My posts are usually filled with travel pictures but this one is all business! Be sure to check out my Instagram profile @thesophislife for my pictures of South Africa travel.
Which cities should you visit during your South Africa travel?
When planning a trip to South Africa, be sure to do your research on the geography and what each city has to offer. As you can tell by the map below, South Africa is quite large with a coastline that measures approximately 1,600 miles. The most popular cities for tourists are Johannesburg/Soweto, Cape Town, Durban, Port Elizabeth and of course Kruger National Park.
It is important to know the distances between these cities. For instance, the driving time between Johannesburg and Cape Town is approximately 13 hours. Flying time is approximately two hours. It would take you roughly 15 hours to drive from Durban to Cape Town. Flying there would take you 2 hours and 15 minutes. During my visit, we chose to fly between cities in order to maximize our time in each.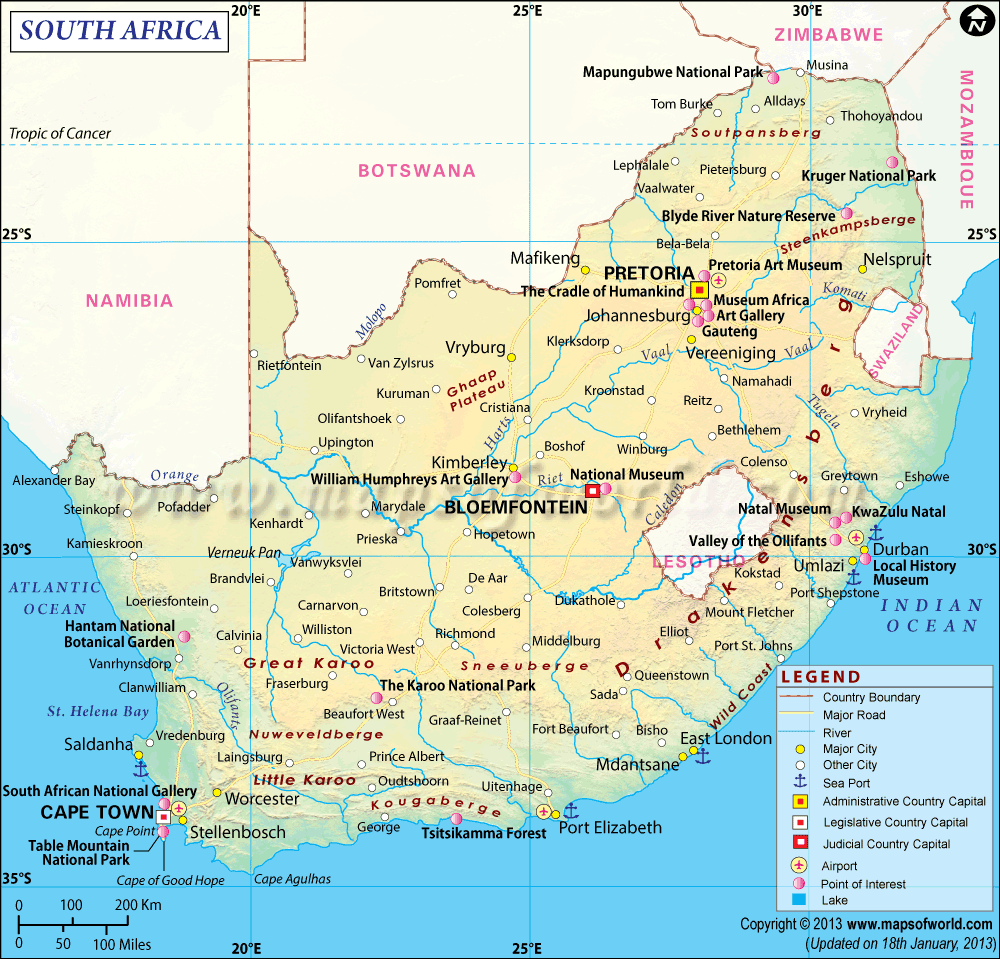 Johannesburg/Soweto: I highly recommend visiting this area. Johannesburg is the largest city in South Africa. It is located inland in the Gauteng province. Places of interest in Johannesburg and Soweto include the Apartheid Museum, the Hector Pieterson Museum, the Mandela Museum, the Johannesburg Art Gallery and Nelson Mandela Square. There is a UNESCO World Heritage site located 16 miles from the city called "The Cradle of Humankind". There is lion reserve as well as a zoo. We went on safari at the Pilanesberg Game Reserve which was 2 ½ hours away. You may have also heard of Sun City resort. It is 2 ½ hours from Johannesburg. Check out my post "Street Scenes from Soweto South Africa" for a look at what to expect.
Durban: Durban sits on the Indian Ocean. Interesting fact: It has the largest population of Indians outside of India. Their influences can be seen and felt in this South African city. Popular attractions include uShaka Marine World, Moses Mabhida Stadium, Durban Botanical Gardens and the Golden Mile. The Golden Mile is a beautiful stretch of beachfront in Durban. There are also game reserves within a few hours of Durban if you are interested in going on safari.
Cape Town: Known for its beauty, Cape Town is the capital of South Africa that sits on the Atlantic Ocean. It is very scenic with mountainous views all around you. It's an iconic South Africa travel destination. Points of interest include Table Mountain, Robben Island, Victoria & Alfred Waterfront, Kirstenbosch National Botanical Gardens, Boulders Beach, Cape of Good Hope and wine country including Stellenbosch.
When should you go?
When planning a trip to South Africa be aware that their seasons differ from the U.S. Spring and autumn are usually recommended for visiting due to comfortable temperatures. The summer season is known to be hot and lasts from mid-October to mid-February. Average summer temperatures are in the high 70s- mid 80s with lows in the 60s although areas like Durban gets up to 90 degrees. Autumn is from mid-February to April. Expect temperatures to reach 70 degrees and low of 50s. Winter is from May to July. Temperatures range from low 60s to mid 40s. During winter frost and snowfall can occur. Spring is from August to mid-October. Temperatures range from mid 60s to a high of 50. South Africa is known to be a dry, sunny country with most rainfall occurring in the Cape Town area during the winter. We did our South Africa trips in early November and March and had perfect weather with no rain!
How should you get there? Well obviously you have to fly 😉 From Atlanta we took a non-stop flight to Johannesburg. It was 15 hours. Our return flight was longer at about 16 hours but they were both overnight flights which made it a bit more tolerable. Johannesburg airport-"JNB" is short for OR Tambo International Airport. It is the busiest international airport in South Africa so it is not uncommon to fly into Johannesburg then take flights to other cities. Cape Town International airport (CPT) is another popular option. You can also fly into Durban International airport (DUR) and Kruger Mpumalanga International airport.
The cost of flights for your South Africa travel will be determined by the city you live in, where you are flying to and the time of year. I have seen tickets for over one thousand dollars and as low as $200 with glitch fares. I suggest signing up for deal alerts on FlightDeal.com and also checking Skyscanner and Google flights. These websites are particularly helpful if your dates and airports are flexible. Using airline or credit card points are also options. In addition, be sure to prepare yourself for this long flight! To avoid the risk of DVT-blood clot in the leg, take 1 baby aspirin once a day starting 3 days before. Have compression socks handy as well. Pack all your medications, toothbrush, toothpaste and even an extra pair of underwear in your carry on bag.
Where should you stay during a South Africa travel experience?
Like all major cities in America, Johannesburg, Durban and Cape Town all have a large selection of hotels at varying prices. In Johannesburg we stayed in the Melrose Arch area at the Protea Fire & Ice hotel. We loved this chic contemporary hotel and the proximity to fantastic restaurants and shopping. The best part-the alcoholic milk shake bar! Fellow blogger Chanel of Cultural Xplorer wrote a great review of this hotel.
In Durban we stayed in a hotel on the Golden Mile. Southern Sun Elangeni & Maharani are two towers with rooms and restaurants similar to a 3 ½ star hotel in the US. The views of the Indian Ocean are breathtaking and it is close to the downtown area. We actually used Uber to get around in Durban!
In Cape Town, any hotel within walking distance to the wharf will be perfect. Protea Hotel Breakwater Lodge is a 3 ½ star hotel a few blocks from the wharf. However, it was a former prison so that made it a bit awkward in terms of the layout and the narrow size of the rooms. Fyi: the Protea hotels are part of the Marriott chain so you can use and obtain reward points. I suggest checking Tripadvisor for suggestions and reviews. Also, there are Airbnb options in South Africa as well.
What should you pack for South Africa travel?
When planning a trip to South Africa your checklist should include your passport, comfortable clothes and shoes, washcloths (which are very hard to come by) and a universal adapter for your electronics. I also brought a first aid kit, deet insect spray, OTC cold medications and antidiarrheal medications. These items are available in South Africa but they may not be the same brands that you are used to.
The currency in South Africa is "rand". Currently 60 U.S. cents equals 1 South African rand. Not only is the conversion rate great but rands go a long way in South Africa.! I always choose to change money through my bank prior to traveling. However, there are exchange places available there including in the airports. You can also use your credit cards. Be sure to call your bank ahead of time to inform them of your travels.
What should you do before your trip?
Visit the CDC website or your doctor at least 2 months prior to your trip for recommendations on vaccinations. The CDC has a list of health clinics across the U.S. at which you can get vaccines and medications such as Cipro for intestinal bacterial infections. I chose to receive Hepatitis A and typhoid prophylaxis but others in my group did not and they were fine.
If you are going to Kruger National Park or staying overnight at a reserve park, malaria prophylaxis will be recommended. You will not need it for day trip safaris. Also, make sure you have travel insurance for your trip. Another recommendation when planning a trip to South Africa is to do research on tours, safaris and excursions in advance. I booked our South Africa travel safari through Felling tours online. It was amazing. If you are interested in going to Victoria Falls this will also take extra planning since it involves flying to Zambia or Zimbabwe and will likely involve an overnight stay.
I hope this comprehensive South Africa travel guide will be helpful in planning a trip to South Africa! It takes a bit more effort vs. traveling to Europe or within the U.S. but I promise you that it will be worth it! The Greenwood Guide to South Africa blog has additional information so be sure to check it out!
Share your thoughts with us below! Is South Africa travel on your bucket list? Before you leave be sure to read my other travel guides including a very popular post on Dubai!
Share & Pin this post for future reference!