Since we recently had a guest post on Australia- " Joy's Amazing Adventures in Australia"- I thought it appropriate to give you a guide to foods in Australia! Here is what travel blogger Flora had to say about foods not to miss down unda!
Flora:
Tourists love being in Australia not only for its many tourist sites but also for the great Australian food there is here. Local citizens prefer eating rice, Thai curries and Mediterranean cuisines but the truth is that there are so many local delicacies that you should have before leaving Australia. Here are some of them:
Lamingtons
Any tourist who has been to Australia must have a good testimony concerning their taste. These spongy cubes are mainly coconuts under a chocolate coating. On these cakes there is a layer of jam or cream to make it even tastier. Their taste comes out best when eaten with tea or coffee. Do yourself a favour and look for these unique cakes only found in Australia.
Grilled kangaroo
Kangaroos are so plentiful in Australia to an extent that they were declared the National Animal. The locals love adding orange, red currant and plum flavours. Anyone who has tasted grilled kangaroo will always come back looking for more.
Dampa
Most tourists love how simple and original this bread is in addition to the great taste it has. This is a local bread with no yeast at all. It's mainly made of flour, water and sometimes milk too. In the ancient days the long distance travellers used it as food to keep them going. Today people add nuts, jam and butter to make it tastier.
Pavlova
From outside its' crust is crispy but from inside it's very soft. On top there is well spread strawberries, bananas, kiwi fruits and a cream coating. I guarantee you no regrets on this one because its' taste is just great.
Bacon and egg pie
No one avoids licking his/her fingers after tasting this. This is mostly used as a breakfast snack. It originated by the Italians but the Australians have modified it in their own special ways hence making it more Australian than Italian. Besides being unique, it's so tasty.
Spaghetti Bolognese when prepared with Aussie beef and mushrooms can no longer be termed as Italian but Australian. You can't afford to miss out on this one.
Fantales
The look of these alone leaves you salivating. They are small sized caramels coated with milk. They are normally very unique and tasty.
Meat pies
This is the dish that says that you are from Australia. Any Australian house party or sporting venue is no fun without the presence of this one. Now you know how much they value it and of course you are curious of its taste. Try it.
Barramundi
This word means "large scaled river fish". It's available in almost every restaurant throughout the entire country. It's a very common dish for the natives here. Mostly they fry it on a pan or deep fry it. It's nothing less than amazing.
Crab sticks
Many people after hearing this name are fast to think that this must be a dish of cooked crabs but this is not true. Contrary to its' name, this dish has not even a single crab in it. It's just a stake of white fish moulded into the shape of a crab leg. This is not a new type of food in Australia because it was eaten all the way from the ancient days thru today.
Australian Hamburger with the lot'
Australians have taken a step to upgrade hamburgers to be tastier. Away from the ancient routine, today these people prepare hamburgers with eggs, bacon, cheese, beets, pineapple, tomato, lettuce, onions and ketchup. It's more than tasty!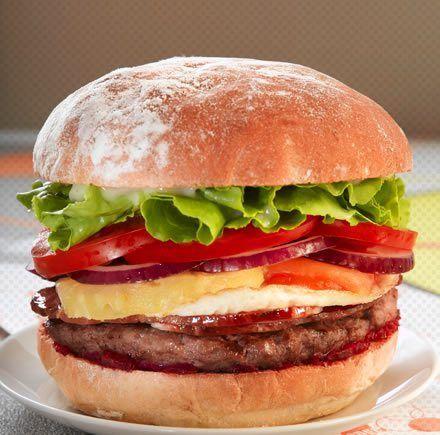 It's evident that Australia has a very wide range of unique and delicious dishes. I hope this list of foods in Australia will enhance your eating experience down unda!
Author Bio
Flora, a passionate traveler and blogger who shares her thoughts on various topics she comes across. As a solo traveler she shares her stories on many blogs.
Have you been to Australia? Sampled Australian food? if so share your thoughts with us! I would like thank Flora for this informative post!
N.S.W.