This post contains affiliate links. However, all opinions expressed here are original. If you click through on a link, you won't pay a penny more, but I'll receive a slight commission which helps me keep this information available to you. Thanks!
---
Sometimes you just need a really really good burger (and fries:-). Since my "Best Brunch Restaurants in Atlanta" was so well received, I decided to continue with a new series profiling the Best Food & Restaurants Atlanta has to offer – specifically, the best burger in Atlanta. Be sure to check out my brunch post which explains the Yelp rankings below. Warning- do not read this post hungry and get some tissues ready for your drool! Since my pictures hardly do these restaurants and burgers justice, click on the highlighted links of each restaurant name to see the burgers and get more information on the best burger restaurants in Atlanta! If you want to try them all, consider booking an Atlanta foodie tour through Viator.
Hunting Down the Best Burger in Atlanta!
With two locations in Atlanta-in Midtown and Little Five Points-The Vortex is an Atlanta institution. Their burgers are made with 100 % choice sirloin, char grilled over an open flame and cooked to order. The Vortex has won "Best Burger in Atlanta" several times since 1992. Look for 15 different burgers on their menu with unique toppings. These include the "Yokohama Mama" topped with teriyaki glaze and grilled pineapple, "Hell's Fury" with habanero relish, roasted jalapeno and atomic death sauce, "Fat Elvis" topped with peanut butter, bacon and fried bananas and "Holy Guacamole" topped with their homemade guacamole sauce. And, if you love tater tots you can get them here as your side! Yelp: 4 stars, $$
Ann's Snack Bar is home to the "ghetto Burger"! I am sure you want to know what this is! How about a double bacon chili cheeseburger with a secret ingredient? With one location in the Kirkwood neighborhood of Atlanta, this restaurant has been around since 1971. It is run by Ann Price known as "Miss Ann". A Wall Street Journal article in 2007 named the ghetto burger as the best hamburger in America. They are all handmade by Miss Ann. Warning-if you go to Ann's Snack Bar be sure to follow her rules! Her rules include-not leaning on the counter, no consumption of alcohol, no smoking and not allowing children to slide on the rails. Yelp: 4 stars, $
This is a gastropub located in the Buckhead neighborhood. For years their infamous burger was only served at 10pm every night with a limited amount being made. You had to get there by 8pm to put in an order for a burger then wait two hours or more for it to be served. It's a definite contender for best burger in Atlanta, even if it is hard to access. However, the burger was always been on the brunch menu and is now on the daily regular menu! Hallelujah! It consists of a double cheeseburger on their homemade bread with butter pickles and sides of ketchup and mustard. Check out my other brunch options in Atlanta for more variety. Yelp 4 stars, $$
I describe Bocado in detail my West Midtown Restaurant Guide. They have the "Bocado Burger Stack" served with American cheese and house-made pickles. Enjoy your burger with regular fries or herb fries. Yelp 4 stars, $$
With several locations throughout Atlanta, Flip Burger Boutique describes itself as a "chef-driven dining experience". Locations include Buckhead, West Midtown and Poncey Highlands. The creative director is Chef Richard Blais who was the winner of Top Chef All-Stars on Bravo during Season 8. Their handmade burgers are made with Black Angus beef and their condiments are made in-house. Besides traditional beef burgers look for mushroom burgers, raw steak tartare burgers, lamb burgers, chorizo burgers and the delicious shrimp patty burger! Yelp 4 stars, $$
Named as one of Bon Appetit's 10 favorite burger spots, Yeah Burger has two locations in Atlanta in West Midtown and Virginia Highlands. Yeah Burger is also included in my West Midtown Restaurant Guide. Their motto is "Food You Can Feel Good About" and they have a few options that could contend for the best burger in Atlanta. Their philosophy is "Natural. Organic. Local. Humane. Earth. Friendly." Look for gluten free options and vegan options on their menu.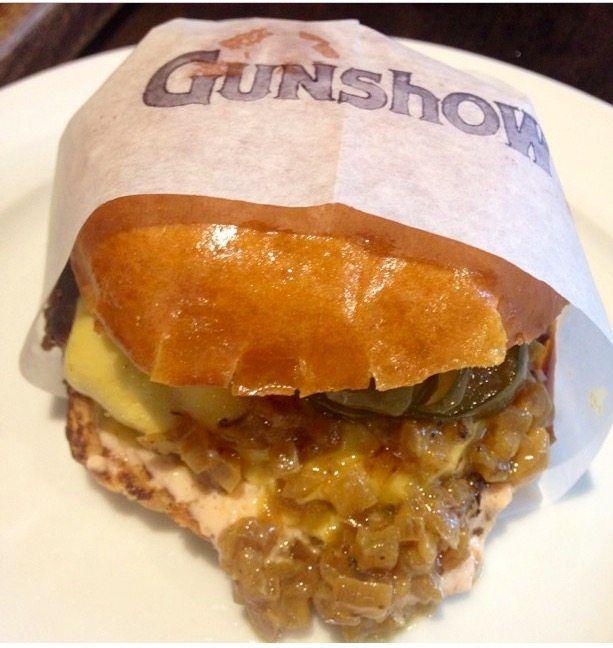 I saved my recent favorite for last! I have to say my favorite burger in the U.S. is the double double at In-N-Out Burger on the West Coast specifically California. I look forward to my visits to California simply to eat one! Well thanks to Kevin Gillespie of Gunshow I don't have to rely on airplane rides to get this rich, fresh and delicious burger. At Gunshow they offer a west coast style burger that is truly food porn! My fiancé even thinks Gunshow's version is better. However, Gunshow's menu changes daily, so call ahead to find out if the best burger in Atlanta is on the menu. Gunshow is located in the Ormewood Park area in Atlanta. Yelp 4 stars, $$$
In addition, if you are looking for popular burger restaurant chains we have them here in Atlanta as well. These include Burger Fi, Shake Shack and Five Guys.
So what did you think of my list of the best burger restaurants in Atlanta? If burgers aren't your thing, I have another list of more varied restaurants in Atlanta – check it out! Have you been to any of these burger places? If so, share your favorites with us below!
N.S.W.