In honor of the season of lent and Easter, I present to you the Top 10 Cathedrals in the World worth traveling to! Cathedrals in the World are some of the most beautiful and intricate architectural buildings one can behold. Whether you are religious or not, anyone can appreciate these magnificent buildings. I picked these cathedrals in the world since not only are they worth a visit on their own merit, but the cities in which they reside offer rich history, culture, delicious food, and well known tourist sites. Although I am sure there are many more breathtaking cathedrals in the world, I have visited all of these and highly recommend you do the same!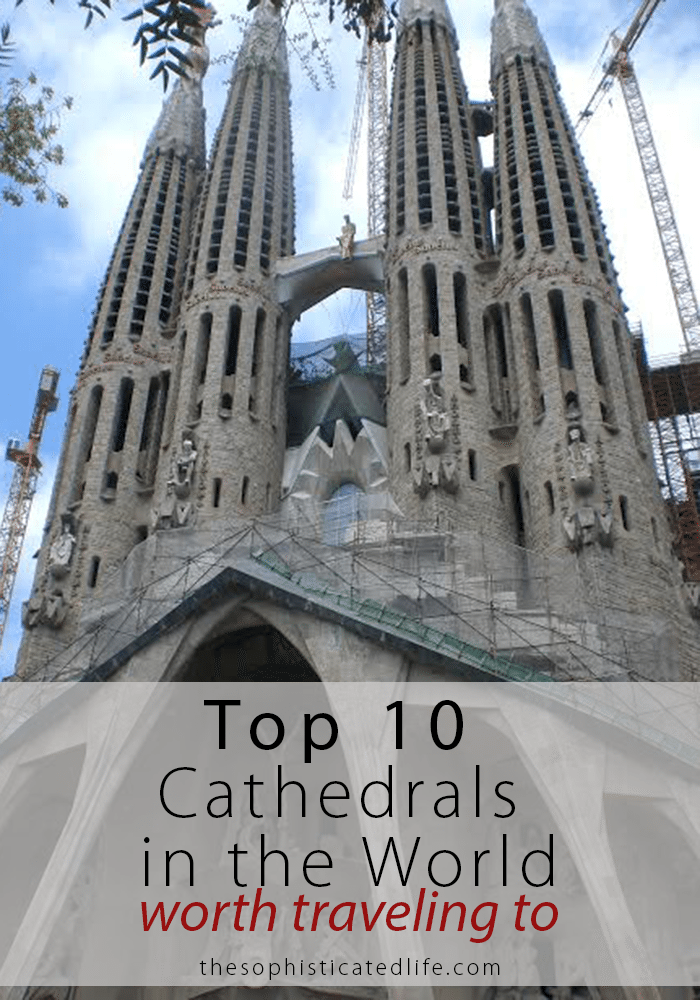 1) Garden Grove, California: Crystal Cathedral: The idea for this post came from a recent visit to Anaheim in which my fiancé introduced me to the Crystal Cathedral. Previously part of the Reformed Church in America now a part of the Roman Catholic Church. It was founded by Robert H. Schuller in 1955 and the services were broadcast nationwide. The style is postmodern architecture and is made of reflective glass. Interesting fact: it is considered to be the largest glass building in the World. The outside is just spectacular! In 2016 it will re-open as Christ Cathedral and I hope to make it back to visit the inside which holds a whopping 2736 seats!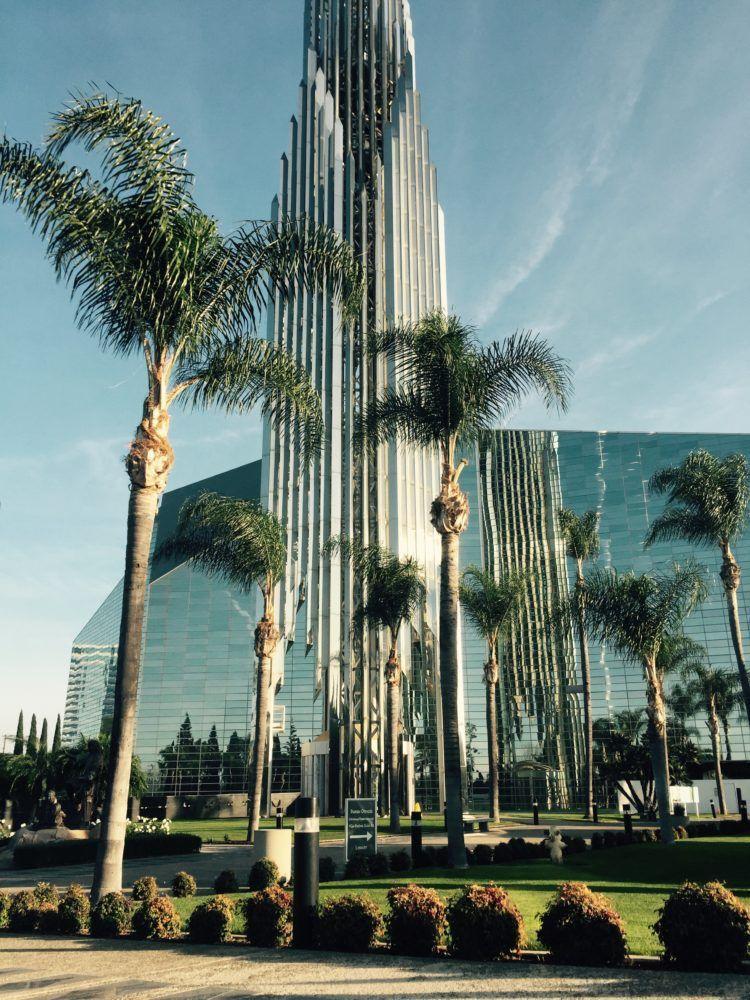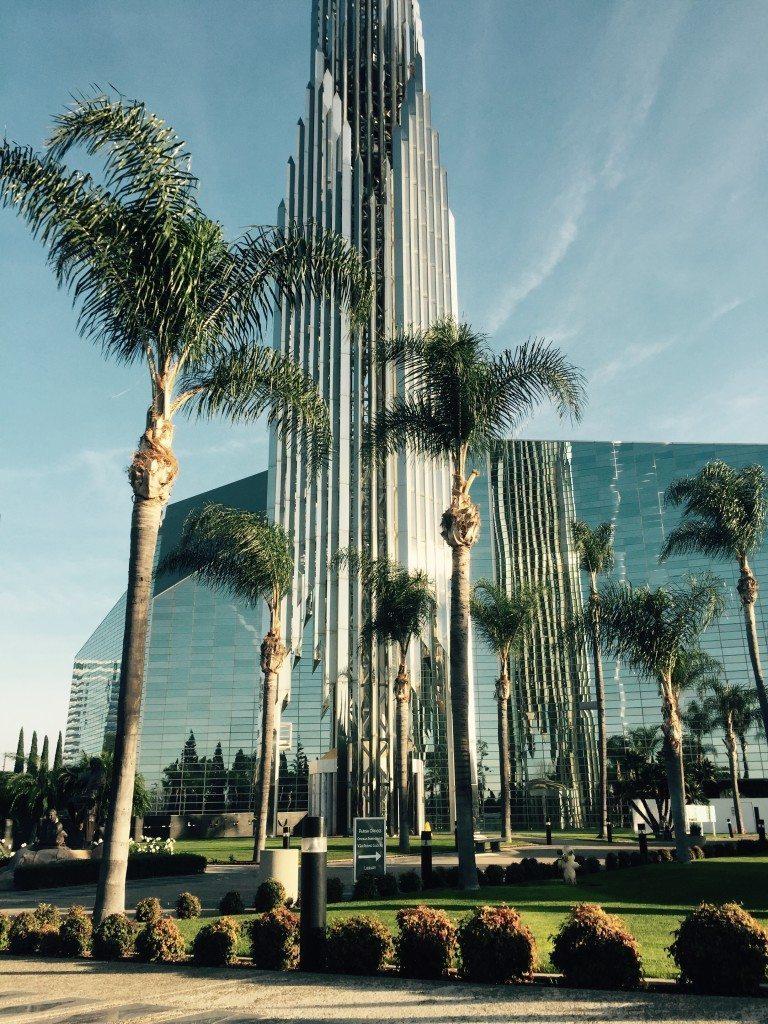 2) London, England: Westminster Abbey: A UNESCO World Heritage Site, the style of this cathedral is Gothic architecture. Westminster Abbey has been the site of coronations of the Kings and Queens of England as well as their wedding and burial sites. Most recently Prince William Married Princess Catherine there! Interesting fact: Westminster Abbey was designated a cathedral from 1540 and 1556 but since 1560 has been a "Royal Peculiar". A Royal Peculiar is a church that is exempt from the diocese in which it lies and instead is a part of the monarchy.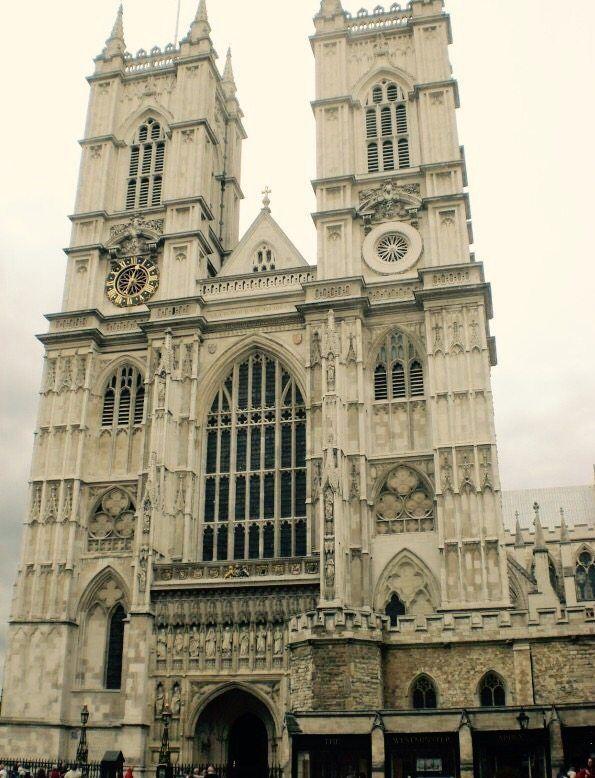 3) Washington, DC: Washington National Cathedral: This cathedral is of the neo-Gothic style and is part of the Episcopal Church. The long official name is "The Cathedral Church of Saint Peter and Saint Paul in the city and Diocese of Washington DC". It is the second largest of the cathedrals in the United States (the largest being The Cathedral of Saint John the Divine in New York City). Construction of this cathedral took place from 1907 through 1990. I moved to Washington DC in 1996 and loved attending services in this breathtaking cathedral.
4) Barcelona, Spain: La Sagrada Familia: To me this is the most interesting of the cathedrals in the world. Are you familiar with the artist and architect Antoni Gaudi? I wrote about another of his unique works in Barcelona-Park Guell. The ground breaking for this cathedral, which is now a minor basilica, took place in 1882 and it is not yet complete! It is affiliated with the Roman Catholic Church and is of the "modernism" style of architecture. Due to funding La Sagrada Familia has been a work in progress. The plan is for it to be complete in 2026 on the 100th anniversary of the death of Antoni Gaudi who is buried in a crypt there. When completed, it will be the tallest church in the world! Although incomplete, it is also a UNESCO World Heritage site. I cannot post enough pictures to show how extraordinary and unique La Sagrada Familia is! You must go to Barcelona on your own and check it out!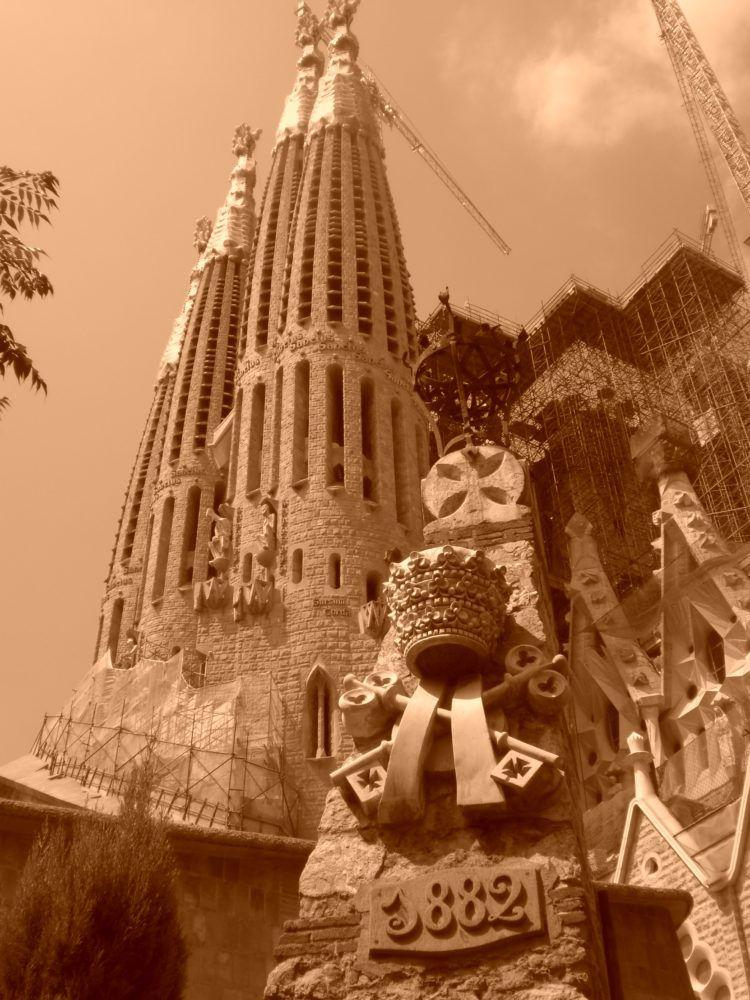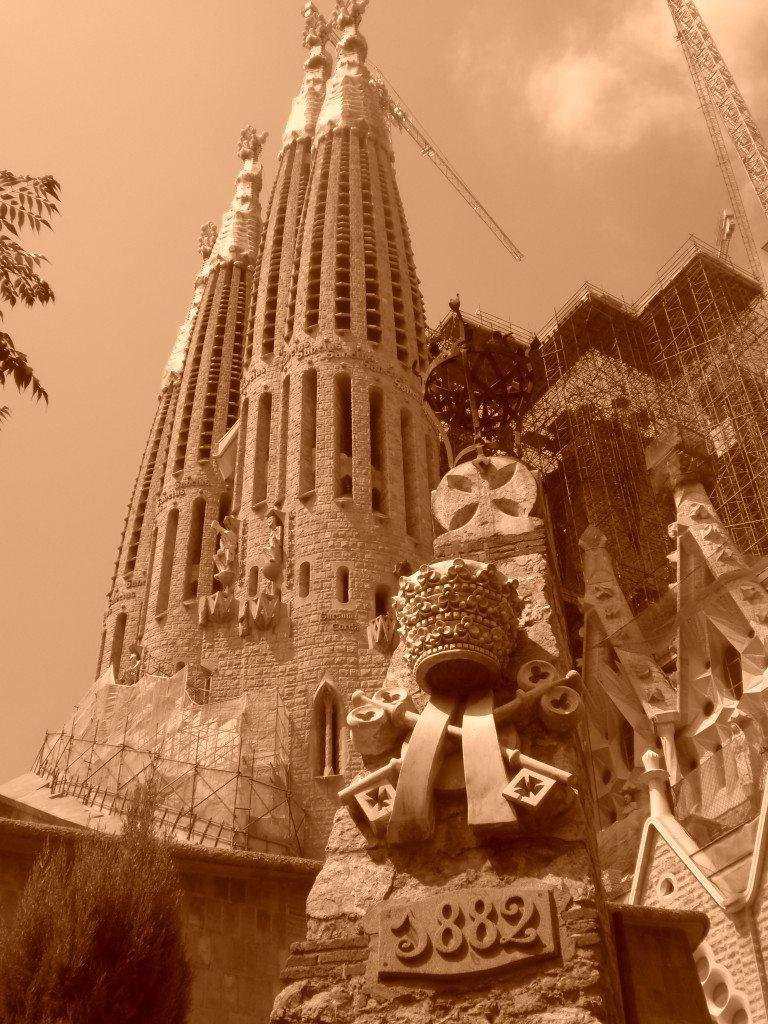 5) Paris, France: Cathedrale Notre Dame de Paris (I like using the official names 🙂 Part of the Roman Catholic Church this is of the French Gothic style. The groundbreaking was in 1163! It was completed in 1345. (take note of how long these cathedrals took to build!) It is one of the most known cathedrals in the world and listed in my Paris post as one of my favorite sites in the city of lights. Besides the detailed and unique architecture of Notre Dame, it houses important relics of the Catholic Church including what is thought to be a fragment of the "True Cross" the "Crown of Thorns" and one of the Holy nails.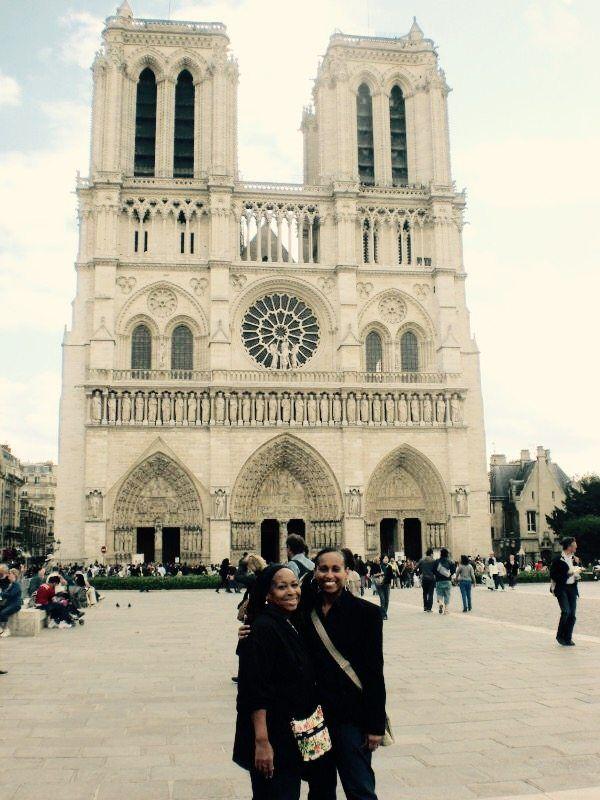 6) New Orleans, Louisiana: Saint Louis Cathedral: The Cathedral-Basilica of Saint Louis King of France is located in Jackson Square in New Orleans. If you have been to the French Quarter in New Orleans you have likely seen this church. It is part of the Roman Catholic Church and was founded in 1720. It is also a minor basilica. Interesting fact: The Saint Louis Cemetery is the burial place of Marie Laveau. Marie Laveau was a voodoo priestess and her tomb draws hundreds of visits every year.
7) Florence, Italy: Cattedrale di Santa Maria del Fiore (Cathedral of Saint Mary of the Flower) AKA II Duomo di Firenze. Built between 1296 and 1436 this cathedral is Roman Catholic of the Gothic style and is also a Minor Basilica. I literally could not take my eyes off of this cathedral while visiting it in Florence. The exterior is made up of polychrome marble panels in pink, green and white-so unique! The dome was previously the largest in the world and the three buildings that compromise the complex are part of the UNESCO World Heritage Site. It is located in Piazza del Duomo and it is not to be missed on your trip to Florence!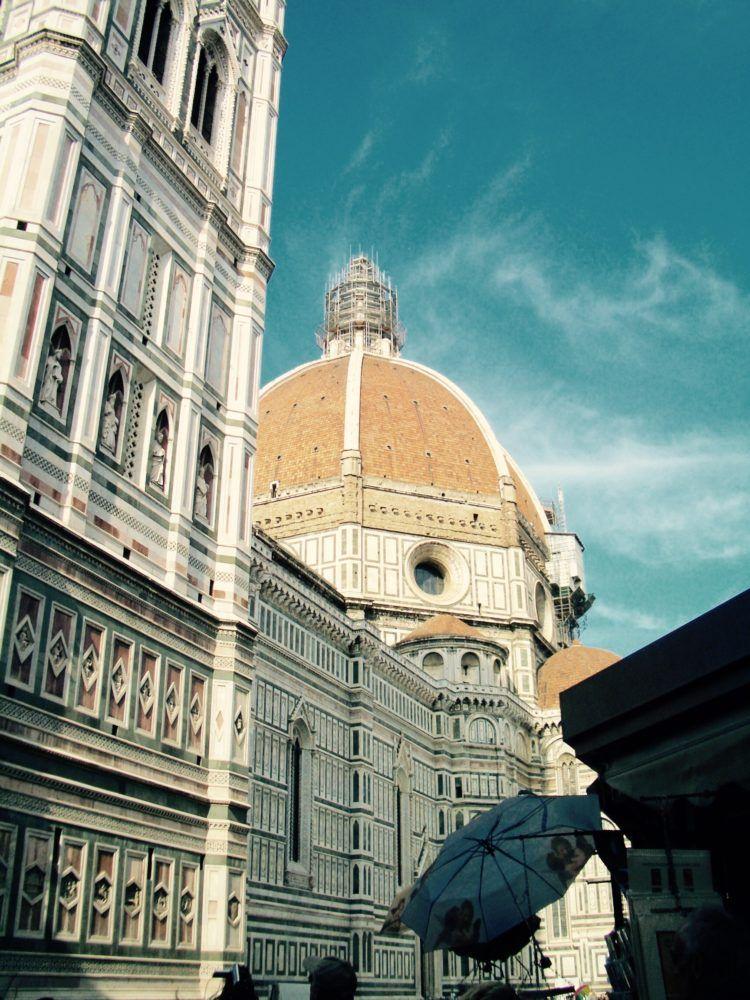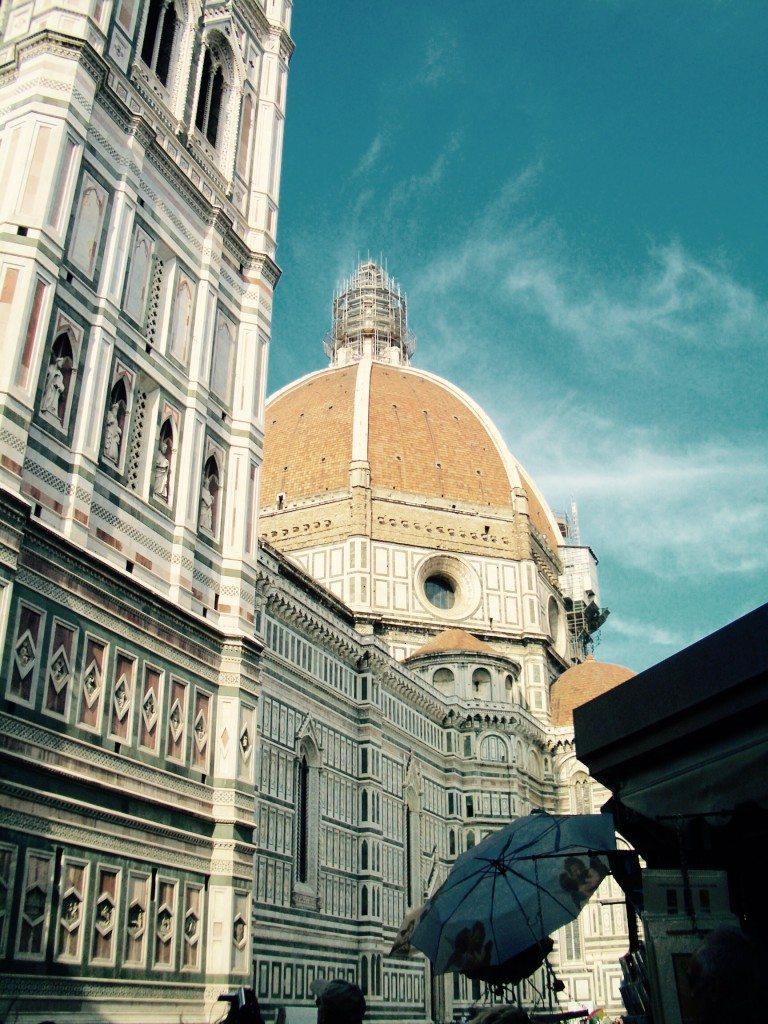 8) New York City, New York: St. Patrick's Cathedral: I have been visiting this cathedral since I was a child growing up in the New York City area. It is of the neo-Gothic architecture style and is part of the Roman Catholic Church. The original church buildings date back to the early 1800s. The cathedral holds a crypt where members of the church are entombed including John Joseph Cardinal O'Connor. Famous funeral services at St.Patrick's Cathedral include New York Yankees Babe Ruth, football coach Vince Lombardi, and former senator Robert F. Kennedy.
9) Palma de Mallorca, Spain: The Cathedral of Santa Maria of Palma AKA La Seu Cathedral: Last fall I approached this cathedral on the sea and I literally had to catch my breath! Building commenced in 1229 but was not complete until 1601! The architecture style is gothic and it is part of Roman Catholic Church. Interesting facts: It was built on the site of a pre-existing Arab mosque and architect Antoni Gaudi was involved in its restoration for several years.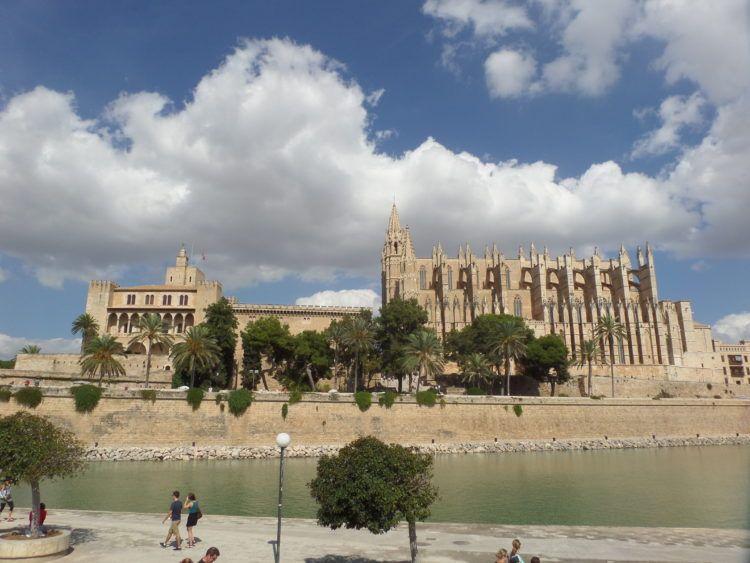 10) Monaco, The French Riviera: Saint Nicholas Cathedral AKA Cathedral Notre-Dame-Immaculee (Cathedral of Our Lady of the Immaculate Conception): Beyond religion-think beauty, sophistication and romance and you have Saint Nicholas Cathedral in Monaco. Located in the Monaco-ville area, it is part of the Roman Catholic Church and dates back to 1887. It is also the site where many Grimaldi family members are buried including Prince Rainier and Grace Kelly. It was touching seeing their tombs right next to each other filled with flowers and pictures of their fairy tale romance.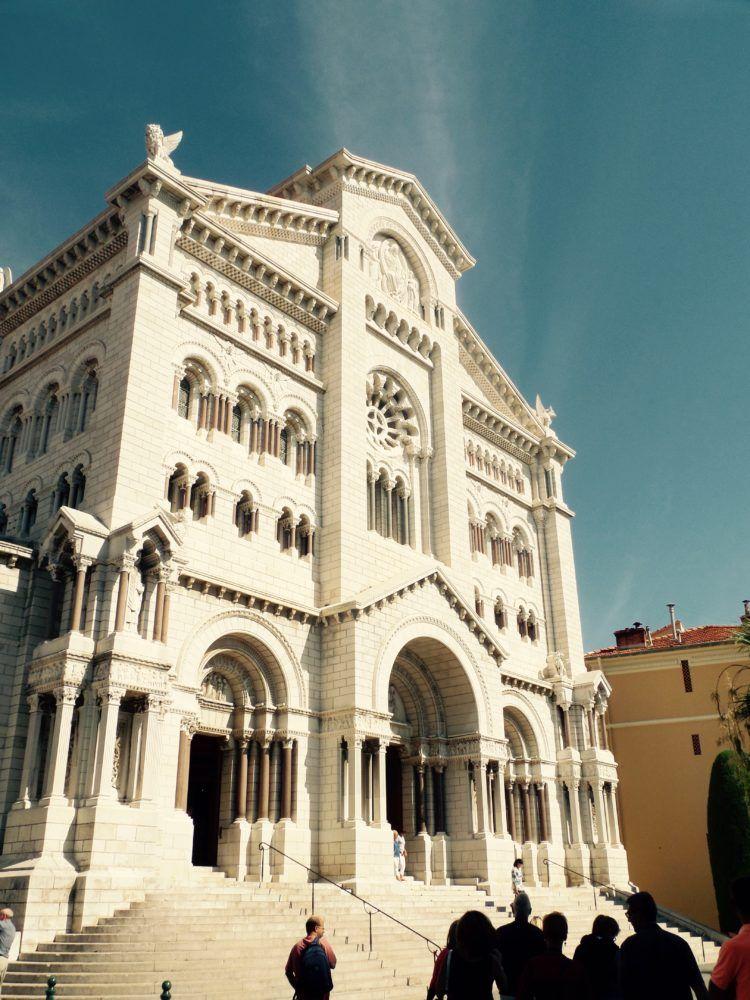 So where to next? These are the cathedrals in the world that I would like to visit:
Canterbury, Kent England: Canterbury Cathedral.
Moscow, Russia: Saint Basil's Cathedral in the Red Square.
Salta, Argentina: Catedral Basilica de Salta.
Berlin, Germany–Berlin Cathedral (Berliner Dom in German).
Istanbul, Turkey: Hagia Sophia.
I hope you have enjoyed visiting these cathedrals in the world! If you have any interest in architecture like I do I am sure you will make plans to visit them soon! Although being raised Roman Catholic and always having an interest in churches, my interest in the architecture and building of churches was sparked even more by the novel "Pillars of the Church" by Ken Follett. Almost 1000 pages but one of my favorite books ever!
To see a full list of cathedrals in the world listed by country click here. So tell me, have you traveled to any of these cathedrals in the world? If so, share your thoughts with us below!
N.S.W.