Vail Colorado is scenic, has beautiful weather, great restaurants and of course is the perfect place for skiing with the third largest ski mountain in North America! The town of Vail was actually developed to compliment the Vail Ski Resort.  All these reasons and more make it the perfect place for a winter vacation! Vail had been on my travel list for quite some time based on pictures and friends who had visited that area. Even though I have not skied in years there are so many other activities to occupy your time there.  In this post I give you my Top 5 reasons why you should visit Vail Colorado.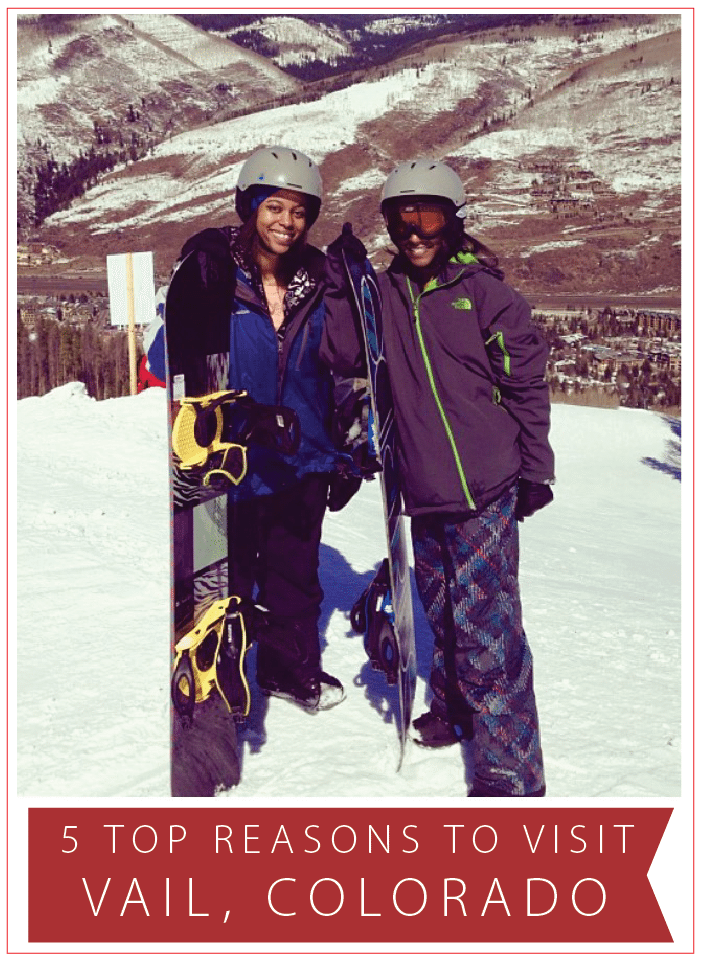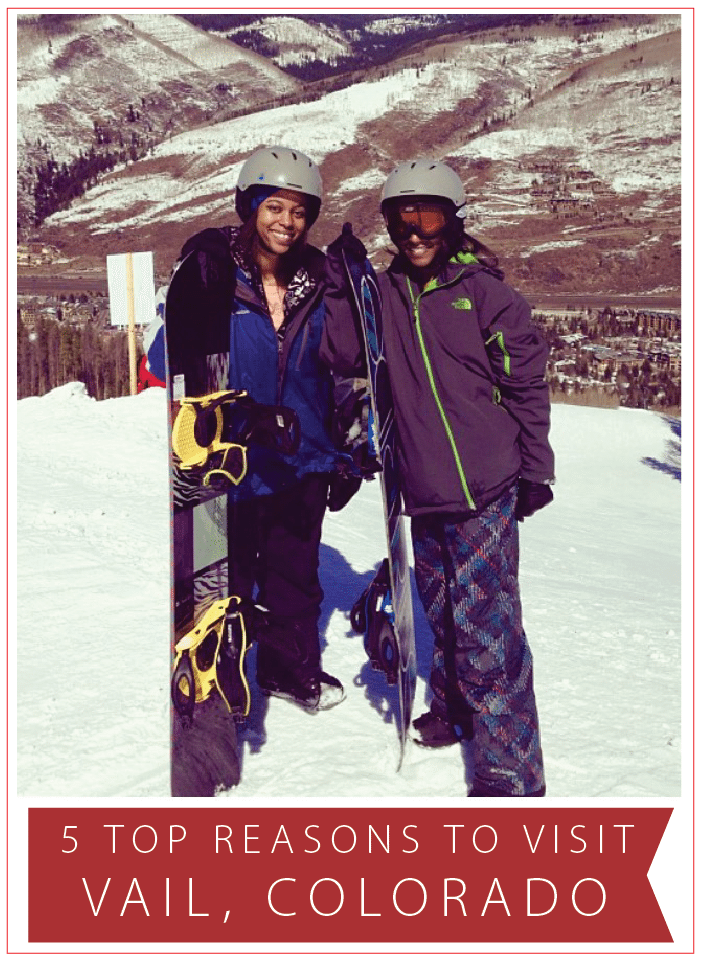 The Skiing: Vail Ski Resort is nothing short of amazing. Vail mountain covers over 5000 acres and as mentioned above it is the third largest ski mountain in North America and the second largest in the US. It is surrounded by 350,000 acres of national forest. Vail Mountain has many trails for every type of skier. Everything from wide open terrains to moguls can be found in the three areas of Front-Side, Blue Sky Basin and the Back Bowls. In total there are almost 200 trails for beginners, intermediate and about half of the trails are for experienced skiers. There are a whopping 31 lifts to take you to all these breathtaking trails. Although I did not ski when I visited, I took pleasure in hearing about my cousins attempt to snowboard for the first time. Can you say Epic Fail?! Lol They carried their boards down the mountain after a few disastrous spills.  If you are a beginner or need a refresher course there are classes held daily on the mountain.  Vail Ski Resort recently raised their one day lift ticket prices. Expect to pay around $160 for a one day pass. Save money by buying multiday packages in advance and even more by purchasing a season pass which covers several other ski areas in Colorado such as Beaver Creek and Breckenridge.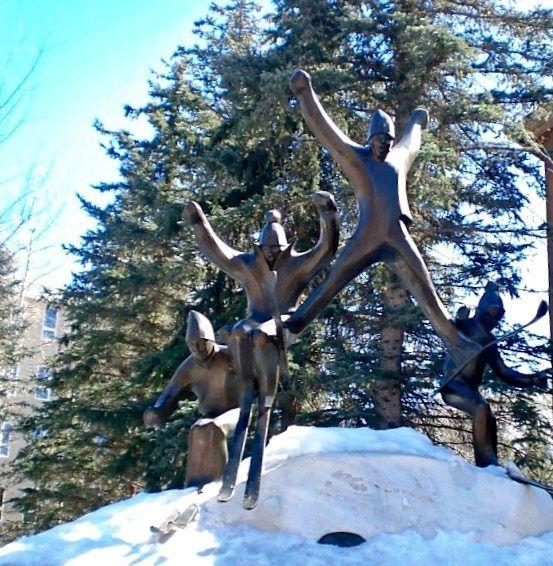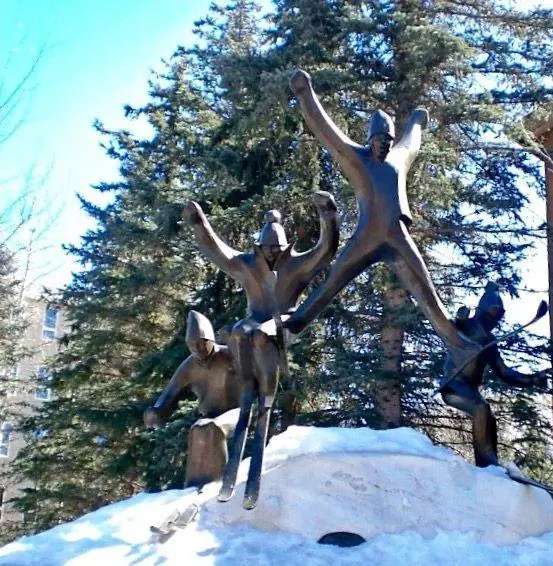 The Scenery: I drove to Vail Colorado while visiting my cousin in Denver. The drive itself was beautiful with snow-capped mountains but that still didn't prepare me for what lay ahead in Vail! The views are spectacular and the town is filled with sculptures of skiers, Native Americans and picturesque hotels with amazing architecture.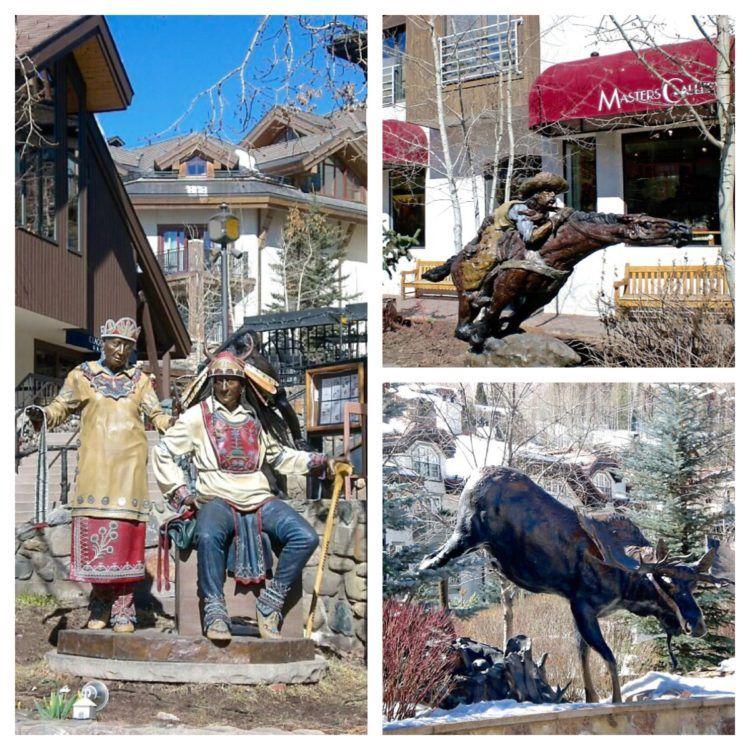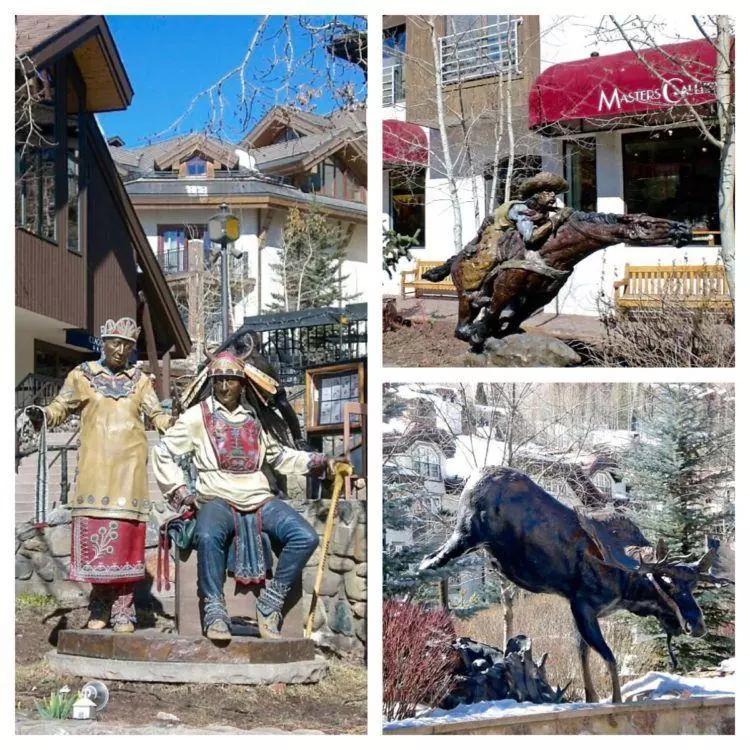 Vail Village is modeled after Bavaria in Germany although I imagine from pictures that Switzerland has a similar look. You have a choice of 33 hotels in the area! You will marvel at people eating at outdoor cafes due to their unique winter climate. You can also expect to see ice skating rinks and bridges with the tranquil Gore Creek flowing below. All the while you are looking up at eye popping snow filled mountains all around you.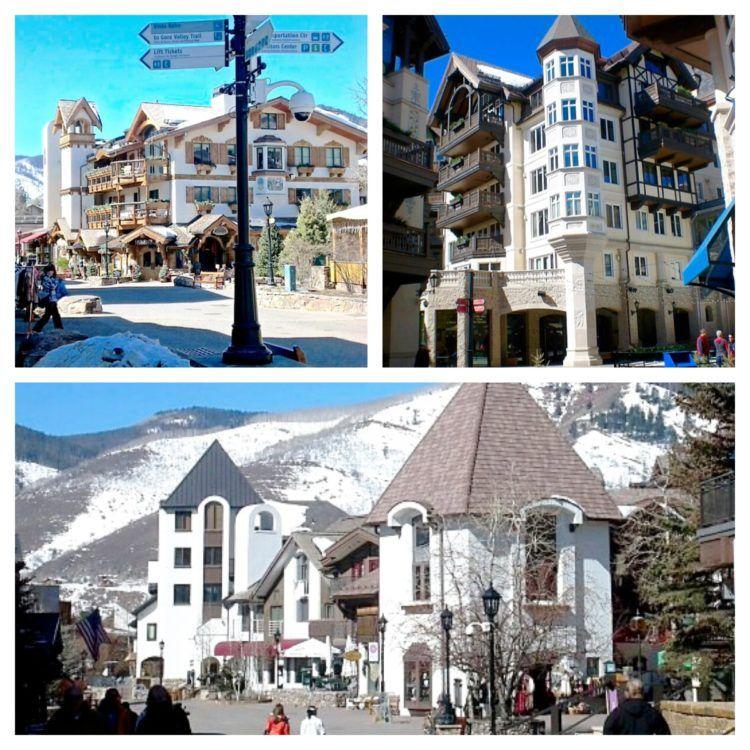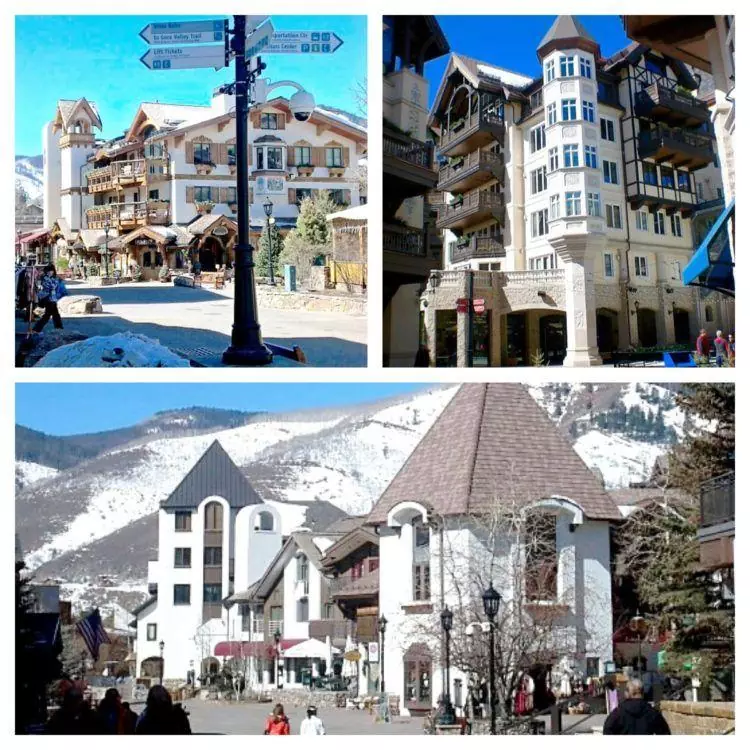 The Weather: So as you can imagine there is a lot of snow in Vail! The average high temperatures in the December and January are in the 20s while in March and April it rises to an average in the 40's. Expect lows of 5.7 (yikes) to the 20s in April. As explained to me by my cousin who lives in Denver and frequents Vail, due to the dry air and constant sunshine-40 degrees in Vail can feel like 50 degrees elsewhere. Vail actually has more than 300 days of sunshine a year! Sweet! I did experience this during my trip. We walked around comfortable in Vail Village in 40 degrees without getting cold and noticed restaurant goers eating in short sleeves on the outdoor patios! Some travelers may fell ill due to the dry thin air and altitude so give your time to acclimate and a humidifier may be helpful.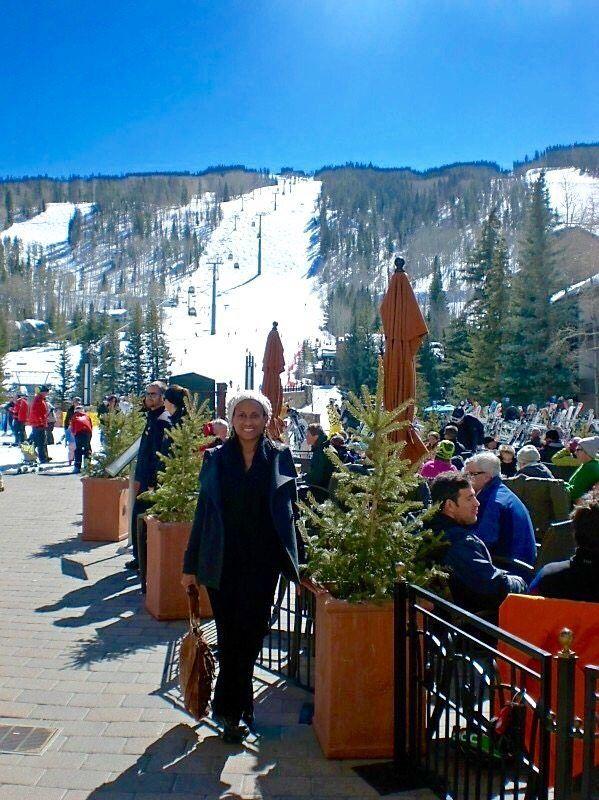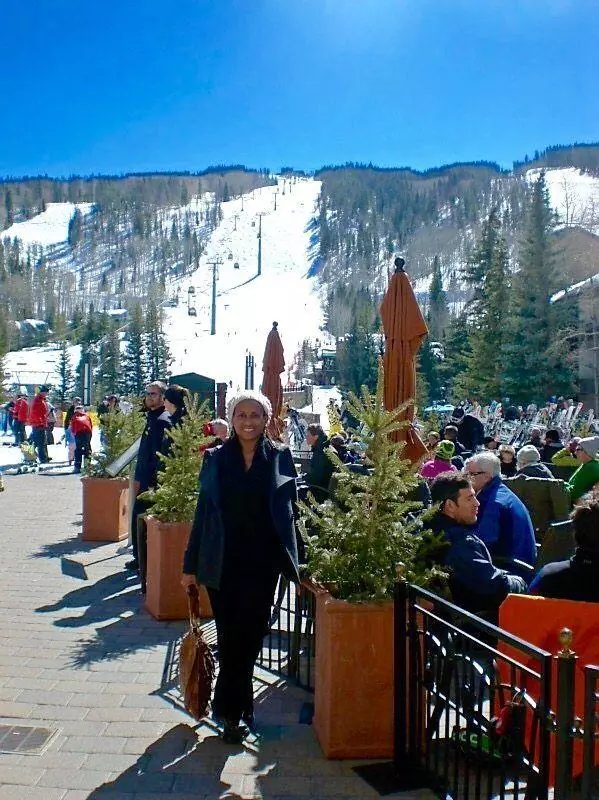 The History: Can you believe Vail Village only came into existence in 1966? This was 4 years after the ski area was founded by a World War II veteran and local rancher-Earl Eaton. While walking around Vail I noticed statues and sculptures of Native Americans. That led me to do a bit more research. The UTE Indians inhabited Gore Creek Valley prior to white settlers in the 1800s. The Indians fled and the area became filled with white ranchers. I can only assume the statues in the picture above pay homage to the Native American history in Vail Colorado.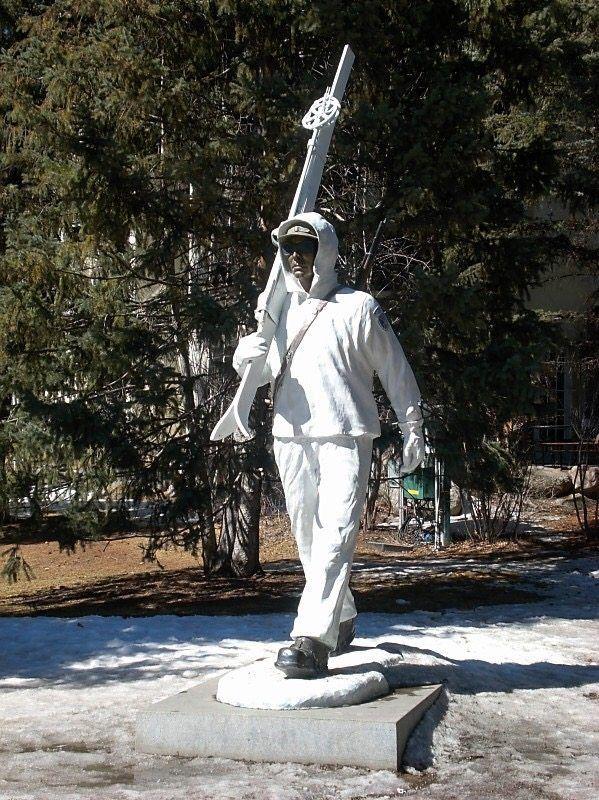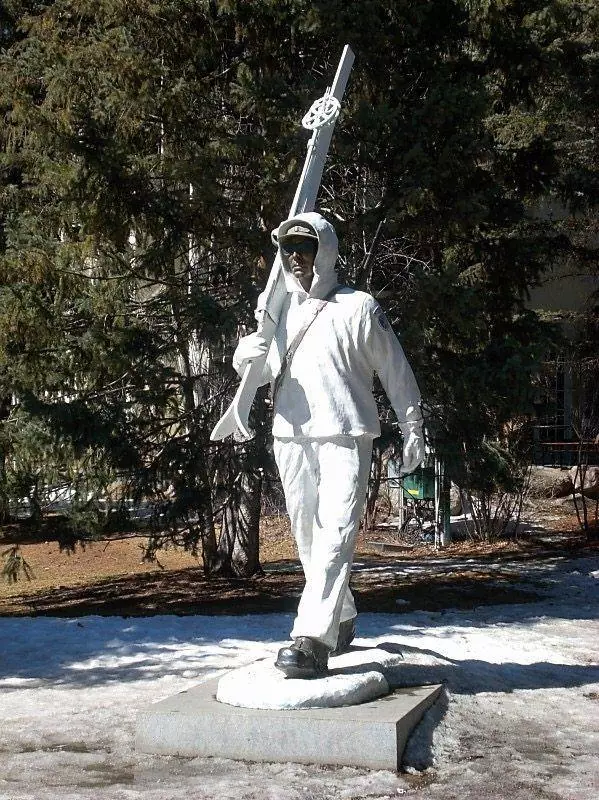 The Activities: If you can name a snow related activity then I can assure you they have it in Vail. Think downhill and cross country skiing, snowboarding, snowmobile tours, snowshoe tours, dog sled rides ( I really want to do this), sleigh rides, ice skating, and on and on. Many of these are for children as well so the entire family can join in the fun. If you are visiting the area but do not ski and have no interest in snow related activities, fill your belly at one of the 100 restaurants in the area! You can find casual comfort food to specialty foods and fine dining. While my cousins where trying to snowboard, I enjoyed exploring Vail Valley. The main area has many shops, restaurants, a CineBistro dine in movie theater and an ice skating rink. I also enjoyed spending time by the fireplaces in the hotels and riding the gondolas which offered amazing views. Other attractions include the Colorado Ski Museum, the Betty Ford Alpine Gardens, the Vail Film Festival held in March or April. If you are looking for nightlife there are several bars in the area as well as dancing at Sonnenalp Resort of Vail. The great thing about being in Vail is that you are close to other towns and ski areas such as Avon 15 minutes away, Beaver Creek Resort 15 minutes away, Breckinridge at 52 minutes and Denver and Aspen at 2 hours.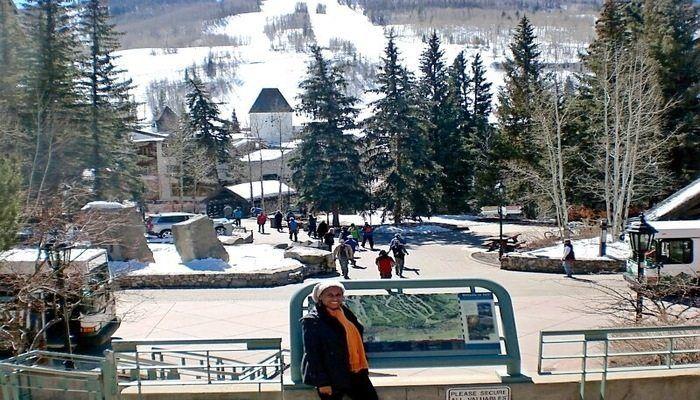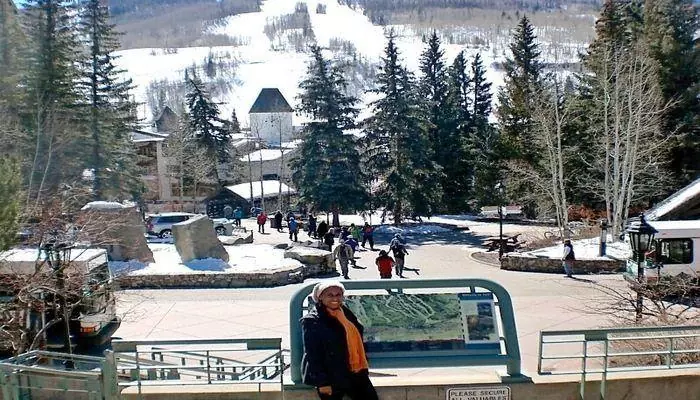 So tell me, have you been to Vail Colorado? Are you planning a winter vacation this year? If so share your thoughts with us!