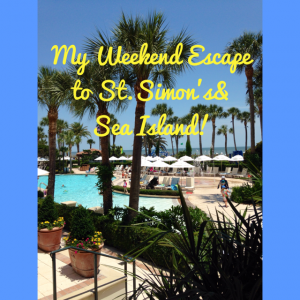 I live in the big hustling city of Atlanta. And although I love it, at times it's nice to getaway and relax, recoup and regroup. Fortunately I have a good friend who lives on the southern Georgia coast that extended me an invitation for a weekend escape to his home on St. Simon's Island which is in close proximity to Sea Island.  Before moving to the South a few years ago I had heard of the resort "The Cloister". It is historic hotel and is known for having one of the top spas in the nation. The Lodge on St. Simons is equally as beautiful and owned by Sea Island. Visiting both equaled complete luxury, sophistication and relaxation. Both islands are easily accessible via air from Atlanta airport by Delta airlines to 1)Brunswick Golden Isles airport nonstop: 40 minute flight and then a 15 minute drive to the islands 2) Jacksonville airport then a 1 hour drive to the islands 3) Savannah airport then a 1 1/2 hour drive to the islands or via car from Atlanta- a 5 hour drive.
I only spent 48 hours on these 2 islands but as in most of my vacations I found time to fit in a lot of great food, exploration and this time relaxation!
Day 1.
We started out the weekend w delicious southern BBQ from Southern Soul BBQ.  It has been featured on several national TV shows! We had authentic BBQ chicken, pulled pork sandwich, potato salad, BBQ beans. Delicious!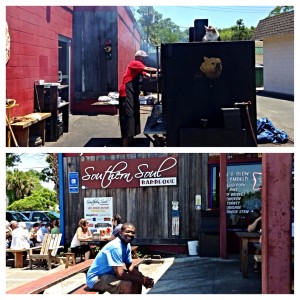 After relaxing at my friend's gorgeous new home in an exclusive gated community on St. Simons  island, we headed over to The Lodge located on St.Simon's island. We arrived in time to hear the nightly bagpiper! Dressed in authentic Scottish fare he walked around the beautiful waterfront grounds playing beautiful music even taking requests from young children!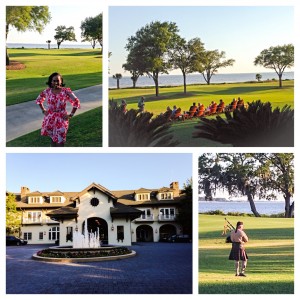 We watched in delight while sitting in Adirondack chairs around fire pits drinking glasses of white wine. What a way to start the evening!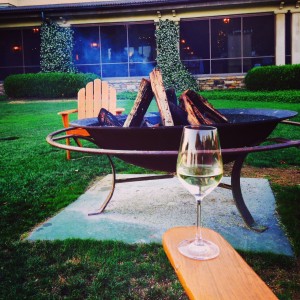 After a tour of the leather clad, studious, grand rooms and restaurants of The Lodge, we extended greetings to my friend's colleagues and club mates and passed by Michael Douglas!! Yes THE actor Michael Douglas who was dining in the steakhouse there! Of note, celebrities and dignitaries frequent both islands as well as nearby Jekyll island as a respite from the paparazzi filled areas of LA, NYC and Miami Beach. I digress. For dinner we headed over to what's known as one of the best seafood restaurants on the island. After all, one can not come to an island and not have seafood! We ate at the the bar which was a fun, bustling scene. On an island this size it is cozy in that everywhere we went my friend ran into people he knew as well as knowing the bartenders, waiters and attendants which all led to great service. My meal at Halyards consisted of crab bisque, grilled salmon with red curry coconut  risotto with crawfish étouffée followed by a lemon pound cake with blueberry compote and vanilla ice cream for dessert. Decadent and Delicious!!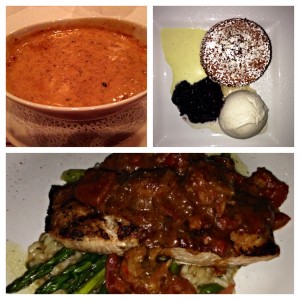 Just a lovely evening. Period.
Day 2.
After breakfast at home we drove a short 7 minutes over a flat landing bridge to the private island of Sea Island to the Cloister Resort. Our first stop was into The Spa.
Words can not describe the exquisite beauty and attention to detail of this facility! Starting in the tranquil atrium and ending in the individual shower and sink areas in the locker rooms. There is an outdoor dipping pool as well a full size indoor pool and of course saunas and steam rooms. I had to take even a picture of the gym area that had hard wood floors! Unfortunately I did not get any services performed since with such a short stay I wanted to maximize my time outdoors.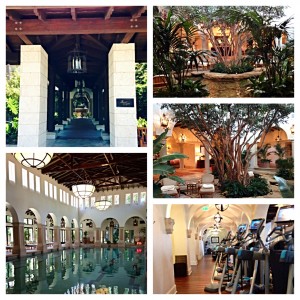 We headed back outside and took a 1 hour bike ride around the island. I was in awe taking in views of the multimillion dollar homes of all types-traditional southern, Tuscan & contemporary.  And what beautiful trees! Yes I love trees! Here they were so many and so unique-Weeping willows and big oak trees and so many more.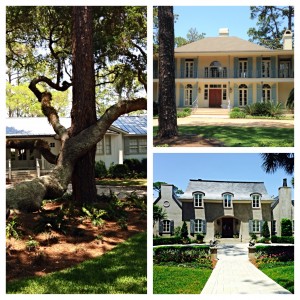 After the bike ride I wasted no more time and headed for one of the many  pools and then took a walk down to the beach. Views to die for filled with gigantic palm trees ! Live music,  full service pool side service as well as restaurants open for lunch and dinner, a bar and a colorful ice cream shop and candy shop added to the luxurious resort feel.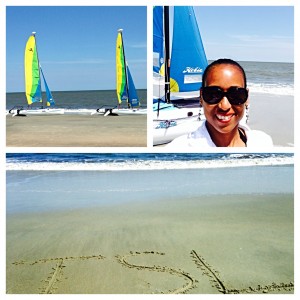 After a relaxing day at the resort we changed  for an evening out at The Cloister Hotel located across from the resort. First passing by Michael Douglas and Catherine Zeta Jones in the lobby! (Really).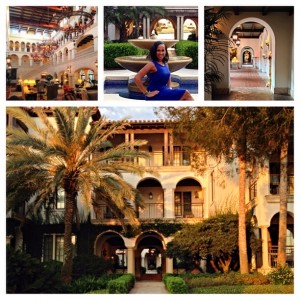 We then took a tour of the property. In 2004 the G8 summit was held at The Cloister Hotel hosted by President George W. Bush and attendees included Tony Blair. This is the table where they all sat. Very cool to be in a room of such prominence.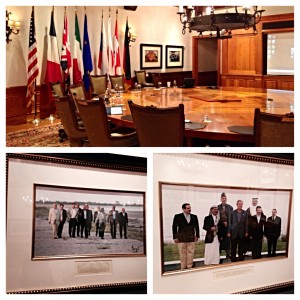 We ended the evening with dinner at an Italian restaurant on the property called Tavola. One of the best pizzas I have ever had! Sausage with aged gouda on a flat bread crispy crust! Who would think I would have to fly to the Georgia coast for great pizza?! And I loved the way they served it!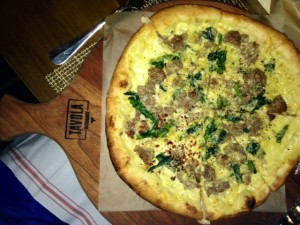 Another amazing day. Another lovely evening.
I would like to thank my friend Stanley for hosting me! I will be back!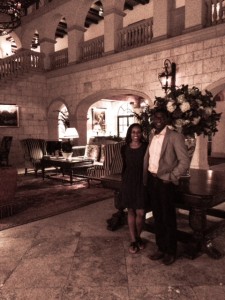 Have you been to either island? if so share your experiences with us! If not I hope this article sends you on a trip to the Georgia coast!
N.S.W.