In honor of Easter I have a guest post on the once in a lifetime experience of spending Easter in Rome!
From Terri: 
Easter in Rome: A Cross, the Coliseum and the Vatican.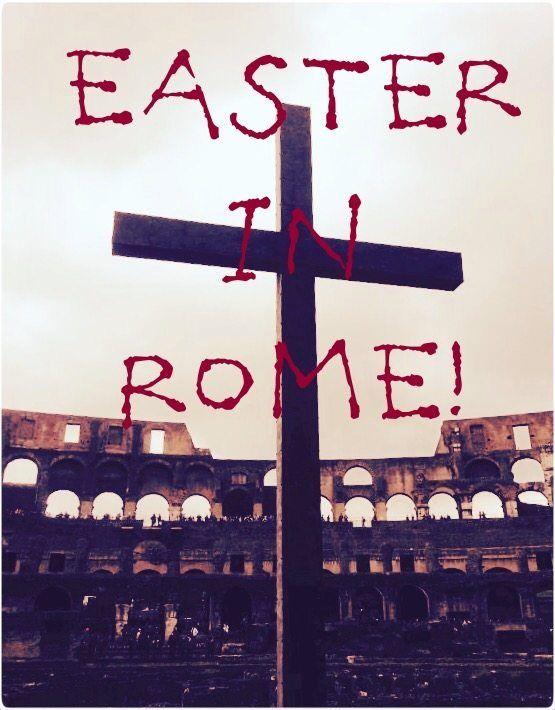 It actually didn't dawn on me until the middle of our Tour of Italy that I would actually be spending Easter Weekend in Rome. I thought to myself…well how cool is that! I waited expectantly for the lengthy instructions provided by our tour guides with respect to clearance to visit the Vatican, the preparation for the crowds, the 1-2 hour waiting lines as well as the early morning parades where one might actually get to glimpse the Pope. I was at once intrigued and doubtful…was this a visit to the Vatican or Disney Land? But I was very excited to be spending Easter in Rome. I considered it a big deal but truly my mind couldn't grasp at that moment the magnitude of what I would experience.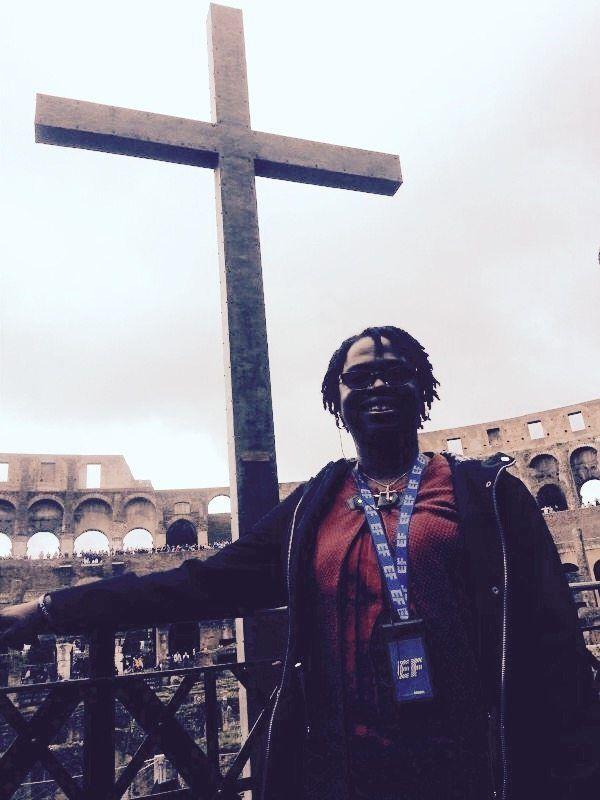 That morning we got up bright and early determined to do Rome in a day!! We bypassed the parades and spent the morning touring the Coliseum and the ancient ruins and were immediately blown away by the voices, spirits and peace left behind my friends, travelers and citizens from oh so long ago. As I walked the steps, touched the bricks and imagined the festivities I felt grateful to be standing in the midst of such a rich and really not quite describable piece of architecture. The Coliseum has withstood the test of time. In the midst of my awe, I exited and came face to face with a huge cross that I was informed had been brought to the Coliseum much later with the move for paganism to Christianity. I loved seeing that cross in the midst of a building that was standing and falling all at the same time. It seemed to say..I am here. You are here.  That's all that matters. It was a sweet gentle reminder for us all not just on Good Friday but every day. It was a special moment during my Easter in Rome.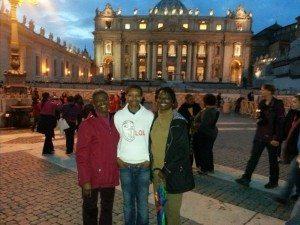 Following our race through the coliseum we arrived at the Vatican just in time to make the last entry at 5 pm. We were planning to be at the Vatican by sunset. Yes Sunset on Good Friday in Rome…boy oh boy was it worth it. First of all I'm embarrassed to say I didn't realize that the Vatican was its own independent city until we arrived. But apparently everyone else did. As promised the lines wrapped around the buildings. There were many faces brown, red, white, and yellow all glowing. All at peace. All happy to be in that special group that made the last call. Yes we waited two hours…but the time passed with smiles, laughter and anticipation. The building was everything we imagined and more. Sacred, Opulent, Warm, Open, Amazing, Beautiful and Overwhelming all at once. We are not catholic but we felt a great connection with the building, the crowds and even the Pope! So much so that we purchased our very first bottles of Holy Water blessed by the Pope. It was a very special moment and we carried that sacred privilege of having experienced a moment of true peace with other citizens of the world while spending Easter in Rome.
Thank you so much Terri! This is Terri's second contribution to the blog! Before you leave make sure to read about her amazing experience on Grenada: Paradise on the Isle of Spice!
Although I have been to Rome twice I have never spent Easter in Rome! To my readers-have you? Is it something on your bucket list? If so share your thoughts with us below and read the "Walks of Italy" guide on Easter in Rome. Happy Easter!
N.S.W.
Comments
comments