While I am vacationing in Cuba, I have a guest post from KemKem of The Next Bite of Life.com. She takes us on a tour of Antoni Gaudi's masterpiece-La Sagrada Familia in Barcelona. I also wrote about La Sagrada Familia in my post "Top 10 Cathedrals in the World worth traveling to." Originally built as a cathedral, it has been designated a minor basilica.
From KemKem:
La Sagrada Familia – the name is synonymous with Barcelona, Spain, the Catalan capital. This church is the defining work of Antoni Gaudi. He was a humble man born in Baix Camp, but who worked and lived in Barcelona for most of his life. He graduated from the Barcelona provincial school of architecture and started off designing street lamps for the Barcelona council before moving on to bigger things. His body of work as an architect include the Colonia Guell church,  Casa Calvet and Guell Park. Most of his life and career, however was spent building the Sagrada Familia. The comission was given to him in 1883, even though work started in 1882. He continued to work on it till his death in 1926.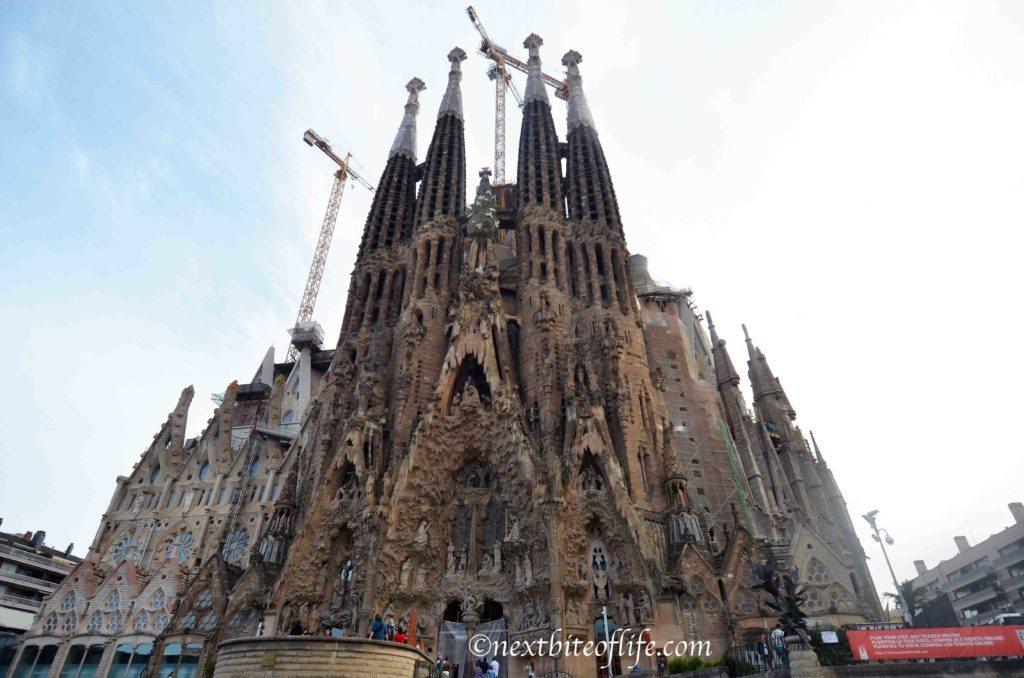 The church is built in the shape of a Latin Cross. It is a massive gothic structure that dominates the Plaza de la Sagrada Familia. It is definitely worthy of a visit if you find yourself in Barcelona. While some might be content with looking just at the outside, with it's angels, carvings, impressive doors and the use of over 20 different kinds of stone, I feel that it is worth the €14.85 entry price. I recommend getting your tickets online to avoid what can sometimes be up to a 3 hour wait. The church is built entirely through donations, so it is a nice way to contribute to this magnificent obsession of Gaudi.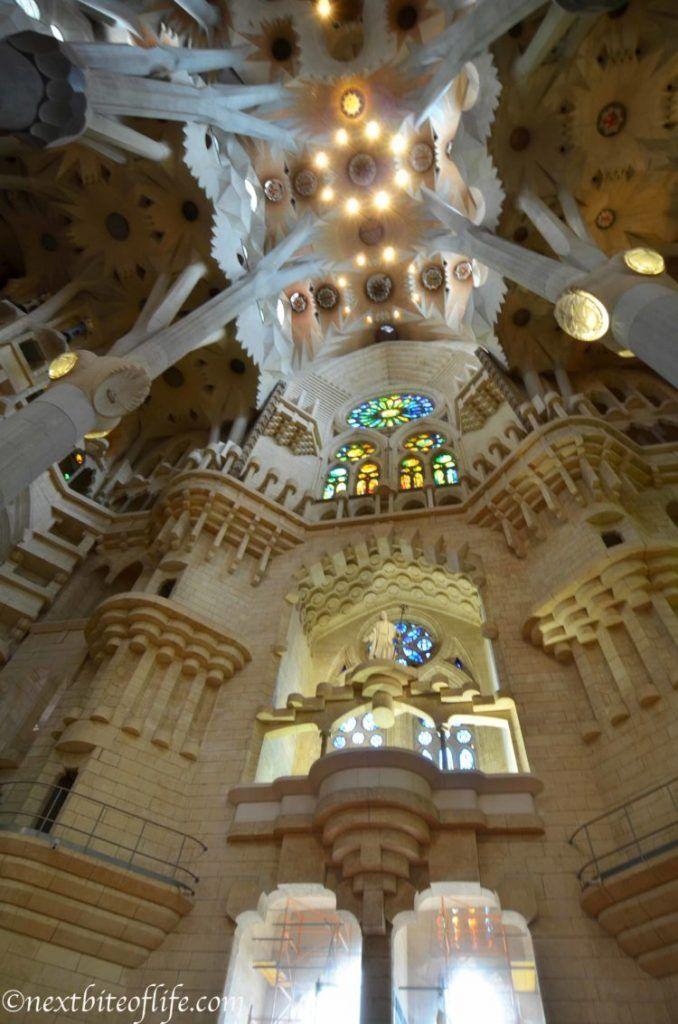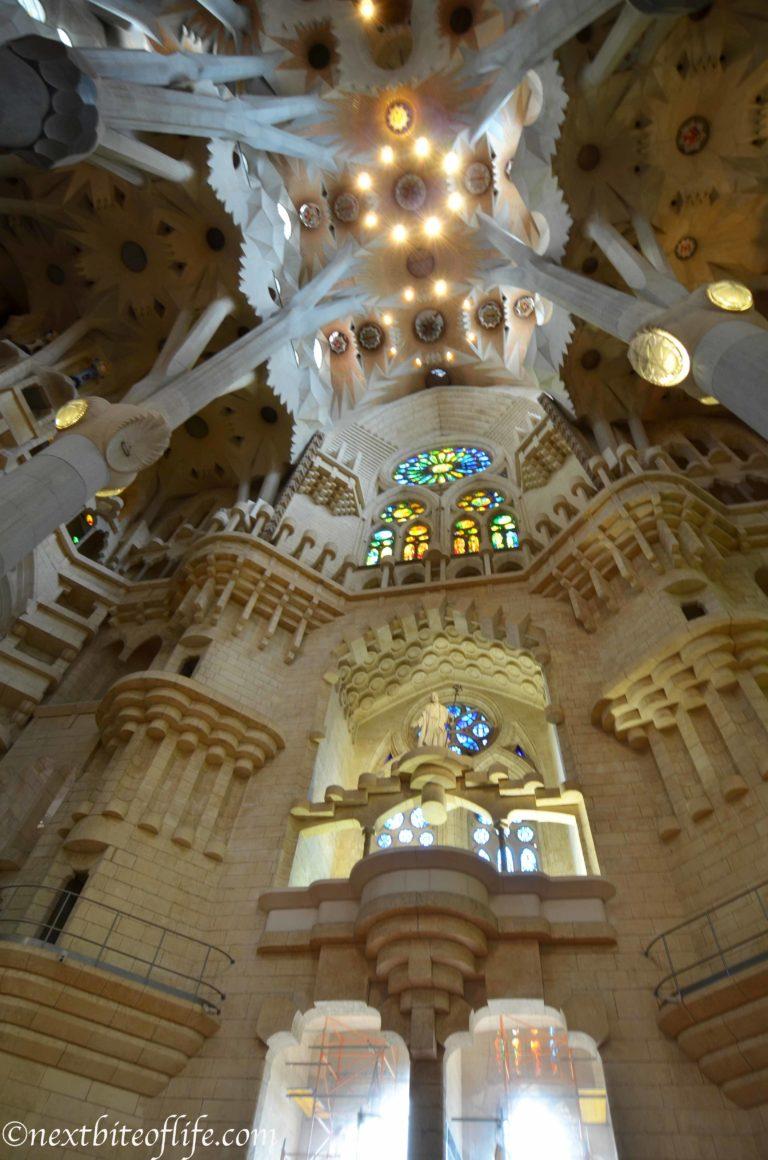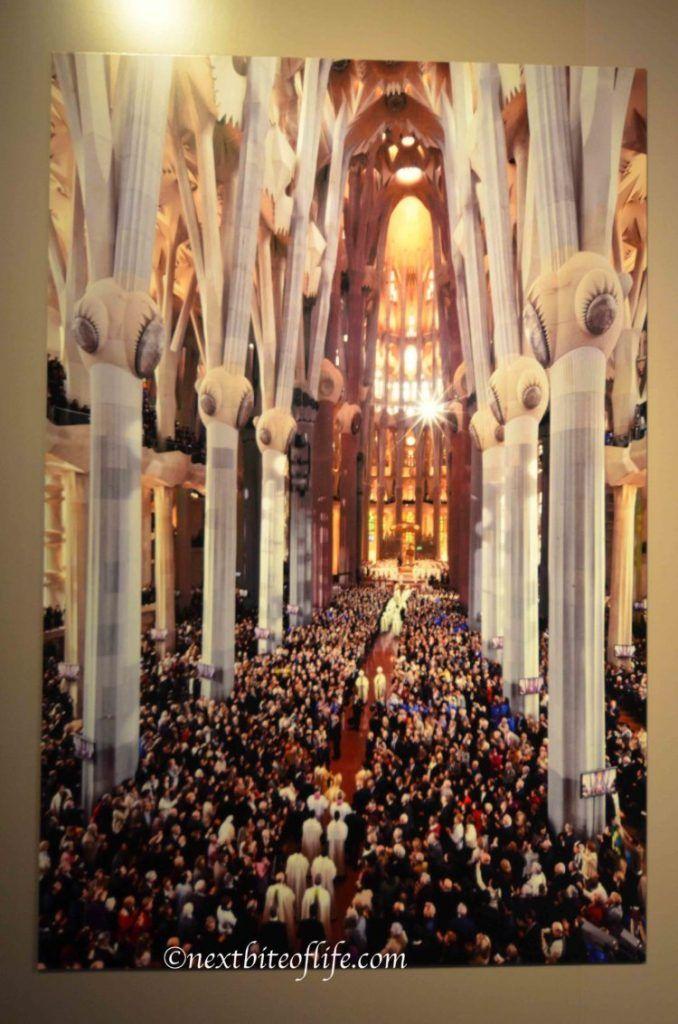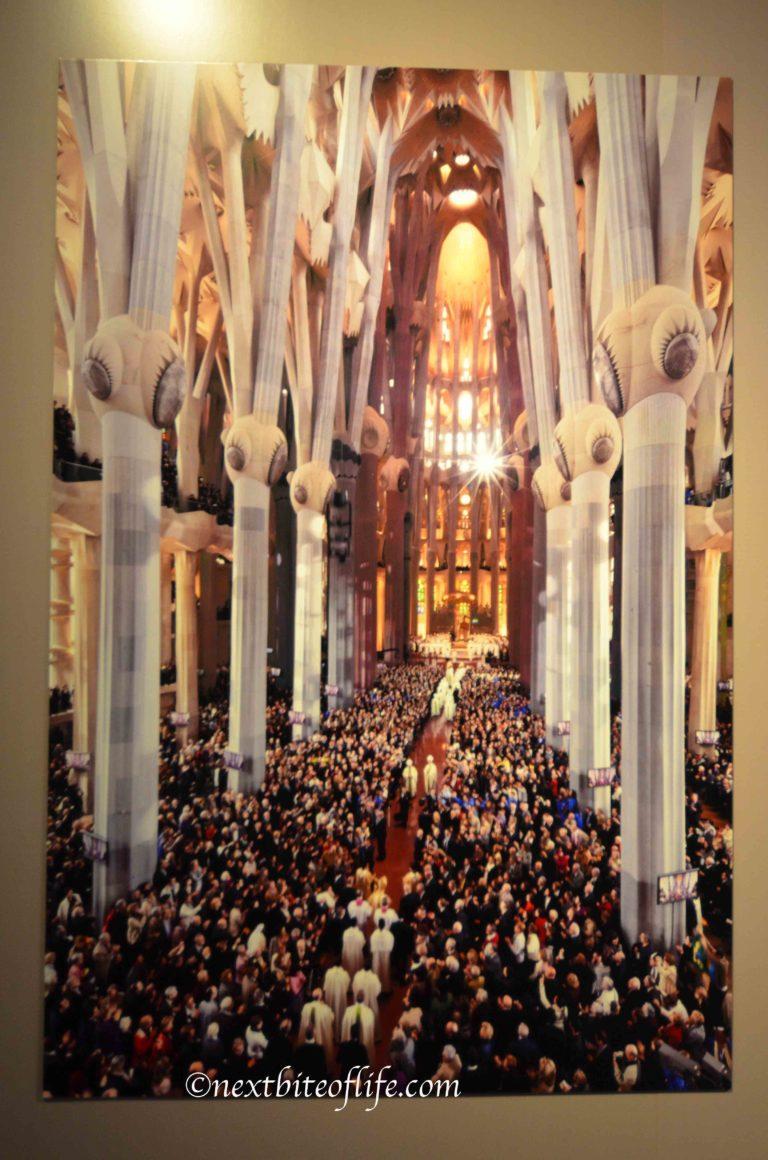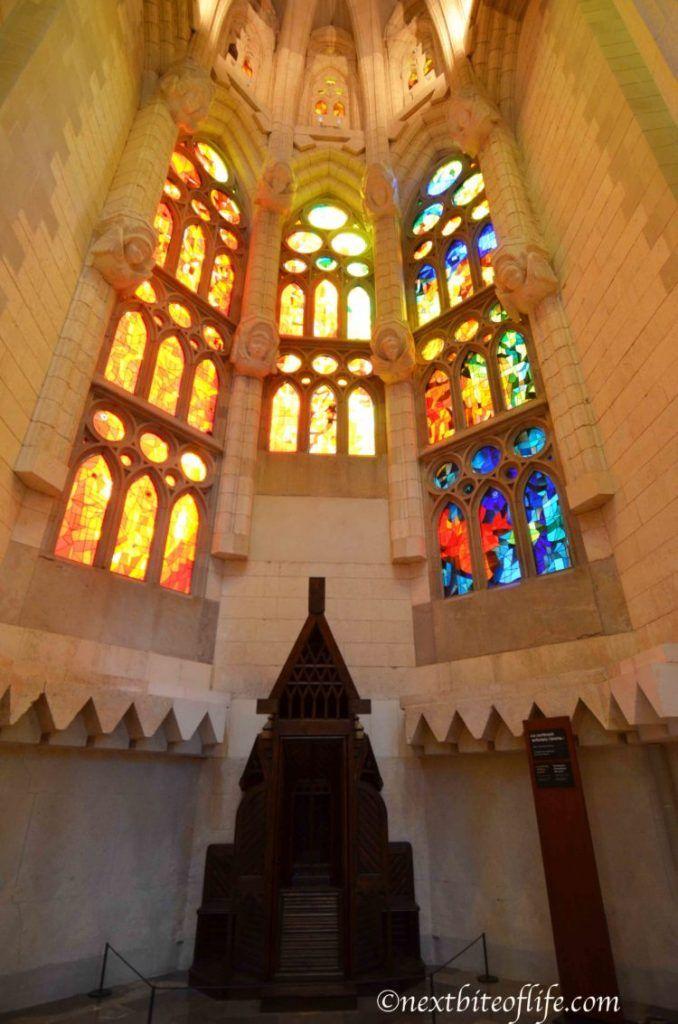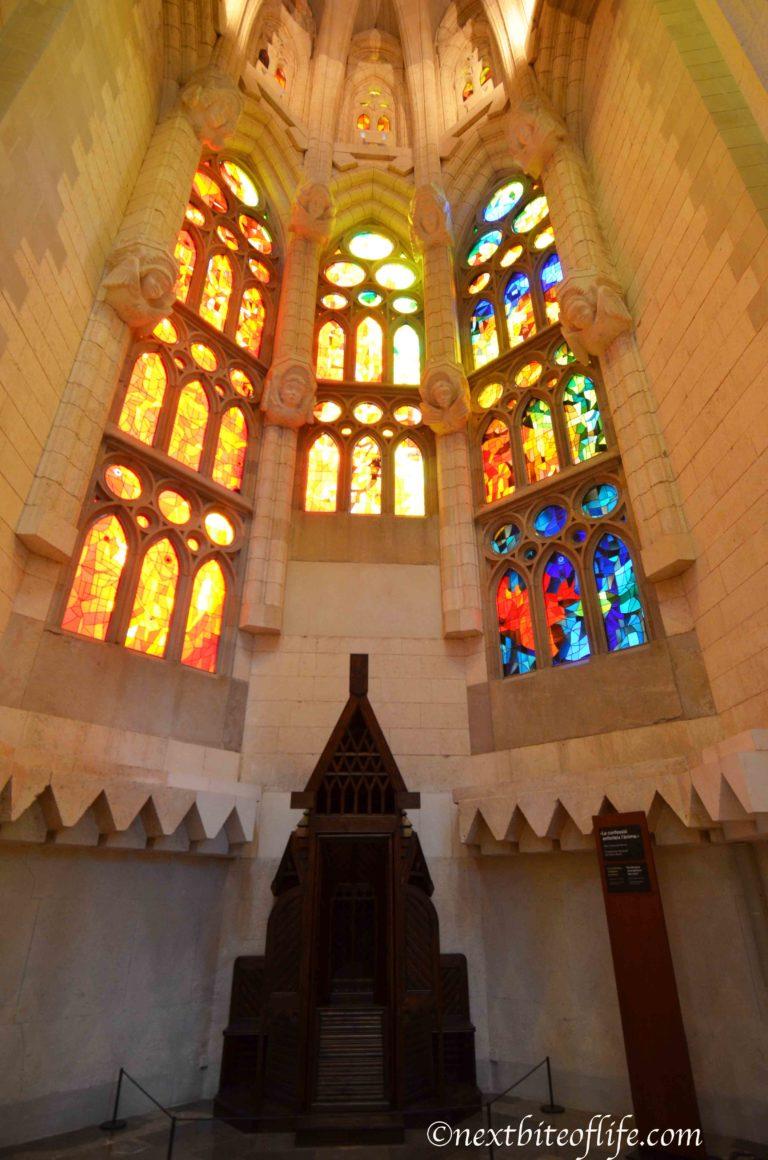 Upon entry into the Sagrada Familia church, you are treated to a wonderful display of great workmanship. The stained glass window works alone can hold your attention for quite a while. There are humongous columns and doors in different shapes and sizes. The alter is also very impressive, with it's crown of thorns Jesus towering above. While the main church is always full of people, tourists and worshipers, you can see a smaller congregation attending regular mass downstairs if you go to the left side of the alter. I think this is a good idea. I imagine l would be annoyed at the constant flashes and disturbances if l was a church member.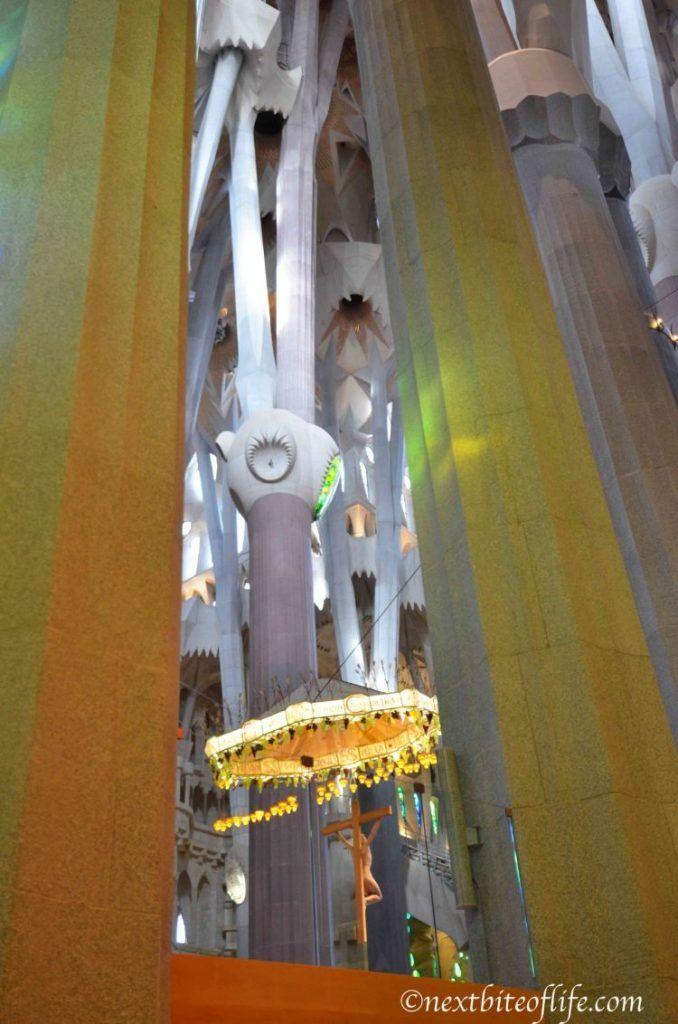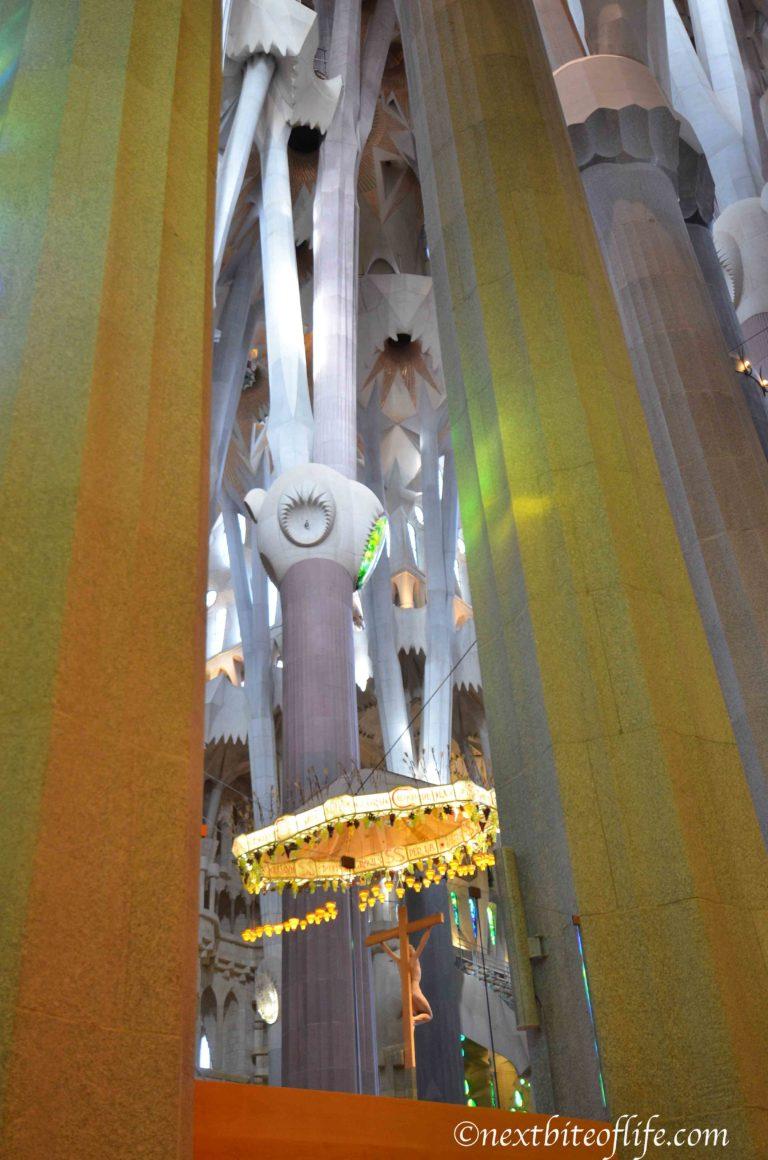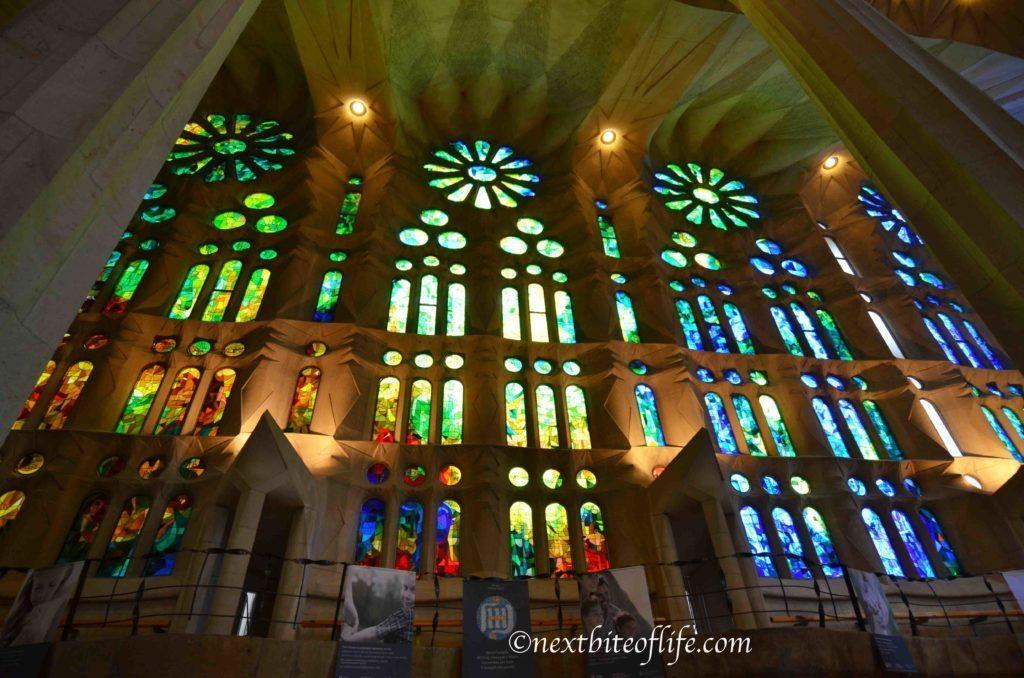 Downstairs, you can discover more about the life of Gaudi and what inspired his passion. Among the things we found out was that he was a sickly kid and spent a lot of time alone. A lot of his inspiration therefore came from things in nature during his solitary walks, like honeycomb, and butterflies. There is a constantly running video about his life in the theater,presented in both Spanish and English. You can also see the steps that go into manufacture of the columns, as there is a working factory down there. There are also some replicas, scale models of his  bedroom and drafts of some work.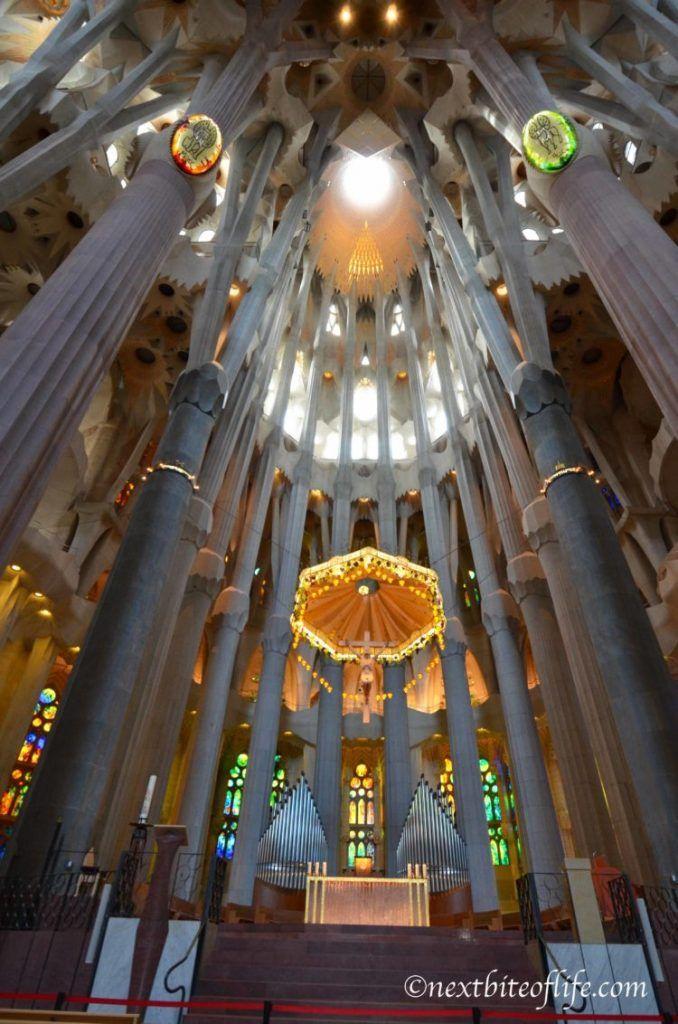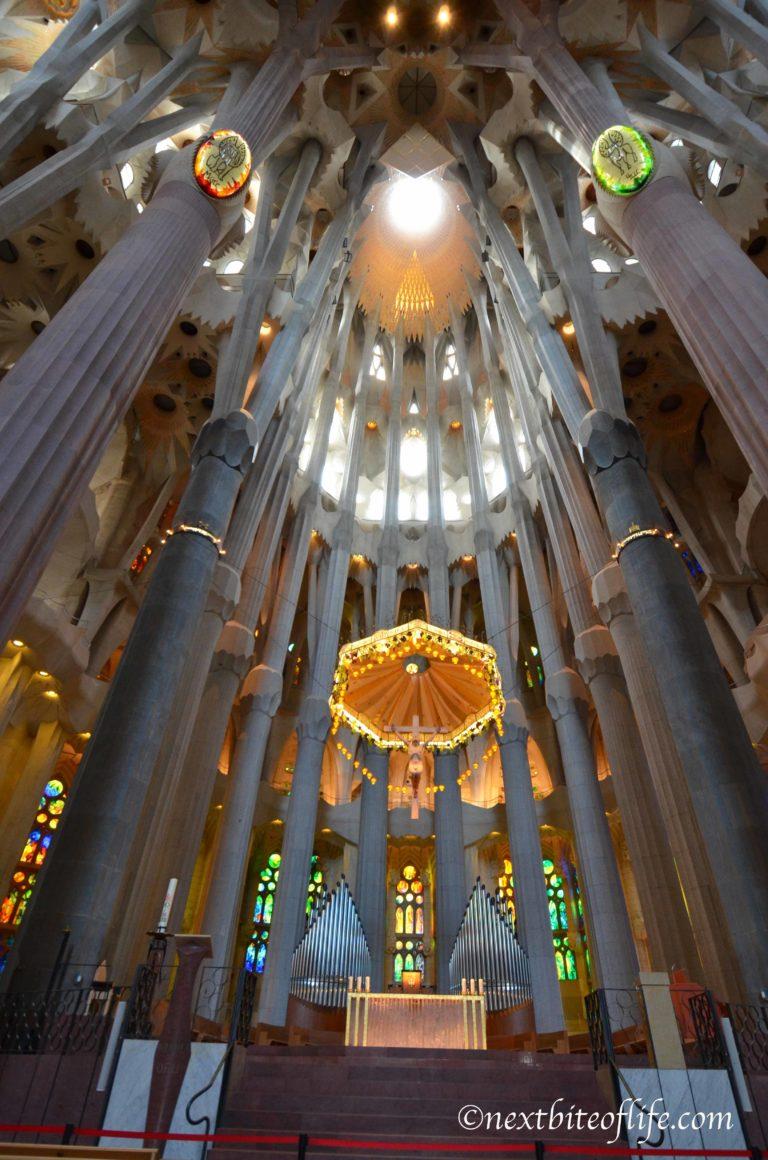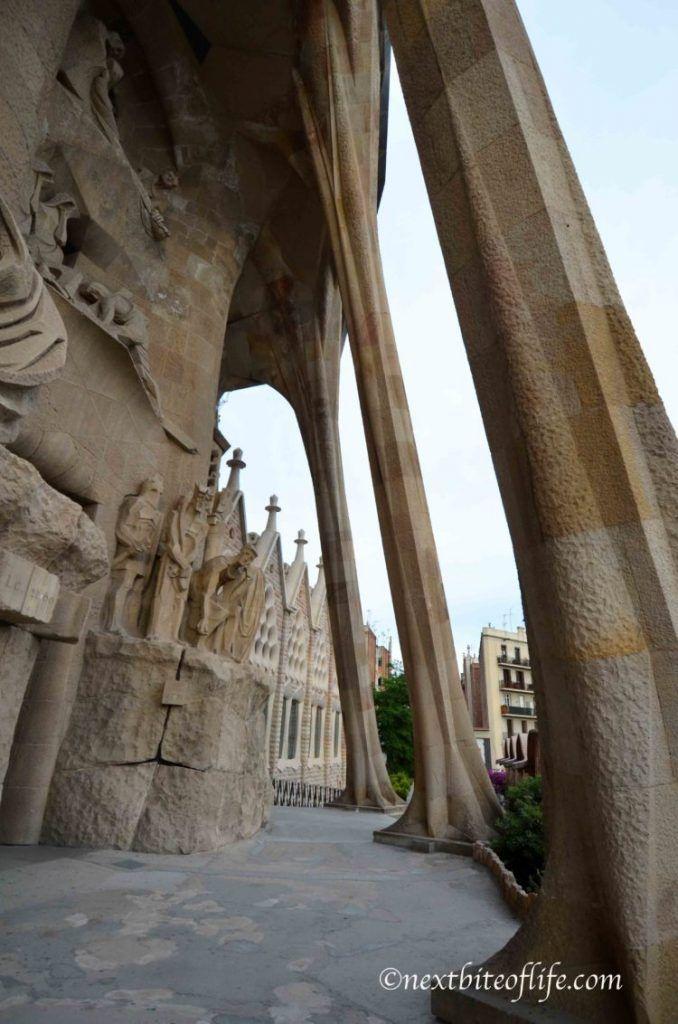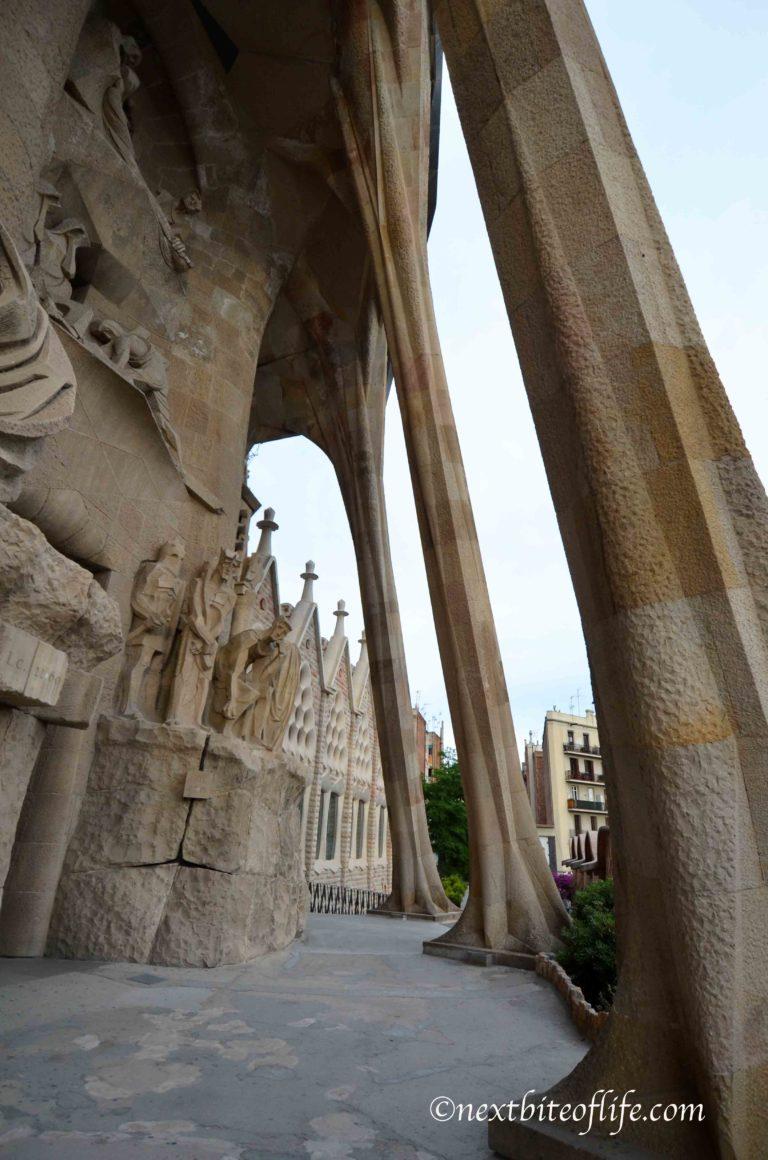 He was a humble man with a lasting legacy. The church is not scheduled for completion until 2026, a full 100 years after his death from complications of a tram accident. Even though he knew he wouldn't see it till the end, he left very detailed instructions to aid the people that would carry on the work. The church is a UNESCO world heritage site. While one might be tempted to skip visiting the Sagrada Familia, l would urge you to see it from the inside. It has withstood the test of time, even survived the Spanish Civil War!!! How cool is that? A true testament to God :-).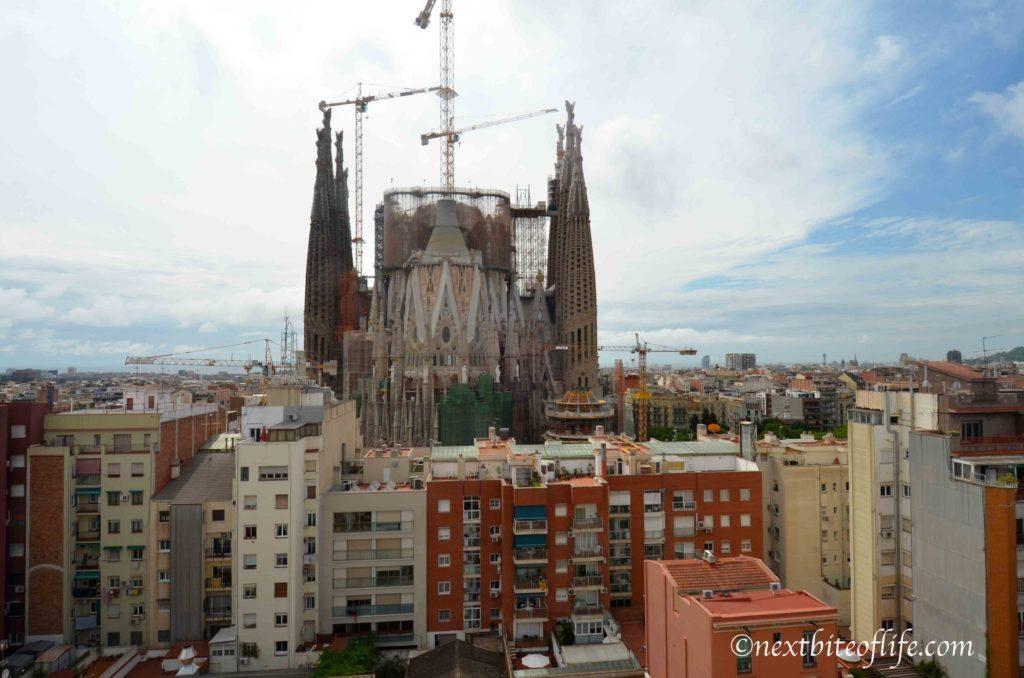 Thank you KemKem for this amazing look inside La Sagrada Familia! Visit her
travel blog
for more amazing posts on Spain and beyond. I am a big fan of Antoni Gaudi after visiting
Park Guell
also in Barcelona. For more information on visiting La Sagrada Familia visit this
website
. Have you been there? If so, share your thoughts with us below.