This post contains affiliate links. However, all opinions expressed here are original. If you click through on a link, you won't pay a penny more, but I'll receive a slight commission which helps me keep this information available to you. Thanks!
---
Have you ever wondered what it is like visiting Vatican City in Rome? Yes, Vatican tours can include crowds and long lines but there is also the magnificence of St. Peter's Basilica, the awe inspiring ceiling of the Sistine chapel and people from all walks of life gathered in one place to peacefully take it all in. I have had the good fortune of visiting Vatican City twice and since it is Easter time I would like to share my experiences with you.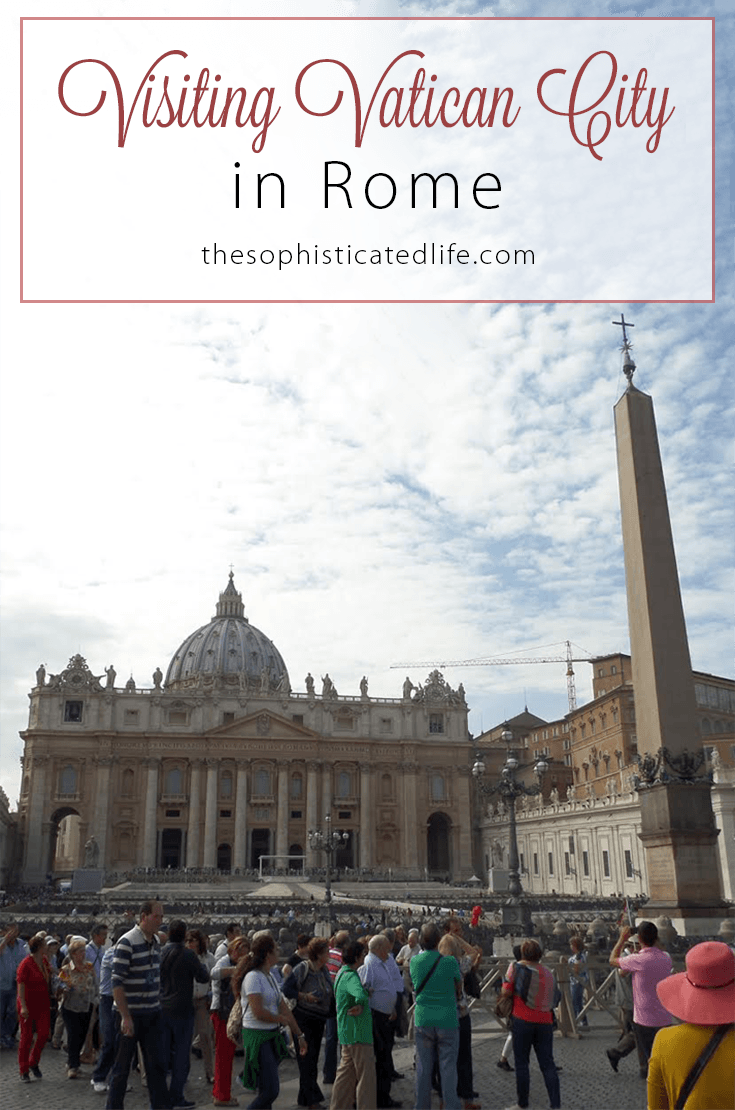 Before I begin, here are a few facts you should know before visiting Vatican City in Rome.
Vatican City is an independent walled off city within Rome that is about 110 acres and has a population in the 800s.
It is an "ecclesiastical" state ruled by the head of the Catholic Church-The Pope.
The points of interest within Vatican City are St. Peter's square, St. Peter's Basilica, the Vatican museums and the Sistine Chapel.
Vatican City's economy is supported by the sale of tourist items and fees for admission.
There is a dress code for entering the Basilica and the museums. Wear long pants or ladies medium length skirts/dresses and cover your shoulders.
(fyi-my first time visiting Vatican City in Rome was ten years ago so please excuse the quality of some of the photographs)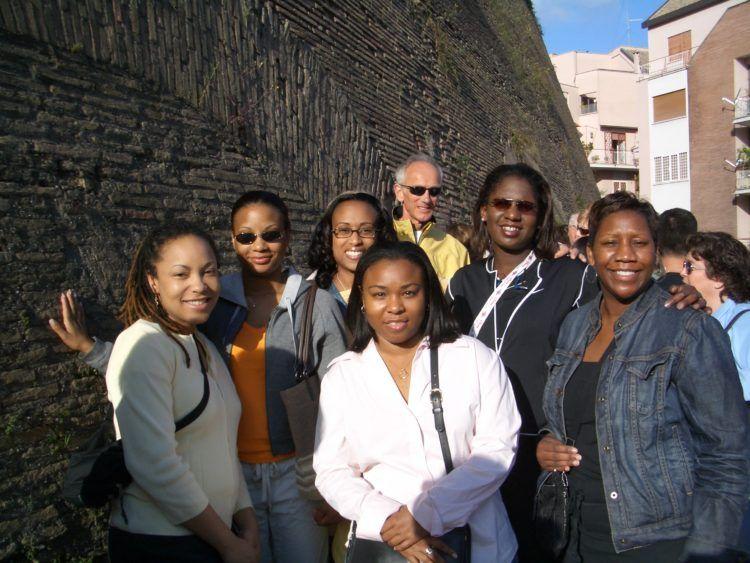 My first opportunity for visiting Vatican City in Rome came in 2005 when my friends and I planned an 8 day multi-city tour of Italy which included visiting Vatican City through Vatican tours. We were fortunate in that our Vatican tours guide had arranged our tickets in advance. I remember the wait outside the Vatican walls still being long but we were filled with anticipation and excitement! Once inside we saw massive crowds of people in St. Peter's square. There were several other Vatican tours, the guides leading groups while holding different colored umbrellas. Visiting Vatican City tip: pay attention to Vatican tours and stick with your group and guide or you will have a very difficult them finding them in Vatican City!
St. Peter's square is a large common area filled with gift shops, food vendors and yes tourists! I was also struck by the Obelisk at the center of the square. It was transported to Rome from Egypt in 37 A.D.! It is the location of the crucifixion of St. Peter and the ball on the top of the obelisk is said to contain pieces of the True Cross and ashes of Julius Caesar.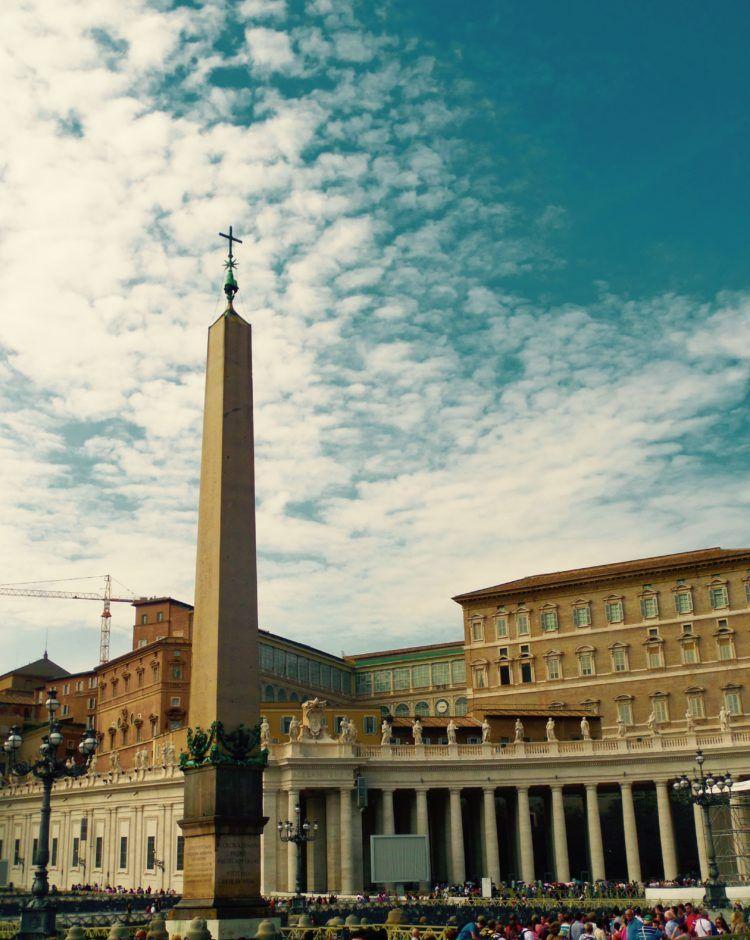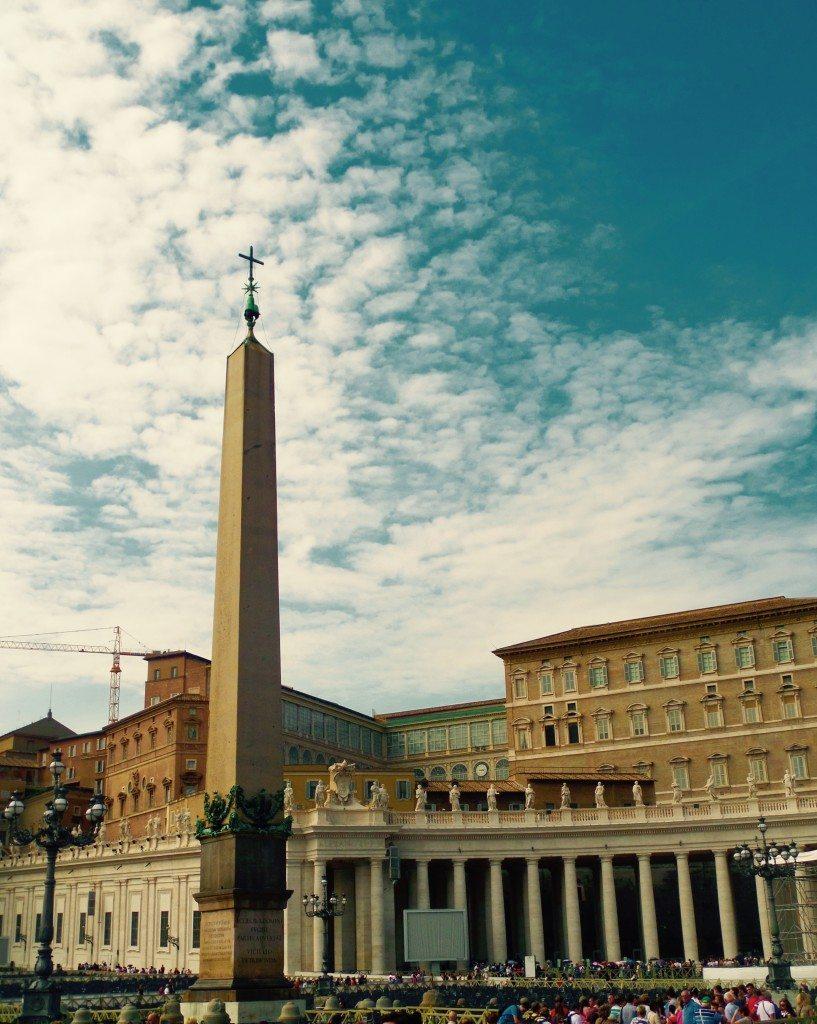 Once inside Vatican City we were escorted into St. Peter's Basilica. Most (if not all) Vatican tours include a stop at the Basilica. The Basilica is filled with religious sculptures and works of art. My favorite was the "Pieta" by Michelangelo. The Renaissance sculpture who is also responsible for the "David" statue found in Florence. He was also responsible for the design of the dome of the basilica. The Pieta is made of marble and depicts Jesus Christ lying in the lap of the Virgin Mary after the crucifixion.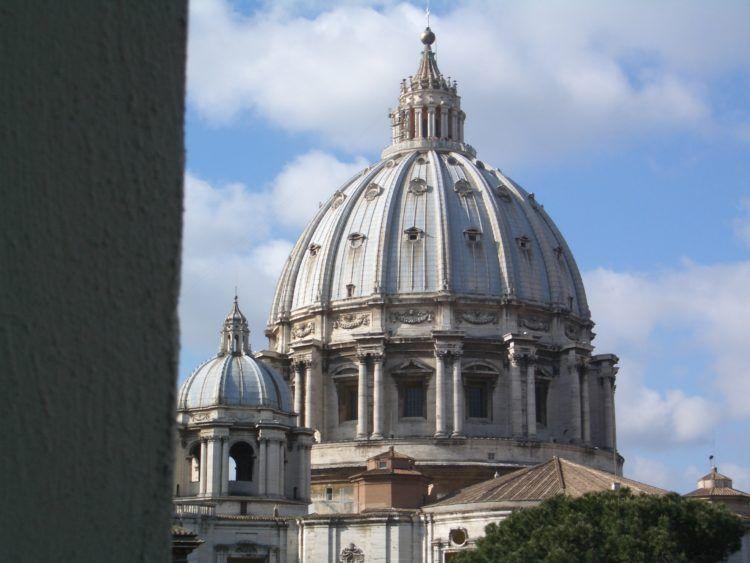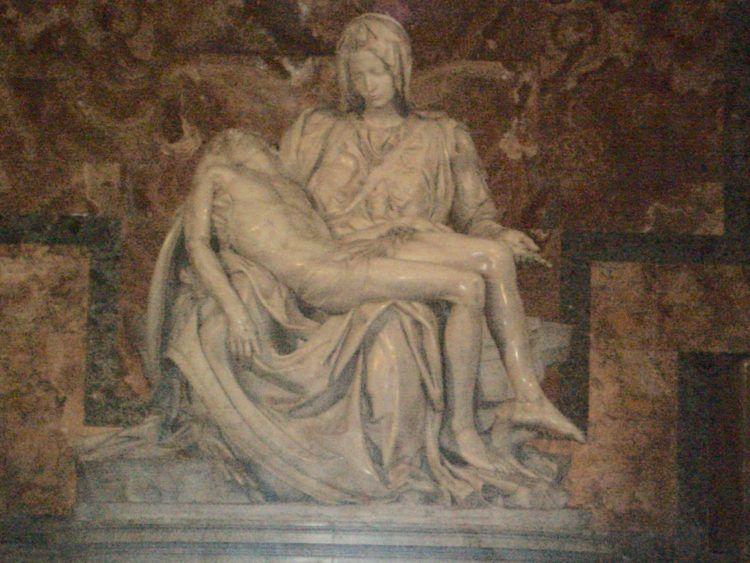 While visiting Vatican City we were led down elaborated decorated hallways and stairwells of the Vatican museums before finally entering the Sistine Chapel. The Sistine Chapel's ceiling was painted by Michelangelo and I wish I had pictures to show you but they were not allowed! (see below). The ceiling contains scenes depicting God's creation of the World, God's relationship with Mankind and Mankind's Fall from God's Grace.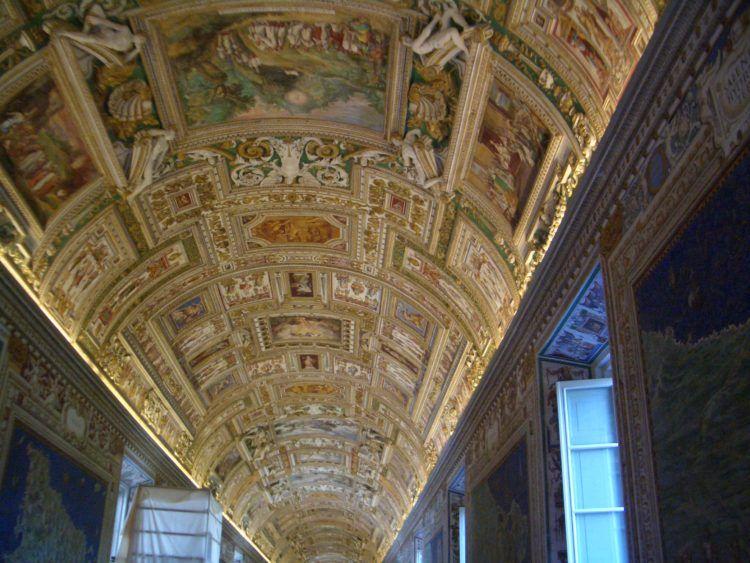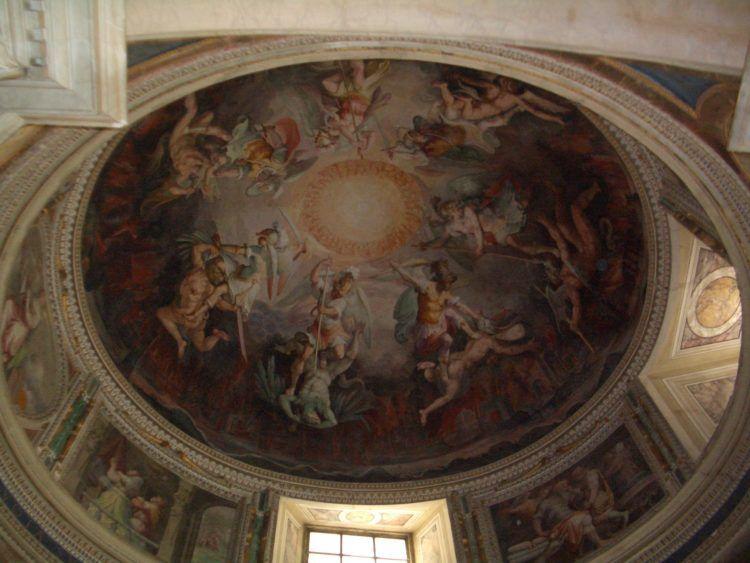 Last fall I had the opportunity to visit Rome again while on a Mediterranean Cruise. Visiting Vatican City was an excursion option (this is a different way to find Vatican tours) and I was so happy to return almost 10 years later. Although we did not have advance tickets to enter St. Peter's Basilica or the Sistine Chapel (and the line to enter was very long!), I did enjoy the Vatican tours' reminding me of the incredible history of St. Peter's square and the buildings that are included within. Be sure to visit the gift shops, eat some gelato and bask in all its glory.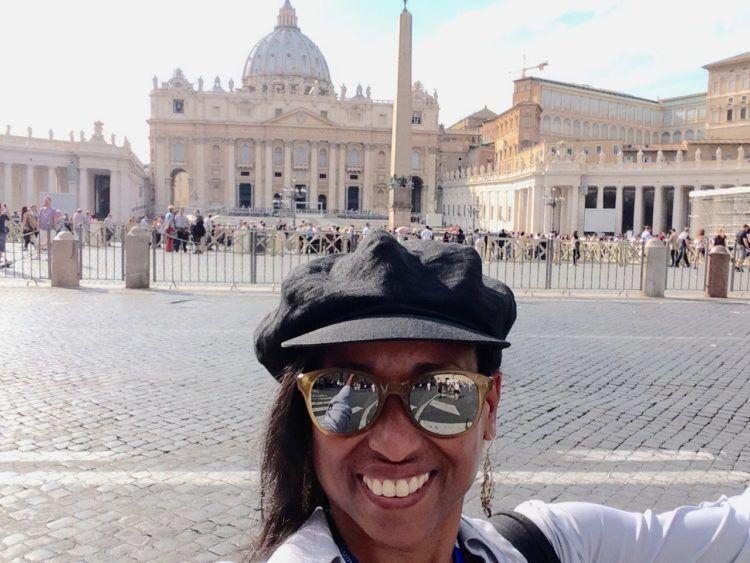 Here are a few other tips for visiting Vatican City in Rome on your own Vatican tours.
St. Peter's Basilica is closed on Wednesday mornings for papal audiences.
To catch a glimpse of the Pope be there at noon on Sundays or go to the Wednesday service. Be sure to get a ticket at least one day before. Papal appearances may vary during the winter and summer months.
The Vatican museums are closed on Sundays and holidays. It is open and free on the last Sunday of the month.
You do not need to be part of a guided tour to enter the museums or St. Peter's Basilica. However, expect to wait long hours during busy tourism months.
You are not supposed to speak while in the Sistine Chapel. Taking photos are also not allowed. The guards are watching you! Take the time you have to stare up at this ceiling in complete awe and amazement at Michelangelo's work!
I hope you have enjoyed visiting Vatican City in Rome via Vatican tours! Have you been there? Are you planning a trip there? If so click here for more information and share your thoughts with us below!
Before you go, enjoy my other post this week in honor of Easter- "Cathedrals in the World Worth Traveling To" AND stay tuned for the Good Friday post on "Easter in Rome: A Cross, the Coliseum and the Vatican"
N.S.W.