Short on time and only have one day in Milan to see everything? We're in the same boat. I'm going to be visiting Northern Italy in October on my Culinary Travel tour (which you can join!) and the first stop is Milan. Since we'll only have a day to explore the city, I decided to research the best way to spend one day in Milan.
There are so many things to do in Milan, Italy and, sadly, you can't see everything in one day. However, seeing the best of Milan in a day isn't all that difficult. I've found out that many of the most popular attractions are within walking distance of each other.
So, if you only have one day in Milan, don't worry about it. With this itinerary as a guide, get ready to experience all of the best things to do in Milan, Italy, as well as find out a few good spots to eat at.
Getting Around Milan
As I mentioned, it sounds easy to just walk to and from the most popular attractions in Milan, Italy. In general, the city is very walkable.
For spots that are further out, you can take advantage of Milan's great public transport system. They have buses, overground trams, and underground metro trains. Uber is available, too, as well as a European taxi service known as Free Now. Getting around Milan in one will be super convenient.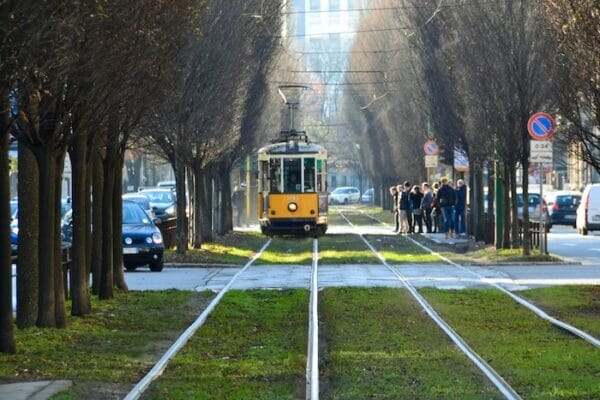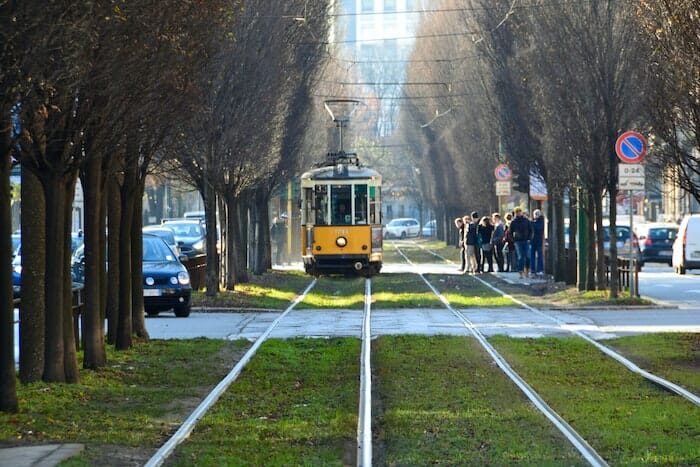 Grab Breakfast near Piazza del Duomo
If you'll be in the city early, the first stop on your Milan one-day itinerary should be a light breakfast. There are an endless amount of cafes and breakfast restaurants in Milan but Panini Durini seems to be a pretty universally good choice.
It's a sandwich shop with several locations around the city, including one that is a 5-minute walk from the first location, Piazza del Duomo. They open at 7 am and have a pretty varied breakfast menu in addition to their namesake paninis.
Tour Piazza del Duomo and the Duomo Terraces
Now, it's time to really start this one-day Milan itinerary. Of all the things to do in Milan, Italy, one truly stands out among the rest. Piazza del Duomo is Milan's main city square, containing the Duomo. Also known as the Milan Cathedral, this building is huge and intricate, having been built over the course of centuries. You have probably seen photos of the Duoma on Instagram.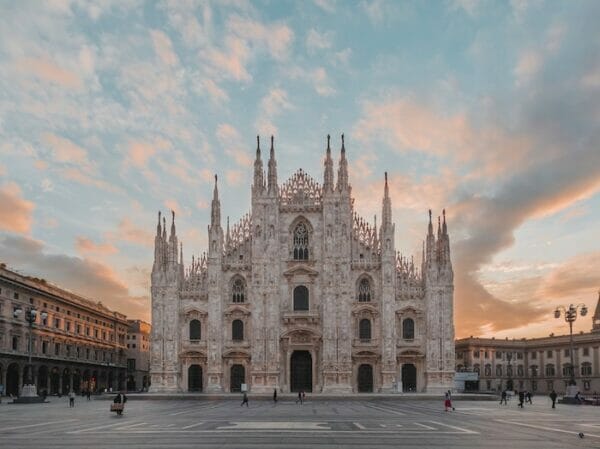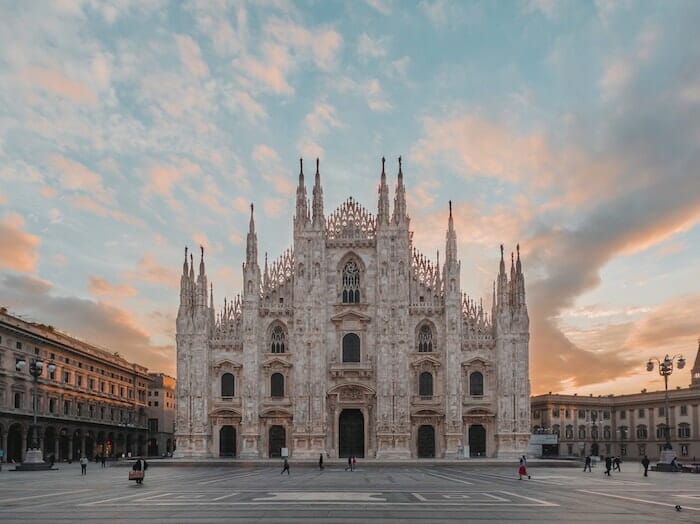 Piazza del Duomo is free to visit and, if you're visiting during peak season, expect to wait in a long line before getting into the cathedral itself. I don't usually get up early, but I will for this! Getting there early will mitigate the long wait and that is why t's the first stop on this list.
In particular, the Duomo Terraces are a must-see. The roof of the Duomo is decorated with over a hundred towers and thousands of marble statues. From up there, you can see the decorative fixtures close up, as well as get a bird's eye view of Milan.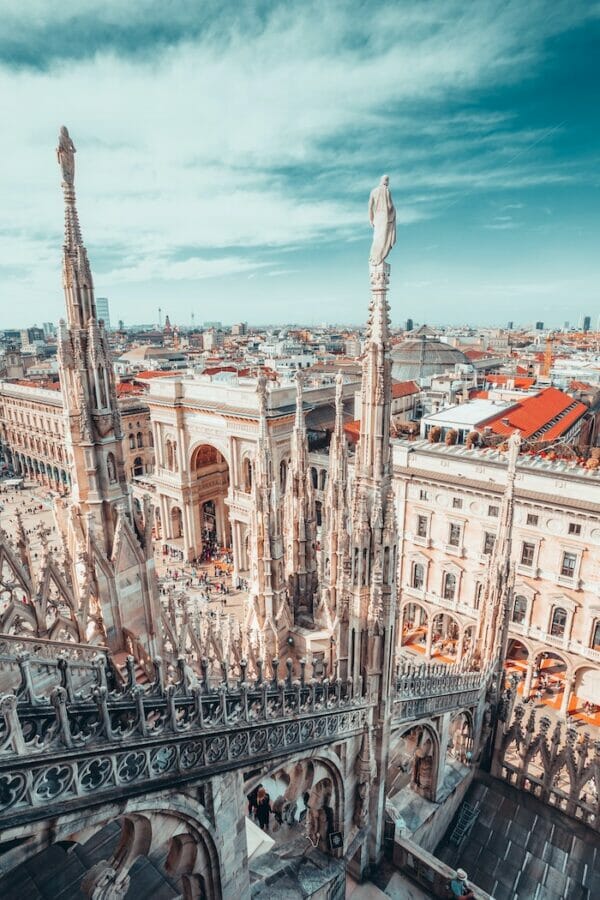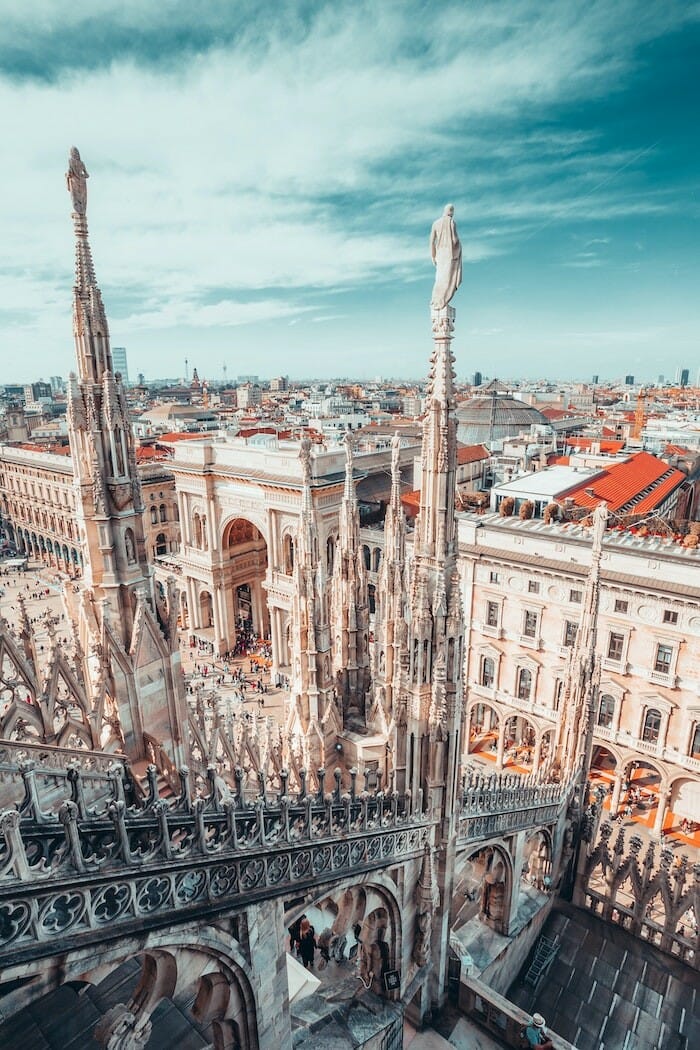 If there was only one thing I could do during my one day in Milan, it would be visiting Piazza del Duomo. If it's looking like you won't have enough time to see both the terraces and the interior, many people go for the terraces! I am still in awe of how people made these architectural pieces with limited or no engineering equipment!
Walk Through Galleria Vittorio Emanuele II
Right next to the Duomo, you'll find Milan's second-most popular attraction: Galleria Vittorio Emanuele II. It is the oldest active shopping gallery in all of Italy and is home to luxury brands such as Prada, Gucci, and Versace.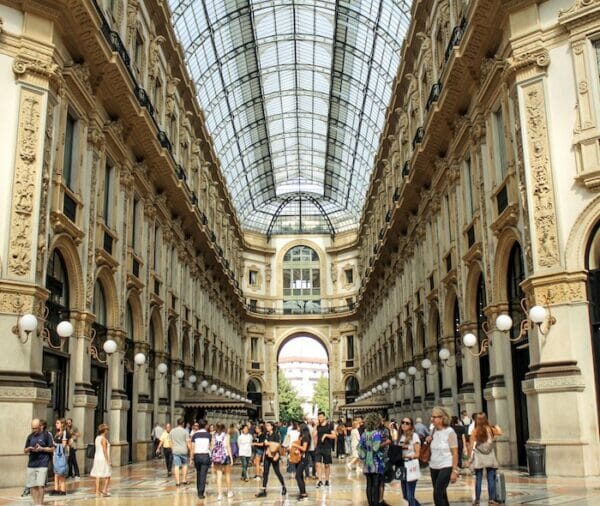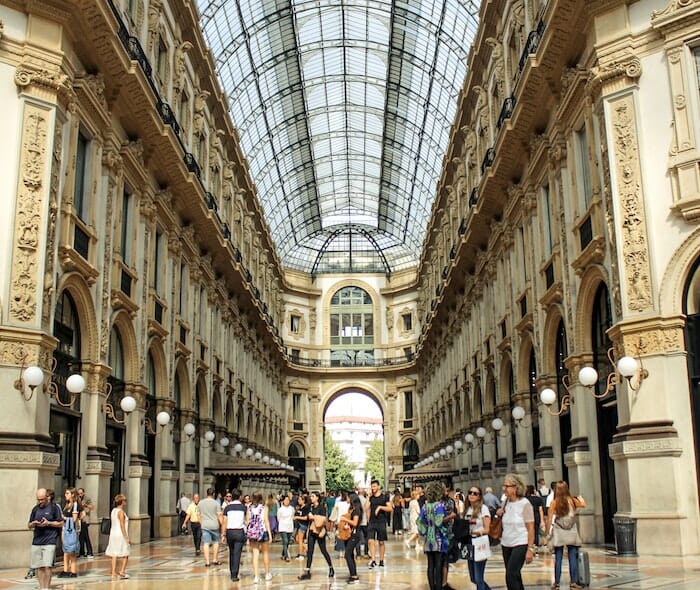 Whether or not you buy anything from the stores here, take a few minutes out of your one day in Milan to just to walk around and appreciate the architecture and ambience. The Galleria has a glass dome roof, a mosaic tile floor, and very detailed designs on the walls. I am not a big shopper on vacation but this place looks amazing!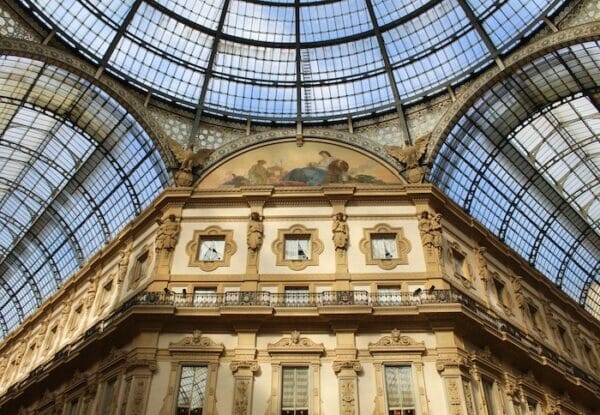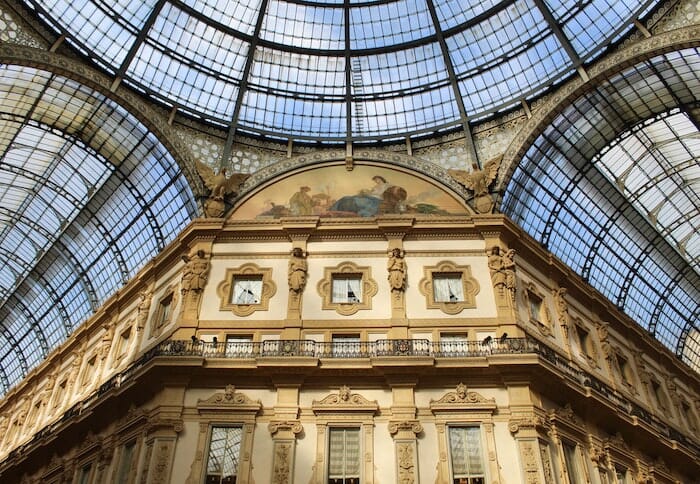 Visit Piazza della Scala
Since I'm trying to see Milan in a day, I was delighted to find out that another popular attraction is just beside the last one!
The path that runs through the Galleria takes you right to Piazza della Scala. It's an impressive square right in the center of the city. Within the square is the La Scala Opera House, which has a statue of Leonardo Da Vinci.
If you're a fan of theater and you're able to score some tickets in advance, you could replace one of the later items on this list with a second visit in the afternoon to see an opera. If there is no show going on, you might be able to take a tour of the interior.
See The Last Supper or San Maurizio al Monastero Maggiore
After you've seen his statue, why not go see one of Leonardo Da Vinci's most famous paintings? The Last Supper is housed in Santa Maria delle Grazie, a convent about a 20-minute walk from Piazza della Scala. You can also use one of the many public transportation options to get there.
Viewing The Last Supper is something everyone should try to do when exploring Milan in a day. Actually getting to see it can be a struggle, though. Tickets sell out months in advance and the skip-the-line tours aren't cheap. I had no idea the Last Supper was near Milan! I will make every effort to see it and report back.
If that's not a possibility, there are still so many amazing things to do in Milan, Italy. Use the time to visit San Maurizio al Monastero Maggiore. This 16th-century church might look a bit plain on the outside, but apparently it is a whole different world when you step inside. It's known as "the Sistine Chapel of Milan," thanks to its intricate religious frescoes.
Head to the Brera District for Lunch
Whether you got breakfast or not, you'll definitely need some lunch to recharge for the second half of this Milan one-day itinerary! Brera has a different vibe from the places you'll have seen so far. It's a bit quainter and rustic.
There are lots of restaurants and cafes here, any of which should make a good lunch stop. La Prosciutteria has a fine selection of meats, cheeses, and wines for you to indulge in. Another option is Fresco & Cimmino, a pizzeria near Duomo and Galleria which has great reviews.
If you're good on time, you can make a quick visit to the Pinacoteca di Brera gallery or the Museo Astronomico, before moving on to the next location.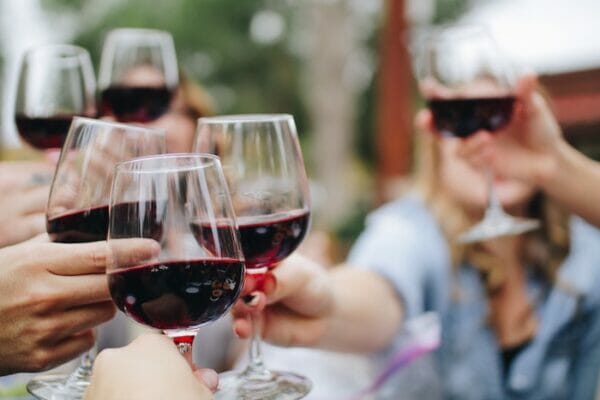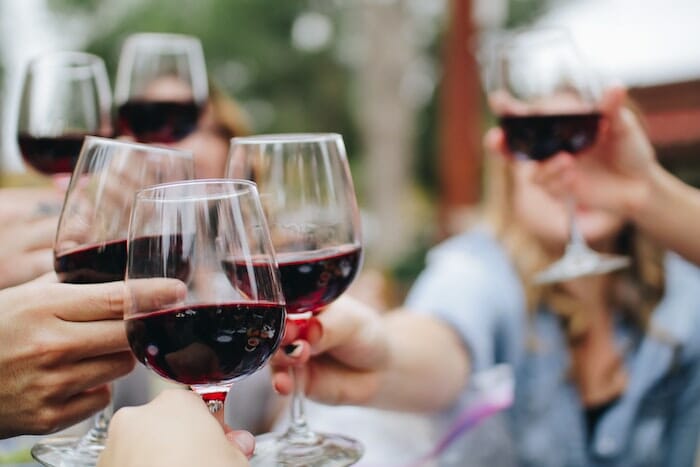 Marvel at Castello Sforzesco
Going back in the direction of the Duomo, the next stop on this Milan one-day itinerary is Castello Sforzesco. This lavish castle was built in the 14th century. It houses several museums where you can learn about the history of Milan and the noble dynasty that lived here.
Also in the museums, you'll find the last sculpture that Michelangelo ever worked on. It's called Rondanini Pietà. Unfortunately, Michelangelo died at 88 before he could complete it.
There is a small admission fee for the museums but, if you're visiting on a Tuesday, then you're in luck. On Tuesdays, they're free after 2 pm!
Wind Down at Sempione Park and Arco della Pace
Right by Castello Sforzesco is Sempione Park. This is a perfect place to catch your breath before the last stop of your Milan one-day itinerary. Sempione Park is the largest park in Milan and it was designed in the style of English gardens. The park is lush and well-manicured, with lots of pretty flowers during spring and summer.
While walking across the park, you'll end up at Arco della Pace. This impressive archway was built during Napoleon I's reign. I've heard that it's stunning and definitely worth seeing!
Have an Aperitivo and Dinner in the Navigli District
The last stop on your one-day Milan itinerary is the Navigli district. It's also the only stop that isn't within walking distance, though you can easily take a cab, bus, tram, or train to get there.
There is a gorgeous canal here, lined with bars and eateries on either side. It's the perfect place for a sunset stroll, as well as an aperitivo.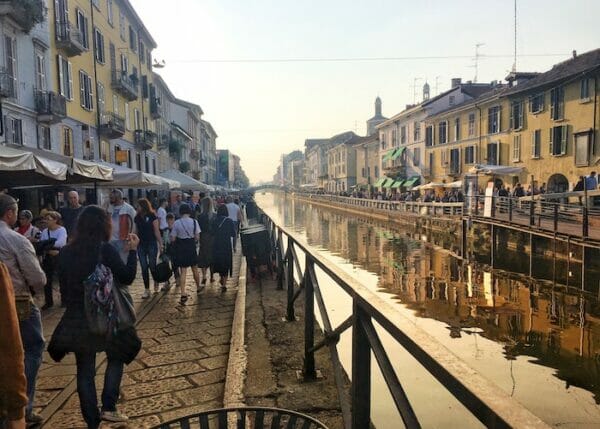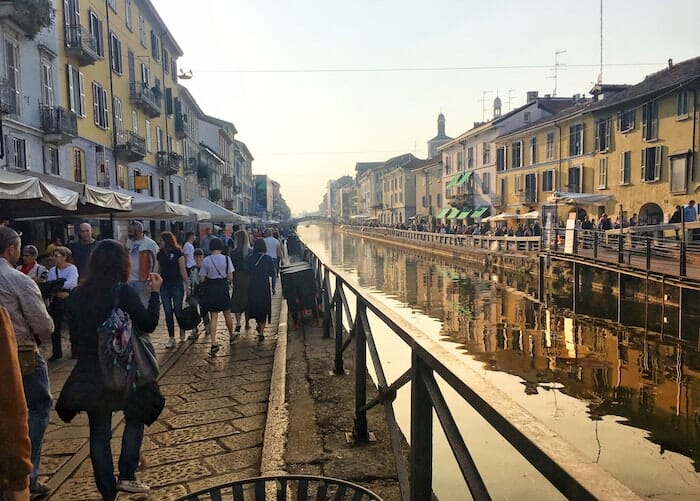 An aperitivo is a drink meant to stimulate the appetite before dinner. Bars and restaurants in Milan typically offer aperitivi (plural for aperitivo) between 6 and 9 pm. It's a very common tradition all throughout the city. You can experience this and other Italian food and wine customs on my Culinary Travels tour!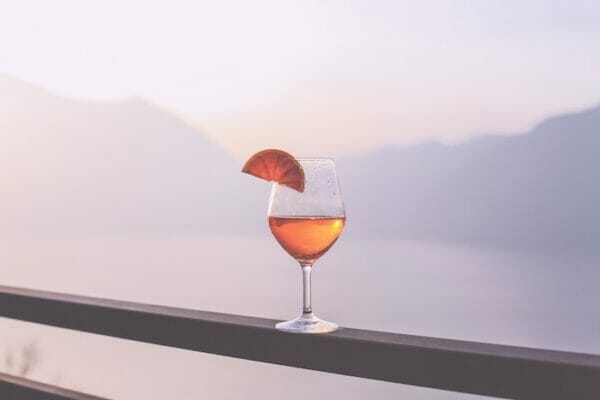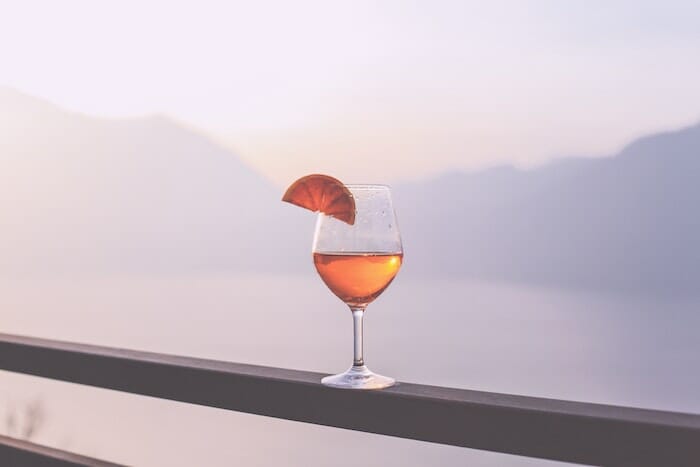 Navigli has its fair share of good and bad bars but UGO is known to be one of the best in the area for aperitivi. For dinner, after stimulating the appetite, I think I'll head over to Osteria Del Binari. This elegant restaurant serves traditional Milanese cuisine, including cotoletta alla milanese (breaded veal cutlet), ossobuco (braised veal shanks), and mondeghili (Milan-style meatballs). I do not eat veal, but the meatballs sound yummy! There's no better way to end a one-day Milan itinerary than with a full stomach!
I am so excited! I have been to Italy twice from North to South but I have not visited Milan! Our tour in October is also going to Turin-known for chocolate so there is an optional chocolate making class, a side trip to Alba to go truffle hunting, Bologna where we will be doing a pasta making class, Verona where we will be doing wine tasting and staying in a villa in the countryside and ending in Venice with among other things-a Prosecco tasting! If interested, complete this interest form and you will receive the full itinerary and booking information! I hope to see you in Italy! And do not forget to sign up for the newsletter!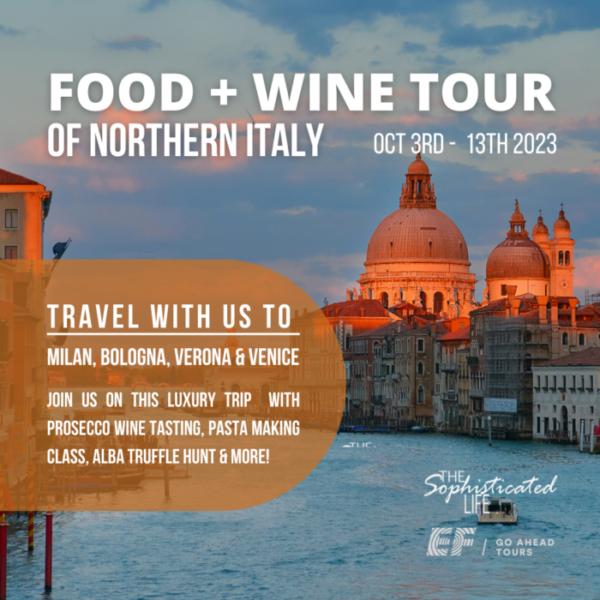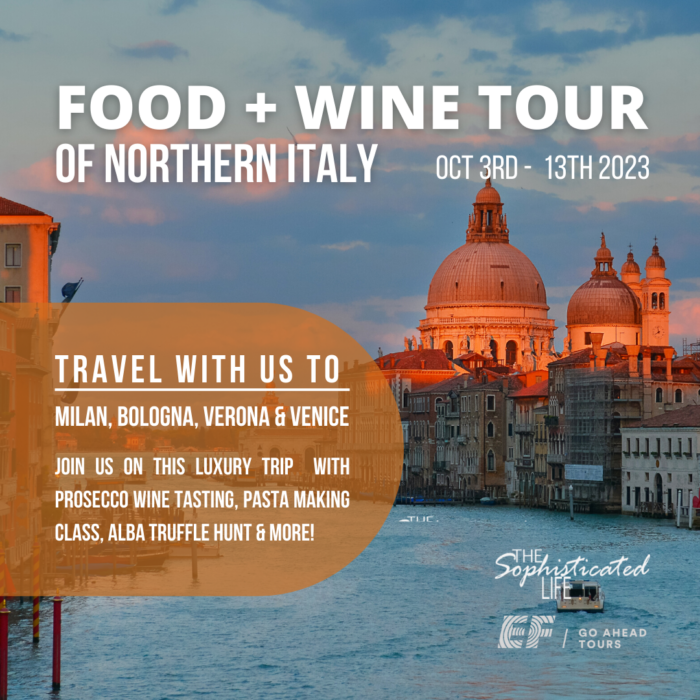 Photos courtesy of Unsplash.com