Millions of people make trips to Venice each year and I'm excited to be one of them in 2023! During my 1st trip to Europe in 2005 I visited Venice as part of a group trip to Italy. It was AMAZING and so unique! I am thrilled to return as part of Culinary Travels. I have put together a small group tour to Italy for October of this year. It includes time to experience all the best things to do in Venice, Italy.
Venice is a fairly compact city and it's chock full of amazing attractions. From winding canals and historic landmarks to down-to-earth markets and delectable food, here are the sites and activities that have piqued my interest.
Go Across and Along the Grand Canal
Venice is made up of 118 islands, with canals between and all throughout them. The biggest and most famous one is the Grand Canal or Canal Grande, in Italian. It is 2 miles long and goes from one side of Venice to the other, weaving through the city in an 'S' shape. On my first visit it was hard to imagine that there are no cars in Venice. But it is true! People get around by walking or in boats.
For hundreds of years, The Grand Canal has been a fixture of the city that's equal parts useful and beautiful. Needless to say, walking across and sailing on the Grand Canal are two of the top things to do in Venice, Italy.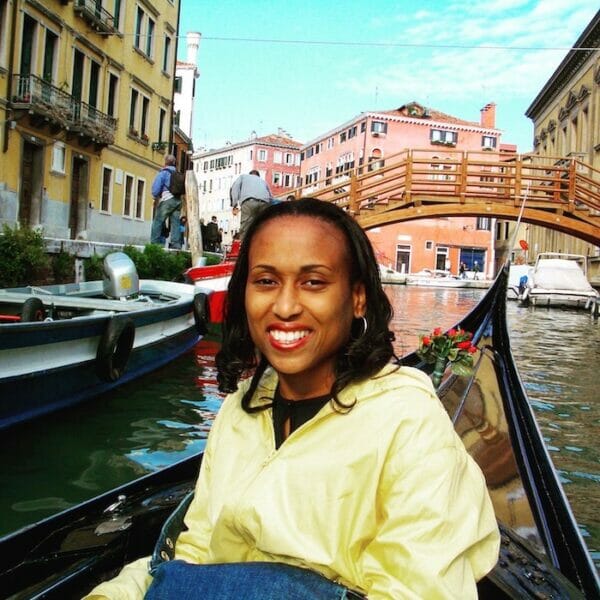 Walk Across the Rialto Bridge
The Grand Canal has four bridges that go across it. They are Ponte degli Scalzi, Ponte dell'Accademia, Ponte della Costituzione, and Ponte di Rialto.
The one that interests me the most is Ponte di Rialto or Rialto Bridge. Not only is it close to one of our sightseeing stops (Rialto Market), it also has the most history out of all the bridges. It was first built in 1181, but it kept collapsing and being rebuilt for centuries.
In 1588, the bridge's final form was completed and it has held up ever since. The views of and from the bridge are amazing, especially seeing the gondolas and boats pass underneath. Walking along this bridge is no doubt one of the best things to do in Venice, Italy.
Ride a Gondola or Vaporetto
The bridges of the Grand Canal are attractions in their own right but most people go along the canal rather than across it.
This is possibly the most touristy thing someone could do in Venice, but riding a gondola along the Grand Canal is a must-do! I did it on my first trip, but we did not make it onto the Grand Canal. This time I want to. You could also opt for a water taxi or an official Venice water bus, the Vaporetto.
The water taxis are more expensive. The water buses are a very popular form of public transport and offer an authentic experience of riding along the Grand Canal.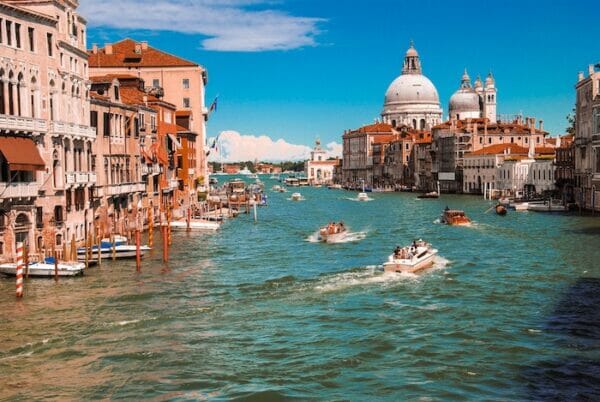 Tour Iconic and Historic Landmarks
Venice was founded in 421 A.D. and has only grown since then. Much of the culture has become modernized but the rich history is still on display, waiting to be explored on Venice tours. Here are the historic Venice tourist attractions I'm most excited to see again.
St. Mark's Square and St. Mark's Basilica
St. Mark's Square is the largest and most iconic piazza in the city. It's a must-see for any trips to Venice. Many of the most important buildings in Venice are located around this piazza. Look out for all the pigeons!
The main attraction here is St. Mark's Basilica or Basilica di San Marco. This cathedral is one of the oldest buildings still standing in Venice; it was built in the 800s.
Both the exterior and interior are stunning, but the latter is really breathtaking. Nearly the whole cathedral is filled with mosaics that were done over the course of several centuries. The highlight is the gold, gem-encrusted altar screen known as the Pala d'Oro.
Interestingly, St. Mark's Basilica didn't always have cathedral status. First, it was the chapel of Doge's Palace.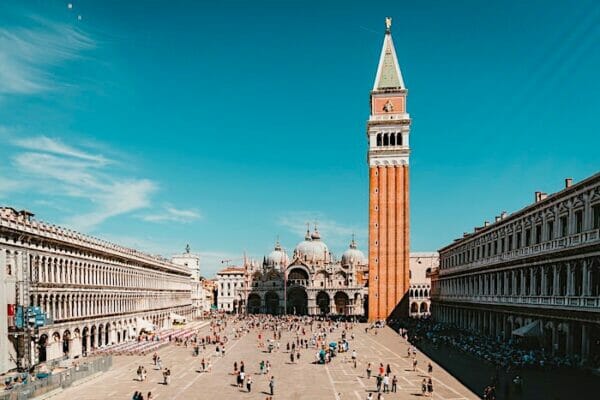 Doge's Palace
Doge's Palace is also in St. Mark's Square, just beside the Basilica. Known in Italian as Palazzo Ducale, this is one of the most historically significant buildings in the city.
Venice was a republic for over 1,000 years, 900 of which had the Doge's Palace at its heart. It was where the Doge of Venice, the republic's supreme authority, lived. As you can imagine, it was an extremely opulent building. It still is, actually!
Doge's Palace is now a museum and one of the top Venice tourist attractions. The rooms have been very well preserved with their original designs, art pieces, and even furniture.
Bridge of Sighs
If the canals are the first thing people notice on trips to Venice, the bridges are probably the second. The city is full of them! One of the most famous bridges is the Bridge of Sighs. If the name sounds ominous, that's because it is.
Doge's Palace was the Doge's home but this huge building had many other functions, too. It also housed prisons, which were connected to the main area of the palace by the Bridge of Sighs. The English name of the bridge comes from the Italian translation of "Ponte dei sospiri". The translation meaning that prisoners would sigh as they took their final view of Venice thru the bridge's window before being taken to their cell. Prisoners would get their last glimpse of the city before being locked up or even executed.
You can walk across the bridge and see what the somber view was like for yourself. The bridge can also be viewed from outside of the palace, by walking along a promenade known as Riva degli Schiavoni.
Although the Bridge of Sighs has this doom and gloom history, kissing in a gondola ride under the Bridge of Sighs is considered one of the most romantic things to do in Venice!
All of the above will be part of our 10-day Culinary Travels tour to Northern Italy in October with EF Go Ahead Tours with an optional Grand Canal Cruise!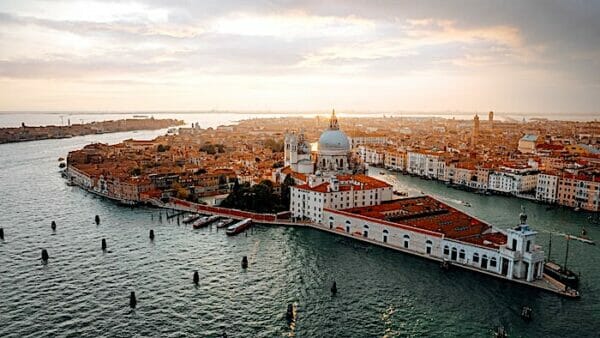 Browse Marketplaces and Shops
One of the best things to do in Venice, Italy is to go to the shops and markets. I'm not talking about picking up generic souvenirs, though. There are so many places around the city where you can shop while also being engrossed in the local culture.
Rialto Market
No Venice tours are complete without a visit to the Rialto Market. It's right by the Rialto Bridge and has been a trading hub for more than a millennium.
You can find a bit of everything here at the market but it is most famous for its seafood and vegetable stands. Since Venice is made up of islands; it makes sense that seafood is a big thing here. I still recall having fresh grilled fish in Venice. There were no heavy red sauce pasta dishes like in Southern Italy.
You can go here to just explore and enjoy the atmosphere, sampling some of the foods along the way.
Glass Blowing Shops in Venice & Murano
Like everything in Venice, the history of glass blowing goes way back. The first evidence of glass kilns in the area was found dating back to the 8th century.
You can buy glass products and art pieces made this way anywhere around Venice. During our Culinary Travels tour there will be a glass blowing demonstration.
The center of the glass blowing industry, however, is Murano. Murano is made up of several small islands within Venice. It's typically not as busy as the city of Venice itself, so it's a nice break from the usual Venice tourist attractions. You can take public or private water taxis to Murano.
You can also take a ferry to Burano which is known for lace and colorful houses. I am sure you have seen picturesque photos of Burano on Instagram. We took the ferry to Burano in 2005 but it is 45 minutes so plan accordingly!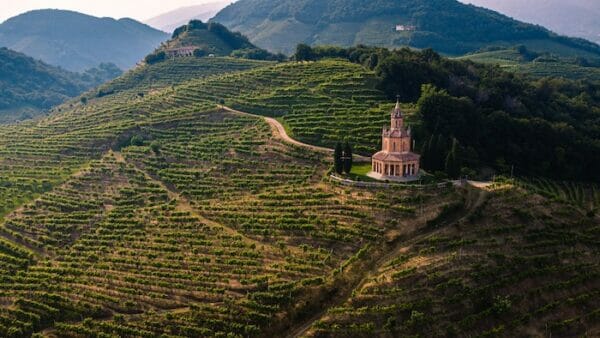 Indulge in Traditional Venetian Food
Venice tours take you all around the city and you'll be sure to work up an appetite. Besides, trips to Venice wouldn't be complete without tasting the local fare. Every Italian city and region has its own traditional cuisine. As mentioned above, Venetian food is typically very seafood focused.
La Caravella
Nestled in one of the side streets, La Caravella is a fairly popular restaurant. The interior is stylish and romantic, with outdoor seating in the garden. They have a huge wine list, which includes regional favorites such as Prosecco, a sparkling white wine. Did you know Prosecco was from this area? During our Northern Italy tour we will be stopping in the Province of Treviso for a Prosecco tasting!
You can enjoy a wide range of Italian food here, but traditional Venetian cuisine is the star of the menu. They serve a spaghetti dish with spider crab, known as granseola. This shellfish is immensely popular in the city, and La Caravella serves it with its roe, or "coral." You can also try out their fegato alla veneziana (Venetian-style liver), which consists of liver cooked with onion. I will NOT be trying this one. I have PTSD from my Jamaican Grandmother trying to get me to eat liver and onions as a child. lol
Ostaria Boccadoro
Ostaria Boccadora is a rustic, farm-to-table restaurant that serves an innovative take on Venetian cuisine. Most of their wines are local to the Veneto region. A must-try is Venissa, a white wine from a vineyard in the Venetian Lagoon.
Like La Caravella, they serve spider crab with a few dishes. One is granseola alla veneziana (or Venetian-style spider crab), consisting of cooked and cut-up crab meat that is then returned to the shell for serving. Sarde in saor consists of fried sardine filets in a sweet and sour marinade/ It's one of the most popular dishes in the area. Hmmmmm….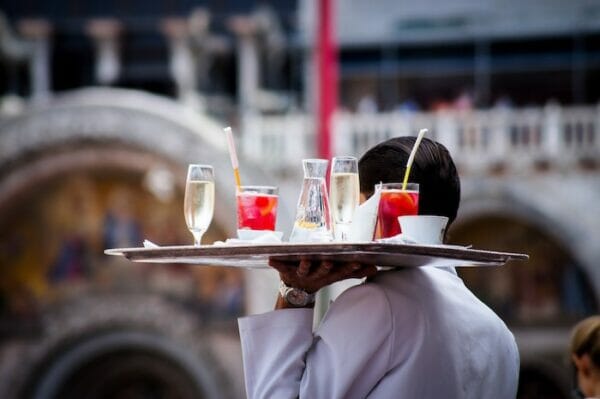 Cantina Do Spade
For a more casual dining option, consider going to a bacaro. Bacaros are small, Venetian taverns or wine bars. At these establishments, wine is called "ombra," which means "shadow." They're also a good bet for a place to enjoy cicchetti. These are snacks and small meals in Venetian cuisine.
Cantina Do Spade is a bacaro with a relatively small menu that is jam-packed with traditional Venetian cicchetti. One is baccalà mantecato con polenta, which is creamed cod served with cornmeal porridge. They also serve a few dishes that are more substantial, such as spaghetti al nero di seppia (spaghetti with cuttlefish ink) and bigoli (buckwheat pasta) in salsa.
As you can see, there is no shortage of Venice tourist attractions!
I have been to Italy twice from North to South and I am so excited to return to Venice! It will be the Grand Finale to our 10-day Northern Italy Tour. Our tour in October is also going to Turin-known for chocolate so there is an optional chocolate making class, a side trip to Alba to go truffle hunting, Bologna where we will be doing a pasta making class, Verona where we will be doing wine tasting and staying in a villa in the countryside and ending in Venice. If interested, complete this interest form and you will receive the full itinerary and booking information! I hope to see you in Italy! And do not forget to sign up for the newsletter!
View this post on Instagram
I can't wait to share my own pictures with you after my trip. Until then thanks to Unsplash.com for these beautiful food and Venice pics.