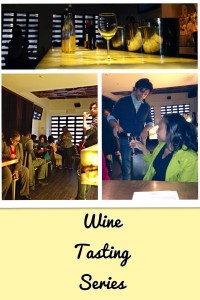 Wine Tasting Series: African American Wine Tasting Society.
Welcome to the first in a series of posts about one of my favorite past times-wine tasting!  Ideally I would like to go back to Napa Valley or Italy or Spain for wine tasting but since that is not possible :-), I decided to start a fun mission to find the best wine tasting locations here in Atlanta! Even though I will be perusing my city for the best wine tasting experiences, I plan to share everything I learn about the wines, tastes and pricing therefore my readers can learn along with me. You will then be able to try the wines on your own and even purchase online.  And of course if you are ever in Atlanta be sure to try one of these locations for wine tasting fun!
My first wine tasting experience was with the African American Wine Tasting Society, Inc (AAWTS)  at the Buckhead Bottle Bar and Bistro. I found the group through an online social network called " Meet Up". For those of you not familiar with Meet Up- they have groups for almost anything you may be interested in and located in most major cities.  The wide range of groups include wine tasting groups, groups for movie lovers, art enthusiasts, singles looking for love, to black women who meet monthly for brunch. Joining groups are free with a fee for some events. There is even an app!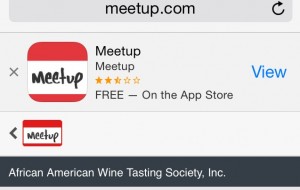 AAWTS was founded 12 years ago and meets the last Tuesday of every month at various locations in Atlanta and the surrounding suburbs. There is a no cost to attend the monthly events for members who have paid their annual dues and a minimal cost for nonmembers of $20 to sample about 6 wines. It is a coed group although at this event there were mostly women and less yuppie more mature in terms of age.
I arrived 15 minutes late due to Atlanta traffic.(for those of you who live here I am sure you understand!) Guests had started on their first tasting of a Rose and by the time I asked around for a glass then asked the server for a sample he told me there was no more left due to the unexpected size of attendees. Not a good sign!  We ended up tasting 5 others wines and my favorites were both red wine blends-Walden and Grenache. Both of which are medium bodied red wines that pair well with meat dishes.  Most brands in these categories average $15-$30 a bottle.  We did not sample the 7th and last wine  on our sheet since the server stated he did not know it was going to be on the list.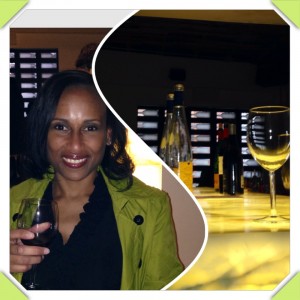 Although the attendees at our table were pleasant, I was not fond of the location. The service at Buckhead Bottle Bar& Bistro was slow with only 1 waitress available for several tables. We went through the entire tasting without receiving our food orders. The manager later apologized stating they were short staffed a chef and a waitress.  I was so distracted by my hunger, the poor service, the fact that the server did not have all the wines listed and was going out of order that is was hard to take proper notes and thoroughly enjoy this wine tasting event.
However, since I did like the organizer Pam and the attendees, I do plan to attend more of their monthly wine tastings. The founder of the group, Renee Rowe, owns her own wine shop in Smyrna called The Wine Cellars. It was voted by Gayot as one of the top 10 Atlanta wine bars for 2014 and winner of the best wine shop in Smyrna/Vinings for the past 4 years. They offer wine tastings of 5-6 wins on Saturdays from 2-4pm for $5 or free with a $10 or more purchase. For this deal and since I like to support black owned businesses, I definitely plan  to make the OTP drive ( outside the perimeter of Atlanta ie the burbs)  to The Wine Cellars!  Follow along with me as I continue my journey through Atlanta for the best wine tasting places in town! If you have a favorite wine shop or bar in Atlanta or your city please share with us!
N.S.W.