For Foodies: Nadeen's Current Atlanta Restaurant Picks! Part 1-Upscale Eateries.
Anyone who knows me knows I love to eat. And not just the same things all the time but different things anytime. Since traveling the world at a moment's notice and eating fresh local cuisines is a dream not yet realized, I am lucky to live in a metropolitan city that offers me a wide variety of choices to quench my international palate. Many people may think of Atlanta as being home to mostly Southern cuisine but do not be fooled.  Having lived in the NYC, Washington DC, and Miami areas, I have been amazed and inspired by the culinary scene here. At the time of my first article on the Atlanta food scene I was fairly new to the city. Therefore, I asked resident foodies their opinions of their favorite eating establishments. That article was entitled Atlanta Favorites.
But, for this article, after being on the prowl for 1 ½ years in search of the best this city has to offer, I have decided to write my own thoughts on my current favorites. I think you will find something to tempt and satisfy your own palates. The first part of this series will focus on upscale eateries. Be sure to follow along in Part 2, 3 and 4 as I discuss International Flavors, Brunch, and Comfort foods!
Upscale Eateries
King+Duke.
If you live in Atlanta you have probably heard of chef and restaurateur Ford Fry. If you have not, you have probably eaten at one of his many fabulous restaurants here including The Optimist that was voted one of the best new restaurants in America in 2013, JCT Kitchen&Bar, No.246 and his newest addition St.Cecilia. King+Duke was one of the most talked about openings last year and before I was able to get dine there I was able to sample a lunch bag at their pop up in West Midtown last summer. It included a smoked turkey sandwich on multigrain bread with spicy mayo, their crispy potato chips and a watermelon punch with fresh watermelon. DELICIOUS! (And I don't even like watermelon). The restaurant itself, located in Buckhead, reminded me of The Optimist. Chic but warm and cozy at the same time. There is a front lounge area, a long bar which overlooks a 24 foot open hearth, which is the restaurant's centerpiece, and both indoor and outdoor seating. I personally cannot wait to go back in the summertime since there is a large outdoor area with several bars and as much seating as the indoor space.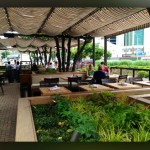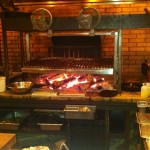 The menu is based on characters in Mark Twain's "The Adventures of Huckleberry Finn". The food is cooked over the open fire and the menu changes seasonally. I have been to King+Duke twice and it's great for both drinks with your girlfriends in the lounge area or at the bar and for a romantic date with that special someone. First of all, I thought the drinks were very unique and so did my dining companions to the point of us trying to take pictures of the ingredients! The food menu has traditional items such as trout, chicken and lamb but also roasted bone marrow, rabbit and liver toast!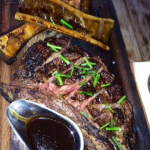 For meat lovers try "The King" a dry-aged, bone-in ribeye. In addition, there are vegetarian options such as wood roasted vegetables and grilled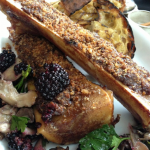 eggplant. Also, for those that like to celebrity watch, this is a known hot spot in the city. I was actually eating there the same night as the actress Jessica Alba but had no idea until I had left the restaurant!
No.246
Ahhhhh "il suo romantic". It's so romantic! No.246 is located in downtown Decatur named after the plot of land on which the restaurant sits-dating back to the 1900s! The restaurant specializes in blending local products and seasonal ingredients with the culinary techniques of Italy. The interior is a gorgeous contemporary design. The Chef's counter in particular had been recommended to me by a coworker for quite some time and I decided to finally try it with my boyfriend for our 1 year anniversary. Although she had described being seated there several times with another couple, we had the entire area to ourselves.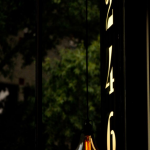 The chef's counter consists of a five course tasting menu overlooking the open hearth and costs $50 per person. Once we sat at the counter, the chef introduced himself and asked if we had any dietary restrictions. He informed us that their pasta is made on site (nice) and tastings would include many fall flavors based on their seasonal menu and ingredients. For the chef's counter there was no menu to choose from and no waitress to wait for since we had our own server that frequented our counter.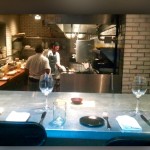 We were able to watch most of the dishes being prepared and as they were served the chef and sous chef described each meal and their ingredients. The prawns, the homemade pasta, the pumpkin ravioli… these were not "tastings" people! I was quite full by the third dish!! But of course I still had to eat the decadent dessert since it consisted of an Italian chocolate mousse. My meal ended with a piping hot cappuccino. Perfection. I highly suggest you treat yourself to a chef's counter experience, specifically at No.246.
BLT Steak.
Bistro Laurent Tourondel Steak is located in the W Atlanta Downtown and Chef Tourondel is behind the helm of this American steakhouse. The website describes "BLT Steak integrates traditional elements of the French bistro with an American steakhouse…" It also has a full raw bar. I had heard mixed reviews about BLT steak and as a Yelper (someone who heavily relies on my Yelp app for choosing everything from restaurants to nail salons) I was a bit skeptical since it only has a 3 ½/5 star ranking. But, since I was staying at The W hotel for New Years Eve I decided to give it a try and was pleasantly surprised. The prices are typical for most steakhouses in the area and of course everything is a la carte. The bread was original- large fluffy "poppers" as they are called served with sea salt and butter. My appetizer was my favorite course-a lobster cobb salad filled with large plentiful juicy chunks of lobster as in they were not stingy with the portions of lobster.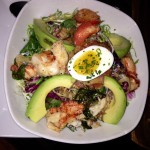 My steak, ordered medium well was more medium (even though it had a little flag sticking out of it indicating it was supposed to be cooked to medium well).  However, before I could even mention it to my waitress, a manager walked by asking how we were doing. I mentioned the steak, he took one look at it and told me I would not be charged and offered to have a new one done.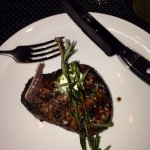 Good service-always a plus. The sides of grits with gorgonzola and sautéed mushrooms were also very tasty. The meal ended with  cheesecake served with fruit flavored sorbet, a new and different delicious twist, as well as complimentary chocolate petit fours. All in all it was a pleasant experience. If you are in the downtown Atlanta area and looking for an upscale steakhouse experience, give BLT steak a try.
South City Kitchen
This has become one of my favorite restaurants in the area and is a perfect place to take out of towners for an upscale southern meal in the heart of midtown. There is also a location in the suburbs in Smyrna. Celebrities are known to frequent here as well  so again if you are into that-be on the look out! Barry Manilow was actually standing behind me at my table once but I didn't know he was there. OK, back to the food. It is hot, flavorful and filling!. They have traditional favorites such as fried chicken, shrimp and grits and fried green tomatoes but also have nightly specials of seasonal items.
My personally favorite is their whole trout served with spicy collard greens. And before your meal even arrives you are greeted with a warm basket of corn bread and biscuits with butter.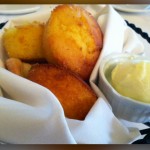 Of course for dessert you have choices such as warm pecan pie with vanilla ice cream or bread pudding. The restaurant stays packed even on weekdays so I suggest reservations unless you are willing to eat at the bar or outside patio area.
So what's next for me on my list? From "the list" of restaurants that I started on my phone prior to even moving here that keeps getting longer?!! I have heard Bones steakhouse in Buckhead is a must, Cakes& Ale in Decatur, Kevin Gillespie's Gunshow, the supper club Pushstart Kitchen turned restaurant- Better Half.
Have you been to any of the above establishments? Tell us your thoughts! What is your favorite upscale eatery in Atlanta? Stay tuned for my review of the above and for Part 2 in this series-International Flavors.