Welcome back to Black Travel Love: Couples Who Travel Together! (Part II) In honor of celebrating Valentine's Day and Black History Month in February, I decided to feature black couples, like my husband and I, who enjoy traveling together. These couples share with us their favorite travel destinations and give great travel advice! Be sure to read my introduction in Part I. It explains my inspiration for this series including The Negro Motorist Green Book AND it features other amazing black travel couples.
Now on to these fabulous couples! I asked them 4 questions:
How long have you been dating, engaged or married?
When did you discover you both had a love for travel?
Name 2-3 of your favorite travel destinations and why they are your favorites.
What travel advice or tips would you give to other couples?
Adrian and Crystal:
1. Crystal and I have been married for 9 wonderful years with our 10th Anniversary milestone in view on September 1st.  To me our marriage is the best vacation ever and I look forward to the future endeavors to come.
2. Honestly, we discovered it from the gate during our dating period.  Our first travel location was Aruba while dating. It turned out to be our wedding destination and mini vacation for our family and friends.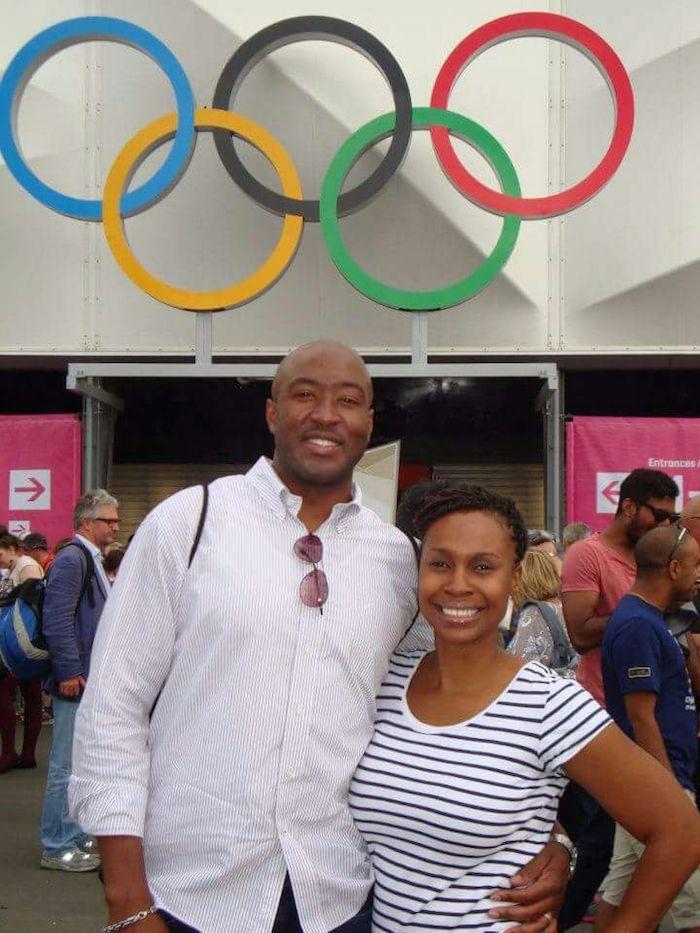 3. Aruba will always have a special place in our hearts, not only from the wedding aspect but Aruba was the first of many trips together as a couple. I think about the current count of approximately 27 countries traveled to date with two to three more scheduled this year.  It's truly a blessing to do so with your best friend. Rome definitely from a historical standpoint with all the ancient fortunes it has to offer. From the architectural amazement of buildings older than the US that's still standing plus key landmarks. A jewel from the trip was experiencing a food tour that guided the group to locations off the tourist grid from the first hospital in Rome with artifacts and medicine still on the premises to hidden restaurants that have bottles of wine in cellars so old that it can only be dusted by government officials wearing white gloves. Barcelona- we thoroughly enjoyed the architecture and sceneries during a bike tour.  How can you not enjoy the view of Spanish Catalan architect, Las Ramblas, Basilica of the Sagrada Familia and the food experiences with tapas bars while mingling with the locals etc.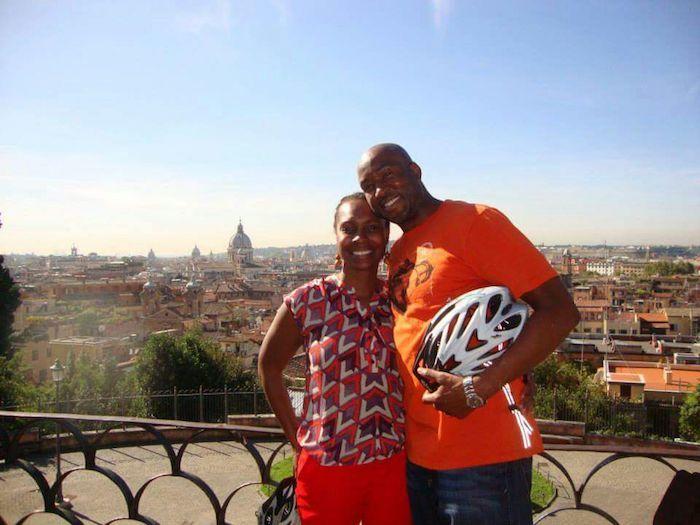 4. Here are a few suggestions when traveling as a couple. When traveling abroad, purchase travel insurance in the case of emergencies (medical/transportation), because once you cross the waters yours is no longer valid.  Definitely make a copy of your passports and cards you will use while traveling and keep in a safe at the location you're staying.  Proper research ahead of time, creating a list and/or draft schedule of things you would like to do to maximize your stay when you travel.  Lastly but most important of all, enjoy the moment with the person you're traveling with and all the location has to offer.  Soak it in realizing you've just accomplished something amazing as a couple.
Anthony and Lisa:
1. We have been married for almost 5 years. Dated 2 years before marriage, so a total of 7 together.
2. I have always loved to travel from when I was little & I passed that love on to my husband when we met. One month into our romance I said time for a road trip to Virginia Beach and two months after that we flew to Minnesota. He picked up my habit and enjoys it as much as I do. Since then we have been to Vegas, California, Atlanta, Texas, New England states, Japan, China, Australia, New Zealand, Bahamas, Mexico, and other islands. Up next is Iceland in only 3 weeks!
3. Favorite locations: Assateague Island in the DMV area for camping. We go yearly. It's camping on a beach and you can hear the waves crashing. We always take our dog for his yearly vacation. Visiting Japan and China was an awesome experience. To be treated with such respect in Japan and learning their culture and tradition was such a treat but then seeing the nitty gritty of China was my pleasure. Two totally different words and cultures but both a positive experience that made us want more.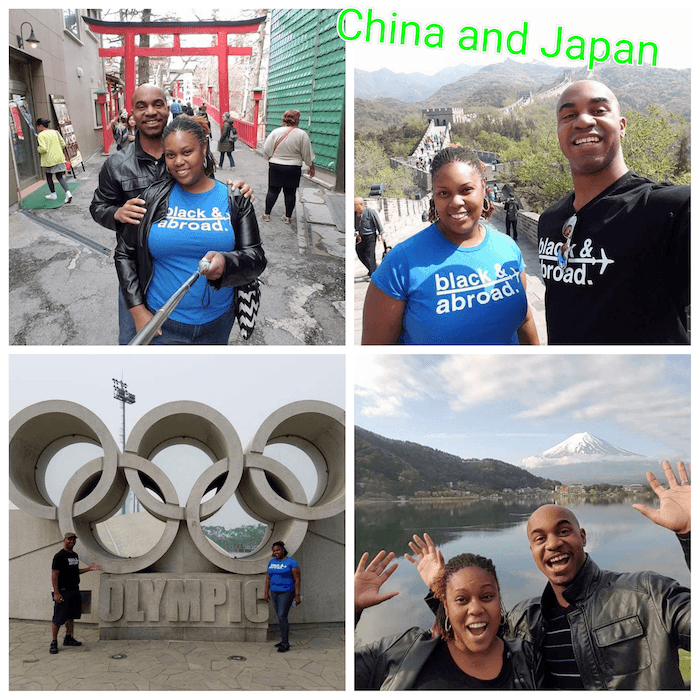 4. Advice: If you can travel together than you can be together. Travel can be one of the best things you and your mate can do. No matter your budget, always try to experience something new. You can go an hour from home to a new city or 19 hours to another country but just treat yourself to new experiences. For anniversaries and birthdays we don't run out to stores to buy each other material things, we go places and make new memories as our gifts to each other. What a great gift we have given each other throughout the years…the gift of travel! Remember to take turns choosing where you go to be fair. We are planning to visit all 7 continents within the next 5 years. We would love to meet other couples to go on these trips with us!
Candi and Mike:
1. To start we have been together 3 years! <3 & Plan on making it last well on into the future.
2. We discovered we both had a love for travel when we took our 1st trip together to a martial arts tournament. She travels for work a lot, for tournaments & some business but that's not the same as traveling with your partner/someone you love & not for work.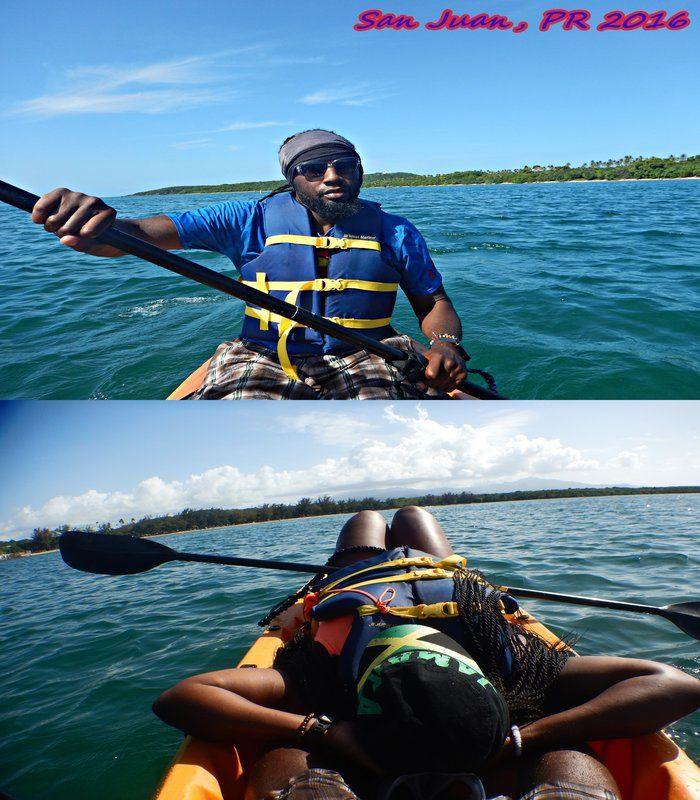 3. Our 1st favorite place is San Juan, Puerto Rico. We spent a month together there & created several great memories. One of the biggest was a spelunking/excursion through 4caves, mountain climbing & underwater caverns. It pushed us mentally & physically. 2nd: We spent New Years in Havana, Cuba! During 11 wonderful days we got closer & talked more. I think due to being disconnected tech wise. Sometimes we get so immersed in phones & the internet that we as a society can be sitting right next to someone but be distant & distracted. That trip was well needed to reconnect & appreciate each other even more. It is a beautiful country with beautiful people! We are in plans to go to Dubai this upcoming October and currently in training for hiking the mountains in Chile in June. 🙂
4. Our advice to other couples who choose to make that travel journey together, no matter how far, plan as much as you can. enjoy each other & ALWAYS communicate with each other & have each other's back. Even if disagreements occur. Move pass them fast & focus on the love & being each other's bodyguard-mind, body, spirit, & wallets (lol). Network & link up with like minded people & groups & share info, resources & experiences. This makes things so much easier & more enjoyable. "Carpe Diem" (Seize the day) & take advantage of creating long lasting memories that last a lifetime!
Cara and Kevin:
1.We have been dating for almost 3 years.
2. We would say almost immediately, travel became a topic that was brought up quite often during our initial conversations. We would discuss where we had been and the places that were on our travel bucket list. Actually, within a month of dating we took our first trip together to Aruba!
3. Favorite places include Rio de Janeiro, Brazil: The music, culture and food, but more so because its landscape is absolutely beautiful and nothing like you've ever seen. There is a mix of city skylines, mountainous regions and gorgeous beaches. Lisbon, Portugal is another favorite for the people and culture. It is so cool and convenient. The weather is great and the people are relaxed.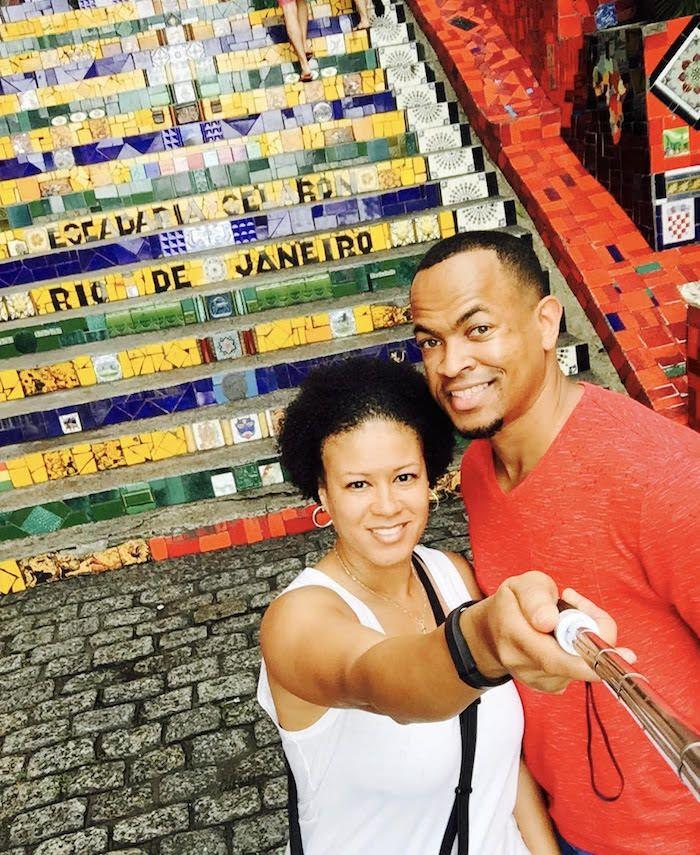 4. Here is our travel advice: Cara: Have an open mind about visiting new countries that neither of you have been to or even considered before. Being in a completely new place where you have no idea what to expect can make a trip exciting and unique. It opens up a world of new adventures that you both can share in together. Kevin: Be open to new experiences and be patient! Things don't always go as planned so just relax and roll with it! It will make a great story later.
Dana and Jave:
1. This April Jave and I will celebrate our 9th wedding anniversary. I can't believe how fast time is flying!
2. I've been in love with travel since I started using my passport at 3 years old. Before getting married, Jave hadn't traveled much, but he always had a burning desire to explore the world. So, we're definitely equally yoked in that regard.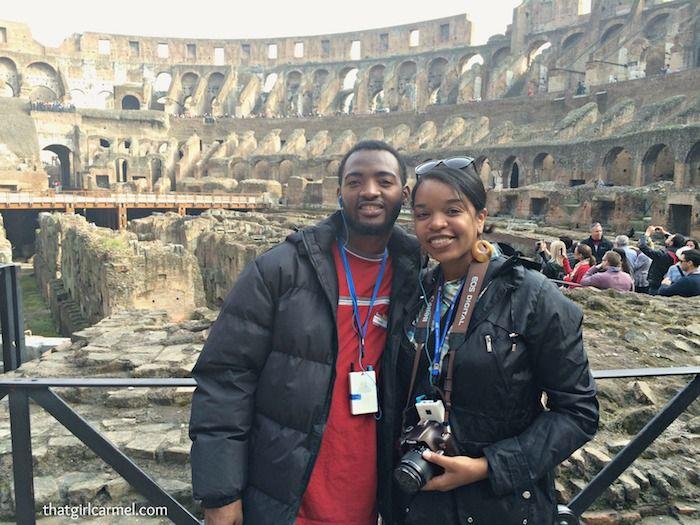 3. Whenever we travel, we always ask ourselves if our destination is one we could see ourselves living. Therefore, our favorite destinations are those where we could envision ourselves living someday. As far as favorites, Avignon in Provence, Copenhagen and the USVI come to mind.
4. Travel is a great way to keep the romance alive in your relationship, so travel as much as you can! But, keep in mind that local trips and explorations around your hometown are just as beneficial to your relationship as traveling to faraway locales.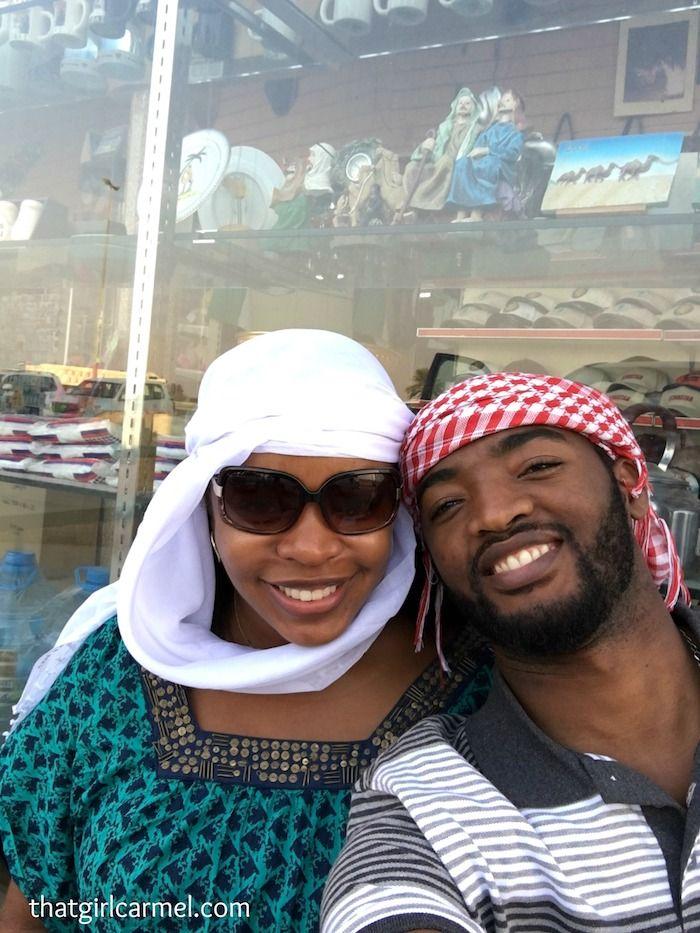 Dana Carmel Bell is a world traveler, cultural explorer, and the founder of Couples Getaway Box™, the subscription box inspiring romantic getaways for married couples. Take a quiz to discover how to add the spice back to your marriage!
Erica and Alexander:
1. We have been dating for 7 years.
2. I already had a love for travel.  When I met Alex, he did not have a passport.  I bugged him to get one and then I took him on an impromptu trip to Montreal in 2014. From there he fell in love with traveling.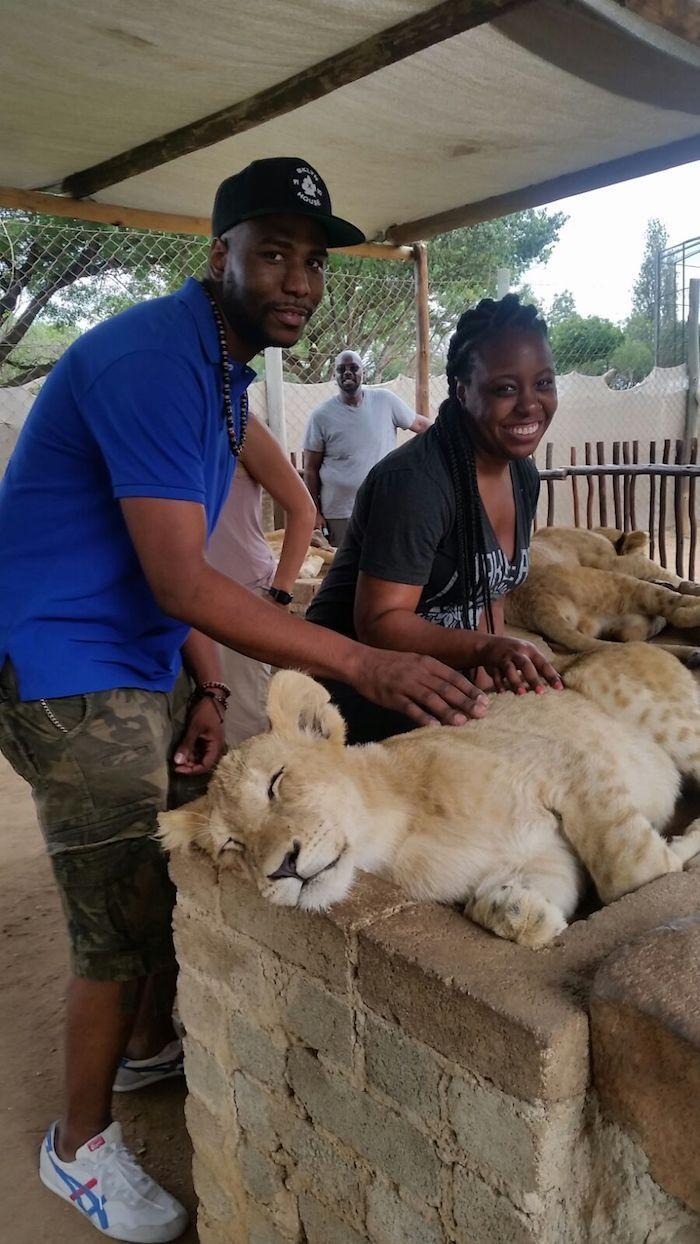 3. We are both pretty new to the traveling lifestyle as a couple.  However, a favorite place to visit is Disney World, Orlando, FL.  It is our favorite because we love Disney and we always enjoy ourselves.  We hope to one day go to Euro Disney or Shanghai Disney Resort.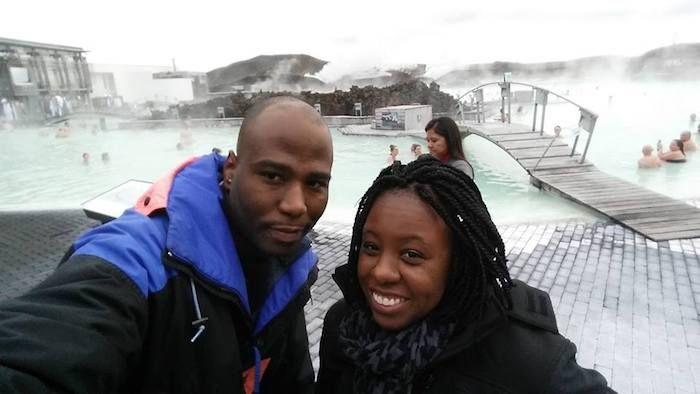 4. My advice to other couples is to learn how to work together and use each others' strengths.  Alex is really good at directions and figuring out really complex public transportation systems lol.  I am really good at keeping organized and making sure all of our documents are in order while traveling.
Kim and David:
1. We have been married for six (6) years, and together for eight (8).
2. I believe it was after our first date. We ended up going away together a month after our first date, and we've been on the road ever since.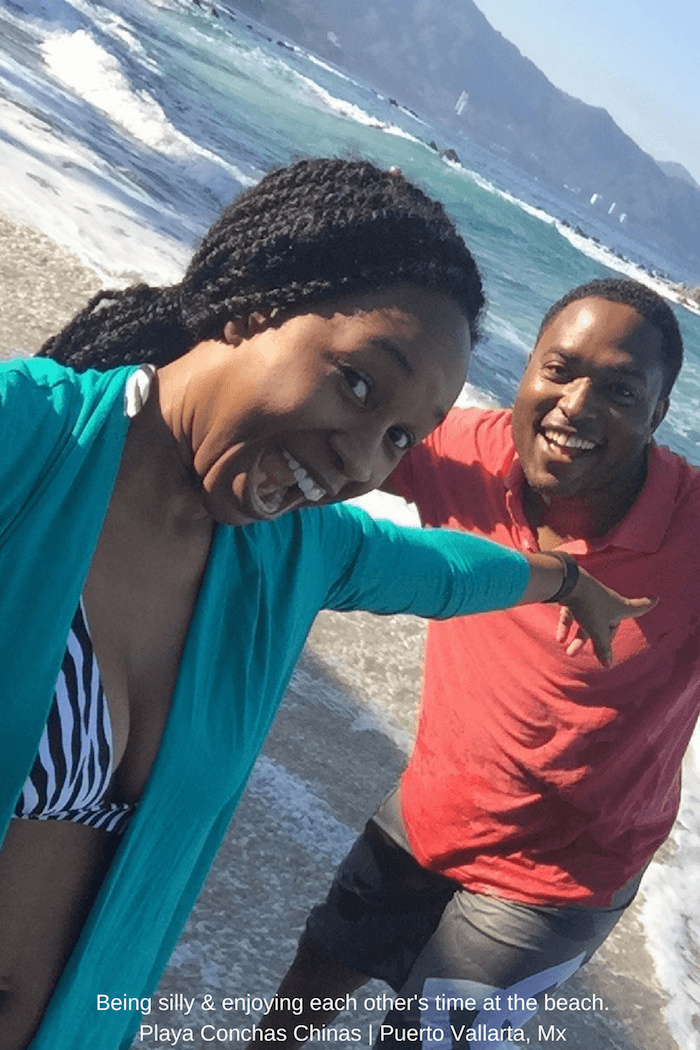 3. 1) Puerto Vallarta – This has been our favorite location to travel to as a couple since we began dating! PVR is romantic, with the beautiful beaches, our condo on the bay, the amazing restaurant scene, and we can safely walk the Malecon in the evenings. 2) Morocco – We visited for our anniversary, and fell in-love. It has everything from adventure to romantic things to do. Plus, it's affordable. Let's not get into the Hammams!!!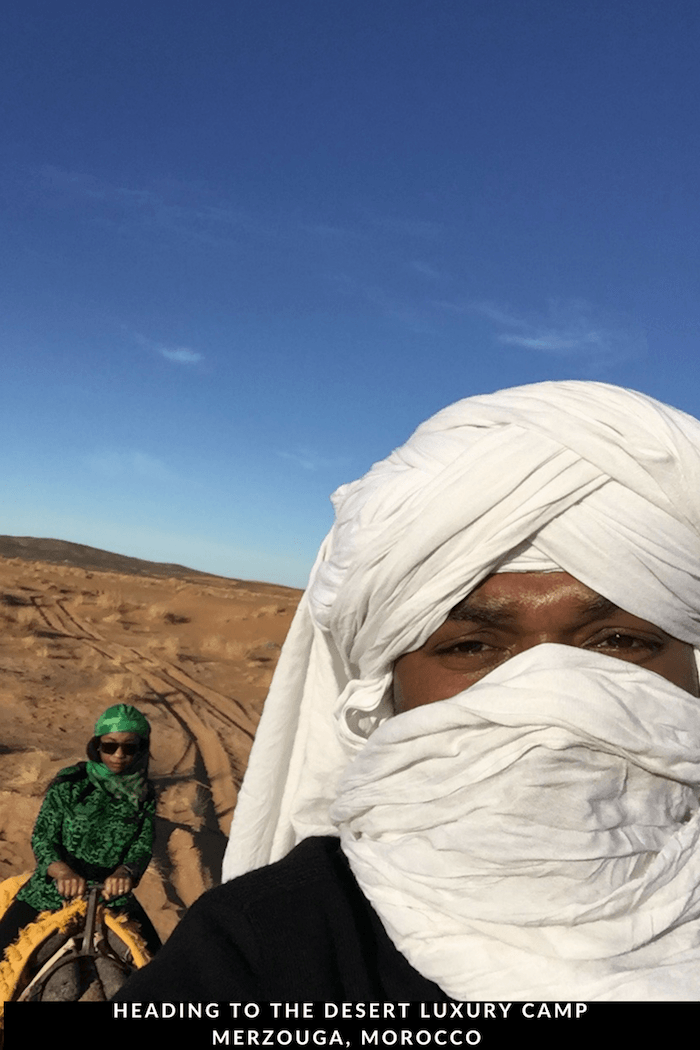 4. Look for places that will allow you to disconnect from the real world so you can reconnect with your spouse. Have fun, and go with the flow. Some of our best moments were when things didn't go as planned, or even when we got lost in the Medina of Marrakech.
Kim is a fellow blogger! Follow her at Beauty and the Bump
James and Nicole:
1. We have been married for 10 years and have been friends for 24 years.  We first dated when I was 17 and he was 20.
2.We both discovered we had a love for travel when we decided to take a vacation to the Cayman Islands and go as friends.  We actually started dating each other a month before we went on our trip.
3. One of our favorite destinations to travel together is Port Douglas, Australia.  We enjoyed this specific location because it was such a laid back and sleepy town filled with lush rainforest and mountains. Another one of our favorite destinations is Vancouver, British Columbia.  It is such a beautiful gem of a city with fresh clean air, greenery, stunning landscape and delicious seafood throughout the entire country.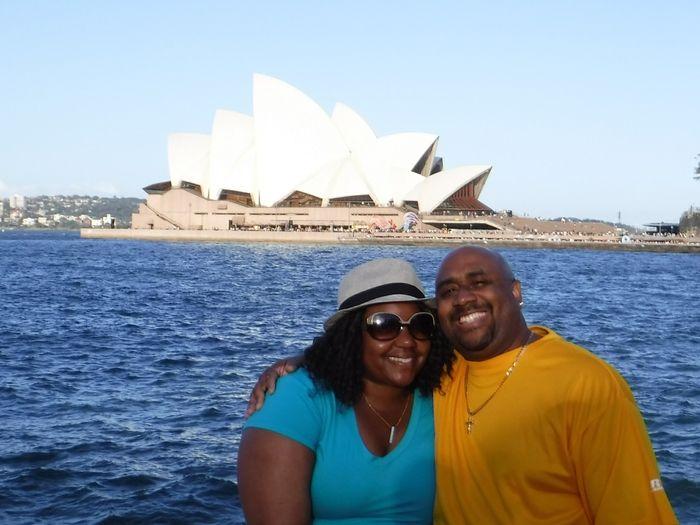 4. Travel tips are:
– Research places of interest as a couple
– Create a budget, save money, and sacrifice materialistic things so you can have a treasure of travel destinations
– Plan excursions but also balance some days for you to relax
– Take your sense of humor with you as you prepare to learn more about yourself and spouse as you travel
– Go with the flow at times and let surprises come your way throughout your journey
I hope you have enjoyed this Black Travel Love Series! Do you travel with your partner? If so to where? What advice would you add? Be sure to catch up on Part I of Black Travel Love: Couples Who Travel Together!