This post contains affiliate links. If you click through on a link, you won't pay a penny more, but we'll receive a slight commission which helps us keep this information available to you. Thanks!
---
Are you into taking cookery courses? While planning my trip to Thailand I was often told "Take a Thai cooking class in Chiang Mai!" I will admit, I love to eat but I am not a chef. 🙂 Although I have had the desire to take cookery courses in the U.S., it has not happened yet. How fortunate for me that my first experience was a Thai cooking class in Chiang Mai! Check out other cooking classes in Chiang Mai and book one for yourself.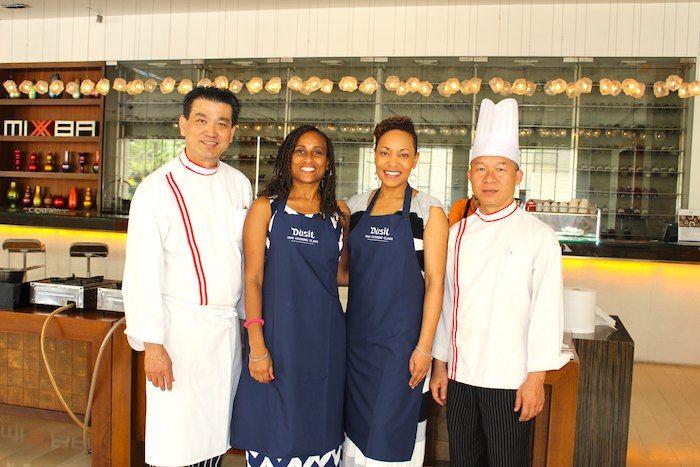 While in Chiang Mai my friend and I stayed at the DusitD2 Hotel. Dusit is a chain of International luxury hotels and resorts. The hotel was fabulous! It is a boutique hotel located steps away from the daily night markets. I contacted the hotel once I noticed they had a cooking class. Since our time in Chiang Mai was limited to 3 days, taking a Thai cooking class right in our hotel was very convenient.
The Thai cooking class in Chiang Mai at DusitD2 is run by one of the most acclaimed chefs in Thailand-Chef Chalong Sakkapalangkul, well known for his cookery courses and more. He is the president of the Association of Northern Thai Chefs. Along with Chef Wichit, they took us on a journey of Thai dishes from all over the country. Although this cooking class in Chiang Mai is usually from 11am-6pm, they accommodated us for a two hour class with a wonderful set up right in the chic hotel lobby.
During our Thai cooking class, Joy and I worked with each chef to make 3 courses. First we suited up with our Dusit aprons. The aprons are included in your cooking class package. The chefs then guided us through making the meals below. I can't tell you how full we were after just the first course! All the dishes were delicious and not as difficult to prepare as I imagined. Some of the dishes can easily be made at home in a short period of time. We chopped, sautéed, boiled pasta and even learned how to make sticky rice! During the cooking class in Chiang Mai, both chefs were very patient with us and shared information on the ingredients used. As I wrote about in my post "10 Reasons Why I love Thailand", the hospitality here is never-ending.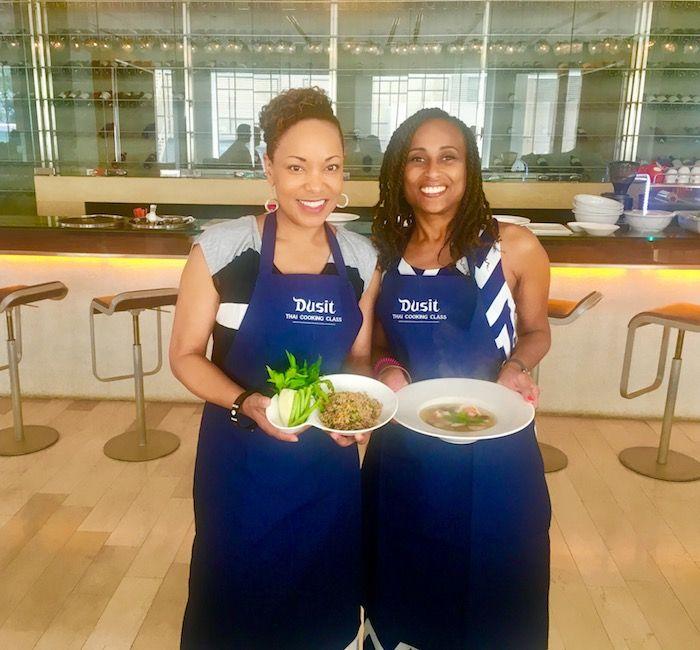 What to expect from a cooking class in Chiang Mai:
1st course:
Larb Muang-spicy pork salad. When they call something spicy in Thailand-be warned-this is not American level spicy! The minced pork was seasoned with Northern chili powder, fish sauce, Thai coriander, and Vietnamese mint, among other herbs and spices.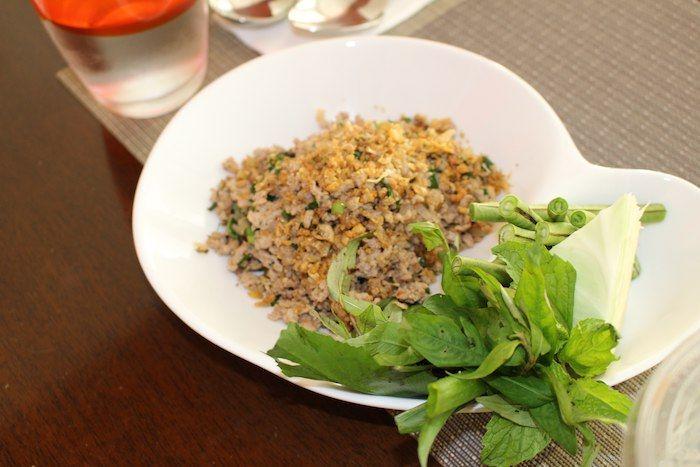 Tom Yum Goong Soup: Another spicy Thai favorite made with chili peppers. The broth is made up of lemongrass, fish sauce, crushed chili peppers and kaffir lime leaves. Expect hot and sour flavors when drinking this soup.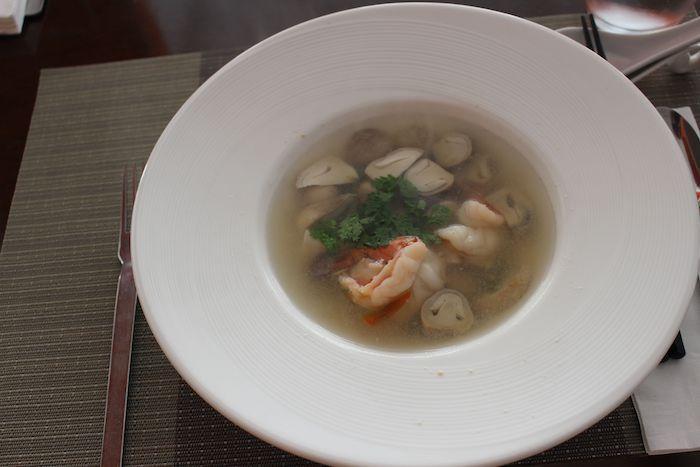 2nd course:
Pad Thai Goong: If you enjoy Thai food then I am sure you have had Pad Thai. This is a Thai staple and is probably found in most Thai cookery courses. While in Thailand I had several types, some of which you can try on this Chiang Mai Street Food Tour for around $30 per person. Some were made like an omelet, some were on the sweeter side. The Pad Thai in this cooking class in Chiang Mai was made with a red tomato sauce that was not visible once prepared. It was so flavorful I could not stop eating it!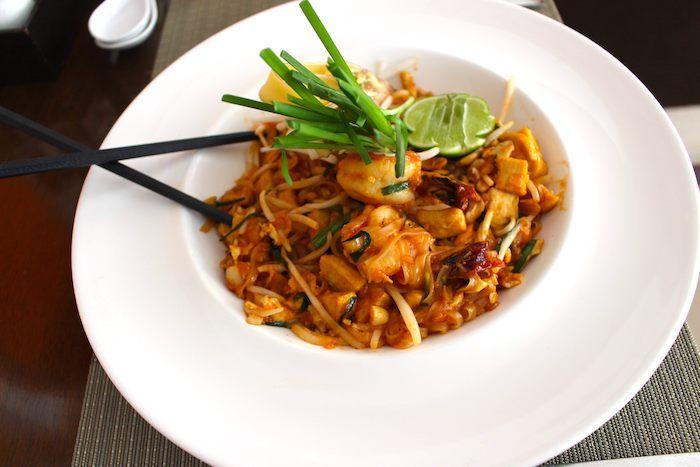 Kaow Soi Kai: AKA as Khao Soi. This is a famous Chiang Mai curry noodle dish that was made with chicken. The ingredients include egg noodles, red curry paste, yellow curry powder, coconut milk and Thai coriander. It was garnished with deep fried egg noodles. I love Thai curries so it was a special treat to make a signature curry dish in this Thai cooking class.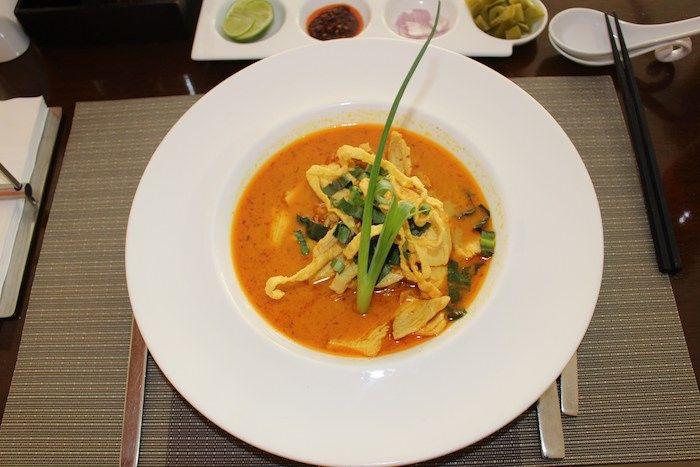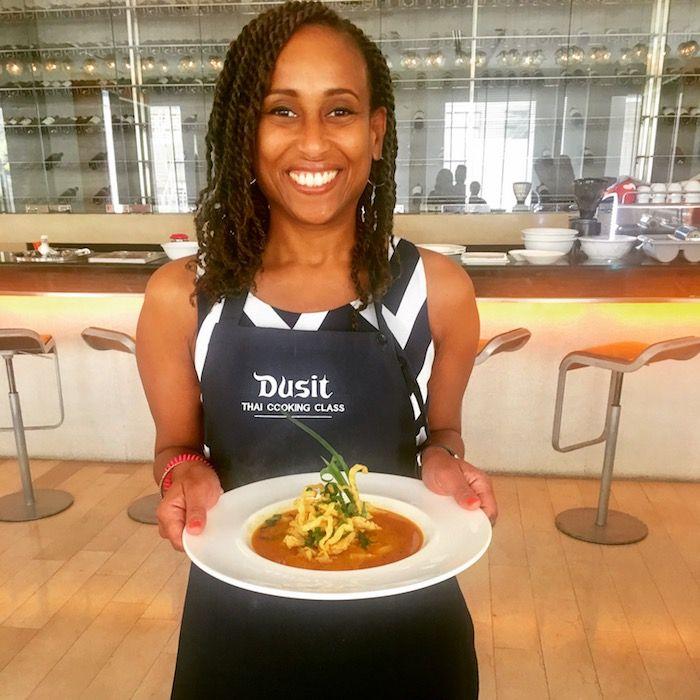 3rd course:
Mango Sticky Rice:
This is a well-known dish and dessert in Thailand and beyond, likely found in most Thai cookery courses. You will find mango sticky rice everywhere-in the floating market, at street stalls, in restaurants and even being made fresh at the airport! I was very excited to learn how to make it during our cooking class in Chiang Mai! Making sticky rice involves soaking the rice overnight then cooking it in a steamer for 25 minutes. You then add coconut cream, with sugar and salt mixed in, and let the rice absorb the liquid. Before serving, add some salty coconut cream over the rice. Serve with ripe mango and tada – mango sticky rice. I was actually drinking spoon after spoon of the coconut cream mixture because it was that good!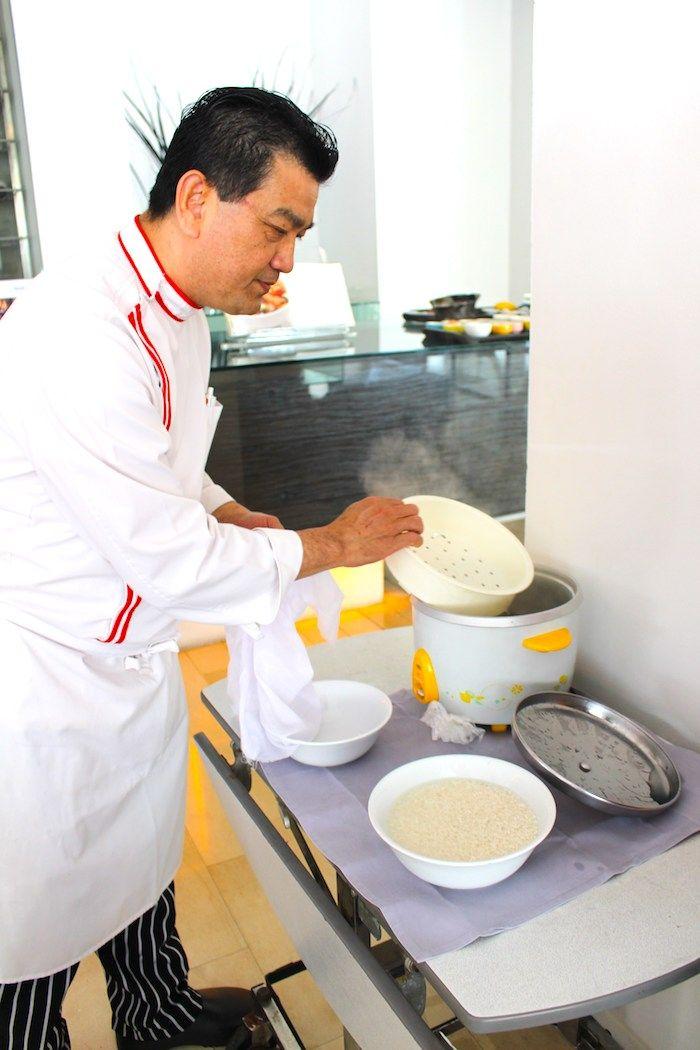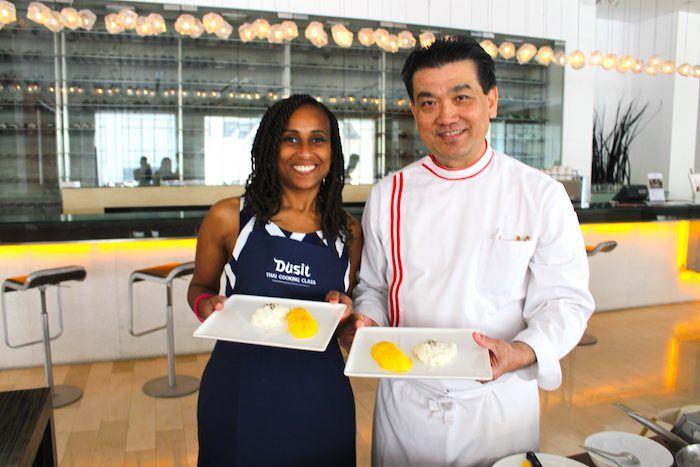 Tab Tim Grob: AKA Rubies in Coconut Milk.
The rubies in this dish are pomegranates. We watched the artistry of Chef Chalong preparing the rubies for this delicate dessert made with coconut milk and ice. It was such a refreshing dessert! If you love coconut, you will have a lot of dishes to choose from in Thailand, and will probably end up working with it in any Thai cookery courses.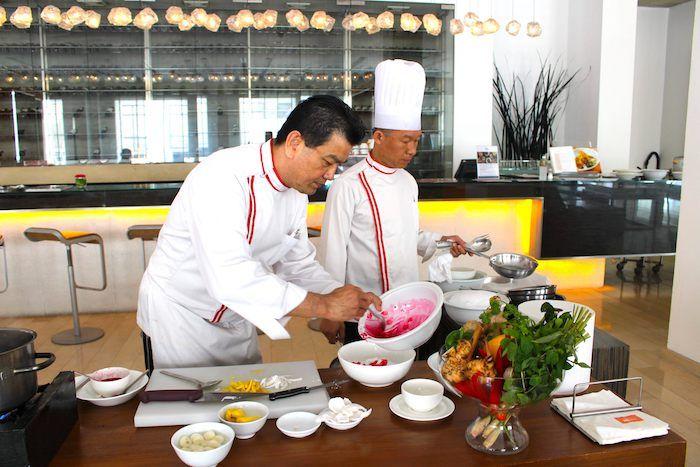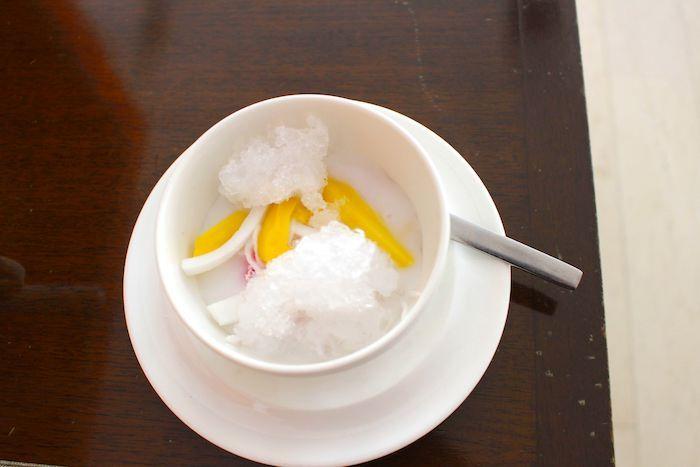 And there you have 6 Thai dishes made in just 2 hours by 2 Thai chefs and 2 American tourists. lol . It was a lot of fun! If you are traveling to Chiang Mai Thailand, be sure to add a cooking class in Chiang Mai to your itinerary. For more, learn about Vietnamese cuisine next, and here's what else I recommend doing in Chiang Mai!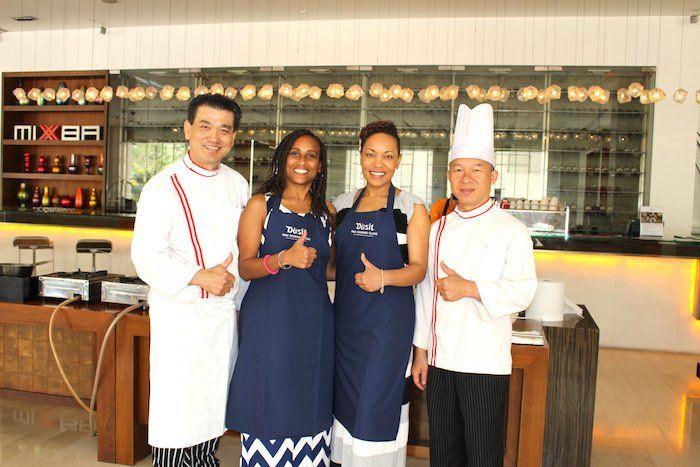 So, have you taken a cooking class? If so share your thoughts with us below.
Although Joy and I received a complimentary cooking class from DusitD2 Hotel, all opinions expressed in this post are my own. A special Thank You to Diana Bates for arranging this opportunity to try out one of the cookery courses in Thailand.
For more information on the Dusit Thai cooking class please visit their website and reference the image below. This cooking class in Chiang Mai is held every day from 11am-6pm and it includes a welcome drink, a Dusit apron, a small wooden mortar, and recipes from your choice of 3 dishes. You also get a certificate showing you completed the class! The price per person is 1800 THB (about $51 USD) or 3500 THB per couple (about $100 USD).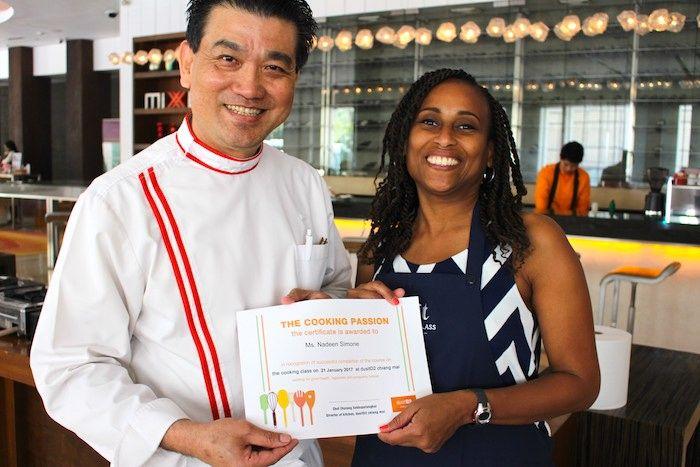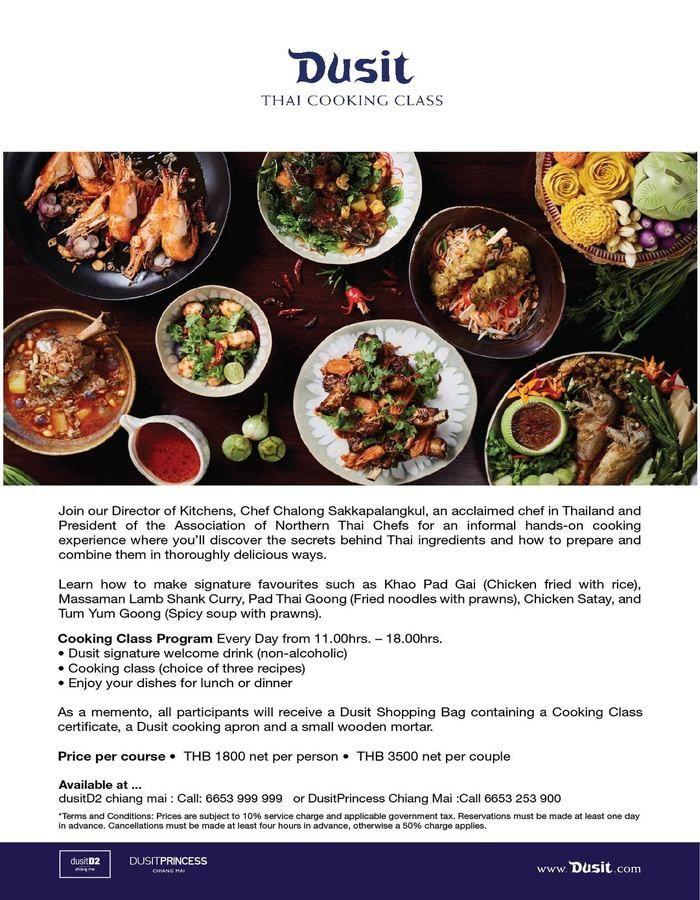 Before you leave…check out the video clip of our Thai cooking class from my Youtube channel and don't forget to subscribe!