I write this post with a heavy heart and I am nervous about sharing it. If you have read my other travel posts (which I am sure you have) you know that I write on my personal experiences of all the wonderful places I have visited. I write about these places and experiences to inspire others to travel and see the world. My posts are filled with positivity and pictures as well as helpful travel guides. I have never done a politically driven travel post, until now. This is my first true editorial piece based on current events and I hope it resonates with my readers. If you are trying to decide whether to boycott travel to the Dominican Republic, keep reading.
Dominican Republic and Haiti-The History:
Haiti and Dominican Republic share the island of Hispaniola. Although both countries have struggling economies and poverty, Haiti is more destitute. Haitians have been migrating-legally and illegally-to the Dominican Republic for generations. As with immigrants to the US, they are often found doing laboring jobs and the jobs that noone else wnats to do. Many are workers in the service industry at hotels and resorts while others worked in the fields. According to Dominican lawmakers, taking on Haitian immigrants, while caring for their own, puts an extra strain on the economy. A court ruling in 2013 stripped many immigrants, including Haitian-Dominicans, of their citizenship even if they were born in the Dominican Republic. This goes back to anyone born in the country from 1929 to present day. Haitian-Dominicans have to prove, by submitting paperwork, that they have at least one parent of Dominican descent. The government then decided to allow a process for naturalization. The deadline for submitting all paperwork expired in June with forced deportations soon to follow. Many Haitian-Dominicans do not have proof of being born in the Dominican Republic or their ancestry. Based on this law there is now a movement to boycott travel to the Dominican Republic. I have visited there twice in the past year which has led me to write this post on this topic.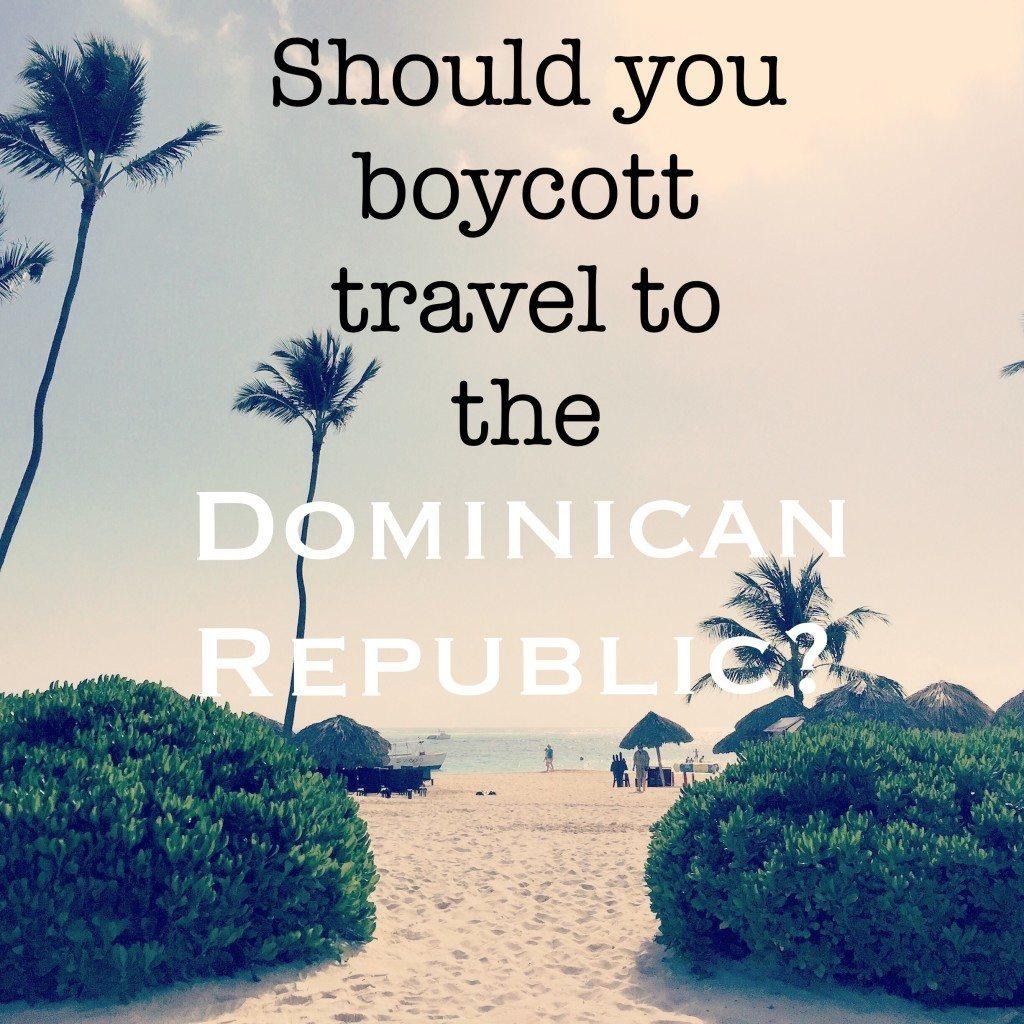 Vacationing in the Dominican Republic:
Last December I was so excited to finally make it to this beautiful Caribbean island. I had heard so much about it from friends and family who all enjoyed their time there. Being of Jamaican descent I love exploring other Caribbean islands and can relate to most of the culture, food and class structures. Although most of my trip was restricted to an all-inclusive resort in Punta Cana for a wedding, I enjoyed the beaches, the food and the people. Although many of the staff were darker skinned, it never occurred to me nor did I ask who was Dominican vs. Haitian. Being from Jamaica where our motto is "Out of Many One People", I assumed they all considered themselves and each other to be Dominican.
As my second trip approached I looked forward to exploring more of the island. However, prior to my return there were news reports of a Haitian man being lynched as well as others being beaten to death. No matter where you live in the world there is violence but based on the history of Blacks in America the word "lynching" elicits fear, anger and disgust. At this point I paid closer attention to the news and the Facebook posts of my Haitian friends as well as my Dominican friends. My Haitian friends were asking people to boycott the Dominican Republic in order to put pressure on the government to change the law and their treatment of Haitians. My Dominican friends argued against a boycott of travel to the Dominican Republic. Their continued argument relates to tourism and the impact it would have on those the boycott is trying to help. Boycotting travel to the Dominican Republic will hurt both Dominicans and Haitians on the island who depend on tourism at hotels and resorts for their income. What I do find interesting is that the majority of the resorts are not owned by Dominicans. The profits are gained by foreign investors who are unlikely to make a stance against these racist policies.
Armed with all this knowledge I questioned whether I should boycott travel to the Dominican Republic. Maybe because I wanted to go back to see more of the island, maybe because I wanted to celebrate my cousin's birthday with my family, maybe because I was in need of a beach vacation, maybe because I had already paid for my trip, I convinced myself that my friends from the Dominican Republic made valid points so I went.
While visiting for the second time I fulfilled my wish to see more of the Dominican Republic on a daytrip from Punta Cana to La Romana. I visited churches, baseball stadiums, cigar factories, luxurious neighborhoods and drove by not so luxurious ones. I was able to meet with and speak with many Dominicans. Our guide was of Spanish descent and spoke to the differences between Dominicans, Haitians and Haitian-Dominicans (Dominican born people of Haitian decent). He noted that many Dominicans were quick to acknowledge their Spanish roots vs their African ones. All of this was with the connation that having Spanish ancestry was better than African ancestry. When I returned to the U.S. I planned to write a blog post on my experiences as usual. I took beautiful pictures on my brand new Canon DSLR camera and was excited to share them with my readers. Then all hell broke loose.
[Tweet "Should you boycott #travel to the #DominicanRepublic?"]
The Deportation:
My Facebook page news feed was filled with articles and statuses pleading with people to boycott travel to the Dominican Republic. The deadline was quickly approaching for Haitian-Dominicans to provide paperwork of their ancestry and legal status. However, many Haitian-Dominicans were born in fields and away from hospitals so documentation of births and Dominican ancestry are sketchy. There are Haitian-Dominicans who were born in the Dominican Republic, have only lived in the Dominican Republic and have never been to Haiti or even have relatives there that now face deportation. I could not believe what I was reading. What if we enforced this policy in America? How many of us would be deported? My parents were born in Jamaica and I was born in America. According to their policy I would not be considered a citizen based on my birth and would be at risk for deportation. Reflecting on the history between these two countires and the treatment of Haitians in the Dominican Republic, there is little doubt in my mind that this law is based on racism.
Some Haitians have already voluntarily moved back to Haiti and the Haitian government is preparing for a larger number to follow once forced deportation occurs. They have cited fears of a "humanitarian catastrophe" and rightfully so. The noise to boycott travel to the Dominican Republic is louder now more than ever and unless this law is revised, I agree. But, if I am being honest, what if this was all at a fever pitch a few months ago and my trip loomed around the corner? Would I still take this stance? I truly hope so. However, I will not stand in judgment of anyone's decision to travel to the Dominican Republic. What I do hope is that based on worldwide influence and pressure, the Dominican Republic will see the errors of their ways and demolish this law. Will I ever write my blog post on La Romana? Probably so. But instead of promoting tourism and tours from Punta Cana, I will use it as an opportunity to educate people on the rich history, culture and beauty of this island.
So what do you think? Should you boycott travel to the Dominican Republic? Please share your thoughts with us below. In a recent development, the Dominican Republic has agreed to work with the Organization of American States on its immigration policies and deportation of Haitians.
N.S.W.