This post contains affiliate links. However, all opinions expressed here are original. If you click through on a link, you won't pay a penny more, but I'll receive a slight commission which helps me keep this information available to you. Thanks!
---
I want to tell you a story about one of the most beautiful places I have ever seen. While planning my first trip to Barcelona a friend and frequent traveler recommended a day trip from Barcelona to Montserrat. I was not familiar with the area, but once I arrived to my hotel in Barcelona I noticed many pamphlets labeled "Montserrat." From the cover pictures alone I knew I had to make this trip.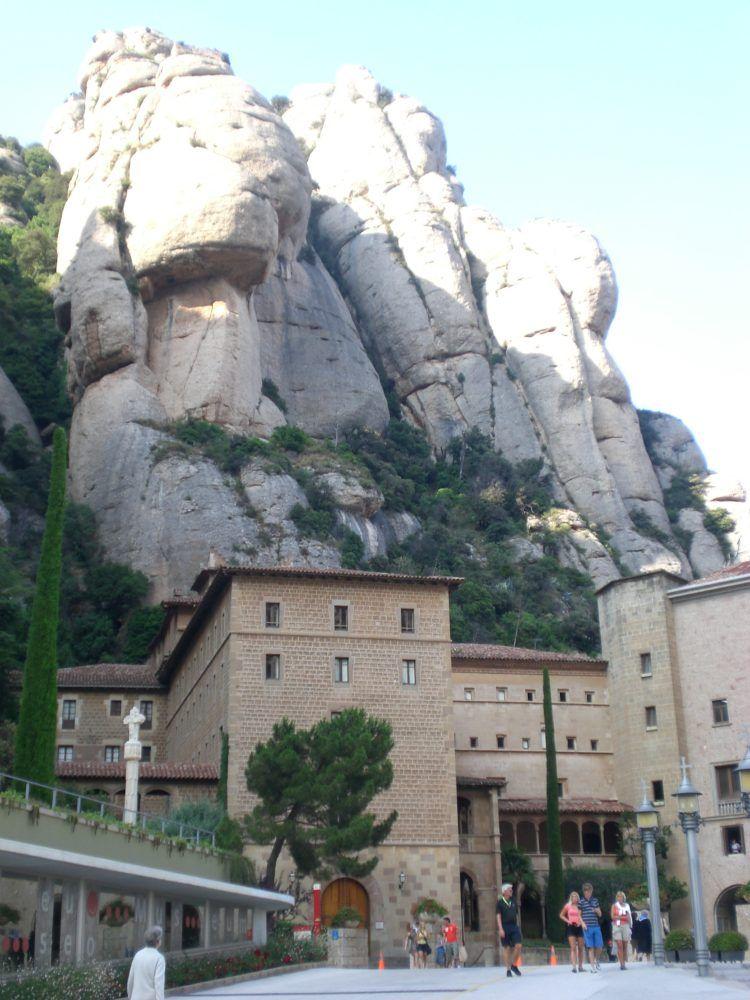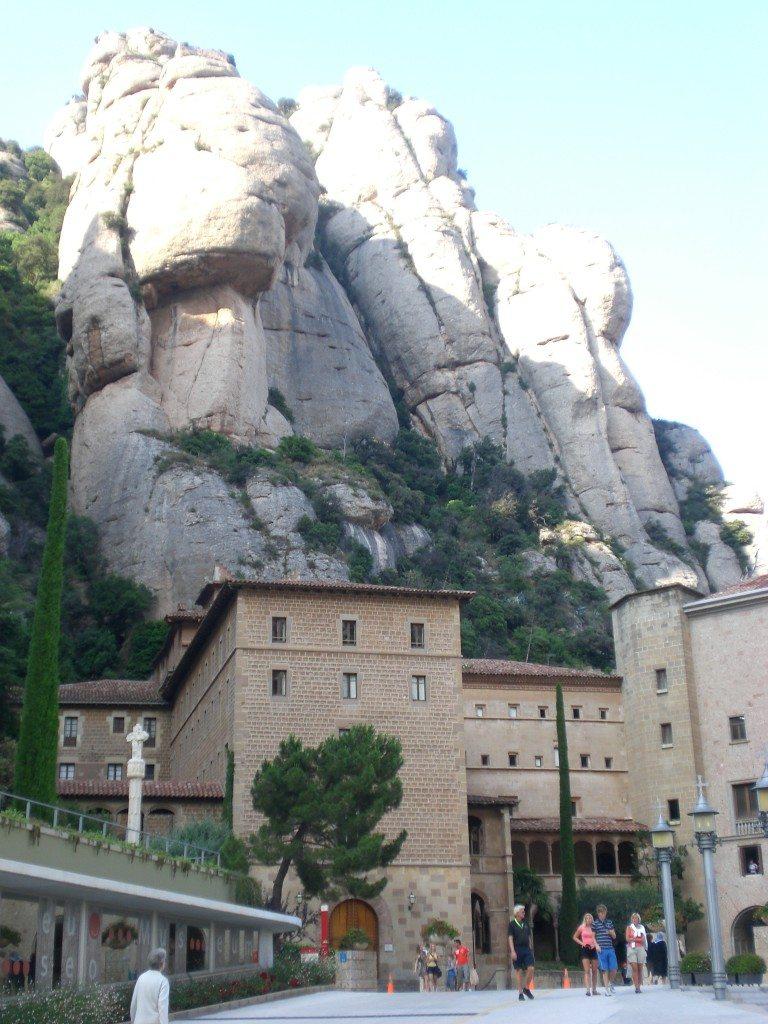 Montserrat: Location and History
Montserrat which means "saw or serrated mountain" is located 30 miles west of Barcelona. Montserrat is part of Catalonia and is the location of the Benedictine Abbey-Santa Maria de Montserrat. Within the monastery is "Our Lady of Montserrat aka the Virgin of Montserrat." Montserrat is an important and popular destination for religious retreats and pilgrimages in Catalonia. The area actually dates back to pre-Christian times. The monastery itself has been in place since 1025. Interesting fact-the Caribbean Island of Montserrat was given its name by Christopher Columbus based on this mountain.
How to Get to Montserrat From Barcelona
A day trip from Barcelona to Montserrat takes a 1 1/2 hour train ride. If you want to see more of Europe, consider getting a Eurail Pass with which to discover Europe by train. This is probably the best transportation option in Europe.
I found it very easy to navigate the trip there. First head to the "Placa d"Espanya" train station and take the R5 train heading towards Manresa. On arrival you can choose between taking a cable car up to the monastery or another train. I really wanted to take the cable car but it was crowded so we took the train.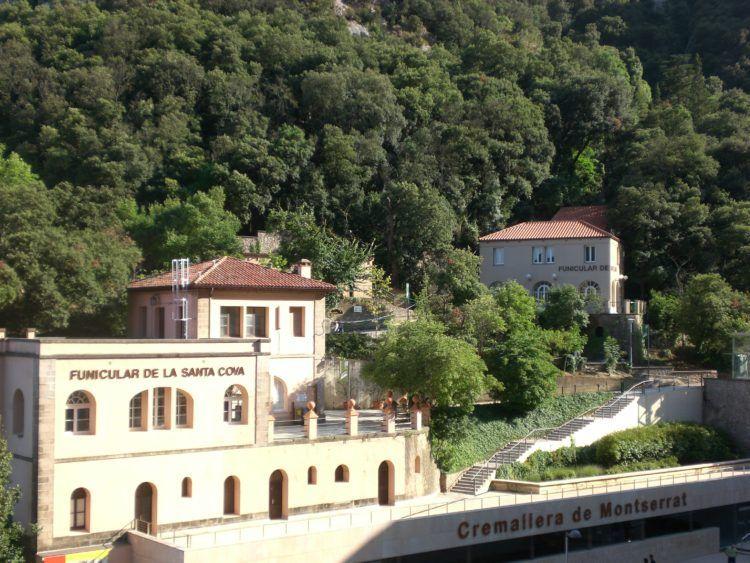 Attractions to See on a Montserrat Day Trip
The rock formations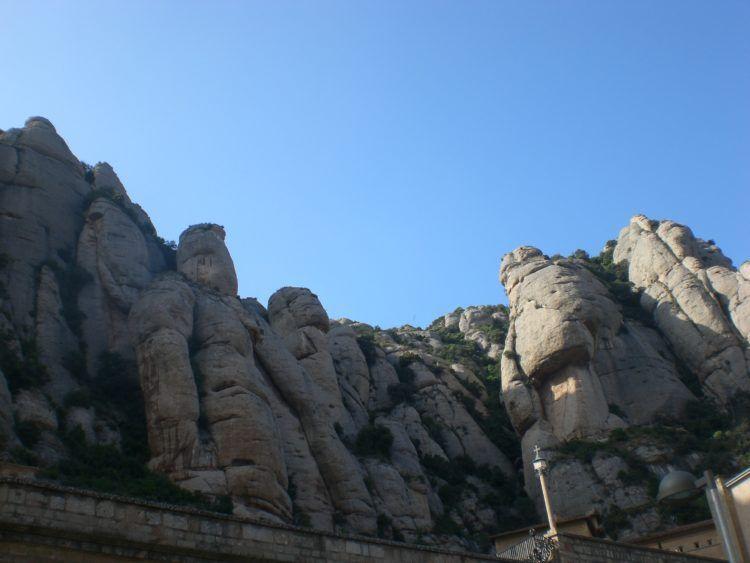 The unique rock formations are visible from a great distance. Up close they towered over you and some seemed to look like tall men!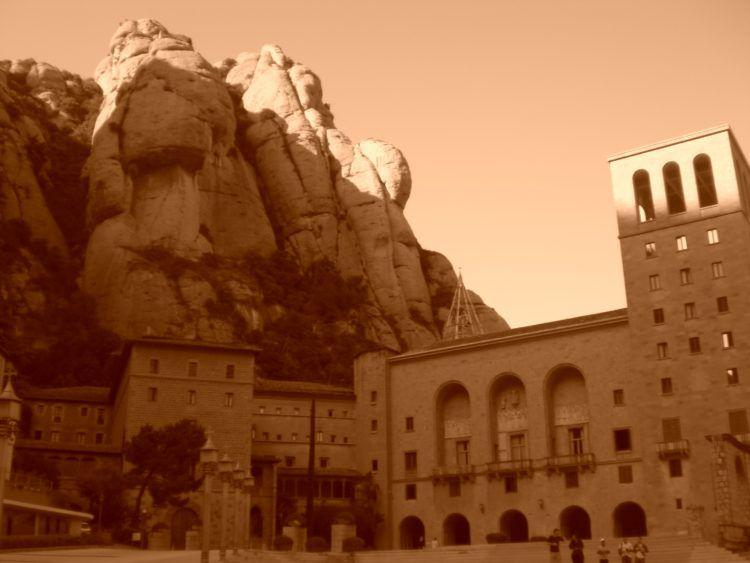 The Basilica and The Chapels
The architecture and the beauty of the Basilica are not to be missed. It is a mixture of Renaissance and Gothic architecture built in 1900.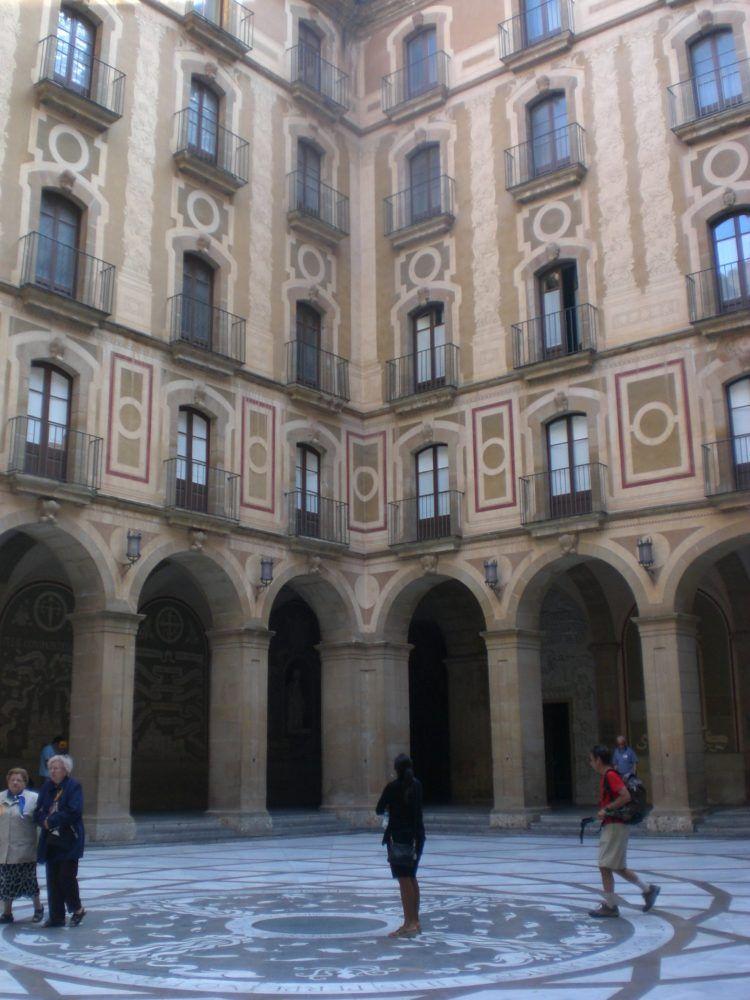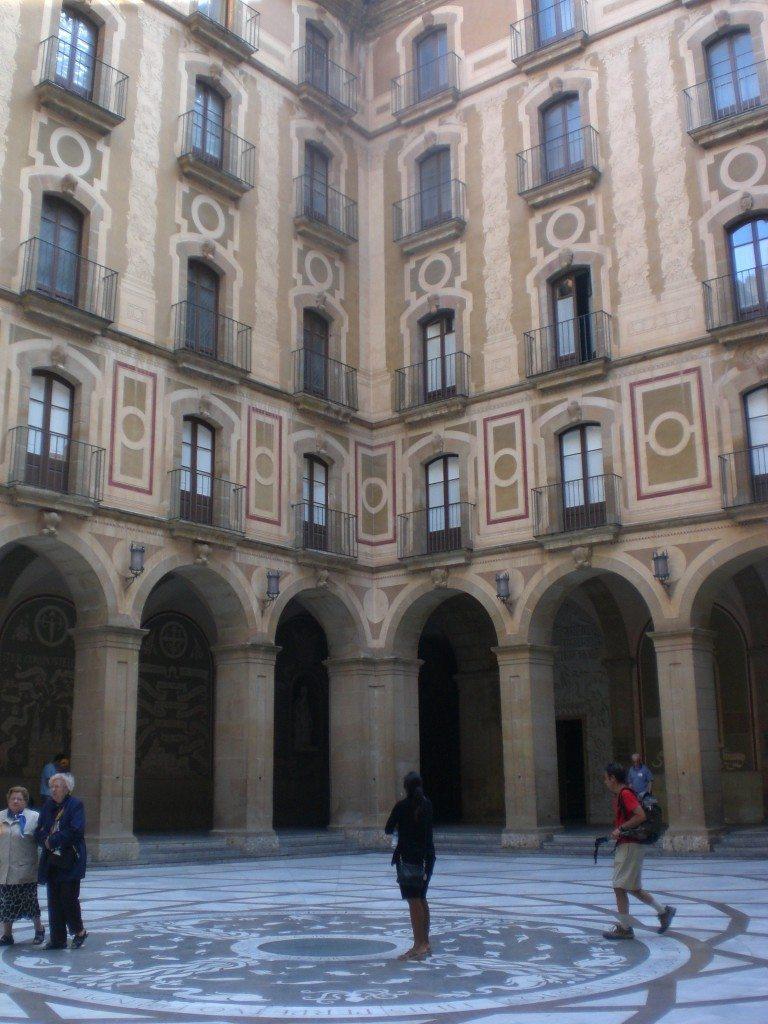 You can actually see the Virgin of Montserrat in an alcove above the altar. On your way to view the Virgin of Montserrat you will pass through several chapels named after various saints. After viewing the Virgin of Montserrat you will come across the "Cami de l'Ave Maria". Here you can light a candle for the Virgin Mary. It is also a serene place to pray.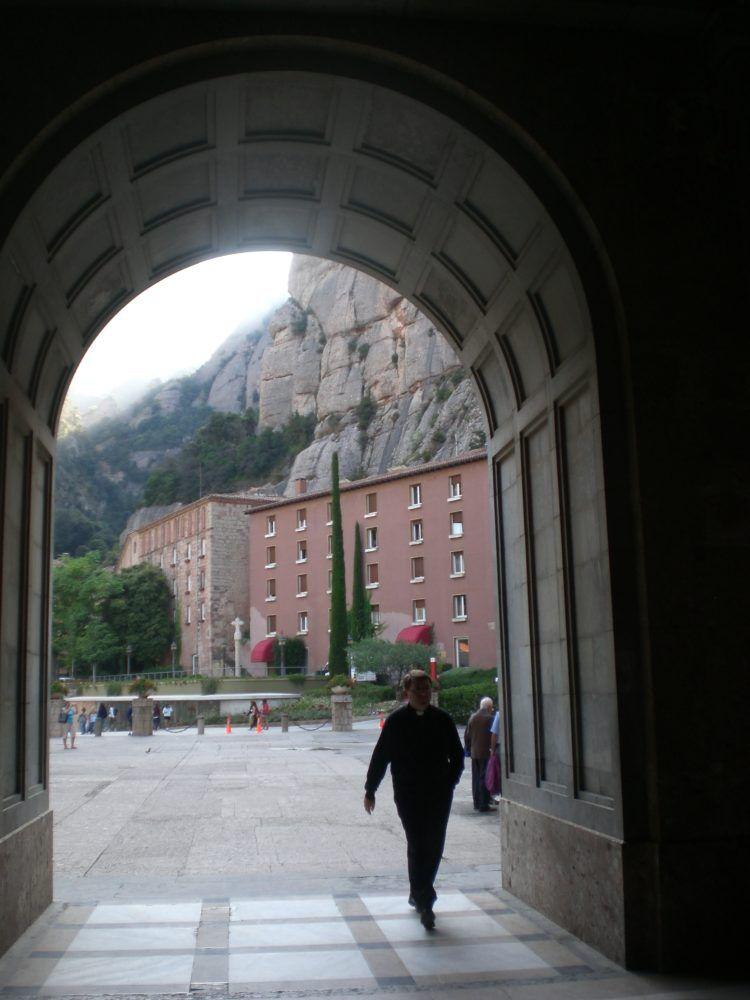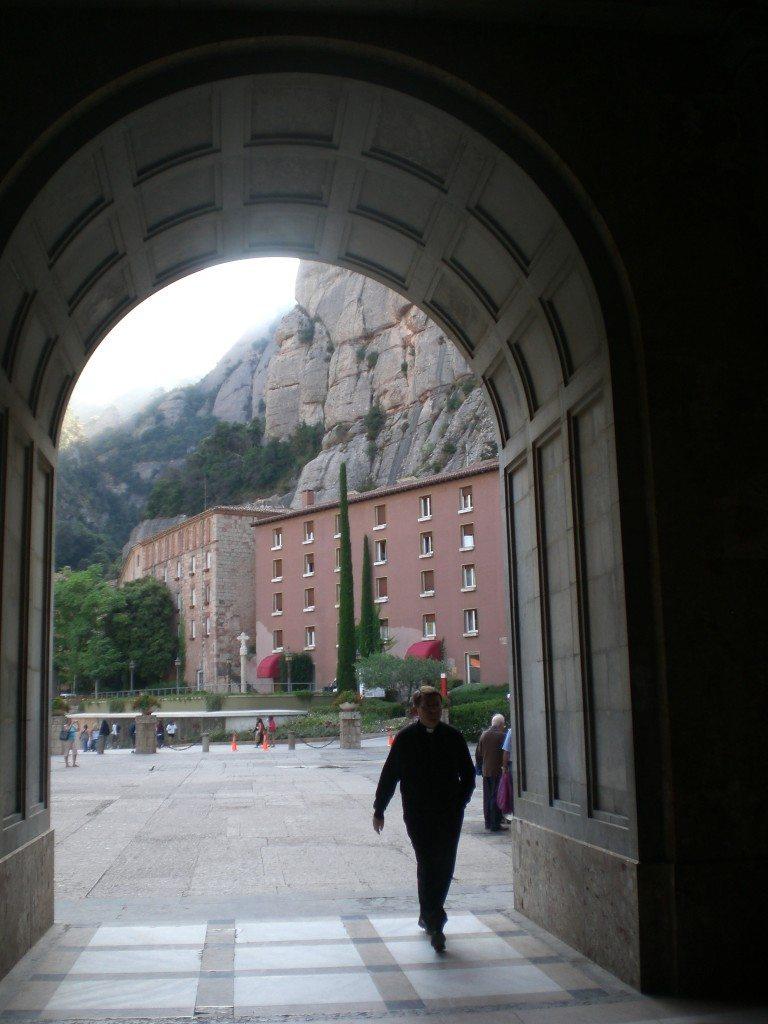 The Virgin of Montserrat
On your day trip from Barcelona, don't miss the Virgin of Montserrat. The Virgin of Montserrat is a wooden sculpture of the Virgin Mary holding an infant Christ and she is one of the Patron Saints of Catalonia. The Virgin of Montserrat is considered to be one of the Black Madonnas of Europe. It is also called "la Morenata" which means the little dark one. Due to natural exposures the varnish of the statue turned black over time. I researched several accounts of this black Virgin Mary. Some believe the original statue was carved in Jerusalem and found in the 9th century by shepherds in Santa Cova Montserrat. It was then replaced by the current statue which is believed to be from 12 century with Romanesque features. Others believe the statue located is the original statue and from the 12th century. To view the Virgin of Montserrat, take the hallway and stairs on the right side of the Basilica. Warning-there will probably be a line but it moves fast. You will be able to see her through a glass encasing and touch her hand through a small opening of glass. I did not take a picture in this sacred area but trust me it is worth seeing.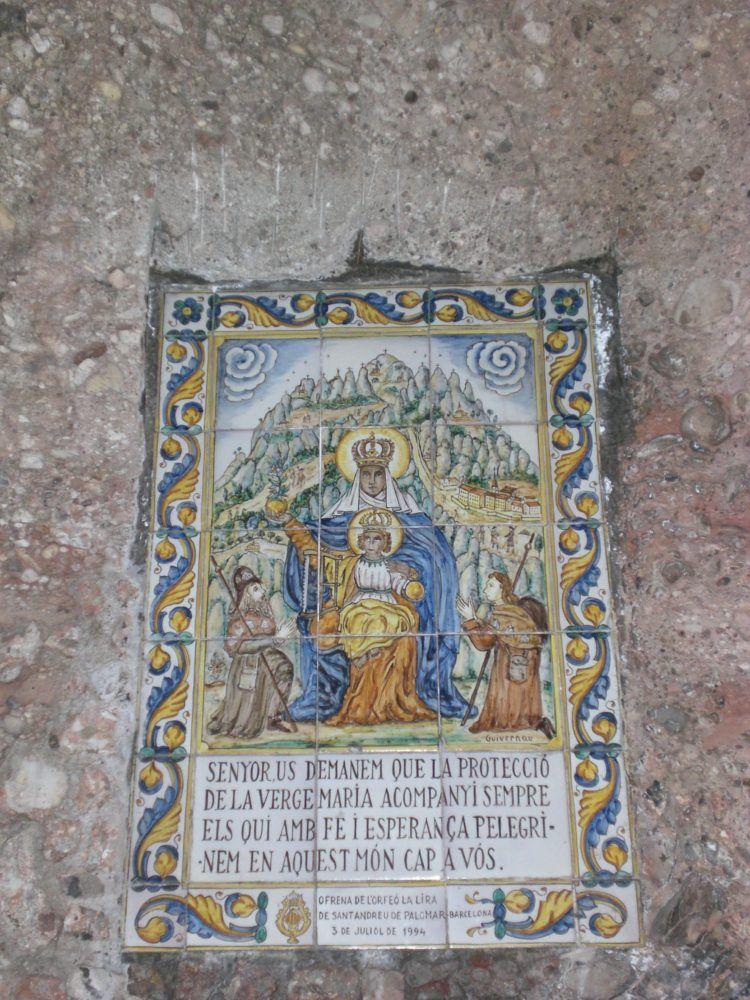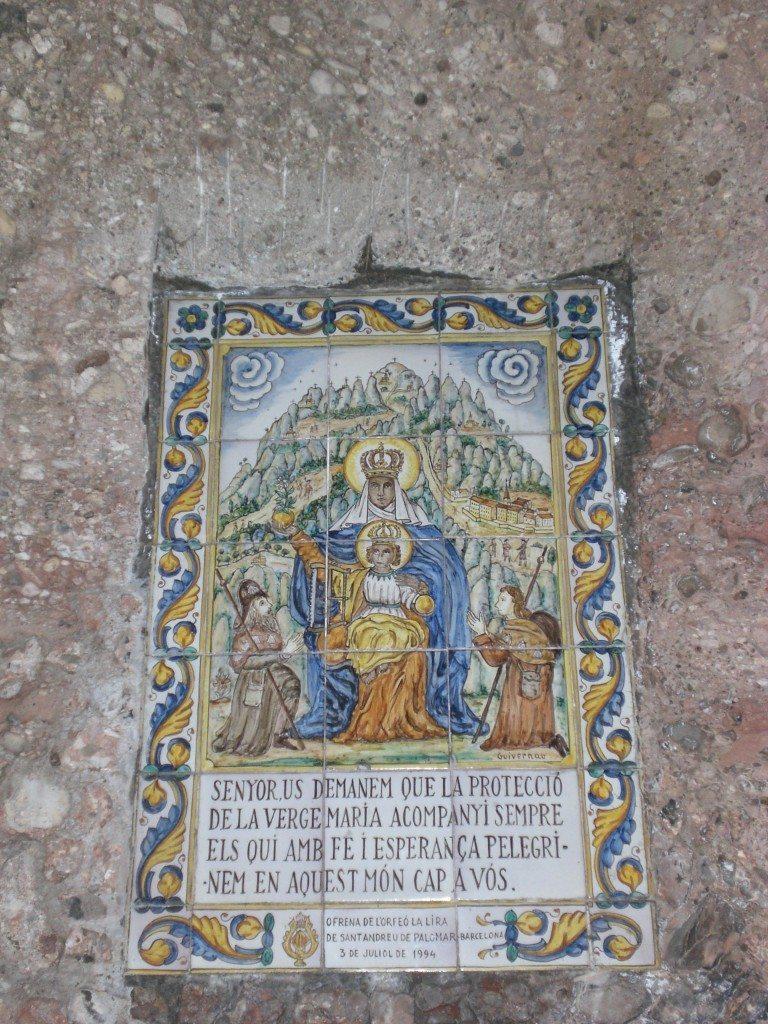 The Montserrat Museum
Across from the Basilica there is a museum filled with works of art from many famous Catalan artists. Art from El Grecco and Dali can be found here as well as artifacts from ancient times. There is a fee to enter the museum, but don't miss it on your day trip from Barcelona.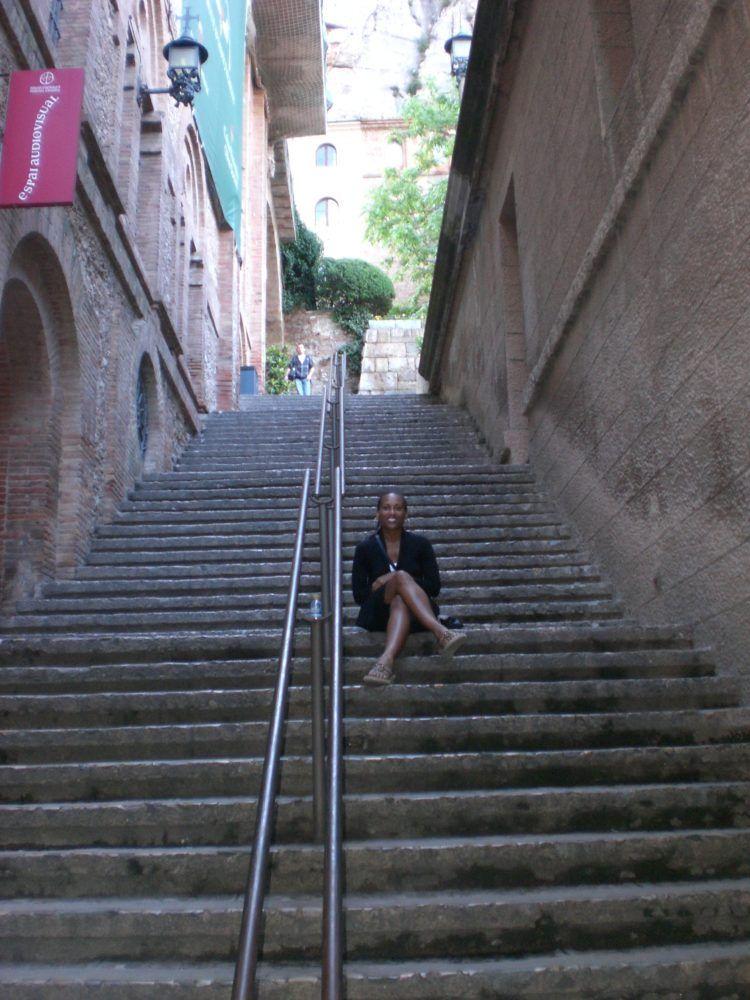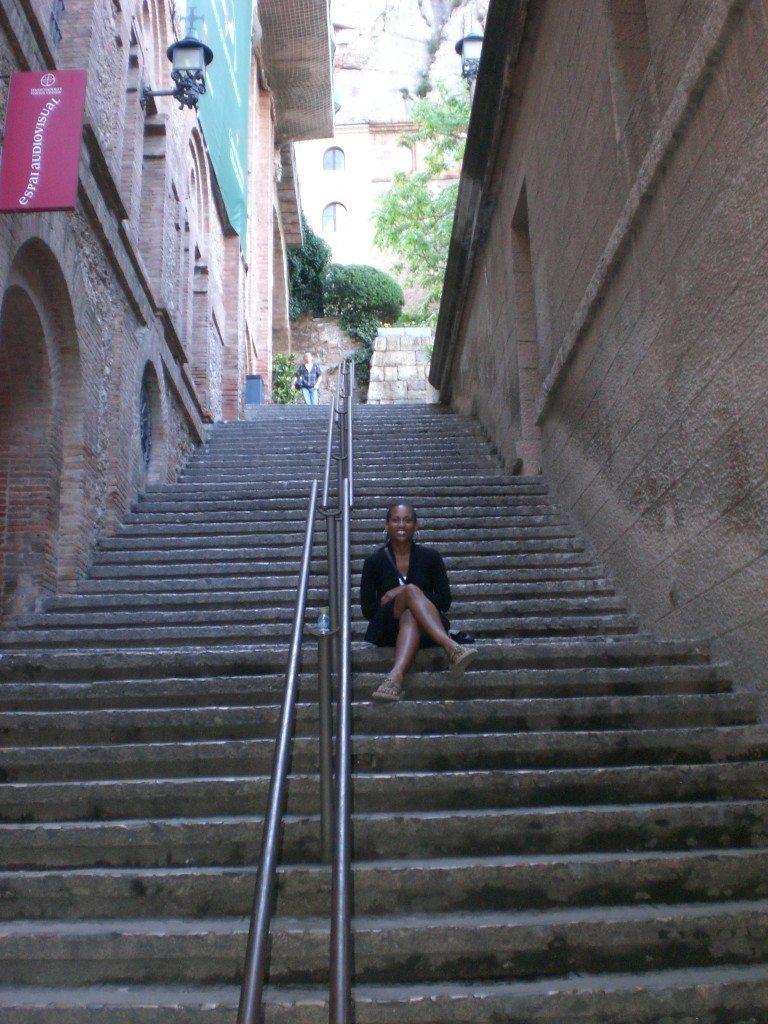 The Grounds of the Montserrat Monastery
There is a courtyard outside the monastery with many arches at which you can take in the magnificent views. I also enjoyed walking around the grounds and coming across creeks and alcoves with religious sculptures.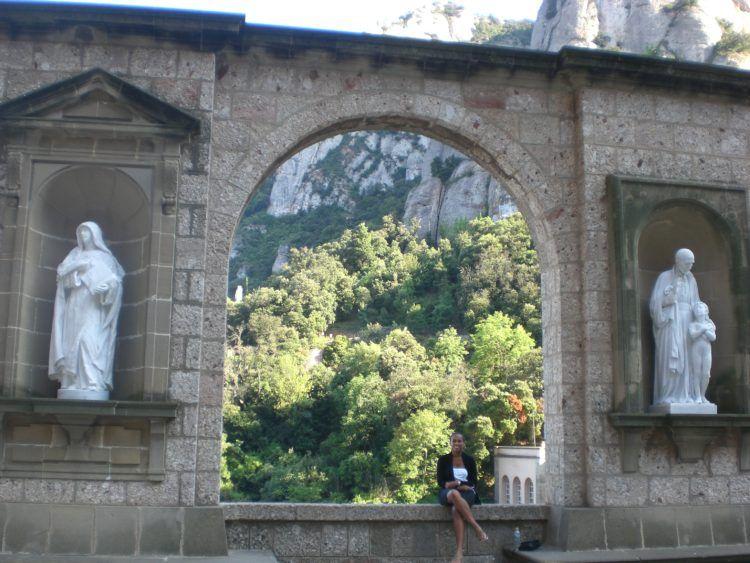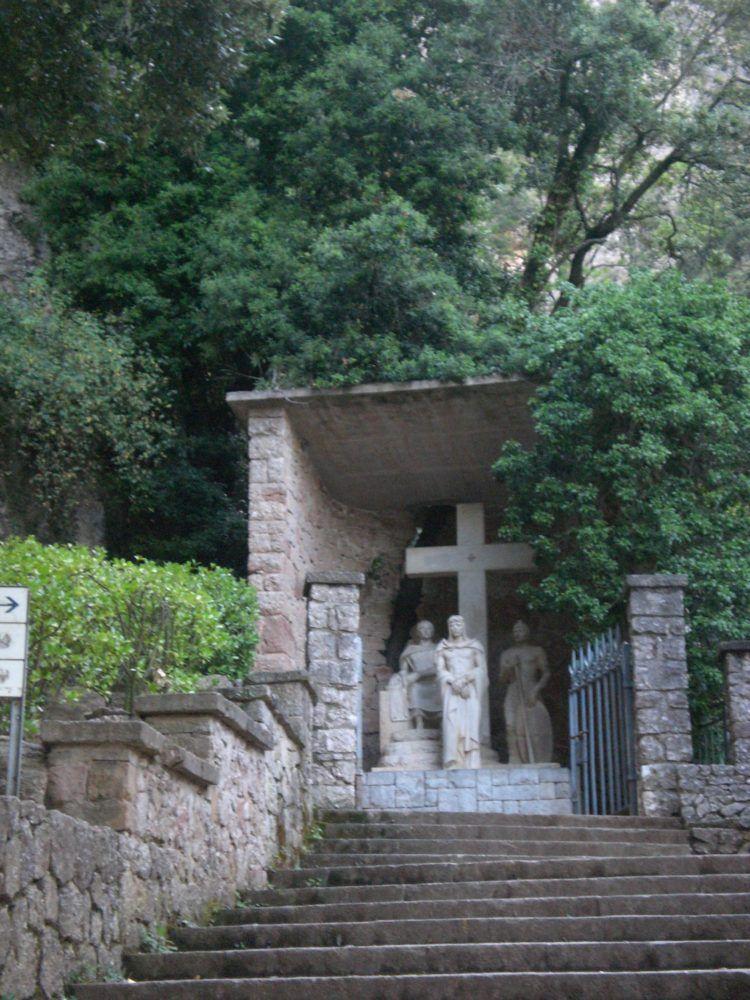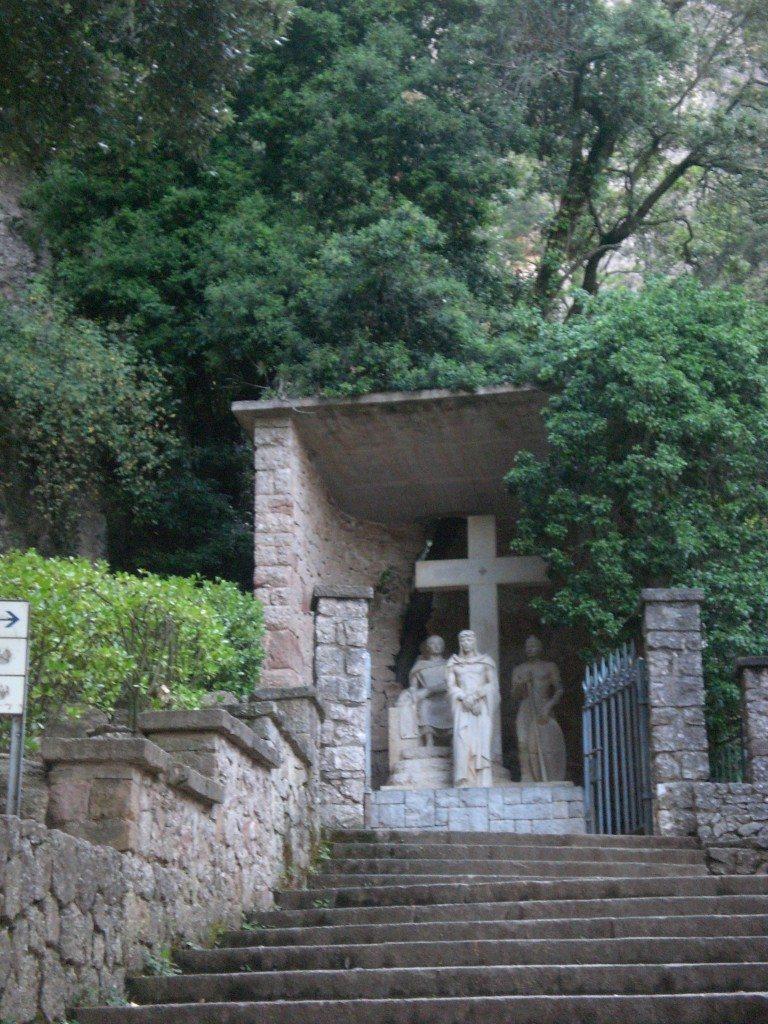 Other Things to Do in Montserrat
Ride the Funicular
Once you have made it to the Abbey on your day trip from Barcelona, you can choose to keep going up or down. The "Funicular de Sant Joan" will take you to the top of the mountain. This is a steep climb and not for those with a fear of heights. At the top you will have access to walking trails and sacred areas.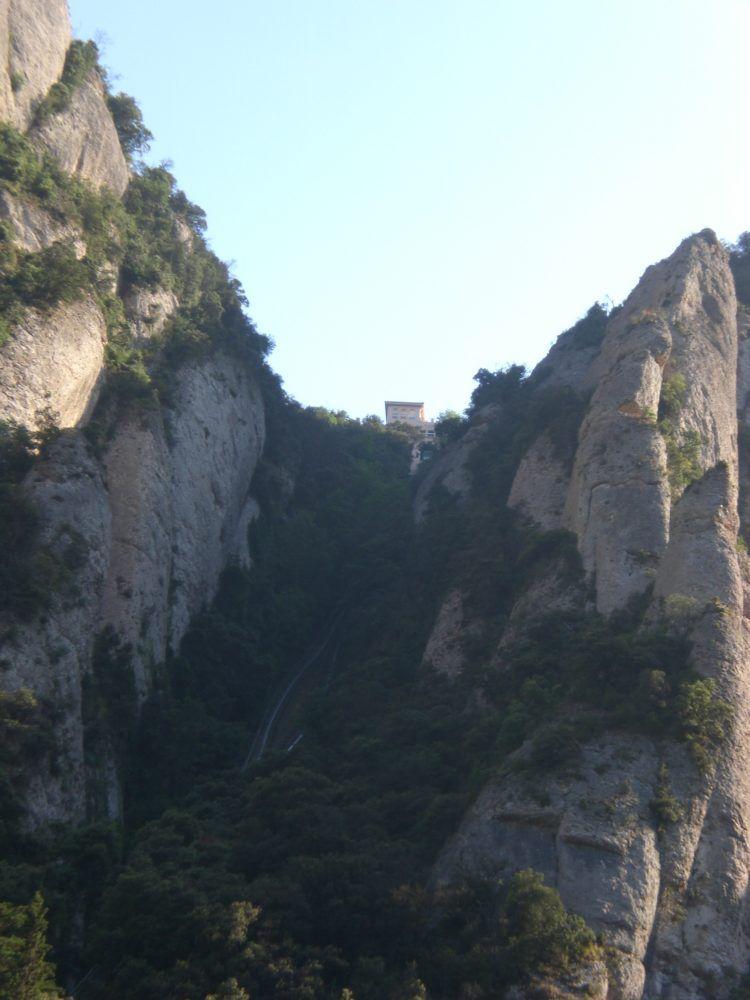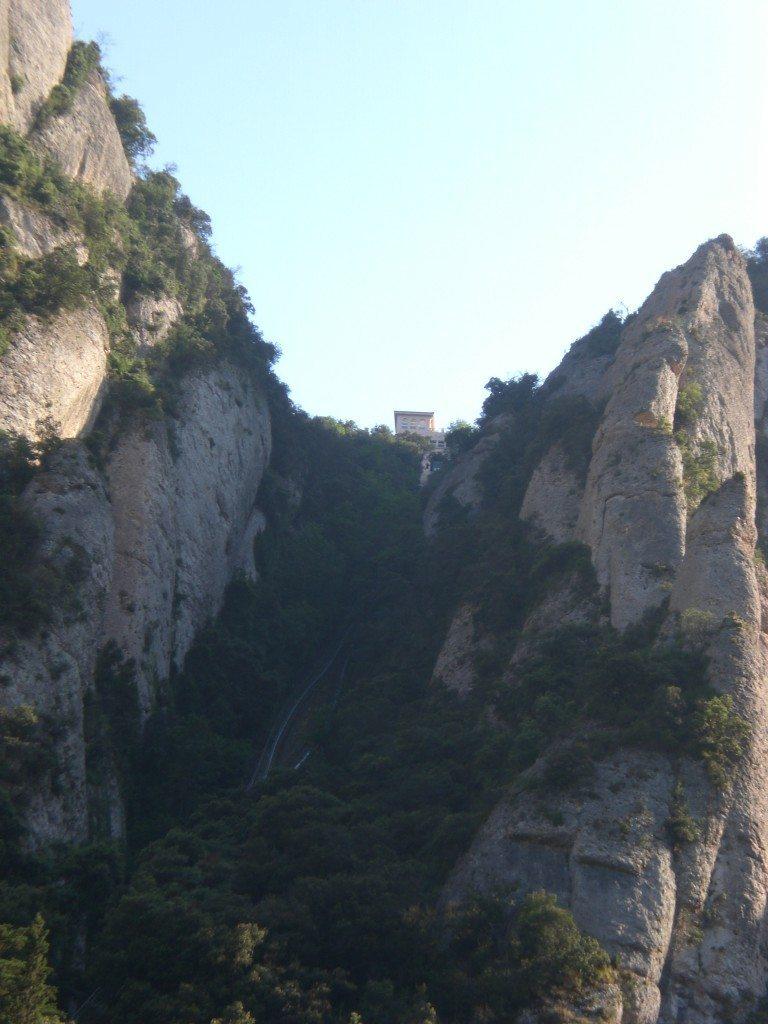 Although I did not see this, I read that there are hovels in the rocks and cliffs which were once living areas of reclusive monks! The "Funicular de la Santa Cova" goes down towards the shrine of Santa Cova. It is believed that the original statue of the Black Virgin Mary was found here back in 890. Interesting fact: Famous Spanish architect Antoni Gaudi designed the iron railings around the cove.
Go Hiking Around Montserrat
Saint Jerome (Sant Jeroni) is the highest peak at Montserrat and a fun hike to do on your day trip from Barcelona. It is 1236 meters above sea level. There are many hiking trails which will lead you up to this summit. Trails connect from the monastery, the Sant Joan funicular or if you are experienced hiker you can start from the bottom of the mountain! It is a 2-3 hour hike up to the top. During your hike look out for a popular rock formation called the "cavall bernat." Although I did not get to do this hike I would love to next time if only for the views!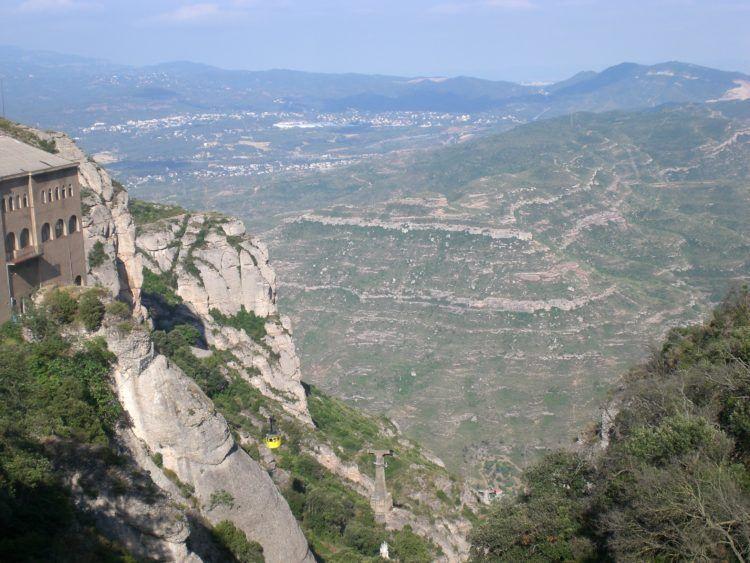 Go on a retreat
While on the train ride up to Montserrat we met a single lady who was on her way up there to spend a week on a retreat. Once I arrived I could see why. With such beauty, peace and tranquility this is the perfect place to get away from it all and get your mind, body and spirit in check. So, if you decide a day trip from Barcelona to Montserrat isn't enough time, look into the Hotel Abat Cisneros. This hotel was converted from an old monastery and is where most pilgrims now reside.
Watch a performance by the boys' choir at the Monastery
L'Esconia de Montserrat is the boys' choir at the abbey. Although I was not able to see the boys' choir perform this is one of the many charms of Montserrat. The boys in the choir reside at the monastery and go to school there. It is one of the oldest choirs in Europe and they perform daily in the Basilica.
I hope you have enjoyed this post on a Montserrat day trip from Barcelona and have developed some sense of how unique and unreal this place is. Montserrat took my breath away. Being so far up in the sky, being surrounded by so much tranquility and beauty and being in the Basilica and the chapels made me feel at peace. I would love to return and spend more time in Montserrat.
Have you been to Montserrat? Do you have any other day trip from Barcelona tips? If so share your thoughts with us below. Click here for more information on planning a day trip from Barcelona to Montserrat!
N.S.W.
pin for later!