Welcome to the best of  The Sophisticated Life Blog 2014! I am sure everyone is enjoying this Holiday season. The year has gone by so fast to me but then again I say that every year 🙂 Looking back on my website/blog this year I am so proud of my accomplishments! Although I developed the original website in 2012 with a different concept in mind (not even knowing what a Blogger was!) I committed myself to being consistent with posts this year and extending my reach into the blogosphere. I am proud of my blogging accomplishments which included-my first all access media pass to a film festival,  making connections in Atlanta that provided me with access to great events an giveaway prizes, revamping my site with a fresh new look, launching a collaboration with fellow Travel Bloggers to bring you the best travel posts on the internet AND winning the Black WeBlog Awards for Best Travel Blog of 2014! I am truly grateful for all your support! I put a lot of time into sharing this passion with all of you and I hope you enjoy it! As the year closes I decided to highlight some of my favorites posts of the year! I hope you will share yours with me in the comments!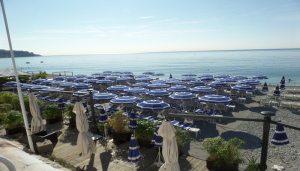 TRAVEL: How do I choose which from so many great posts?! This is my favorite topic to blog about since I love to Travel! I decided to highlight the bucket lists places I went to this year.
1) Martha's Vineyard: Although I went to Martha's Vineyard when I was 18 years old, I have been on a mission to get back there ever since. Why? Because it is absolutely beautiful with many things to see and do on the island as well as having the perfect summer weather!
2) The French Riviera: AKA The South of France known to locals as Cote D'Azur has been on my bucket list ever since I was an adult! Remembering the glamour and beauty of Princess Grace Kelly and her life in Monaco, imagining  the beaches in Nice and the city of Cannes where the film festival is held-it was all as dreamy as I thought and I can't wait to go back!
3) The Ancient City of Pompeii in Italy: There are so many things  I love about Italy including the ancient history and ruins. I learned about Pompeii in school  then after my Mother visited there years ago I knew from the way she talked about it I had to get there. As I discuss in my blog post, the ruins are simply remarkable. If you are a history buff you will marvel at the preserved city and artifacts in Pompeii.
4) My Mother: Speaking of my Mother…I dedicated a post to her since she has truly been my Travel inspiration. I was so touched by how it was recieved by my friends and readers who insisted it make it to the "best of" list-of course it would!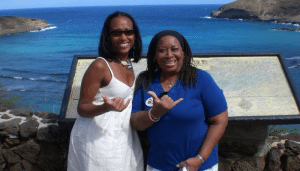 5) Guest Travel Posts! As you may know, one of the things I love about my Blog is that I include guest posts from travelers, foodies and wine enthusiasts like me! Not only do I accept them but I have been known to seek them out when I notice any of my friends or bloggers doing something fabulous! There have been some great ones this year including my fellow travel blogger discussing cities to visit in Europe with Kids, my Jetsetter friend Joy writing about her amazing experience in Australia, my Facebook friend Terri ( I call her that since we have never met but it feels like we have!) who wrote about the beautiful tropical island of Grenada, my college friend Jessica who shared her family's adventure in Egypt and my friend and coworker Lydia who described her epic journey hiking up the Inca trail to Machu Picchu!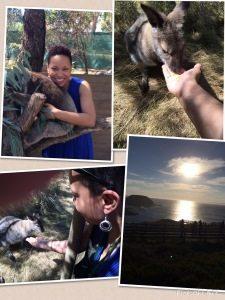 FOOD: Yes I am a major Foodie! I seek out the best restaurants everywhere I go and by that I do not mean the fanciest or most expensive but the good ones with quality and unique dishes! Lucky for me Atlanta is a foodie town so much so I cannot keep up with all the restaurant openings! But, I was able to attend great food events this year and discover delicious eats around town. My favorite Food posts are…
1) The Best D*** Food & Wine Event Ever! Well the official name is "Les Dames d'Escoffier Annual Afternoon in the Country". This outdoor event in the Atlanta area held at the Inn At Serenbe in the fall is not to be missed!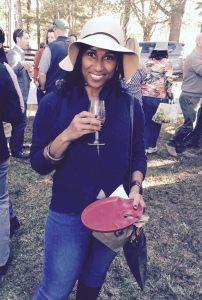 2) West Midtown Restaurant Guide-Part 1 and Part 2: People are always asking me where they should eat in Atlanta. I love my neighborhood of West Midtown partly due to all the great restaurants concentrated in one area. You will find everything from Southern, Mexican, Seafood, Gourmet ice cream and the top rated Bacchanalia!
3) Red Rooster Restaurant in Harlem: Are you familiar with the celebrity chef Marcus Samuelsson? He is currently on the TV Show "The Taste". I have been a fan of his for years and one of the reasons I attended the South Beach Wine & Food Festival on Miami Beach this year was to finally see him in a live cooking demonstration. In the fall I had the pleasure of eating in one of his restaurants! My only disappointment was that he was not at the Red Rooster while I was there!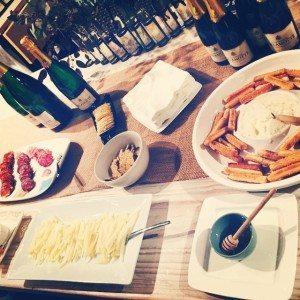 WINE: This year I decided to start a wine tasting series! This has been one of my most enjoyable experiences! Not only do I  love discovering new wine shops but I also love learning more about wine and getting my friends together for this fun activity.
1) Riesling @ Vine &Tap: This wasn't my first wine tasting post in the series but so far it is the most highly ranked wine tasting post! I will say the food was as delicious as the wine and the owner Ian Mendelsohn is such a gracious host.
2) Napa Valley: A Tasting of Napa Valley with Hall Wines and the The Novice's Guide to Napa Valley. I had the pleasure of meeting Kathryn Hall of Hall Wines at the release party for their 2011 signature Cabernet Sauvignon. I also learned about Napa Valley Appellations which is very interesting. Napa Valley is one of my favorite places to visit but encompasses a large area with many wineries and vineyards. It can be difficult to organize and navigate a trip there.  Therefore, I wrote The Novice's Guide to Napa Valley.
3) South African Wine Tasting @ Perrine's Wine Shop: This was my last wine tasting of the year and it has become my favorite! I have never been to South Africa but I already have a list of wineries and vineyards to visit based on this tasting. Perrine's is now my neighborhood wine store and I look forward to other events there.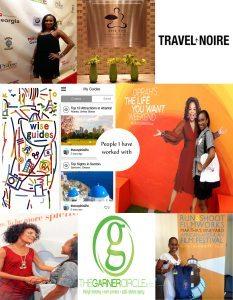 1) The Harlem Fine Arts Show: I was able to attend the Harlem Fine Arts Show not once by twice this year-in Atlanta AND Martha's Vineyard! My coverage of the arts show in Atlanta is one of my most viewed posts. I discovered wonderful new artists and definitely recommend this annual show which travels from NYC to Atlanta to Martha's Vineyard to Chicago.
2) The Ballerina Misty Copeland: If you have not heard of Misty Copeland this year you have been living under a rock! (no offense) This post discusses Misty's rise to fame. It also commends her for living a dream of women like me while encouraging little girls of color that they too can be a ballerina.
3) The Film Dear White People: Did you see this movie? The title caused a lot of controversy. People assumed it was a film directed in a negative way towards white people but it was truly a film about finding your own racial and sexual identity and being comfortable in your own skin. In this post I tell my story of how I too had difficulties fitting in in college and how I found my true identity.
4) The Oscar Winning Actress Lupita Nyong'o: 12 Years A Slave took my breath away. Directed by Steve McQueen it was difficult to watch but such an interesting true story of our past. It also introduced the World to the stunning and educated actress Lupita Nyong'o. She quickly became a fashion icon and role model as well as a symbol of Black beauty around the World.
5) Oprah's The Life You Want Tour with Celebrity Chef Carla Hall: The excitement was palpable across social media as Oprah went from city to city to spread encouragement and empowerment across America. Although I was not able to see Oprah speak, I was able to attend an exclusive breakfast Power Meet Up with celebrity Chef Carla hall! She is well known for her participation on Top Chef and as a current host on The Chew. I was able to meet and interview Carla Hall and that video is included in this post.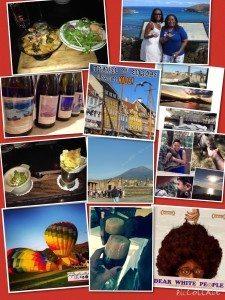 I hope you have enjoyed my recap of my Favorite Blog Posts of 2014! Do you have a favorite? If so share your thoughts with us below! I cannot wait to bring you more and better posts in 2015!! Happy New Year!
N.S.W.