Introduction:
When I found out my husband and I were going to South Africa I was so excited! It had always been a dream of mine to visit South Africa. One the reasons I wanted to visit South Africa was to go on safari. While planning our trip to South Africa I did research on our safari options. Since we already had plans to visit Durban, Johannesburg and Cape Town, I knew we would not have time to spend a few days at a place like Kruger National Park. I actually started my research thinking we would NOT be able to do a safari without an overnight stay. However, a friend wrote a guest post about her safari day trip in Kenya so I kept hope alive.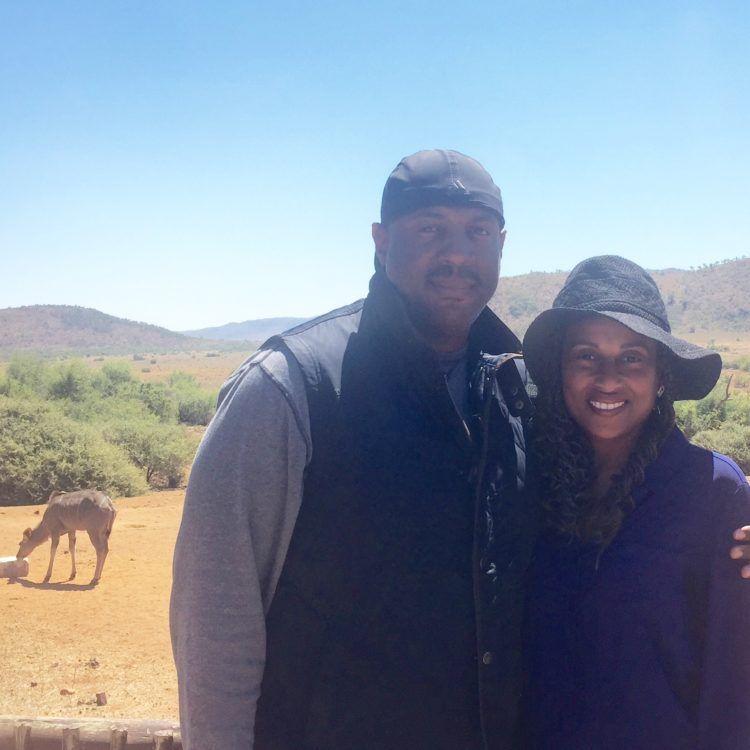 Research & Planning a Safari day trip:
Honestly, I was not sure where to start when planning our safari day trip. I knew we had an open day in Johannesburg so I googled everything from Johannesburg safaris to safari day trips to going on safari in South Africa. I was not aware of which game reserves were located near Johannesburg. If you do have specific game reserves in mind then this step will be easier for you. During my research, I came across a review for Felleng Tours on TripAdvisor. It caught my eye since they had 5/5 star reviews! Not a common finding on TripAdvisor. I visited their website and found safari day trip options from Johannesburg to Pilanesberg Game Reserve. On their website there is a "contact us" link. I emailed them and was surprised at their quick response. Felleng Tours is run by husband and wife team Rudie and Agnes. I had a lot of questions and they always responded quickly with detailed information. I just counted and I sent them 7 emails prior to our trip! I appreciated their patience with us since it was our first safari. Within these emails I found out that we did not need vaccines for this safari day trip and that Pilanesberg was malaria free. Good news! We chose the full day tour which was $135 per person USD or $2150 Rand. This cost included pick up from our hotel in Johannesburg, breakfast sandwiches, bottled water, entrance to Pilanesberg Game Reserve and drop off back at our hotel. We were told lunch would be our responsibility but Rudie actually paid for us and the other person in our group. There were only 3 of us plus Rudie on our safari day trip which made the experience much more intimate. We were able to ask questions and gain valuable information on South Africa.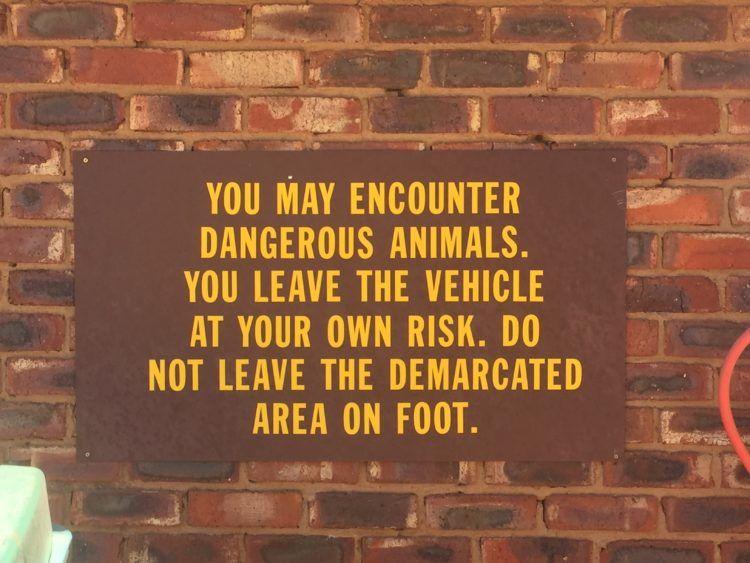 In Search of the Big 5:
Our day started with a 6.30 am pick up time. It was actually bright and sunny but a bit cool in the 50s. Rudie was cheerful and handed us our breakfast bags. We traveled in a van about 2 ½ hours to Pilanesberg Game Reserve. On the way we had a stop for rest rooms, coffee and gas. On the drive Rudie pointed out significant landmarks such as the famous Sun City Resort. He also discussed the history of South Africa from his point of view as an Afrikaner. He offered stops at craft markets on the way but we were anxious to search for the "Big 5". The Big 5 in Africa refers to the African lion, African leopard, African white or black rhinoceros, African buffalo and the African elephant. On arrival to the game reserve park we remained in our van. I was relieved since I have seen people in open air vehicles while on safari. Our van had windows that slid open for easy viewing of the animals. While searching for the Big 5, we came across giraffes, zebras, hippopotamus, gazelles, impalas and wild scavenger animals.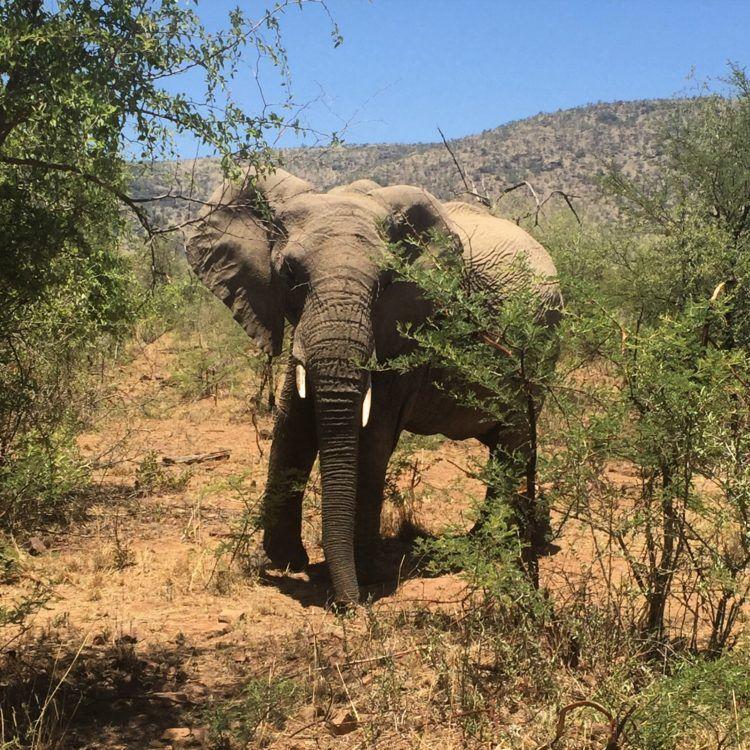 My heart started racing when Rudie spotted a family of elephants. What appeared to be the father elephant actually turned, stared at us and started charging towards the van! We drove off but parked so we could watch the elephants in their natural habitat. The babies were adorable! I fell in love with the statuesque graceful giraffes with their long eyelashes. During lunch we saw several monkeys including one that was holding a baby. Rudie was very knowledgeable about the game reserve, patterns of the animals and tracks in the roads. He did his best to find the Big 5 and even had an incredible pair of binoculars for our use. By the end of the day, we had seen rhinoceros (from a distance) and elephants. On our way out of the park he spotted a parked car by a tree. He backed up, drove over to it and asked the couple why they were parked there. It turns out there were lions underneath the tree.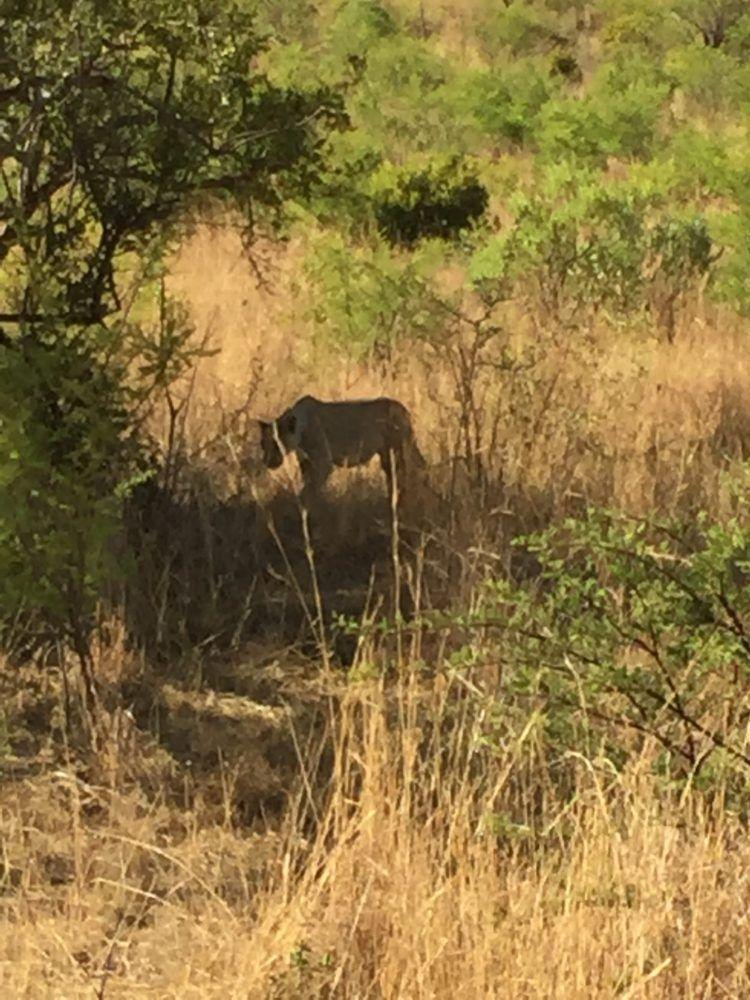 We saw at least 3 from a distance laying on their backs, wagging their tails and walking back and forth to each other. It was not the image I had of lions-well except maybe in The Lion King 🙂 I was appreciative that Rudie made the extra effort so we were able to see lions! In the end, we saw 3/5 since the leopards and buffalo were obviously hiding. We returned to our hotel around 6.45pm exhausted and exhilarated. It was truly an adventure of a lifetime!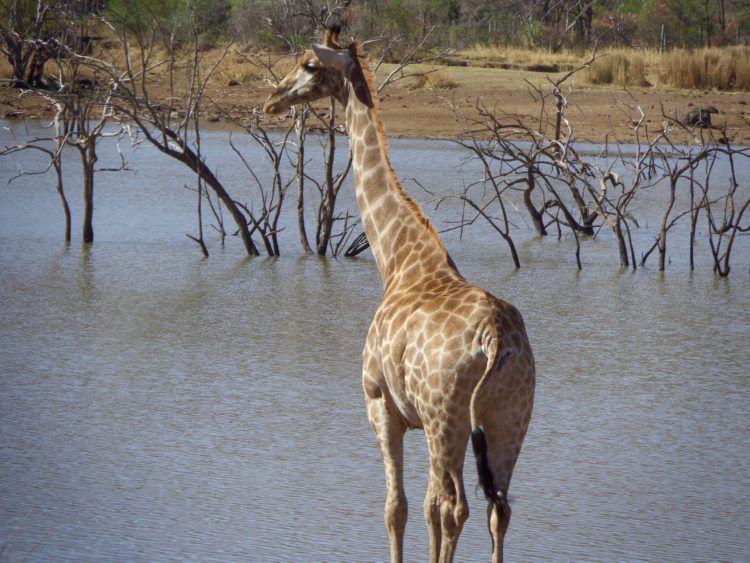 Here are some basic safari tips:
Before you go, visit your physician or a travel clinic for advice on vaccines and medications. Your needs will vary depending where in Africa you go on safari.
Ask for referrals on game reserves and tour companies from travelers who have done safaris. Also check TripAdvisor for reviews.
Pack and bring a really really good camera with high zoom lenses. I brought my brand new Canon DSLR camera but did not pack the high zoom camera lenses since it did not fit in my bag. Big mistake! A pair of binoculars will be great as well.
Wear comfortable clothes. I chose long sleeves, pants and sneakers based on the temperature and to avoid mosquito bites.
Bring and wear insect repellant. I hate mosquito bites and I am weary of contracting any illnesses from them (that is the physician talking)
Bring tissues, hand sanitizers and wet wipes. Although we found decent bathrooms in Pilanesberg Game Reserve with flushable toilets and running water, these supplies are good to have on you just in case.
Bring bottled water if not provided by your host. During the day it went up into the 70s and with the sun it was quite hot. Avoid getting dehydrated on safari by bringing lots of water.
Pictures definitely speak louder than words when it comes to our safari day trip so enjoy the slide show below. We took hundreds of photos but these are my favorites. Have you been on safari? If so share your thoughts with us below!
Pin this post for furture reference!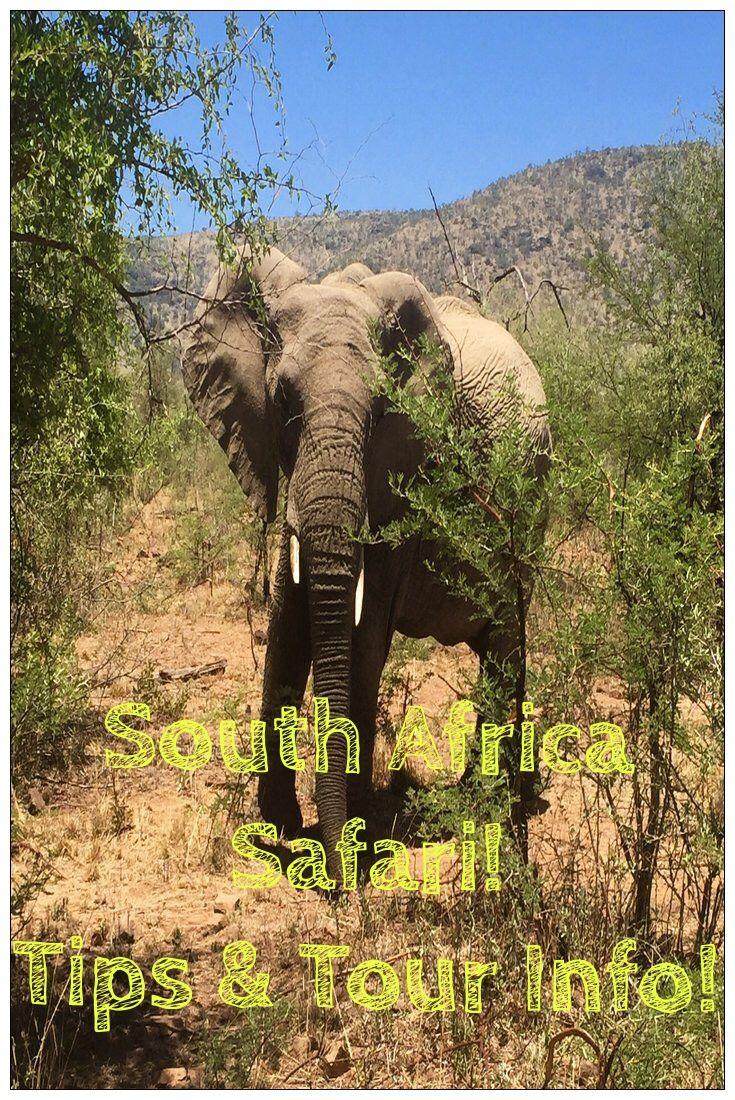 Comments
comments