This post contains affiliate links. However, all opinions expressed here are original. If you click through on a link, you won't pay a penny more, but we'll receive a slight commission which helps us keep this information available to you. Thanks!
I am continuing this month with coverage of my second trip to Cape Town South Africa last year. Part of this trip included a Cape Town road trip. During our first visit to Cape Town in 2015 we were told "You must take a drive to Cape Point and Cape of Good Hope". Unfortunately, we tried to fit too much in in a short time period and didn't make it. I was thrilled that my husband's schedule last year allowed time for a Cape Town road trip along the Cape Peninsula. The Cape Peninsula is located in the Atlantic Ocean and stretches from Table Mountain in the north to the Cape of Good Hope in the South. Besides Cape Point and the Cape of Good Hope, I was excited to finally see the African penguins on Boulders beach. Granwell of Cape Trio tours took us on another amazing journey. We made 4 stops on our Cape Town road trip along the Cape Peninsula.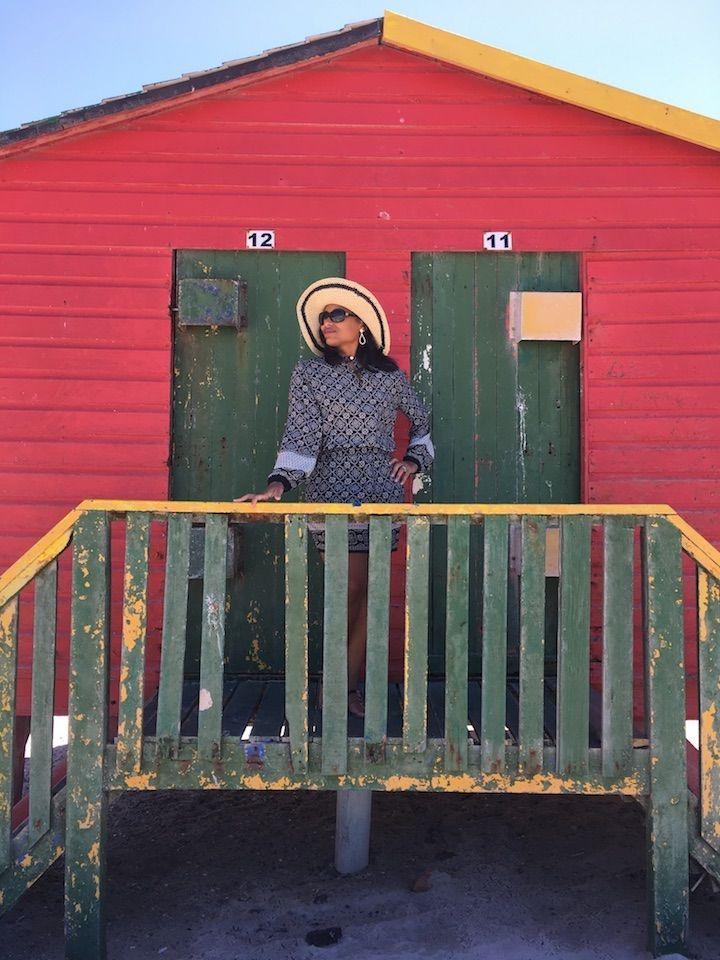 1. Muizenberg: After leaving Century City in Cape Town and driving past the majestic Table Mountain, the first stop on our Cape Town road trip was Muizenberg. I added Muizenberg Beach to our itinerary after seeing picturesque photos of the colorful beach cottages there. Muizenberg is a quaint surfing town. We actually observed a surfing class taking place on Muizenberg beach. I read that Agatha Christie surfed here regularly. The area is of historical significance due to the "Battle of Muizenberg". During 1795 the British won this battle and seized the Cape from the Dutch. Notable landmarks include "Rhode's Cottage" once inhabitant by former Prime Minister Cecil Rhodes. Another is "Het Posthuys" which is one of the oldest buildings in South Africa built by the Dutch East India Company. The colorful cottages, the mountainous backdrop and blue ocean waves made this area unique and beautiful!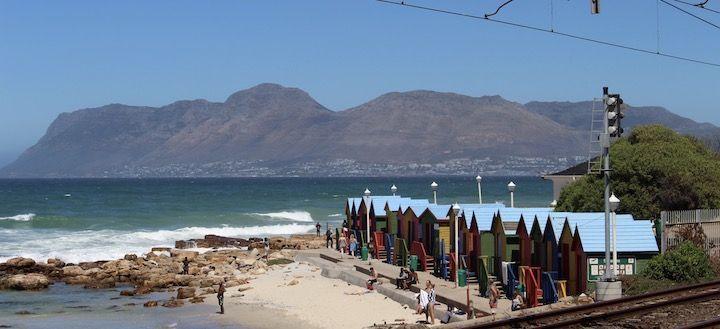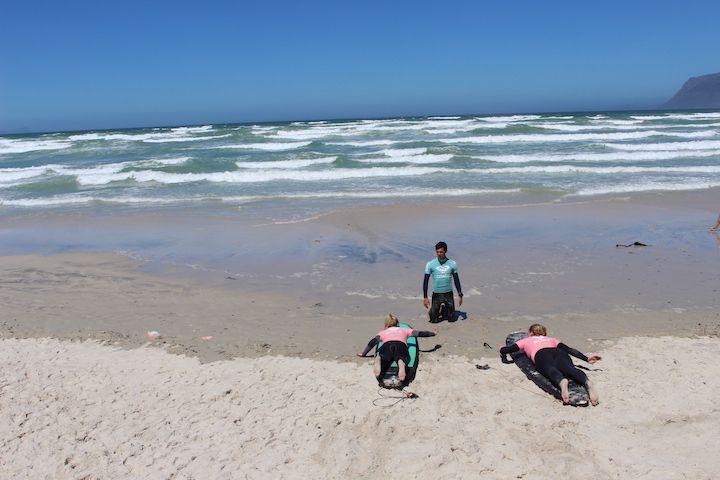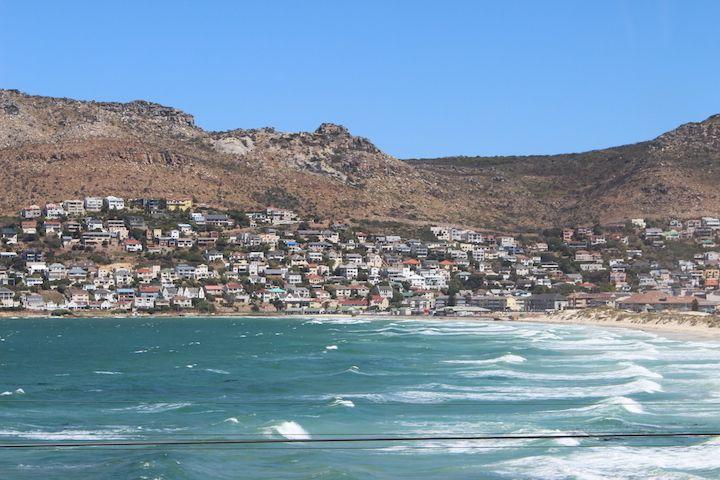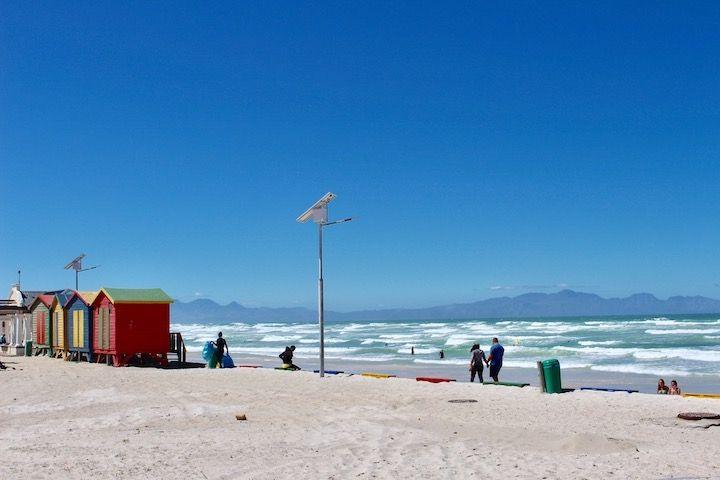 2.Boulders Beach is located close to Simon's Town which is the base of the South African Navy. The beach literally has huge boulders everywhere. You will notice a lot of tourists visiting to see the African penguins. African penguins settled in this area in the 1980s. Colonies of African penguins can also be found in Namibia. Unfortunately, they are on the verge of extinction. But, you could not tell that from our visit! I couldn't believe how many penguins were walking around the beach and the boulders. I thought they were adorable but my husband disagreed (who doesn't think penguins are adorable?) If you want to get close and personal with the African penguins, go to Foxy Beach. You can take the boardwalk out to the beach area and of course take selfies with the penguins. 🙂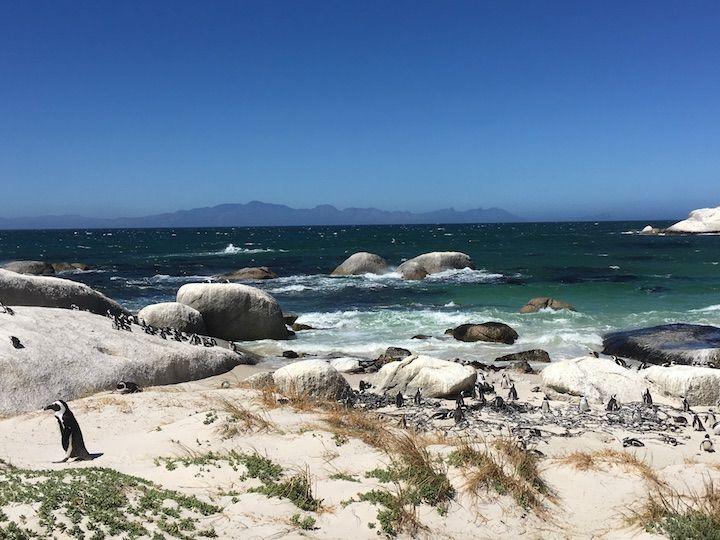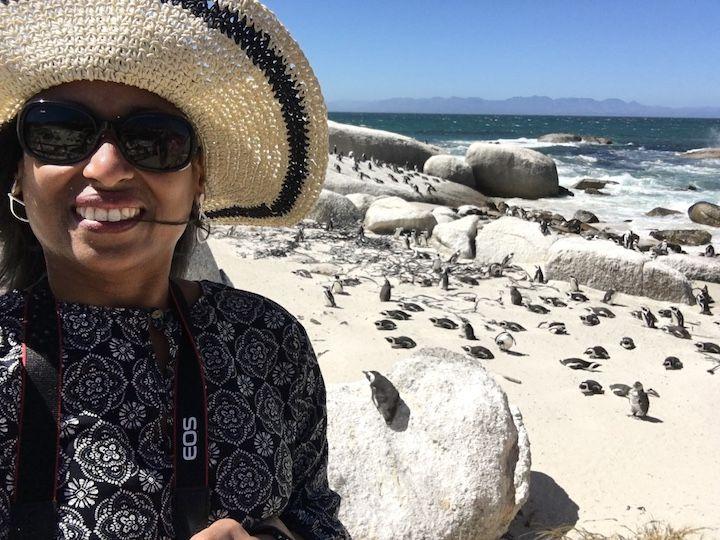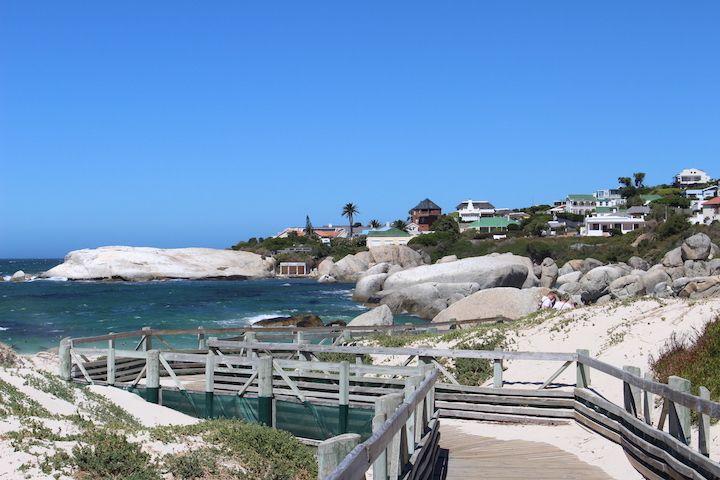 3. Cape Point: We kept heading south past seaside towns, restaurants and antique shops to the Cape of Good Hope Nature Reserve. The drive there along the mountains and cliffs was absolutely breathtaking. After we passed the entrance what did we see? Baboons! They were actually holding up traffic crossing the road. After parking, we decided to head up to the lighthouse at Cape Point. However, the Flying Dutchman Funicular was closed. The other option? Walk up the winding mountainous trail with steep cliffs all around. As we started making our way up the lighthouse, we saw a baboon coming down the path. Then, another baboon crossing the path. Then, another baboon sitting on a bench. Then another baboon lifting up and climbing under a fence! We saw baboons of all sizes including a baby on the way up to the lighthouse. We had been warned by our tour guide Granwell not to have food or drinks visible since the baboons would go after it. They are also known for grabbing bags and knapsacks. Since we had a knapsack, we were particularly nervous. Our hearts were racing and we almost turned around to head back down. But we persevered and made it to the top. The views were definitely worth it.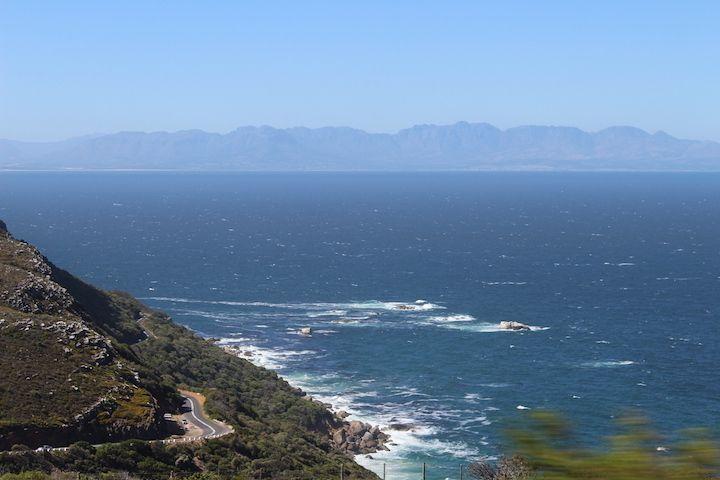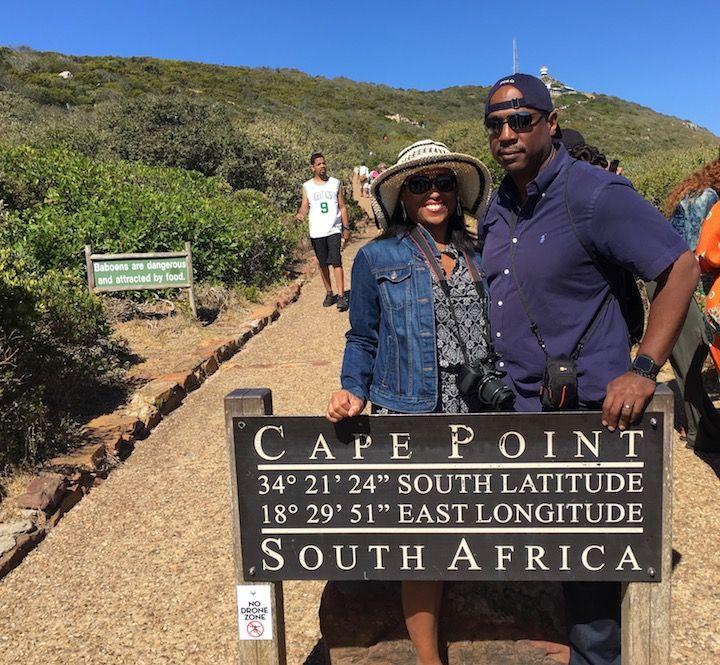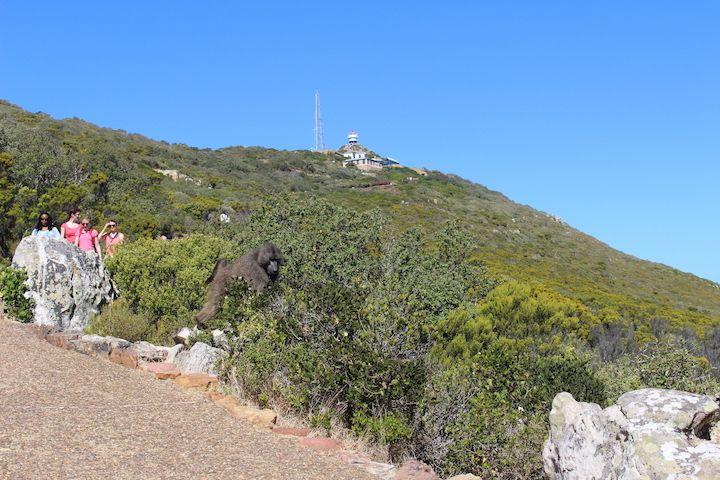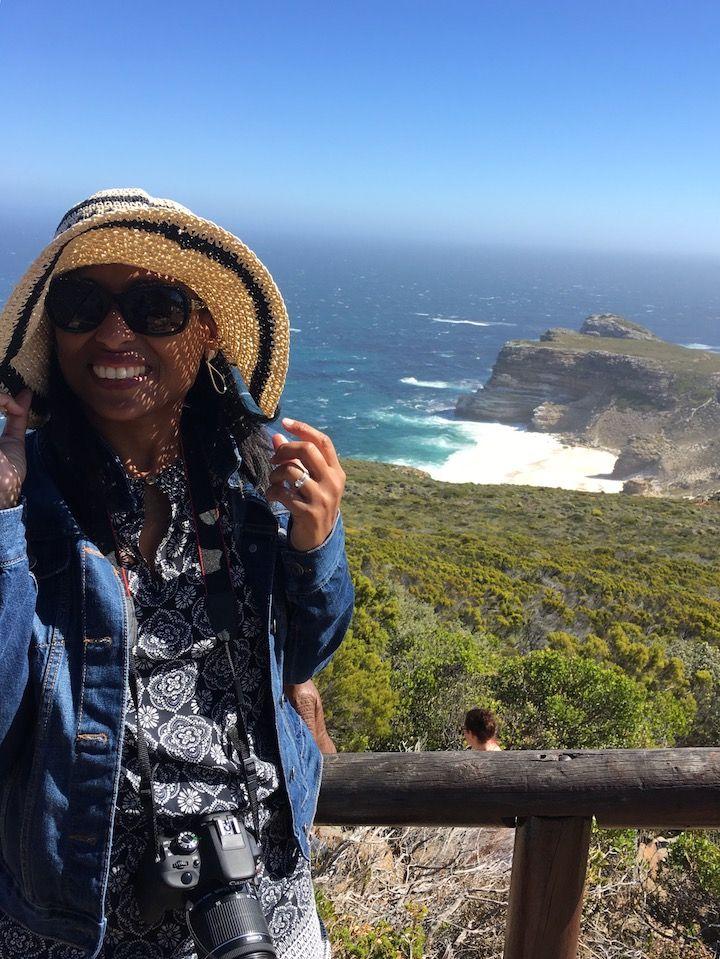 4. Cape of Good Hope: The last stop of our Cape Town road trip was a stop at The Cape of Good Hope. It is a short driving distance away from Cape Point and you can see it in the distance. The Cape of Good Hope is famous for being the most southwestern point of Africa where the Atlantic and Indian Oceans meet. That is what the sign says. However, the southernmost tip of Africa is 90 miles away at Cape Agulhas. And, the meeting point between the two oceans fluctuates between Cape Agulhas and Cape Point. Definitely have your cameras ready for this photo opp. People were lined up to take pictures behind the Cape of Good Hope sign. The wind almost blew us away before our turn.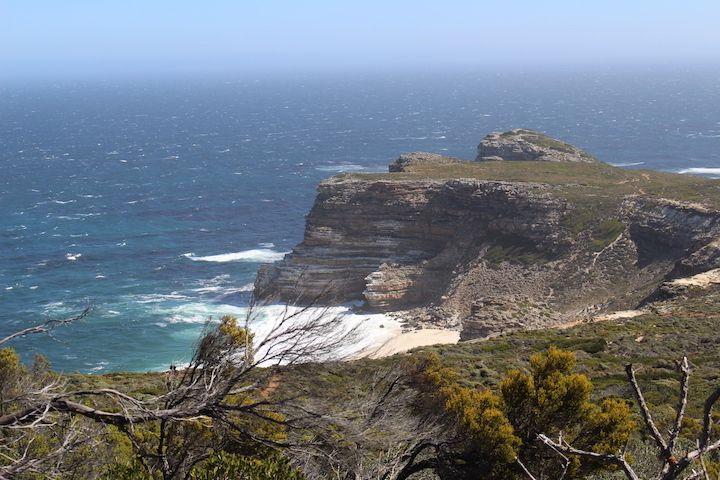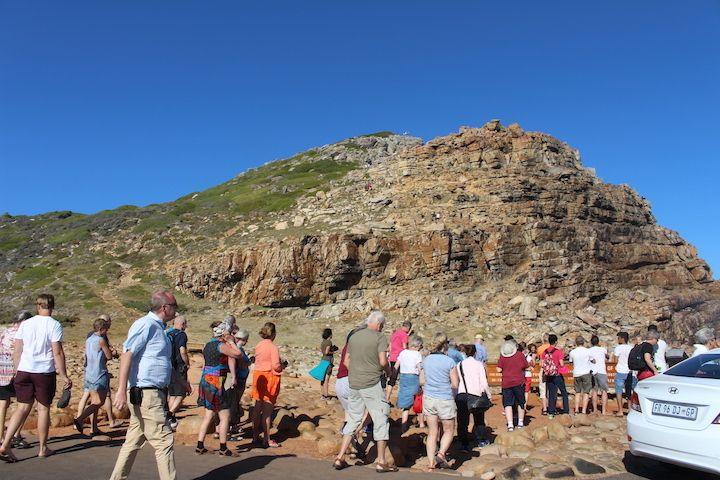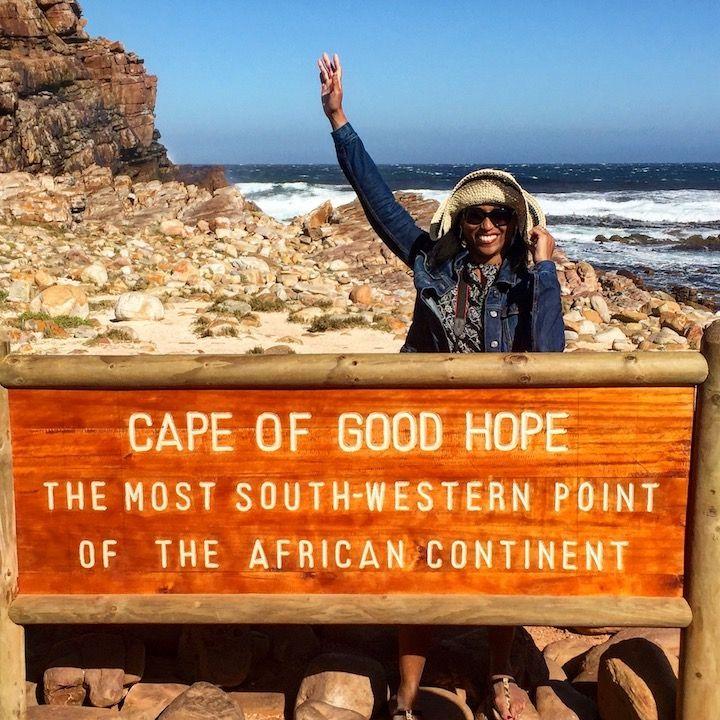 We had an enjoyable and memorable Cape Town road trip along the Cape Peninsula! Granwell of Cape Trio Tours was a great tour guide and most importantly a good driver! Have you been to any of these destinations? If so share your thoughts with us below! If not, and you'd like to plan a trip, check out this fantastic city guide for more information.
Catch up on the multiple posts I have on South Africa including a planning guide, how to spend 3 days in Cape Town, wine tasting in Stellenbosch and a visit to Bo-Kaap. We recommend booking your stay in South Africa through Booking.com for the best experience.
Pin this post for future reference!