Have you ever heard the phrase, "the couple that cooks together stays together?" Well Ashley and Jermaine of "Cooking with Bae" is a great example of  this! They have turned their passion into a business and they are sharing their story of love, food and cooking with us on The Sophisticated Life!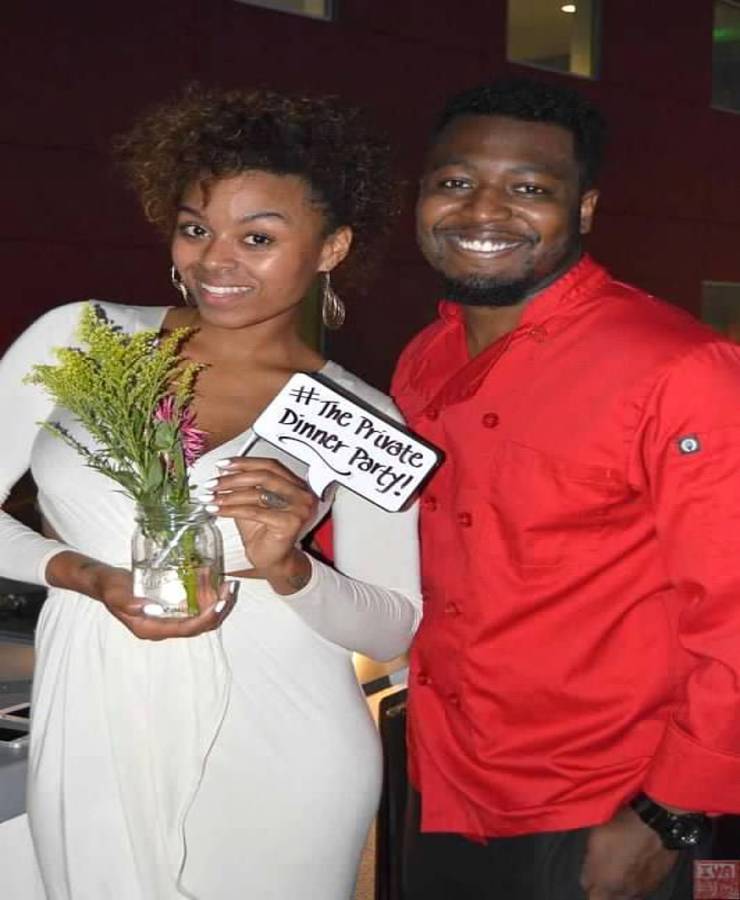 1) Tell readers your individual backgrounds. Where are you from, where do you live, what is your culinary training and experience?
Ashley: Hi everyone! I grew up in Maryland, about 20 minutes north of DC. I attended college at North Carolina A&T State University. I used to run an online boutique, which is what brought me to Los Angeles about 3 years ago. I have always had a passion for really good, healthy food and I was a vegetarian for 3 years. But, on my first trip to Jamaica I wanted to truly enjoy the food so that brought me back to meat! I also love to bake. I consider it my therapy. Cooking and baking are hobbies that I have turned into a business through our joint events and my personal blog. We now reside in Ladera Heights in Los Angeles.
Jermaine: What's up people! I also grew up in Maryland, right outside of Baltimore. I attended Undergrad at Bowie State University. Following graduation in 2009 I was commissioned as an Officer in the United States Air Force. My first duty station was the Los Angeles Air Force Base. After my time ended with the Air Force in 2014 I decided to pursue Business School at USC. While living in California I grew nostalgic of the food my mother and grandmother used to make as well as some other Maryland fan favorites. Instead of flying back to the east coast to get the food that I loved, I decided to teach myself how to cook them.  I gained the reputation of being an excellent cook through hosting many parties at my prior bachelor pad. This led me to try out for the show Master Chef where I beat over 40,000 people and made it to the Top 100! Unfortunately, I fell short of making it on to the show, but I haven't looked back since.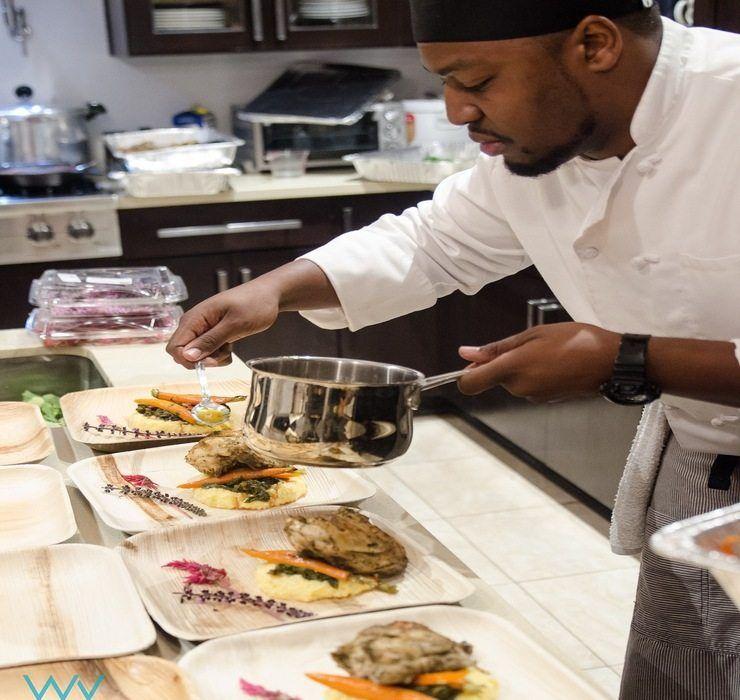 2) When do you each recall first having a passion for cooking? Is there someone in your family or a professional chef that inspired you?
Jermaine: Growing up everyone in my house cooked. My dad is an expert baker and my mom prepared delicious meals on a daily basis. Everything's a competition between my brother and I, so we found ourselves competing to see who could make the best breakfast for our mom and dad. These breakfast competitions sometimes ended with my parents being forced to endure meals that weren't edible, but somehow still made us feel like we were Gordon Ramsey! My brother ended up going to culinary school so seeing the dishes he prepared inspired me to start cooking during my time in the military. He provided plenty of tips to help me along the way.
Ashley: My passion for cooking came from helping my grandmother, mom and sister in the kitchen growing up. I would assist them with various tasks and was always excited to experiment and create new things and see them come to life from start to finish. While I was growing up, my mom was always hosting events at our house for our friends. It was always fun to help her create the menu and prepare the food. She always jokes that I can take 5 random ingredients and come up with a gourmet meal from them! I take after my aunt and grandfather in a lot of ways too with my love for baking, which seems to run in the family. We love sharing successful recipes with each other!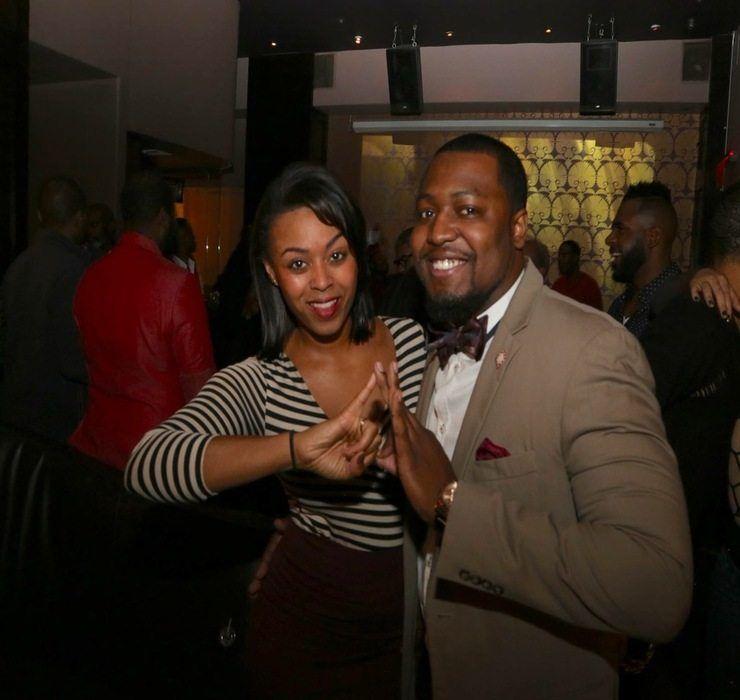 3) Where did you two first meet and how long have you been dating?
Jermaine: So this story is pretty funny… we had crossed paths a couple times through mutual friends but never really shared more than a 5 minute conversation with each other. Then one random day we were both at Manhattan Beach with our significant others at the time and ran into each other, said hi and bye and introduced each other and went our separate ways.
Ashley: Fast forward, 5 months later and we were at this bar called The Dime and ran into each other with our mutual friend. Jermaine asked our mutual friend about my relationship status and we both happened to be single.
Jermaine: …and from there I pursued her aggressively. With our first date being the first day we started texting each other lol
Ashley: Yep! Now we are about a year and a half in and he's stuck with me! Lol Crazy, we came all the way to LA to meet someone from the same home state!
4) When did you first realize you had a common interest in food & cooking?
 We can't remember exactly, but on the first date we're pretty sure we discussed our interests and passions and it came up. Soon after, Jermaine had my friend and I over for dinner since hosting is another thing we both have a love for. Since then we've both cooked countless meals for each other and often have friends over for dinners, cookouts and really just to share food! (I'm an expert baker, and Jermaine is sort of the better cook, but shh don't tell him I said that! (LOL)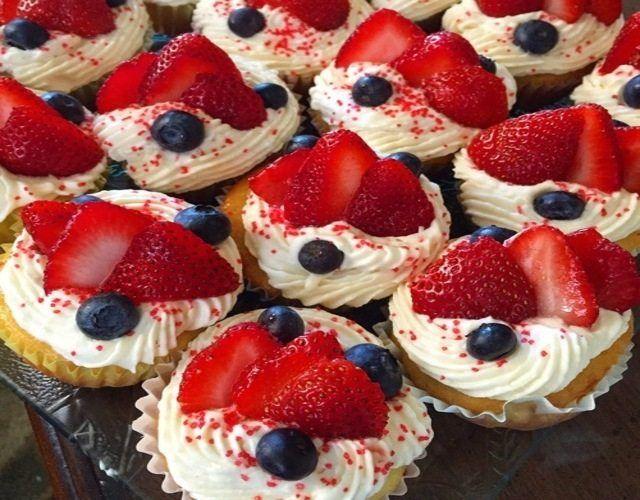 5) Ashley-Tell us a bit about your blog "LifestyledbyArt" and Jermaine tell us about "Frat Boy Cuisines".
Ashley: LifestyledbyART is a lifestyle brand that I've built to inspire people to "style a life" the way they desire-vibrantly and passionately. I share healthy meal ideas, hosting tips, homemade beauty secrets, holistic remedies, travel guides, fun DIY projects, and more. I want to eventually expand the brand in a lot of ways through events, community initiatives, teaching and inspiring healthy eating and so much more!
Jermaine: Frat Boy Cuisines is my catering business that I started after graduate school. I specialize in Caribbean cuisine but create my menus specifically based on my client's preferences. I cater all types of events ranging from weddings, birthday celebrations, charity events, executive meetings, and intimate private dinners.
6) Describe your new venture "Cooking with Bae". What is the concept and what do you hope to accomplish?
 Cooking with Bae is a joint project and series we started to inspire couples to have fun and cook together. Eventually we will have live classes, instructional videos and a fun, interactive cookbook. We just realized that it can be difficult to have two "executive chefs" in the kitchen, so we want to show couples that cooking is truly about teamwork, it can strengthen other areas of your relationship and its fun creating something from scratch together.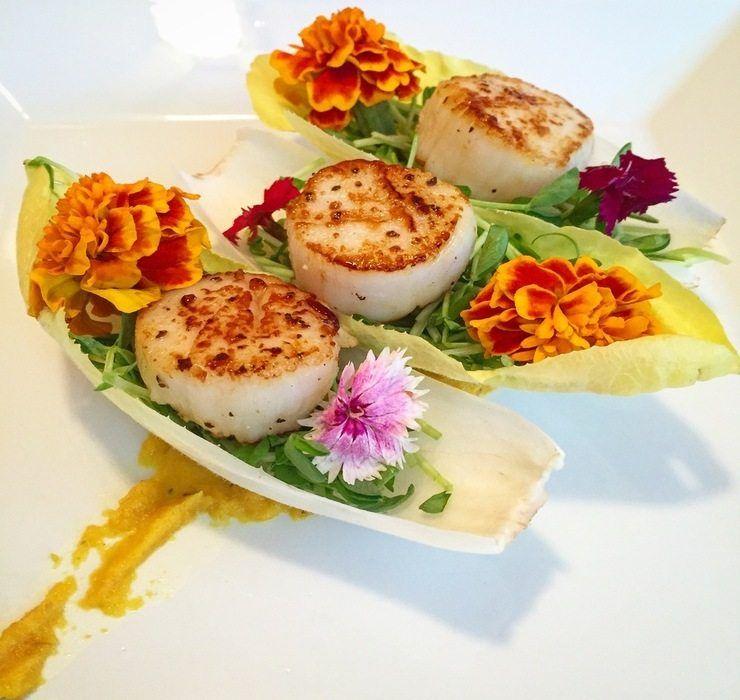 7) What are your favorite dishes to cook together?
 Usually our joint meals involve some seafood… since we're both from Maryland, that's a must! Other times we grill out and make healthy side items. It's hard to pick just one thing since we love experimenting and trying out new recipes. If we had to choose it would probably be Cedar Plank Salmon served with Broccolini sprinkled with some parmesan cheese, spritzed with a little lemon, and accompanied with Jalapeño Garlic Mashed Potatoes. We're getting hungry just thinking about it!
8) What advice do you have for couples who would like to gain experience in the kitchen?
 Make it fun and don't be too critical of each other, even experts make mistakes so don't get intimidated. Start small with simple recipes and work your way up to more complex meals. Teamwork is definitely an important thing too. Creating a successful and tasty meal only comes from working together. Oh and also be open minded! When we first started cooking together we used to clash because we are each used to cooking our own way but you have to be able to learn from each other too. There are things we have both taught each other about cooking that have actually enhanced our skills in the end.
9) While traveling do you enjoy exploring local cuisines and if so name some of your favorite foodie locations.
 Yes, we pretty much travel to eat! LOL we love exploring the local favorites whenever we travel to new places. As far as places we've traveled together… we loved Tulum, Mexico where we fell in love with the Mayan cuisine. We specifically loved Conchinita Pibil which is pulled pork marinated in achiote paste. When we went to Montego Bay, Jamaica we scouted out a local favorite, Scotchies – which is known for their authentic jerk chicken, prepared on wooden planks. A state-side favorite was Dallas, Texas where of course we stuffed ourselves with BBQ from Lockhart in the Bishop Arts District. We always find that the hole in the wall, local spots offer the best food!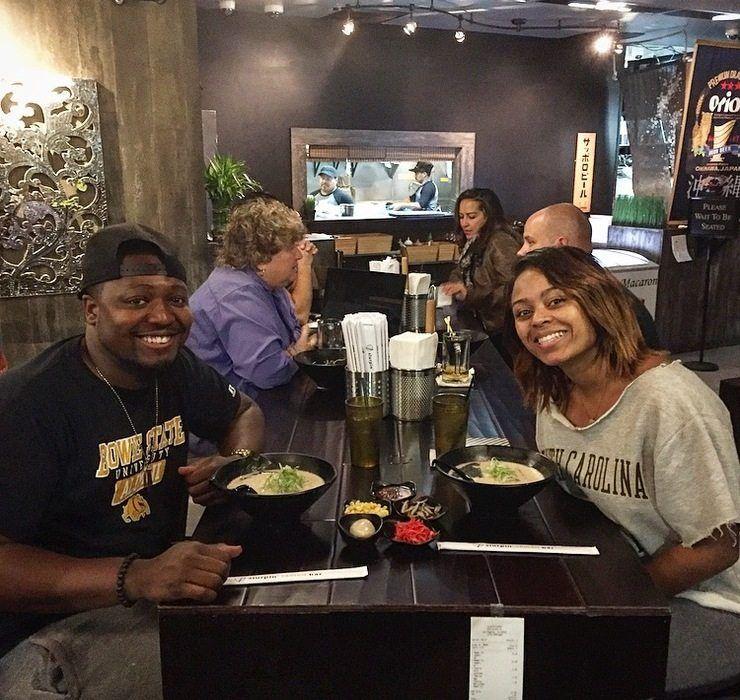 10) Since you live in the Los Angeles area, name your top 5 favorite restaurants in LA.
 Since we tend to cook at home a lot, we usually go out to eat for things that we don't normally make ourselves. In these recent months we've discovered that we're soup-obsessed, frequenting a ton of ramen and pho spots.
Hae Jang Chong – one of the top Korean BBQ spots in LA, usually has an hour + wait but well worth it!
Tatsu Ramen – trendy ramen spot where you customize your order via an iPad, our favorites are their Bold and Soul ramens
Hot + Juicy – where we get our seafood fix on snow and king crab legs, shrimp and occasionally blue crab when it's in season.
Pho Show – this was one of our first date spots! We love this place because they have a good variety of different options from Lobster to Filet Mignon Pho.
Post and Beam – this spot is located just miles from our house and they have an amazing brunch with classic items like Shrimp and Grits, Chicken and Waffles, and most importantly bottomless mimosas!
11) Do you individually or as a couple provide any professional services such as cooking classes, catering etc?
Jermaine: I offer catering through Frat Boy Cuisines and in the future we will be offering classes through Cooking with Bae.
Ashley: We also throw a joint pop-up event called The Private Dinner Party where we offer hookah, cocktails and a 5-course dinner for one inclusive price to our guests. We have done them in LA and DC and plan to expand to more cities as we grow – you can find more information about those at www.theprivatedinnerparty.com
12) What advice do you have for budding entrepreneurs especially those in the culinary field?
Just start! People often get caught up in the details of things causing them to over think and to potentially "miss the wave" or essentially talk themselves out of following their dreams. Experience is the best teacher. I'm not saying quit your job or anything, but actions speak louder than words so just put yourself out there and see what happens. Another thing that is a necessity is having faith and confidence in yourself! Speak it into existence, people want to believe in you and that's easy to do when they see that you believe in yourself. A lesson that I learned from Kevin Hart is that you have to "SAY IT WITH YOUR CHEST!!", and fake it until you make it. You have to start somewhere, people don't need to know that your "Office" is really the back corner of your studio apartment, you have to start somewhere so don't be afraid to talk the talk or walk the walk.
Thank you so much to Nadeen for doing this interview on us! We really enjoy sharing our story and journey with others and hope we inspired you to follow your dreams and Cook With Bae!
You can learn more about each of us by following us here:
Ashley:
Website: lifestyledbyart.com
Social media: @lifestyledbyart
Snapchat: @artsdreams
Jermaine:
Website: fratboycuisines.com
Social media: @chefraw
Cooking with Bae: @CookingWithBae on Instagram and Facebook
The Private Dinner Party – www.theprivatedinnerparty.com – subscribe to learn more about our future events