If you are heading to Cuba, this list of delicious & iconic bars and restaurants in Havana Cuba will definitely be helpful! While planning my trip to Cuba, I came across posts where people complained about the food at the Cuban restaurant they'd visited. It was described as bland. People mentioned this may be due to lack of seasonings as a result of the embargo. I actually warned my husband not to expect the delicious Cuban food we were used to in Miami. I went so far as to recommend him packing hot sauce in his bag (swag-sorry-couldn't help it #Beyonce). I digress, he chose not to bring anything and he didn't have to! I have nooooo idea where those people ate because everything we had was delicious! From food to drinks from Havana to Trinidad everything was flavorful and cheap! These paladares and restaurants in Havana Cuba were our favorites. A paladar is a family-run restaurant vs. a government-run restaurant.
***La Habana, Habana=Havana, La Habana Vieja= Old Havana***
Best Restaurants in Havana Cuba
El Floridita Bar:
Obispo No.557 esq.a Monserrate, La Habana Vieja.
Floridita is located in Old Havana across from the National Museum of Fine Arts. It was one of the first places I set out to find since I read it was a known hangout of the author Ernest Hemingway. They actually have a bronze statue of Hemingway by the bar. Floridita's motto is "la cuna del daiquiri" which stands for the "the cradle of the daiquiri". Constantino Vert, the former owner of Floridita, is credited with creating the daiquiri. Let me tell you, it lives up to its name! The frozen daiquiris as well as the mojitos were delicious. We also had Cubano sandwiches and plantain chips. The décor was plush and the atmosphere lively with a trio band performing.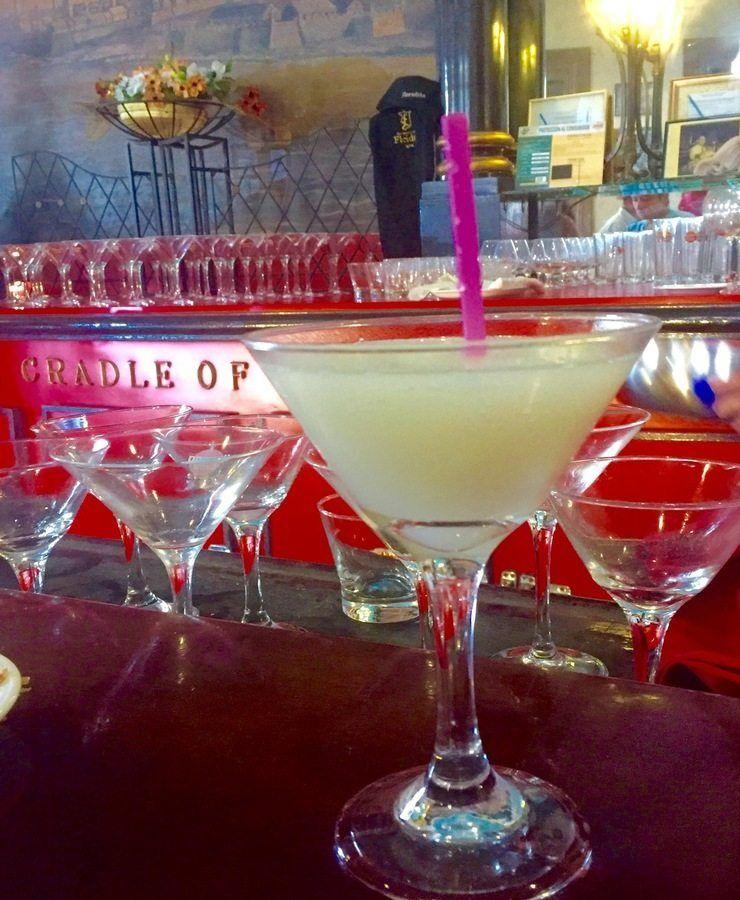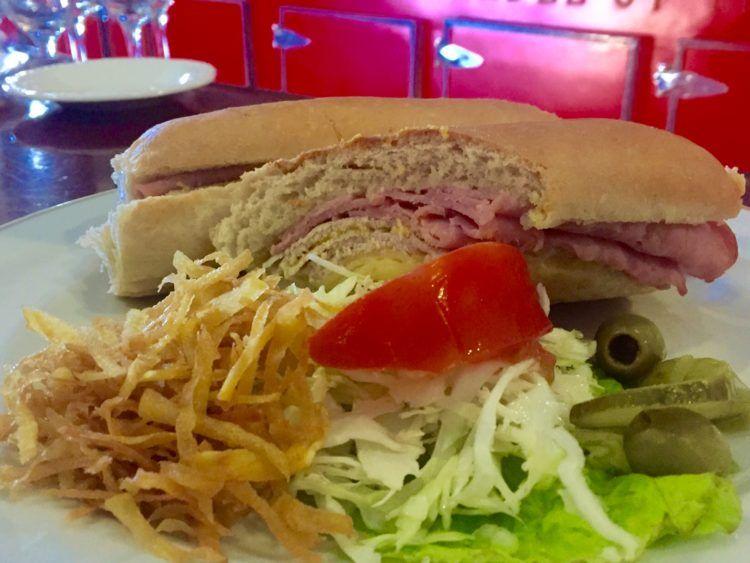 Paladar Dona Carmela:
Near La Cabana's Fort, Parque Historico Militar Morro-Cabana, Havana.
This paladar is located by the fort in Havana. I was told by our tour guide that Jay Z and Beyonce ate here when they visited. If it was good enough for Beyonce then surely I had to visit! The restaurant is located in a large home with indoor and outdoor spaces. There was a band rotating through the various rooms.
I have 4 words for you – get the ropa vieja!
When I lived in South Florida this was my favorite dish to order and eat at Cuban restaurants. It tasted even better in Cuba! If you're looking for a signature dish at restaurants in Havana Cuba, this is it. They gave a large portion and it was served with salad, sweet potatoes and rice and beans. FYI: it is large enough that 2 people can actually share. The menu is filled with other traditional Cuban meals.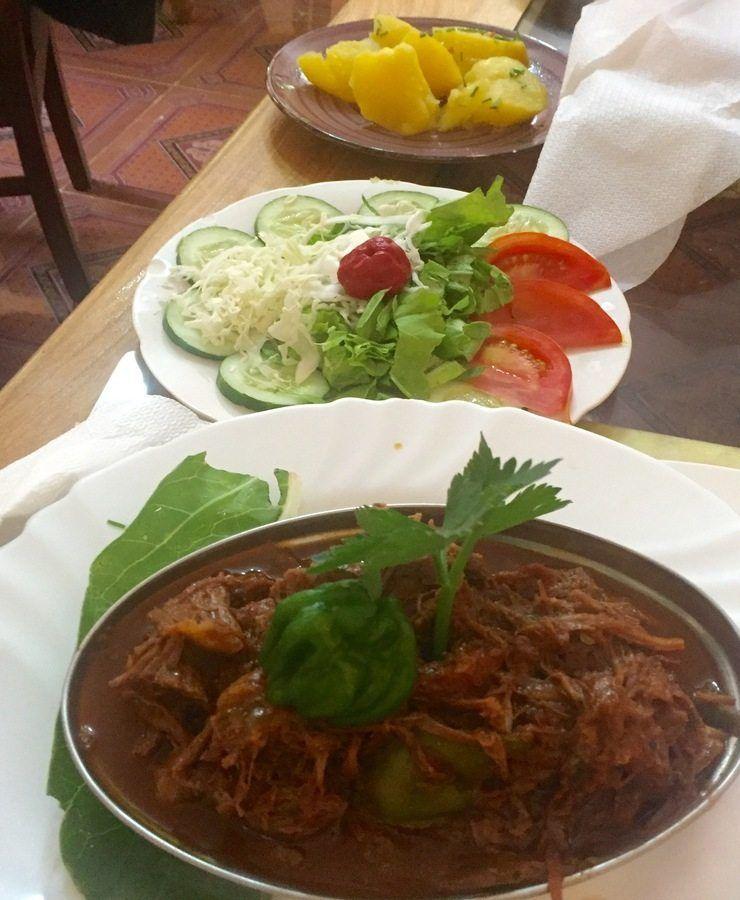 Hotel Terral Restaurant:
Malecon Esq Lealtad, Centro Habana, La Habana.
This stop on my list of restaurants in Havana Cuba is located on the lobby level on the Malecon in Havana. Based on this, it has amazing views. I was pleased with the sophisticated touches to traditional Cuban dishes. We stayed at this hotel and actually enjoyed breakfast here twice as well as dinner. If you are in the area its worth stopping by. Everything was served hot and flavorful and the service was great. Sample dishes include omelets for breakfast with hot crusty bread and café con leche, a breakfast sampler of Cuban meats and cheeses and eggs benedict, dinner of shrimp stir fry, fried seafood, pasta and sangria.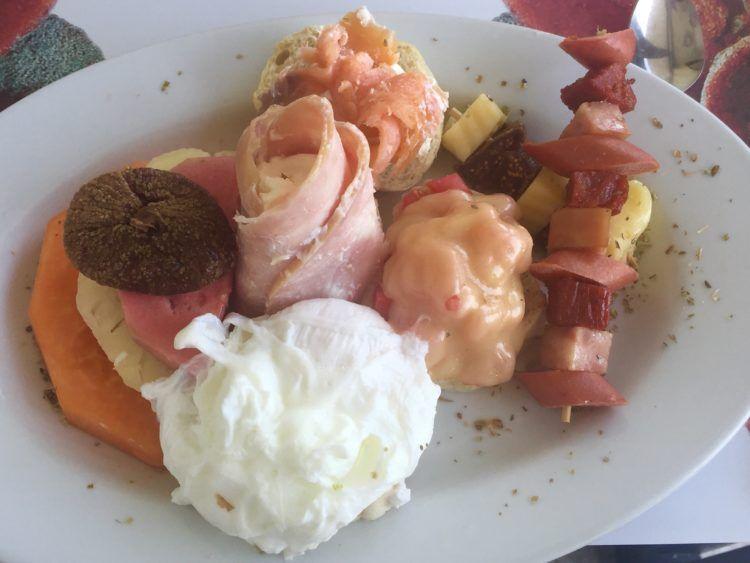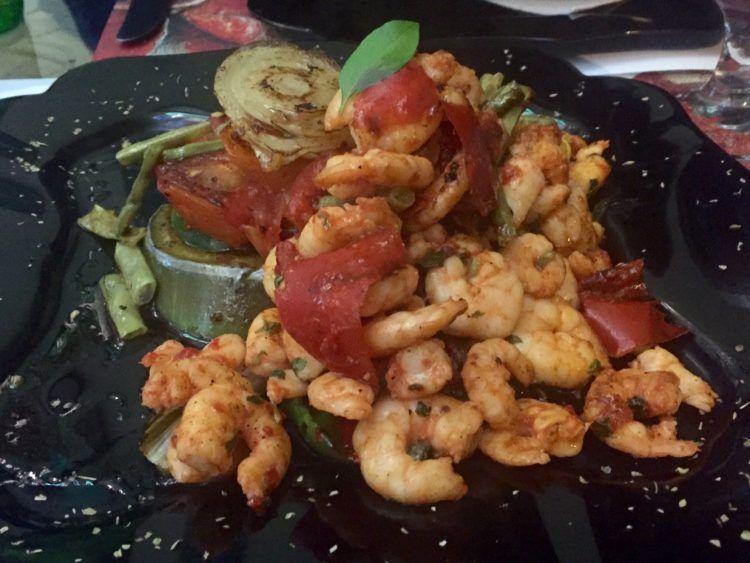 La Bodeguita del Medio:
C.Empedrado entre Cuba y San Ignacio, La Habana Vieja.
This is another famous tourist destination in Old Havana. It claims to be the birthplace of the mojito! Ernest Hemingway is also known to have frequented this bar as well as many other famous poets and artists. You will probably find it based on the crowd outside the entrance or the live music or singing coming from the inside. There is great artwork and graffiti adorning the walls. The downstairs bar is very crowded so if you can't find a spot there, head upstairs. You can watch the bartenders make the famous mojitos from scratch and check out the large Hemingway mural behind the bar. There are also dining rooms if you decide to eat there.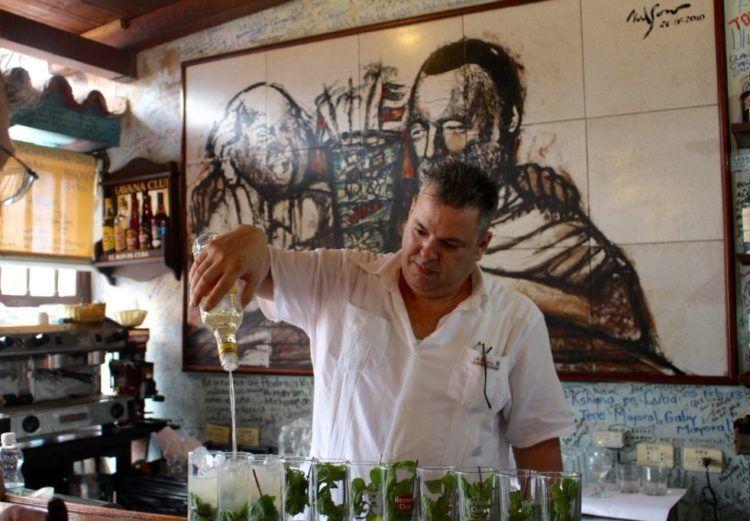 O' Reilly #304:
Habana & Aguiar, La Habana Vieja.
I am so glad this paladar was recommended to me before I left for Cuba! We had our last dinner in Cuba here and it was one of the best. I will say it, is a very cozy restaurant. Because of this, I suggest making reservations in advance. Although it is two floors there isn't much space on either floor. However, there is a bar area and the restaurant is very well decorated in a modern chic, artsy theme. And, they were actually playing old school hip hop on the sound system. I couldn't believe it!
The bar served up decorative and original cocktails such as the Kentucky and Watermelon Mojitos. Our appetizers of fish croquettes and beef empanadas were delicious. Our entrees of not one but two lobster tails with grilled vegetables & fruit and plantain chips, were almost two pretty to eat. All at a ridiculous price of $13 dollars! For dessert I had my last of many creamy Pina coladas on the island. At the end of our meal the waitress handed me a flower. How lovely!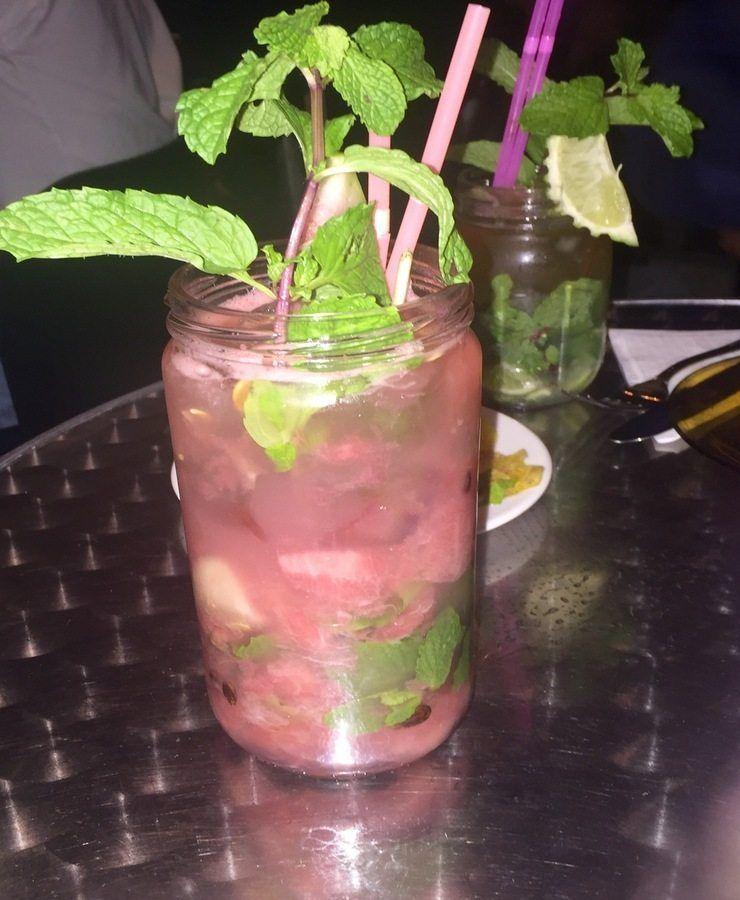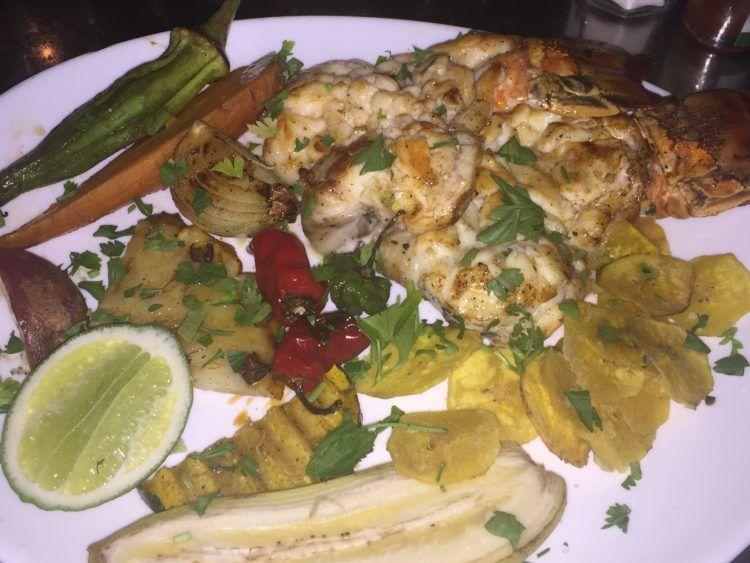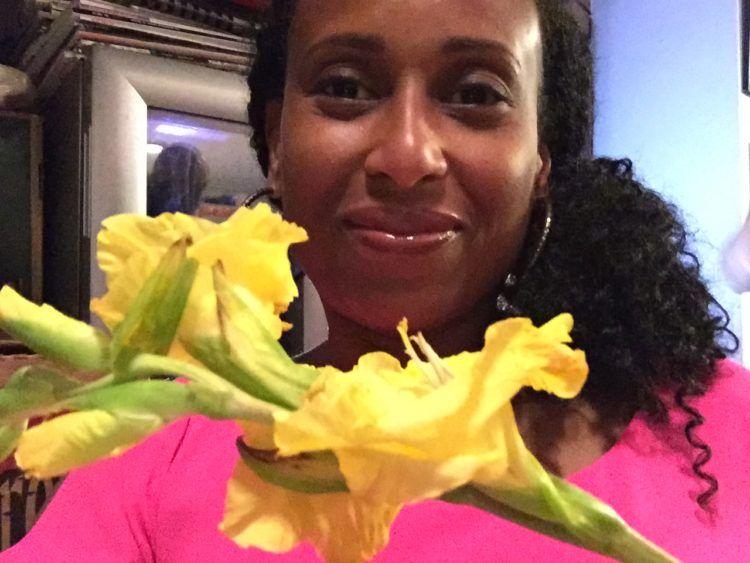 Hotel Bars: Hotel Nacional de Cuba:
Calle o esq. 21, Vedado. Habana.
Hotel Nacional is a luxury, historic 5 star hotel located in the Vedado area of Cuba. You can see it rising above the other buildings along the Malecon. The outdoor lounge and patios areas are perfect for a sunset cocktail. Like most places in Cuba expect a live band to be playing through the night. There are several Cuban restaurant options on the property as well but expect to pay more than you would elsewhere.
Hotel Parque Central:
Neptuno e/ Prado y Zulueta, La Habana.
This is a lovely hotel located in "Central Park" in Old Havana. Besides being able to grab a cocktail in their expansive lobby bar, you can purchase and use wifi cards here. You can also enjoy clean, well maintained bathrooms and very cool A/C after dancing in the square.
Here are some other restaurants in Havana Cuba to try that I didn't make it to but were recommended:
Paladar San Cristobal:
San Rafael No 469, E/Lealtad y Campanario, Havana.
We arrived in Cuba on the day President Obama was departing from his historic visit there. This was one of the Havana restaurants he visited. As you can imagine, it became even more popular after the President's visit! Therefore, we couldn't get reservations at this paladar but I heard it is great.
Nazdarovie-Retro Soviet Restaurant:
Malecon #25 E/ Prado y Carcel, Centro Habana.
Cuba has a rich history and part of that is of course its relationship with the former Soviet Union and Russia. Therefore, it should be no surprise to find an authentic Russian restaurant in Cuba. Nazdarovie is known for its magnificent views of the Malecon as well as its unique Eastern European cuisine.
Coppelia Ice Cream Parlor:
This is a chain of ice cream parlors in Cuba. The Havana location is in the Vedado district between Calles (streets) 21 and 23 and Calles K and L. It is shaped like a flying saucer and represents an unidentified flying object landing in Cuba. Although I was told there would only be 1-2 flavors available, I wanted to visit one of the largest ice cream parlors in the world. But, every time we passed it the lines were too long!
I hope you have found this list of paladares, bars, & restaurants in Havana Cuba helpful! If you have been to restaurants in Havana Cuba be sure to add your recommendations in the comments!
Be sure to read my other Cuba travel posts if you are planning a trip there! "How I Spent 7 Days in Cuba", "Plan a Trip to Cuba in 10 Easy Steps", "10 Cuba Travel Tips: Know Before You Go", "An American's Travel Guide for Cuba, Parts 1 & 2".
Pin this post for future reference: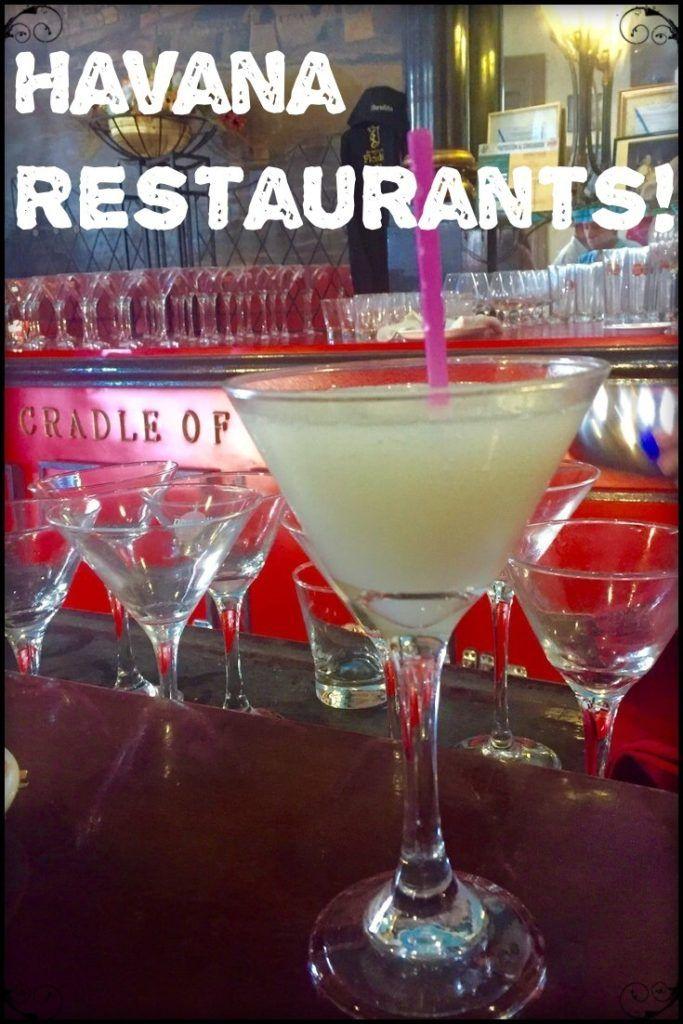 This post contains affiliate links. However, all opinions expressed here are original. If you click through on a link, you won't pay a penny more, but we'll receive a slight commission which helps us keep this information available to you. Thanks!