My readers know that I love to cruise. Last spring I cruised on the second largest ship in the world-Harmony of the Seas. In 2010 I cruised on one of its sister ships-Oasis of the Seas. Both were Caribbean cruises and I had great experiences. In this Harmony of the Seas Cruise Ship Review I will tell you all the things you need to know to have a fantastic cruise experience.
(FYI I tried to unplug while on this cruise so I didn't have my professional camera and only took pictures with my iPhone. I didn't plan to blog about it but I have so much information to share)
Harmony of the Seas Cruise Review-Pre-Cruise Tips:
1. Plan ahead. Reserve activities and dining early online. The reservation window usually opens up 60-90 days before a cruise.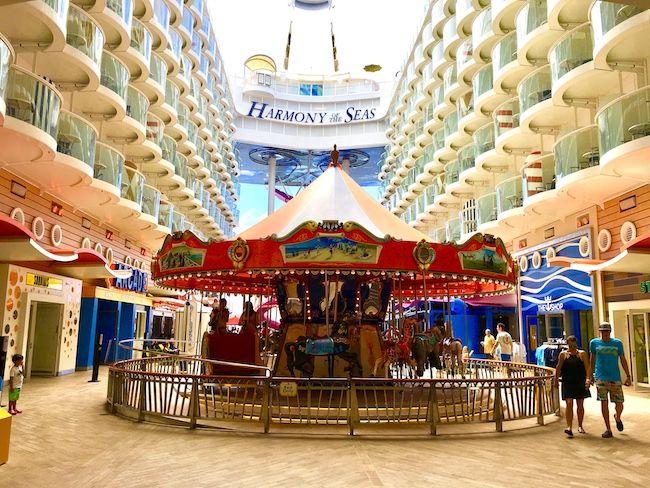 2. Once you are onboard, download the Royal IQ app before you sail. I paid $7.95 and was able to communicate with other passengers on the ship. You can automatically make reservations for you and your roommate and add people in other rooms to the reservation. However, you cannot cancel reservations for those not in your room.
The Royal IQ app also lists the activities and dining availability for each day. You can reserve these thru the app. But, in general it is best used to communicate with other passengers.
3. FYI: I was reminded that you cannot bring a travel iron onboard. It will be taken away from you at embarkation and returned to you at disembarkation. I don't think people care if your clothes are crushed on a cruise 🙂
Harmony of the Seas Cruise Ship Size:
4. Harmony of the Seas is a part of the Oasis class of Royal Caribbean cruise ships. They are the largest class of cruise ships in the world. These cruise ships include Oasis of the Seas, Allure of the Seas, Harmony of the Seas and Symphony of the Seas.
With the launch of Symphony of the Seas, Harmony of the Seas became the second largest cruise ship in the world. I was told that Symphony of the Seas is 2 inches longer than Harmony of the Seas (lol). A ship this size can be hard to navigate. But there are "Wayfinder" screens near the elevator that provide locations and maps of the ship.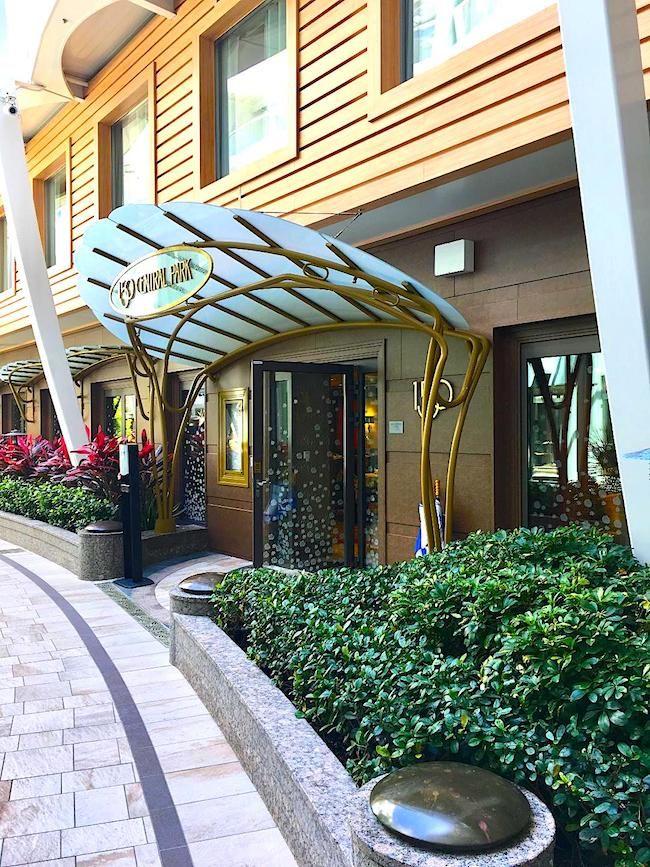 5. Harmony of the Seas can accommodate 5,479 passengers at double occupancy. The total number of passengers is high if you include the staff.
6. Harmony of the Seas has 7 "neighborhoods". They consist of Central Park, Royal Promenade, Boardwalk, Vitality Spa & Fitness Center, Pool & Sports Zone, Entertainment Place and the Youth Zone.
Cruise Ship Accommodations:
7. If interested, ask for an upgraded room at check-in. Our ship was full to capacity so no upgrades were available.
8. Harmony of the Seas cruise ship rooms consists of interior, ocean-view, balcony cabins and suites. There are actually more suites on Harmony of the Seas than regular cabins.
9. Balcony cabins may have views of Central Park, the Boardwalk with some interior cabins overlooking the Royal Promenade.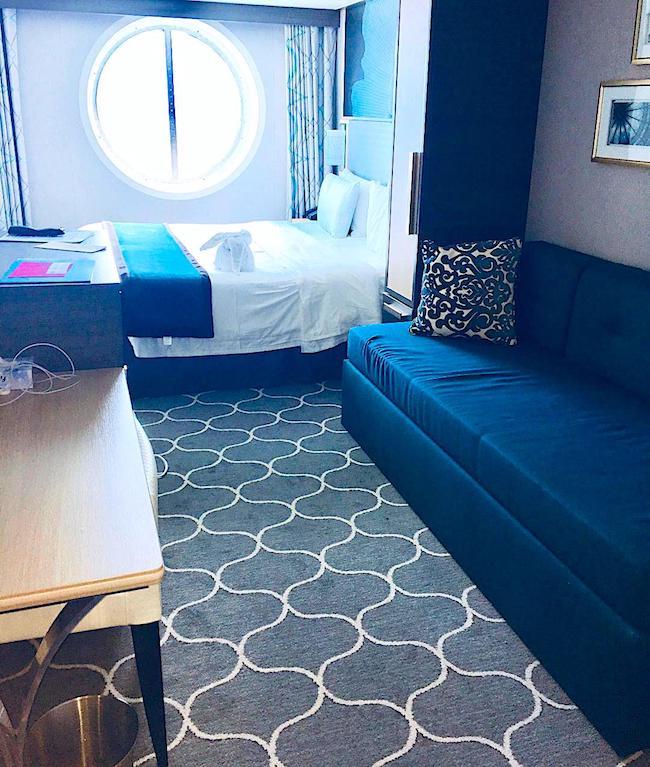 10. Studio staterooms are priced and designed for 1. You can pick from interior or ocean view studios. There are also plenty of adjoining cabins for families.
11. I thought the bed and linens were comfortable. But, the bathroom did not have any amenities and no extra towels. The towels had holes in them and shredded edges. The toilet paper was very basic and rough.
12. The shower has a door vs a shower curtain. The shower door is from ceiling to floor so it locks the steam in the shower vs in the entire bathroom. I really liked this feature.
13. There was towel origami every night but no chocolates on our pillows. (insert sad face)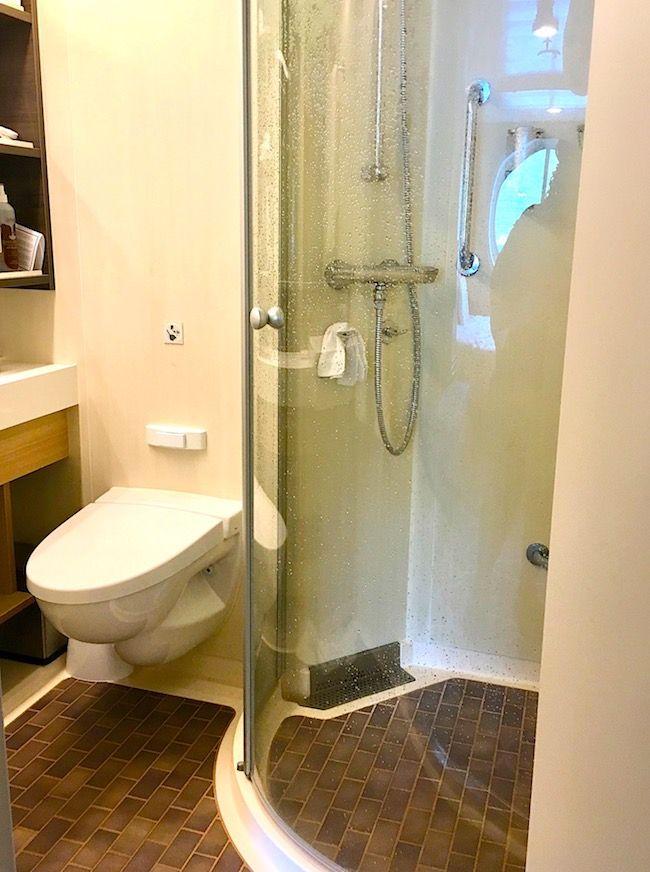 Harmony of the Seas-Dining:
14. In general I thought the food on the ship was very good. I could probably do an entire Harmony of the Seas cruise review just on the dining but here is a brief synopsis.
15. The Windjammer buffet was huge and took up 2 sides of the ship. It was difficult to find tables and it took a while to go through some food stations. However, do not miss the breakfast buffets here. They also have theme nights for dinner. It can be a nice change from the dining room. Look out for gluten free, sugar free and vegetarian offers.
16. The main dining room had great variety in menu items.
17. Central Park has high end restaurants such as 150 Central Park and healthy light fare in Park café.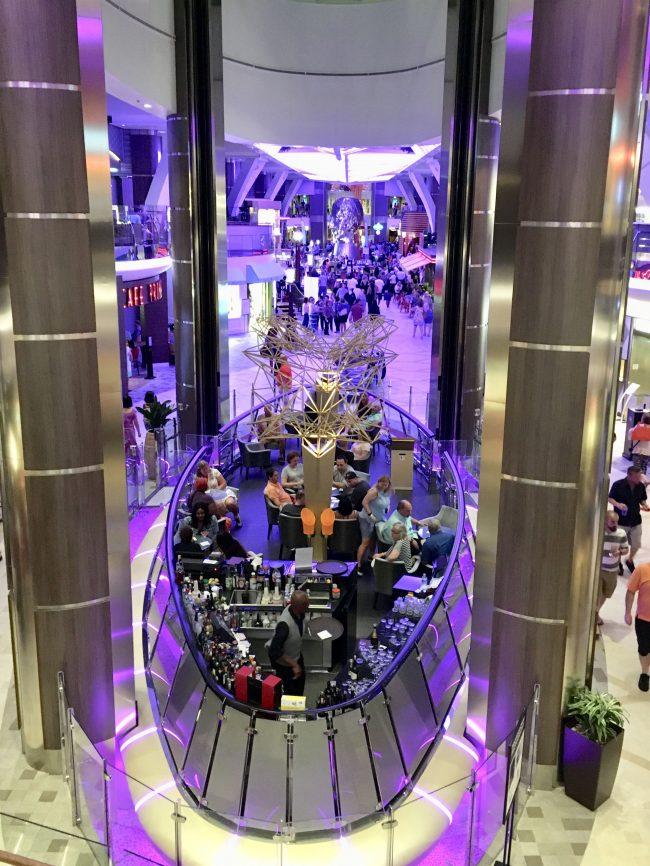 18. You can relax and grab a drink in the Rising Tide bar located on the Promenade.
19. Sabor Taqueria & Tequila Bar was reasonable priced and the Mexican food was delicious. It is $23 per person, all you can eat.
20. There is a Johnny Rockets on board. Breakfast was free but burgers and shakes have a charge.
21. Sorrento Pizza is located in the promenade. It is open late nights and the pizza is free. Gluten free and vegetarian options are available.
22. Café Promenade was also open late and has coffee, tea, sandwiches and desserts.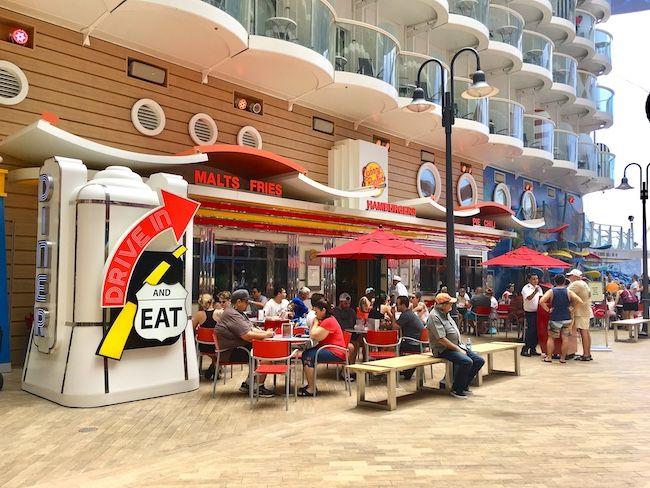 23. Room service-there may be a charge depending on the item and/or the time. We tried it the first night but it took very long.
24. I was surprised that for a ship this size there was only 1 frozen yogurt machine. The line was always long and the station was messy.
25. You can also enjoy Japanese cuisine at Izumi Hibachi & Sushi and Italian cuisine at Jamie's Italian.
The Vitality Spa:
26. I could not do this Harmony of the Seas cruise review without mentioning The Vitality Spa. I had a wonderful experience here. The spa is open and spacious and is 2 stories in size. When you first enter the spa you will notice a smoothie bar with tables. There is a large cosmetic area before reaching the check-in desk. The spa offers extensive medical and cosmetic treatments including brow shaping and teeth whitening.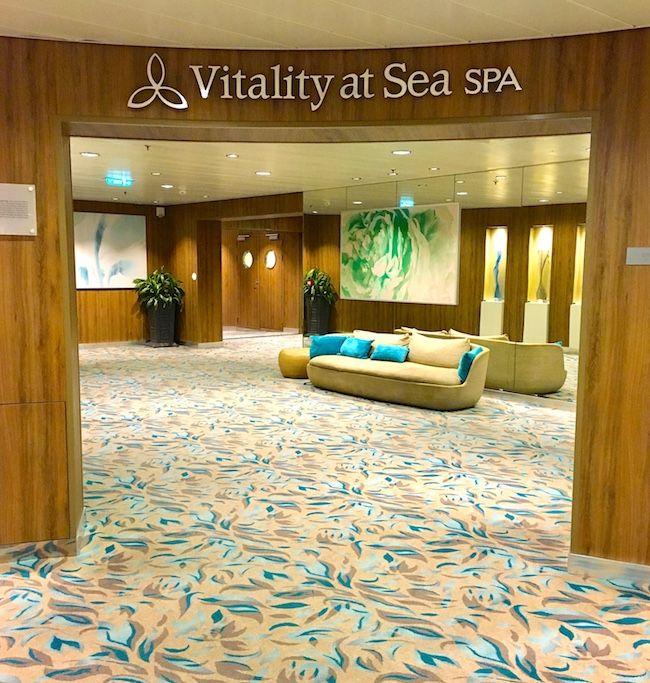 27. The Harmony of the Seas spa has free classes on everything from skin care to make up application. I attended a ladies pampering party. They use and sell Elemis products which I love. At the end of these sessions they offer spa deals. I booked a massage and it was very relaxing. You can also splurge on passes to the Thermal Suite. This adult only area has warm lounges, sauna and steam rooms.
28. The spa is attached to the fitness center. It includes weight machines and cardiovascular equipment. You can even take aerobic classes and schedule an acupuncture treatment. Most classes have a small fee so look out for complimentary ones.
Entertainment and Shows:
29. All the shows are free but many require a reservation.
30. The Royal Theater: I thought the musical Grease lacked diversity and was a bit corny.
31. "The Fine Line" water show in the Aqua Theater was entertaining.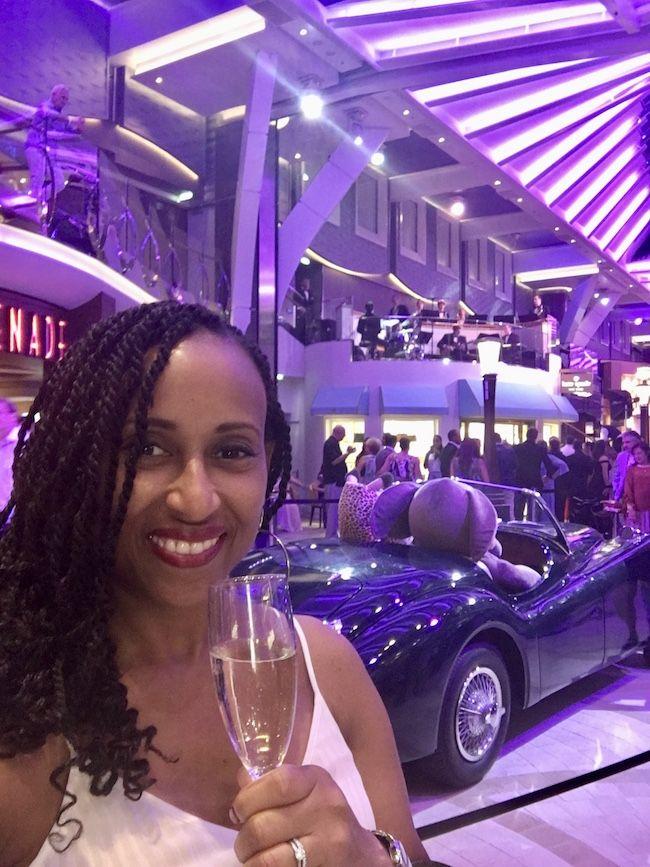 32. Ice Skating Rink: The "1887" ice show was interesting. It had a Paris theme and took you through different time periods.
33. The silent disco was fun! Each person wears headsets and alternates between 2 different stations. These stations are from DJs playing in the club.
34. Some other fun venues and events include the Jazz Club, Karaoke Club On Air, the Attic Comedy Club and don't miss the Battle of the Sexes game!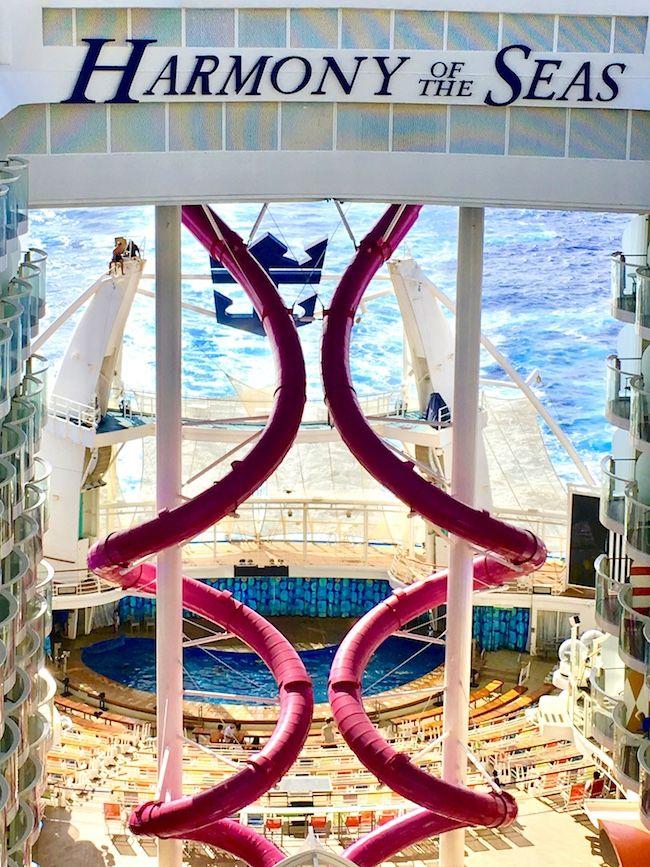 Activities on Board Harmony of the Seas Cruise Ship
35. In general it was hard to find the prices for many onboard activities. Just because a price isn't listed does not mean it is free. But, as you will see in this Harmony of the Seas cruise review, there are a lot of things to do onboard.
36. One of my favorite activities on Harmony of the Seas was the "Wines Around the World Tasting". We sampled 5 different wines with cheese pairings for $17.70. There were other wine tasting classes including one on Caymus wines for $40. Vintages wine bar in Central Park offers wine flights for $30 and a wine and tapas menu.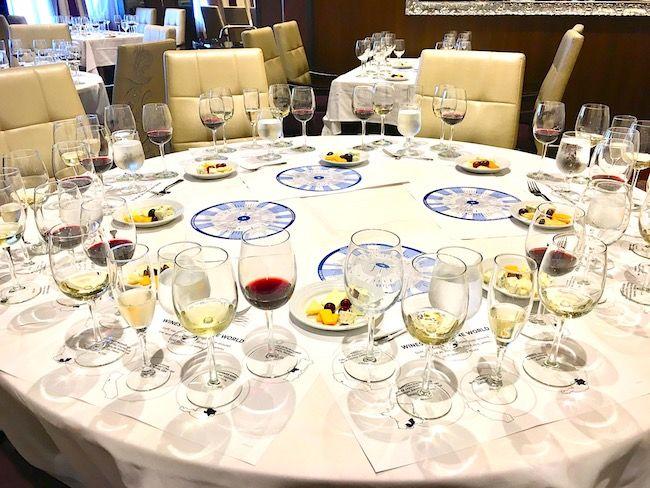 37. Harmony of the Seas has a large pool area but it is loud and the sound resonates pretty far. Be sure to return your pool towel. There is a $25 fee for unreturned towels.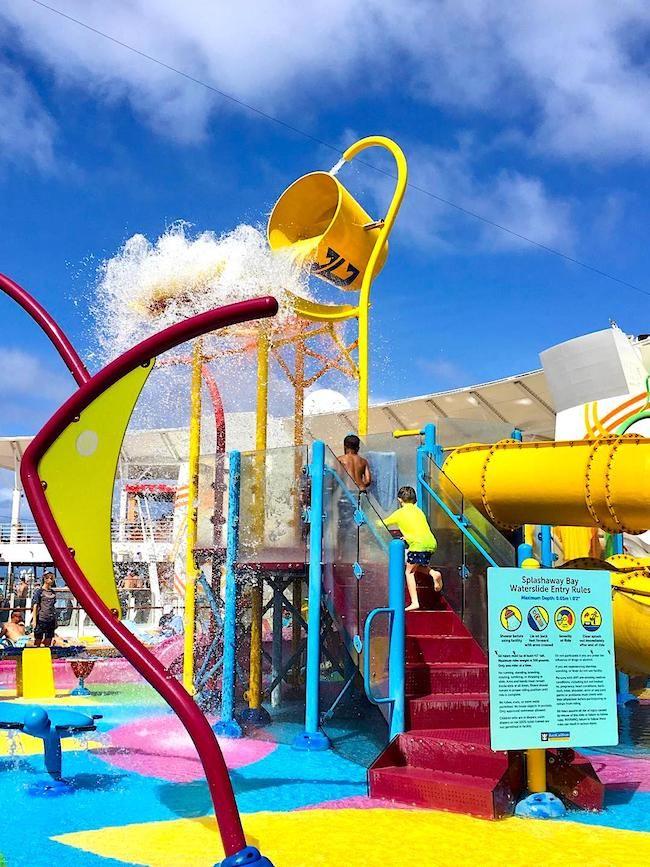 38. The adult-only area is called Solarium. This is a great place to relax and eat. However, I did occasionally notice babies and kids in here. It is an indoor/outdoor space with a restaurant. It was never crowded so lounge chairs were always available.
39. The Royal Casino on Harmony of the Seas has a large variety of games and slot machines but it also has a lot of cigarette smoke. Look out for drink specials here. We enjoyed delicious mimosas in the casino.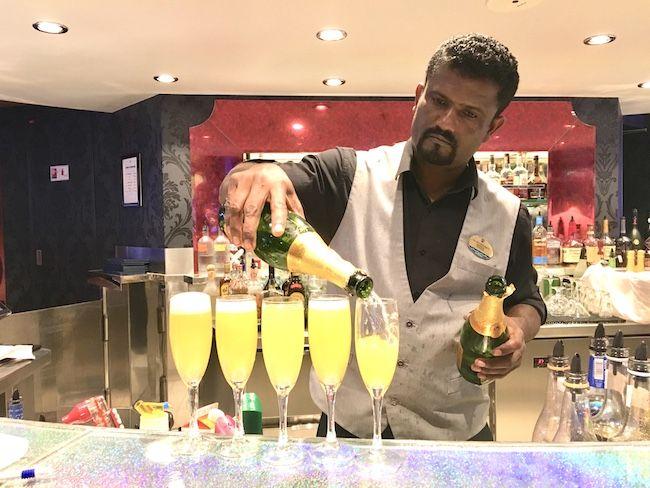 40. Art Auctions: Check the daily itineraries for art sales and auctions. Sparkling wine is typically served at art auctions.
41. Shopping on Harmony of the Seas cruise ship: If you love to shop but also love a great deal, check out the sidewalk sales at boutiques in Central Park and the Promenade shops. You will find the best deals at the end of the cruise. The shops in Central Park also offer complimentary wine.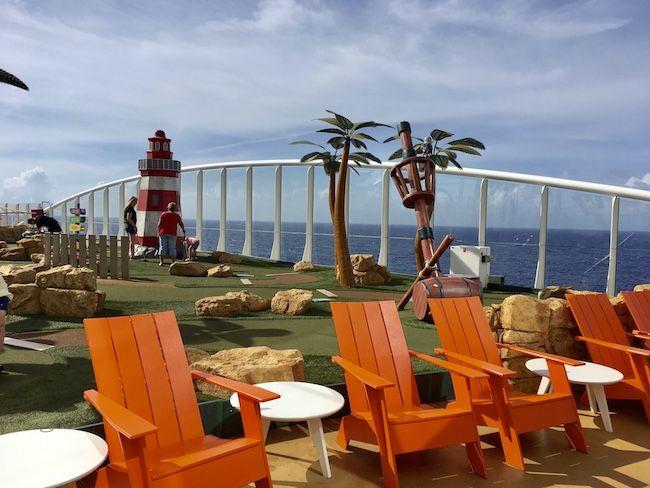 42. At the back of the ship you will find FlowRiders. Have fun trying to surf or watching the wipe outs (lol). The Sports Zone also has a waterslide, miniature golf and a basketball courts. You can even go zip lining over The Boardwalk. I did this on Oasis of the Seas and it was fun.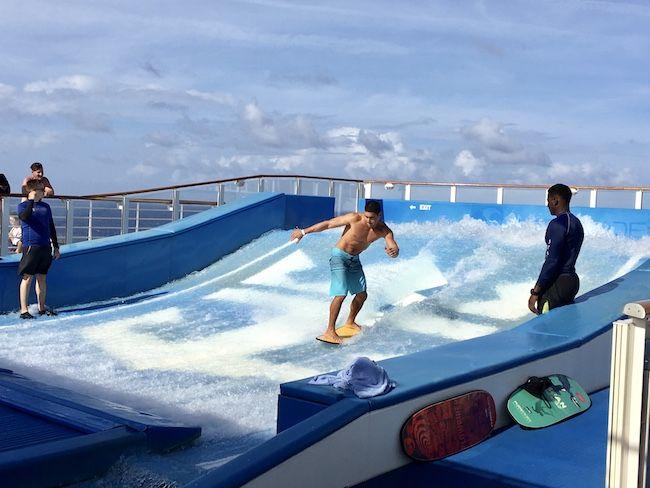 Excursions on Harmony of the Seas 7 Day Itinerary
43. Our 7 day Harmony of the Seas cruise ship itinerary consisted of 3 days at sea and 3 days of stops in the Caribbean. This itinerary will be different depending on your dates. In this Harmony of the Seas cruise review I will briefly discuss our 3 stops.
44. St.Maarten: We decided to do our own exploring on the Dutch side of this Caribbean island. For a small fee you can take a passenger ferry from the dock to Philipsburg. From there we hired a driver that took us to Maho Bay Beach. At Maho Bay Beach you can see the airplanes fly right over the beach to the airport landing strip. FYI: This beach is a party scene and not exactly kid friendly.
Our driver then took us on a brief tour around the island. He pointed out the devastation that occurred due to Hurricane Irma. We finished up our day shopping in Philipsburg. St.Maarten is a beautiful island. With an economy dependent on tourism. I definitely recommended a visit here.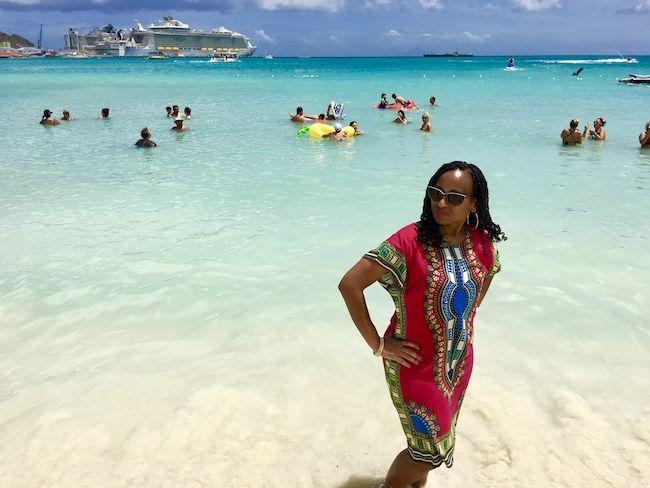 45. Puerto Rico: Our time in Puerto Rico was short. We were docked from around 7.30am to 2pm. We did get a chance to walk around beautiful Old San Juan and have lunch. This was my second visit to Puerto Rico and I look forward to the next one. It was good to see that Old San Juan was full of people and activity after Hurricane Maria.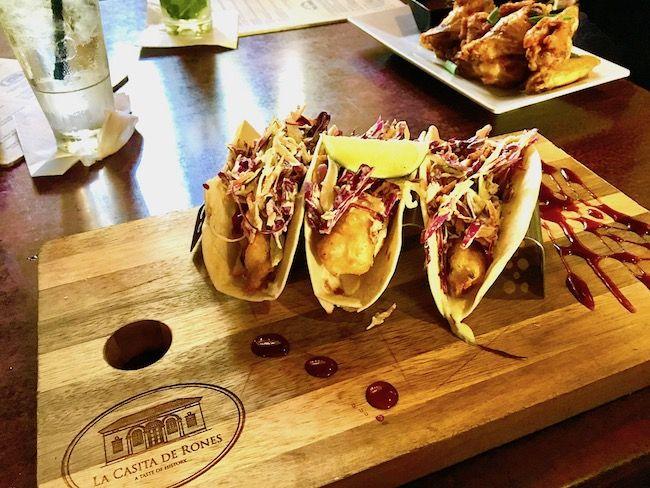 46. Labadee: This was my second time visiting Labadee Haiti. It is Royal Caribbean's private port in Haiti. The beach areas are beautiful. A complimentary barbeque is served for lunch. There are quite a few activities available but I chose to do the zip-line. Labadee has the longest overwater zip-line. I still can't believe I did it. It was nerve wrecking but fun with amazing views.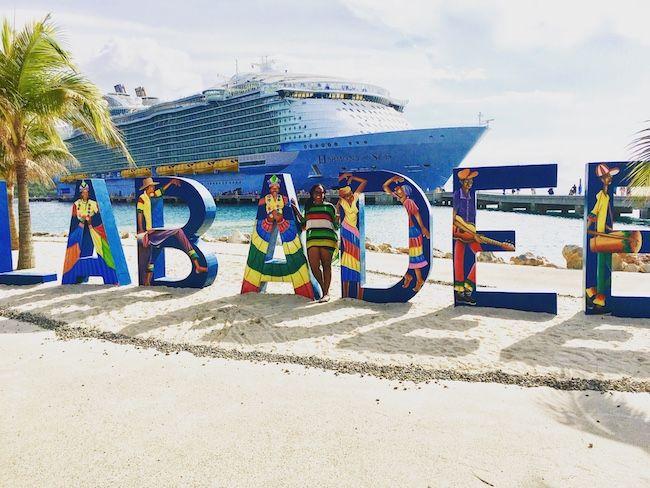 The Service on Harmony of the Seas Cruise Ship
47. It was difficult to reach guest services over the phone. I had to go there in person several times including to make reservations for the wine tasting class.
48. And, the dining reservation number rarely worked. I suggest going to the 5thfloor main dining area and to the individual restaurants to make reservations.
49. Our table and cabin attendants were friendly and efficient.
50. My last piece of advice in this Harmony of the Seas cruise review is-show up for everything even if it listed as sold out. People may not show up and you can take their spot.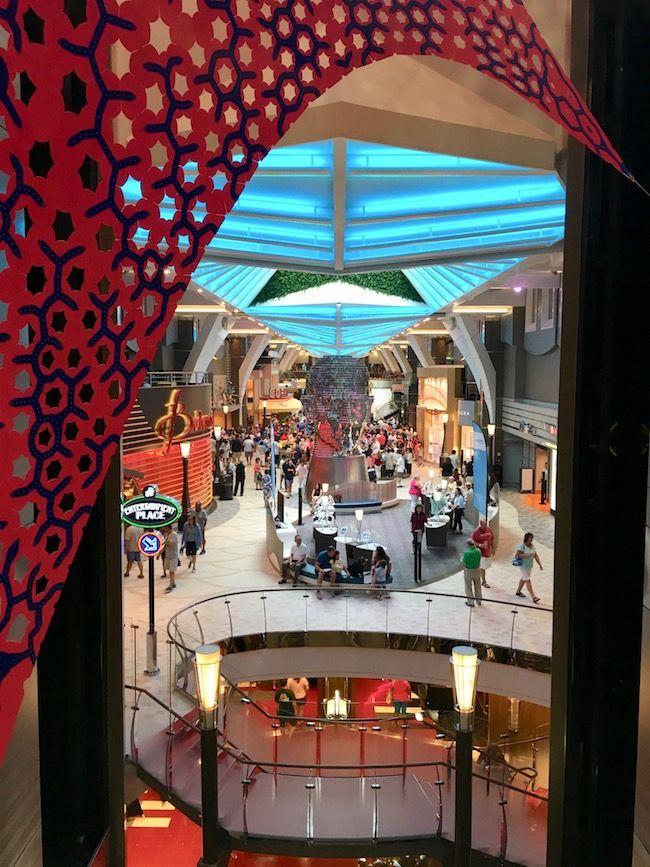 I hope you have enjoyed my Harmony of the Seas Cruise Review. This cruise review can be used to make the best out of any Oasis class cruise ships. Go to the Royal Caribbean website to start planning your next cruise vacation!
Be sure to check out the cruise section of this blog for more information. My most popular cruise blog posts cover:
20 Awesome Cruise Tips for First-Timers
Pin this post for future reference!