As many of my readers & followers know, my first trip of 2019 will be on the Girls Getaway Cruise on Holland America with O Magazine. Oprah and Gayle will be on the ship and I am beyond excited. I have taken numerous cruises on several different cruise lines and I can't wait to add Holland America to the list. Because of this, I have decided to share 20 awesome cruise tips for first-timers. This new cruise travel guide will be a great addition to the cruise section of my blog. Even if you are not a first-time cruiser, I know you will find this comprehensive guide to cruising helpful. Be sure to follow my latest cruise journey on my social media accounts-Facebook, Instagram and Twitter. And, subscribe to the newsletter so you can receive my new packing & to-do lists for your international vacation.
1. Research Before Booking
When considering a cruise, you must first do your research. Take a look at this post "10 Things To Know Before You Book A Cruise" I wrote this guest post for Kids Are A Trip family travel blog. It has awesome cruise tips for first-timers. This cruise travel guide will help you pick a cruise line, cruise ship, cruise destination, cruise length and much more.
2. Check Cruise Reviews
After booking your cruise, read detailed reviews of your ship. If it's a newer ship this may be hard to do. But, check websites such as CruiseCritic and Tripadvisor. Important things to look out for are recommendations on dining and restaurants, shows, activities and excursions.
3. Research Ports & Excursions
Unless you are doing a transatlantic cruise, you will have stops in different locations during your cruise. I suggest researching each port and the excursions offered. Check the meet up times and lengths for each excursion. You may want to alternate early wake up times and long tour days with shorter ones. In my Mediterranean cruise review I mention that the major cities were 1-2 hours from where we docked. Therefore, all our meet up times were very early. For first-time cruisers be aware that some ports are too small for large ships. In this case you will be transported by a smaller boat (tender) to shore. Most port stops are full days from approximately 7am or 8am to 5pm or 6pm. However, some docking times may be shorter or overnight.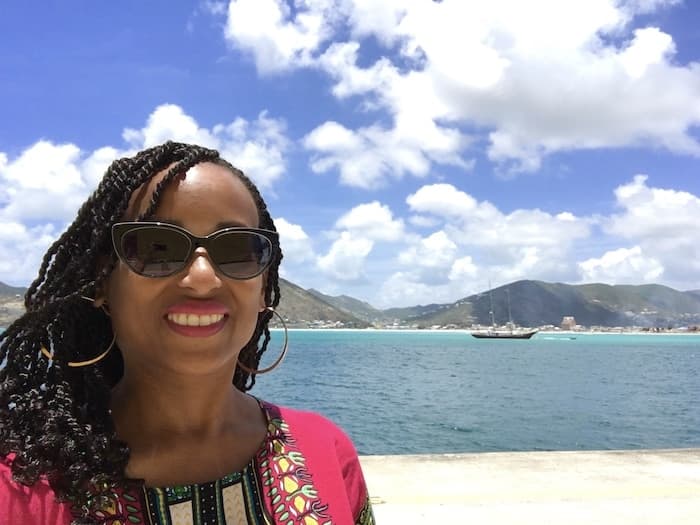 4. Book Cruise Reservations & Excursions Early
Another awesome cruise tip for first-timers is to set up your online account on the cruise ship website. 60-90 days prior to your cruise departure date you will be able to book reservations and excursions. From wine tastings to luxury spa treatments to fine dining to beach cabana rentals, there is a lot to choose from. Based on demand, these bookings can fill up quickly.
5. Consult a Packing list
This would not be a comprehensive guide to cruising without a great packing list. For first-time cruisers do not forget to pack your passport. Since most cabins are not very big, pack your belongings in a small to moderate size suitcase. You will be able to unpack your things and place the suitcase under your bed. Consider your cruise destination, the weather and the activities you have planned while packing. Popular cruise items are flip flops, floppy hat, bathing suits, cover ups, gym clothes, sunglasses, insect repellent, sunscreen, beach bag, fanny pack, waterproof camera or case, portable chargers and hand sanitizer.
Most cruises will also have an optional cocktail attire or formal night. Cruise ships do not allow irons on board so keep that in mind. The Disney cruise ship had a public room with an iron available. Wear comfortable clothes on board and bring whatever you may need that day in your carry-on. Your suitcase will be delivered to your state-room but it may not arrive until later that evening.
6. Pack Wine or Champagne
Each cruise line has their own rules in regard to bringing alcohol on board. Most do not allow liquor. But you will be allowed at least 1 bottle of wine or champagne in your carry-on luggage without a charge. There may be a corkage fee if used in the dining room or if you choose to bring more than 1 bottle on board. For first-time cruisers, check Amazon for options on packing and carrying alcohol on cruise ships.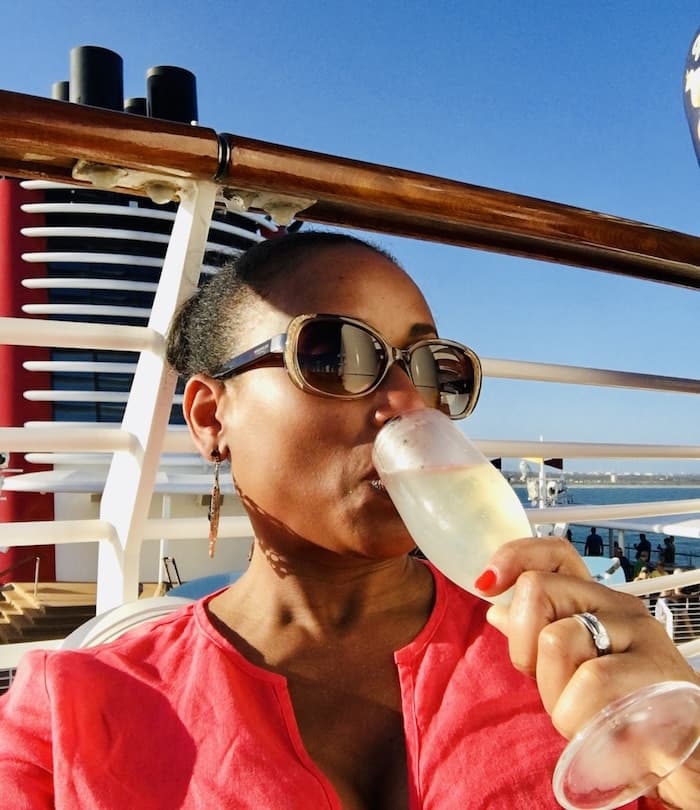 7. Compare Dining Times & Packages
Early, Late, & Freestyle Dining Times
Years and years ago in the 90s when I was a first-time cruiser, there were three main dinner options. Early or late seating in the main dining rooms or the buffet. If you like the idea of having the same servers and eating with the same group every night, I suggest reserving a time in one of the main dining rooms. Families with younger children usually do the earlier dining time which is about 5pm. The later dining time is usually around 8pm. Although this option still exists on most cruise lines, there are now several freestyle options. You will find buffets and restaurants open throughout dinner time with no reservations required. However, there may be a wait time.
Here is another awesome cruise tip for first-timers: make reservations the day of via the cruise app. If you miss dinner, check out the 24-hour food locations or order room service. Sometimes I order room service just for the heck of it lol. It is usually free. But some cruise lines charge a service fee for certain times or items.
Dining Packages
Most cruise lines have specialty restaurants that charge a cover charge. You will find everything from Hibachi to sushi to Mexican to Italian to steakhouses. One of the best meals of my life was on Norwegian Epic at their steakhouse. The price will range depending on the restaurant. It is usually a fixed charge for several courses but does not include alcohol. If you prefer eating at the specialty restaurants, I suggest purchasing a dining package.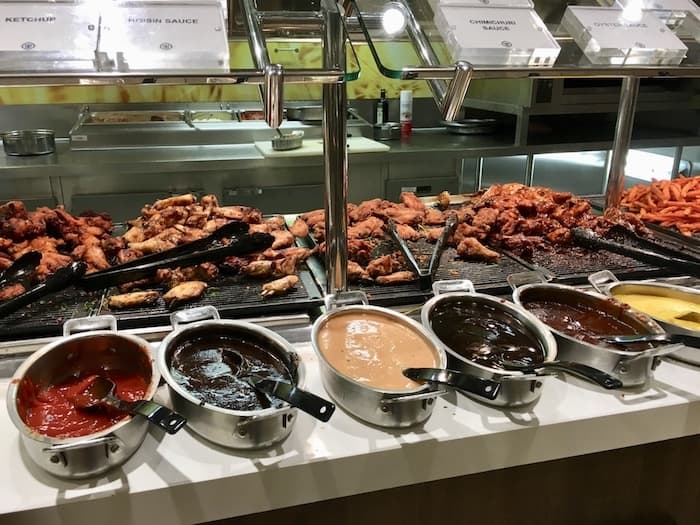 8. Choose the Right Drink Package
You can expect free water, iced tea or lemonade, hot tea and coffee on most cruise lines. Sodas are usually not free (my husband insists soda was free on Disney Cruise Line). Alcoholic drinks are not free (duh 🙂 Specialty coffees and smoothies are not free. Consider purchasing a drink package if you feel you or your family will benefit from it. Keep in mind that you usually have to purchase a package for each and all members of a cabin. Therefore, you can't buy one drink package and share it among 2-3 people.
9. Don't expect an "all-inclusive" vacation
Cruises are often described as all-inclusive vacations at sea. I used to feel that way. However, as mentioned in some of the awesome cruise tips for first-timers listed above, cruise ships have a lot of cover charges you should be aware of. Specialty food and drinks, spa treatments, wine tastings, dessert shops and certain activities such as bingo will have cover charges. But you can take a cruise and not spend money on any of these items. My Mother refused to pay for food on a cruise (lol)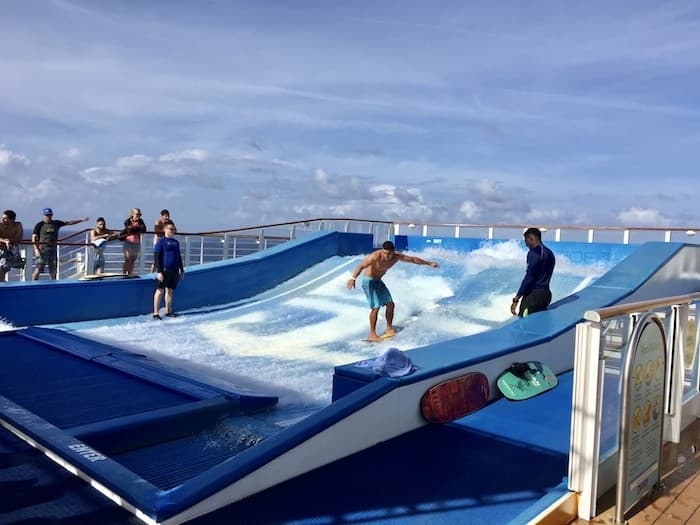 10. Be Prepared for Embarkation
Get ready for boarding the ship by printing your online forms and luggage tags a few days before departure. Have your passport ready as well. If you haven't done so online, you will need to present a credit card for purchases and charges on the ship. Cruise ships are cashless. You will use your room card or a wrist band for purchases. Expect to take a picture with the ship's background when you board. There will be other photo opportunities with professional photographers on the ship. You can purchase these pictures on the ship.
For first-time cruisers, be aware that your room may not be ready when you board. After I board, I usually hit the buffets or walk around the ship. Listen out for the safety drill alerts. Your attendance at this is mandatory. Then, enjoy the sail away party on deck!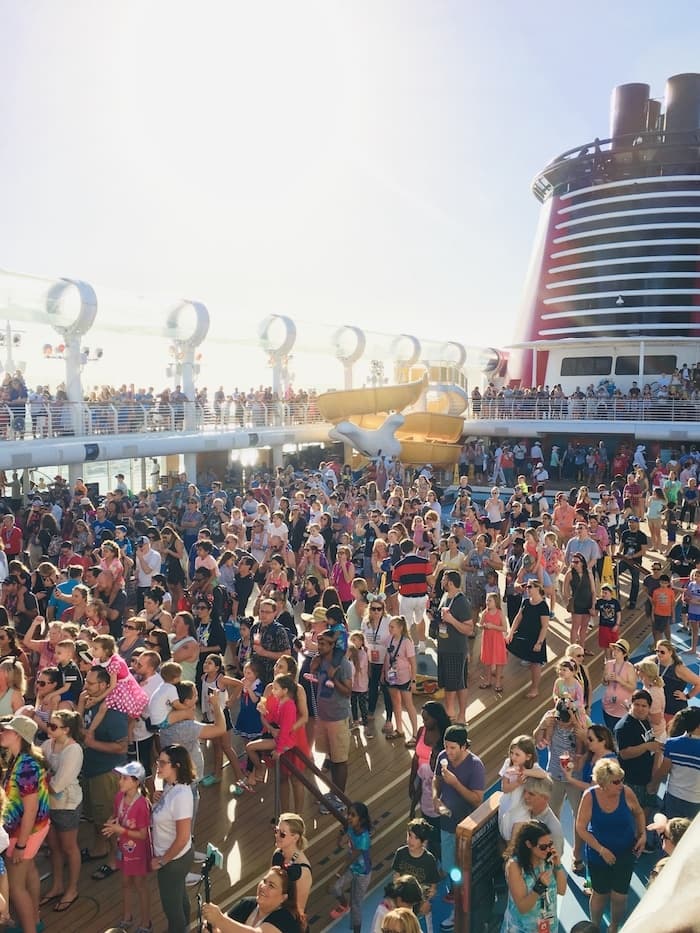 11. Decide if You Need WiFi, Computers & the Cruise App
Back in the day ships did not have WiFi packages available. I actually liked that because it was a great time to unplug. You can now purchase WiFi plans onboard. Computers are also available if you would like to check email or go online. There is a charge for the amount of internet time you need or spend. An awesome tip for first-timers is to use the cruise line app. It allows you to communicate with other passengers. There may be a small fee, or it may be free. Be sure to download the app prior to sailing if you do not plan on purchasing a WiFi plan.
12. Read the Daily Newsletters
One of the cool things that I still enjoy about cruising is evening turn down service with towel origami. Next to the towels every night you will receive the daily cruise ship navigator or newsletter. It lists the weather, activities, events, showtimes and restaurant dining times for the following day. It's a great resource to keep in your pool bag. If you have downloaded the app you can also use it to keep track of daily activities.
13. Make Show Reservations
"Back in the day" cruises had one main show performed twice in the evenings. It was usually a musical variety show performed in a large theater on the ship. But now, ships have Broadway productions, live music spaces, comedy shows and more. On Royal Caribbean's Oasis line of ships, they even have outdoor aquatic theaters with "Cirque de Soleil-esque" shows. Since many of these shows are in high demand, reservations are often required. You can reserve your spot on the cruise app or at a reservation desk onboard. However, even if the show is sold out, I recommend still going and waiting at the entrance. If there are "no-shows" you will be let in right before the show starts.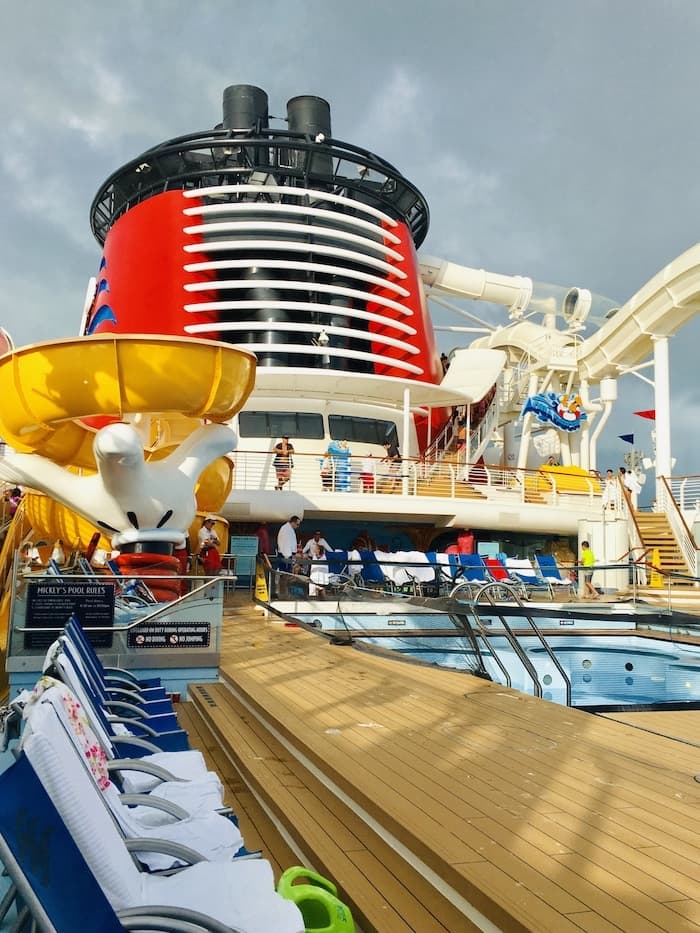 14. Look for Shopping & Ship Specials
Besides traditional gift shops with cruise paraphernalia and basic necessities, you can expect to find high end designer shops. Look for sales, including sidewalk sales, while onboard. The cruise shops are closed while in ports. However, duty free shopping is available at most cruise ports. I am not a big shopper while on vacation so here is a great article from CruiseCritic.com on this topic. Here is another awesome tip for first-time cruisers, check the app or your daily newsletter for cruise deals.
For instance, if you are looking for free alcohol onboard, champagne is often served at the art auctions. The casinos often have drink specials. Spas have free demos and lectures to lure you into purchasing a spa treatment. However, the prices are often cheaper compared to booking a spa treatment in advance. The fitness center will also have complimentary classes. All these sales, deals and offers increase at the end of the cruise.
15. Try the Casino if you Enjoy Gambling (or Smoking)
Casinos are a staple of most cruise lines except for Disney. Disney Cruise Line does not have casinos and I have to say I did not miss it. But for those that enjoy gambling, try your luck in the casinos onboard. Be aware that smoking is allowed in cruise ship casinos.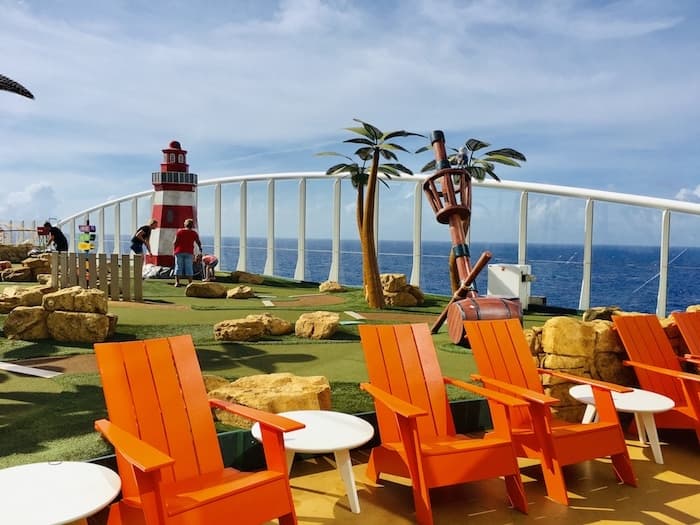 16. Be Aware of the Standard Process for Tipping
Gone are the days of putting cash in multiple envelopes to give to your state room attendants and servers. However, these are still available if you would like to leave extra $ for exceptional service. There is now a standard process for tipping. The average cost is $10-$12 per person per day for tipping on cruises. So, for a 3-day cruise you should budget for at least $30 per person or $60 for a couple. This total is divided among your cabin attendants and servers. It is automatically charged to the credit card you have on file.
17. Don't get sick
You may have read reports of cruise passengers getting sick and being quarantined in their rooms. You may have also read recently about 475 passengers and crew members on a Royal Caribbean ship becoming ill due to Norovirus. 475! The cruise ship returned to Florida and issued a full refund to the passengers. Norovirus is the leading cause of foodborne illnesses in the U.S. The symptoms consist of vomiting and diarrhea. It is spread by being in contact with someone who is contagious.
Over the years cruise ships have taken measures to reduce the incidences and spread of Norovirus on cruise ships. Handwashing stations are located outside of the buffet dining areas, hand sanitizers stations are all over the ship and some food items are held behind counters and must be handed to you by a server. As soon as you start feeling ill, you should report to the ship's medical clinic. In terms of sea sickness, bring along scopolamine patches and Dramamine. You can also check out "Sea-Band". This wrist band alleviates nausea and vomiting by acupressure. The larger the ship the less likely you will feel it moving.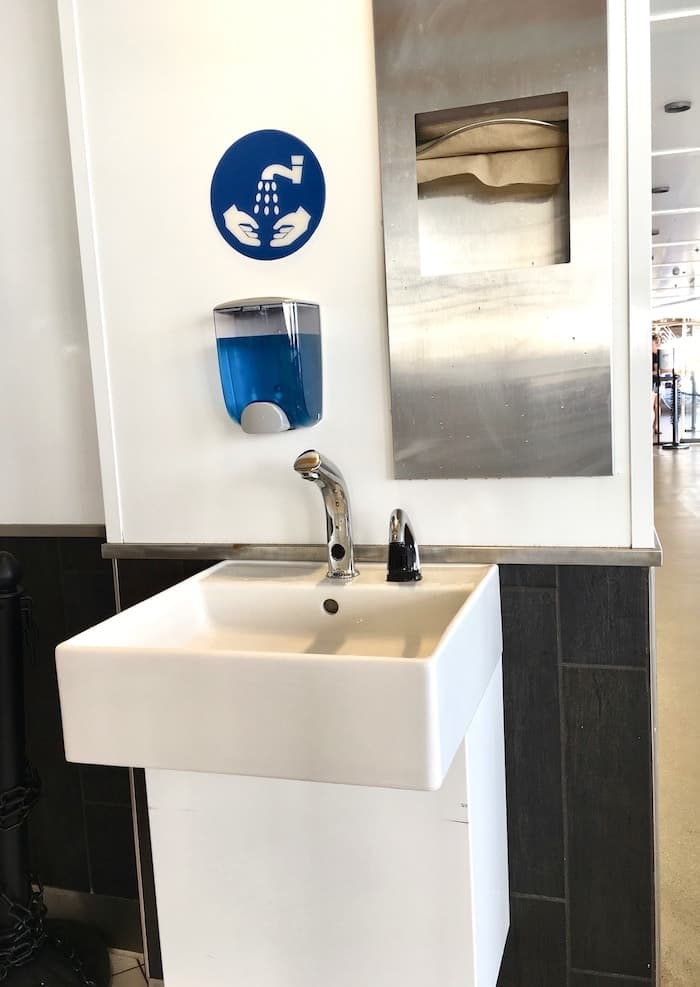 18. Don't fall overboard
This one is self-explanatory. I am not sure what is going on a lately, but I have read several reports of people falling overboard on cruise ships. There was even a recent story of someone who purposely jumped off the ship to take pictures. Sadly, a teenager died trying to get to his room from jumping onto a balcony while the ship was docked. For first-time cruisers, do not "party" on your balcony or host a lot of people there. Do be aware there are life jackets in your room in case of emergency. I do not recommend wandering around on the outdoor decks late at night without someone else with you.
19. Bring Travel Insurance & Leave an Emergency Phone #
As for ALL travel, I recommend obtaining travel insurance. This travel insurance should include trip cancellation, interruption and medical evacuation. Travel insurance will be available through the cruise line or your travel agent. If you travel a lot, I suggest obtaining annual travel insurance from a company such as Allianz. Before you head out on your cruise journey, look up the emergency number for your cruise line or ship. You can give this number to loved ones back home so they can reach you on the ship in case of emergency. I think it's a good idea to let them know the cruise line, the name of the ship, your room # and the emergency phone #.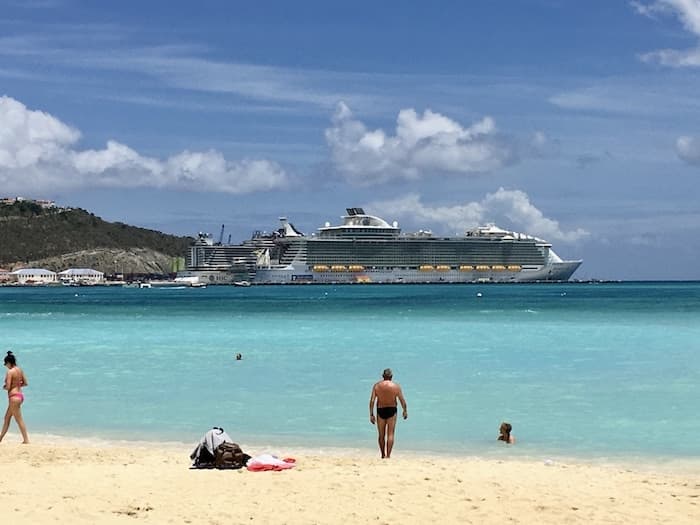 20. Prepare for Disembarkation
Sadly, all cruises must come to an end. The night before disembarkation you will be given the option to pack your luggage and leave them outside your room by a certain time. Your bags will be waiting for you after you go through customs. Keep needed overnight items in your carry-on bag. You will disembark the ship in different time slots. If you have an early flight, you can request early departure. In this instance, you will keep your luggage with you for disembarkation. The lines can be very long so be sure to give yourself enough time to make it to airports/flights. If you have mobile passport or global entry, join those lines for quicker disembarkation. Bring your global entry card with you.
So, what do you think? Do you love to cruise? Did you find these 20 awesome cruise tips for first-timers helpful? What tips or advice would you add for first-time cruisers?
Pin this comprehensive guide for cruising. Before you go check out the cruise section of my website for other great cruise articles and reviews!