Introduction. Pacific Northwest Road Trip For Wine Lovers:
Hello there! In July I am going on a Pacific Northwest vacation to Oregon and Washington State. Two years ago, I visited Portland and Willamette Valley. Since I love wine and Pinot Noir, I have been doing more research on the wine regions in both states. I have come up with a Pacific Northwest road trip for wine lovers. I am so excited to share it with you so you can follow along on my Pacific Northwest road trip wine adventure. (lol)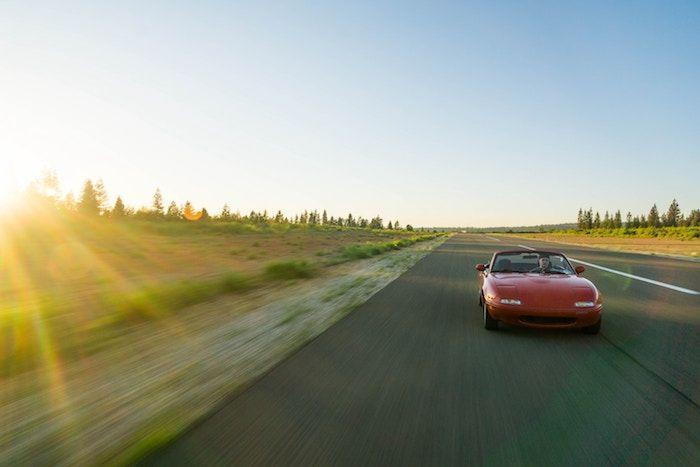 But where is the Pacific Northwest?
Let's start with the basics. Quite a few people have asked me what & where is the Pacific Northwest (PNW). It encompasses the states of Idaho, Oregon, Washington and Canada's British Columbia. The Pacific Northwest is known for its stunning natural beauty. Imagine mountains and waterfalls and cliffs and wildlife and national parks. However, people are not aware of the large amounts of wineries and vineyards in this area. Washington is the second largest wine producing state in the US after California.
I have been to both Seattle Washington and Portland Oregon. However, I have not done a road trip between these two great cities. The driving distance between Seattle and Portland is about 2 hours and 40 minutes. However, I have decided to take a detour east through Columbia River Gorge and Washington State wine country.
Be sure to check out my Ebook: USA Wine Guide For Travelers
Pacific Northwest Road Trip Route:
As of now, I will be flying into Portland Oregon from Atlanta. From Portland Oregon I will be traveling east thru the Columbia River Gorge with a winery stop in Hood River Oregon. I will continue east on my solo Pacific Northwest road trip to Walla Walla Washington. Then, I head west towards Yakima Valley with a stop in Benton City Washington. After wine tasting in Yakima Valley I will keep heading west to Seattle Washington. While in Seattle I will visit Chateau Ste. Michelle Winery. Chateau Ste. Michelle makes some of my favorite wines so I can't wait to finally visit.
It took a little while to decide on my route through the Pacific Northwest. There are many scenic drives and routes you can take. Once I decided that my road trip adventure would be focused on wine it made things a little easier.
Be sure to check out this article on planning a road trip and read this blog post to the end for Pacific Northwest wine tasting tips, and links to informative articles.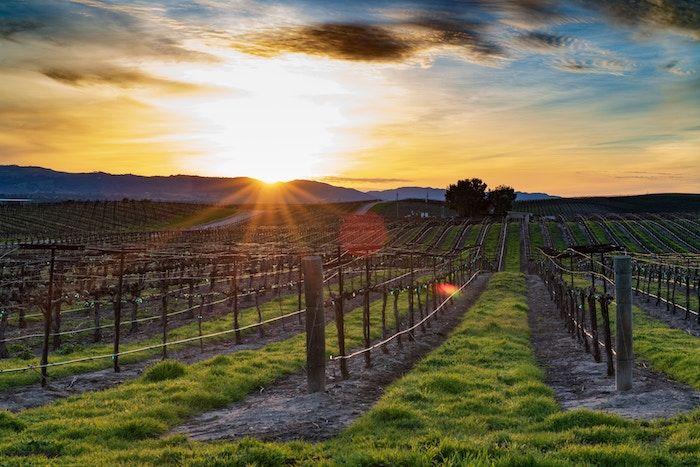 Pacific Northwest Road Trip For Wine Lovers:
With so many wineries and vineyards in Oregon and Washington State it was tough to narrow down which ones to visit. In general, I recommend that people visit wineries that serve their favorite varietals. For example, if you love Chardonnay-research which wineries in that area are known for Chardonnay. If you love Pinot Noir, Willamette Valley in Oregon is definitely for you.
Something else to consider is if you prefer visiting just wineries or wineries/vineyards. Some people prefer hopping in and out of downtown wineries while others prefer spending half a day at a full-service vineyard with winery tours and restaurants. Not all wineries and vineyards have restaurants and food, but I prefer ones that do.
You must also make safe transportation plans. Many areas have group and private tours and even limousine rentals. We rented a limo for wine tasting around Napa Valley California a few years ago. It was amazing,
Wine tasting tips: If you don't like the wine, don't drink all of it. Instead leave room to savor the ones you really love. Drink a lot of water in between tastings and be sure to have a meal or snacks.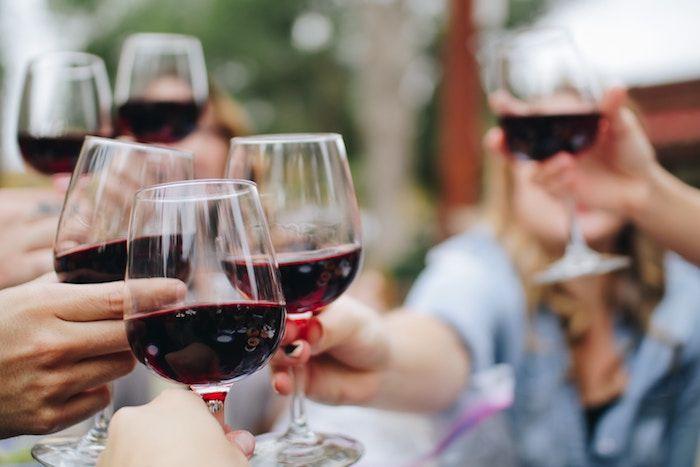 Pacific Northwest Road Trip, 1ststop Portland:
I visited Portland 2 years ago and found it be a relaxed city with great food and wine. There are wineries and vineyards everywhere. Oregon is well-known for Pinot Noir wines. My cousins actually live 10 minutes from a Portland winery called Hawks View Wineries. I brought back a bottle of their White Pinot Noir. It was delicious.
We also visited Willamette Valley Vineyards which is located in…Willamette Valley 🙂 This is the main wine region in Oregon. It is just 1 hour from Portland. On this this trip I will be sticking a little bit closer to the city.
My first wine stop will be at Abby Creek Winery which is located in North Plains Oregon. It is only 30 minutes from downtown Portland. Abby Creek Winery was founded by Bertony Faustin. He is Oregon's first Black winemaker. His winery is referred to as the first Hip Hop winery in the Northwest. "Hip hop, wine & chill" is the motto.
Abby Creek Winery is a small batch winery which produces Pinot Gris, Chardonnay and of course Pinot Noir. Mr.Faustin has a very interesting story and I am looking forward to checking out his winery. It may just inspire me to restart my "Black Winemaker Series". My first blog post in this series was on Andre Hueston Mack of Mouton Noir Wines. Mr. Mack is also an Oregon winemaker.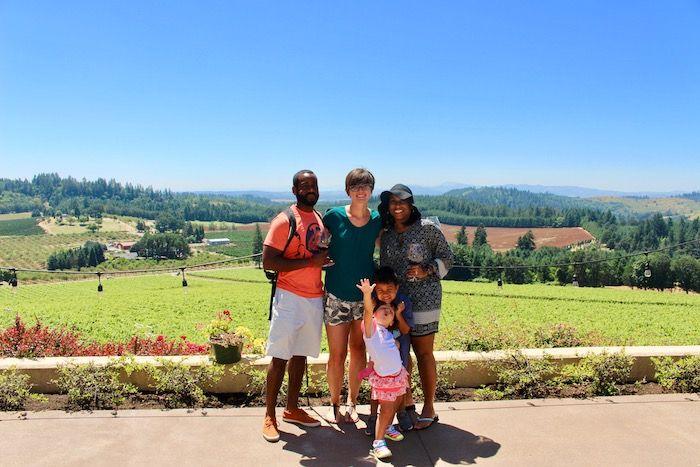 Another winery that I am excited to visit is Helvetia Winery. It is located in Hillsboro Oregon which is in the Tualatin Valley. Hillsboro is also 30 minutes drive from downtown Portland. It is in close proximity to Abby Creek Winery in North Plains Oregon.
While researching this area I found out about the Hillsboro Wine Trail. There are 4 wineries on the Hillsboro Wine Trail including Helvetia Vineyards & Winery. They offer tastings of red and white wines. I am particularly looking forward to the Pinot Noir flight and the specialty chocolates.
After spending time with my family, doing a Portland doughnuts taste competition and having Salt & Straw ice cream, I will continue on with my Pacific Northwest road trip for wine lovers.
2ndStop Columbia River Gorge & Marchesi Vineyards:
I will admit that I did not know much about the Columbia River Gorge until recently. My interest in scenic landscapes is still a surprise to me. Being Jamaican I used to pick beaches, sand and sun for vacation. But, since I have been exploring more of the United States, I appreciate all the natural beauty here. Two of my favorite states to take in natural beauty are Arizona-Sedona and Antelope Canyon and anywhere in California 🙂
But back to the Columbia River Gorge. It is located 1 hour and 15 minutes east of Portland Oregon. My plan is to spend a day exploring this area on my way to Walla Walla Valley.
The Columbia River Gorge is an official National Scenic Area. The Columbia River cuts through the Cascade Mountains in this area. I am really looking forward to the waterfalls and cliffs and views.
I was surprised to find out that there are vineyards in Columbia River Gorge. According to Travel Oregon, the Columbia River Gorge has a unique geography of cool hilly areas as well as dry sunny areas. The cooler areas are known for producing Pinot Noir and Chardonnay while the drier areas produce Tempranillo and Syrah.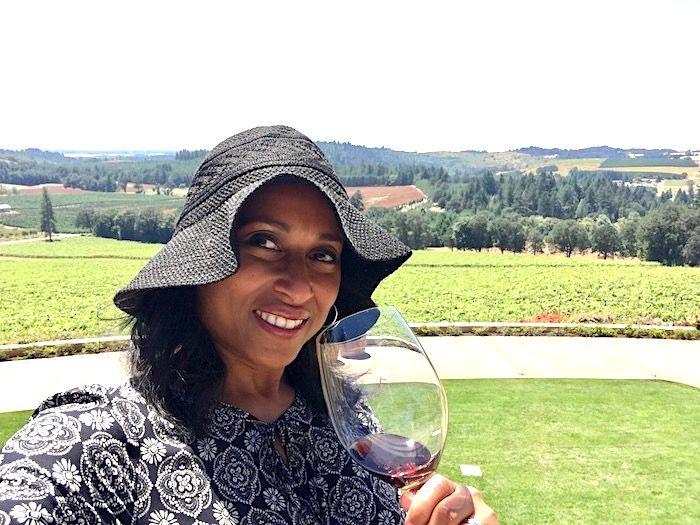 This Columbia Gorge wine region consists of about 50 boutique wineries that reside in both Oregon and Washington State. You can get more information on the "Gorge Wine Region" by visiting this website.
While doing my research I came across Marchesi Vineyards & Winery located in Hood River Oregon. Hood River is a port on the Columbia River. Marchesi Vineyards makes Italian varietals along the foothills of Mount Hood Oregon. Founder Franco Marchesi states on their website that the area reminds him of Northern Italy, Piedmont in particular. Popular varietals here include Pinot Nero, Barbera, Dolcetto and Pinot Grigio. The pictures of this vineyard look lovely so I can't wait to visit.
Winery Tour Tip: Once you have decided on which wineries and vineyards to visit, check to see what days & times they are open and if they require a reservation.
Road Trip for Wine Lovers, 3rdstop Walla Walla Valley:
After spending a day in Columbia River Gorge, my Pacific Northwest road trip for wine lovers will continue on to Walla Walla Valley in Washington State. Walla Walla Washington is almost a 3 hour drive from Hood River Oregon.
I first wrote about Washington State wines back in 2016. In my blog post on Mercer Wines, I mention that Washington State produces the second largest amount of wine after California. It is thought that grapes were first planted in Walla Walla by Italian immigrants. Popular white varietals in Walla Walla Valley are Riesling, Chardonnay, Pinot Gris and even Chenin Blanc. Top red varietals are Cabernet Sauvignon, Merlot, Malbec, Syrah and even Sangiovese. They also produce Pinot Noir.
I plan to visit several wineries in Walla Walla Valley. My first stop will be in Lowden Washington. L'Ecole No 41 is an award-winning winery. It was founded in 1983 and it is third oldest winery in Walla Walla Valley. L'Ecole No 41 is also a third generation family owned winery. They grow the grapes and make the wines on their property so I am looking forward to sampling their Estate wines.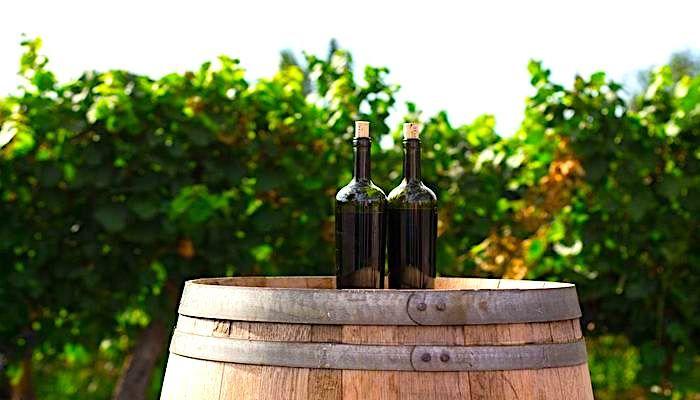 Another winery in Walla Walla Valley that I plan to visit is Woodward Canyon. It is also located in Lowden Washington and was established in 1981. I enjoy learning about multi-generational family wineries. Woodward Canyon is known for "Old World" inspired wines. I plan to try their reserve flight that includes a 2016 "Old Vines" Cabernet Sauvignon.
Downtown Walla Walla has a few tasting rooms that I would like to try. The 3 Walla Walla downtown wine tasting rooms on my list are Seven Hills, Cadaretta and Rotie cellars.
Abeja Winery & Inn looks lovely as does Three Rivers Winery. The Foundry Vineyards is known for art, wine and sculpture. Tranche Cellars has great reviews on Tripadvisor. I only have a total of 2 days in Walla Walla Valley. So, you will have to follow along on my Pacific Northwest road trip wine adventure & see which ones I make it to!
4thStop Benton City Washington:
After my visit to Walla Walla Valley, I will continue on my Pacific Northwest road trip to Benton City Washington. It is a 1 hour and 10 minute drive from Walla Walla Valley. I did not initially have Benton City on my Pacific Northwest road trip for wine lovers. However, I will be stopping in Benton City for a visit at Frichette Winery. I feel it is important to support black winemakers and bring awareness that they exist.
I connected with Shae Frichette in a wine group on Facebook. Shae and her husband own this winery which is located in the Red Mountain AVA. Frichette winery specializes in Bordeaux style wines. I have not been to Bordeaux France yet, so I am excited to do this wine tasting.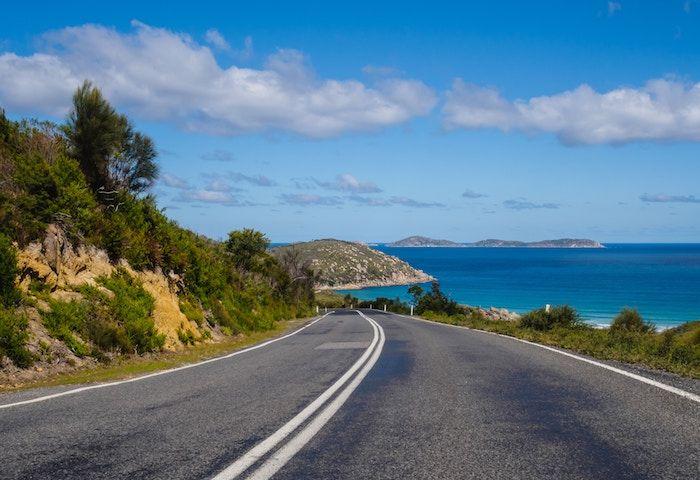 Pacific Northwest Road Trip 5thStop Yakima Valley:
I will practically be driving right pass Yakima Valley on my way to Seattle. So, I decided to add it to my Pacific Northwest road trip itinerary. It is a 2 hour and 10 minute drive from Benton City.
Although I love vineyard views and winery tours, based on my limited time in the area I plan to visit a few tasting rooms in downtown Yakima Valley.
Kana Winery is located in downtown Yakima Valley and is the oldest winery in the area. Another downtown wine tasting spot that has great reviews is Gilbert Cellars.
6thStop: Chateau Ste Michelle Winery:
Chateau Ste. Michelle is located in Woodinville Washington. Woodinville Washington is a 2 hour and 15 drive from Yakima Valley. But, it is only 25 minutes from Seattle Washington. My current plan is to drive 2 hours from Yakima Valley to Seattle. I will get some rest overnight then head out to Woodinville the next day.
Chateau Ste. Michelle makes several varietals but I love their Riesling wines. The dry Riesling in particular is just perfect. While attending the Savannah Food & Wine Festival a few years ago, I was introduced to their Eroica label. Eroica is a partnership between German Winemaker Loosen Estate and Chateau Ste. Michelle. Eroica Rieslings are also amazing.
During my visit I will be doing a food & wine tasting, a tour of the winery and attending a summer concert that night. Chateau Ste. Michelle has events going on all summer. If you are in the area be sure to check it out.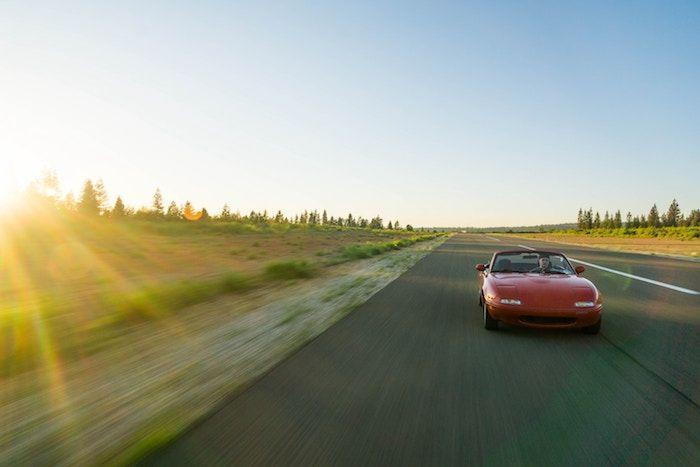 Pacific Northwest Road Trip for Wine Lovers: Tips & Resources
First of all, please be careful about drinking and driving. Know your limitations. As mentioned above, consider taking a private or group tour. Choose wineries that are not far apart from each other to utilize Uber or Lyft.
The website WINESNW.com has great information about wine tasting in the Pacific Northwest. Some things to consider are:
1. Do you prefer visiting large or small wineries?
2. What time of year would you like to visit? Summer and fall are the busiest seasons with a lot of tourists.
3. If you are driving from winery to winery, consider keeping an ice chest in your car for purchased wine.
4. This one is very neat: "Order backwards". Choose your wine first then pick food that will pair well with it.
5. Make time to visit wine bars and wine shops in the Pacific Northwest to sample wines from the places you didn't get to visit. I have heard great things about the Lake Chelan wine region in Washington State so I hope to sample some of their wines.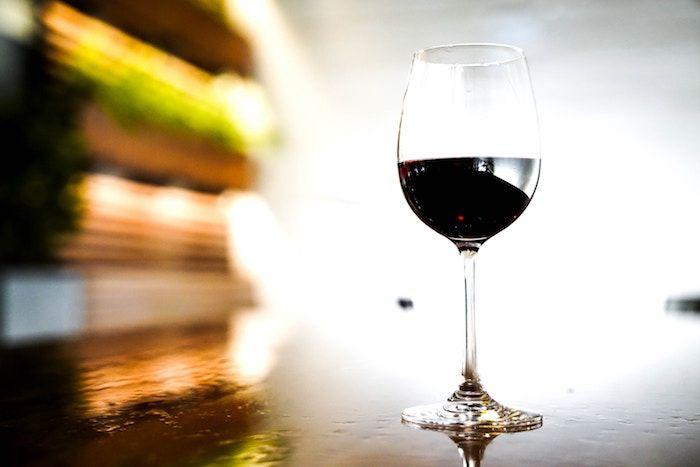 Road Trip Tips:
Start with a great map and a great car. If it is your own car, make sure to get it serviced prior to your road trip. In terms of maps, it can be an actual map or one on your phone or computer. Check the distances and times between each location you are interested in. Be practical about what you can accomplish each day.
Consider how much driving will have to take place during the daytime vs. nighttime. I personally prefer to do most of my driving during the day so my road trips are usually during the summer.
Play great music, audiobooks or podcasts to make the time go by faster. Stock up on water and snacks.
Don't forget to pack your car charger, a portable phone charger and a car GPS device if you use one. I plan to bring my camera as well as use my Iphone for pictures. And, I recently bought a wine suitcase. It holds 8 bottles of wine. I used to ship wine back home or wrap 1-2 bottles in my suitcase but I'm sure this will be much better.
Yeah! You made it to the end. I hope you have enjoyed my travel guide for planning a road trip to the Pacific Northwest. It is perfect for wine lovers like me.
UPDATE!! I made it to 8 wineries on this list. Watch this video to see 8 Must Visit Pacific Northwest Wineries from Portland to Seattle.