Are you planning a trip to Amsterdam and wondering what to eat? If so, this blog post on Amsterdam food and drink will be very helpful. In this post I will review the best Amsterdam restaurants. I will also discuss an Amsterdam walking food tour and food hall.
I wasn't sure what to expect in terms of Amsterdam food. The only traditional Amsterdam food that came to mind was Dutch apple pie-which I love.
Some of the food and drink recommendations given to me for my trip to Amsterdam included Heineken beer, herring, gin and tonic and Dutch pancakes.
I was pleasantly surprised to find that Amsterdam had a lot of international cuisine. This in part comes from immigrants from countries they colonized such as Indonesia and Suriname.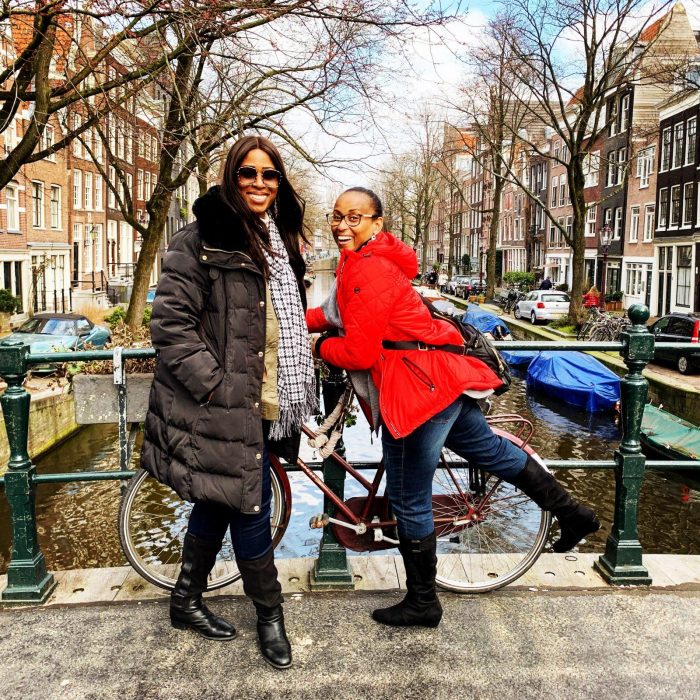 Restaurants on the Eating Europe Amsterdam Food Tour
If you have read the food section of my blog, you know I am a fan of walking food tours. I have done several in Quebec City, Bangkok, Porto Portugal, Melbourne and Puerto Rico. During the tours you learn the history of the city and eat delicious traditional foods. You also get to burn off some calories.
There are several walking food tours in Amsterdam. It was tough to choose one. Thankfully my friend Monique of An Unstoppable Journey recommended the Eating Europe Amsterdam Food Tour.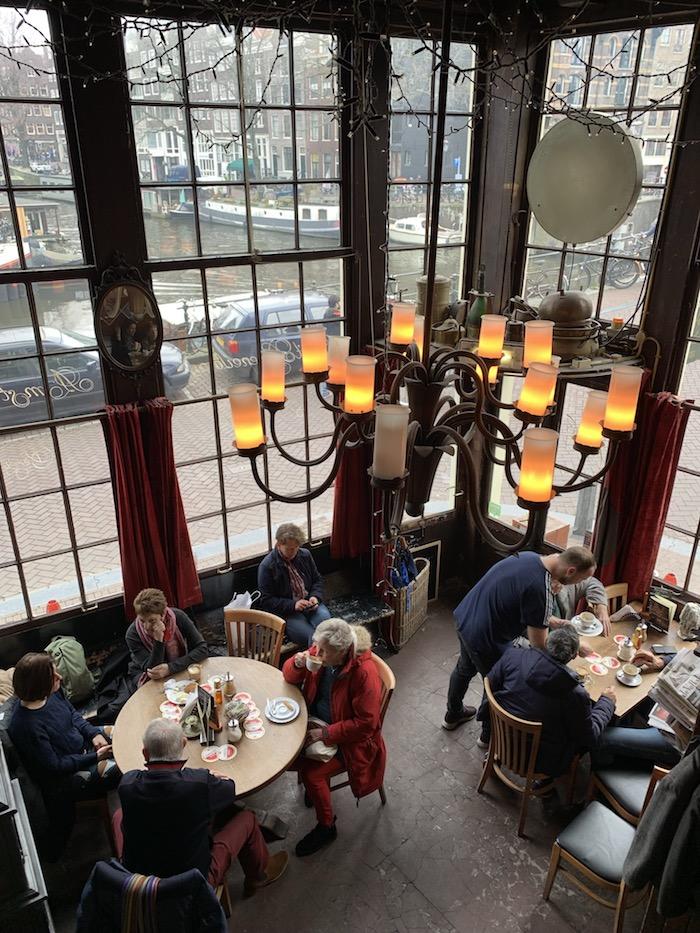 The Eating Europe Amsterdam Food Tour through the Jordaan Neighborhood was amazing. Our tour guide Rene Mastenbroek was very intelligent and friendly. You could tell he was passionate about sharing his love of Dutch history and Dutch food.
Our tour lasted 3 ½ hours during which we had 7 stops. I was so full I could barely eat by the end. Here is a list of our stops and Amsterdam eats.
Café 'T Papeneiland
Cappuccino & Appeltaart (Dutch Apple Pie/Tart) with Whipped Cream. This Dutch apple tart/pie was loaded with fresh apple slices and was not overly sweet.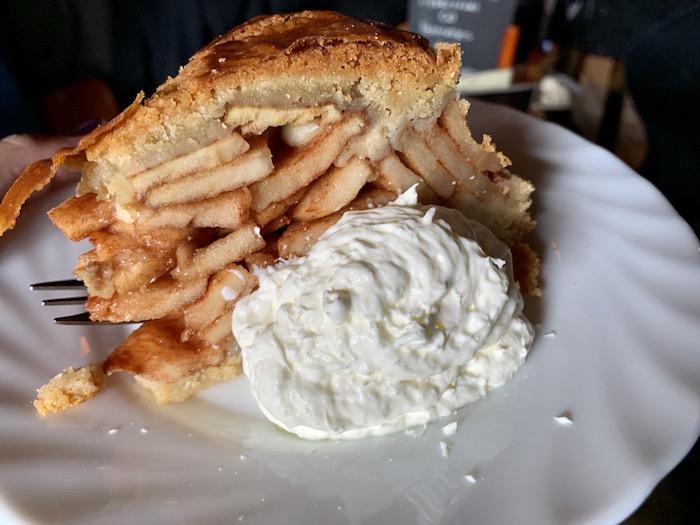 It was interesting having Dutch apple pie for breakfast vs. dessert. But, we were off to a great start. The restaurant is beautiful and historic. I think it is one of the best places to eat in Amsterdam.
Tom's Bread & More
Stroopwafel. At first glance a plain stroopwafel may not look like much. But, these thin crispy wafer cookies filled with caramel are addictive. They also come in various flavors like chocolate and honey and even with candy on top.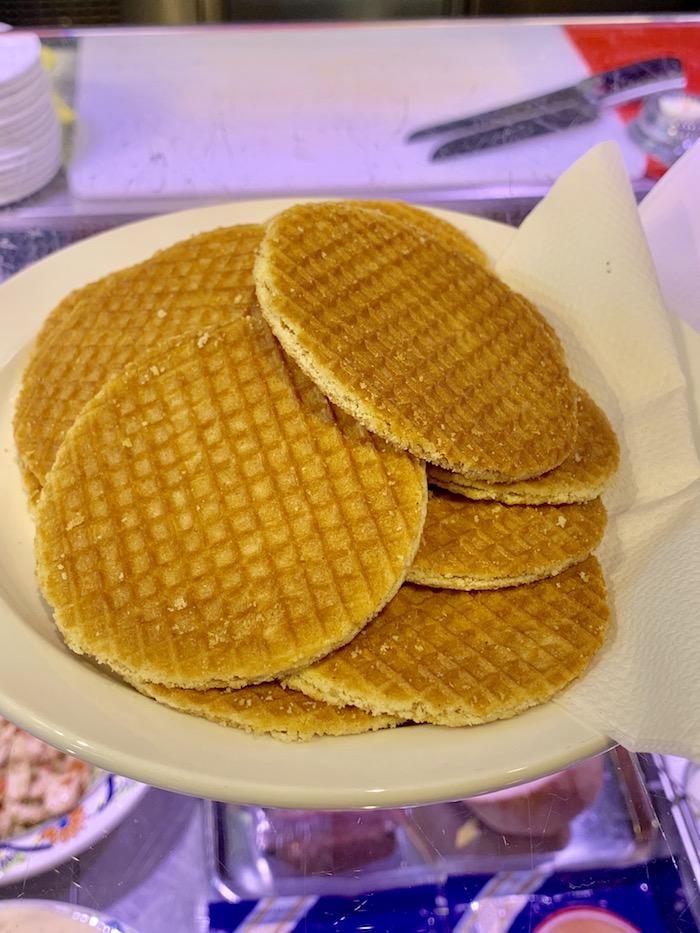 (This was not part of the tour but I suggest trying some warm stroopwafels topped with chocolate at Van Wonderen Stroopwafels in Amsterdam)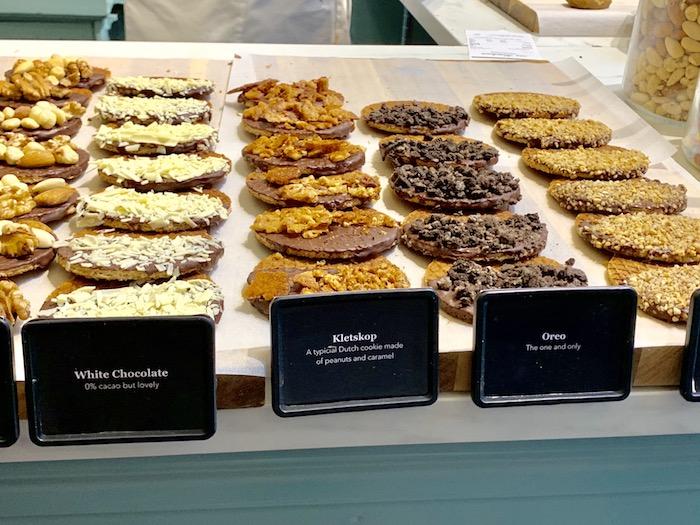 You will find stroopwafels all over The Netherlands. I was shocked to return home and find stroopwafels in Target. They are also sold in airports in the U.S. In terms of Amsterdam food, it is a staple that you have to try.
Swieti Sranang
Suriname is a tropical country that was colonized by the Dutch. It is located in South America right above Brazil. Suriname is also located next to Guyuna and has a Caribbean culture.
During the 17thcentury it was known for sugar production by African slaves. After the abolition of slavery in the late 1800s, indentured servants from Asia were a large part of the work force.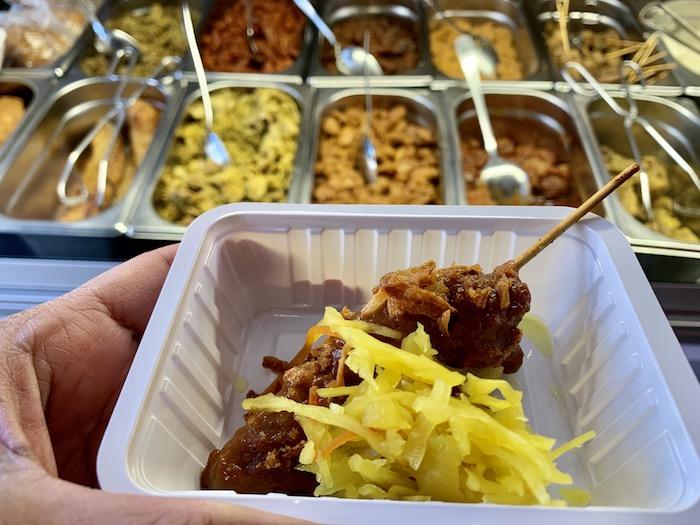 I was very pleased that we made a stop at a Surinamese restaurant for Amsterdam food. My favorite sampling was the Chicken Satay. It was rich and full of flavor unlike most of the watered-down chicken satays that you will find in America.
Viswinkel Zeewater
This is a small shop in Amsterdam with a lot of great Dutch food. I recommend it as one of the best places to eat in Amsterdam.
Our first sampling of Amsterdam food here was raw herring with pickles and onions. I wasn't a huge fan of it, but others loved it.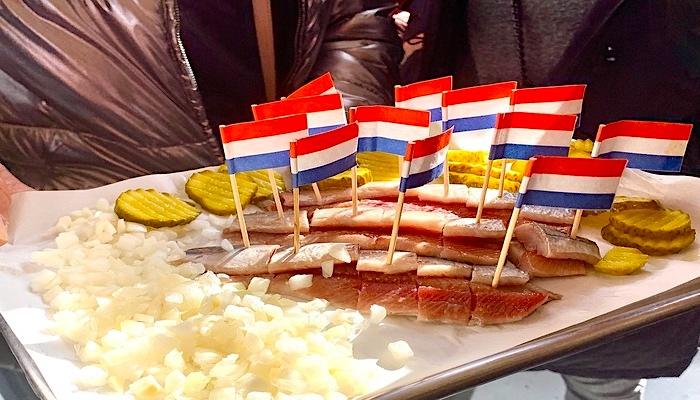 We then sampled Tulip vodka-Tulpenwodka. You may be aware that The Netherlands are known for their tulips. The colorful pictures of tulip fields in full bloom in the spring are amazing.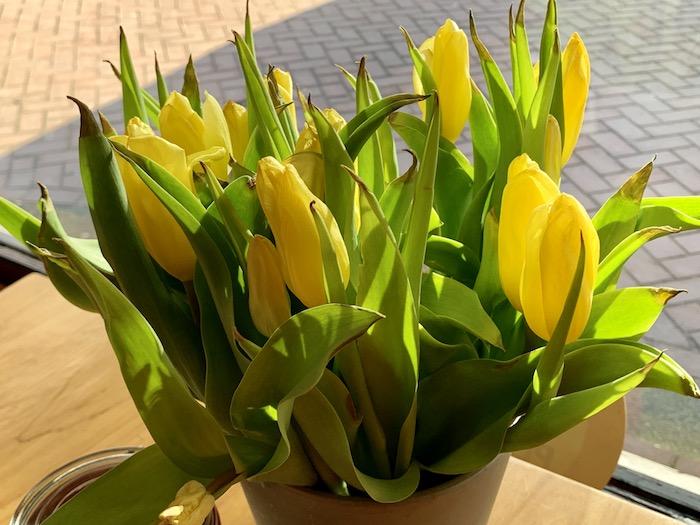 This vodka is made from tulips. I enjoy vodka but I was not sure what to expect. It was actually really good. It tasted like regular vodka with a slight floral aftertaste.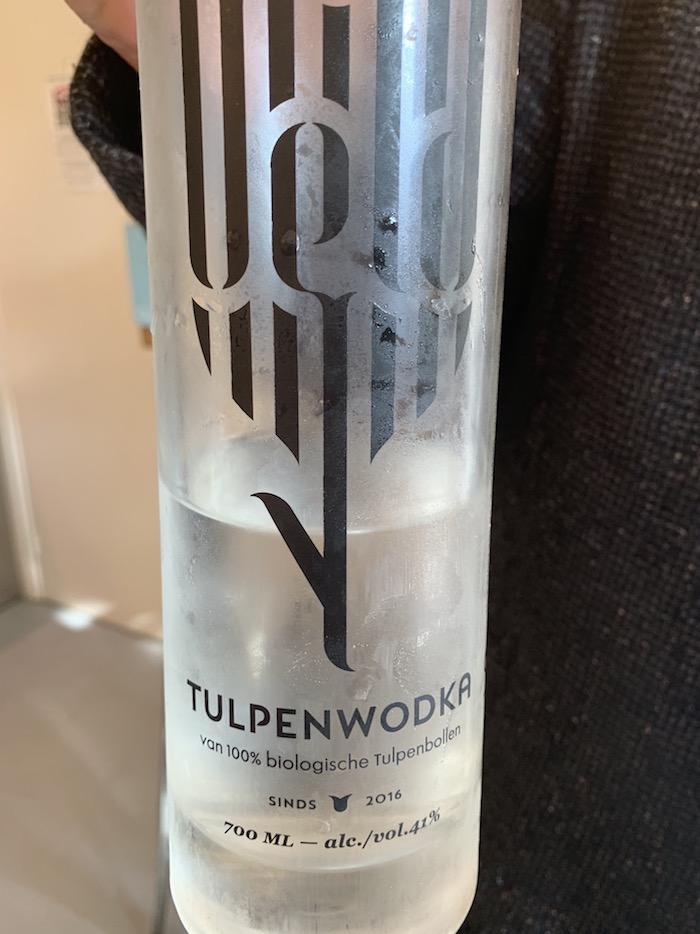 Last but not least was chunks of fried fish called "Kibbeling". It was fried cod similar to the popular "fish & chips" dish found around the world. The kibbeling is often served with a mayonnaise based sauce. It was crispy and very tasty.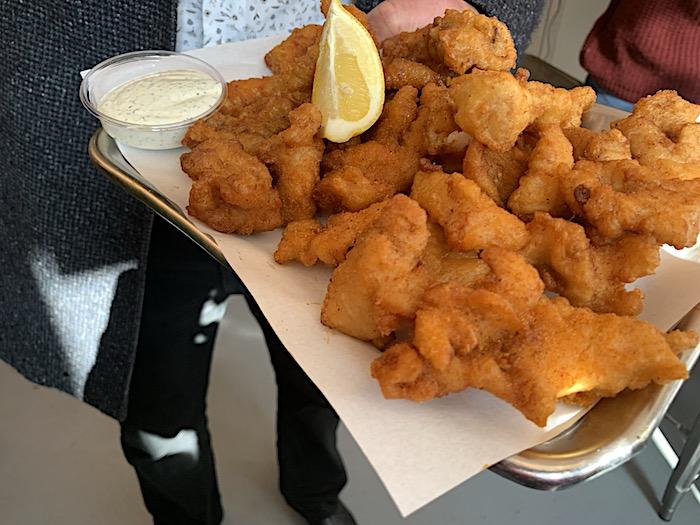 JWO Lekkernijen
If you love cheese as much as I do, you must visit this shop. Amsterdam has an abundance of cheese shops but this one was very quaint and had a lot of selections.
Have you heard of Gouda cheese? It is named after a town in The Netherlands called Gouda. This is because farmers in the area traded their cheese in Gouda.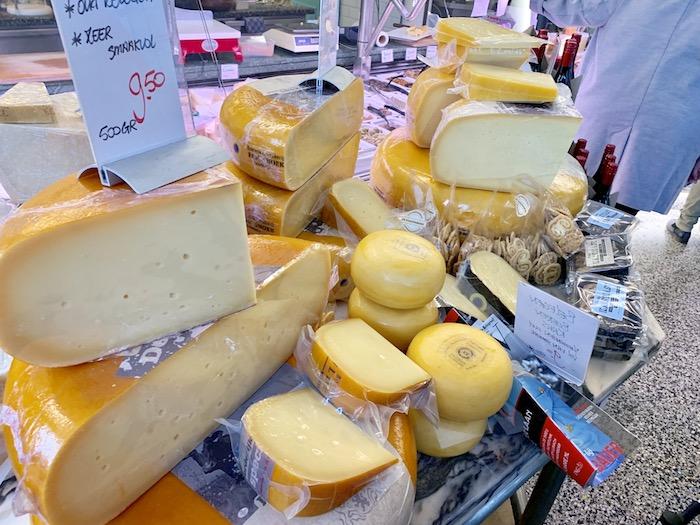 This cheese shop had Gouda cheeses of different ages. I would start with the younger ones and move up to the aged cheeses. Now when I think of Amsterdam food, I will definitely think of gouda cheese!
Louman Jordaan
Although we were getting quite full, we sampled some delicious Charcuterie at this stop. With cheese, butcher, pastry shops, pubs and restaurants lining its streets, The Jordaan neighborhood is one of the best places to eat in Amsterdam.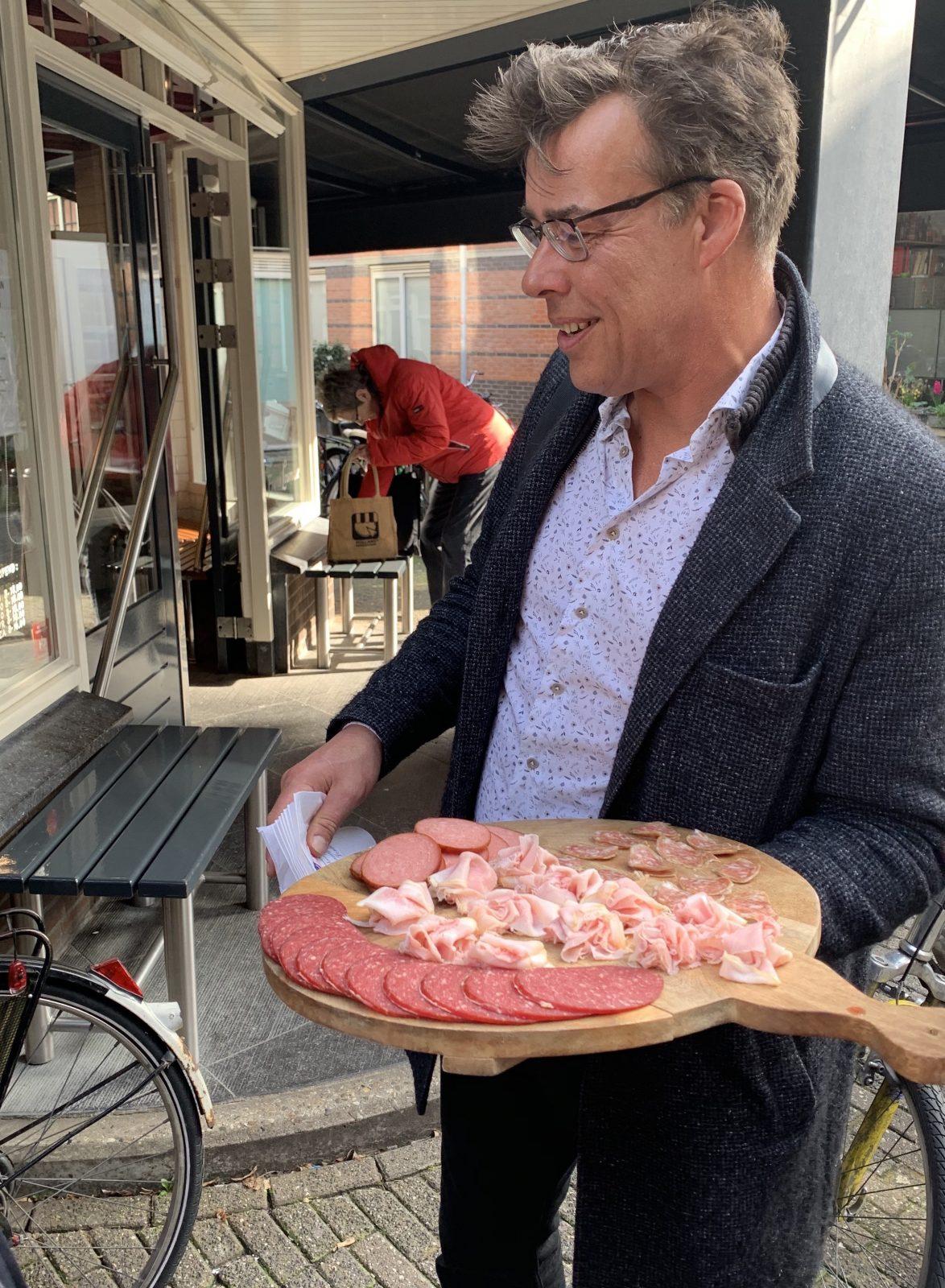 Amsterdam Pub
Our last stop was at a popular pub for more Amsterdam food. This time it was comfort food.
The beer was served in Heineken glasses. But I was told it was not Heineken beer lol.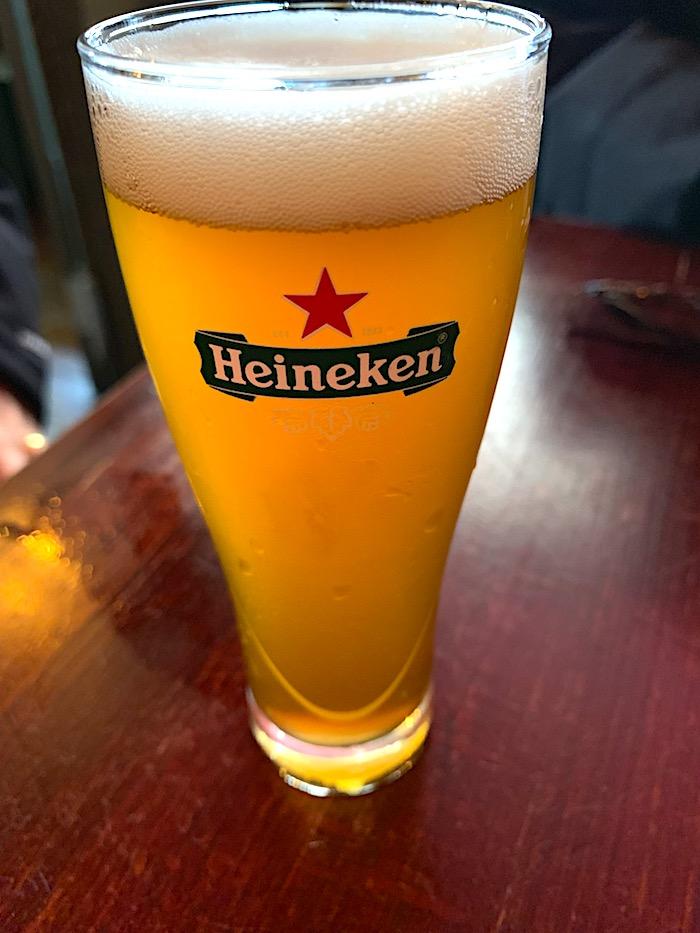 Heineken Lager Beer was founded in Amsterdam in 1873. You can take a tour of the Heineken factory in Amsterdam but we did not have time to do this.
Along with the beer we were served a dish of sausage with mashed potatoes and carrots. From my research this is called "Hutspot". It is a mixture of unrelated items such as potatoes, carrot and onions. It can be topped with meats like bacon or beef. In this case it was topped with sausage.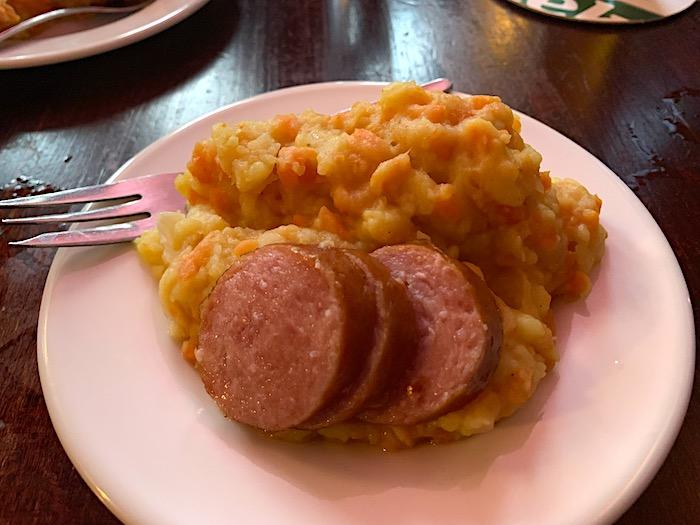 More of the Best Food in Amsterdam
PANCAKES.Amsterdam
This is a chain of pancake restaurants in Amsterdam. It was highly recommended for authentic Dutch pancakes. We visited the location next to the Anne Frank House. Based on its location, it is usually crowded. However, it is one of the best places to eat in Amsterdam.
Before you visit Amsterdam, you should know about the different types of Dutch pancakes. It is a very traditional and popular Amsterdam food.
"Pannenkoeken"
"Pannenkoeken" is another name for Dutch pancakes. Dutch pancakes are thinner and larger than American pancakes. They remind me of crepes. Just like crepes, Dutch pancakes can be sweet or savory.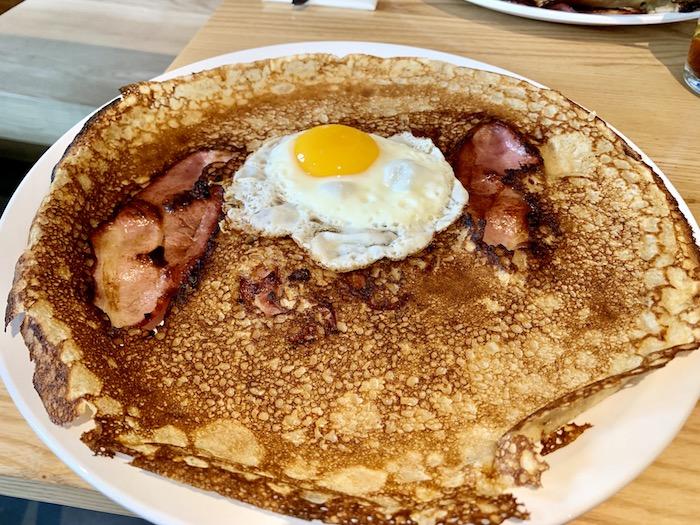 The ingredients are often mixed in and cooked with the batter. I tried the bacon and eggs pancake and it was scrumptious. I used syrup with mine just like in the US. Pancakes.Amsterdam also serves stacked American pancakes.
"Poffertjes"
These are small puffy pancakes that you will find all over Amsterdam. Traditionally they are light and sweet and served with powdered sugar and butter. At Pancakes.Amsterdam they are also served with ice cream and chocolate sauce. So decadent!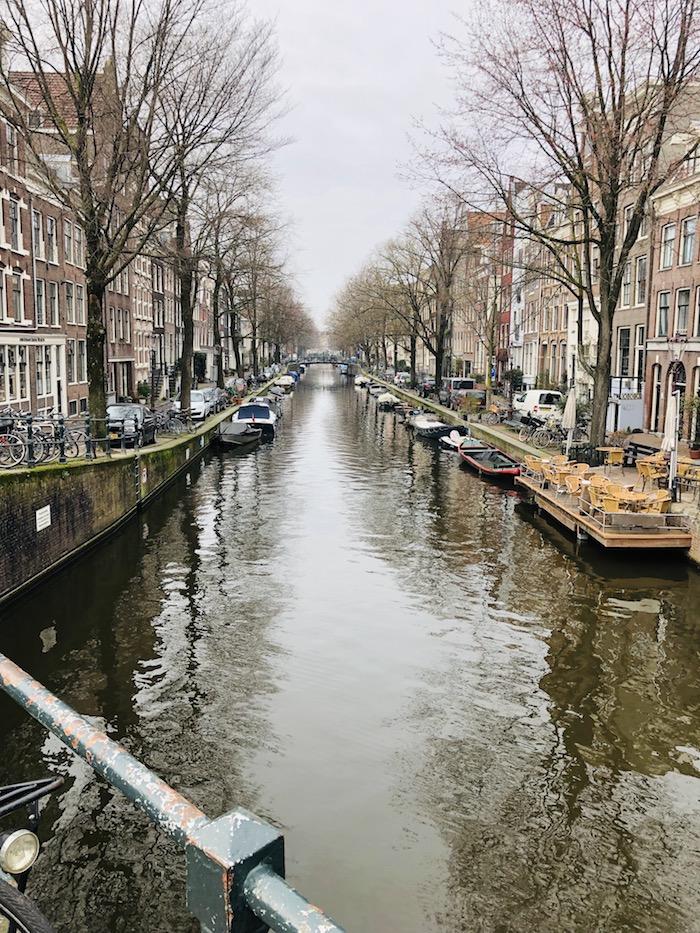 Dutch Baby Pancake
You may be familiar with this one since it is served in many pancake houses in America. FYI: It originated in the US in early 1900s so it is not really Dutch at all. And I did Other names for it are Dutch puff and German pancake. It is often compared to Yorkshire pudding or a "popover" and is baked in an oven instead of on the stove.
Lotti's Café Bar & Grill, The Hoxton Hotel
We had lunch at a cozy Amsterdam café called Lotti's. It is located in the boutique hotel-The Hoxton. There was a fireplace and sofas. It felt more like a living room than a restaurant.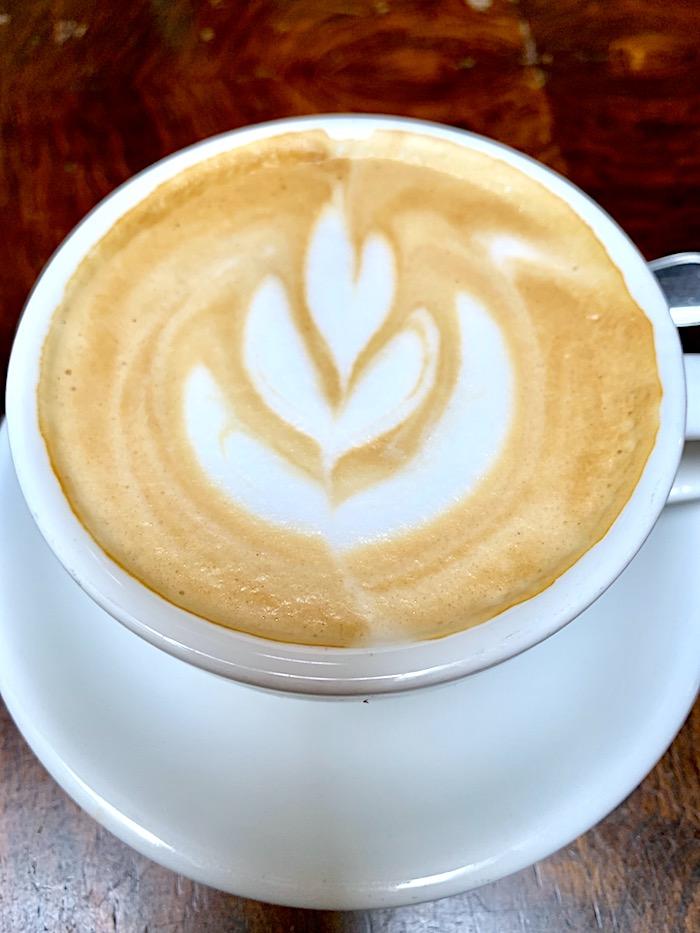 We had delicious Amsterdam food including the Seafood Chowder, the Hox Cheeseburger, (I assumed Hox is for 'Hoxton") and the Lotti's Benny (benedict with poached eggs, Dutch smoked salmon and hollandaise on toasted sourdough). Everything was really good.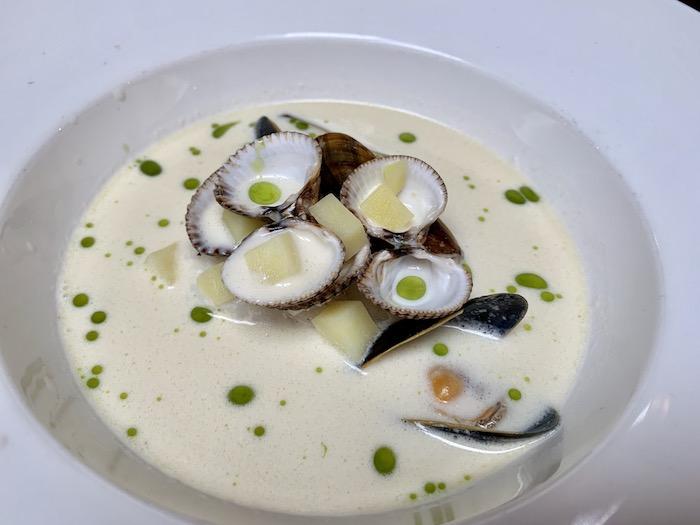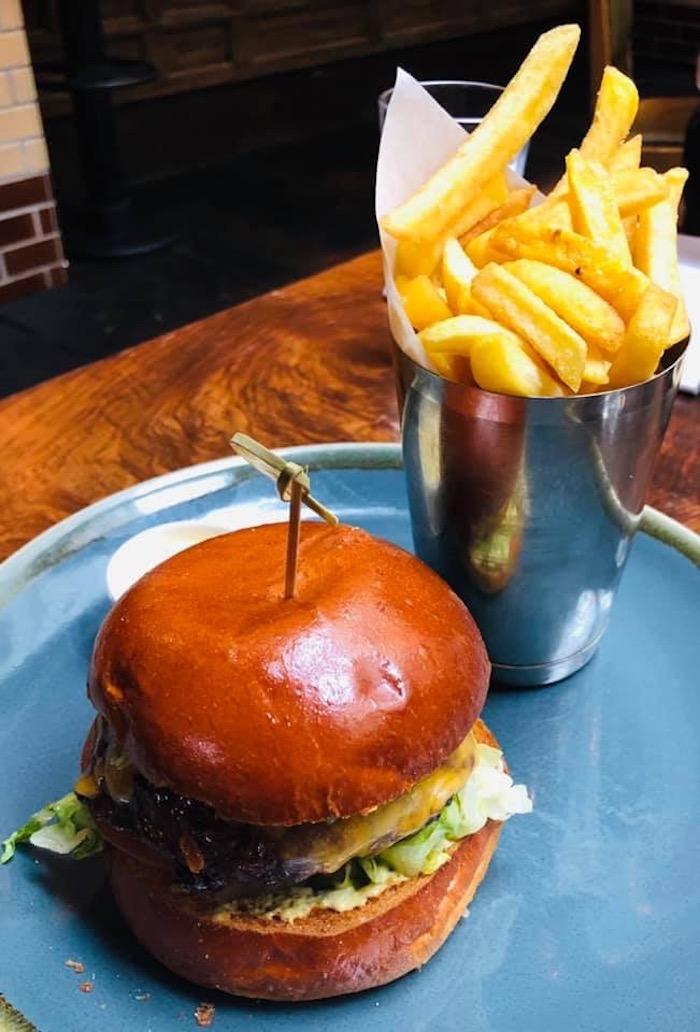 To give you an idea of other Amsterdam foods, the menu also included: Hox Beef Tartare, Buddha Bowls, Fish & Chips, and Hox Monsieur-a Dutch version of the French Croque Monsieur served with Brioche bread, Dutch Ham and Gruyere.
If I lived in Amsterdam this would be a regular stop for me. It is one of the best places to eat in Amsterdam.
Amsterdam Cheese Shops: Henry Willig
You will not will get very far in Amsterdam before coming across a Henry Willig cheese shop. If you love cheese, you will find yourself visiting more than one location during your stay. Especially since there are always samples on display.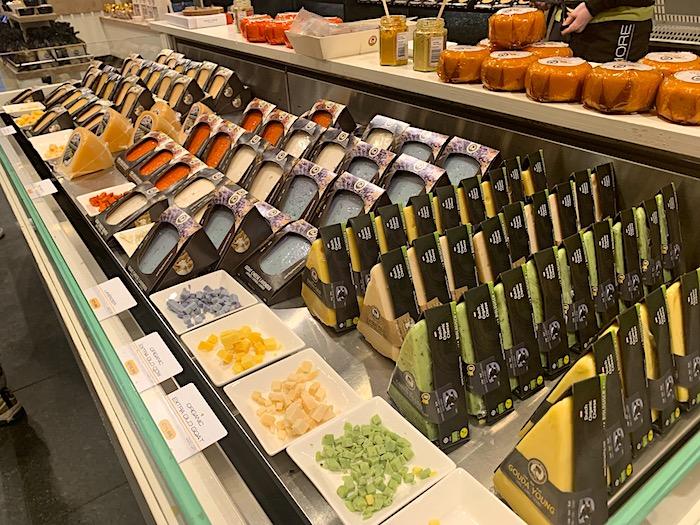 You can sample coconut cheese, lavender goat cheese, organic extra old goat cheese, organic extra old cow cheese (this name cracked me up and extra old goat or cow anything does not sound too appetizing lol), goat cheese truffle, herbs and garlic cheese, baby sheep cheese and honey thyme cheese.
I am not kidding about the names. I am sure there are more varieties than the ones I have listed. The great thing is you can get packaged cheeses to take back home with you. Trying this Amsterdam food is a must.
De Hallen Amsterdam
De Hallen Amsterdam is an old train depot that is now a multiuse building. There is a food hall, movie theater, library, hotel, art exhibit area and has shops. It is located in the hip "Oud-West" area.
Foodhallen is the food hall space and it is huge with two levels. This is one of the best places to eat in Amsterdam. You can sample traditional Amsterdam food and also international eats and drinks.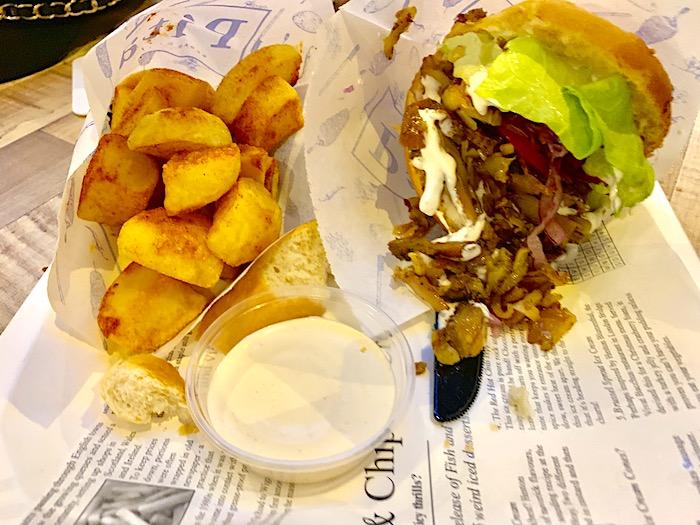 I had a Chinese bao at Dim Sum Thing then a gyro and fries at the Greek place PITA. Both the chicken and lamb gyros were juicy and delicious and the fries were thick and crispy. We also enjoyed sampling Spanish tapas.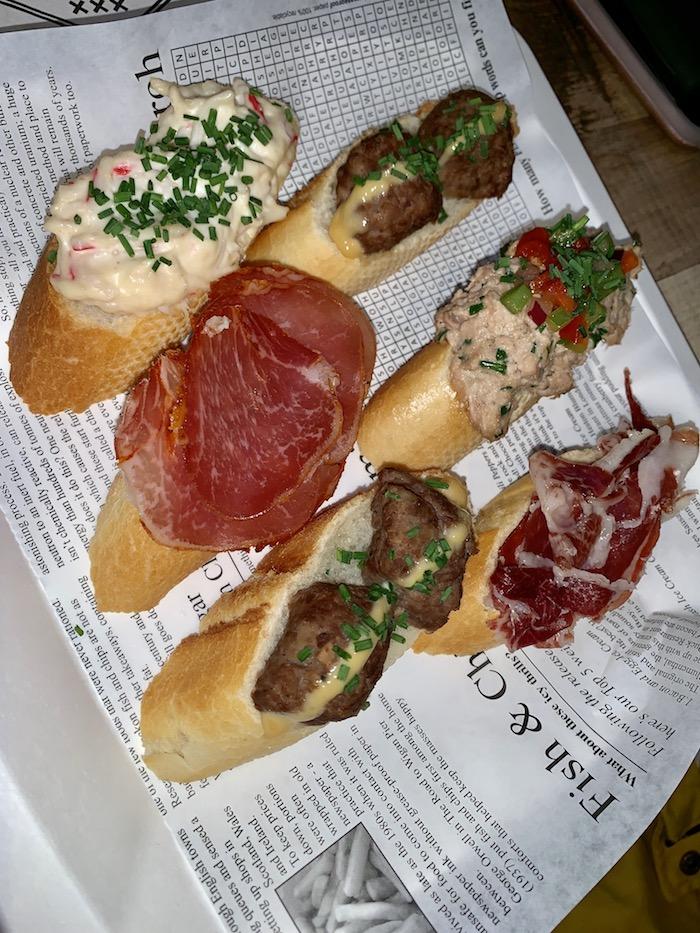 I tried bitterballen at De BallenBar. Bitterballen is a traditional Amsterdam food. They are called Dutch meatballs. Bitterballen definitely have a unique taste. I actually tried them earlier that week in Antwerp Belgium for the first time.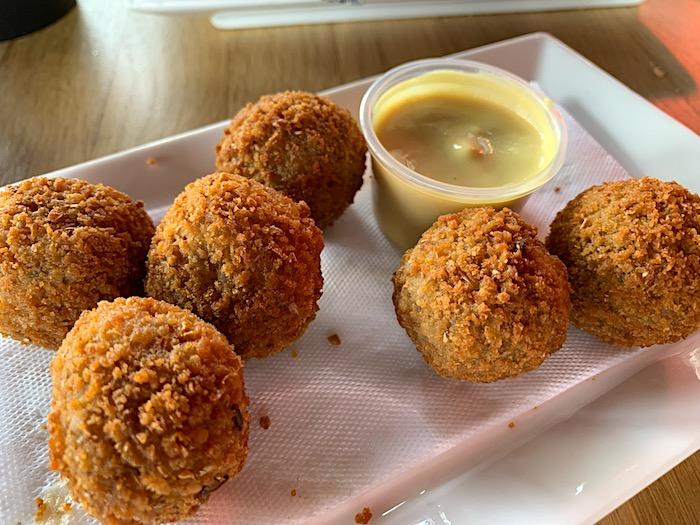 Foodhallen has several gin & tonic bars. In Amsterdam you may come across "Genever" or "Jenever". Genever or "Dutch Gin" was first used in The Netherlands for medicinal purposes.
Both the Dutch and the Flemish mixed Genever with anise, juniper, caraway and coriander to treat various medical illnesses such as kidney disease, gallstones and gout. As a physician I found this interesting.
Gin as we know it today become widespread during the "Glorious Revolution" in the United Kingdom in the 17thcentury.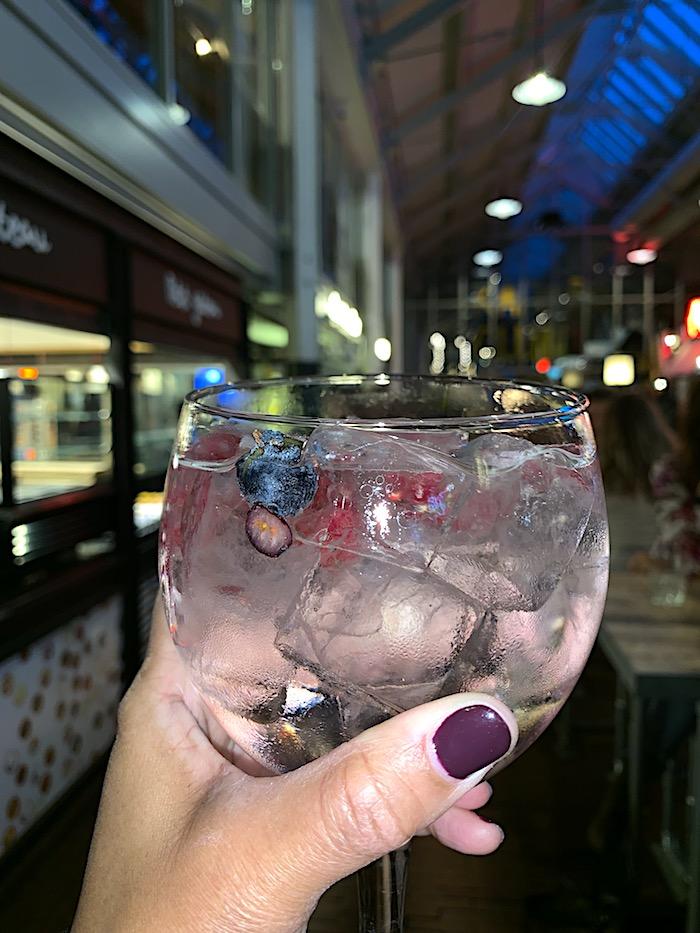 At Foodhallen I had a "G&T Floral" cocktail with raspberries and blueberries. It was so refreshing.
On the way out of Foodhallen I stopped at the bakery stall for some pastries. You will not go wrong eating almond and chocolate pastries in Amsterdam. Foodhallen is not to be missed on your trip to Amsterdam. It is a great place to sample Amsterdam food.
Indonesian food in Amsterdam: Restaurant Max
Simply put, this one of the best restaurant experiences I have ever had, not just in Amsterdam. Have you ever heard of an "Indonesian Rice Table"? Are you surprised that Indonesian food is part of an Amsterdam food blog post? Let's pause for a little history lesson.
Indonesia was the largest Dutch colony. It was part of the Dutch East Indies. The Dutch East Indies Company was based in what is now called Indonesia and was known for trading spice.
From 1603 until after World War II ended, Indonesia was occupied and/or under control of many countries. The Netherlands, other European nations and Japan. Due to international pressure, the Dutch finally recognized Indonesia's independence in 1949.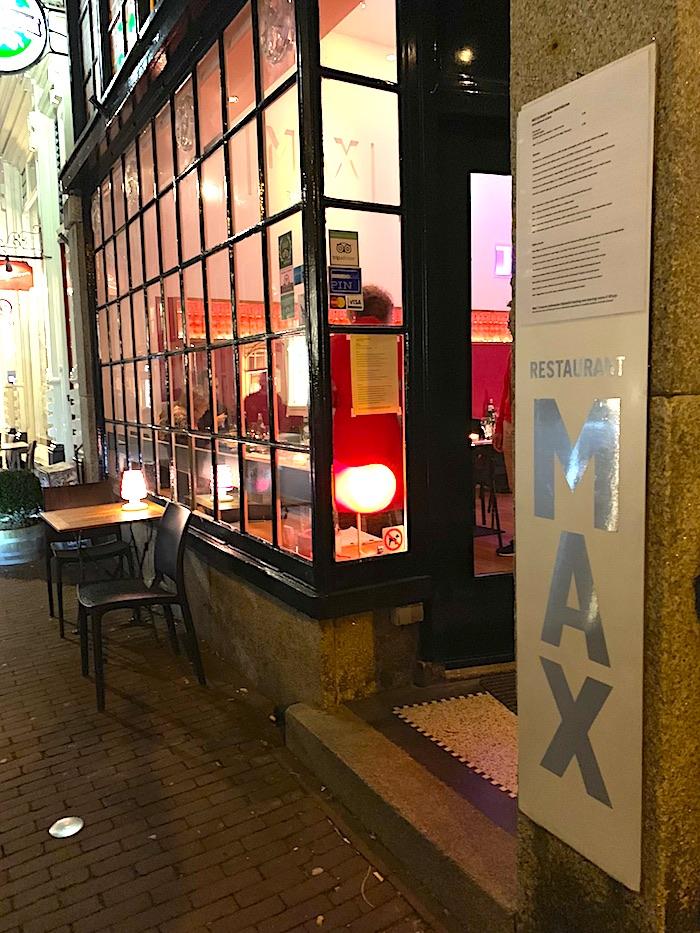 Between 1945 to 1965, approximately 300,000 Dutch Indonesians emigrated from Indonesia to The Netherlands. They are referred to as Eurasians or "Indos". Indos in particular are of mixed Indonesian and Dutch descent.
The Netherlands has the second largest population of Indonesians living outside of Indonesia at 1,800,000. Malaysia is the first with 2,500,000. So as you can imagine, the Indonesian food in Amsterdam is plentiful and amazing.
Now back to Restaurant Max. This restaurant should make all the lists for the best places to eat in Amsterdam. An Indonesian rice table is also referred to a "Rijsttafel". Rijsttafel in Dutch means "rice table".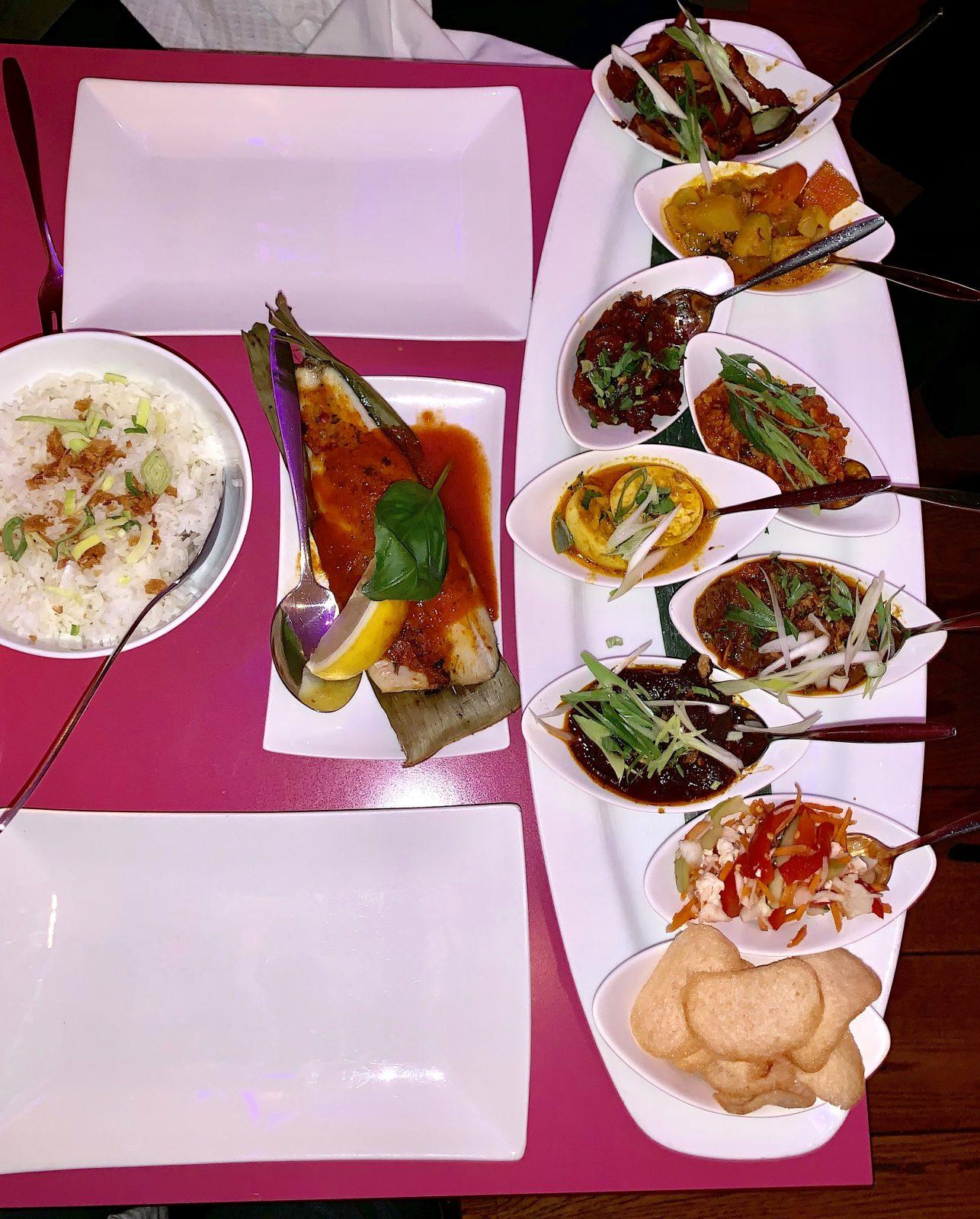 It is a table full of side dishes served with rice. These side dishes can be eggs, fish, vegetables, meat and even nuts. Max, the restaurant owner, was kind enough to describe all the dishes to us.
The sight and aroma of all these colorful side dishes had my taste buds watering. Spices and curry flavors exploded in my mouth. And, the lychee martini was a perfect accompaniment to this great meal in Amsterdam.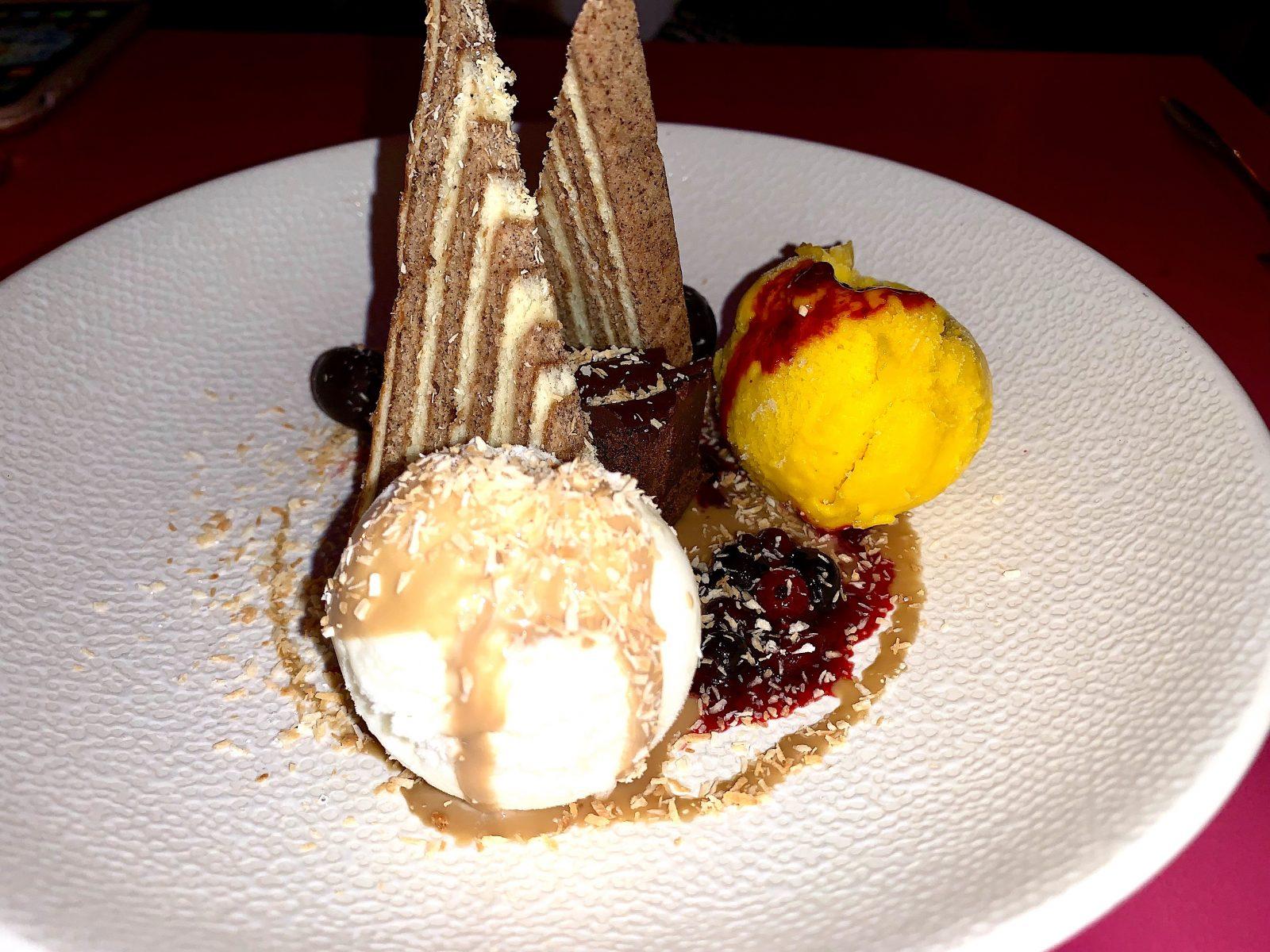 The Duchess, W Hotel
The Duchess restaurant in the W Hotel in Amsterdam is an exquisite & romantic atmosphere. The menu items are all tempting. You can expect sophisticated twists on Amsterdam food.
You must get the scallop with mushroom served with Hollandaise sauce. Did you know "Hollandaise sauce" is AKA as "Dutch sauce"? It is a very important part of French cuisine. There is some controversy as to whether it originates from The Netherlands or France.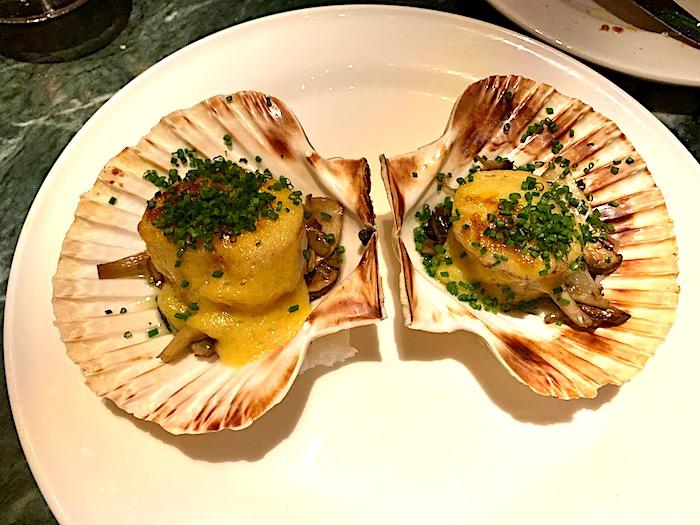 I also recommend the short rib pasta. So succulent and delicious.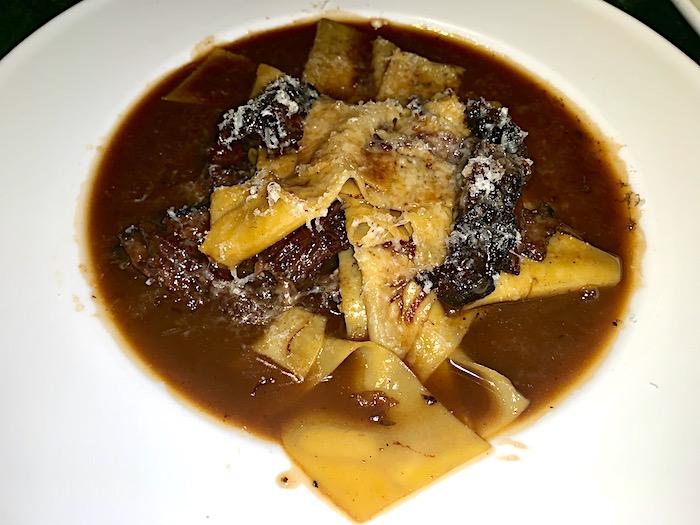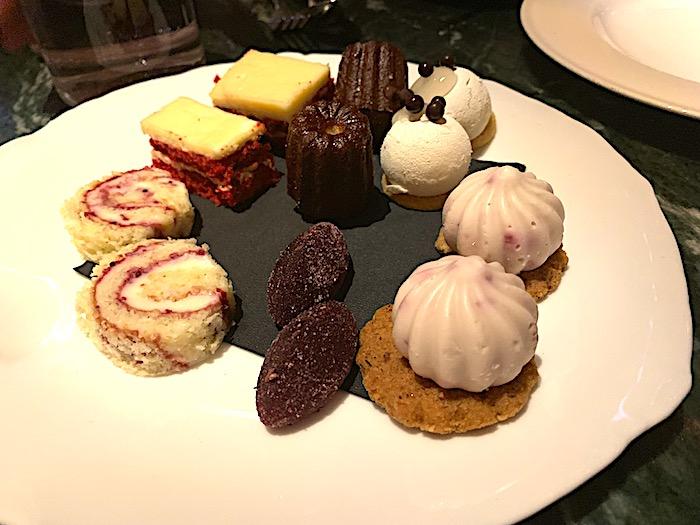 The Dylan Hotel
If you are looking for a great place for after dinner drinks and desserts in Amsterdam, head to The Dylan Hotel. The Occo Bar Brasserie has delicious Amsterdam food in a beautiful atmosphere.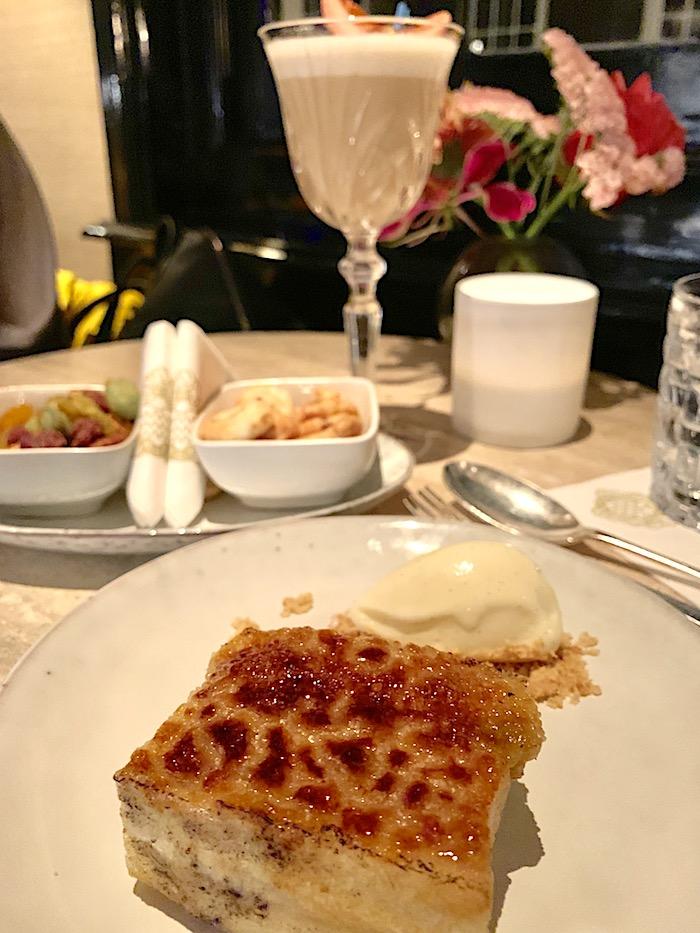 There is also a full restaurant in the hotel as well as a living room area w a fireplace. And, the bathroom is fabulous so use it even if you don't have to (lol).
Late Night Eats in Amsterdam
Amsterdam Centrum between Dam Square and the Red Light District has tons of Amsterdam food stalls. Based on the large variety of international spots, it is one of the best places to eat in Amsterdam.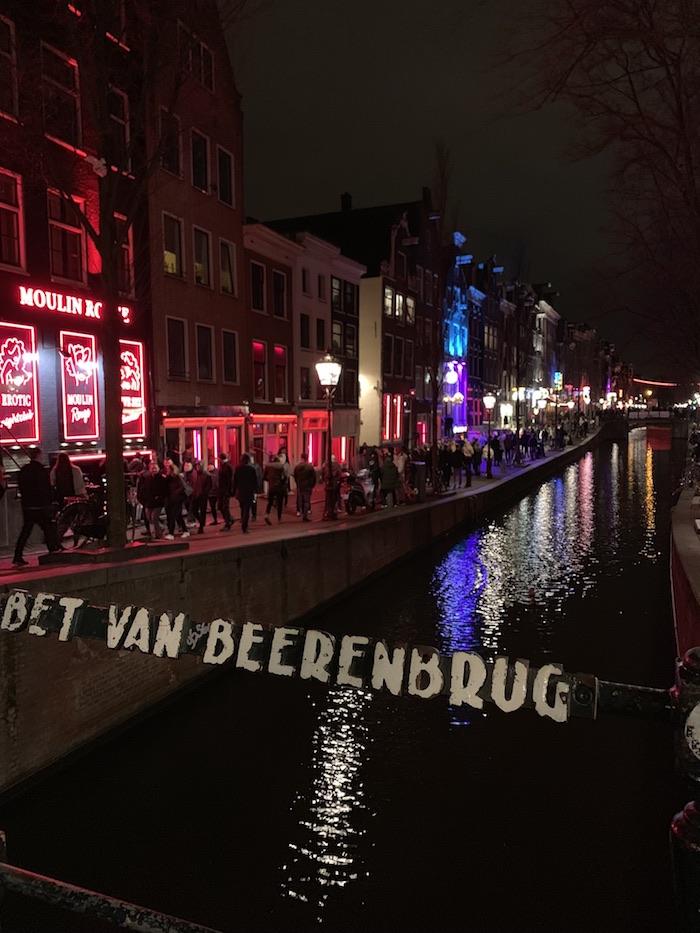 I noticed long lines at "Rene's Croissants" for freshly made Churros. I didn't get a chance to try them, but I can only assume from the lines that they were good.
For late night Amsterdam eats, also check out The Butcher. They have burgers, grilled chicken sandwiches and French fries.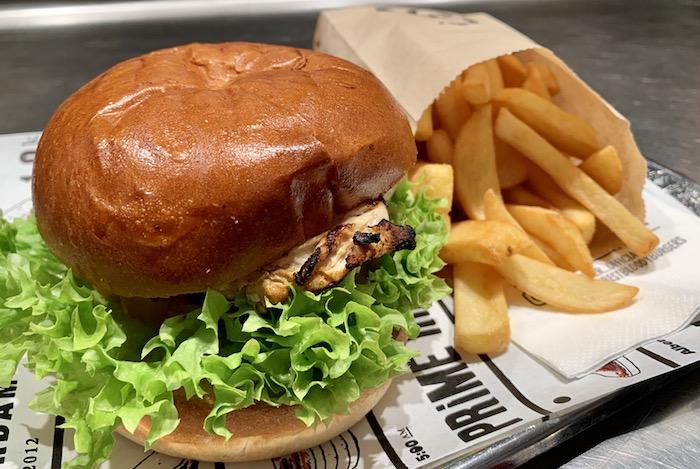 I hope you have enjoyed this review of Amsterdam food, Amsterdam restaurants, the walking food tour, and the food hall. These are some of the best places to eat in Amsterdam.
In conclusion, eat lots of stroopwafels, drink a lot of Heineken beer and gin & tonics, feast on an Indonesian rice table and fill up on cheese 🙂
If you are heading to Amsterdam for the first time be sure to check out this post on Amsterdam weekend bucket list items. I discuss Amsterdam coffee shops (this is not Starbucks :-).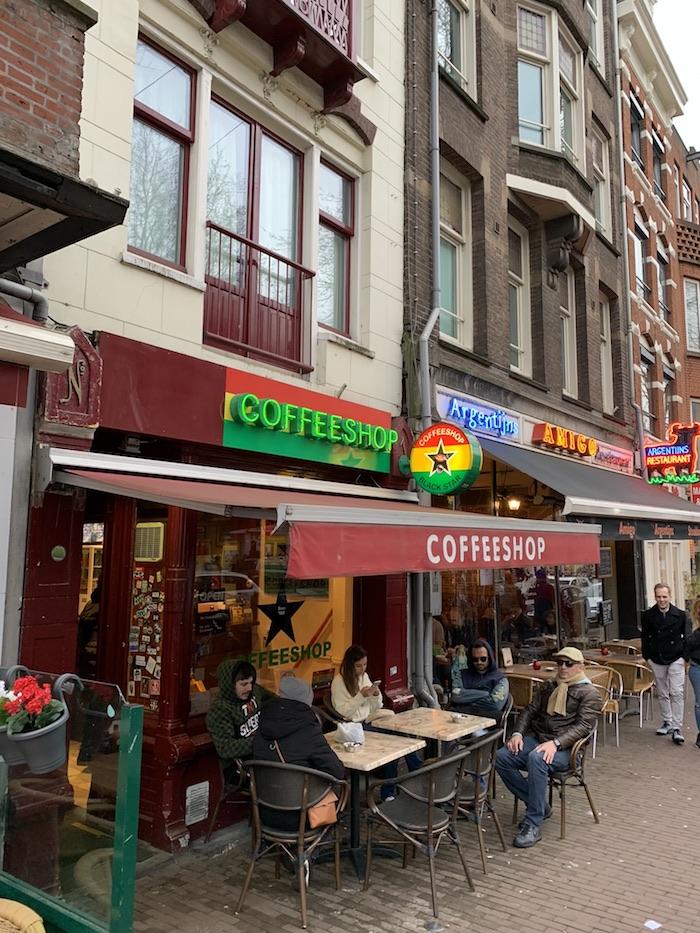 If you enjoyed this Amsterdam food guide, check out my other foodie guides on Brussels, Quebec City, South Africa and Paris.
Bonus! Amsterdam Travel Tips
Where to stay in Amsterdam
W Amsterdam, there are two parts to this hotel. We stayed on the bank side. The rooms and bathrooms were spacious and we walked almost everywhere.
Transportation
The main form of transportation in Amsterdam is bicycles. It is also a very walkable city. In addition, you can take Uber, trams and the train. Your main objective while in Amsterdam is to not get run over by a cyclist! I had several close calls.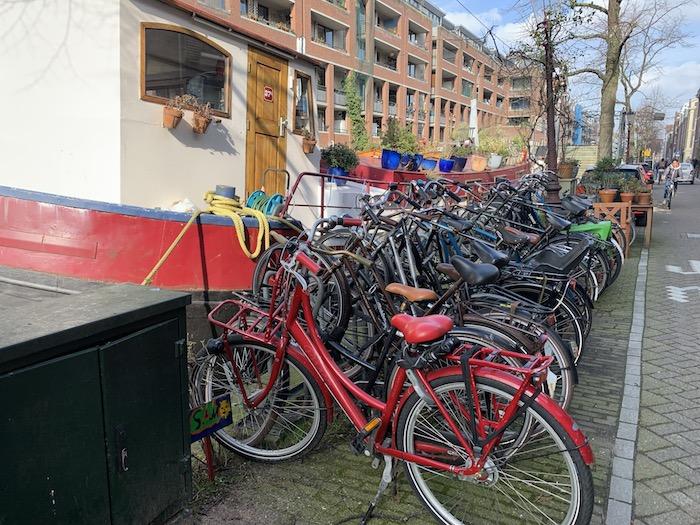 What to Wear
Unless you are visiting during the summer, pack sweaters, scarfs, raincoats, rain boots and an umbrella. It is rainy and cool most of the year.
Amsterdam Day Trips
It is very easy to hop on a train to The Hague, Rotterdam, Brussels or Antwerp Belgium. We did 2 day trips to The Hague and Antwerp. I loved The Hague! It reminded me of Paris mixed with Beverly Hills.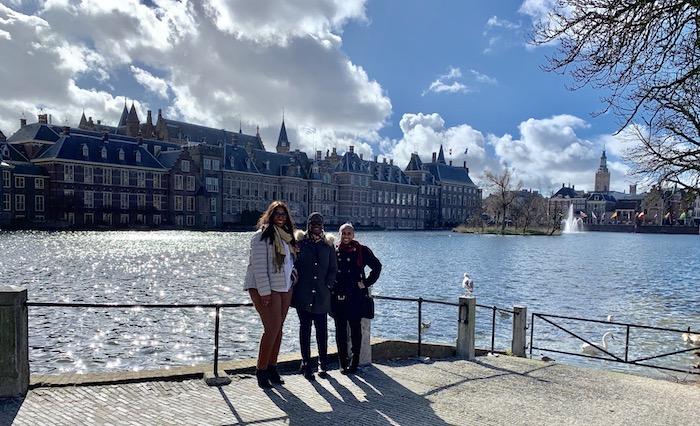 I have been to Brussels prior and I would recommend it over Antwerp. Antwerp is very seasonal so many stores and tourist attractions were closed.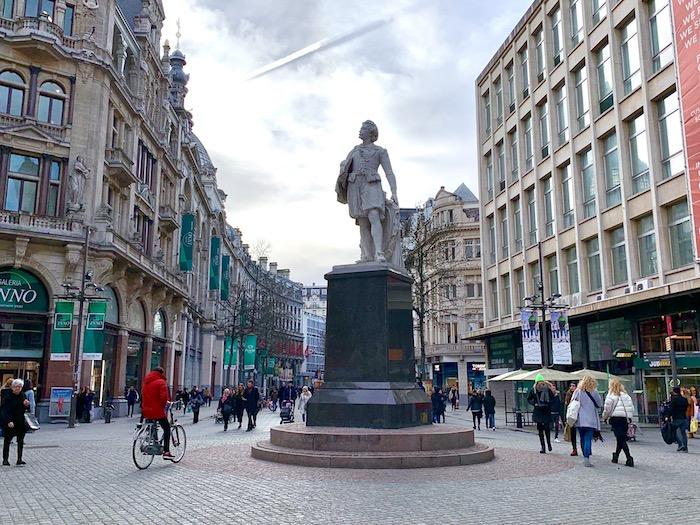 What attractions not to miss
The Anne Frank House, Rijksmuseum, Van Gogh Museum. Purchase tickets for these in advance.
What attractions you can miss
The Red Light District (I wasn't impressed).
Enjoy your trip to Amsterdam!