This post contains affiliate links. However, all opinions expressed here are original. If you click through on a link, you won't pay a penny more, but we'll receive a slight commission which helps us keep this information available to you. Thanks!
Are you planning a day trip to Brussels Belgium? In this blog post I will share with you how to spend24 hours in Brussels if you love eating and drinking! History buffs will enjoy learning about the origins of these famous Belgium foods!
During our vacation last month, my husband and I took a day trip from Paris to Brussels. Belgium had been on my bucket list since the first time I went to Paris! It was hard to choose between all the beautiful Belgian cities. Bruges was highly recommended, but since we only had a day to spend in Belgium, we chose Brussels. It was a closer by train and only took 1 ½ hours each way. I bought our tickets in advance online for the Thalys train. Thalys is a high-speed train that goes between Gard Du Nord in Paris to Brussels Belgium. On arrival, we took a short 15 minutes taxi ride to The Grand Place in Brussels.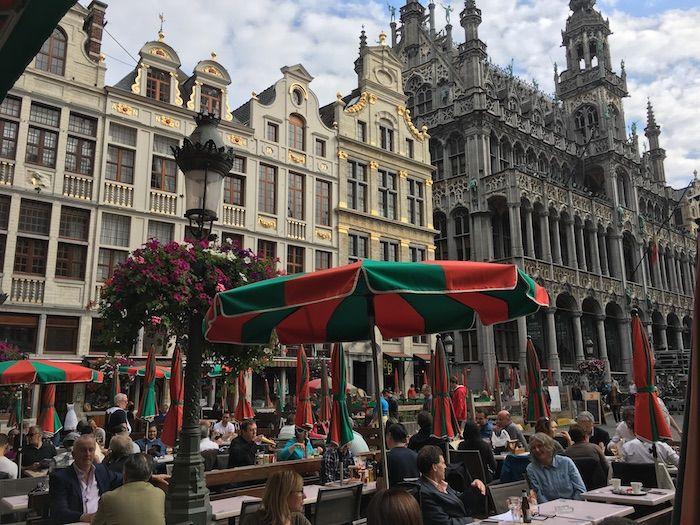 While planning out 24 hours in Brussels, two things kept coming up – food and beer. I will be honest – I went to Brussels to eat and for my husband to drink beer. I am a chocoholic, I love Belgian waffles and "French fries". Although we did do a hop on/hop off bus tour around the city, we were eager to return to The Grand Place to sample all the delicious Belgium cuisine. There is no shortage of cafes and shops to choose from in Brussels. However, I will share with yo where we spent a day in Brussels eating and drinking!
Belgian Breakfast: We arrived in Brussels around 11am and we were hungry! After strolling around The Grand Palace we chose "La Brouette Taverne". Inside was warm and cozy with a fireplace and they also had outdoor seating. I had the bacon and cheese omelette with a side salad and a chocolate bun (croissant to me). I planned to order "Belgium Fries" but when I asked for a side order of fries the waiter surprised me by asking, "French fries?" (more on that next). Along with a warm cup of tea this breakfast was amazing! It honestly could be the best omelette I have ever had! Although it was in Brussels Belgium and not in France which is where omelettes originated. Did you know that?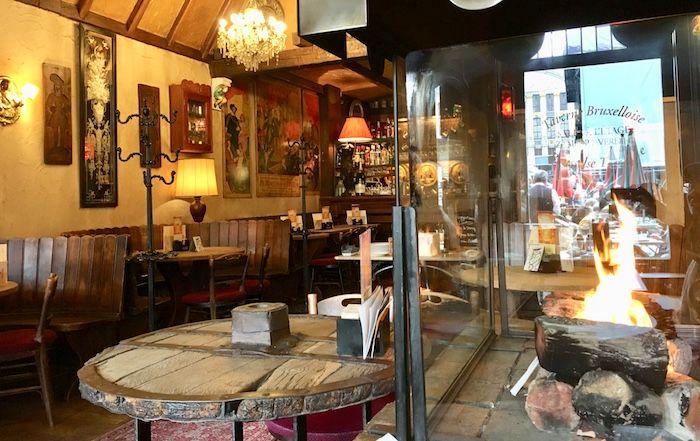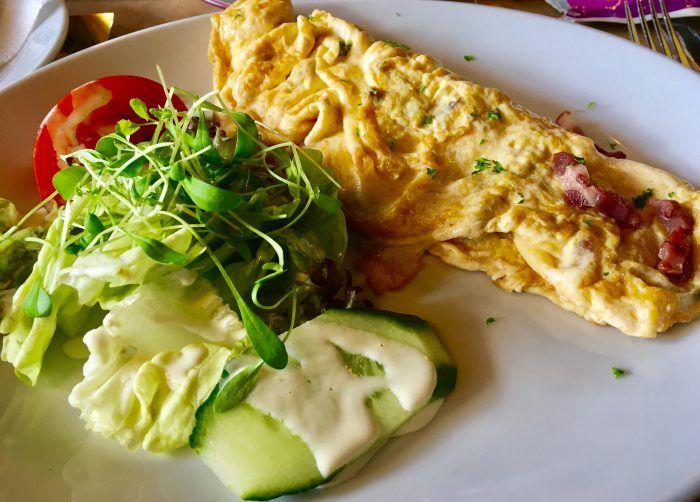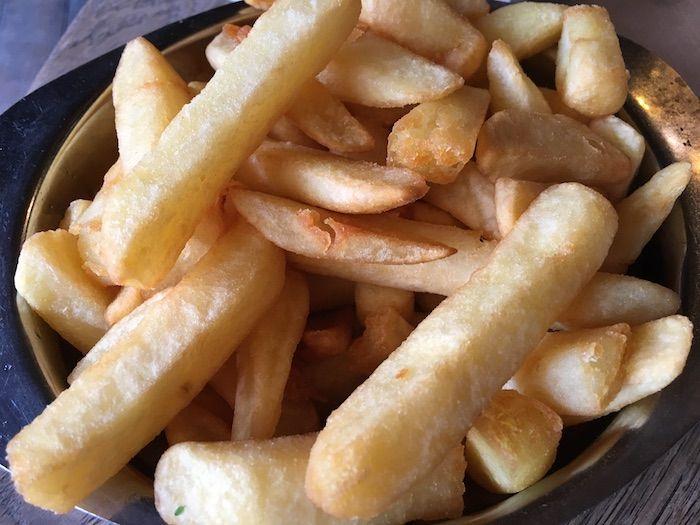 Belgium Fries, Belgium Frites, Pommes Frites, Frites: If you love "French fries" as much as I do, you will be fascinated to know that many people give credit of this dish to Belgium. It is an ongoing debate as to when and where this dish was created. One theory is that fries were created in Belgium but American soldiers during World War I called them "French fries" because they thought they were in France. But, let us all just be happy that someone did invent them! In America we tend to dip them in ketchup but in other countries toppings such as mayonnaise and vinegar are used. At breakfast, I had thick traditional looking fries. However, in Brussels and across Belgium you can buy fries at food stands. They are served in a large cardboard cone and topped with the sauce of your choice. Most of the sauces are mayonnaise based, which I am not a fan of. I didn't taste these but they looked great! Here is an example from Tia Smith of "Pennies in my Pocket" blog.
Belgium Beer: As most of my readers know, I am a wine drinker vs. a beer drinker. But, I could not go 24 hours in Brussels without trying a beer! Beer in Belgium is a lifestyle. I read that in 2016 UNESCO added it to their "Intangible Cultural Heritage Lists". I have actually never heard of this! There are over 1500 hundred types of beer in Belgium and almost 200 breweries. The beers range in color from pale to red to black. I actually got dizzy reading about all the different types of beer and how they are made. You may also get overwhelmed opening up a menu at a Belgium restaurant and seeing more beers on the menu than food items! The most common style of beer in Belgium is pale lager or "pils" beers. The brand Stella Artois originated in Belgium and is an example of this type of beer. Wheat beer is from the Flemish part of Belgium. Have you heard of the term "hops"? It is a flavoring used in this type of beer. There are also blonde beers and amber ales and Lambic beers. Fruit beers are made from a mixture of fruits and Lambic beer. I could honestly keep going but I would never finish this post! I decided to try "Lindemans Apple Lambic Beer". Oh my! It was frothy and delicious! I recommend making a stop at "Poechenellekelder" restaurant located at Rue Du Chene, 5 to sample Belgium beers. They have a large outdoor patio located right across from the Manneken Pis statue. It was a great place for people watching!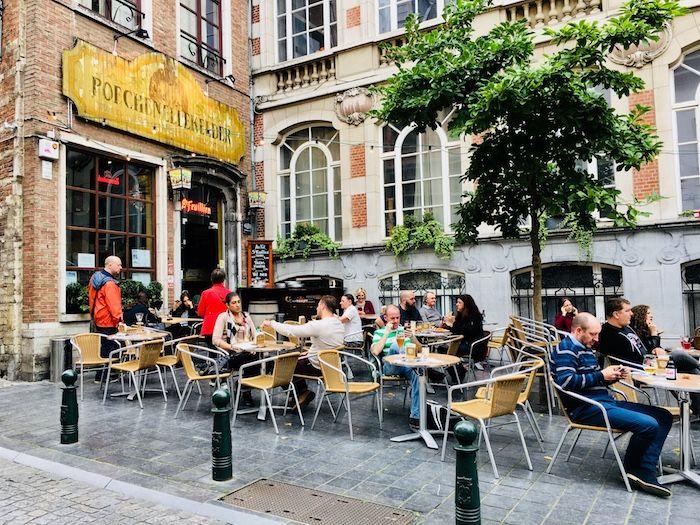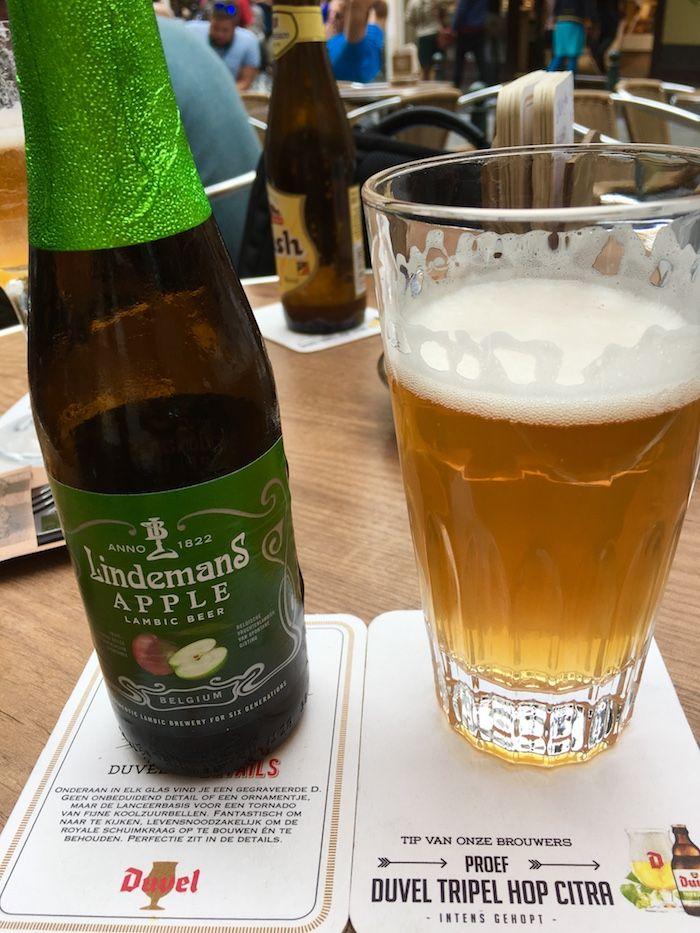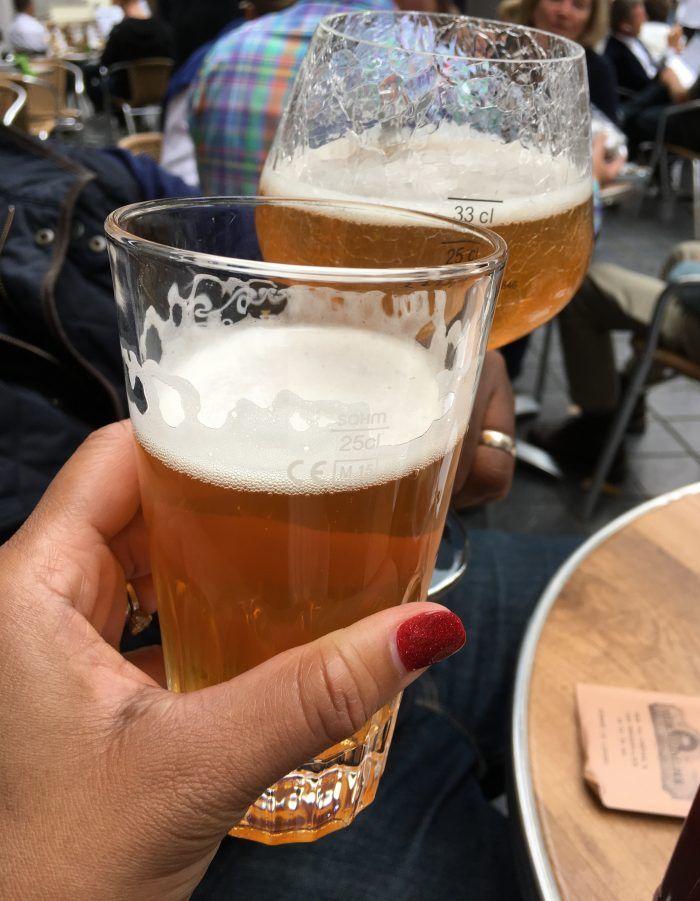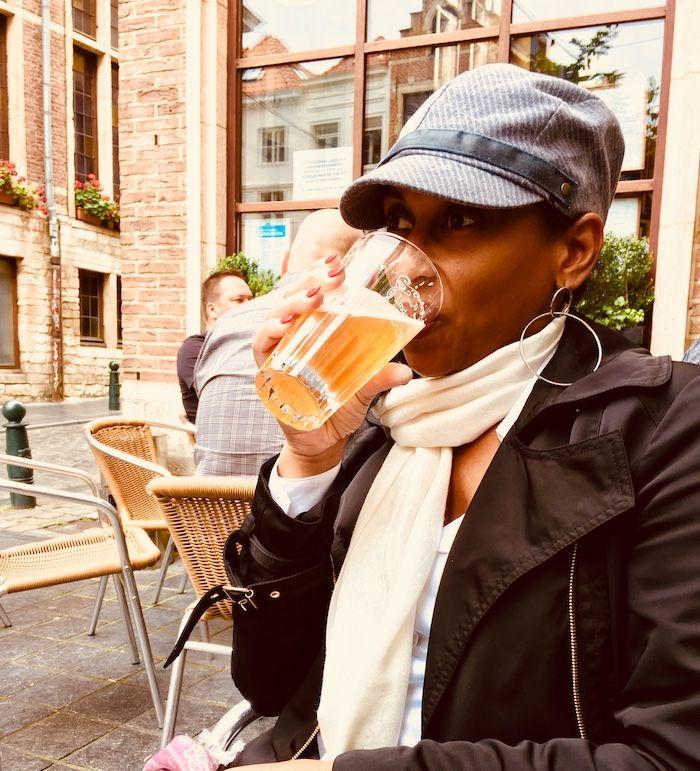 Belgium Chocolate: Chocolate in Belgium dates back to the 17th century. Here are two things I leaned about chocolate while visiting Brussels. 1) Godiva was founded in Belgium in 1926. I have been enjoying Godiva chocolates since I was a teenager but I did not know this! 2) Pralines originated in Belgium! Although they are made differently in France and America, pralines in Belgium consist chocolate, nuts, sugar and syrup. Neuhaus is the Belgium chocolatier credited with inventing Belgium pralines. I actually eat a lot of pralines in New Orleans but they don't typically have chocolate as an ingredient. They are numerous chocolatiers to choose from in Brussels. We visited Neuhaus which is not only known for their pralines but was voted as having "the world's best chocolate truffle" by Bloomberg Pursuits in 2017. Pierre Marcolini is an haute chocolatier shop which was very fancy! You really cannot go wrong strolling around and sampling Belgium chocolates while spending a day in Brussels Belgium.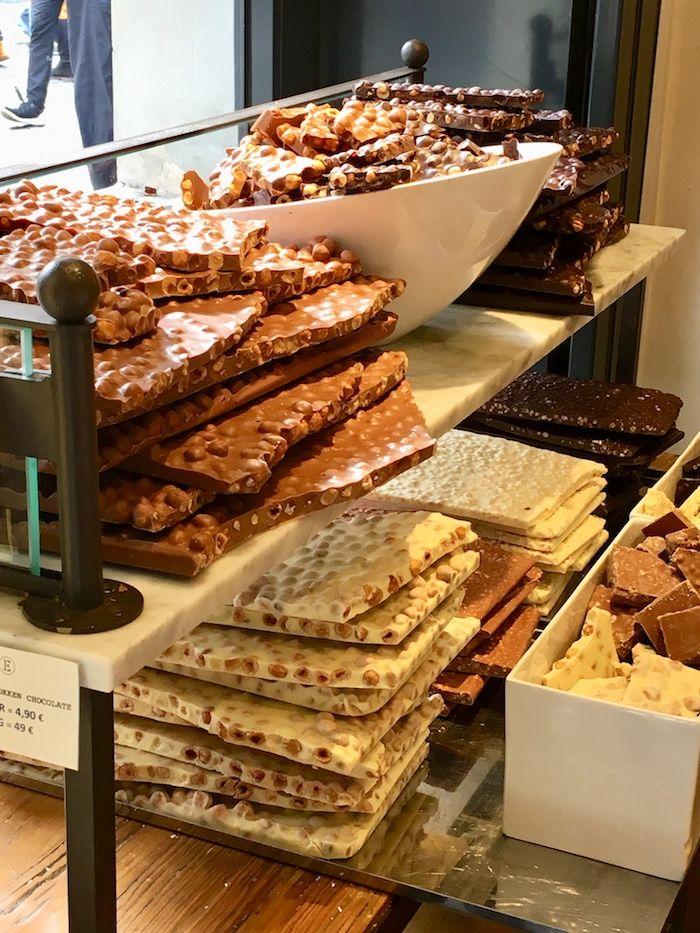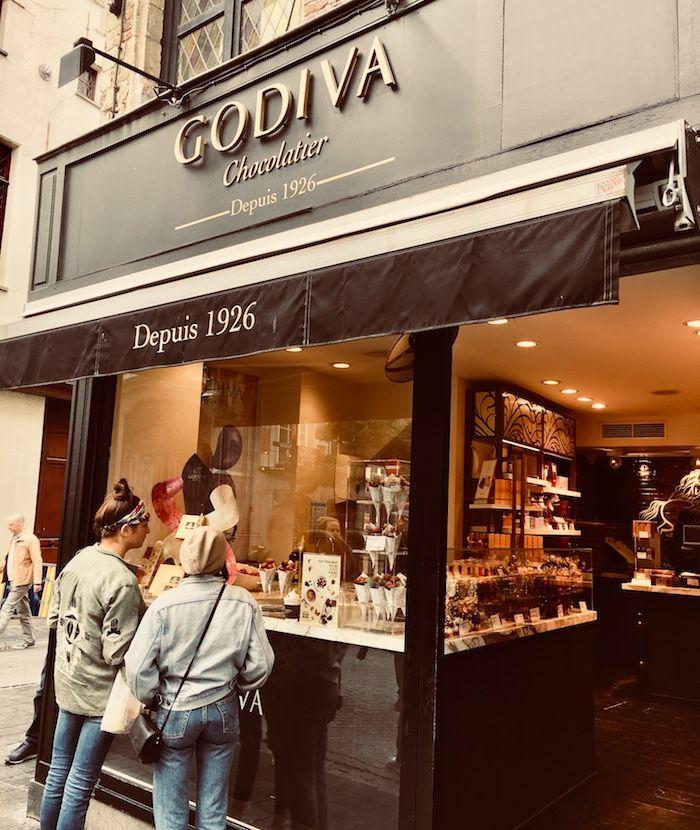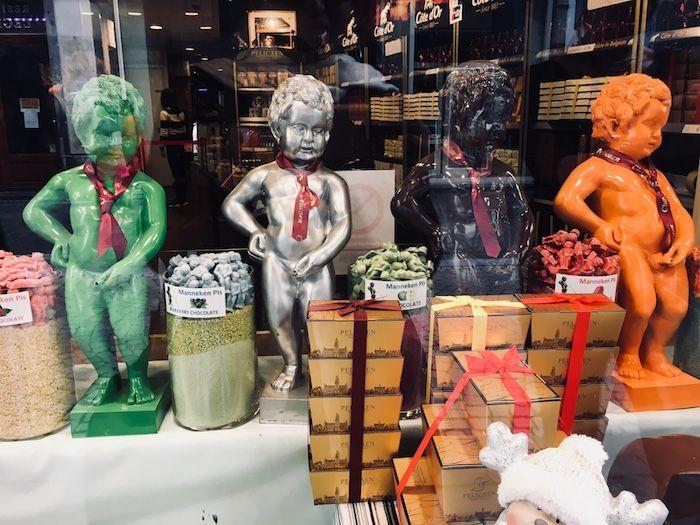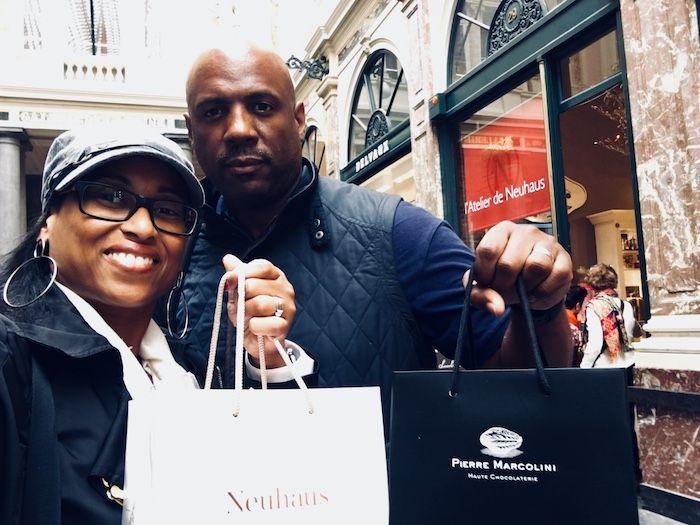 Belgium waffles: While in Belgium I was surprised to learn that they eat waffles as desserts vs. as a breakfast meal. Belgian waffles were invented in Brussels. However, while in Belgium you will notice both the "Brussels waffle" and the "Liege waffle". Brussels waffles are rectangular in shape, light, crispy and are usually served topped with powdered sugar. Liege waffles are more dense and sweeter. Sugar is added to the batter which caramelizes when they are cooked. They also have irregular edges. Waffles may be topped with chocolate syrup, whip cream, ice cream and fruit but not maple syrup! My husband and I both tried the liege waffles. I made a stop at "le Funambule" based on the colorful waffle displays they had in their window! I couldn't decide on toppings so I picked 3 of them! Belgium chocolate, vanilla ice cream and strawberries. It was to die for! Really. I have never had a waffle that tasted so good. I ate it all! My husband chose to have a waffle from the famous "Maison Dandoy". There are at least two locations around The Grand Place. He also enjoyed his Belgium waffle and ate every bite!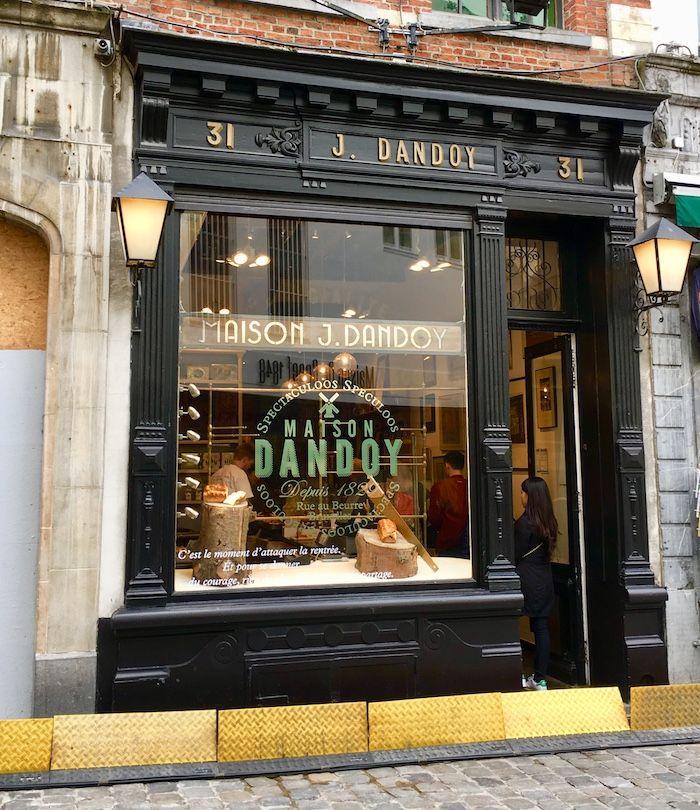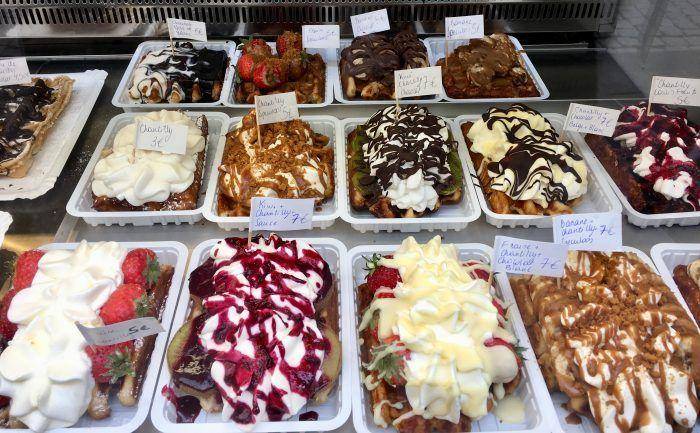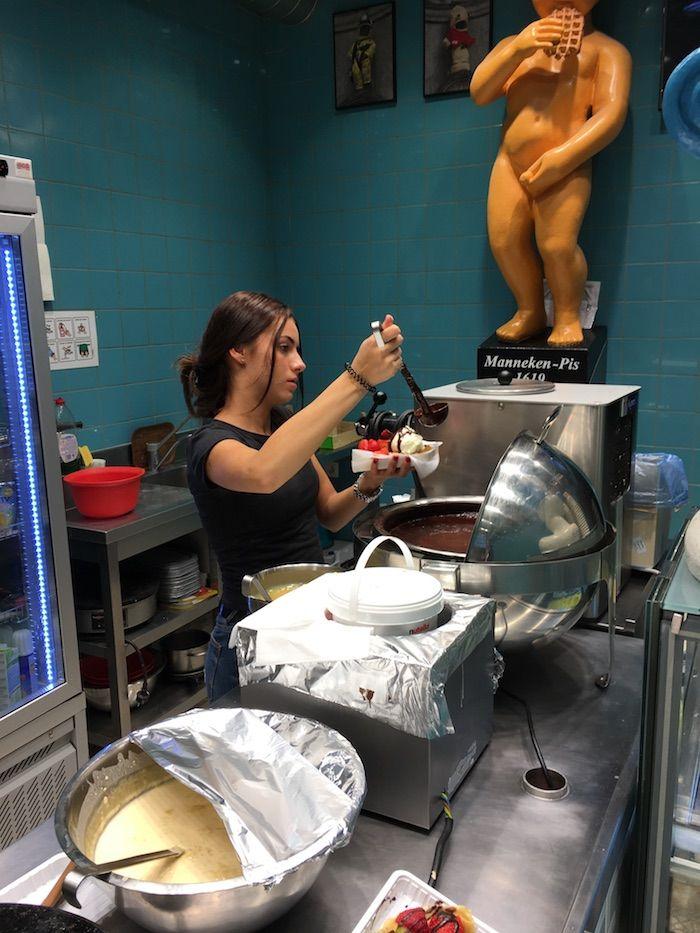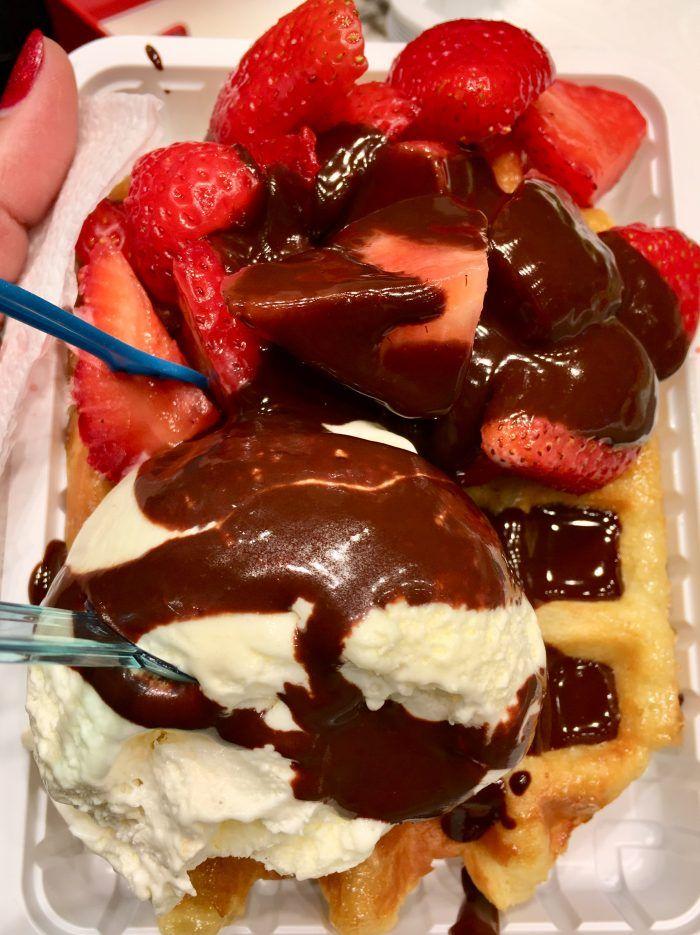 Honorary mention to Moules-Frites: Since this dish of mussels and fries originated in Belgium, it was on our list. It is actually the national dish of Belgium. Although I am not a fan of mussels my husband is. Like the beer I was willing to give it a try. But alas, we were too full from all the things listed above! With the name of this dish and so many others you can see how the proximity of the two countries cause names to overlap. "Moules" and Frites" are actually French.
I hope you have enjoyed this culinary tour through Brussels Belgium! If you plan on spending 24 hours in Brussels I highly recommend trying all of these foods and beer. Arrive hungry (lol) Have you been to Brussels? If so share your thoughts with us below!
Enjoy this video from The Grand Place. Do you recognize the song?
Pin this post for future reference!