This post contains affiliate links. However, all opinions expressed here are original. If you click through on a link, you won't pay a penny more, but we'll receive a slight commission which helps us keep this information available to you. Thanks!
Bangkok, Thailand was everything I thought it would be: a big city, bright lights, skyscrapers and stunning temples everywhere. Even as a city girl, having spent a large part of my childhood in NYC, Bangkok was colorful and stimulating. There are people and cars and activities everywhere! Based on this, if you are visiting Bangkok you may have a hard time narrowing down the best sightseeing attractions. I have made that easy for you! I did my research prior and spent 3 amazing days in Bangkok. Here are my picks for 12 must visit places in Bangkok and Beyond! (get ready for a lot of pictures!)
The Top Bangkok Attractions & Sightseeing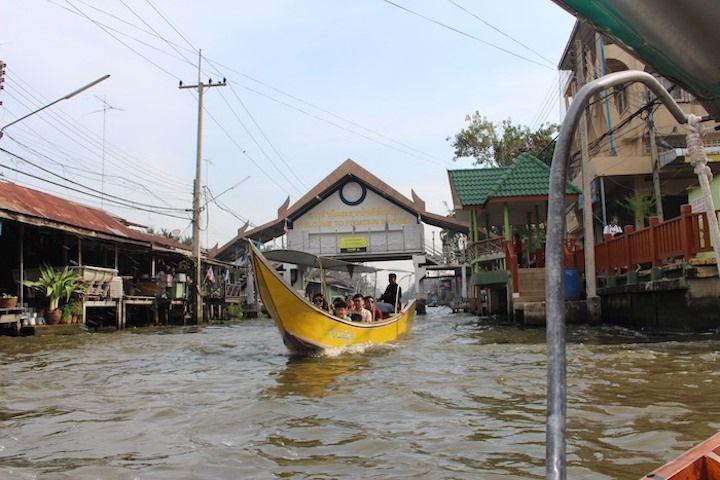 1) Damnoen Saduak Floating Market
is located about 61 miles SW of Bangkok. It took us about 1 ½ hours to get there. This is a world famous market so its draws a lot of tourists. Since the weekday markets close by early afternoon, tours leave Bangkok early in the morning. I had heard mixed things about visiting this market but I am so glad that we went! It was like nothing I had ever seen before. We did a tour with SiamRise Travel that included a local tour guide and our own boat with driver. While sailing through the canals you witness people selling and trading goods and cooking traditional Thai dishes. We purchased and ate mango sticky rice and coconut ice cream right on the boat and Joy even did some shopping! After sailing through the market area, we had the opportunity to visit a few residential areas including a temple on the bank of the river. At the end of the tour we walked through the market sampling delicious Thai food including bowls of noodles for lunch. I highly recommend this tour and experience!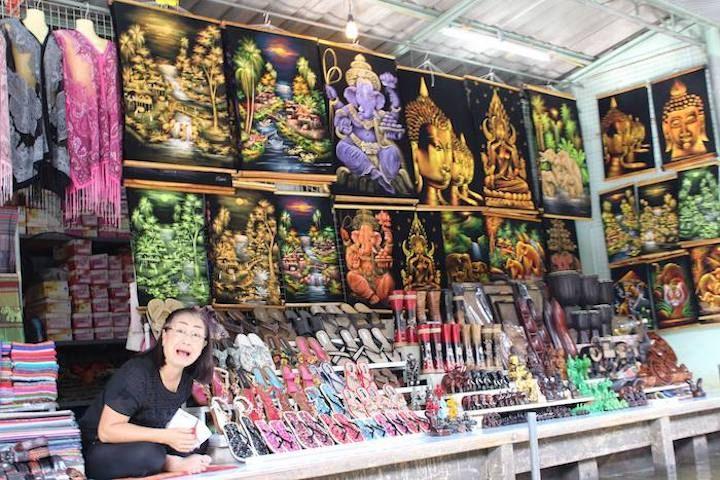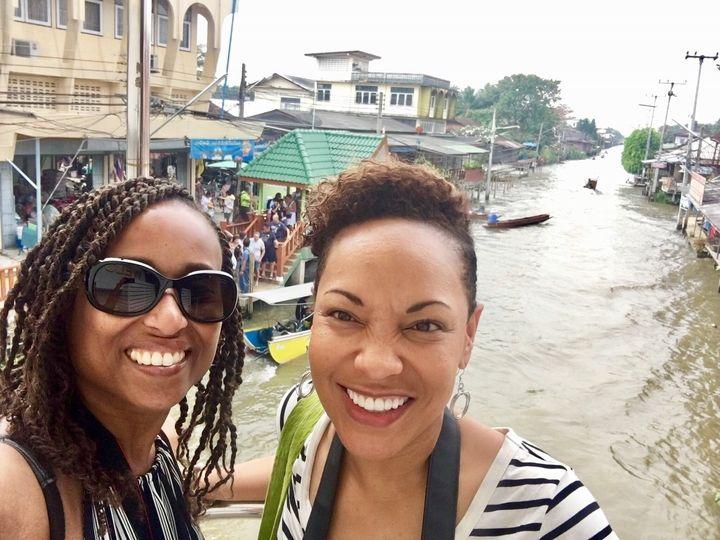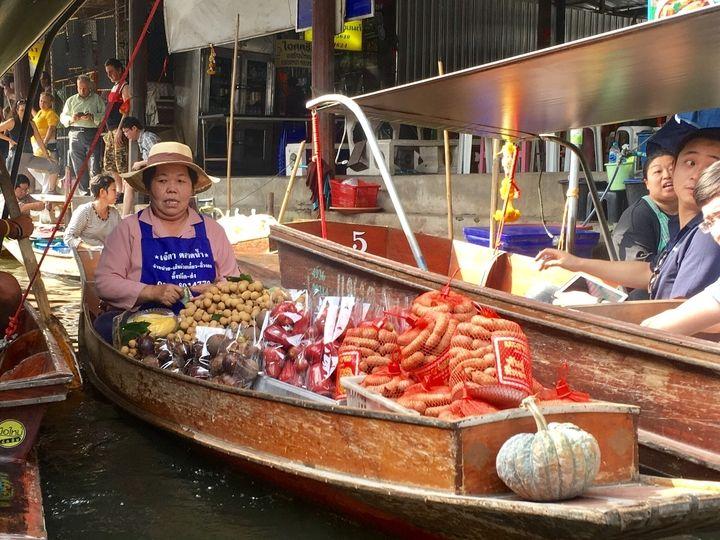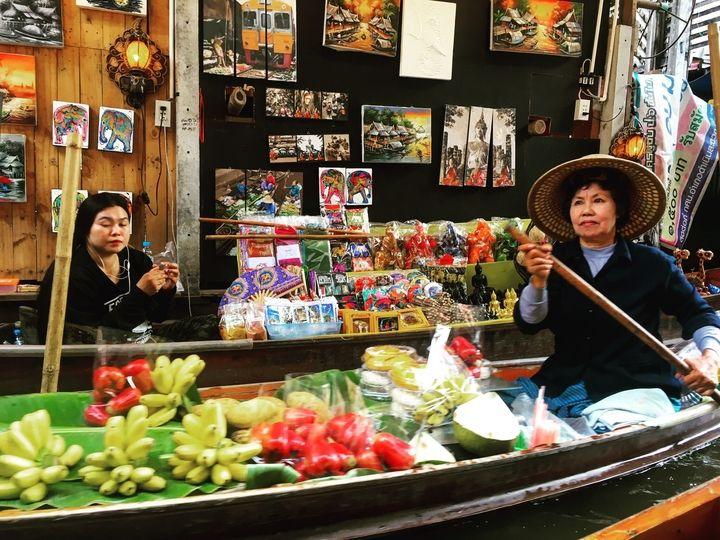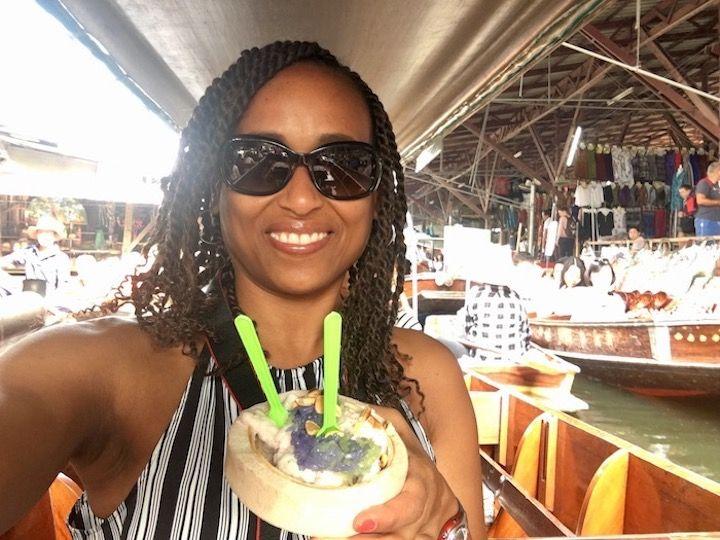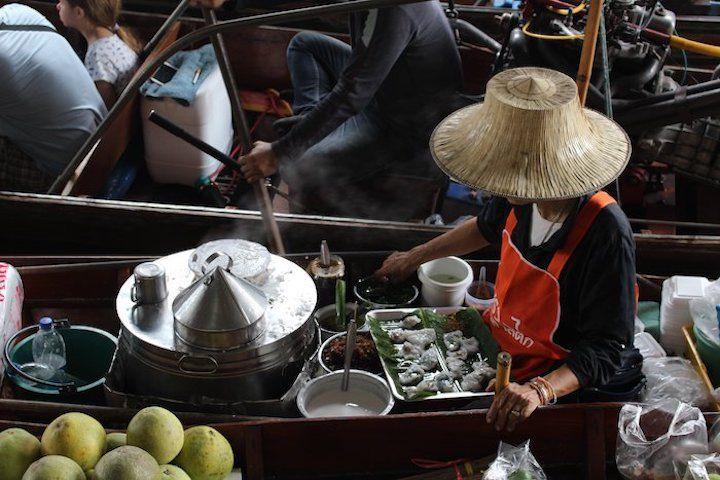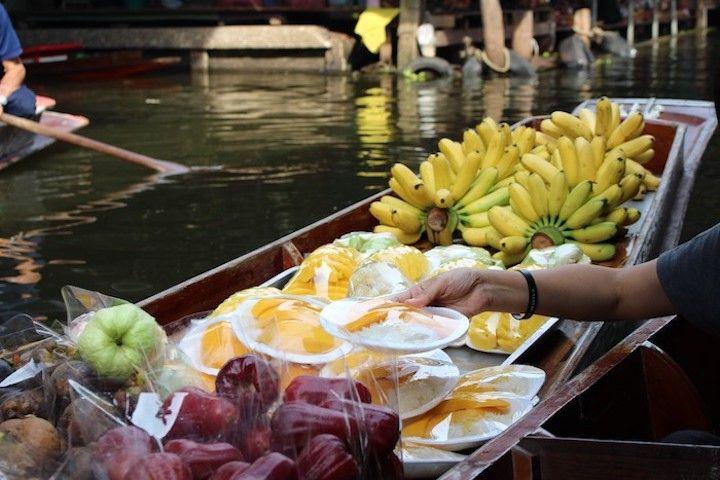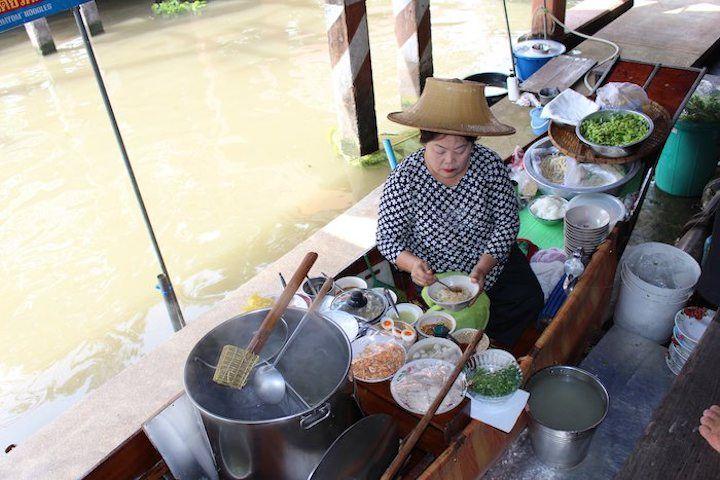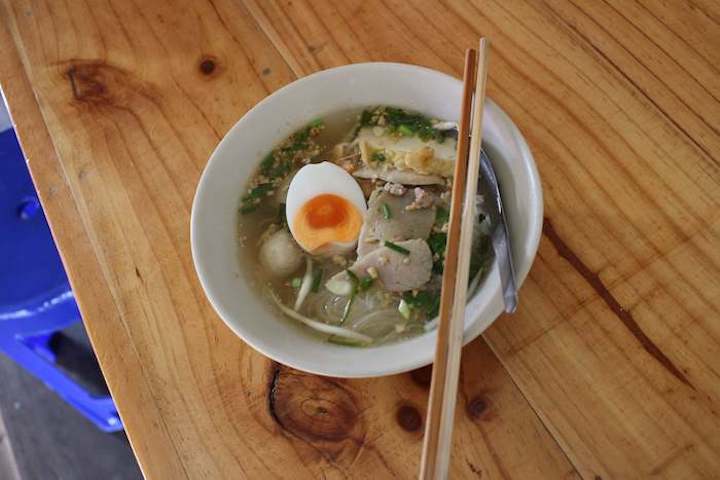 2) Chinatown-Street Food Trails Chinatown Tour with SiamRise Travel
Chinatown in Bangkok is centered around Yaowarat Road in the Samphanthawong district. During the day you will notice Chinese businesses and workers. At night the area comes alive with street vendors and tourists. We did an evening walking tour through Chinatown which included stops at Chinese Buddha temples. The area was loud and bright and busy with street food vendors everywhere-I loved it! With our local guide who knew the best things to do in Bangkok, we made several stops to sample traditional Chinese/Thai dishes. The Pad Thai was definitely my favorite.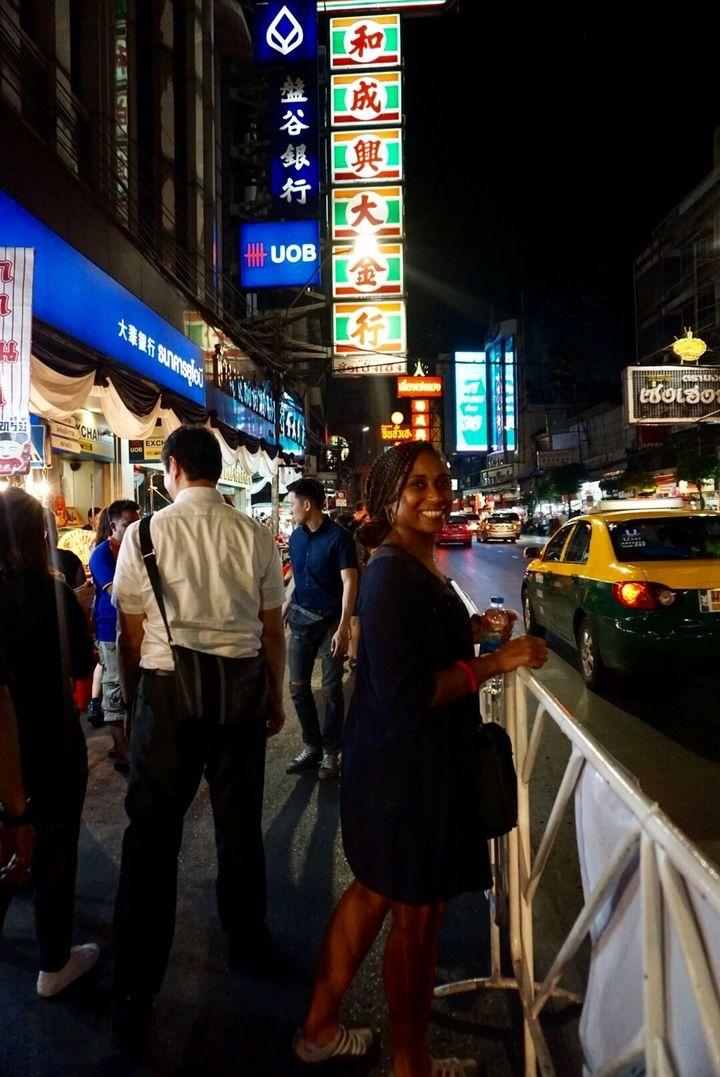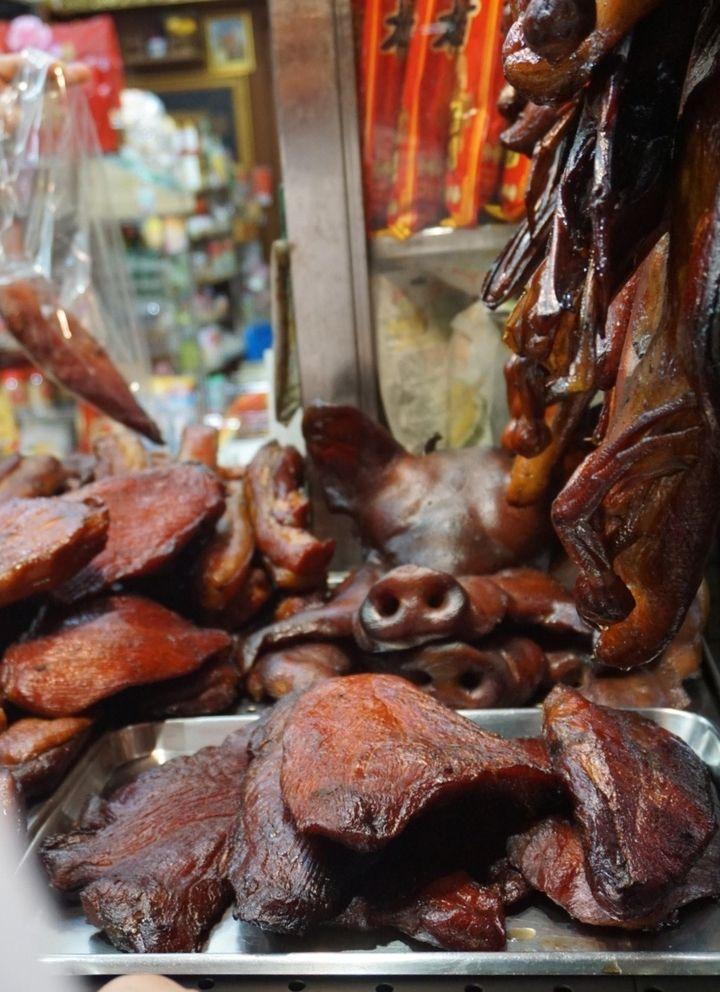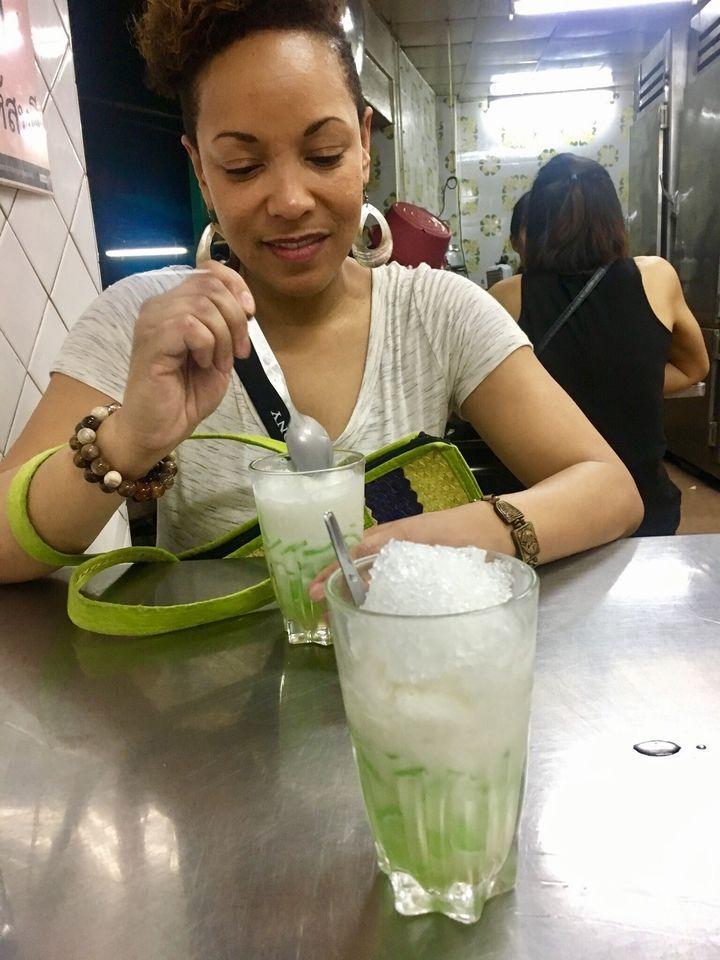 3) The Grand Palace
Since 1782 The Grand Palace has been the residence of Kings and is a must on this list of things to do in Bangkok. However, the most recent King-King Bhumibol Adulyadej (Rama IX) did not reside in the palace. But, it was used for official events. The complex consists of the palace, temples, gardens and courtyards. It sits right on the Chao Phraya River. We visited Thailand during the mourning period of King Rama IX so besides the large number of tourists, there were mourners waiting on the palace grounds to pay their respects. I was honestly amazed by how many people they let on the property at one time. It was a mini stampede getting out of the complex! Lucky for us we had our My Odyssey tour guide showing us the major sites on the property. One of which is The Temple of the Emerald Buddha.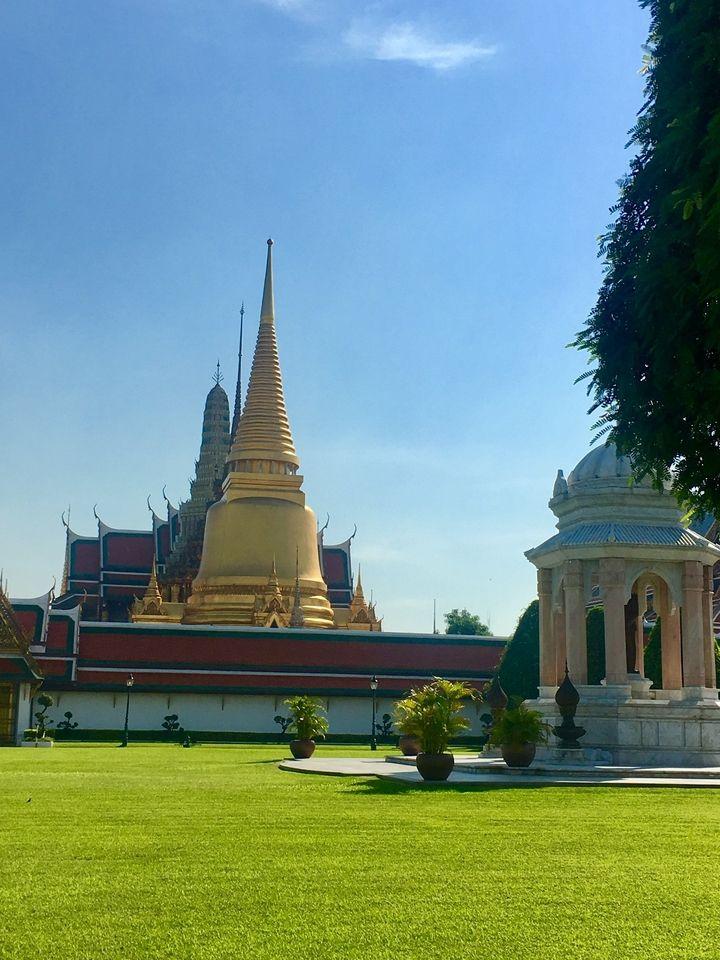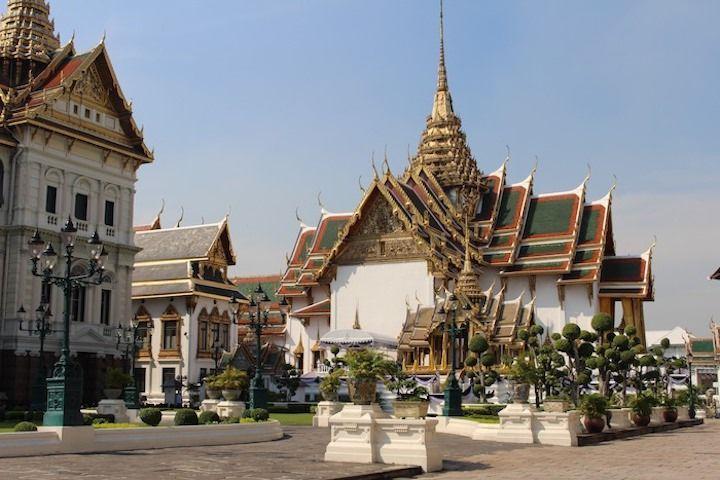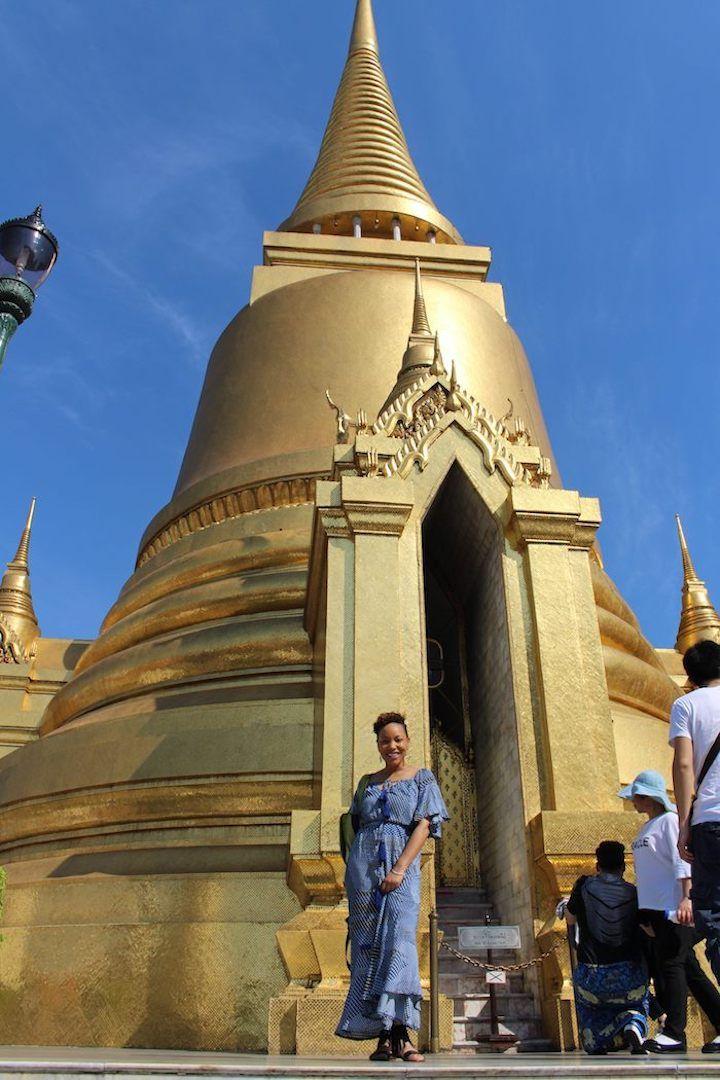 Looking for somewhere to stay near the Grand Palace? This is my top booking agent!
FYI Temples: While in Bangkok, or Thailand in general, you will have unlimited choices of temples to visit. People asked me if "after you have seen 1 or 2 temples/Buddha haven't you seen them all?" Honestly, I was starting to feel that way by the end of our temple tour day. My advice is to use a knowledgeable tour guide who can explain the different meanings of each temple and Buddha and therefore make it interesting. Our guide from My Odyssey Tours made our experience worthwhile. Be aware there is a dress code for visiting temples in Thailand. Wear long pants or long dresses/skirts and have your shoulders covered. You will also be expected to take off your shoes to enter the temple but you may wear socks.
4) Wat Phra Kaew-Temple of the Emerald Buddha
This temple area is located on the grounds of the Grand Palace. It consists of several buildings. It is known to be the most sacred Buddhist temple in Thailand. The actual Buddha is not very big but is placed up high on what looks like stairs of gold. It was made from a block of jade and is 66cm tall. We were not allowed to take pictures inside but here is what it looks like.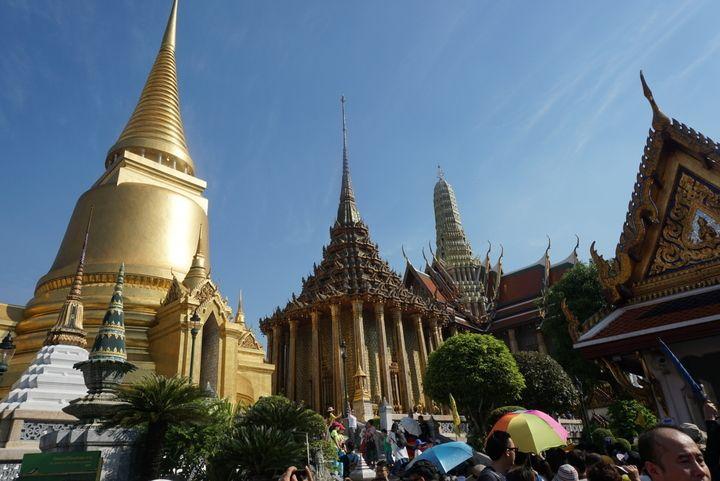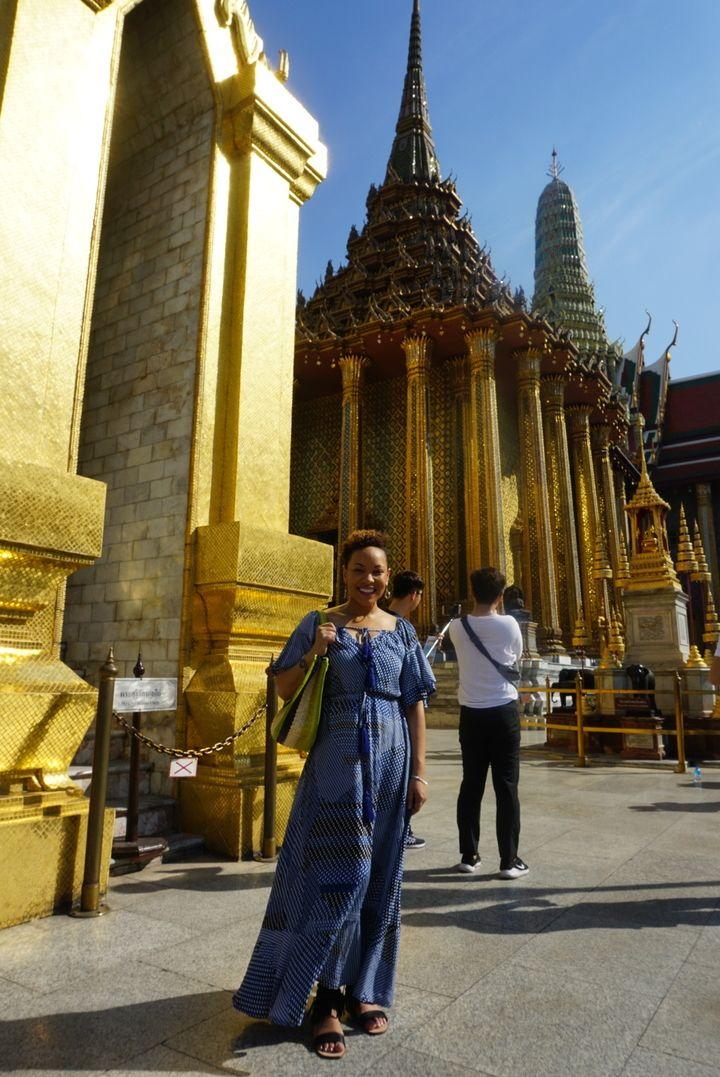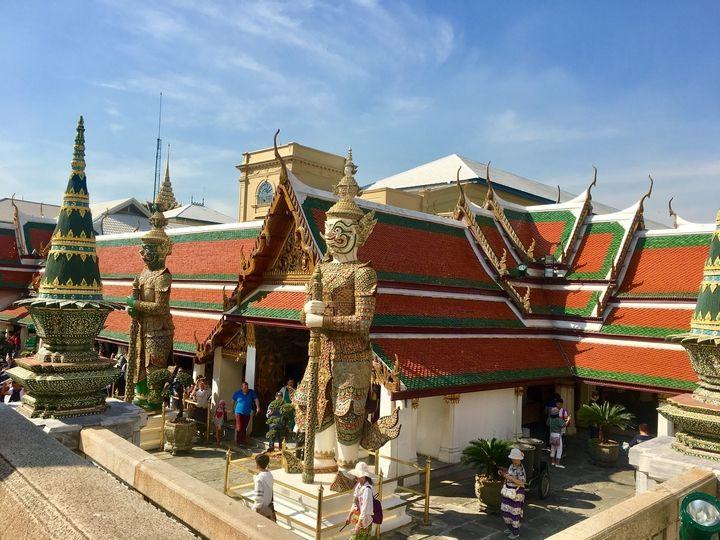 5) Wat Pho-Temple of the Reclining Buddha
This was one of 2 reclining Buddhas we visited on our list of things to do in Bangkok. It is located on Rattanakosin Island across from the Grand Palace. We took a quick ferry ride over to it. This Buddha is massive! It was built in 1832 and is one of the largest Buddha statues in Thailand at 15 meters high and 46 meters long.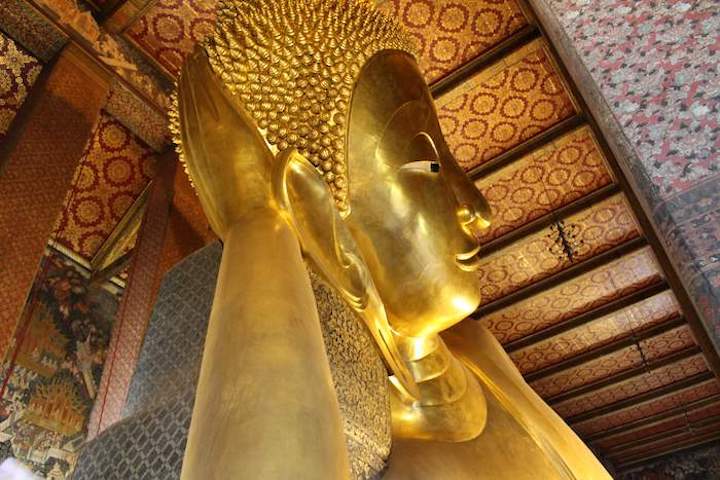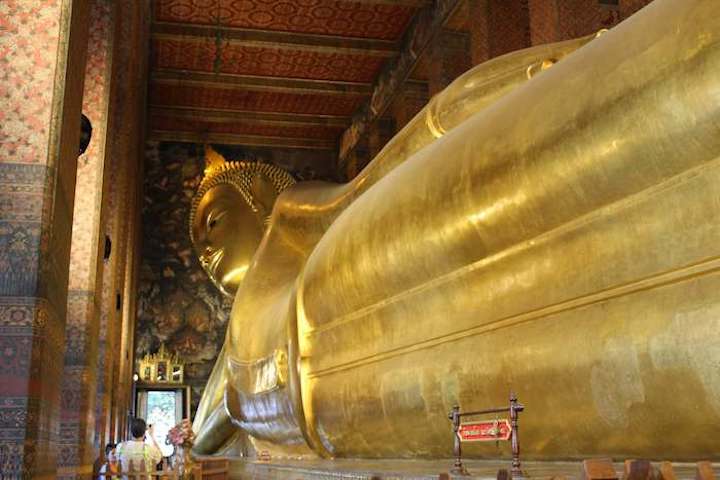 6) Wat Arun-Temple of the Dawn
What can I say-this temple was beautiful! It is located on the Chao Phraya River and part of the temple is made up of colorful decorated spires. Head into the ordination hall for a view of a Golden Buddha. We were able to observe monks praying and after asking their permission I was able to take a picture with them.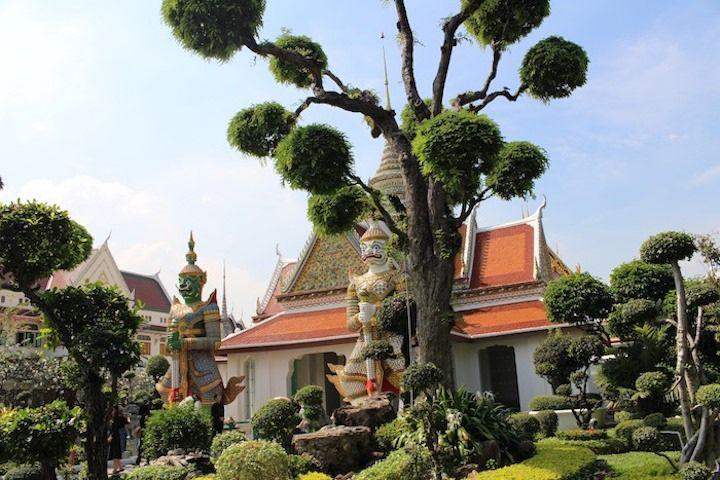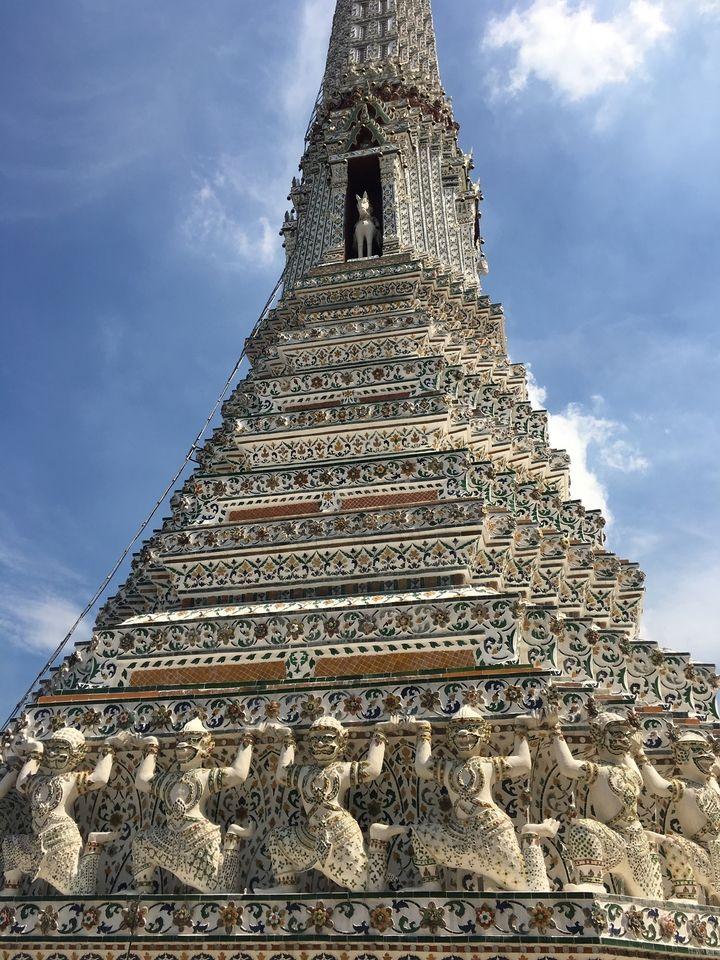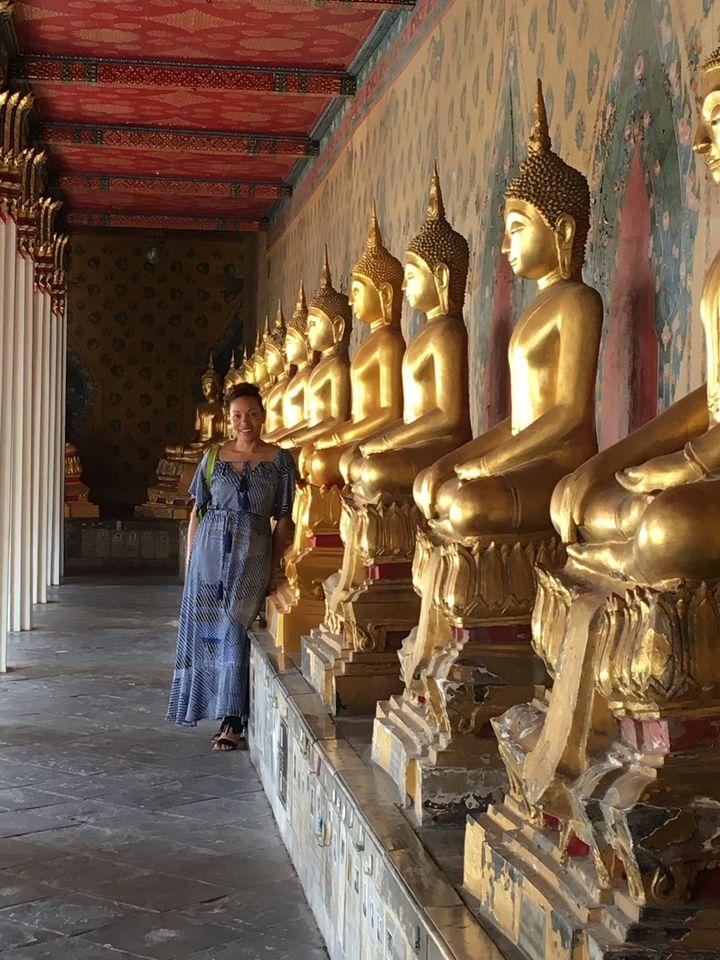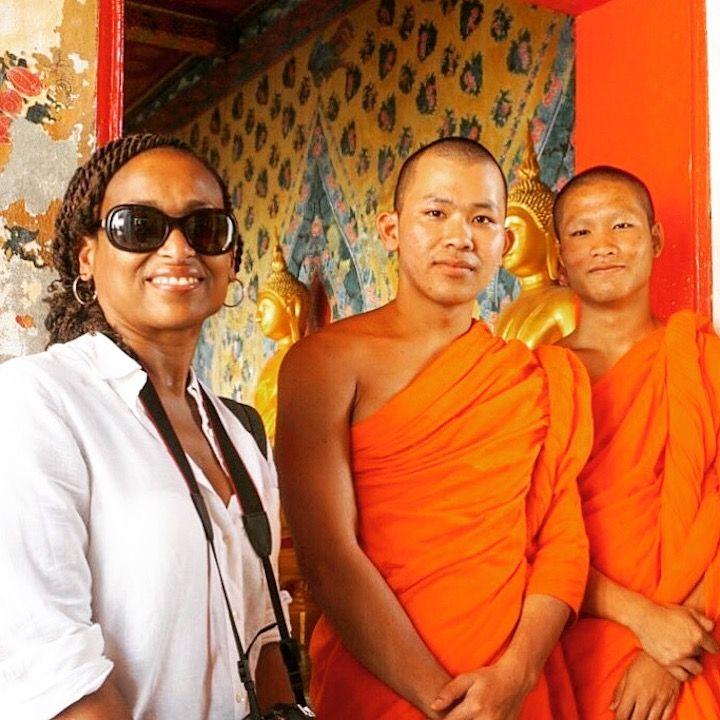 7) Bangkok Spas
There are countless massage parlors if you're looking for relaxing things to do in Bangkok. From inexpensive sidewalk massage places to luxury spas. I was told that I could not leave Bangkok without having a traditional Thai massage. We decided to go to Dahra Beauty and Spa in Silom. The Thai massage was excellent! Joy received a pedicure which she also raved about. The service and facilities were impeccable so I highly recommend it. Here is a list of top spas in Bangkok.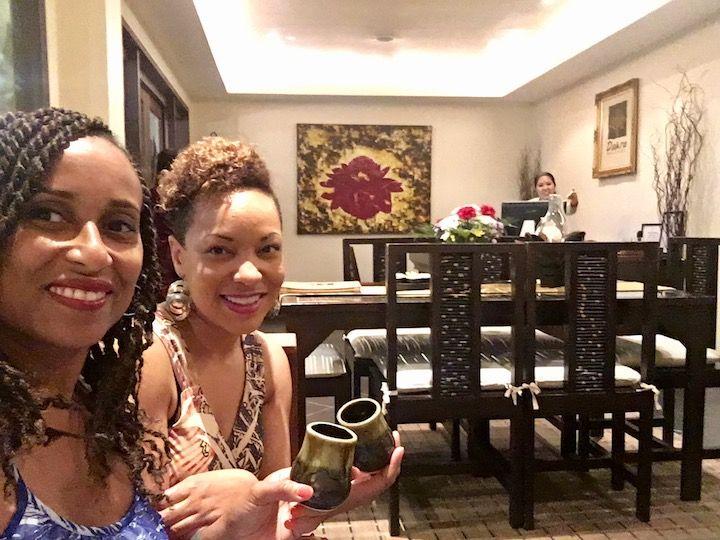 8) Rooftop Bars
If you're looking for more things to do in Bangkok, the city is known for its rooftop bars. We had the pleasure of going to two while there. River Vibe Restaurant & Bar is located near Chinatown with great views of the river. Radisson Blu Plaza Hotel in Sukhumvit is an upscale rooftop bar with amazing views of the city. Here is a list of well known rooftop bars in Bangkok.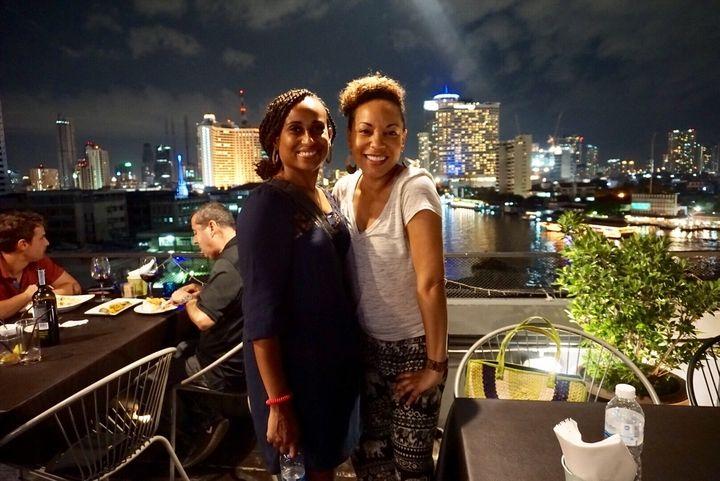 9) The Summer Palace AKA Bang Pa-In Royal Palace
After spending two busy hot days in Bangkok it was so refreshing to head out of the city to this gorgeous property in Ayutthaya province. It is located 60 km north of Bangkok beside the Chao Phraya River. Although it is no longer used regularly by the Royal family, banquets are held there on special occasions.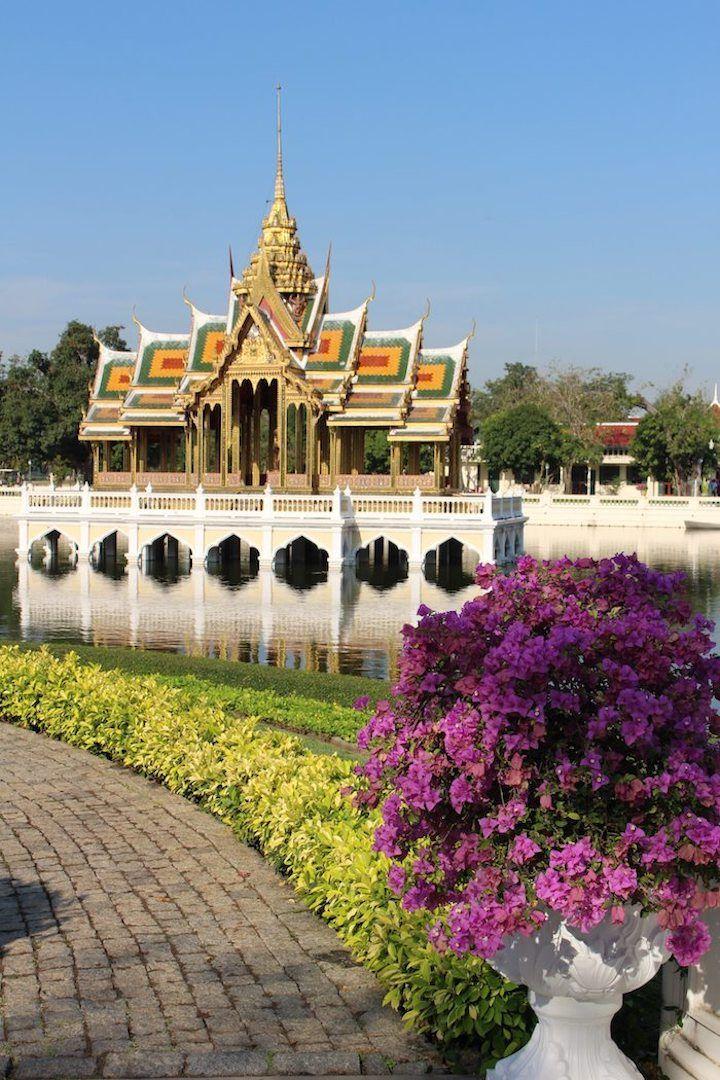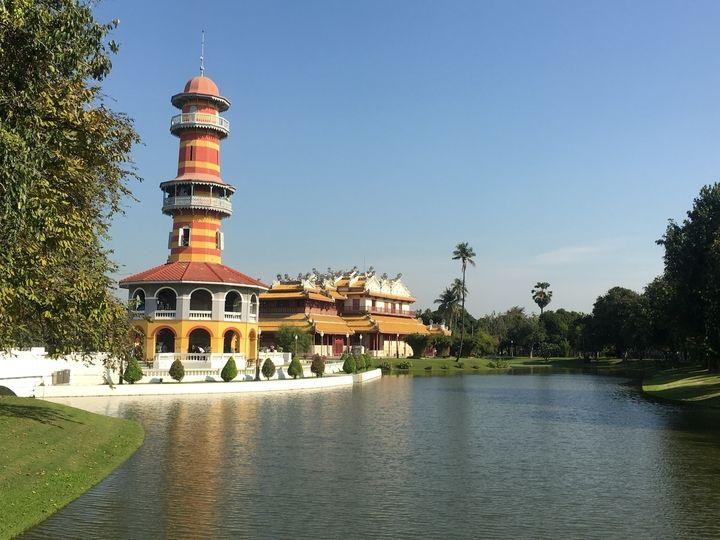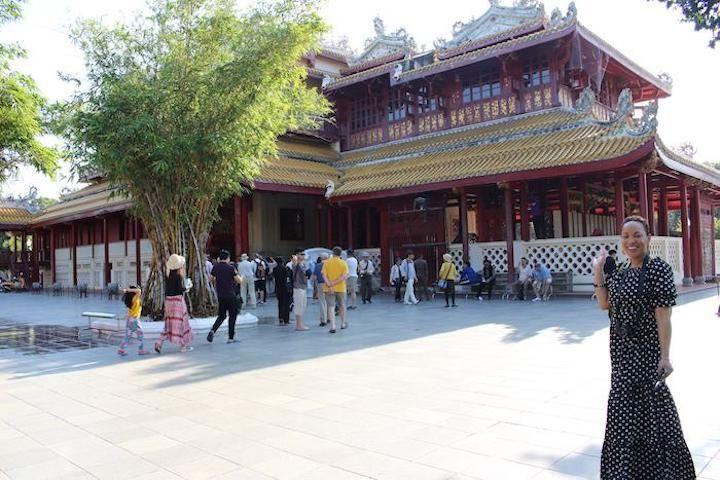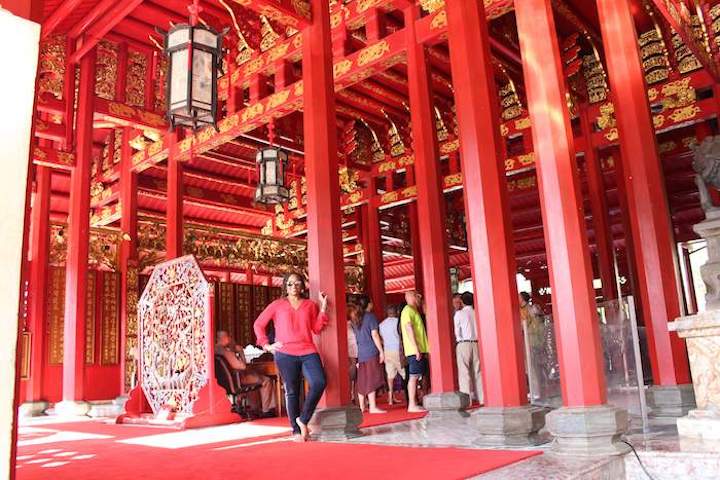 10) Ayutthaya: The Historical Park
Ayutthaya is located 80km north of Bangkok. It is absolutely gorgeous and the relics and Buddha sculptures are mind blowing. It was the former capital of the Kingdom of Siam from back in 1350! It is also a UNESCO World Heritage site. In 1767 it was invaded by the Burmese and they burned the city to the ground. Exploring this area reminded me of the ruins in Pompeii Italy. The ruins consist of roads, canals and temples and it is known to have had an advanced water management system.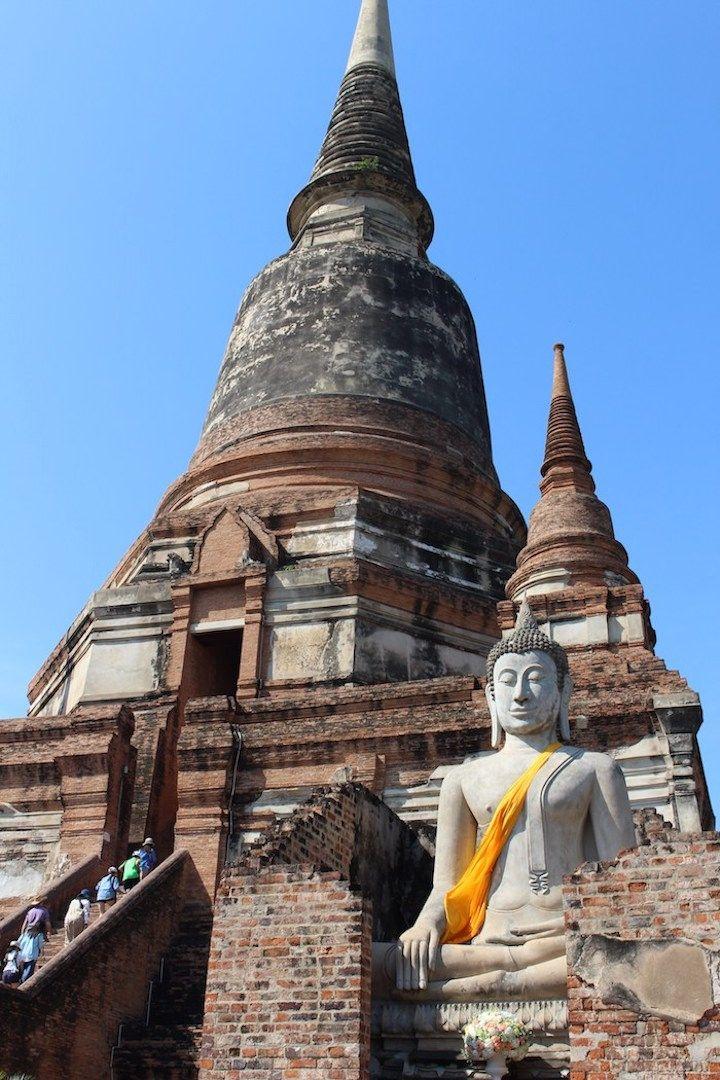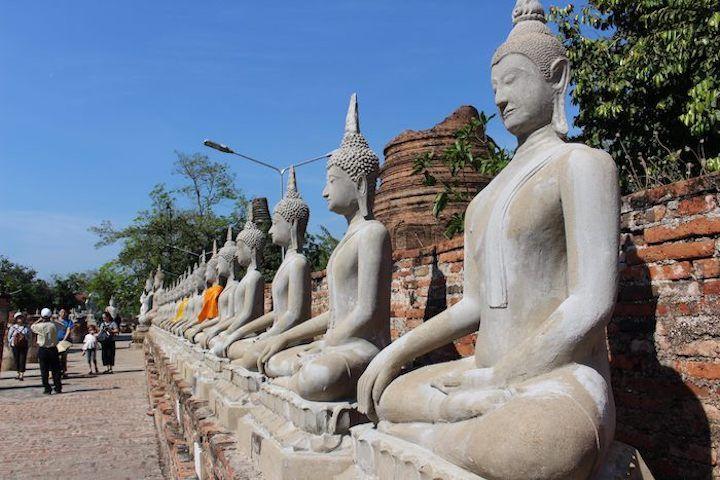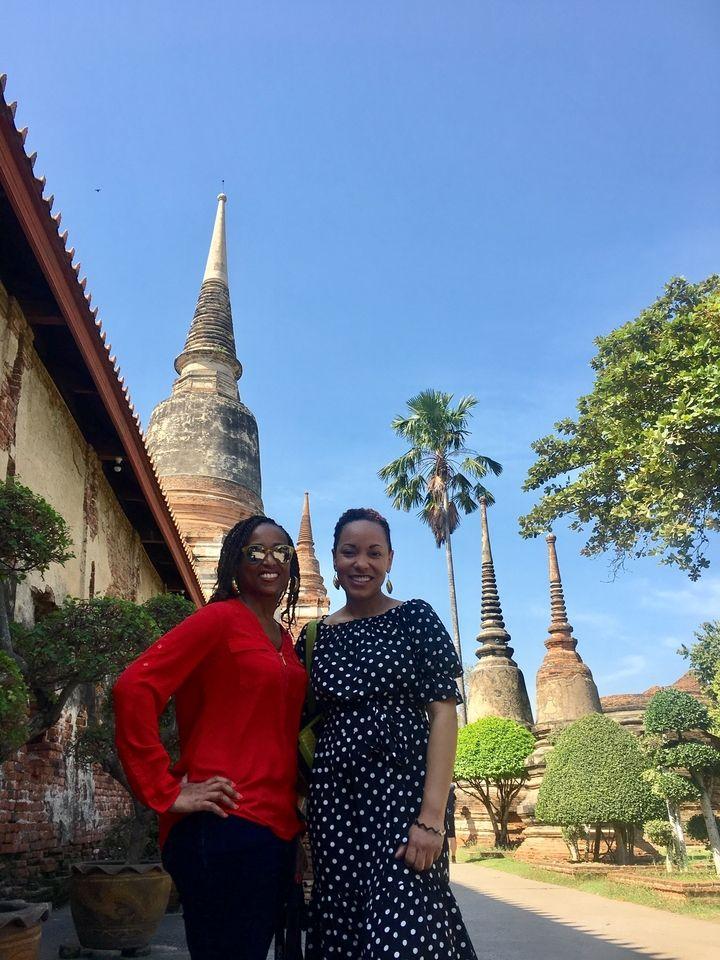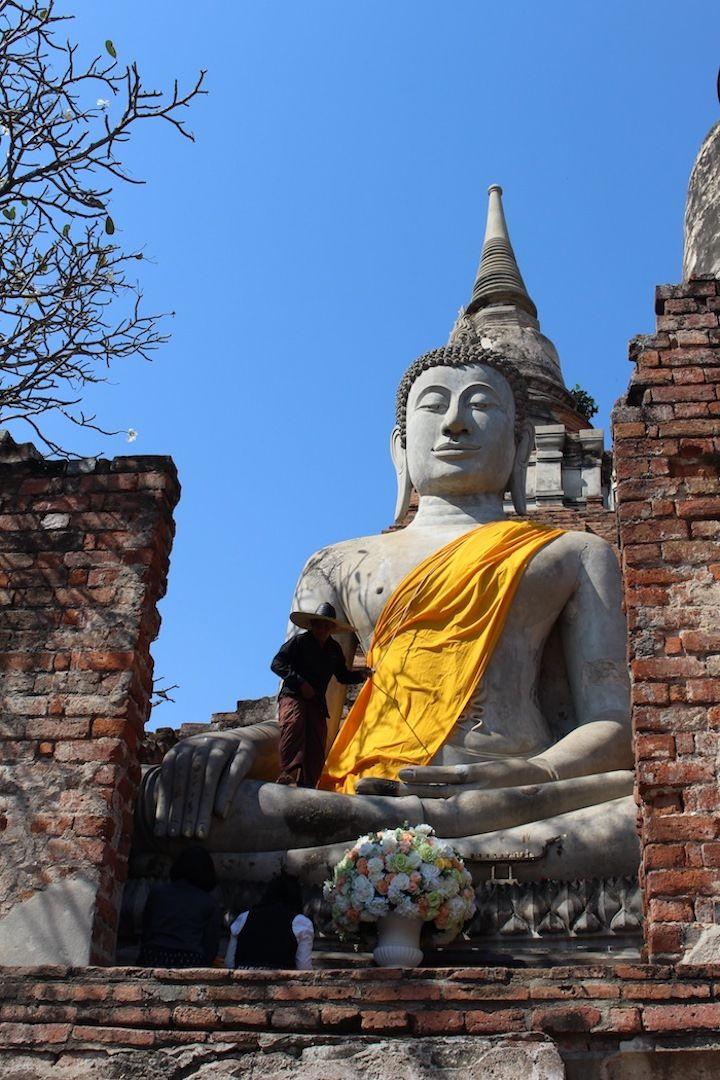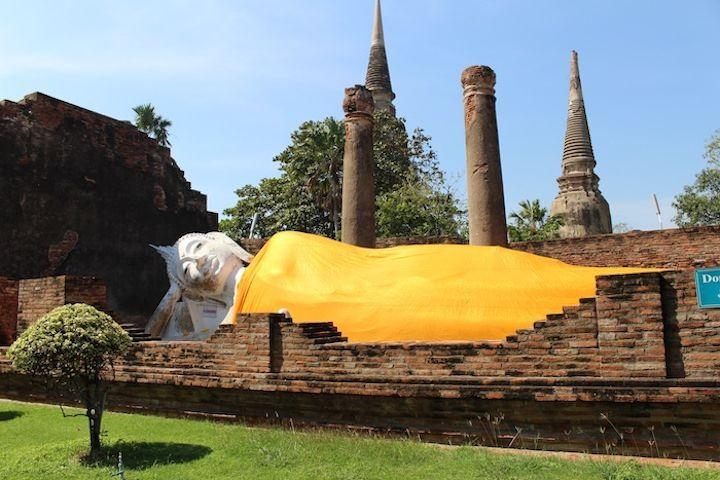 11) Wat Mahathat Temple of the Great Relic in Ayutthaya
Have you seen the picture of a Buddha head in a tree? This is where it is located. I couldn't believe I was finally seeing this temple area in person! No one knows how this relic came to be but the face and eyes of the Buddha head are so distinct to this day! Based on how unique the ruins are in Ayutthaya, it is one of the must visit places in Bangkok.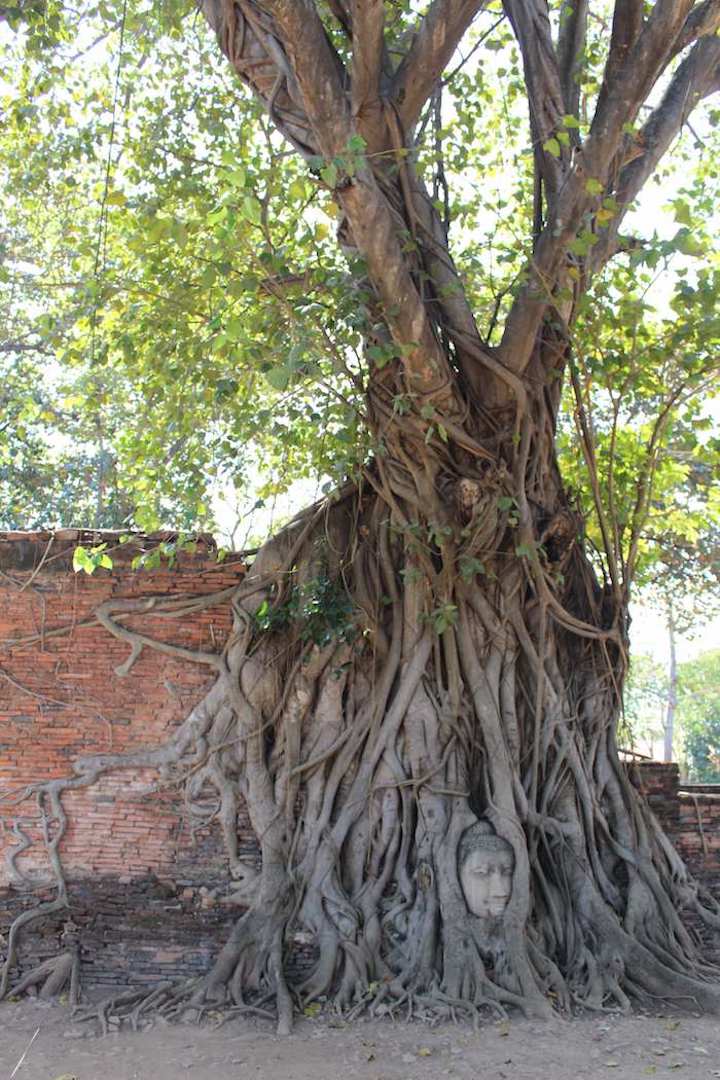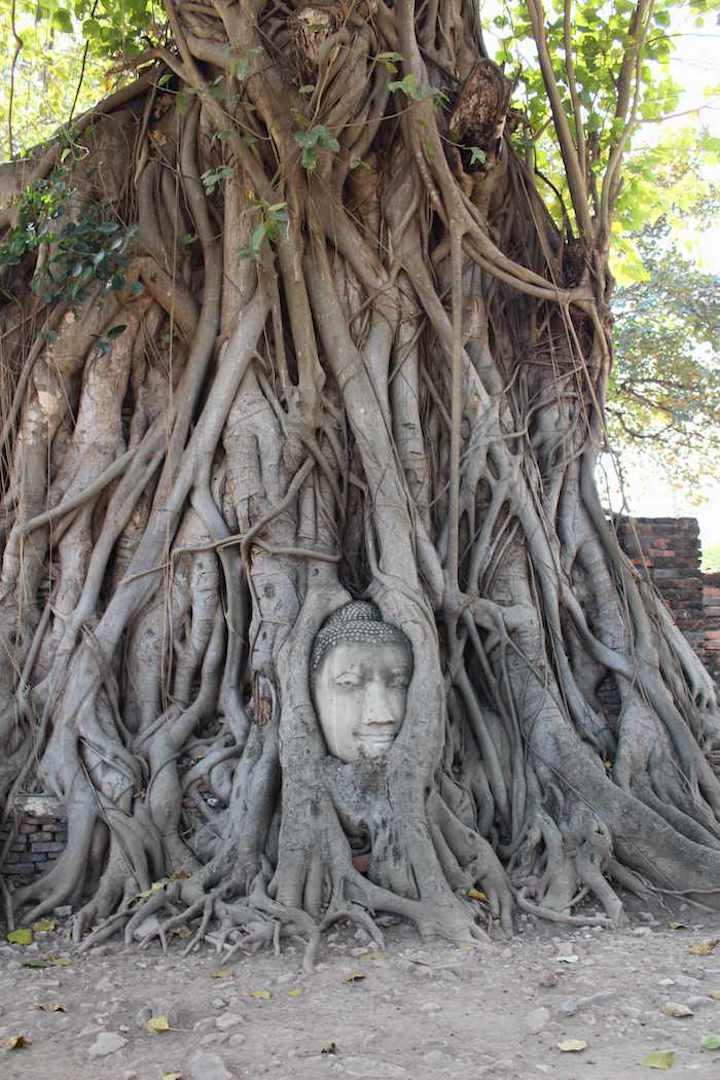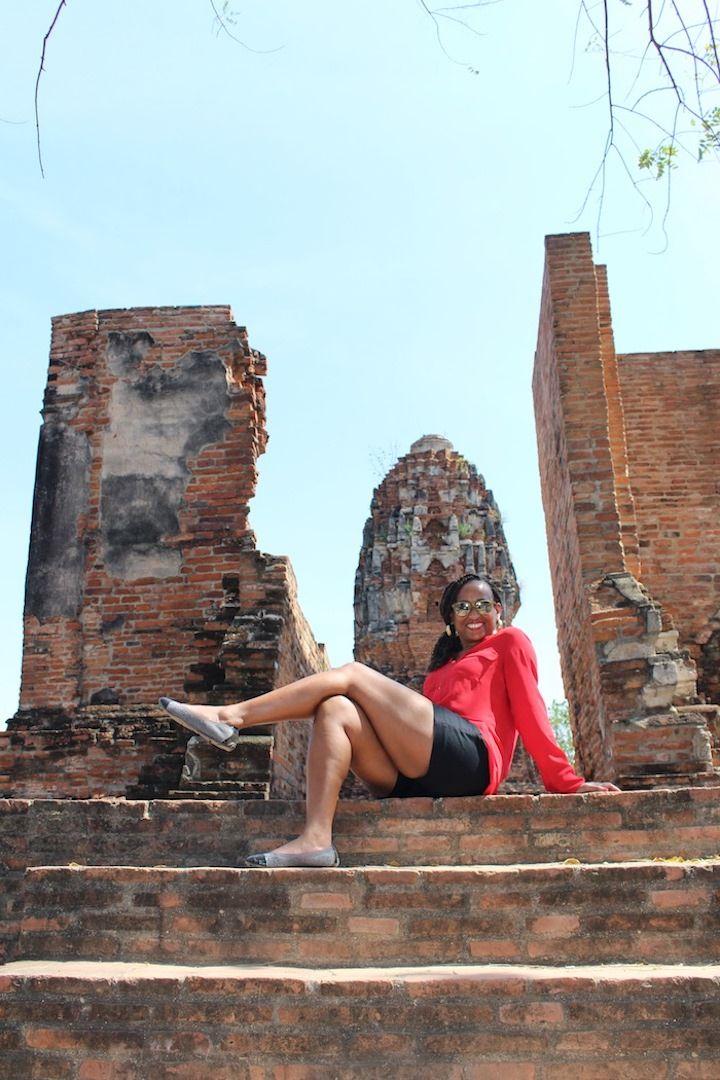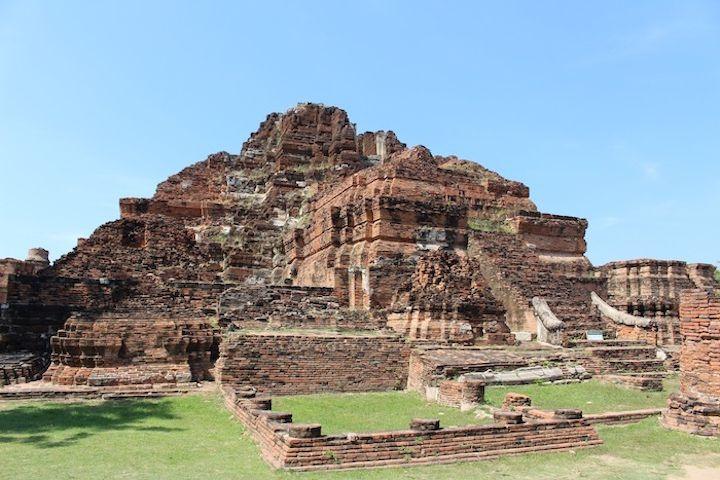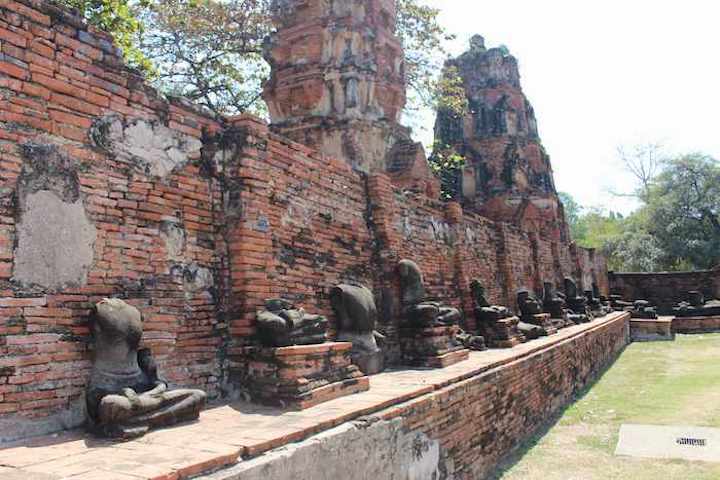 12) River of Kings AKA Chao Phraya River
We had the great fortune to stay at the Royal Orchid Sheraton Hotel located on the River of Kings. The views of the skyscrapers and bustling activity of boats and people were delightful. We also took a lunchtime cruise from Ayutthaya on the river back to Bangkok. I highly recommend this. You can see many iconic structures such as The Grand Palace from the river along with views of traditional Thai homes and neighborhoods.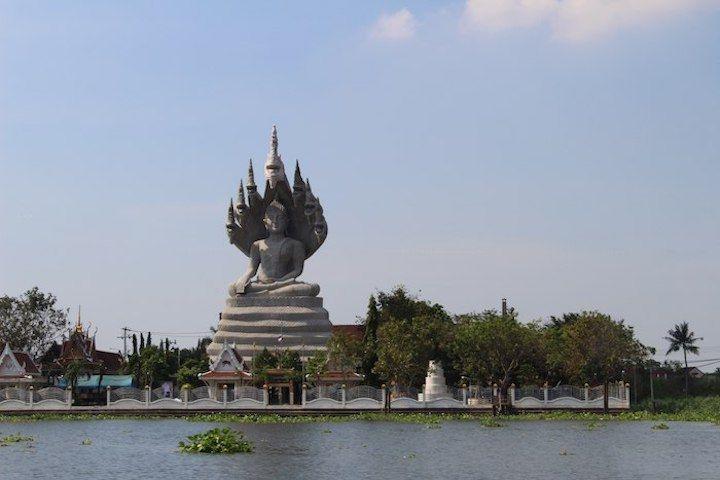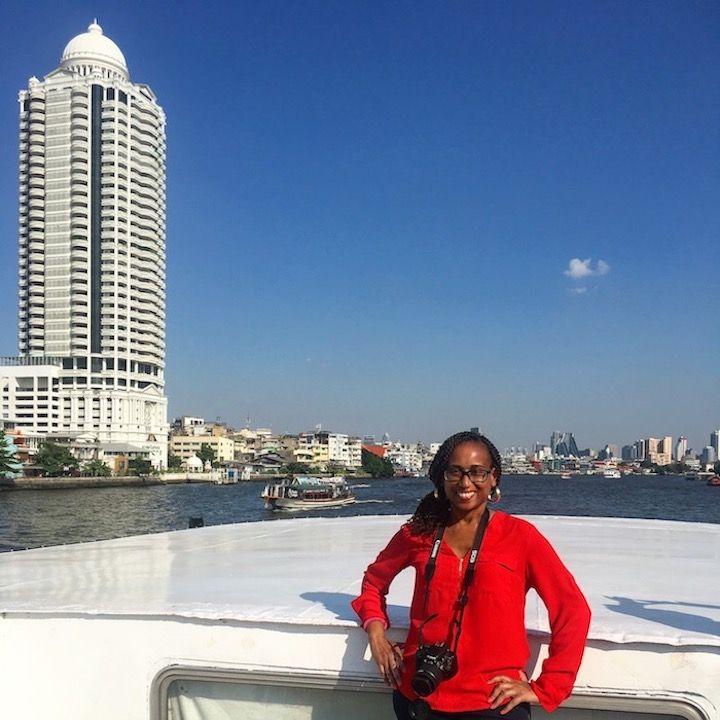 Bonus: Bangkok's Michelin Star Restaurants
Although I did not get a chance to dine at one of Bangkok's finest restaurants, there are plenty to choose from. Bangkok has Michelin-starred chefs at restaurants throughout the city. Add one to your list of Bangkok must-see attractions.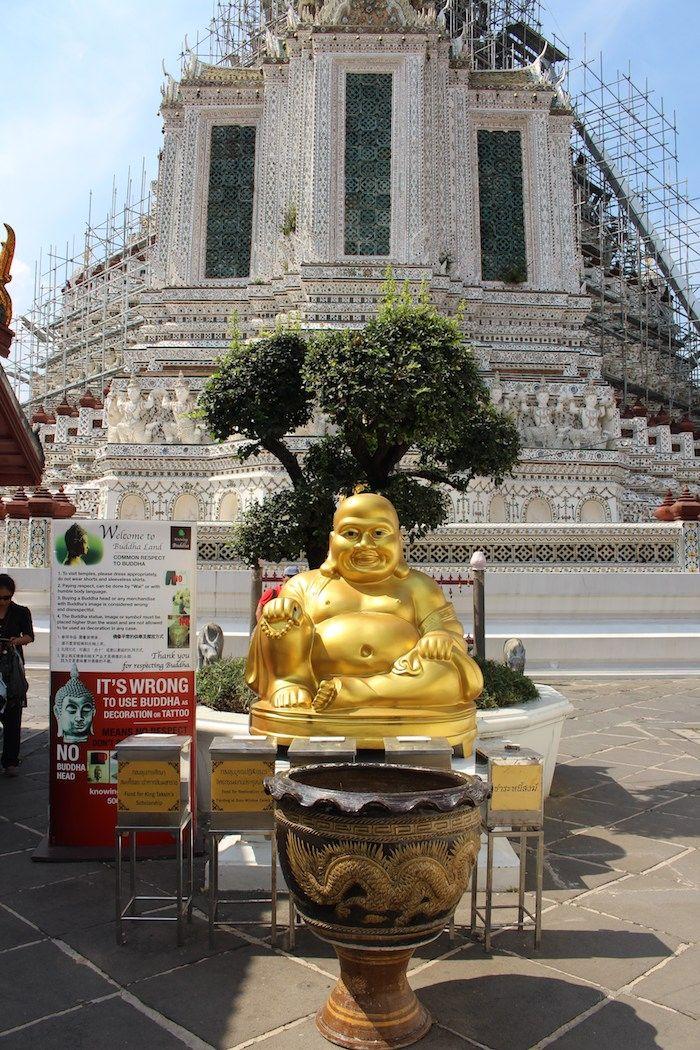 You made it to the end!! Congratulations! I learned so much and enjoyed experiencing the interesting history, culture and customs while in Bangkok. It was hard not to share that all with you! Have you been to Bangkok? If so, is there anything else you would add to this list of Bangkok to-dos? Be sure to catch up on the other THAILAND BLOG POSTS including posts on Chiang Mai, a Thai Cooking Class and 10 Reasons Why I Love Thailand!
Pin this post for future reference!