This post contains affiliate links. However, all opinions expressed here are original. If you click through on a link, you won't pay a penny more, but we'll receive a slight commission which helps us keep this information available to you. Thanks!
If you only have 3 days in Chiang Mai here is a jam packed itinerary of things to do in Chiang Mai. These activities will give you a feel for this charming city. Whether you are looking for adventure, stunning temples, delicious Thai cuisine and even if you want to "shop until you drop", Chiang Mai is the place for you. Our frequent guest contributor Joy is recounting our 3 days in Chiang Mai. It was our second of three stops in Thailand and it ended up being our favorite. The 3 days in Chiang Mai made the list of 10 reasons I love Thailand. Also, I don't usually include pictures without complete clarity but some of our Iphone pictures really captured the feeling of our experience in Chiang Mai.
Things to Do in Chiang Mai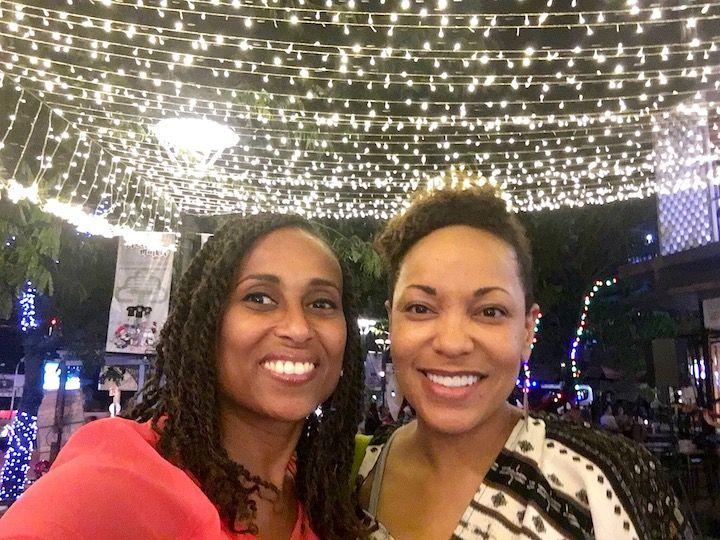 From Joy:
FRIDAY: Cool Breezes, Al Fresco Dining & a Night Bazaar
After about a 1 hour fight from Bangkok on Bangkok Airways, (during which we were served a full hot meal!) we landed in Chiang Mai. The differences between Chiang Mai and Bangkok were clear immediately. Chiang Mai is 435 miles north of Bangkok in the mountainous region of the Thai highlands. At an elevation of about 1000 ft, the climate is milder than Bangkok. Because it is not the big city that Bangkok is, the pace is less hectic. It is more relaxed. There is not as much traffic congestion on the roads, which means less exhaust and fumes. The air just felt cooler and cleaner.
We arrived at night, and our transport from the airport took us to our hotel, DusitD2. It is just a half block from the night bazaar. We checked in, dropped off our luggage, and then hit the ground running! The night scene in Chiang Mai looked fabulous and we had to be a part of it. At night, the strip along Soi Chang Klan Street turns into a market full of vendors. From jewelry to t-shirts to locally crafted goods, souvenirs, street food, and several options for Thai massages, the night bazaar has it all. It was bustling with people. I loved the energy of the place. I also loved the live music at every turn. My kind of scene!  We chose one of the many places with an outdoor patio to have dinner.  There were chefs from the hotel cooking Thai dishes right on the sidewalk. Turns out it was the sister hotel to ours-Dusit Princess-which is located right down the street.  Shopping, al fresco dining and people watching was a great start to our 3 days in Chiang Mai.
Looking for a Thailand hotel? I recommend using this booking agent!


SATURDAY: A Massage, Cooking Class, Temple Tour and Friendly Encounters
The next day, after a great breakfast at the DusitD2, I just had to go get one of those Thai foot massages. As Nadeen describes in her post "10 Reasons Why I Love Thailand", a foot massage is really a relaxing full leg massage. I went up the street to a storefront location I had spotted the night before. The masseuse proceeded to go to work on my feet. He began kneading from my aching arches up to my sore calf muscles to my legs. He used firm hands and a wooden dowel type of tool that really got into the muscle. It felt both relaxing and painful at the same time. It hurt in a good type of way 🙂 For just for a few hundred Thai Baht, or maybe $4, I left feeling refreshed.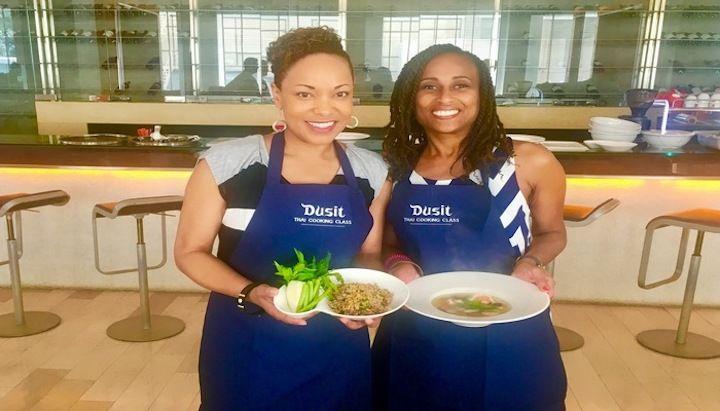 After grabbing some Starbucks coffee, I headed back to the hotel to meet Nadeen for our 11:00 am cooking class in the hotel lobby. Chef Chalong and the DusitD2 staff treated us right. We made 6 dishes in total, including my favorite, Mango Sticky Rice. After each course, we had time to sit and savor what we had just prepared. It was a LOT of food. My advice, if you are going to take a cooking class, don't eat a full buffet breakfast a couple hours before! We were stuffed, but the class was great. They even sent us off with treats: Certificates of Completion, Dusit D2 aprons, a folder of the recipes for the meals we had just prepared, and a cookbook to share. Nadeen goes into more detail about the class here.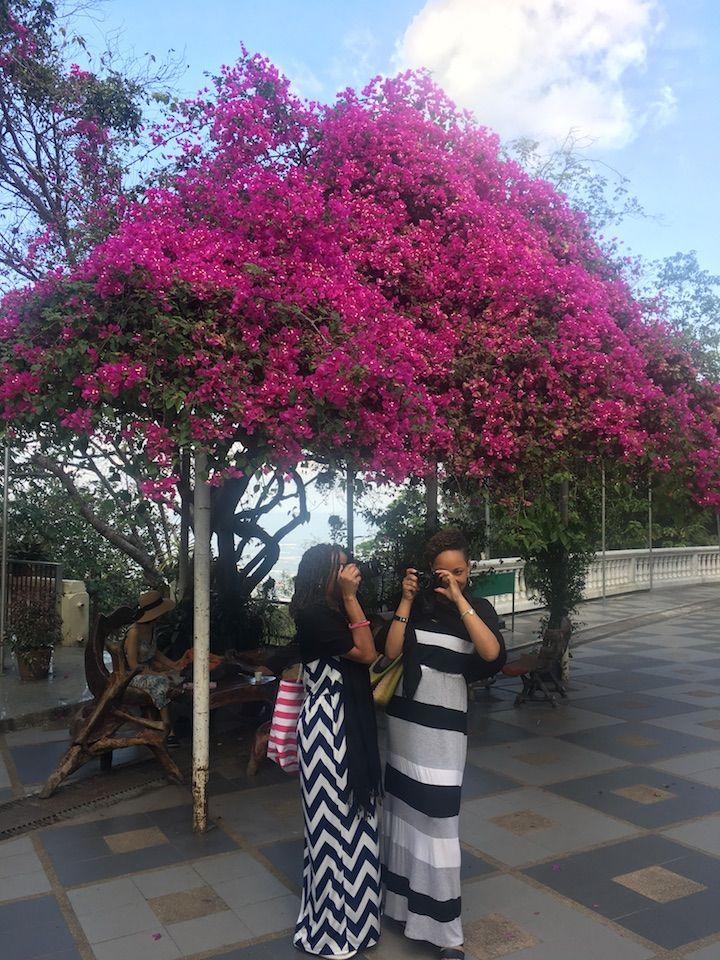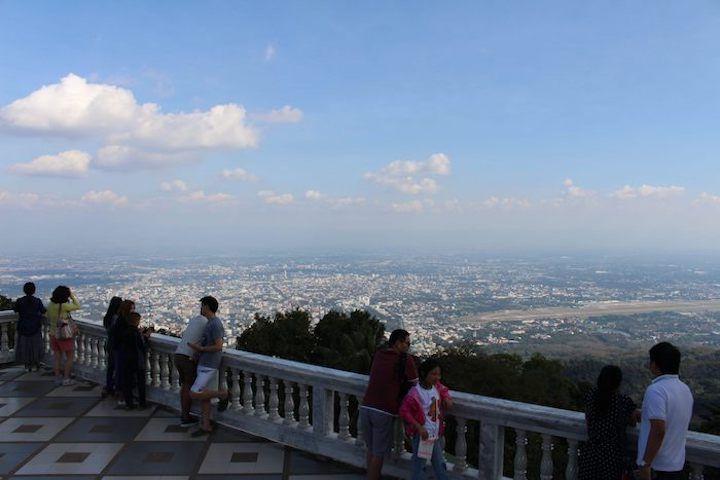 Next, we had a 1:00 pm pickup for our temple tour. Our scenic drive took us through deep, lush vegetation far up the mountains to Wat Phra Doi Suthep temple. It is one of Thailand's holiest Buddhist sites. By this point in our itinerary, we had seen so many temples around Bangkok and Ayutthaya, but this one was a gem. Everything seemed to be dripping in gold. It was almost magical. Its location high up on the Doi Suthep Mountain provides breathtaking views overlooking the city of Chiang Mai. We saw a few more temples back in the city on this tour, but Wat Phra Doi Suthep was definitely the highlight.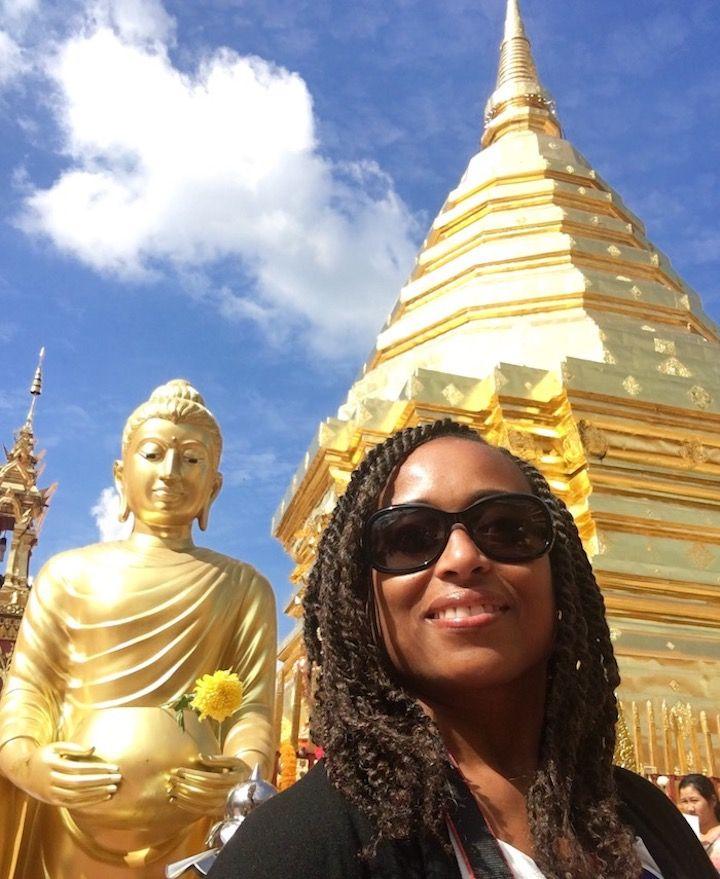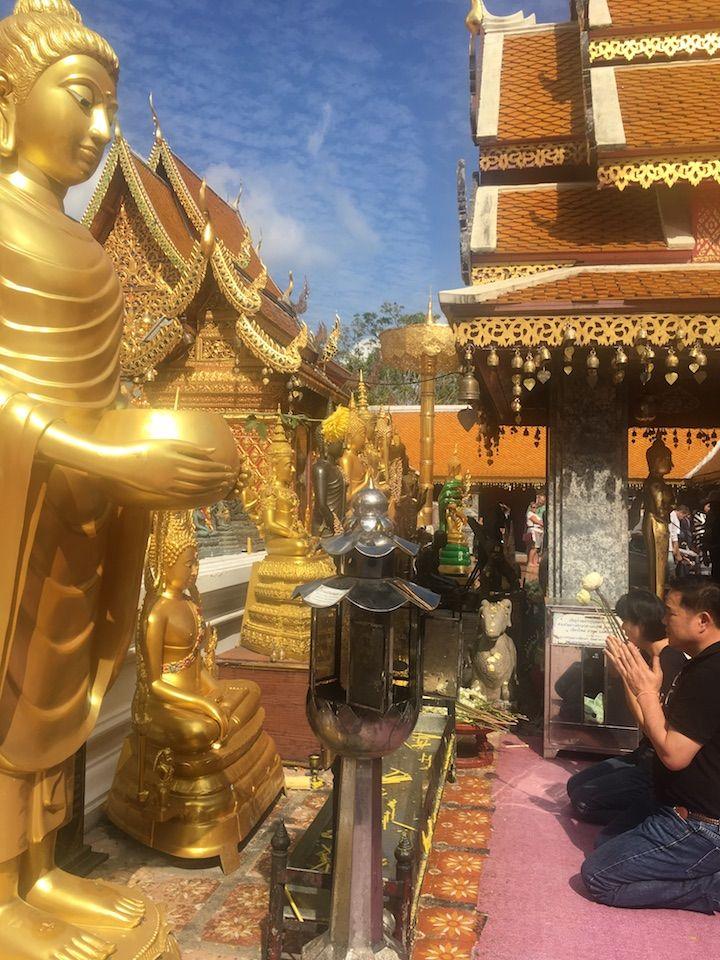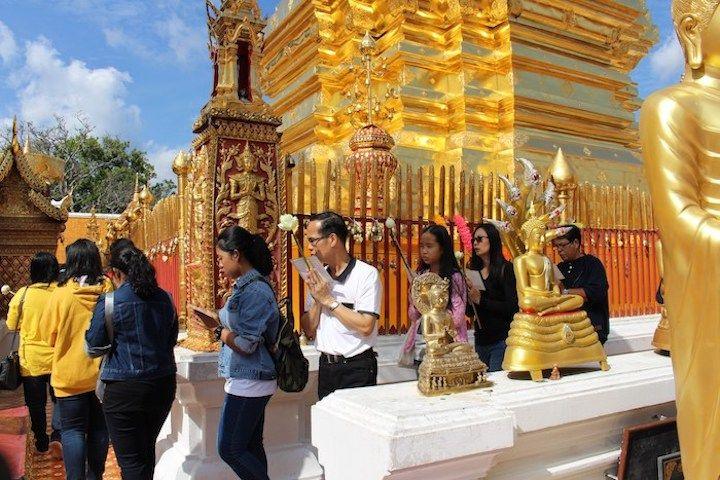 We had just enough time to freshen up before meeting up with a blogger friend of Nadeen's. Rese is an American expat living in Chiang Mai. She showed us around several areas of the city. We caught a songtaew red taxi- sort of like an open paddy wagon- from our hotel to another part of town. Once there, we strolled the cute, quiet streets and had dinner at a neighborhood spot-Cherng Doi Roast Chicken. Our host ordered for the table, and we had the most wonderful meal of roasted chicken, rice, spicy papaya salad, fried papaya, and other tasty side dishes. Of course I had to try Thai beer and this time we chose Singha. Afterward, we hit up another outdoor market and the very modern Maya shopping mall. It was very cool having a local show us around.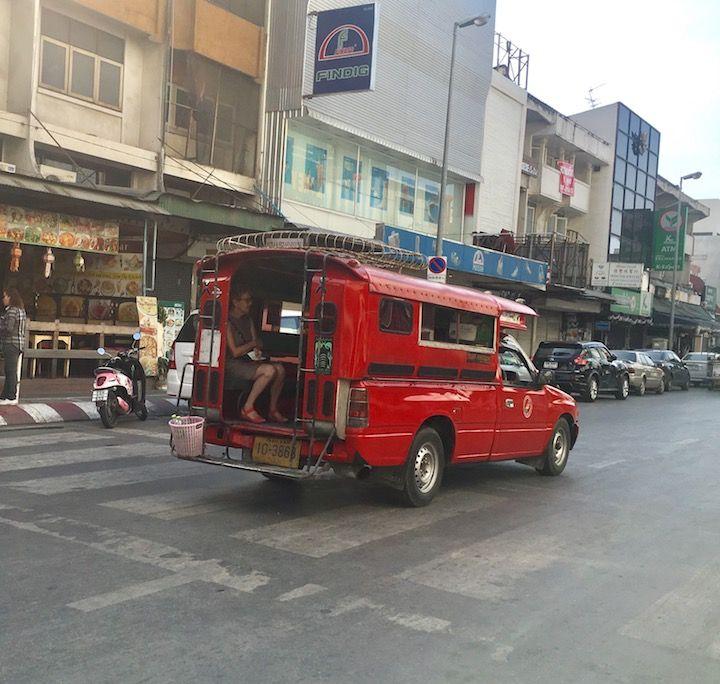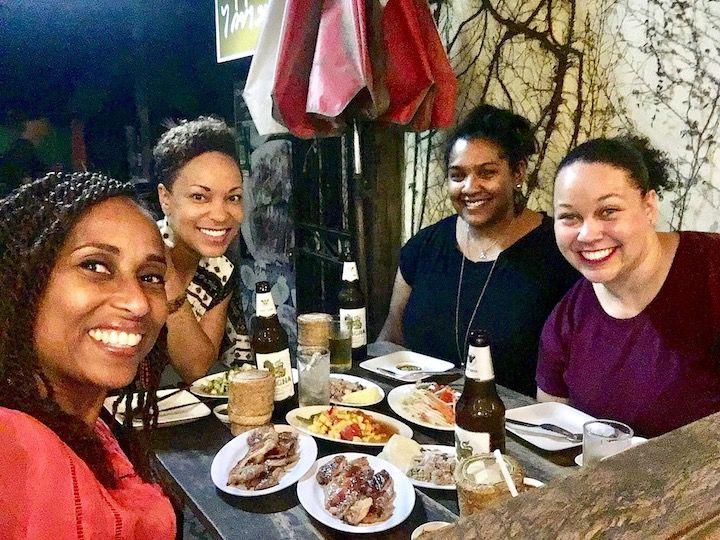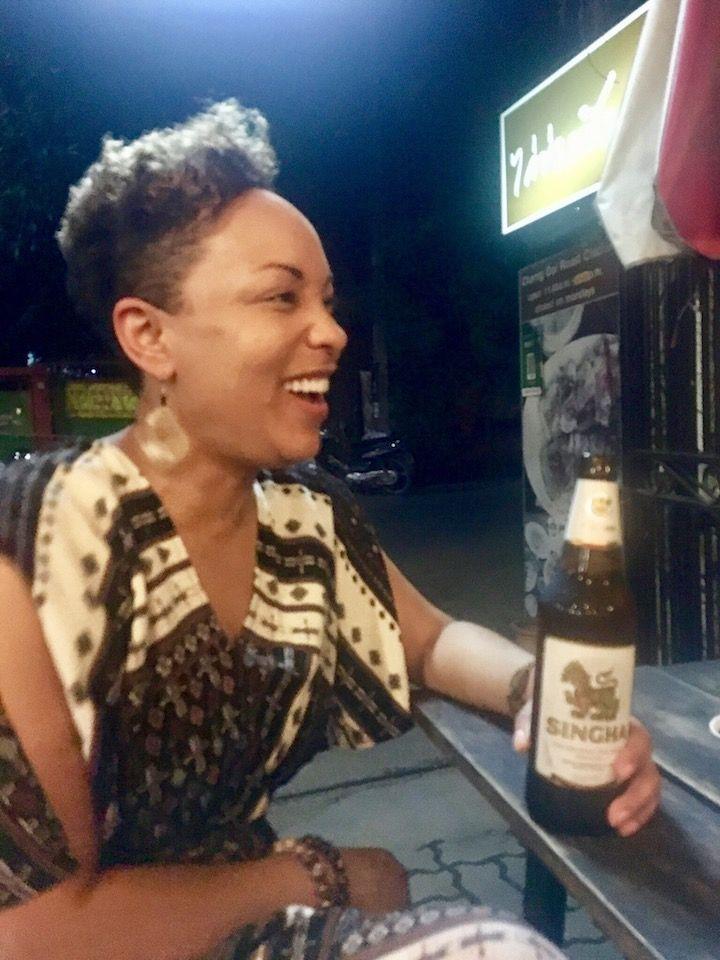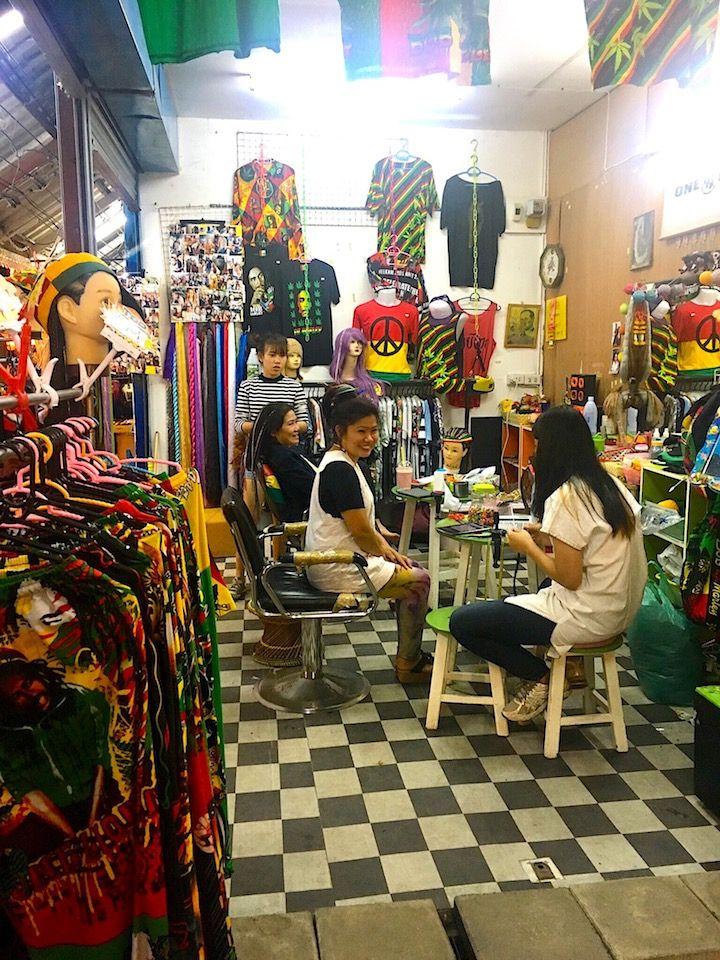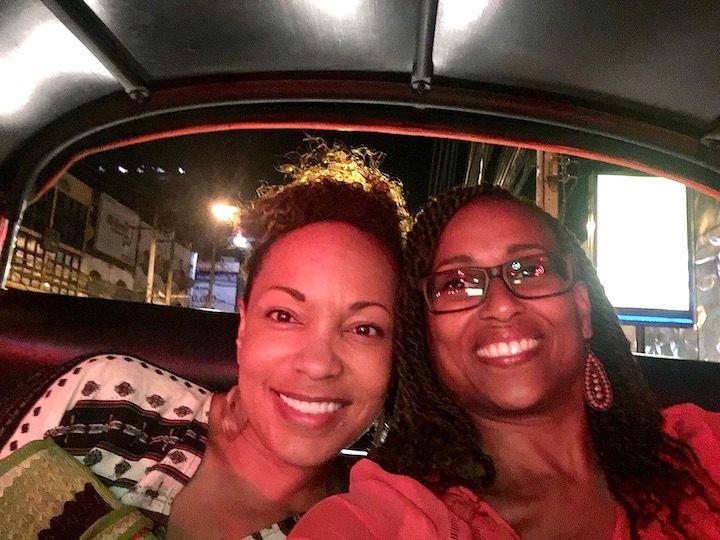 We thanked her for a great evening and she put us in a tuk tuk back to our hotel. However, we were not ready to turn in for the night. We returned to the night bazaar. This time we headed in the opposite direction from what we had already seen. We came upon a huge outdoor court filled with international food stands, live music, and people dancing. There seemed to be a lot of tourists, but this seemed like the place to be. And, it was near our hotel! As we walked, we bumped right into a group of American travelers and expats of color that happen to be in one of our Facebook travel groups. It is such a small world. Can I say their energy was awesome? We felt an immediate kinship and sat a while to chat. We talked about a little of everything, including travel and life abroad. They also encouraged us to visit the Sunday Night Market. They stated that it was bigger and better than the rest, with a caveat: "Do you like people?"  It is typically packed shoulder to shoulder. We decided to add that to our already full itinerary. These friendly encounters made our 3 days in Chiang Mai even more special. If you're looking for things to do in Chiang Mai, strolling around the night markets should be at the top of the list!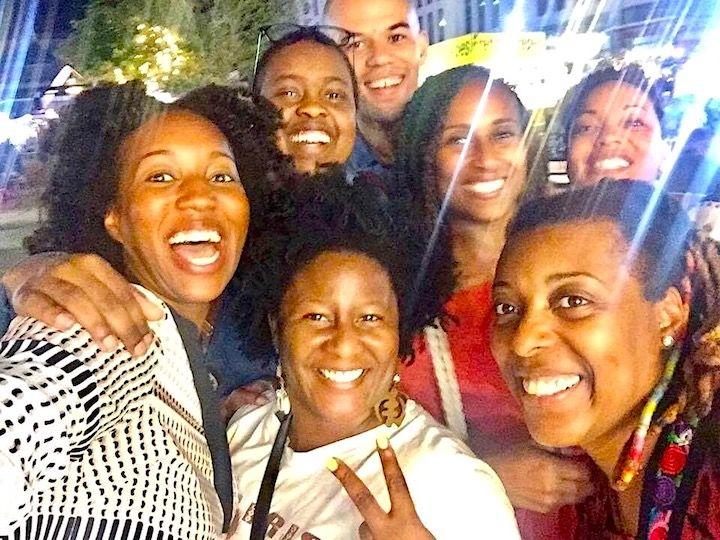 SUNDAY: Majestic Elephants, A Luxury Spa, Shop till you drop!
Our pickup was bright and early Sunday for the Elephant Nature Park, an elephant rescue and rehabilitation center located about an hour from Chiang Mai City. The experience there was exciting but also heartbreaking. There were so many elephants with visible injuries being nursed back to health. We did NOT ride them. Riding elephants causes severe injuries. This is a great link for more information. We did have a wonderful time bathing and feeding and interacting with them throughout the day. We even spotted a baby or 2 and also hung out with some water buffalo. I appreciate this sanctuary for caring for these awesome creatures.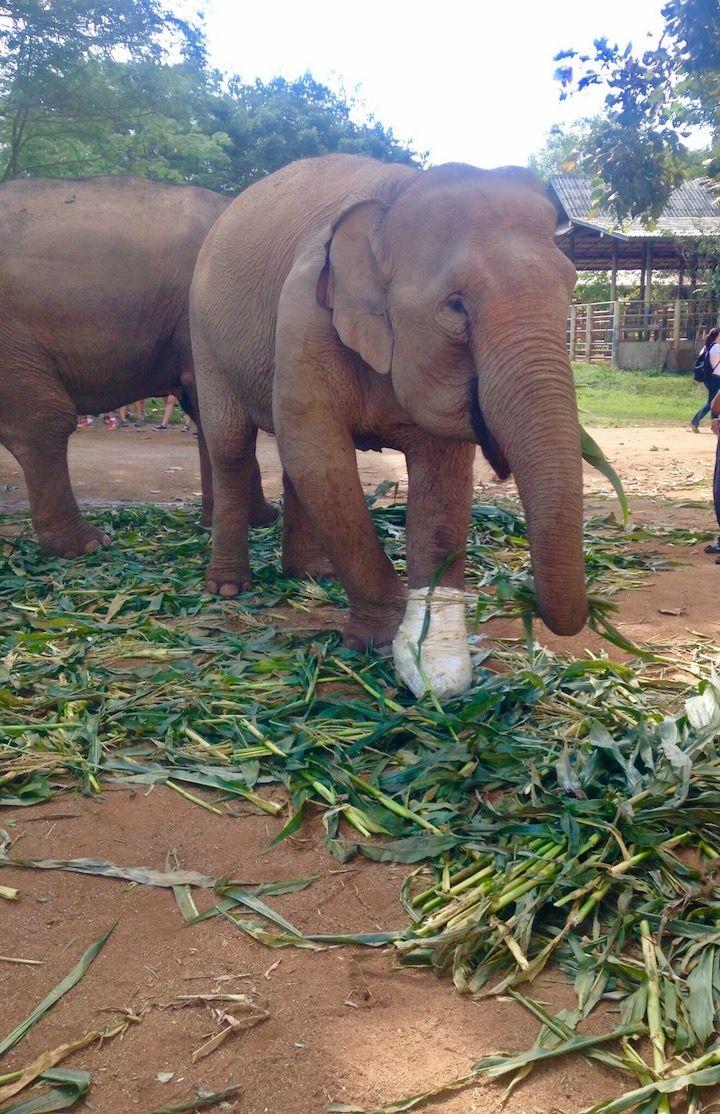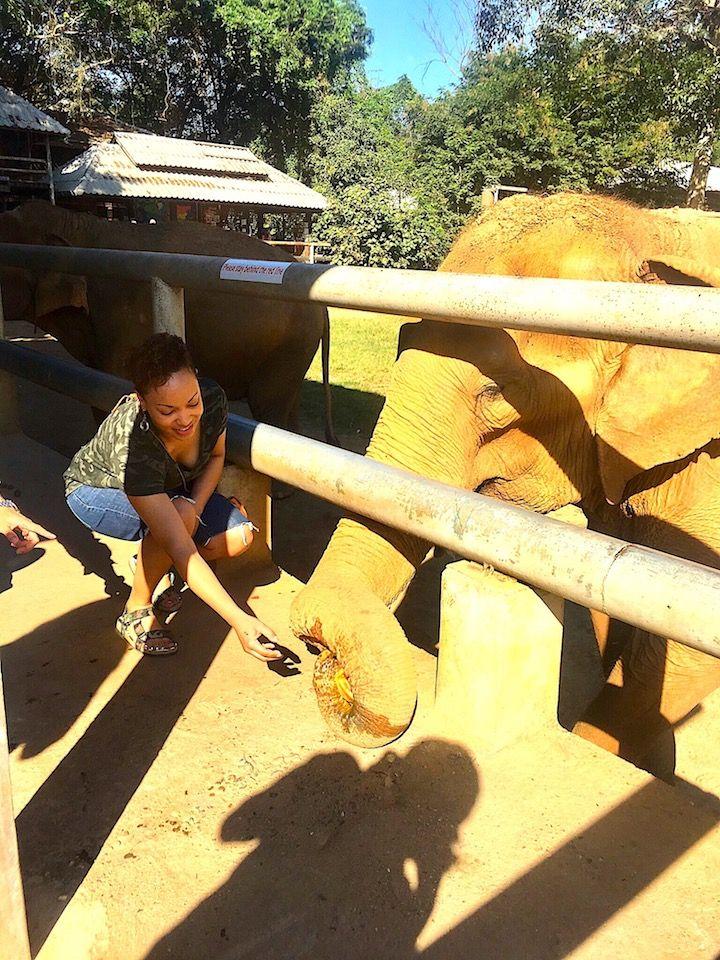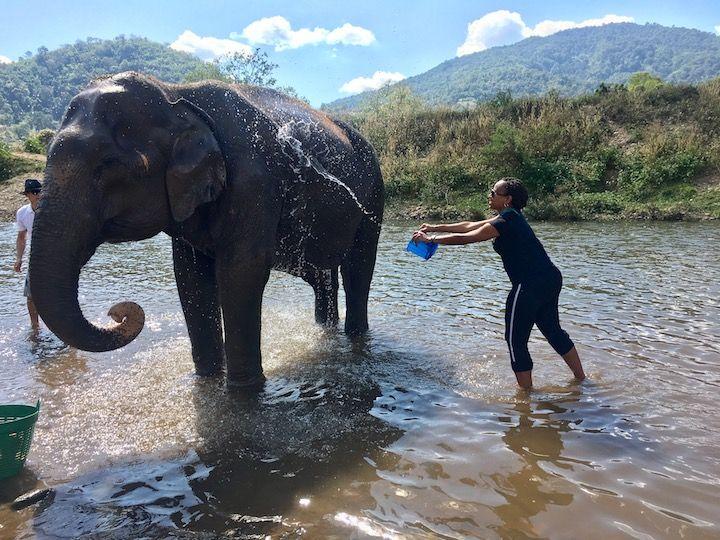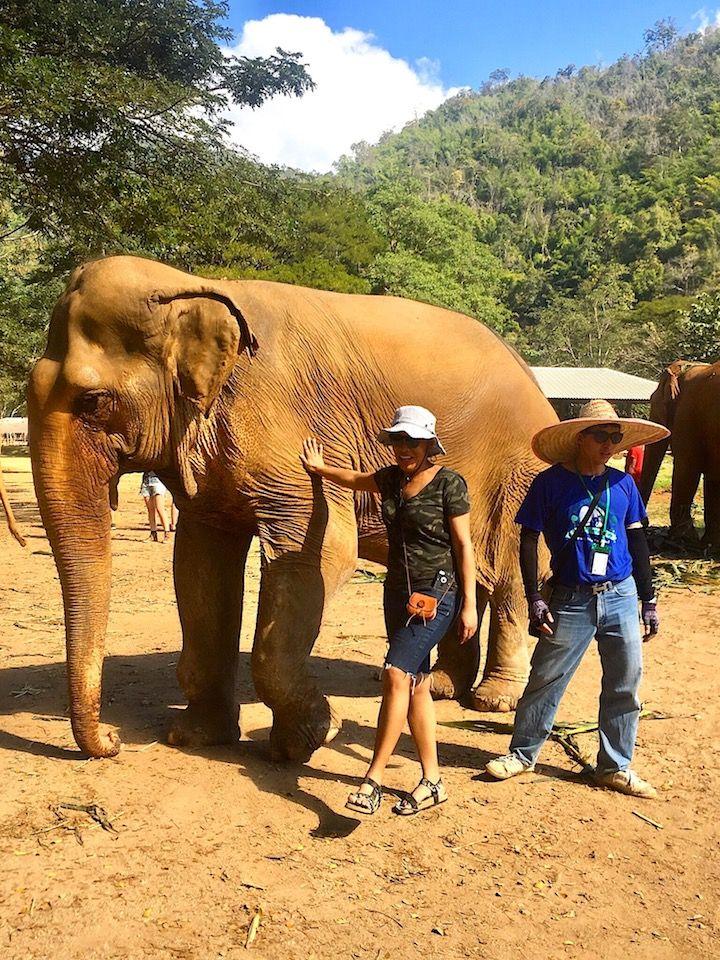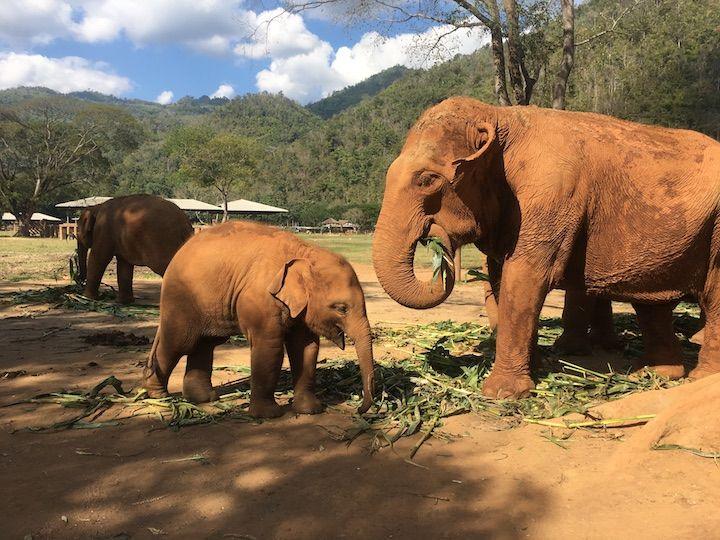 After returning to the hotel to shower and change, we headed out for our appointments at The Oasis Spa. Massages are readily available at parlors along every street in Thailand. However, after a long day at the elephant park, we decided to treat ourselves to a luxury spa experience. Based on costs in Thailand, the treatments were still a fraction of the price compared to the U.S. We were greeted with cool towels and beverages upon entry.  This really helped to set the tone for our relaxing visit. The facility is an indoor/outdoor compound with lush greenery and bubbling water features. It felt like a tranquil tropical retreat. I was awed by the serenity of the surroundings. I chose 2 different 1 hour treatments. I had the Coconut Butter Body Scrub followed by a Coconut Butter Body Wrap. Nadeen chose a full body hot oil massage. We were led into individual mini suites with our own bathrooms.  I have had many, many spa treatments, but this was by far the best. My only complaint is that the experience was over too quickly! There are several Oasis Spas in the Chiang Mai area including the one we visited in the Old City-Lanna Wat Prasing.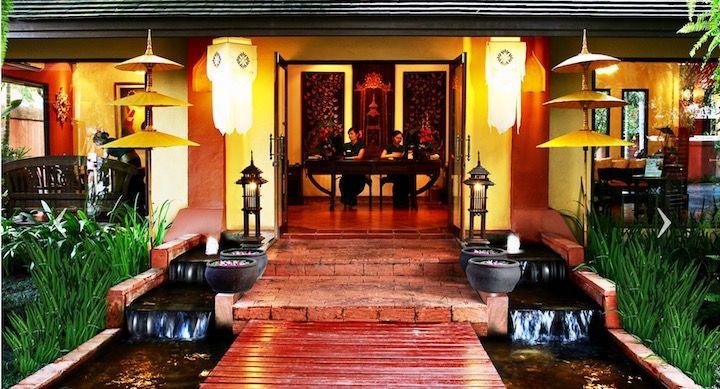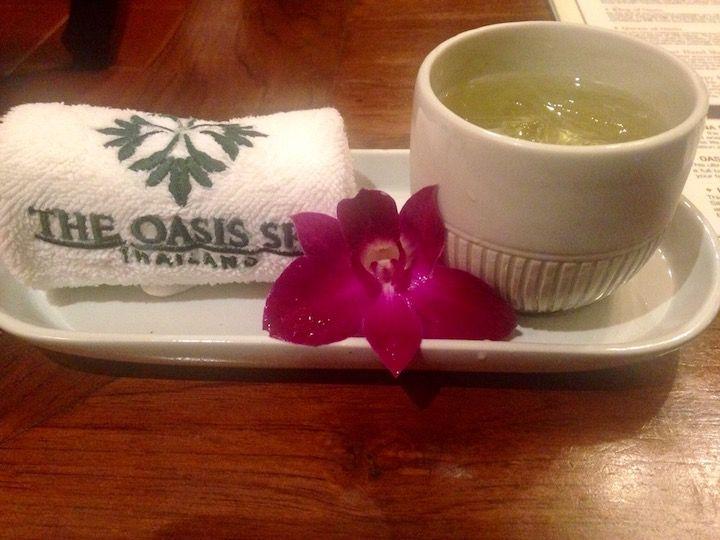 At around 9:00pm, we floated out of the spa towards the Sunday Night Market just a couple of blocks away. Our friends were right, it was very crowded. It was easy to see why. There were blocks and blocks in all directions of crafts from local artisans, yummy food at every turn, and music! Since this was our last night in Chiang Mai, we spent a lot of time look around for gifts and mementoes to take home. The market had everything you could think of-clothes, ties, shoes, leather goods, passport holders, artwork, Christmas ornaments, baby clothes, jewelry…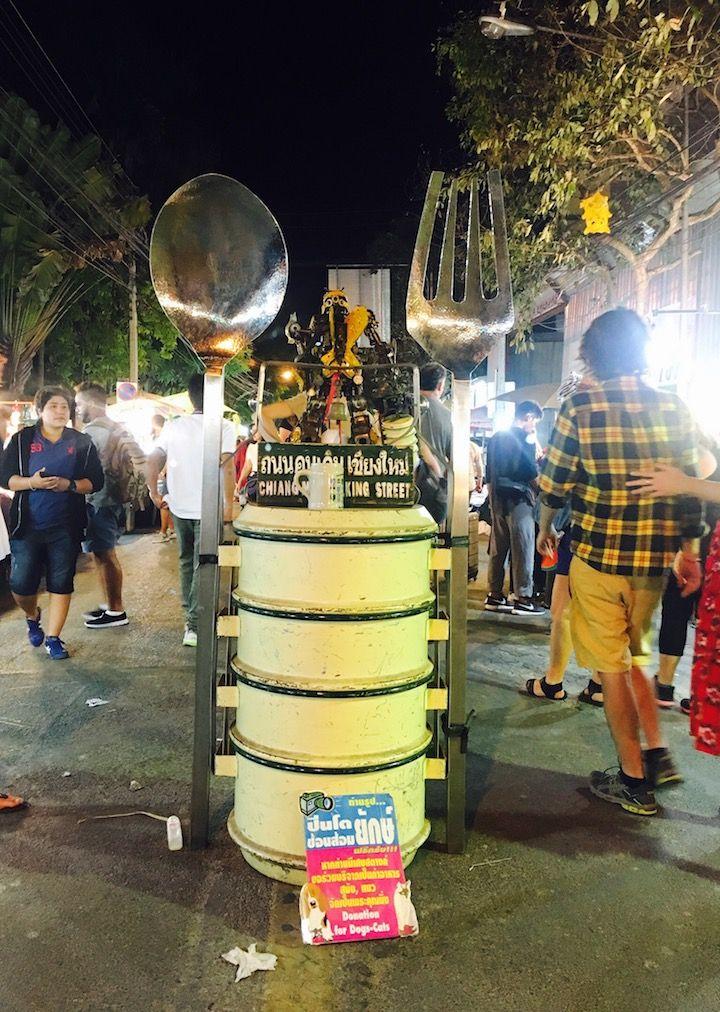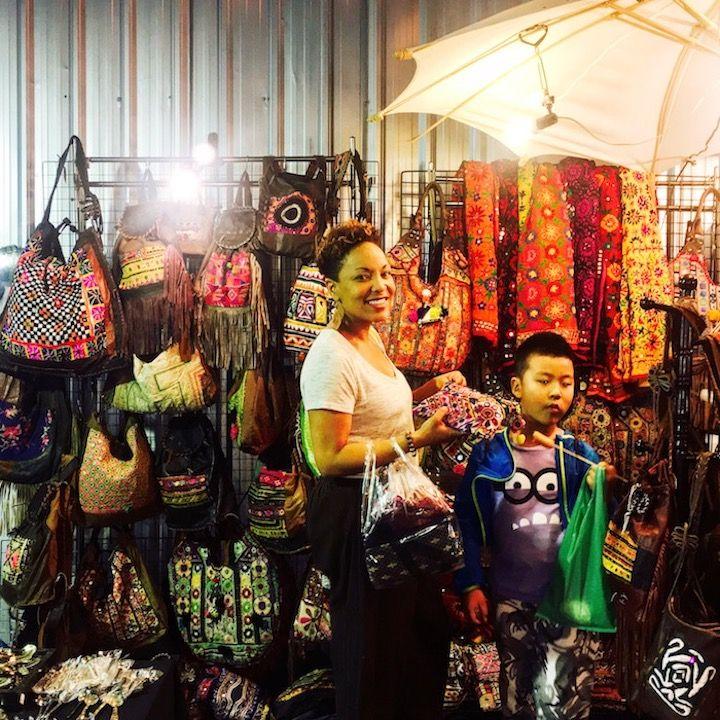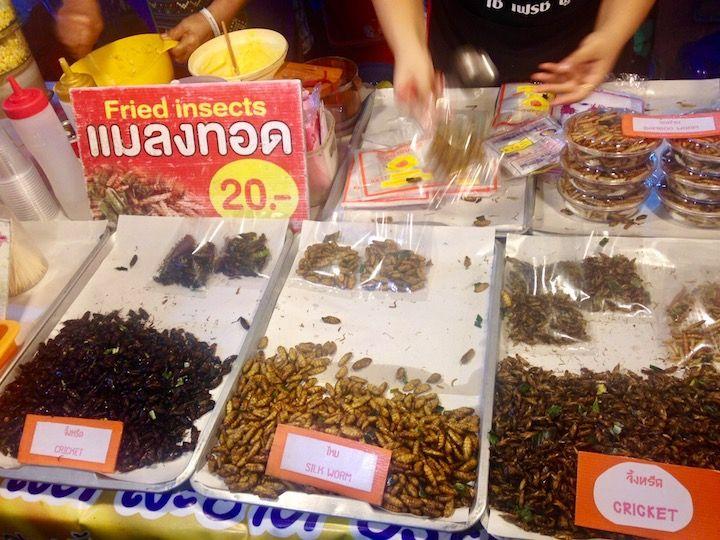 We stocked up on lots of goodies, and we were able to sample some good eats as well. The market and Thailand in general had a great vibe. At one point we heard yelling behind us and looked around in surprise. We realized that we had not heard any yelling since we had been in Thailand. The people are so cool and easygoing. I could get used to that. The Sunday Night Market was all that it was touted to be and then some.
Although it was a Sunday night, the streets were still lively on our return to our hotel around 11 pm. We chose another restaurant with outdoor dining and a live band playing. I tried the Thai Chung beer, Nadeen sipped her wine, and all was well. I guess I should have expected what happened next. The band was playing American music, after all. Yes, they broke out into- you guessed it- YMCA, by the Village People. The performance was complete with a choreographed dance by the wait staff. Definitely my type of thing. What a way to spend the last night of our 3 days in Chiang Mai!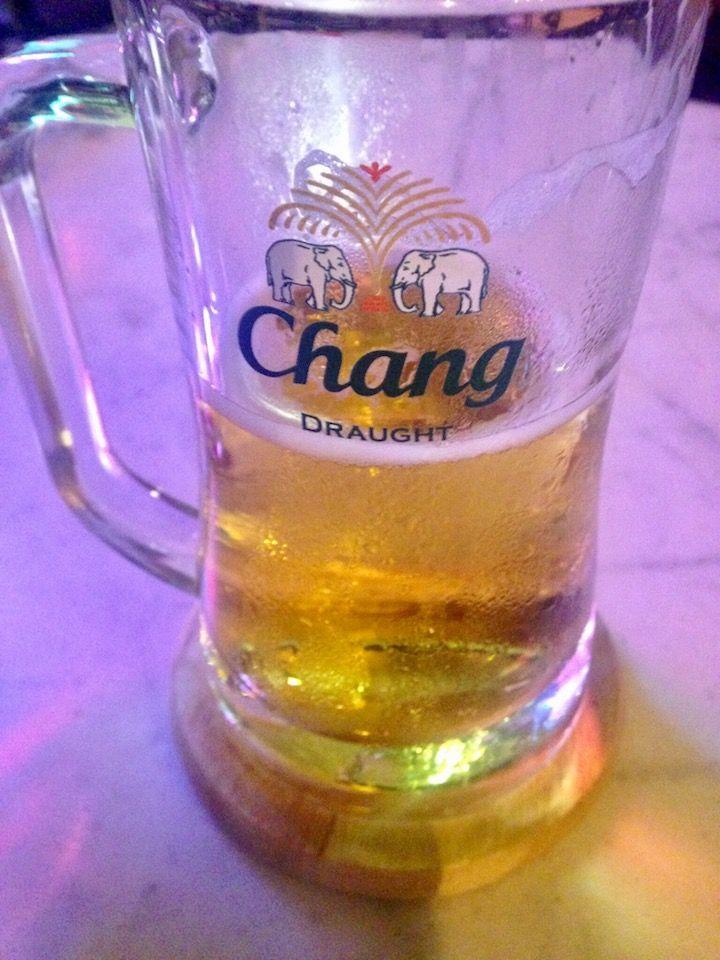 MONDAY: How Many Massages is Too Many? 🙂
Nadeen set off that morning to get her foot massage before our flight. I took a moment to relax over breakfast, take advantage of the hotel Wi-Fi, and plan out my strategy for getting back to Chiang Mai. Yes, I loved it that much! There you have it. In 3 nights and a little less than 3 days in Chiang Mai, we packed it in and had a total blast.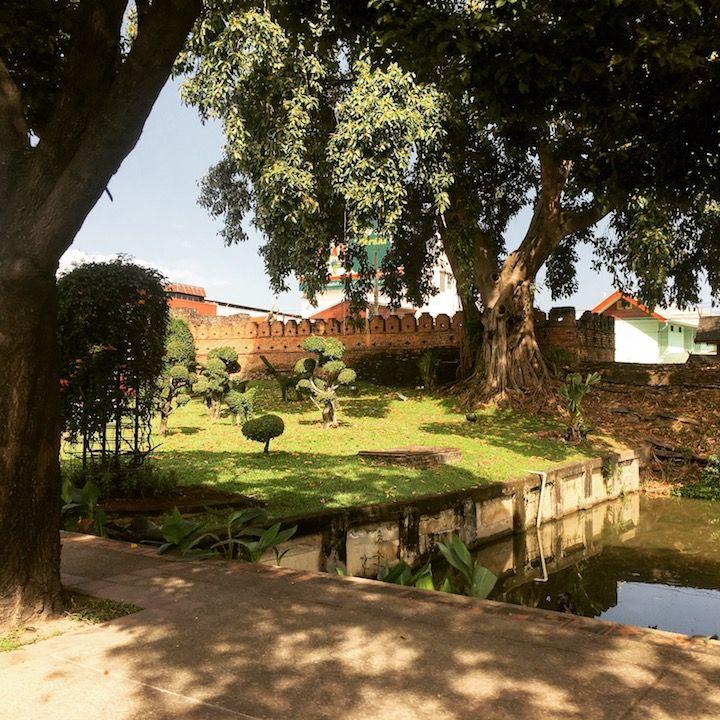 Chiang Mai Fun Facts:
1) Chiang Mai means "New City."
2) It was built in 1296 as a walled city surrounded by a moat. Sections of the wall are still intact, and the moat is still in use today. That area today is called the Old City, and the new city of Chiang Mai has grown around it.
3) Chiang Mai is the second largest city in Thailand, though its population is only around 1.7 million compared to Bangkok's 9 million. In the city center the population is closer to 200,000.
4) Chiang Mai's nickname is "The rose of the north."
5) About 70% of Chiang Mai is covered by mountains and vegetation.
6) The city has over 300 Buddhist Temples.
7) An estimated 20,000 expats live in Chiang Mai.
8) Chiang Mai is known to be popular with expats and digital nomads. Nomadlist.com ranks Chiang Mai as 5 out of 5 stars, primarily for great internet access, low cost of living, and safety.
Thank you Joy for sharing our experience of things to do in Chiang Mai! In just 3 days in Chiang Mai, Joy fell in love with this city so I knew she would give this post justice. Have you been to Chiang Mai? If so share your thoughts with us below! Be sure to catch up on the other Thailand posts on this blog including "10 Reasons Why I Love Thailand" and "Dusit Thai Cooking Class in Chiang Mai"and 12 Must Visit Places in Bangkok.
Be sure to pin this post for future reference!